Looking for steps to create a perfect sales contract (agreement of sales)? No worries! You are at the right place! Read on…
Back in the day, transacting goods & services in business was easy. The company and client agreed to make a trade and both parties honored their word. Yet today, even with the best efforts things can still go wrong, deals can break, minds can change, and no matter what type of business you're in, a handshake just won't cut it anymore!
So, when these things happen, and they will! Having a written and signed agreement known as a sales contract (agreement of sales) is crucial to effectively manage your business and prevent any future disputes. This written document is a legal agreement to protect and establish that golden seller-customer relationship.
However, most businesses- big or small do not have the resources to create their own sales contracts. This is why we have got you covered with a ready-made sales contract template to make the whole process as easy as a handshake. Before we begin, let's take a quick look at what exactly is a sales contract (sales agreement) and what are components one needs to include in these documents.
What is a Sales Contract (Sales Agreement)? (Definition)
‍A sales contract, also known as a "sales agreement" and "Purchase agreement" is a signed contract between a company and a client. Its main objective is to ensure the agreed delivery of products or services that was promised to be sent in exchange for payment. It's an important way that companies and clients go into business together.
Why are Sales Contracts/Agreements Important?
‍Sales contracts help businesses to move forward and provide a guarantee to the seller and the buyer that products or services will be transferred for some amount of money.
Nearly every company in the world uses sales contracts/agreements to work with clients, partners, etc.
Other Benefits of a Sales Contract are:
Provides Details: A sales contract between a business and a client can ensure transparent transactions with proper terms and conditions for both parties. It includes the what, how, where, when, why, and who of every sale.
Prevents Miscommunications: Having a standard sales contract can help you provide a client with all the information you might have discussed, preventing further misunderstandings.
Provides Legal Backup: One of the most important reasons to have a sales agreement for your business is to protect both parties in the event of disagreement.
Read more: How to Create a Killer Sales Plan Document?

How to Create a Sales Contract (Sales Agreement)? Include these things!
Here are some of the main areas that are covered in a sales contract/agreement.
Applicability: When is the contract applicable- post or per order.
Inspection: The buyer shall inspect, accept, or reject products.
Changes: Seller is entitled to make changes, additions, or improvements to the products being delivered if required.
Prices & Payments: Amount to be paid or due by the buyer for a product to the seller.
Warranty: A written guarantee, issued to the buyer by the seller, promising to repair or replace of product, if necessary within a specified period.
Excusable Delay: The seller shall be excused from delays in delivery and performance of contractual obligations.
Cancellation: A buyer reserves the right to cancel any portion of their order affected by default of seller.
Disputes: Any dispute relating to an order placed by a buyer or seller shall be adjudicated by any court of competent jurisdiction.
Export: Unless otherwise agreed, the buyer shall be responsible for compliance with the export control laws and regulations.
Non Disclosures: Creates a confidential relationship between the buyer and seller, typically to protect any type of confidential and proprietary information.
Patent Indemnity: A legal protection provided contractually by the seller to the buyer to secure against an anticipated loss.
Software Licenses: In case of a software or a software license an agreement shall be provided to the buyer by the seller.
Taxes: Any taxes or duties that are due.
Read more: Vendor Agreement: What is it and How to Create it?
Key Benefits of Creating Your Sales Contract (Agreement of Sale) on Bit.ai
To create a sales contract or sales agreement, you need a proficient tool that can make the process more efficient. This is where Bit comes in!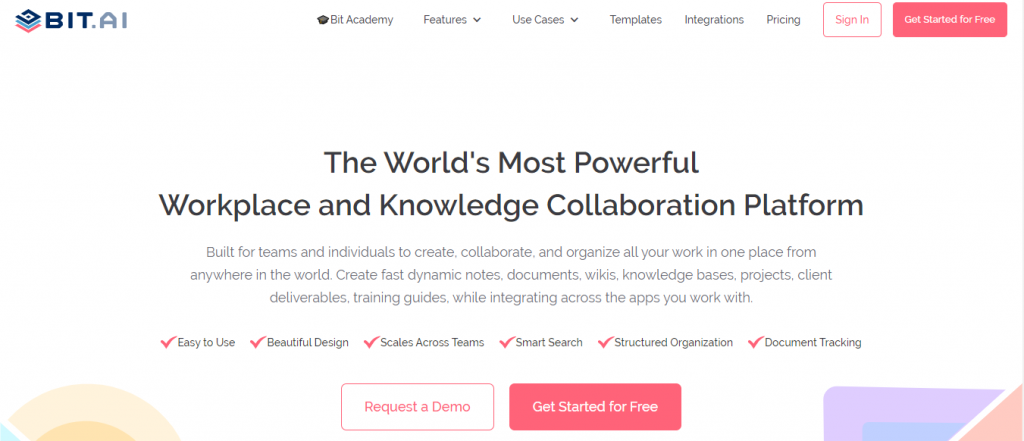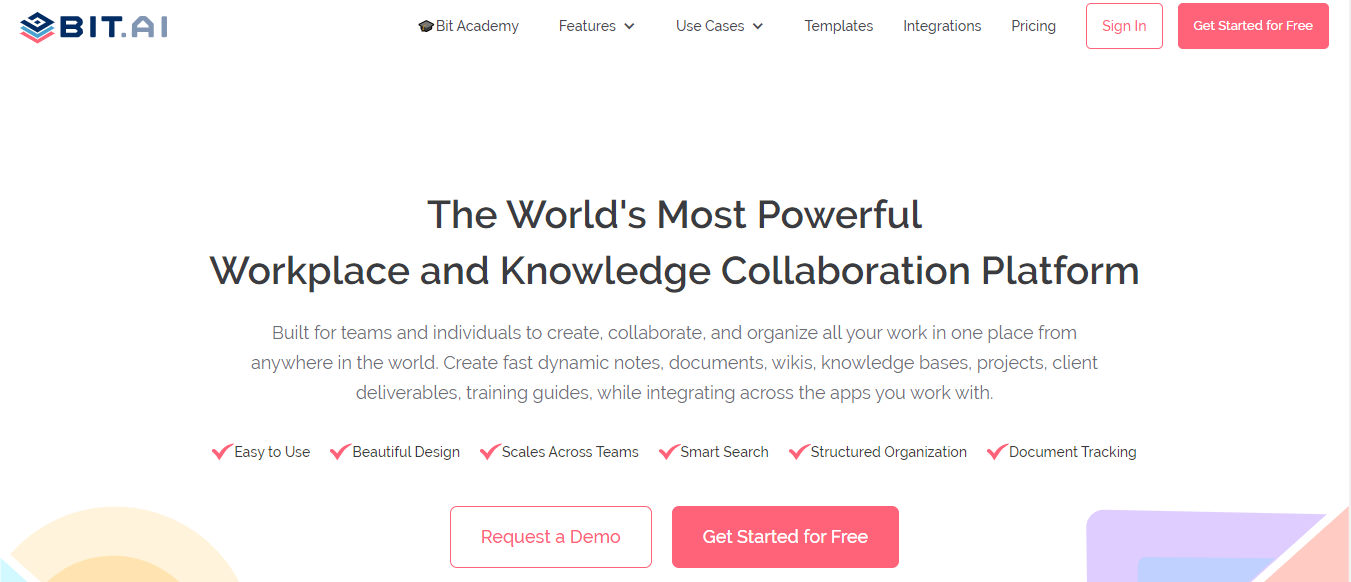 Bit serves as a central hub where collaborators, content, and knowledge can be accessed in one all-inclusive document. Buyers and sellers can use Bit to create sales contracts, collaborate in real-time, and store all assets in one place for easy and fast access.
This tool provides a common workplace for sales teams to collaborate, document, track, and share their knowledge, brainstorm ideas, and store digital assets together.
Apart from sales contracts/agreements, your team can easily create other workplace documents like project proposal, operational plan, roadmap, project charter, etc. You can even add cloud files, Slideshares, Google Slides, YouTube videos, PDFs, maps, charts, graphs, and more to these documents and make them visually stunning.

Simple, Clean UI: Bit has a very minimal design aesthetic to it, allowing a newbie to quickly get on board with the platform. Even though the platform is feature-rich, it does a great job as to not overwhelm a new user and provides a systematic approach to work.
Organization of information:  Information is often scattered in cloud storage apps, emails, Slack channels, and more. Bit brings all your information in one place by allowing you to organize information in workspaces and folders. Bring all your documents, media files, and other important company data in one place.
Brand consistency: Focus on the content and let Bit help you with the design and formatting. Bit documents are completely responsive and look great on all devices. With amazing templates and themes, Bit docs provide you with the type of brand and design consistency that is unheard of in the documentation industry.
Smart search: Bit has very robust search functionality that allows anyone to search and find their documents swiftly. You can search workspaces, folders, document titles, and the content inside of documents with Bit's rich-text search.
Media Integrations: Companies use an average of 34 SaaS apps! No wonder why most of our time is spent hopping from one app to the next, looking for information. This is why Bit.ai integrates with over 100+ popular applications (YouTube, Typeform, LucidChart, Loom, Google Drive, etc.) to help teams weave information in their documents beyond just text and images.
‍Recommended power links and files you can add to your release notes template:
Weblinks
Google Sheets, OneDrive Excel, Airtable
GitHub
Social Media posts
YouTube, Vimeo
Draw.io, Lucidcharts
Sketchfab, Figma, Marvel
PDFs, PowerPoint in Google Drive/OneDrive
Sharing: Bit documents can be shared in three different states:
Live state: A live state meaning that all changes that you make to the document will update in real-time. If you are sharing your documents with clients, partners, or customers they will always get your most up-to-date changes.
Embeds: You can embed Bit documents on any website or blog. Bit docs are fully responsive and render perfectly on your website.
Tracking: You can track your documents and gather real-time insights to understand how users interact with your content. See how much time users spend viewing documents, scroll ratio, user information, and more.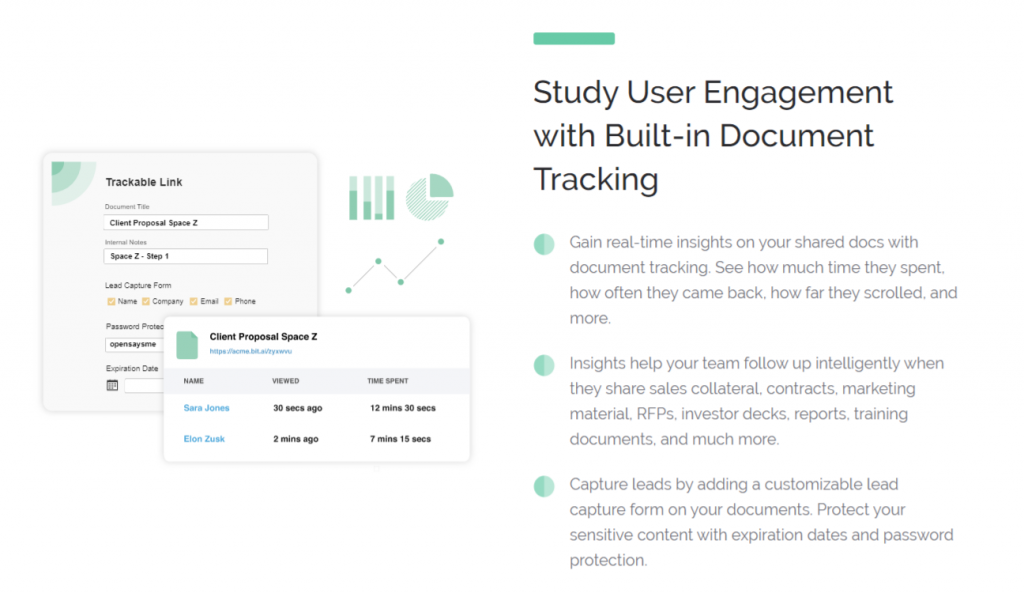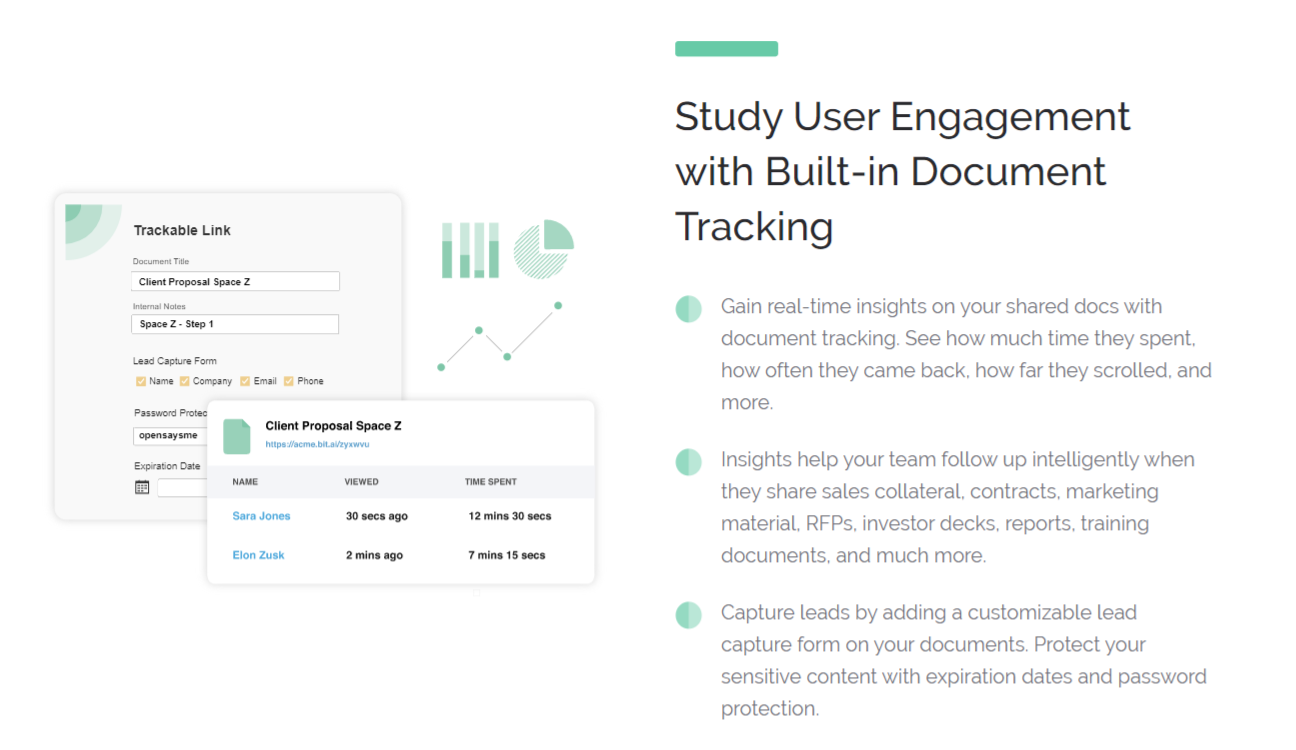 Tons of other features: Bit has a plethora of amazing features like real-time notifications, cloud-upload, templates and themes, document locking, document expiration, and much more, making it a well-rounded documentation tool.
Here are some of the main benefits of using Bit:
Collaborate in real-time
Interlink sales contacts and other documents
Create fully responsive documents
Create private sales agreements only visible to yourself or your team.
Track engagement on shared sales contracts with clients, partners, etc.
To make the process of creating your Sales Contract easier, we have created a ready-made sales contract template for you! Check it out below: 

How to Use Bit's Sales Contract/Agreement Template?
The process of creating a sales contract document on Bit is insanely easy! Just follow these four simple steps to create your document quickly:
Step 1: Create a Bit Account
Go the home page of Bit.ai and click on Get Started for Free or Sign Up to get started. Enter your email address to sign up. Once in, you can create your personal profile.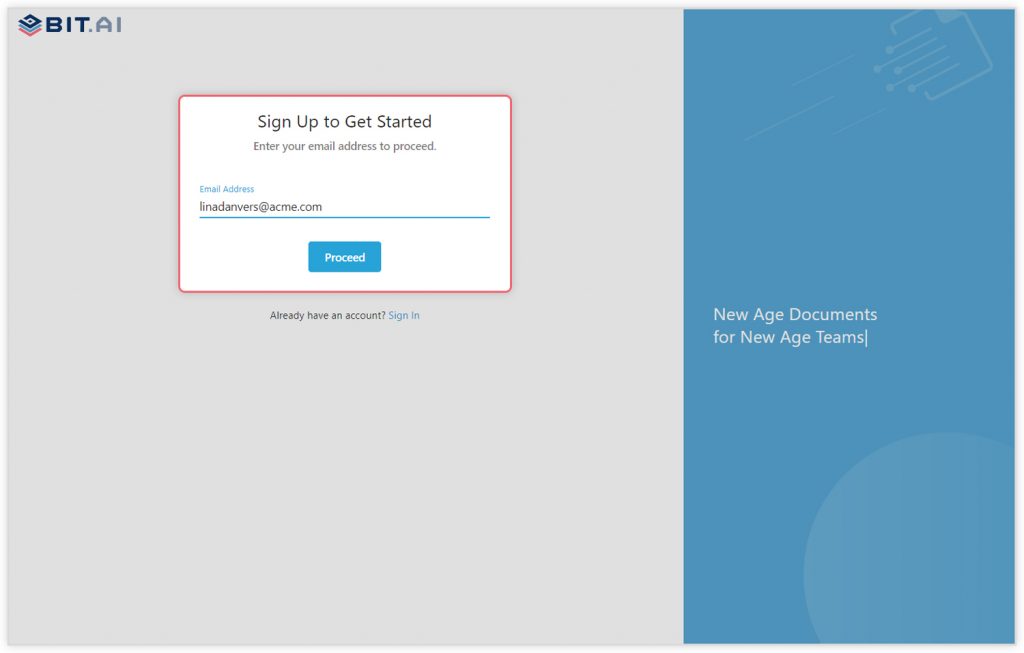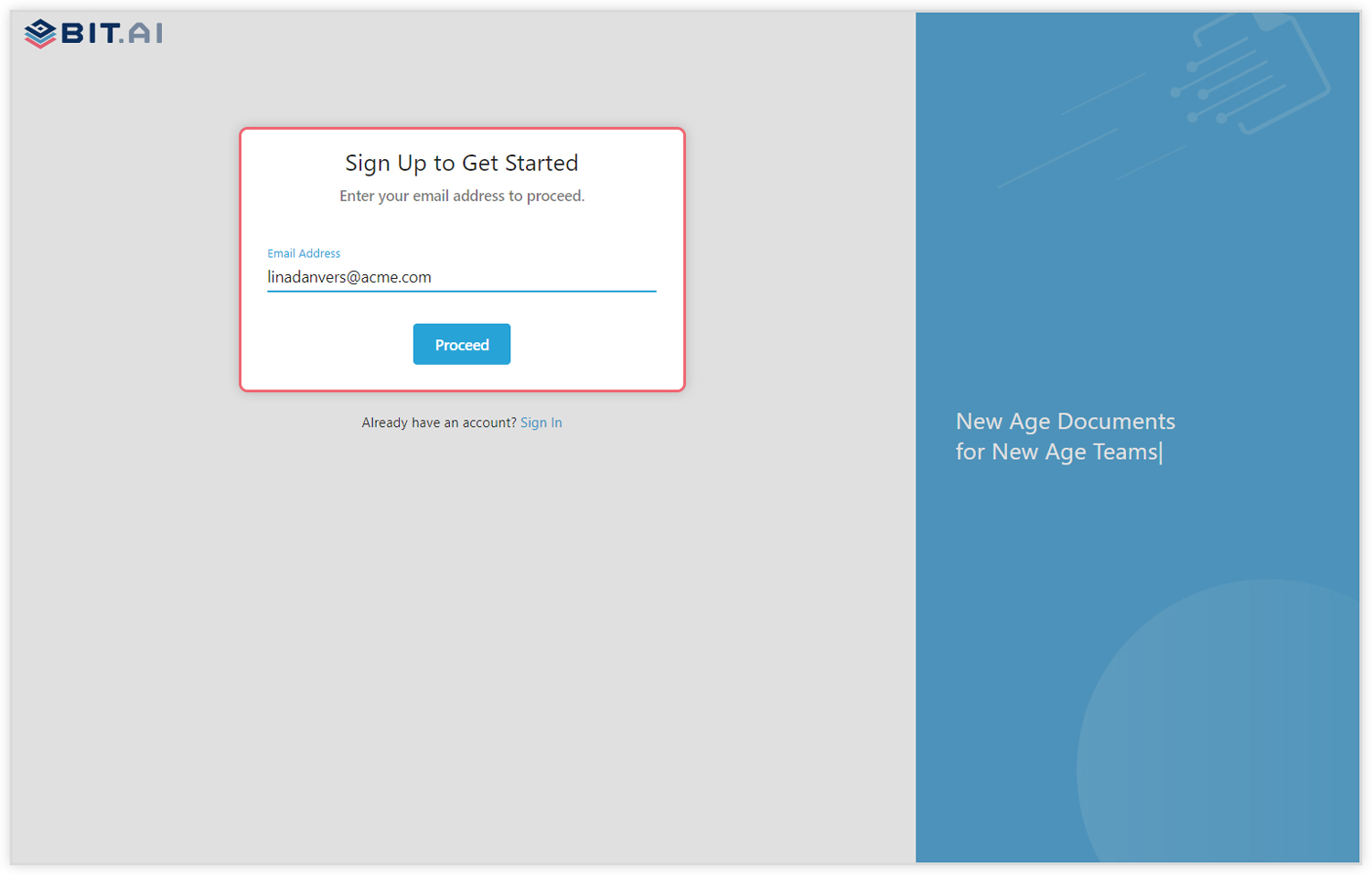 Step 2: Create a Workspace
Workspaces are where the work gets done. Click on the 'Create Workspace' button on the right. A popup will show up prompting you to add a name for your new workspace.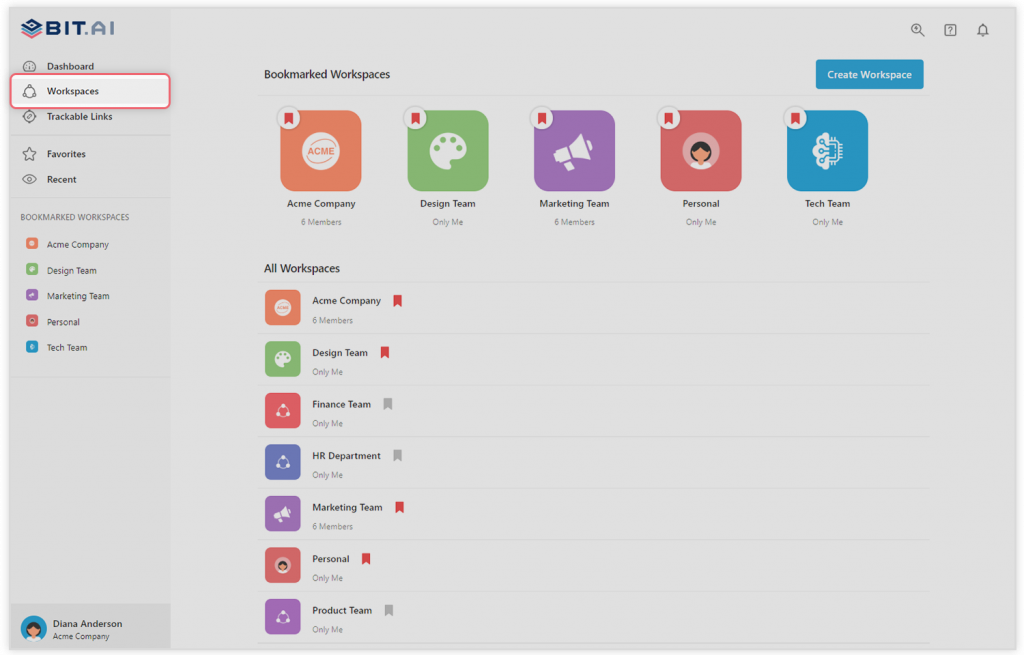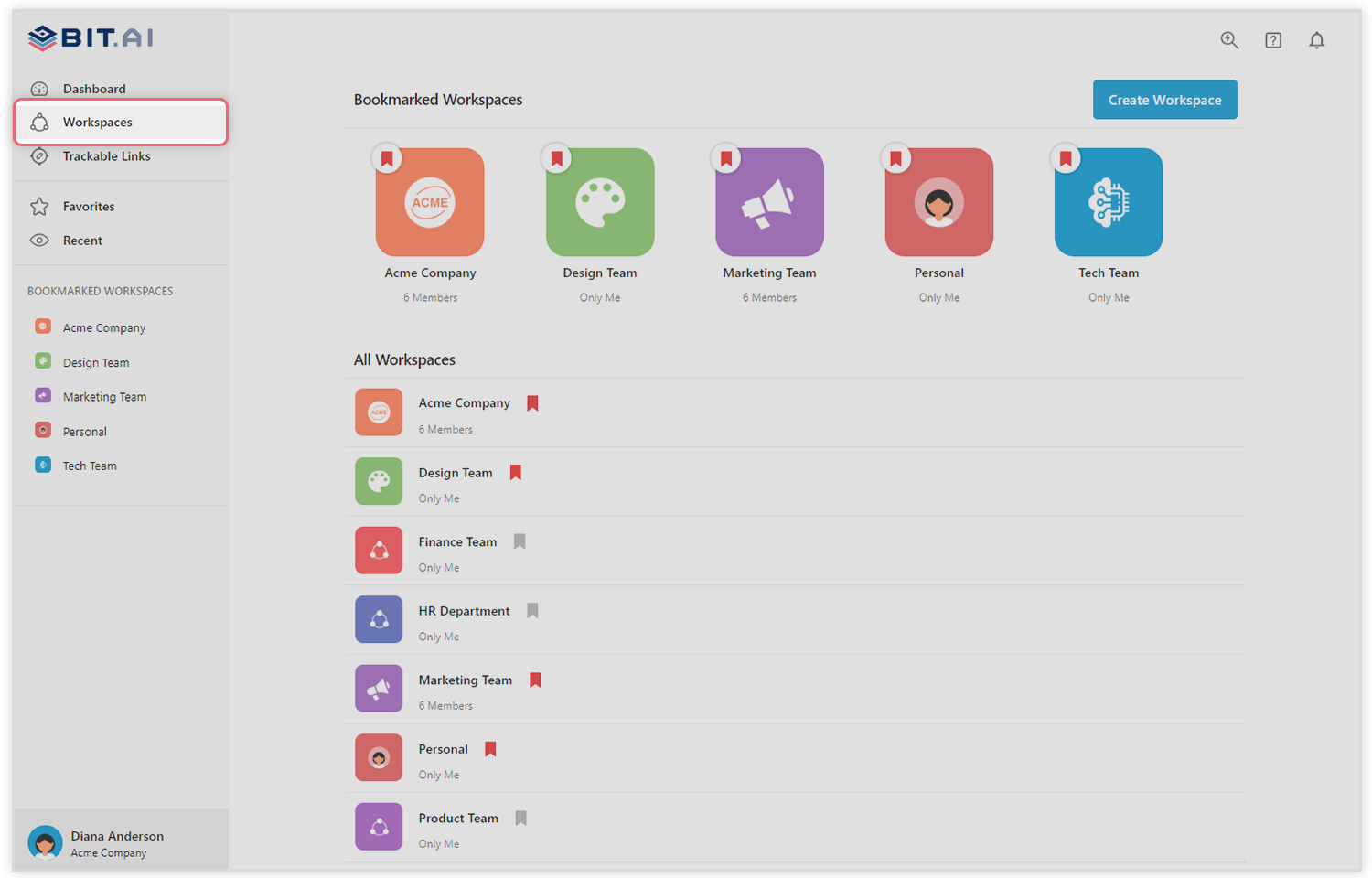 You can create a workspace around a team, department, large project, client, partner, etc. Inside each workspace, you can create an unlimited amount of Bit documents and access your content library (storage area for all of your digital assets – web links, files, cloud files, rich embeds, etc.).
Step 3: Add Team Members
Bit allows your team members to collaborate in real-time and get work done. Collaboration starts at the workspace level.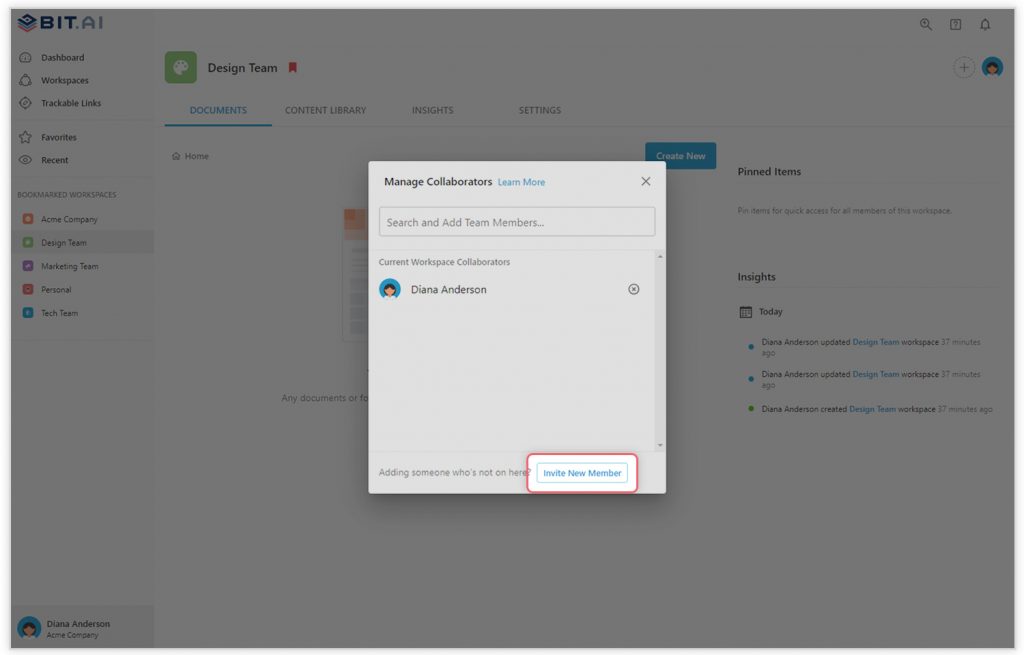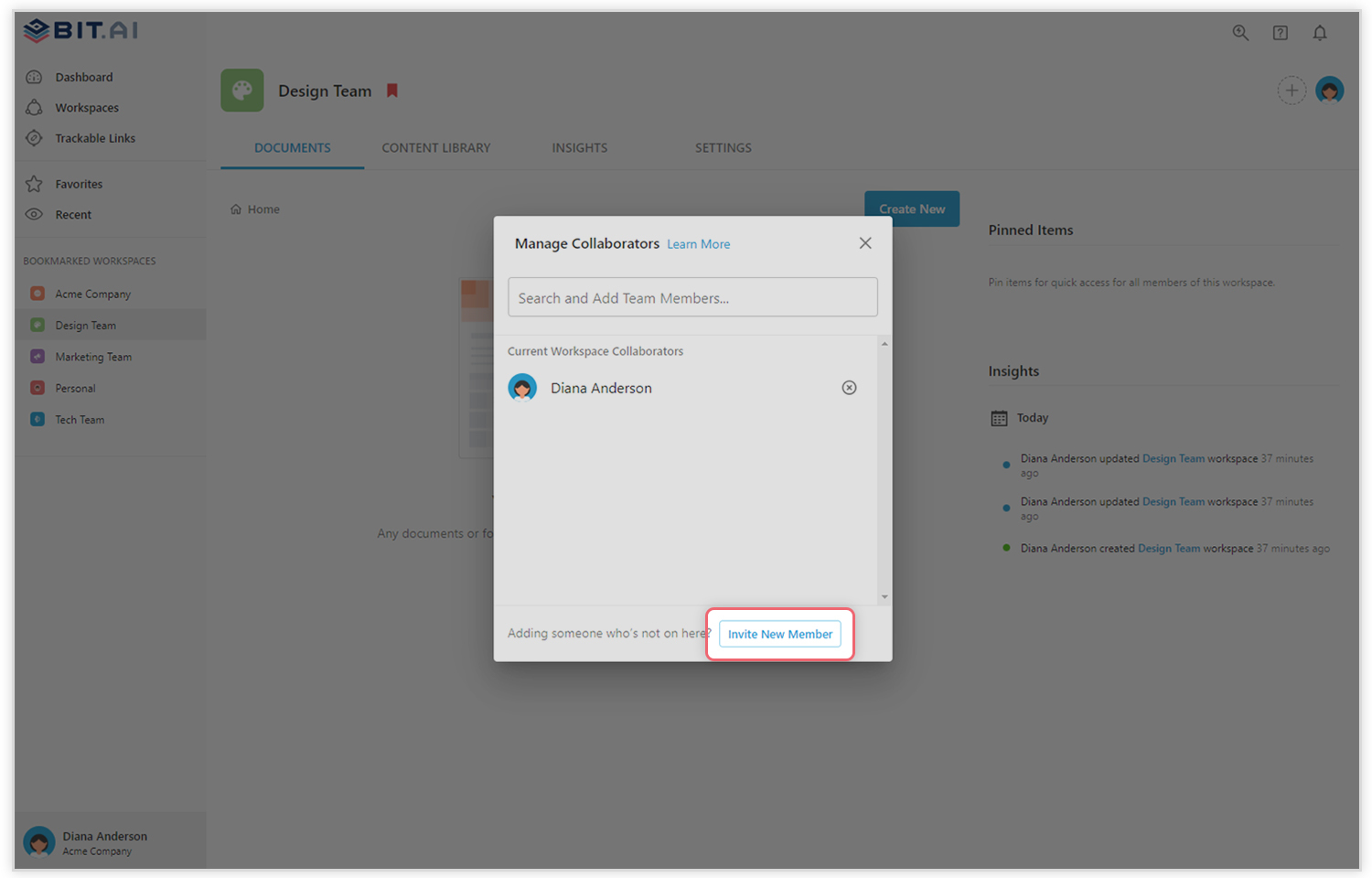 You create private workspaces by default. However, you can invite others to join you inside of a workspace and collaborate together with the knowledge, projects, documents, and content inside of the workspace.
Step 4: Create Your Desired Document
Once you are in the workspace, click on the 'Create New' button. Select 'From Template' in the dropdown. A pop up will display allowing you to select a template from the gallery.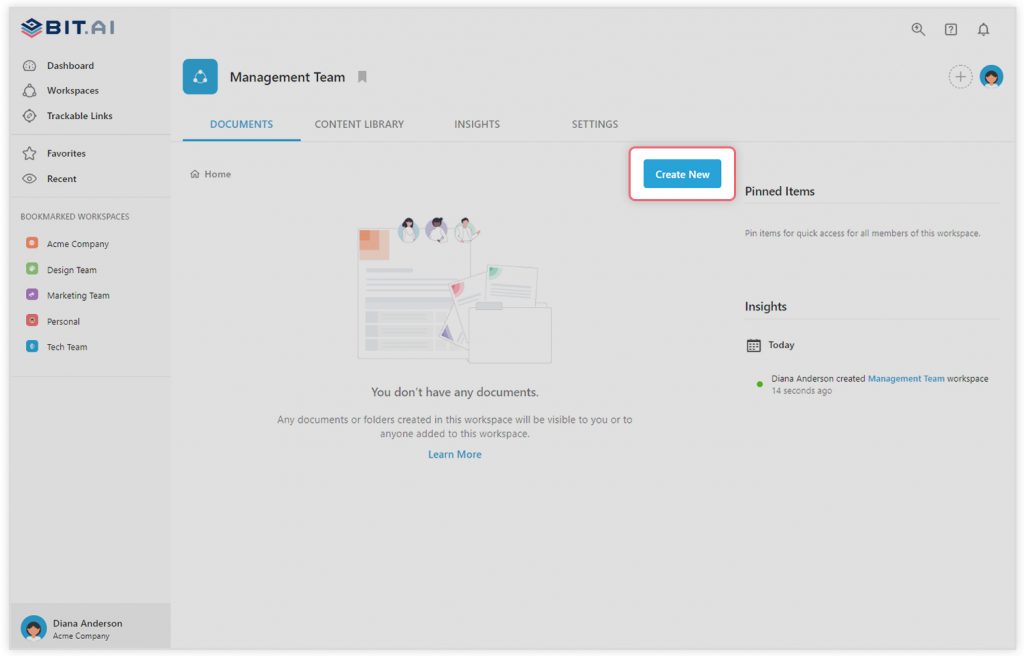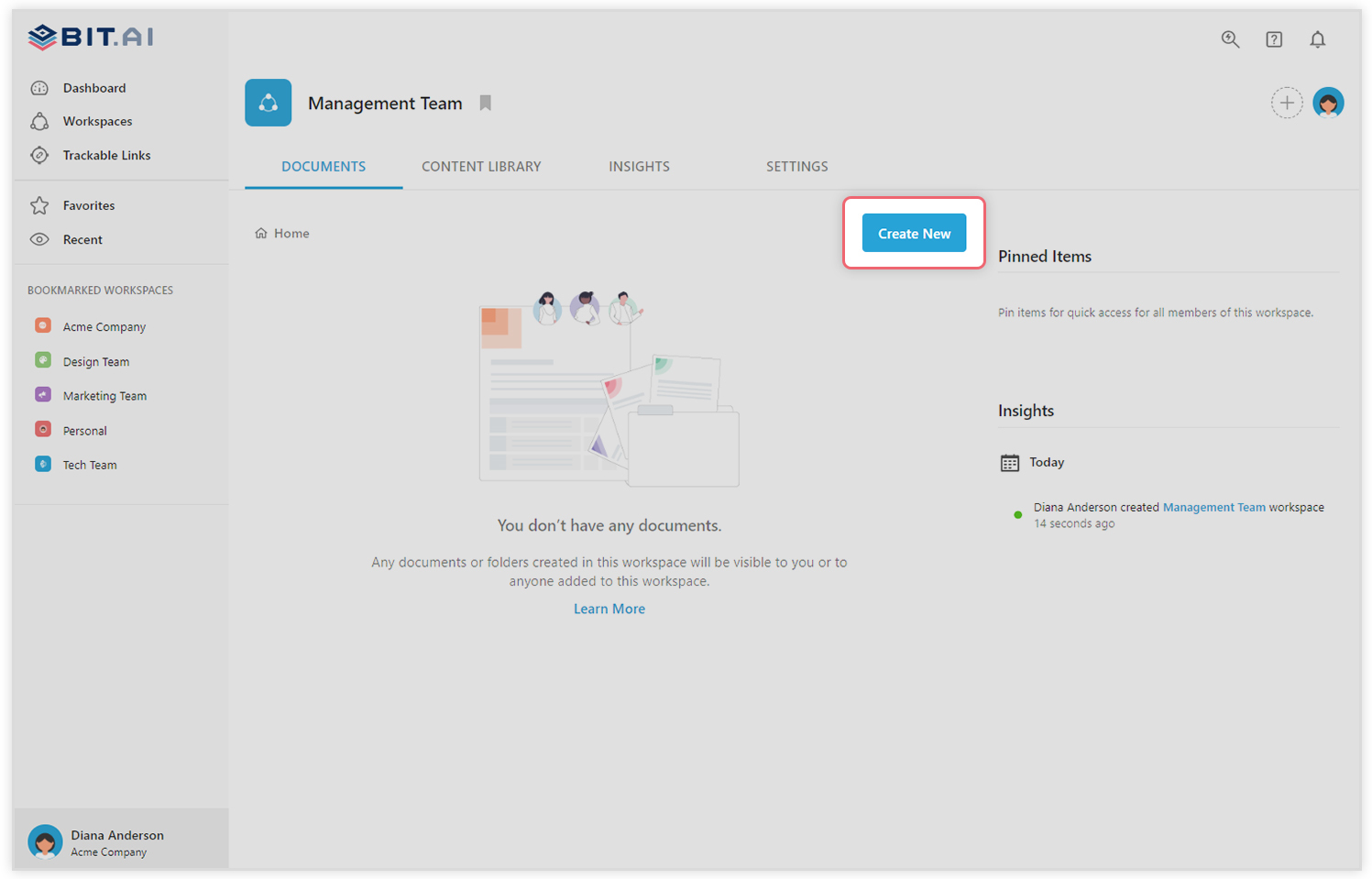 In the search box on the top left corner, you can search for a "sales contract template". Once your desired template pops up, click on it and click on the "Use Template" button on the bottom right corner.
That's it! Your sales contract or sales agreement is ready for use!
Before you go!
Our team at bit.ai has created a few awesome sales templates to make your sales process more efficient. Make sure to check them out before you go, your sales team might need them!
Bottom Line
It goes without saying that your sales contract is like a safety net you can rely on if something goes wrong. Further, a well-written sales contract manages the scope of a seller's services and accordingly offers a level of certainty concerning their responsibilities towards the buyer.
Presenting a well-defined agreement can reflect as being professional and serve to impress your clients. It shows that you value your work and take your business seriously.
If you have any questions about our sales contract template above or want to learn how Bit can help your business succeed, tweet us @bit_docs right away!
Further reads: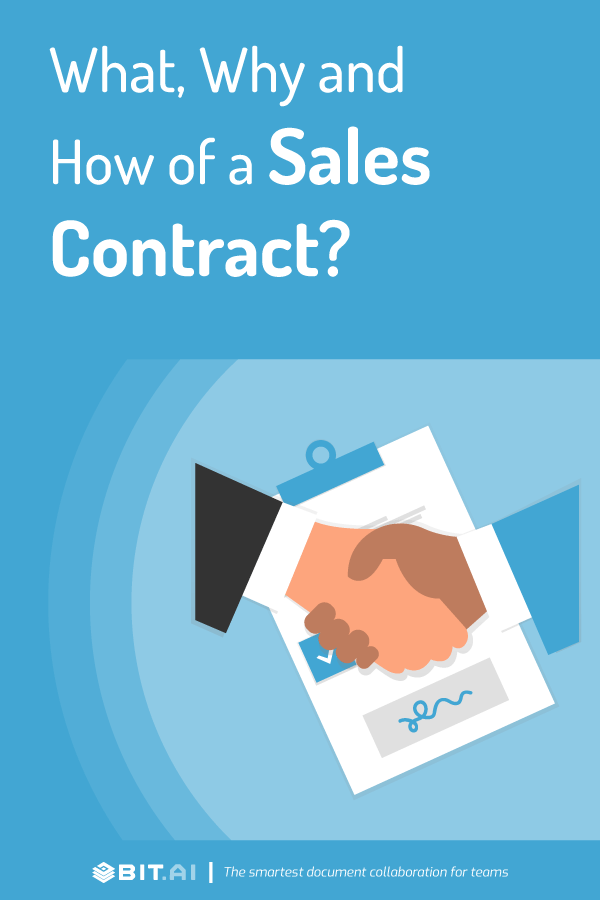 Related posts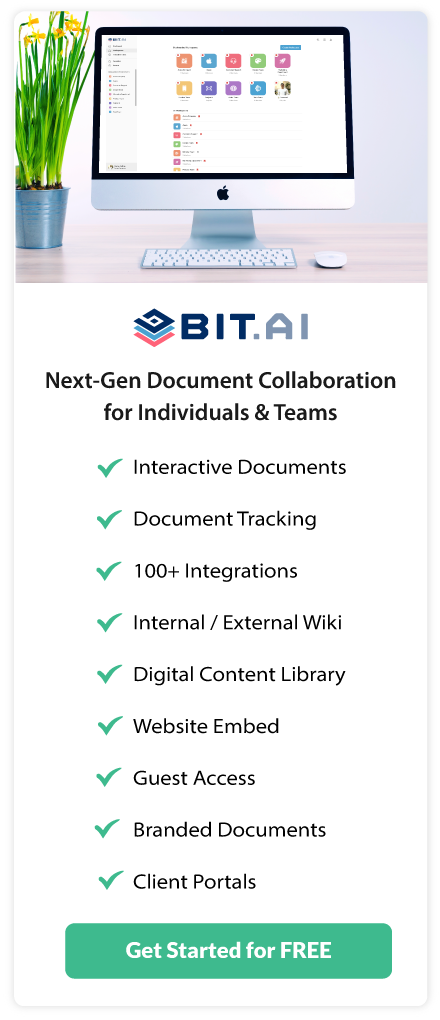 About Bit.ai
Bit.ai is the essential next-gen workplace and document collaboration platform. that helps teams share knowledge by connecting any type of digital content. With this intuitive, cloud-based solution, anyone can work visually and collaborate in real-time while creating internal notes, team projects, knowledge bases, client-facing content, and more.
The smartest online Google Docs and Word alternative, Bit.ai is used in over 100 countries by professionals everywhere, from IT teams creating internal documentation and knowledge bases, to sales and marketing teams sharing client materials and client portals.
👉👉Click Here to Check out Bit.ai.