Look at this: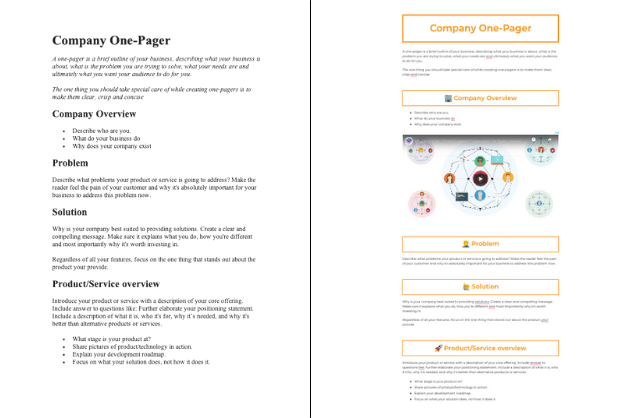 Both the documents have the exact same content, word for word, right?
If we ask you which one you would rather read, we're pretty sure you're going to pick the one on the right.
The reason is quite obvious – even though the content is the king, the way that content is presented is arguably more important because it's the first thing someone will notice when they open your document.
And those clunky layouts and huge blocks of text? They always make people click the X in the corner and move on to a better-designed piece of document.
After all, in a world of GIFs, images, videos, and memes, you're competing with a lot of rich media, and if your document is boring, you'll lose your readers.
Now, rack your brains a little and think about that one place where you can find all kinds of rich media.
If you said 'social media', brownie points for you because you guessed it right!
Everyone loves social media. It's living proof that rich media can make all the difference.
Believe it or not, people spend much more time on social media every day than they do on eating, drinking, and socializing combined.
Social media posts engage us and we remember them far more readily than we ever remember boring old facts.
So, why not capture your readers' attention and lure them by embedding social media posts in your documents?
Why not turn your text-heavy documents into accessible, engaging documents that are a downright joy to read?
Now relax, you don't have to be a protegé to embed social media posts in your documents. It's pretty simple when you've got a tool like Bit.ai with you.

Don't worry, we'll tell you all about it. But first, let's explore a few reasons why you need to embed social media posts in your documents.
Why You Need to Embed Social Media Posts in Your Documents
1. Social Media Rocks
It isn't unusual to see people walking on the streets with their heads down, looking at their phones.
In fact, according to a study people publish 3.3 million Facebook posts, 448,800 tweets, 65,972 Instagram photos, and 500 hours of YouTube video – in a minute.
Clearly, it's getting tougher and tougher to put our phones down.
So, with social media being such a big part of our lives, it's no doubt that embedding social media posts into documents can take them from 'ugh' to 'wow'.
Social media posts can go a long, long way, especially if you want your readers to truly understand what you're talking about in your document and make them stay.
2. Make your Marketing Reports Stand Out
You spend countless hours compiling the most compelling ideas and insights in your marketing reports.
But, if you don't pay attention to the presentation aspect – the report will remain in a downward spiral.
Now, you must be wondering:
Isn't content what really matters? 
Isn't the information written in the marketing report more important?
See, in a world of information overload, we have been trained to scan quickly to find what seems to be important and make a quick decision based on that.
That means, people will bail out on your marketing reports if they don't look clearer, visually organized, and more generally appealing.
And what's the point in writing a report that no one reads, right?
Pro Tip: You can embed social media posts that you created as part of the campaign in your documents. This will help your clients and other readers get a clearer picture of what worked and what didn't – without getting bored to death.
3. Good Bye Plain Old Boring Documents
When you've to create a document, do you just stick to the defaults?
You know, like sticking with Times New Roman, indenting your paragraphs, and employing an absurd amount of bold and italics.
If you said, "yes," we'd like to burst your bubble:
Your document isn't professional. It's dull.
And who on earth wants to read an unprofessional, dull document?
By embedding rich media like social media posts in your documents, you can create attractive, easy-to-read documents that will surely impress your boss.
Thankfully, creating beautiful documents and embedding social media posts in them is easier than you think.
Using Bit.ai, you can quickly transform your ugly and undesirable document into awesome and accessible.
Yes, you can produce pretty much any document want with Microsoft Word. But its features don't always result in the kind of beautiful and professional documents that you need to hook readers.
Well, Bit.ai can do more than bang out simple letters and plain text.
Delve into its features, and you'd be surprised at how much it can help even novices produce gorgeous documents!
Bit.ai – The World's Most Powerful Workplace and Document Collaboration Platform
Bit.ai is the most powerful document collaboration and communication tool that helps you create, organize, share, collaborate, track and manage all your documents under one roof.
Bit allows you to collaborate in real-time with multiple people. You can co-edit and use comments to bring your team to the same place and make work-related decisions.
What makes Bit outshine all other document creation tools is its ability to produce documents that are much more than plain-boring text. Bit can handle any rich media content you throw at it.
You can embed Social Media Posts, Spotify Music, PDFs, SpreadSheets, SoundCloud Playlists, Cloud Files, GIFs, etc. into your Bit doc.
Be it Instagram posts, Facebook posts, Tweets, Pinterest boards, etc. – embed anything in your Bit document and Bit will show the content beautifully. (To see how these social media embeds look like in a Bit document, click here.)
Your readers will see up-to-date likes, shares, comments, etc. They can either view the social media post directly in the Bit document or go to the original post.
How to Embed Social Media Posts Inside a Bit Document?
Follow these easy peasy steps to embed social media posts in your Bit document!
Step 1: Open up any social media post you would like to add to your Bit document and copy the shareable URL.
Step 2: Open your Bit document and paste the URL wherever you want the post to appear.
Step 3: Bit will automatically generate a live preview of the post right there in your document. (You can embed as many social media posts as you want!)
Step 4: For additional formatting options, click on the three dots on the top right corner. This toolbar will allow you to add a caption to the post or delete it!
Wrapping Up
Imagine being stuck in an elevator with someone who just can't stop talking.
Super annoying, right?
That's the same thing with documents – the more text-heavy you make them, the more yawns it will get.
Honestly speaking, it doesn't matter that the information in your document is correct if a reader has to spend their valuable time trying to grasp what you're trying to tell him.
Unappealing documents can cause user confusion, critical delays, and even lost deals.
Whereas, documents that are properly designed improve readability; untangle complex information, and show you master your own work.
So before dashing off another badly written document, consider using Bit.ai to wind up with a document you can be proud of.
Don't forget to let us know how it goes by tweeting us @bit_ai. Looking forward to hearing from you!
Further reads: 
9 Best Social Media Planners You Should Be Using This Year!
How to Embed GIFs in Your Documents?
Embed Spotify Music in Your Documents With Bit.ai!
7 Social Media Trends To Watch Out For in 2021
20 Social Media Marketing Quotes to Inspire Your Team!
How to Embed SharePoint PowerPoint in Your Documents?
Top 11 Social Media Management Tools for Marketing Teams For 2021
Social Media Proposal: What is it & How to Create it?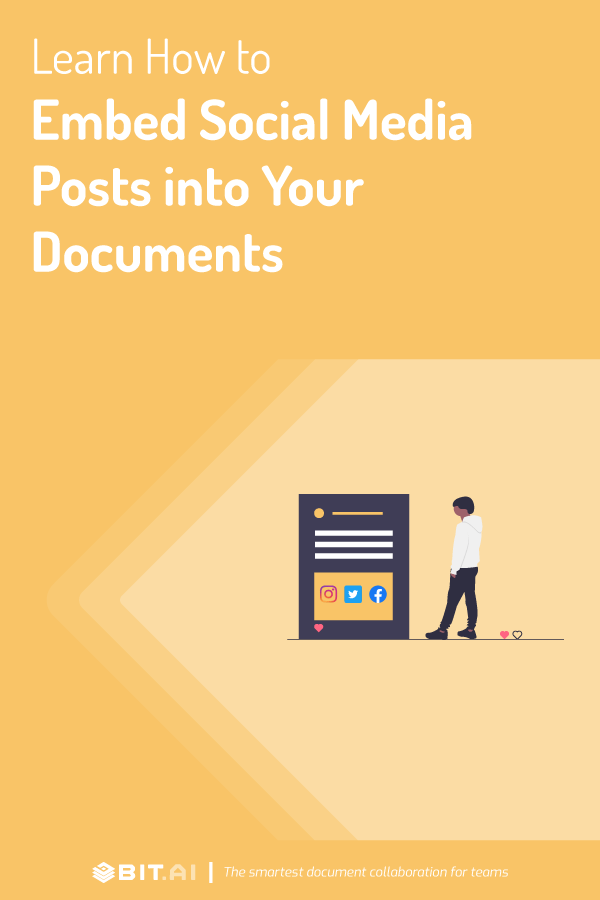 Related posts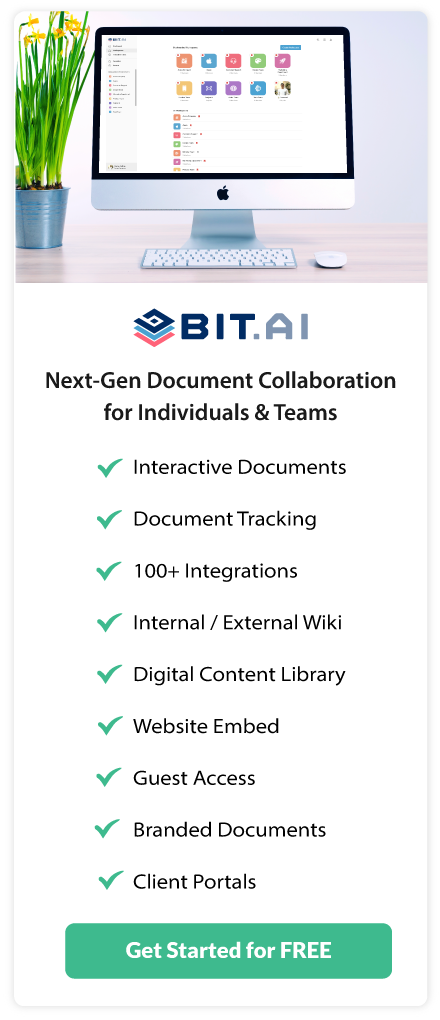 About Bit.ai
Bit.ai is the essential next-gen workplace and document collaboration platform. that helps teams share knowledge by connecting any type of digital content. With this intuitive, cloud-based solution, anyone can work visually and collaborate in real-time while creating internal notes, team projects, knowledge bases, client-facing content, and more.
The smartest online Google Docs and Word alternative, Bit.ai is used in over 100 countries by professionals everywhere, from IT teams creating internal documentation and knowledge bases, to sales and marketing teams sharing client materials and client portals.
👉👉Click Here to Check out Bit.ai.