Want to stay updated with the latest social media trends and technologies? No worries, we have got you covered! Read on…
But, have you ever wondered how difficult 2021 would have been if we didn't have social media?
We'd have spent our time playing that snake game on Nokia and staring at the wall.
Yes, the "social" part of social media took on a whole new weight in 2021 but there's another realm that saw significant changes last year – social media marketing.
In 2020, brands dramatically increased their investment in social media advertising.
At its peak in Q4, global social media ad spend increased by 50.3% compared to the same period in 2019.
Also, nearly half of the world's population – an estimated 3.23 billion people – used a social media platform at least once per month in 2020, an 8.1% increase from 2019.
This year, the number of users on social is expected to grow an additional 3.7%. That's huge, right?
All these facts point to one thing – social media has never been more powerful as a marketing tool and it is definitely something to keep a close eye on.
With that being said, it's no surprise that new social media trends are constantly emerging, growing, and evolving every day.
But, keeping up with the latest social media trends might feel harder than keeping up with the Kardashians, and that's exactly why we wrote this blog post.
So, let's jump in and check out the top seven social media trends that should definitely claim your focus in 2022.
List of 7 Social Media Trends you must Watch Out!
1. Live Streaming Video
In the year 2016, Facebook Live became the hot new thing in digital marketing.
Fast forward to 2022, not only is Facebook Live thriving, but other major platforms like Instagram, Twitter, YouTube, and LinkedIn have embraced similar features too.

In short, live streaming is killing it, and we have got facts to back it up.
Around 80 percent of internet users prefer live video to blogs, and 82 percent prefer live streaming video to other social media content.
And, according to MediaTrix, the streaming industry is estimated to reach $124.6 billion by 2025.
But, why do people love to watch live streams so much? Why is it a hot-shot social media trend?
Here's why: Live streaming has an immediacy that recorded videos can never, ever match. It allows people to engage with the content in ways they couldn't have if it was a pre-recorded video.
Live streaming video offers a taste of "behind the scenes" – something that feels unscripted, transparent, and more reliable.
Given all the benefits live streaming offers, it's no surprise why more than 35% of marketers are using live video as a part of their social media strategy, and you should too.
Because if you don't get out in front of this powerful social media trend, you'll certainly fall behind.
Read more: 20 Social Media Marketing Quotes to Inspire Your Team
2. Chatbots
Social media has become more than just a place where people make new friends and chat with them.
It is now a place where people voice their opinions, order new products, and services, give reviews, and even get in touch with your business.
See, your customers regularly need to contact your business for one thing or the other.
In fact, 83% of people who shop online need assistance to wrap up their purchases.
But in this round-the-clock digital marketplace, hiring enough employees to cope with this demand is not easy.
That's exactly why chatbots are the new social media trend.
This revolutionary technology has transformed the way businesses communicate with their customers.
Whether it is rendering anytime support, or augmenting human productivity, chatbots are an inevitable part of customer service.
So, instead of defaulting to email and a vague promise of replying 'within two business days, use chatbots to keep up with the growing interaction taking place on social media platforms!
3. User-Generated Content
It's time to level up your content – not in production value, but in human connection.
How? By using user-generated content – something that has become an increasingly reliable social media marketing tactic.
According to a study, 92% of consumers trust organic, user-generated content more than they trust traditional advertising.
According to another study, 90% of consumers say that UGC holds more influence over their buying decisions than promotional emails and even search engine results.
Why? Because it's not the brand that's doing the promotions, but the customers themselves.
Honestly speaking, UGC is too good to be true. With some creative strategies, you can get your audience working for you. All you need to do is:
Tell your audience to mention your brand in their social media posts where they've used your product/service and start reposting that UGC.
Comment and interact with your audience regularly.
Run contests that drive UGC.
Basically, your audience creates the content for you, and you just reap the benefits.
Plus, UGC acts as social proof to promote your brand's message, strengthen relationships with clients and instill trust in the target audience.
What could be better than that?
Read more: 9 Best Social Media Planners You Should Be Using This Year!
4. TikTok, Reels & Youtube Shorts (Newest Social media trend)
Be it cat videos or videos of babies tasting lemon for the first time – we all love watching them.
That's probably why video content is one of the most influential social media trends out there.
In fact, according to Wyzowl, 87% of businesses are now using video as part of their marketing arsenal – that's up 24% since 2017.
Also, experts anticipate the video marketing industry to reach nearly $50 billion by 2022.
But let's be real here.
As a marketer, you need to start thinking more strategically about your approach to videos, especially when it comes to how long your videos should be and where you should post them.
Creating short-form videos on TikTok, Reels & Youtube Shorts is the new norm and every business should get on the bandwagon ASAP.
Because there's no better time than now for brands to produce bite-sized, snackable, digestible, and easy-to-consume videos.
Not only do these videos fit more easily into the average consumer's schedule, but they also allow brands to produce videos that get to the point without the overhead of a huge production.
5. Influencer Marketing
Influencer marketing isn't a new social media trend, but it is going to stay for a long, long time.
By 2022, influencer marketing will become a $15 billion industry and it shows zero signs of slowing down.
So, why is influencer marketing getting stronger and bolder with each passing day?
Because influencer marketing is a great way to help you reach new audiences, increase brand awareness, and boost your marketing ROI!
It is much cheaper than running paid ad campaigns, and yet it delivers excellent results.
Here are some facts that'd convince you to add influencing marketing to your marketing arsenal.
The bottom line is, that influencer marketing is red-hot right now!
Read more: How To Create An Effective Marketing Strategy For Your Business?
6. Ephemeral Content
Let's start with a vocab lesson.
Ephemeral content is the rich media that is only accessible temporarily (usually 24 hours) before it disappears forever.
Instagram Stories, Snapchat, Twitter Fleets, LinkedIn Stories, Facebook Stories – all these formats are ephemeral content.
And while evergreen content is still essential, this kind of content lets marketers tap their target market's inner FOMO (Fear of missing out!)
The fact that the content is not going to be there tomorrow entices people to engage with the content ASAP.
Who would've thought that this fear could be used to make your digital marketing campaigns successful?
Another reason why you need to use ephemeral content is that it's one of the best ways to showcase brand authenticity.
And, according to stats, 86% of digital users crave authenticity more than ever.
They want the raw emotional relationship they can build with brands, and ephemeral content can give them just that – a genuine, honest look into your brand!
7. Meme Marketing (Most exciting social media trend)
Human brains are hardwired to process visual information 60,000 times faster than texts.
And if the visual includes something that has a recall value – like a scene out of the movie Interstellar – we process it even faster.
This is probably why memes are the hottest content currency online and these stats prove that:
55% of 13-35-year-olds send memes every week, and 30% send them daily.
74% send memes with the sole objective of making people smile or laugh.
38% of people follow meme accounts on different social media networks.
In the digital age we live in, there is literally a meme for everything.
Feeling down about your next virtual meeting? There's a meme for that.
Hate doing household chores? There's a meme for that as well.
And now, marketers have started to capitalize on this meme frenzy because memes are fun, easy, and entertaining to create.
They are the most shared, trusted (can't be sold out because they always tell the truth), and enjoyed a form of content.
All this makes memes a good social media trend that multiplies visibility and improves brand engagement ultimately leading to better ROI.
What's more? Memes also make brands look cool and young.
And who doesn't want to hang out and party with the cool and young peeps?
Become part of these Social Media Trends today itself!
In a socially distanced world, social media has become the default community space.
Users have flocked to social media in search of information, entertainment, and human connection.
Currently, an estimated 3.2 billion people use social media worldwide, a number that's reportedly growing by 100 million daily.
That means, consumers are living more of their lives on social channels, and if you want to win them, you need to stay ahead of the social media game.
And for that, you have to keep on top of the latest and greatest trends that we shared with you.
So, are you ready to spread your wings and become a social (media) butterfly?
Let us know how it goes by tweeting us @bit_docs!
Further reads:
11 Best Content Curation Tools For Marketers!
Social Media Proposal: What is it & How to Create it?
10 Social Media Marketing Podcasts That Will Inspire New Ideas!
25 Insane Instagram Stats that Will Shock You!
Power Words To Make You Stand Out From Competition
10 Best Link in Bio Tools in 2022
Saas Marketing: Definition, Funnel, and Comprehensive Strategies!
13 Social Media Post Ideas for Interesting Content!
Learn How to Create a Social Media Report Like A Pro!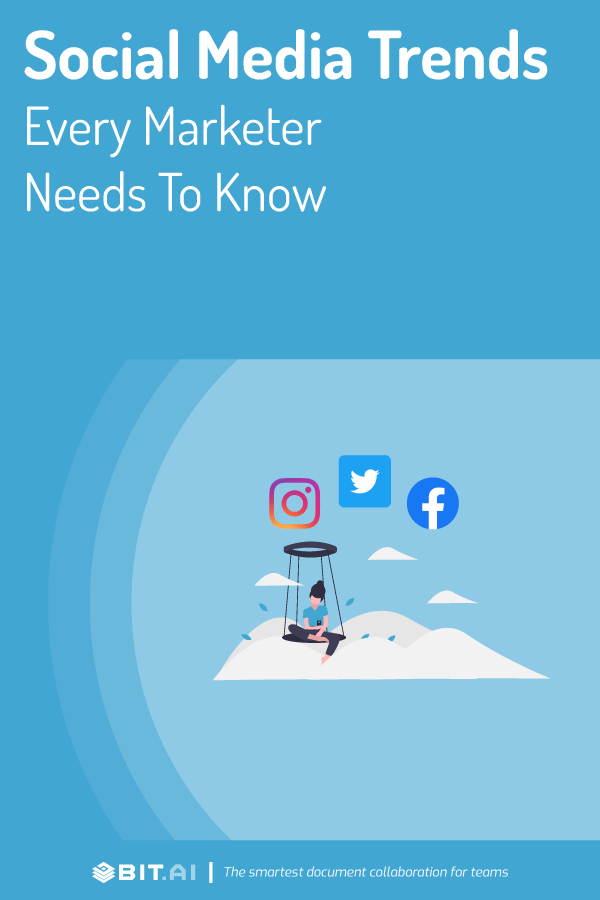 Related posts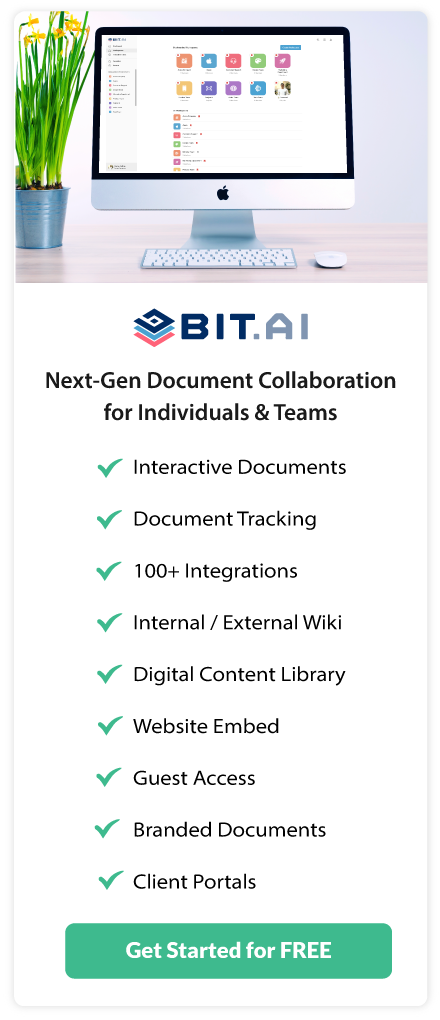 About Bit.ai
Bit.ai is the essential next-gen workplace and document collaboration platform. that helps teams share knowledge by connecting any type of digital content. With this intuitive, cloud-based solution, anyone can work visually and collaborate in real-time while creating internal notes, team projects, knowledge bases, client-facing content, and more.
The smartest online Google Docs and Word alternative, Bit.ai is used in over 100 countries by professionals everywhere, from IT teams creating internal documentation and knowledge bases, to sales and marketing teams sharing client materials and client portals.
👉👉Click Here to Check out Bit.ai.