The link in your social media bio is like a magic gateway.
You can use it to promote your content.
You can use it to get traffic to your blogs.
Or, you can use it to tell people about the services you provide.
But, we have a bone to pick with some social media platforms – their linking options are a nightmare for businesses and marketers.
We mean, on most social media platforms, you can just add ONE link in your bio. You've to continuously swap the link every time you've to share something new.
But, as they say…
Warning: Hold your hats because you're about to be swept away by what we're going to say next:
You can direct your followers to your podcast episode, your blog post, your YouTube video, and basically anything that you want to share – while still using just one link in your bio.
Yes, there are several links in bio tools out there that you can use to hold all your links together and make the most out of your social media bio links.
But Wait…What Exactly Are Link in Bio Tools?
Without a doubt, link in bio tools is one of the most useful tools out there when it comes to social media marketing.
They let you share all of your valuable links with your followers, using one single link.
That means, instead of linking to each of these pages separately in your social media bio (which isn't possible), you just gotta include the short link created by the tool.

You are still in full control of what links you want to share, but now you can have more than one!
So, How Do These Link in Bio Tools Work?
There might be some variation in how these different tools work, but we'll tell you the gist it:
1. You use the tool to build your own landing page for social media and then you fill it up with links to the things that you want to share with your followers. (i.e. your blog, your YouTube video, your online store, etc.)
2. Many tools also give you the option to customize your text, choose the layout, modify colors, etc.
3. Once you're done, the tool creates a short link for you.
4. After you paste the short link in your social media bio, people who click on it will be redirected to your landing page with multiple call to action buttons leading to your various links.
Sounds great, right?
Some link in bio tools have more features than others, and it entirely depends on who they have been designed for.
For example, if you're a food blogger who just wants to get traffic to the recipes you've posted on your website, you probably only need a straightforward link in bio tool without any bells and whistles.
If you're the social media manager of a major brand, you probably need a tool that offers you rich tracking and other analytical features.
We did a little digging into the best link in bio tools available so that you can pick the one that fits your needs the best. Let's roll!
List of 11 Best Link in Bio Tools Out There!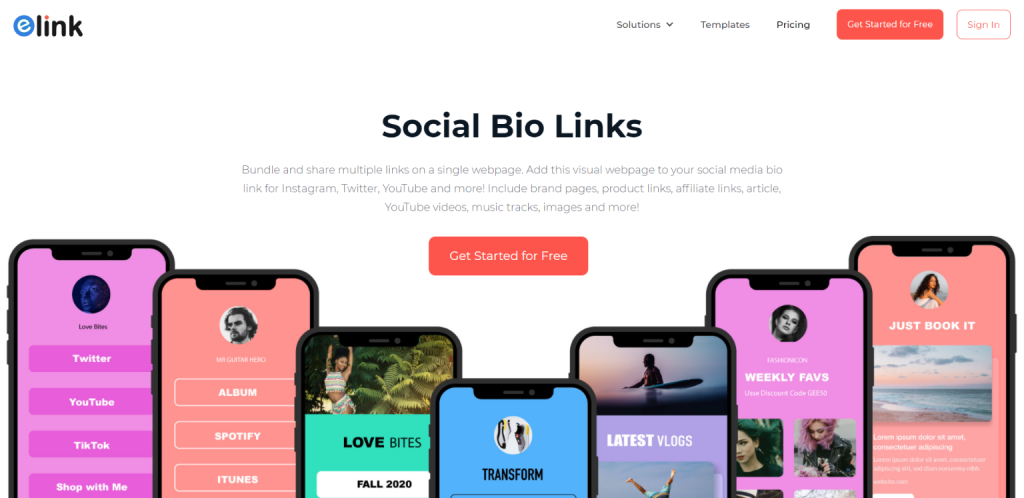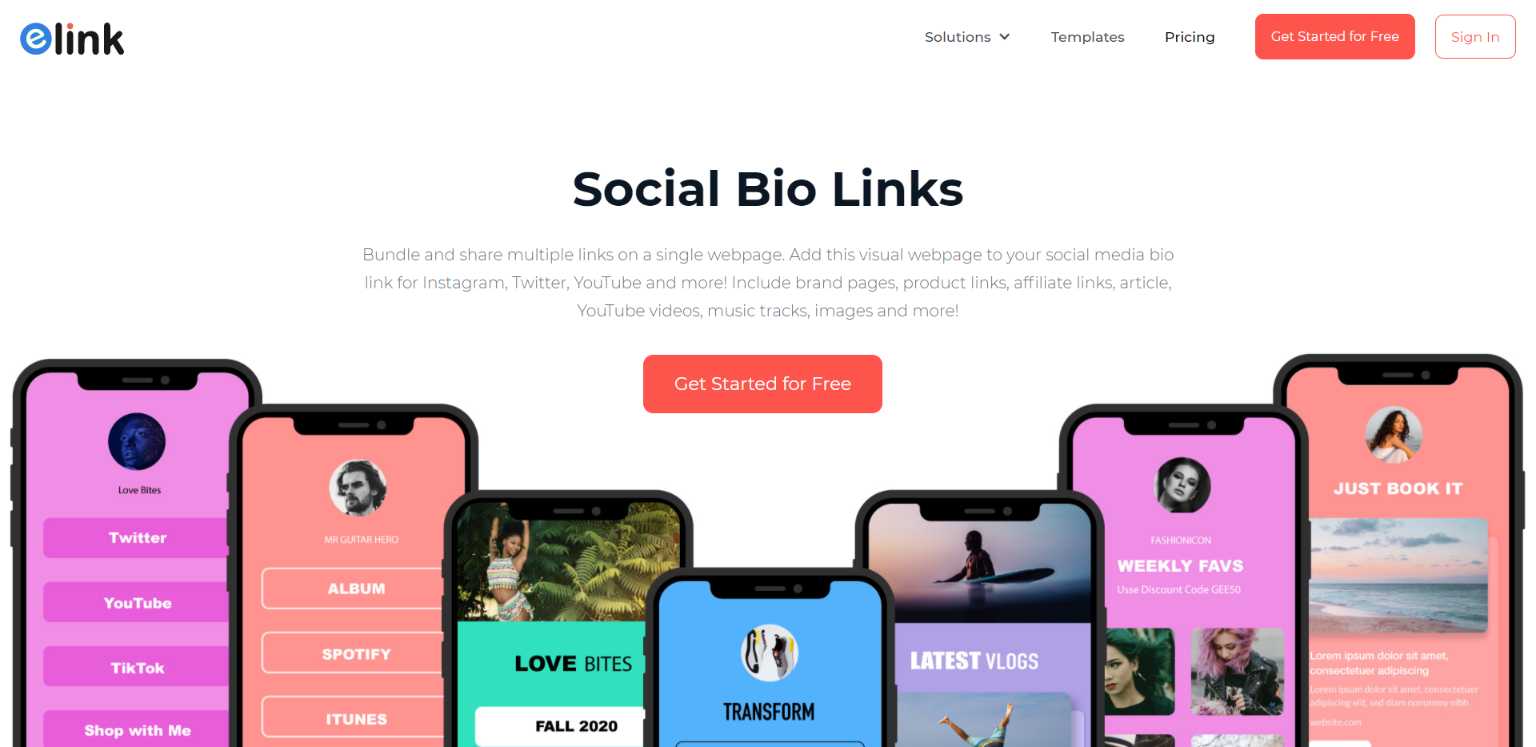 elink is a revolutionary tool that gives you the biggest selection of visually stunning, fully responsive layouts for your social bio link.
There's a layout for every business, influencer, and brand to make your content pop, wobble, and stand out from the rest.
You can add brand pages, product links, affiliate links, articles, YouTube videos, music tracks, images, and more to it.
elink lets you choose from various fonts, colors, and design themes. You can add images, button text, header images and so much more to make your social bio link more appealing. Users love elink for its versatility. If you are looking to create deals of the day, daily promotions, recommended books, social profiles or product pages then Elink will be your best choice.
If you want to update your bio link on the go, elink is the best choice as it comes with a robust Chrome and Firefox extension for making updates.
Key features: 
Create as many social bio links as you need.
Ability to add images for each link with call to action buttons
Choose from over 50 beautiful layouts.
Customize the design according to your brand and message.
Add and edit the content on the go using elink's Chrome and Firefox extension.
Embed your elink on your website
Send newsletters using elink
Pricing:  You can get the pro version for $12/month.
Read more: 7 Social Media Trends To Watch Out For in 2022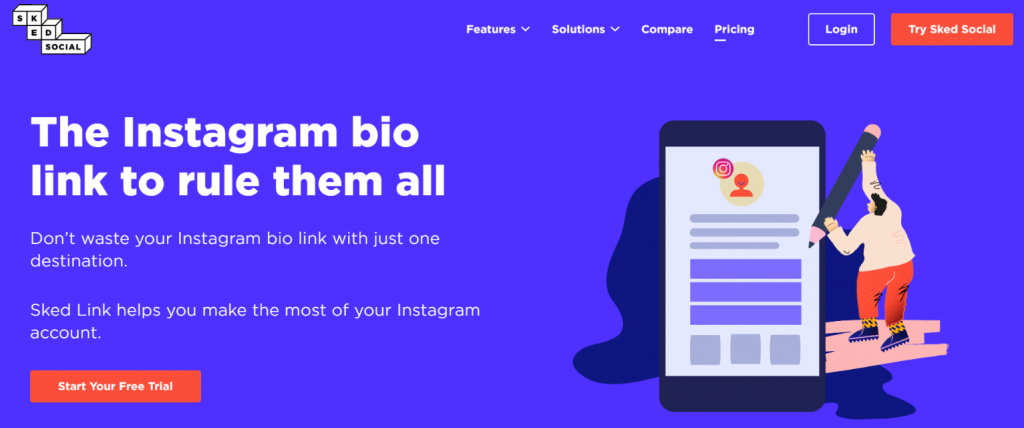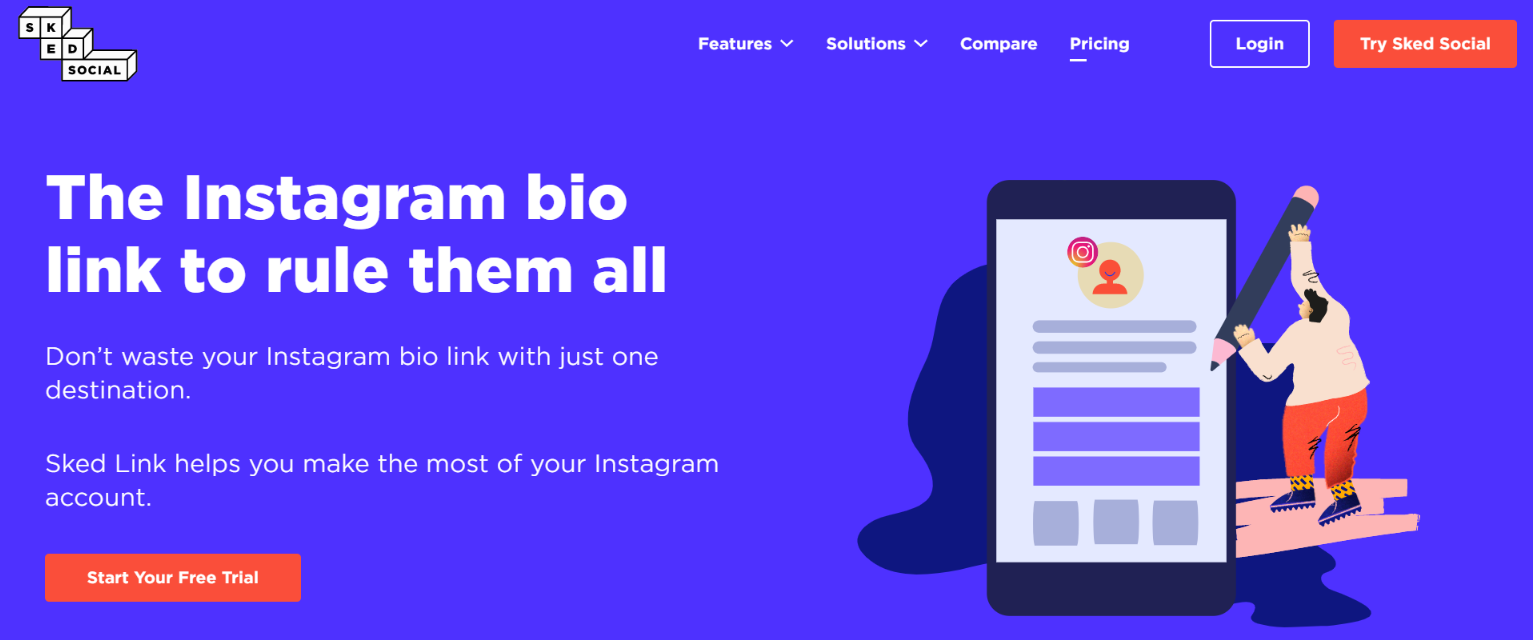 Sked Link prides itself on loading your landing page faster than any other link in bio tools out there.
The result? Users won't get tired of waiting and exit the page.
What makes Sked Link different is its Instagram gallery display feature.
You can add your Instagram feed to your customized link. That means, whenever someone clicks on any of your Instagram images using the link, you can direct them to a specific page.
Sked Link is incredibly intuitive and user-friendly. The only con is that it doesn't offer as many customization features as compared to another link in bio tools.
Key Features: 
Integrate with Facebook Pixel and Google analytics.
Customize your landing page's introductory text.
Use custom CSS for extra configuration.
Accurately monitor the traffic being directed by Instagram.
Pricing: 
Sked Link is integrated with Sked Social, so to use it, you have to sign up for Sked Social.
Basic Plan: $25 per month.
Essentials Plan: $75 per month.
Professional Plan: $135 per month.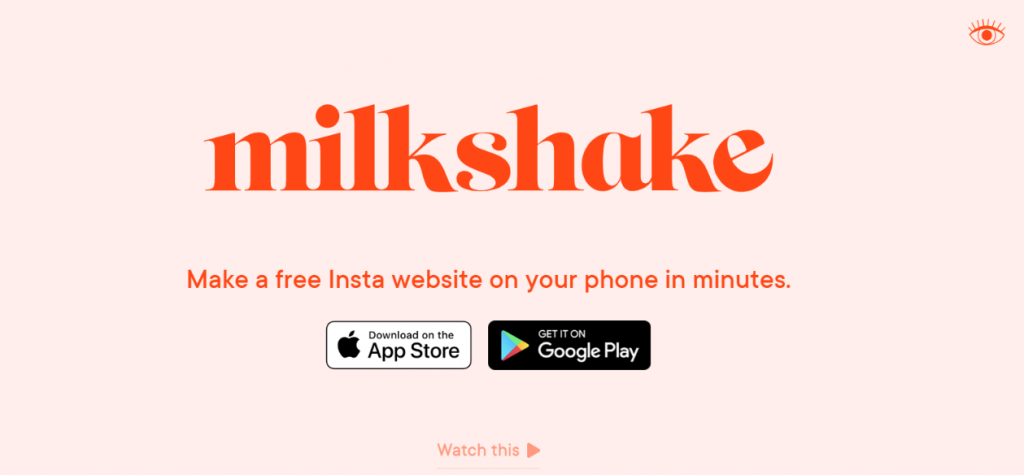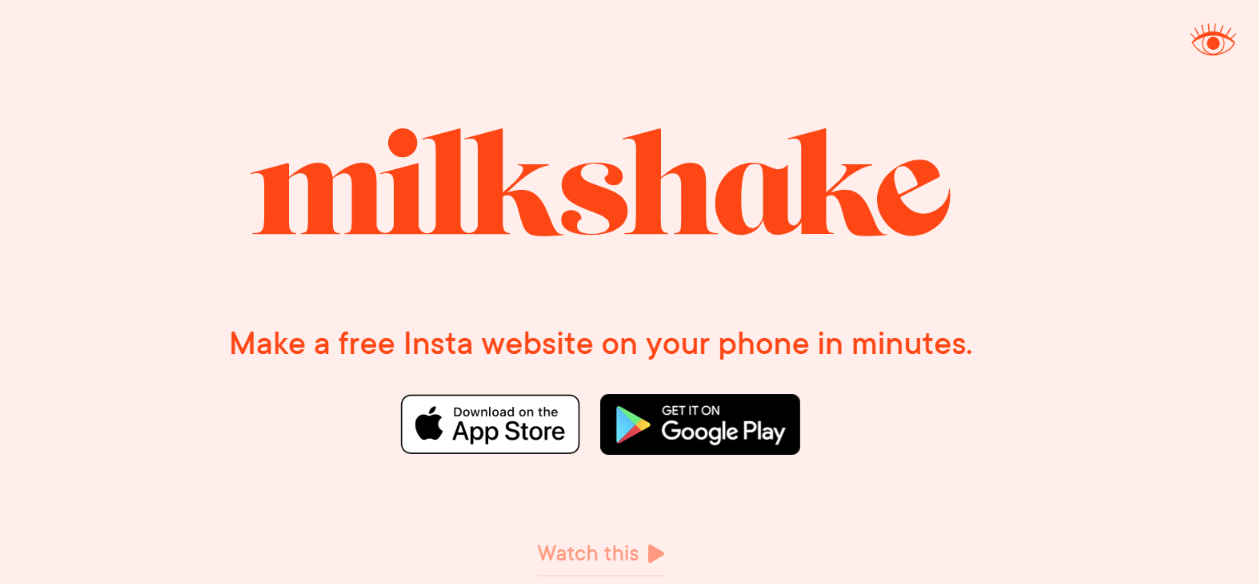 Truth be told, Milkshake is more of a website builder than a link in bio tool.
In fact, that's actually what they call their product – an "Insta website" that you can set up on your mobile in minutes.
The Milkshake app has been designed keeping Instagram in mind and we must say, it does the job quite well!
Instead of just a boring list of links, Milkshake uses cards that act as the website pages.
With a feel similar to Instagram, people can swipe across the screen, view different pages (or cards) and browse through all your links and content.
Key Features: 
Customize cards to suit your brand look and feel.
Access insights and analytics.
Connect with your customers with integrated email features.
Include 'buy' buttons that are linked to your sales pages.
Pricing: Milkshake is free to use.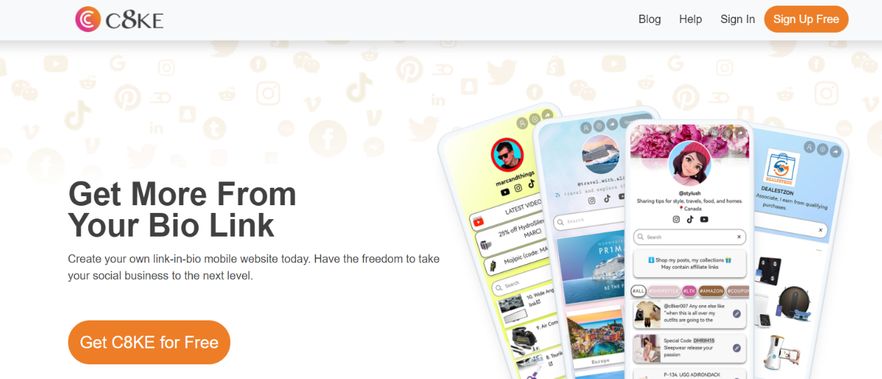 C8ke is the best link in bio tool if you're looking to grow your business and affiliate/sales income. C8ke is completely free and offers a wide range of unique features. Using C8ke, you can completely customize the font, background, and layout of your page so it fits your brand.
The most unique feature of C8ke is its shoppable gallery. You can add custom affiliate links or URLs to any photo and/or video you upload into the gallery. C8ke also offers a search bar feature so your audience can quickly find the links they're looking for.
C8ke's current users love the ability to combine all of their affiliate links from different networks into one easy shoppable gallery. Along with social links and custom quick links, you can also enable C8ke's RSS feed. This will automatically update your page with your most recent blog posts and/or Youtube videos.
Lastly, C8ke offers a subscribe button so your followers can easily opt into your personal newsletter. Growing your email list is so important when growing your business.
Key features:
Shoppable gallery – add custom affiliate links and URLs to your photos and videos
Search bar – helps your audience find your content
Highly customizable
RSS feed – share your latest blog posts and/or Youtube videos
Subscribe feature – get your audience to opt into your email list
Insights and analytics
Download the C8ke app to work on your page on the go.
Pricing: C8ke is completely free to use.


One of the most famous link in bio tools out there, using Linktree is pretty straightforward.
You can insert as many links as you want, arrange or disable them, choose from 9 themes and find out the total number of times the link has been viewed.
If you buy the premium version, you can add all social icons to your profile. You'll also get more options for customizing your page.
The ability to schedule links is one of the best features of this tool, which means that they will not appear on your landing page until the date and time that you schedule them for.
Key Features:
Robust link analytics including referral and location data.
Sends sensitive content and age-sensitive warnings.
Schedule your links to enable and disable them at the time you set them.
Integrations (Mailchimp, Facebook, Google Sheets, Unsplash, Amazon Influencer Program, Youtube)
Pricing: You can get started with Linktree for free, but for ultimate branding options, you've to buy the premium plan that costs $6/month.


If you're dead serious about social media marketing and want an advanced tool, Leadpages is for you.
This drag and drop tool makes it super easy to create a beautiful, professional-looking, fully responsive landing page with your own logo, footer, navigation bar, and any other branding elements.
Along with links, you can also add widgets to your page like countdown timers, social sharing buttons, CTA buttons, etc.
Leadpages also includes page tracking features for SEO, as well as for analytics so you can see how your links are performing.
If you want, you can also make two landing pages and compare how well they convert using the A/B split testing feature of this tool.
Key Features: 
Insights on views, clicks, conversion rates, and more.
Various landing page templates to choose from.
Email marketing and WordPress integration.
Built-in payments.
Pricing: 
Standard – $37 per month
Pro – $79 per month
Advanced – $321 per month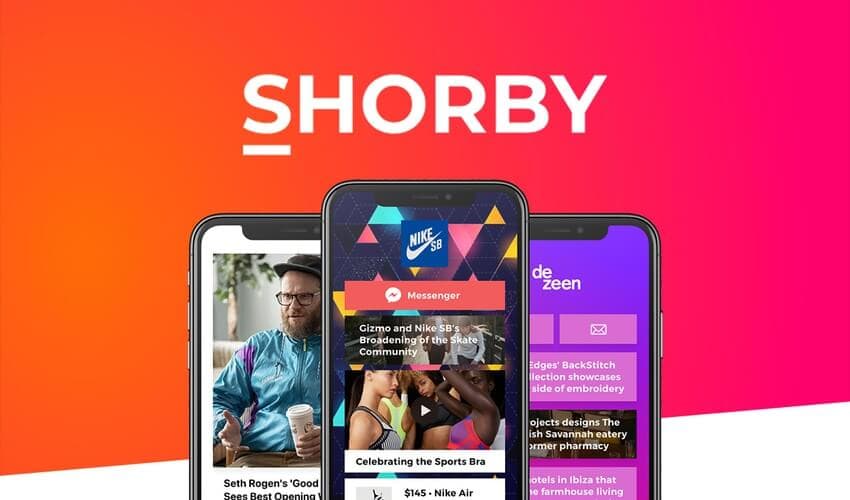 Shorby is three fabulous tools mixed into one: a social media landing page creator, a link shortener, and a lead generation software solution.
But since our focus is only on the best link in bio tools in this article, let's go through that feature and leave the rest.
Shorby can help you to build stunning landing pages filled with all your links, even if you're not tech-savvy.
Once you have added your links, you can add other visual elements like your logo, stickers, GIFs, and more.
There is one more awesome thing that you can do with your Shorby landing page:
You can set up a content feed that automatically picks your newest blog posts and other updates from your RSS feed and presents them.
That way, any time you make a new website post, you won't have to keep updating your IG landing page.
Pricing: The plans range from $9 per month to $99 per month.
Key features:
Highly customizable.
Unlimited links and clicks.
Dynamic content feeds.
Allows retargeting to increase sales.
Shows analytics to help you track your traffic.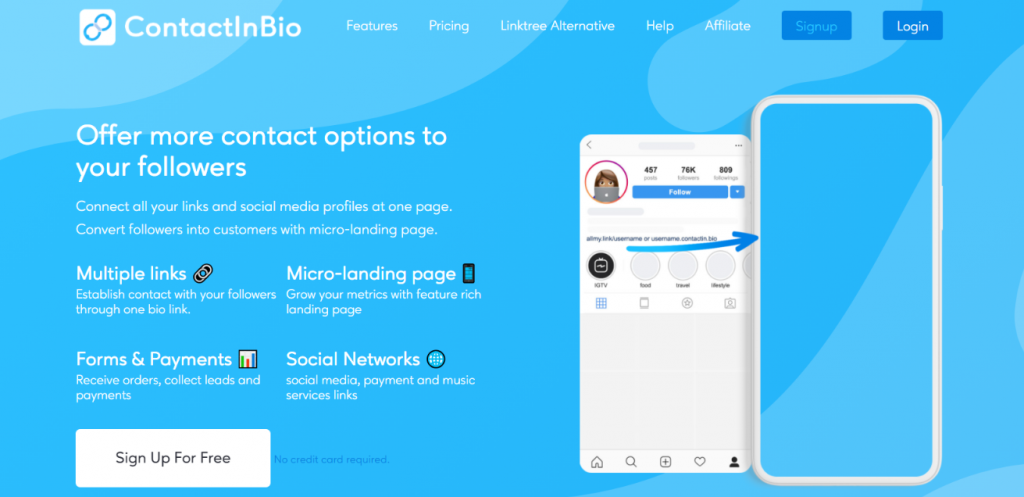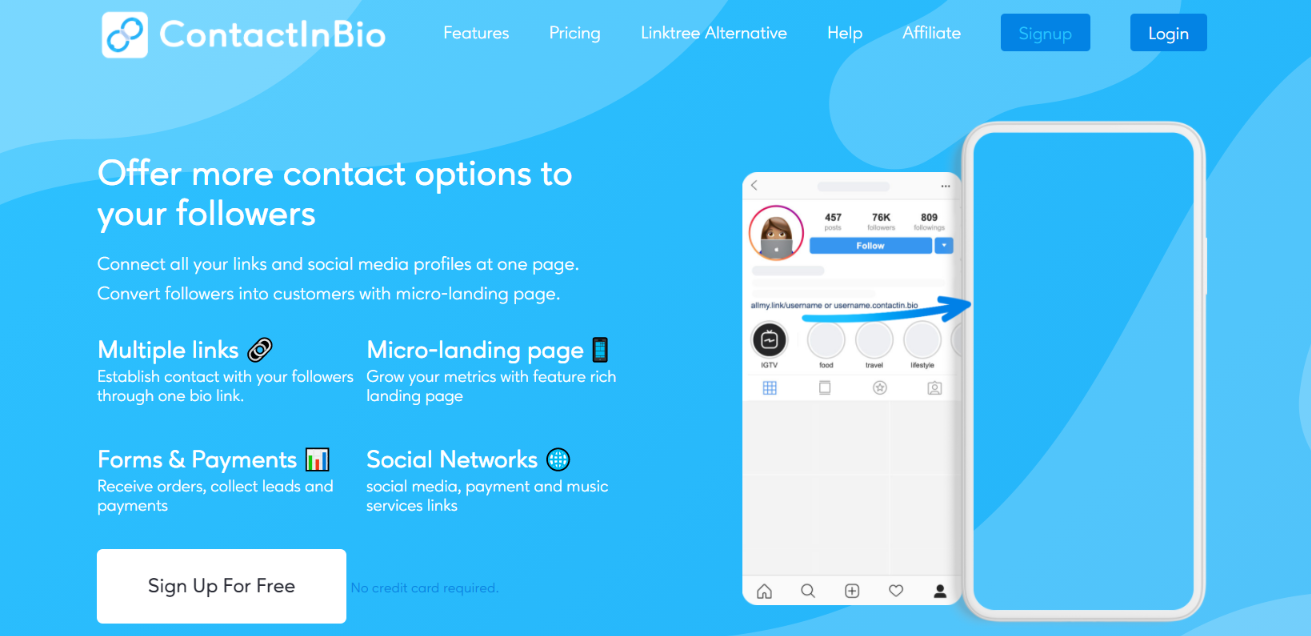 ContactInBio helps you build a feature-rich micro landing page.
This link in bio tool has a drag-and-drop interface and supports image galleries, media players…and that's just the start.
ContactinBio also provides forms and payment features, allowing you to receive orders and collect payments with ease.
You can even add smart links to messaging services like WhatsApp & Facebook so that your customers can reach out to you directly with a click.
Key Features: 
Choose from four available domains for your bio link and highlight your brand name.
Connect messaging apps to your landing page.
See a day-by-day breakdown of how many people clicked your links.
Mailchimp and Facebook pixel integration.
Pricing:
Offers a free plan and a Premium plan, which costs $7 a month.
Agencies can go for a higher tier plan that costs $28/month which allows you to manage five accounts simultaneously.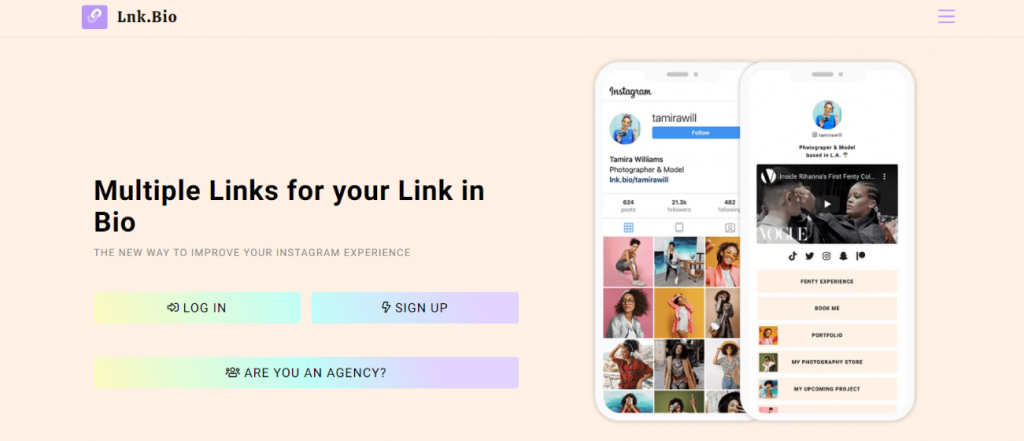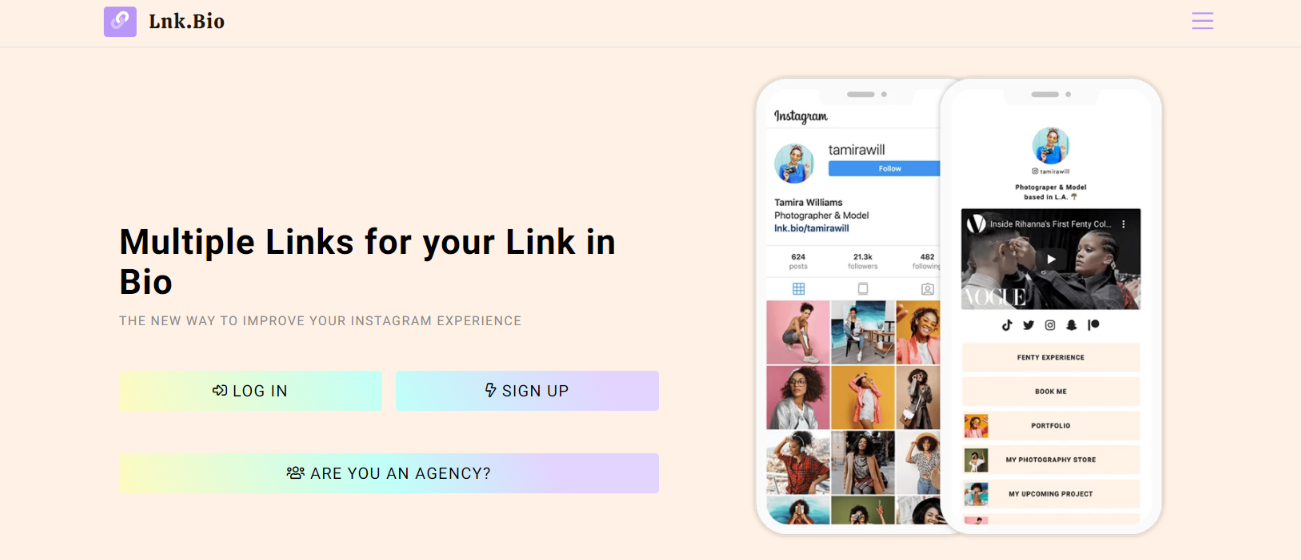 Lnk.bio is a simple yet powerful tool to overcome the one-link limit on social media platforms.
The best feature is probably that even with the free plan, you can add infinite links as well as images.
The only drawback is there are no customization options available and you're confined to only the landing page template.
That being said, the template is sleek, elegant, and sophisticated, which is probably the most important thing.
Honestly, if you aren't overly-concerned with branding and customization, this tool is a pocket-friendly option.
Key Features: 
Create a personal URL.
Link tracking and stats.
Cross-link social media profiles
Uses the official Instagram API. (You don't have to disclose your password in order to use this tool)
Pricing: Lnk.bio is free to use. However, if you want to use more advanced features, you have to upgrade to their paid plans that start at $0.99/month.


Campsite is very similar to Linktree, Shorby, and Lnk.Bio in its interface.
The tool pitches itself as a "dead-simple social landing page", and we agree.
Campsite lets you add as many links as you want on your custom landing page, edit colors and fonts, and gives you complete control over your branding. 
Another awesome feature of Campsite is link scheduling, which allows you to specify when certain links should go live or stop showing up.
Campsite comes with powerful analytics capabilities, including the ability to track where your visitors are coming from, the number of people clicking on your link per day, and more.
Key Features: 
Retargeting profile visitors with Google Ads and Facebook Pixel.
Robust analytics including a daily breakdown of clicks.
Switch easily between multiple Campsite accounts.
Integrate with Google Sheets or Mailchimp.
Ability to control your metadata with a custom title and description.
Pricing – There are two plans: one that's forever free, and the pro one costs $7 per month.


Last but not least in our list of link in bio tools, we have Link in Profile, a tool that's quite different from the rest.
Let's suppose you've just posted a photo of one of your latest products on Instagram.
Link in Profile will pull that image, and you can add a link to it.
Now, the only thing that you have to do is, in the caption of your photo, tell your followers to go to the link in your bio if they want to buy that item.
Once they click on the link, they will see all your Instagram photos and they can simply click on the one they like. The tool will direct them straight to the linked content.
In short, Link in Profile helps you create a 'clickable version' of your Instagram feed and send your followers where ever you want them to go.
Key features: 
Add unlimited links.
Add links directly via Instagram captions.
Create a customizable landing page.
Get analytics and insights.
Pricing: $9.99 per month
Wrapping Up
Writing a great social media bio just doesn't cut it these days – you need your bio to convert and link in bio tools will help you do just that.
A link in bio tool allows you to take complete advantage of the one link social media platforms let you have.
By giving you the opportunity to link to more content and pages with just one URL, it helps you make the most out of the one single bio link.

Honestly speaking, if you're not using a link in bio tool yet, you're missing out on a great shot!
Still not sure about which one to use?
Don't fret because you just can't go wrong with any of the tools we've mentioned in this list.
With that being said, if you want a link in bio tool that offers all the important features, beautiful designs, and is pocket-friendly, we'd definitely recommend elink.io.
Further reads:
How to Generate a Link Preview within Your Document?
25 Insane Instagram Stats that Will Shock You!
Content Creation Tools Every Marketer Needs in 2022
Top Chrome Extensions Every Digital Marketer Should Use in 2022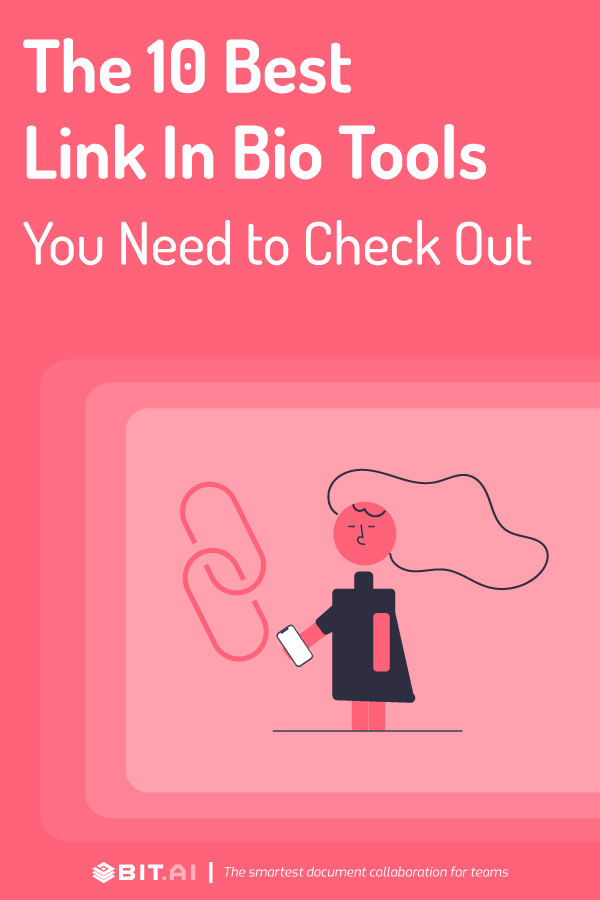 Related posts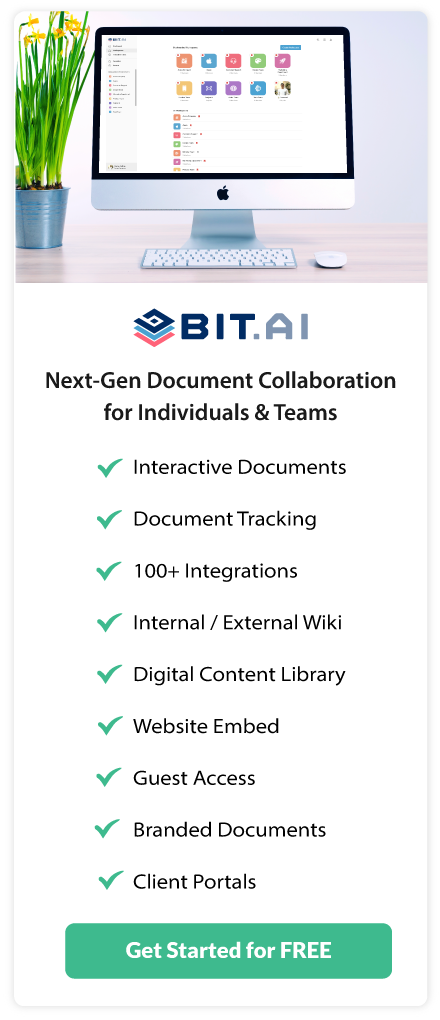 About Bit.ai
Bit.ai is the essential next-gen workplace and document collaboration platform. that helps teams share knowledge by connecting any type of digital content. With this intuitive, cloud-based solution, anyone can work visually and collaborate in real-time while creating internal notes, team projects, knowledge bases, client-facing content, and more.
The smartest online Google Docs and Word alternative, Bit.ai is used in over 100 countries by professionals everywhere, from IT teams creating internal documentation and knowledge bases, to sales and marketing teams sharing client materials and client portals.
👉👉Click Here to Check out Bit.ai.