Looking for Chrome Extensions to take your marketing to the next level? Read on…
Since it was introduced way back in 2008, Google Chrome has come a long way. Chrome has revolutionized how we use the internet with its simple user interface, tight security, and amazing versatility. It's of no surprise then, that Google Chrome is now one of the most popular web browsers out there.
In fact, as of September 2019, Google Chrome accounted for about 70 percent of the global desktop internet browser market share! With more than a billion users and over two billion installations globally, Chrome is leading the pack and winning by a HUGE margin!
Apart from its simple design and fast browsing speed, Chrome is famous for its awesome extensions which enhance its usability and productivity.
These little pieces of software, known as Chrome Extensions, are the major reason why Chrome has become a crowd favorite and continues to exercise its dominance. But what exactly is a Chrome Extension?
What is a Chrome Extension?
Chrome Extensions are nothing but small software add-ons you can plug into your Chrome browser that boosts its functionality. Created by companies or solo developers from all around the world, each Chrome Extension adds a completely new feature to your browser or modifies an existing functionality.
How to Install a Chrome Extension?
Installing a chrome extension to your chrome browser is easy:
1. Go to the Chrome Web Store.
2. Search for your desired Chrome Extension or the functionality you are looking to add to your Chrome browser.
3. Once you've found your desired Chrome Extension, just click on it and you will see an "add to Chrome" button on the right. Click on the button and the extension will be added to your browser in just a few seconds.
Why Do Digital Marketers Need Chrome Extensions?
The job of a digital marketer is not easy, to say the least. From creating campaigns, optimizing SEO, working on newsletters, handling social media, and making sense of analytics- digital marketers are a busy bunch.

This is why many marketers turn to Chrome Extensions to make their work easier. Using the right Chrome Extention can tremendously improve your workflow to the point that you might not even need your heavy-duty marketing software! Awesome, right? Let's quickly dive into some of the best Chrome Extensions there are for digital marketers.
Top Chrome Extensions Every Digital Marketer Should Use in 2022
Did you know that there are around 200,000 Chrome extensions out there? Some of them are amazing, some of them are pretty good, while the majority are below par. Finding the amazing ones from a sea of extensions could take up a lot of time, which is why we have curated the BEST Chrome extensions out there for you!
Note that these Chrome extensions are not just for digital marketers to use and take advantage of. Apart from marketers, salespeople, influencers, brands, entrepreneurs,- everyone can use these Chrome extensions to make their job easier and get ahead of the competition. So, without further ado, let's get started!

Kicking off our list is a nifty little app called elink.io. Elink is hands down, the best content curation tool out there. You can save links to your favorite articles, videos, cloud files, and more by simply clicking on their Chrome extension or right-clicking anywhere on the web page.
You can choose an image, edit the title and description that automatically gets retrieved, and add your own thoughts. You can also add tags to your bookmarks that can be easily sorted and searched in your Link Library.
Apart from a bookmarking tool, elink doubles as an action-packed platform to create beautiful shareable content. You can bundle your bookmarks to create stunning newsletters, create embeddable content for your websites and blogs, create Instagram social bio links, and more.
With a 5 star rating on the Chrome Store, it's the perfect tool for digital marketers looking to create and curate content.
Key Features of elink: 
Save and curate content on the go
Create beautiful email newsletters quickly
Create website/blog content automatically.
Pricing: 
Free with limited functionality
Paid plan starts at $10/month
One of our favorite writing tools and the Chrome extension is Grammarly. As digital marketers, we are often being tasked to write blog posts, social media content, email pitches, and more. Having a virtual editor and grammar checker tool like Grammarly makes you professional and poised in your writing.
Grammarly includes a spell checker, plagiarism checker, punctuation checker, grammar checker, and even a vocabulary enhancement tool.
It scans your text for more than 250 types of grammar mistakes in six distinct writing genres, providing detailed explanations for all your errors and weekly progress reports. Its Chrome extension takes things further as you can now get Grammarly's suggestions wherever you are- on Gmail, Twitter, LinkedIn, almost everywhere else you find yourself writing.
Key Features of Grammarly: 
Built-in tone detector to figure out how you will come across to the reader (friendly, arrogant, etc.)
Fix your grammar, spelling, punctuations, and more quickly
Works on Gmail, Twitter, Facebook, Google Docs, LinkedIn, WordPress, and more.
Pricing: 
Free with limited functionality
Paid plans: Premium ($11.66/month/user), Business ($12.50/month/user)
#3. Hashtest
Hashtags are how your content gets discovered on social media sites like Instagram and Twitter. This is why it is crucial to use relevant hashtags in your posts to reach a wider audience and allow your awesome content to be discovered.
Hashtags can get tricky though. Using super-popular hashtags causes your content to get lost in a sea of content while using super-personalized hashtags means your content will likely not get discovered. The key is balance, which is Hashtest comes in.
Hashtest finds the best hashtags while you type, with real-time color-based quality scores, with green meaning "best hashtag" and black meaning "useless". Hashtest instantly studies your hashtags based on a ton of data points and gives you only the best ones.
Key Features of Hashtest: 
Best hashtags based on color-coding
Works with any device
Pricing: 
Working in marketing means that you are always looking for new leads. However, it can get pretty time-consuming, find the email addresses of high-profile people on the internet. Hunter.io is an excellent Chrome extension that lets you find the email addresses of anyone from all over the world.
Simply type in the person's name and website domain, and Hunter.io will get your emails using its aggregator. Not sure if it's the right email?
Hunteri.io even provides a confidence score that determines the accuracy of the said email. Along with the email addresses, you can also find out the job titles, social profiles, and phone numbers, making Hunter.io a vital tool for your digital marketing toolkit.
Key Features of Hunter.io : 
Export leads to your favorite CRM
Filters that help find only role-based email addresses
Over 100+ million email addresses indexed
Pricing: 
Free with limited functionality
Paid plans: Starter ($49/month), Growth ($99/month), Pro ($199/month), Enterprise ($399/month)
Read more: 10 Best Translation Extensions for Chrome to Explore!
While the internet has a plethora of amazing tools to help you do your job more productively, it also has a ton of distractions. If you often find yourself watching cat videos on YouTube for hours, you desperately need this extension!
This awesome Chrome extension blocks the websites you ask it to and prevents you from getting distracted. Every day before starting your work, you can block your favorite, most distracting websites for a set period of time.
This, in turn, kills the urge to take "one quick look" and lets you focus on your job efficiently. The Chrome extension is highly customizable as you can set it to block entire websites, subdomains, or even particular in-page content.
Key Features of StayFocusd : 
Increases your productivity and focus
Block distracting websites and subdomains
Free to use
Pricing: 
If you usually work with a team, Drag is an excellent Chrome extension that converts your Gmail into a shared inbox, making it accessible to all.
With Drag, you can modify your Gmail into organized lists of tasks and share your inbox with your team in Trello-like boards (Kanban layouts). No more "cc-ing" between team members as Drag brings all your work under one roof.
Drag transforms your inbox into a CRM, help desk, marketing platform, project management tool, task manager, and more! And with real-time chat built-in, doing work together was never this easy! If you spend a ton of time in your inbox, Drag is worth trying out.
Key Features of Drag: 
Turning Gmail into a shared workspace
Collaborate with teammates without jumping from app to app
Convert emails into tasks and assign them to teammates
Pricing: 
Free with limited functionality
Paid plans: Solo ($5/month/user), Team ($8/month/user)
Marketing is changing every day, making it crucial for people to stay on top of industry news and catch trends early. Zest is a Chrome extension that converts your new tab into an awesomely curated feed of marketing content.
Curated by a list of marketing experts, Zest makes sure that only the best of the best content reaches your screens and your time reading is well spent.
With less than 5% of the suggested content is approved for publishing, Zest ensures quality over quantity. You can even filter out content based on auto-generated tags like B2C, B2B, Blogging, Automation, and more. Zest even has a dark mode and 3-different reading layouts.
Key Features of Zest : 
Carefully curated marketing content for digital marketers
Dark mode
Quality over quantity
Pricing: 
Being a digital marketer, you are often signing up for hundreds of services online. Remembering so many passwords is one of the most daunting tasks ever. Instead of clicking the "forgot password" button and changing it again and again, use Lastpass.
LastPass allows you to store all your passwords, credit card details, contacts, etc. in one secure place and remember them for you.
Once your usernames and passwords are saved to LastPass, it will auto-login to your sites instantly. You just have to remember one password, .i.e. your LastPass master key. Aside from your login details, LastPass provides a secure space to store all your digital records and files like images, PDFs, insurance cards, memberships, Wi-Fi passwords, and more.
If you are having trouble with coming up with a strong password, the built-in password generator will create long, randomized passwords for you in a jiffy!
Key Features of Lastpass: 
Instantly login to various services
Save time remembering and entering passwords
Built-in password generator
Pricing: 
Free with limited functionality
Paid plans: Premium ($3/month/user), Families ($4/month/6 users)
Content is still king in marketing. However, creating a ton of content means you are always fiddling with broken links, checking and replacing them constantly for better content quality and SEO score.
Check My Links is a great Chrome extension that saves you time while you are checking broken links as it automatically scans your entire page. It then highlights which links are valid and which ones are broken! Links highlighted in green are valid while those in red are invalid.
Moreover, you can copy all broken links to your clipboard with one click and replace them. With over 100,000 users worldwide, this Chrome extension is a must for digital marketers as well as developers.
Key Features of Check My Links: 
Quickly check broken links on your webpage
Save time and effort by copying all broken links to a clipboard
Easy color-coding technique
Pricing: 
Moz has been an authority in SEO for quite some time. So when they put out a Chrome extension, you know it will be good!
The Chrome extension instantly gives you key metrics while viewing any webpage or SERP (search engine results page). For every page you visit, you can see their domain authority, page authority, backlinks, linking domains, keywords, and much more. All of this information is like a gold-mine for digital marketers.
You can also get a detailed analysis of their links as follow, no-follow, external, or internal. You can also export your search engine results page analysis details to a CSV file. There are more cool features that can be unlocked once you have Moz's Pro subscription.
Key Features of Mozbar: 
Do competitive analysis easily
Quickly evaluate the page and domain authority of any website
Get page elements, general attributes, markup, and HTTP status
Pricing: 
Free with limited functionality
Paid plans: Standard($99/month), Medium ($149/month), Large ($249/month), Enterprise ($599/month)
Finding the right time to send an email is crucial for marketers who are trying to engage their audience. Boomerang helps you up to your email game by allowing you to schedule emails to be sent or returned at a later date.
Simply create emails now and schedule them for a later date, even when you are not online. Marketers can also track messages to make sure you hear back from your client or prospect and can even schedule reminders right inside Gmail.
You can also track email opens with Boomerang's cross-platform read receipts and know whether your audience read your message or not.
The main purpose of writing an email is to get a response, this is why Boomerang has a built-in AI assistant called Respondable that predicts the likelihood of your email getting a response. It also explains that analysis in an easy-to-understand way and helps you create better emails!
Key Features of Boomerang:
Email pause to free yourself from distractions
Set email reminders
AI assistant to help you write better
Pricing: 
Free plan with limited features.
Paid plans: Personal ($4.99/month), Pro ($14.99/month), and Premium ($49.99/month).
Which Chrome Extension Did You Like the Most?
Digital marketing can be tough. With so much content vying for people's attention, standing out from the crowd and getting your audience interested is a tough job.
This is why even the slightest edge can get you ahead in the messy, crowded online stratosphere. Chrome extensions provide you with that much-needed boost in productivity and give you the functionality of some top-of-the-line software tools.
Which Chrome extensions did you like the most? Did we miss out on your favorite Chrome Extension for digital marketers? Let us know by tweeting us @elink_io. Good luck!
Further reads: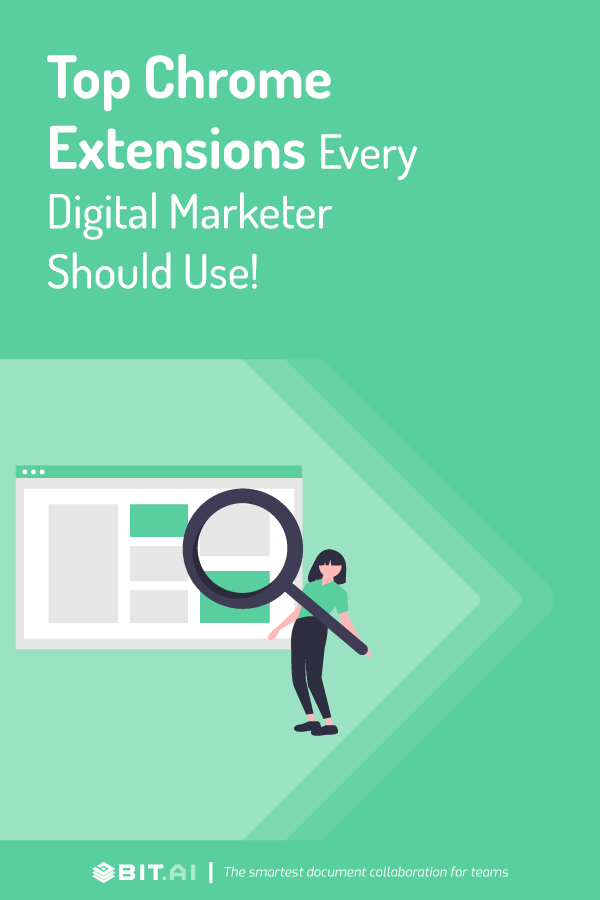 Related posts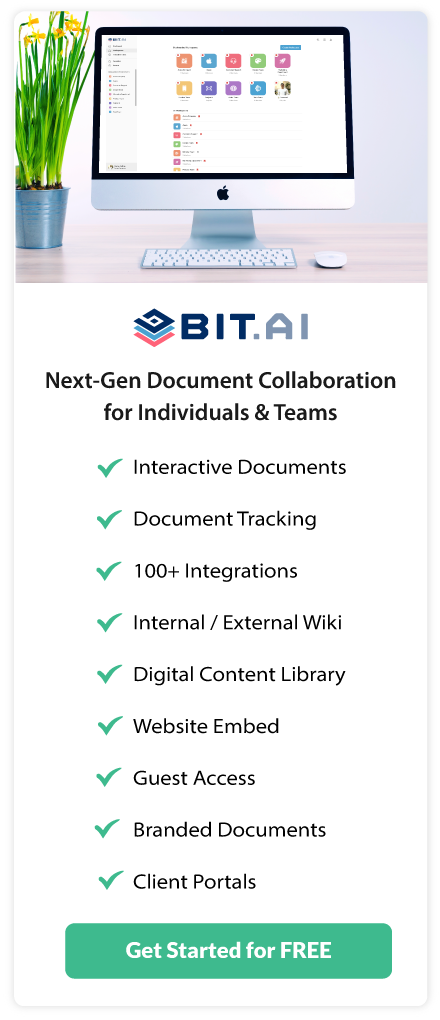 About Bit.ai
Bit.ai is the essential next-gen workplace and document collaboration platform. that helps teams share knowledge by connecting any type of digital content. With this intuitive, cloud-based solution, anyone can work visually and collaborate in real-time while creating internal notes, team projects, knowledge bases, client-facing content, and more.
The smartest online Google Docs and Word alternative, Bit.ai is used in over 100 countries by professionals everywhere, from IT teams creating internal documentation and knowledge bases, to sales and marketing teams sharing client materials and client portals.
👉👉Click Here to Check out Bit.ai.