Do you want to grow your business?
Do you want to reach your goals?
Do you want to have the edge over your competitors?
Yes? Then you need a business plan!
A business plan is often called the blueprint of a business, an outline, a document that explains your goals and how exactly you'll achieve those goals.
See, if you want to build a house, you obviously won't go to an empty area and start nailing things. It would be super risky, just like starting a business without a business plan.
Let's take another example.
Think of business plans as road maps. Yes, you can travel without one, but you'll probably get lost along the way.
So, instead of putting yourself in a situation where you need to stop and ask for directions or circle back and start over, you can use business plans to guide you.
However, this detailed overview of a company and its future is often overlooked – probably because it's a lot of work. Business owners, especially entrepreneurs, are buzzing with excitement about their business ideas, and they don't really want to sit down and spend time writing a business plan.
Truth be told, without a proper business plan, even the savviest businessman can fail to succeed. With that said, let's get to what you clicked for – ten reasons to write a business plan. Enjoy!
List of Top Reasons to Write a Business Plan:
1. To Raise Capital
Funding, funding, and funding. We all know that building a business is expensive, and we need capital to get it off the ground. If you don't have the funds to build it yourself, you need someone to help you get started, and that's where a business plan will help you.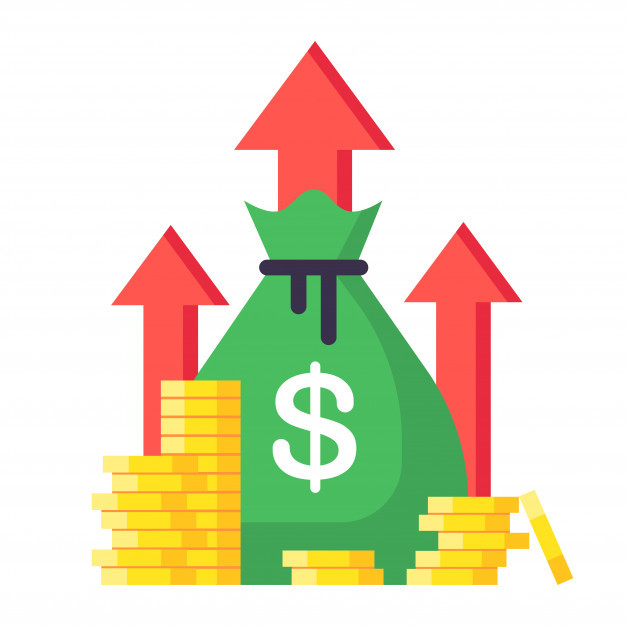 Although it would be awesome, banks and investors won't give you money just because you requested it. Angel investors want to know if their investment is worthwhile. They want to where their money is going, what it is going to be used for, and if you will be able to pay them back.

All of this can be answered by a solid, formal business plan!
2. To Identify Weaknesses
We all want our business to run as smoothly as possible, right?
However, we often ignore our weaknesses and focus on our strengths. The truth is, like every business, a company does some things exceptionally well and falls short in some areas.
For example, your company might be awesome at distribution, but you fail at responding to customer complaints quickly.
Or perhaps you have got a great marketing message but zero social media presence.
Whatever the situation is, a business plan helps you identify inherent & unrealized loopholes. It allows you to think things through. It helps you grasp the full spectrum of the weaknesses and avoid the risk of being outsmarted by the competition.
3. To Establish Milestones
According to Guy Kawasaki, a milestone is something remarkable enough to come home and share with your spouse (without boring him or her to death).
Would you tell your spouse that you added an image to the company's flyer?
Most probably, you won't.
But you'd definitely share the news that you launched a new product or had a profit of $1M.
…and if you want that to happen, you need to create a road map of success, also called a business plan.
A business plan will help you keep a sharp eye on your goals and execute them well. It will help you set your priorities, keep you accountable to your long-term objectives, and figure out whether your plan is working out or not.
Let's face it. You can get inspired by watching those success videos on YouTube, but real success comes from having a vision and working towards that vision.
4. To Keep Your Team Aligned
Let's say you want to hire someone.
You want someone who is talented and passionate.
You want someone with a similar work ethic.
You want someone who aligns with your company's vision.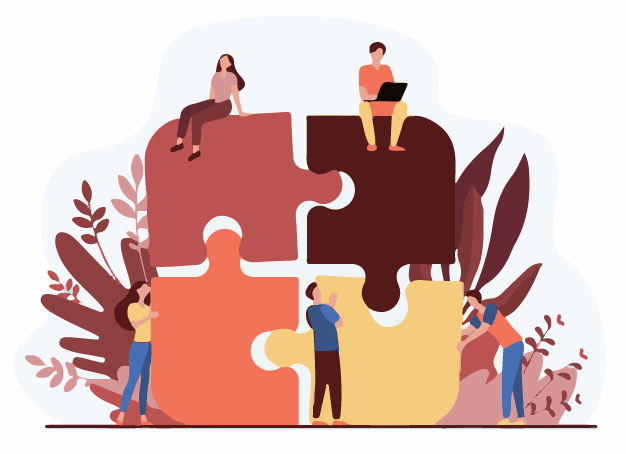 But the question is, how to find that someone?
Your business plan will help you attract and retain the right talent by spelling out your mission and communicating your company's culture.
To avoid any misunderstandings later, get everything on paper first so that everyone's on board with the company's current & future plans.
5. To Gain A Deep Understanding Of The Market
Researching, analyzing, and writing about the market gives you an overview of the business plan, but that's not it. It gives you a greater insight into the overall market, helps you get a deep understanding of the industry, and tells you whether your business will survive or not.
Unfortunately, some business owners are convinced that their product or service is unbeatable, so they don't really take out the time to do market research and work on a proper business plan.
The truth is, the more you know about the market, the industry, your competition, and potential customers, the greater the likelihood of your business succeeding.
Think of your business plan as a safety net. It is the best way to test out whether your business idea is viable or not. While working through a business plan, if you find out that your business idea won't fly, you will save a great deal of time and money.
6. To Prepare For The Future
When things get rocky, you need something to help you get through it.
You need something you can refer to, something to make sure that you don't stray from your original vision.
In short, you need a business plan.
Everyone makes mistakes on the way to success. A business plan will help to keep you grounded and keep you from falling if you ever hit an obstacle. It'll help you identify issues before they even arise and prepare you for the battle.
Let's be honest. We obviously can't predict the future, but we can certainly be prepared for it!
7. To Get Clarity
Relationships, politics, international relations – clarity is the key to most of the things.
But, let's stick to the topic – clarity in business.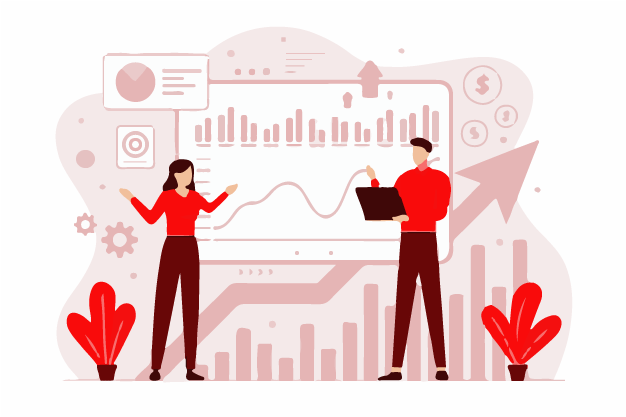 There are so many things that can go wrong in a business – sales falling through, employees protesting, or clients getting upset. These things could happen because of any number of reasons, but mostly, there's one thing to blame: lack of clarity.
If you don't want to turn the little bumps in your business into mountains, maintaining clarity should be your utmost priority…and a business plan helps you do just that!
Who are you?
Where are you going?
How will you get there?
Who will benefit and how?
A business plan answers all these questions, helping you identify a clear goal and a clear path.
8. To Give Your Business The Best Possible Chances of Success
The idea of taking control & being your own boss always sounds good.
However, just like most people, the success rates for new businesses might scare you a bit.
Well, there is never going to be a "sure thing," but there are significant benefits of preparing before taking the leap. If you really want your business to be successful, don't be someone who doesn't think things through before plunging into the unknown.
Using a business plan, you can properly allocate your resources, refine your approaches, have squeaky clean priorities, and increase your chances of success.
Don't worry; you don't need a business or accounting degree to put together a well-formatted business plan because we have something that is going to make things a hundred times easier for you!
Read more: How To Make A Full Proof Business Plan?
Bit.ai – The Ultimate Tool To Create a Business Plan
Yes, business plans have to be formatted in a specific way so that they're clear, but if you use bit.ai, you'll realize that writing them isn't such a pain after all!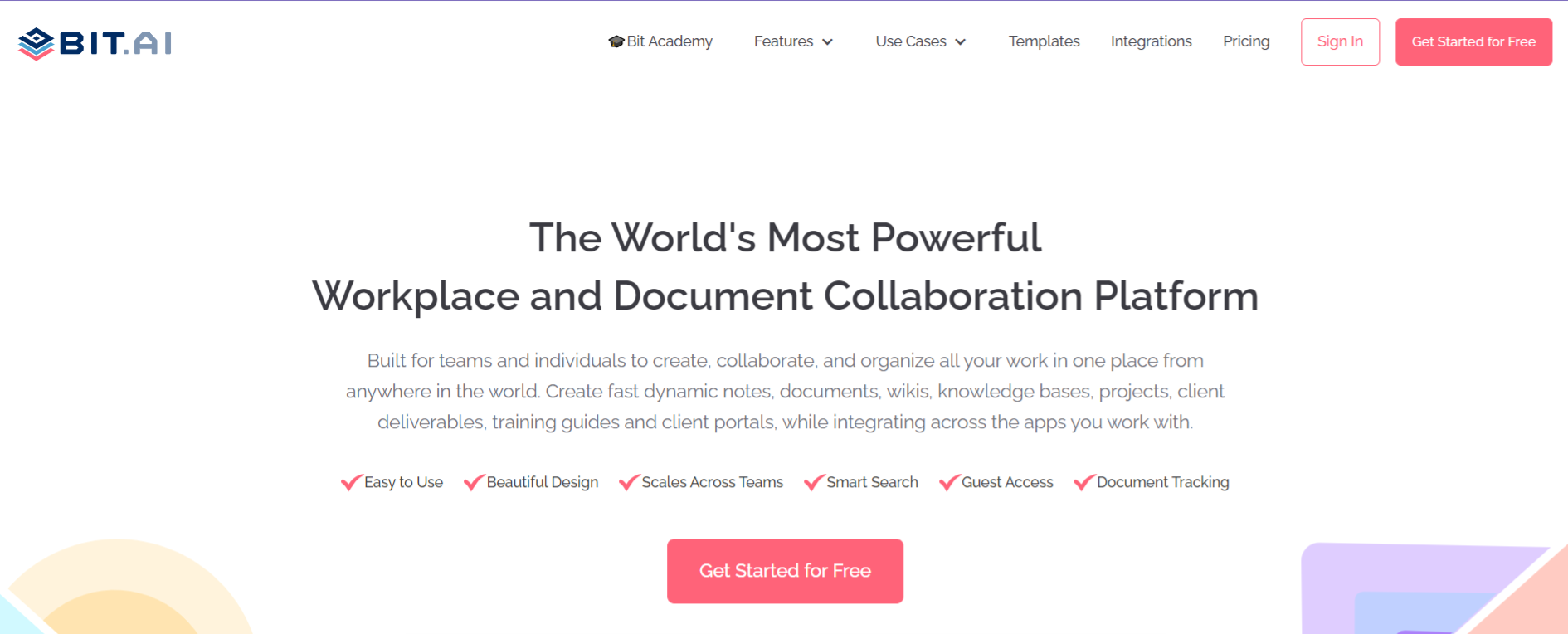 Bit.ai has streamlined the often complicated and long process of writing a business plan through its intuitive and integrated tools.
On bit.ai, you can create a 'live' business plan that has the perfect format, great to look at, and is crystal clear. The plan can easily be shared with internal teams and interested stakeholders. Bit helps you bring rich media into documents so you can add more context and deliver your ideas in any form like images, files, videos, visual links, charts, etc.
The most amazing feature of bit.ai is that it lets you work with your team in real-time. You can co-edit and use inline comments to bring your colleagues to the same place to make decisions related to your business plan. You even have document tracking to see who is opening your proposal and how much time they spent on it.
You can keep all your knowledge and work in bit's workspaces for your team to access. You can create workspaces for personal use, around teams, departments, or the whole company. The best part? You can create infinite workspaces!
Bit.ai will bring happiness into your workday, while also helping your business plan to become more efficient!
Final Words
Many businesses fail because their plan isn't good enough to guide their business.
Instead, their team is busy with building products and searching for clients. Creating a business plan sounds unnecessary when you've "real" work to do, right?
But, without a solid business plan, you'll leave far too many things to chance. You need to establish a safe and secure foundation amidst the whirlwind of goals that need to be achieved.
A business plan fosters alignment, sets the tone of your business and, helps you see the bigger picture. It will help you bring out all the important details of your idea and force you to think about everything you need to make your business fly.
Remember, don't think of a business plan as something that you need to check off the to-do list and be done with. It is NOT something you've to write once and keep aside. It is primary to how you start, grow, and develop your business!
Further reads: 
Business Letters: Definition, Types, Format, and Tips!
Business Report: What is it & How to Write it? (Steps & Format)
Business Continuity Plan: What, Why & How to Create it?
16 Best Business Tools Every Business Needs in 2021
Business Requirements Document (BRD): What, Why, and How to Write?
How to Write a Business Case: Step By Step Guide
Business Objectives: How To Set & Achieve Them?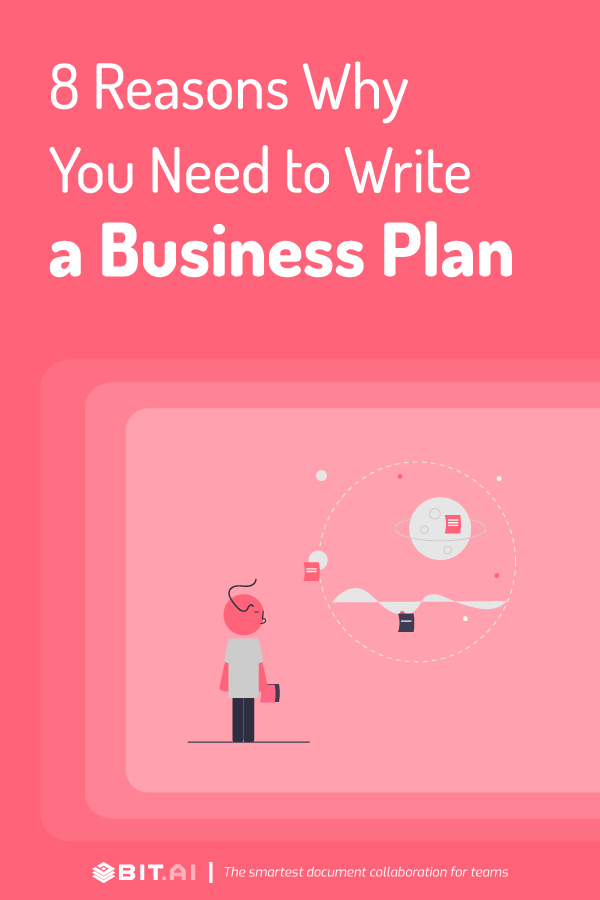 Related posts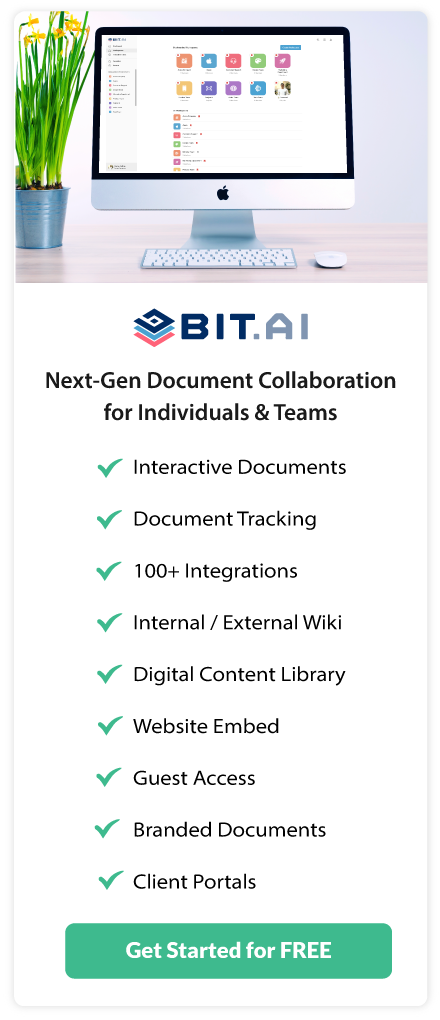 About Bit.ai
Bit.ai is the essential next-gen workplace and document collaboration platform. that helps teams share knowledge by connecting any type of digital content. With this intuitive, cloud-based solution, anyone can work visually and collaborate in real-time while creating internal notes, team projects, knowledge bases, client-facing content, and more.
The smartest online Google Docs and Word alternative, Bit.ai is used in over 100 countries by professionals everywhere, from IT teams creating internal documentation and knowledge bases, to sales and marketing teams sharing client materials and client portals.
👉👉Click Here to Check out Bit.ai.