In an age dominated by smartphones, social media, and technology, it's high time we introduce educational apps to learners of all ages. While many teachers might have restricted the use of smartphones in their classrooms, now the classrooms are on students' phones!
It would be an understatement to say that today's average student is familiar with technology, whether they're chatting on social media, sharing short videos, playing video games, or sharing reports, the majority of school-age children see technology as the norm.
The COVID-19 pandemic has led to explosive growth in student collaboration tools and educational learning apps focused on making student learning fun, interactive, and enjoyable! In the US, expenditure in the education sector is just over 6% of GDP, or close to $1.2 trillion.
A large chunk of education expenditure goes toward educators/administrators and physical facilities. HolonIQ estimates that less than 3% of education spending is allotted to technology, so certainly there is a great scope for investment in education technology.
The debate on a technology-dependent society is never-ending, but right now educators with certainty will say they need to find ways to connect with their students and incorporate the latest technology into their schooling. If you're an educator who wants to engage your students' minds and create a collaborative learning environment, read on to find out how you can use student collaboration tools to enhance the learning experience.
What is Student Collaboration?
Collaborative learning can happen amongst students or amongst the larger global community of learners. Peer learning, or student collaboration, is a type of learning that involves students working in small groups to examine concepts or find solutions to problems.
As the saying goes two or three heads are better than one, research has determined that through peer-to-peer learning, students teach each other by clarifying concepts in an easily understandable language, discussing mistakes, addressing misconceptions, and innovating fresh ideas.
Benefits of Student Collaboration:
Student learning experiences that are dynamic, social, engaging, and student-led result in deeper learning. The benefits of student collaborative learning include:
Better student preparation for social and employment situations
Improved development of higher-order thinking, communication, and leadership skills
Greater student-faculty cooperation and synergy
Increased student self-esteem and perseverance
Wider understanding from a variety of diverse viewpoints
The student collaboration tools that I refer to are web-based tools that empower teachers and students to perform a variety of tasks, such as interactive discussions, collaborative activities, researching online learning resources, assessing knowledge, and many more. Below are my suggestions for the best online student collaborative tools that are easy to use for any educator, enjoy!
List of Student Collaboration Tools for the Online Classroom
Great student collaboration tools enable students to be creative, work together on projects, learn from each other, and receive feedback from teachers. Below we have painstakingly reviewed some student collaboration tools for a variety of interesting uses.
1. Bit.ai – Document Collaboration Tool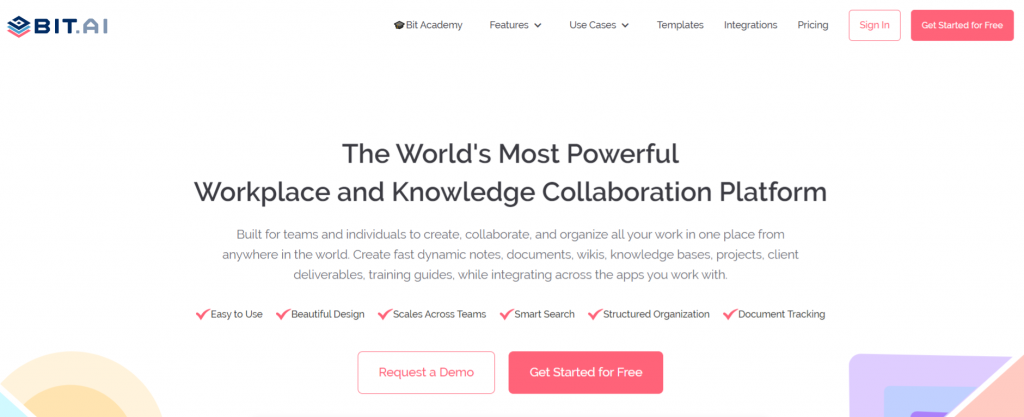 The first student collaboration tool on our list is Bit.ai – the best document collaboration platform. Bit.ai has been built for teams and individuals to create content, collaborate on projects, and organize all their lessons in one place. Educators can create a wide variety of documents such as lesson plans, dynamic notes, wikis, knowledge bases, projects, assignments, and presentations while integrating across numerous other apps.

An educator can create different virtual classrooms through 'workspaces' and add students to different classes. Users can create live interactive documents by adding visual web links, images, presentations, music, videos, equations, designs, social media posts, surveys, file attachments, and more. Educational resources can be easily shared, and interlinked with other live documents, and students can work on assignments together in real-time. Students can chat and learn collaboratively with the context within a document.
Teachers can evaluate assignments, and provide comments, and feedback individually to students. Using document tracking capabilities, teachers can also get feedback on how students interacted with the learning material, how much time they spent on it, and which areas interested them the most. Bit.ai integrates with 100+ apps enabling everyone to go beyond just text or images and unleash their creativity.
Read more: How Bit.ai Can Help Students Better Manage Their Schoolwork? 
2. Kahoot – Game-based Student Learning & Collaboration Tool

Kahoot! is a game-based learning platform, used to play quiz-based learning, facilitate discussions, and create surveys in educational institutions. Its learning games are called "Kahoots" and can be played directly via a web browser or the Kahoot app. A teacher can introduce new concepts and have students take user-generated multiple-choice quizzes. Educators who don't want to make a quiz can search through millions of public Kahoots to play or remix.
A great feature is the ability to import or create slides and combine them with various question types in one seamless interactive lesson. Educators can host games live via videoconferencing or send self-paced games to students to facilitate distance learning – this makes it a fantastic student collaboration tool. Educators can assess class learning progress and formative assessments can be conducted by using analytics from game reports.
3. Flipgrid – Video-based Student Collaboration Tool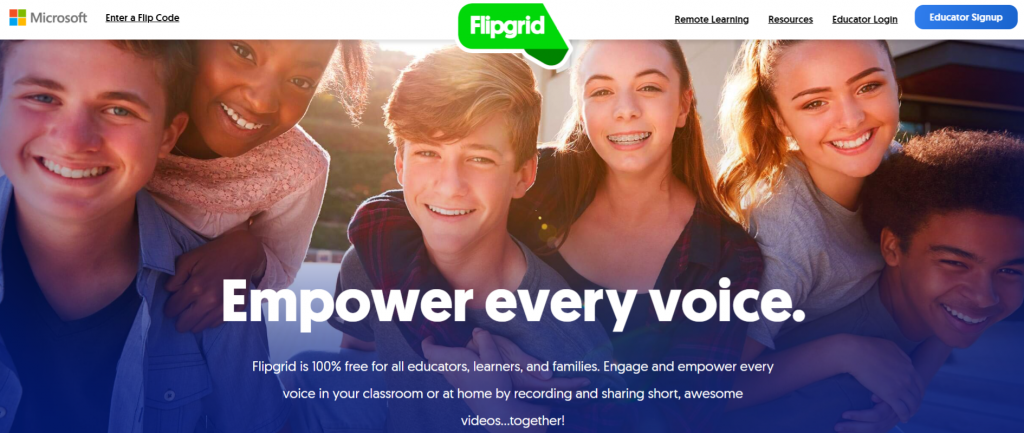 An amazing resource from Microsoft is Flipgrid, a video learning platform that is 100% free for educators and learners. Educators create 'grids' which are meeting places for learners, they can then add a topic for discussion. Learners respond with short videos that could include uploaded photos and videos, trimmed clips, whiteboards, video styles, text, emoji, inking, etc. to express their points of view.
Educators can also allow learners to record replies to classmates' responses.  This makes for inclusive and interactive learning with all members responding with their own short-Insta Stories style videos. Videos responses are short from 15 sec to 5 mins and can be set as per the topic created.
As an educator, you would have access to their ready resources, and age- and subject-specific topics from other educators around the world. One of the main things going for Flipgrid is its ease of use, from kindergartens to college grads, all can easily get started. The tool is versatile and enables learners to articulate ideas with well-planned responses without feeling "on the spot" in the classroom.  Flipgrid is an engaging way for educators to foster discussion and collaboration in a space that has the familiarity of social media minus the ads.
Read more: Collaborative Teaching: What is it & How to Do it the Right Way?
4. Quizlet – Quiz-based Student Learning Tool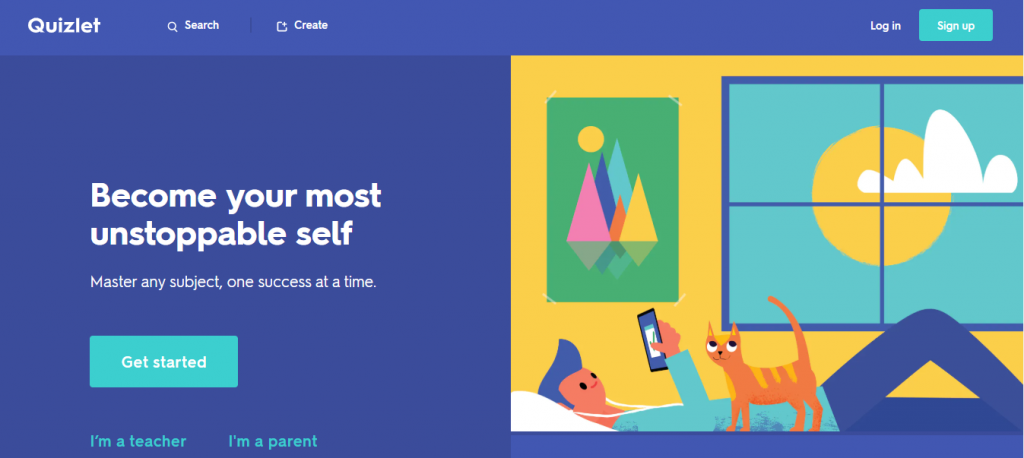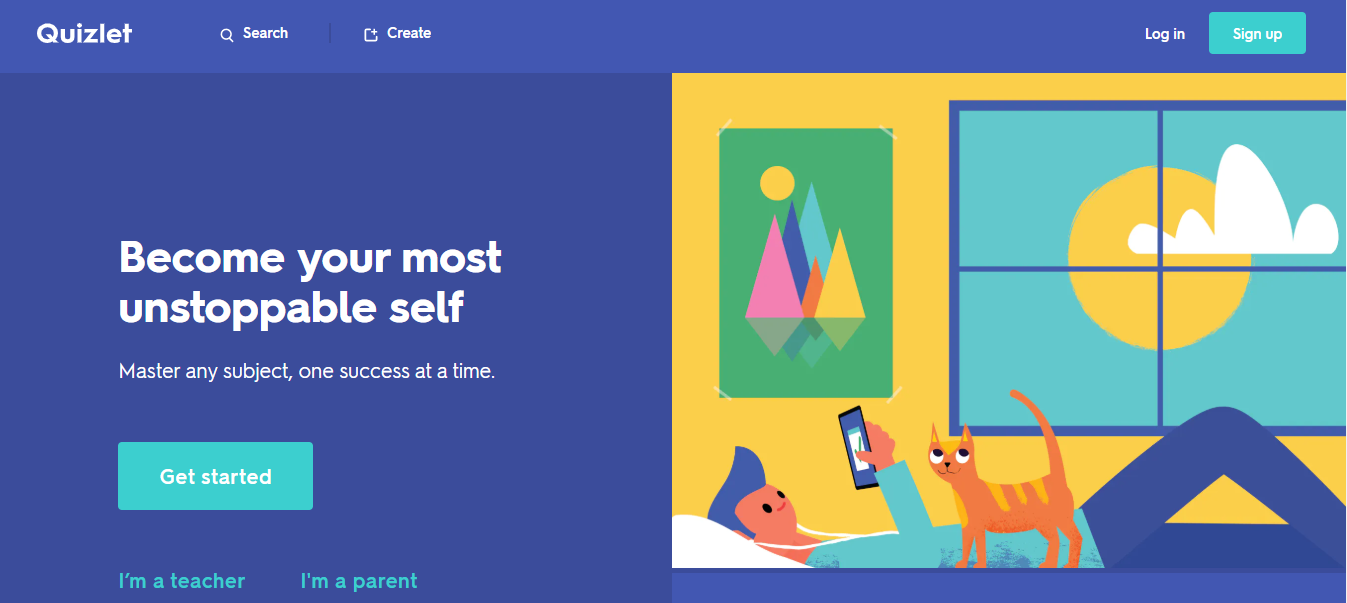 A widely popular and well-loved student collaboration tool is next – Quizlet. Quizlet is an interactive quiz tool, that helps students memorize facts in a fun way. It utilizes user-generated sets of terms and descriptions and enables learning through quizzes – flashcards for individual learning or competitive games for classroom learning.
With access to millions of question sets, learners can practice on any topic, though the most popular are languages.  Using Quizlet's available study sets, different study modes, and in-class games, educators can instantly create an engaged classroom. Educators can also create their own custom flashcard sets for Quizlet Live competitions to be held in a virtual classroom.
Quizlet is best for subjects that require rote learning. One of its features called Quizlet Live is a great way to introduce new content as it requires students to collaborate with their teams to research, and pool their knowledge to select the right answer, as they play the game.
Read more: 9 Awesome Assignment Writing Tips to Get Better Marks!
5. Parlay – Student Discussion & Collaboration Tool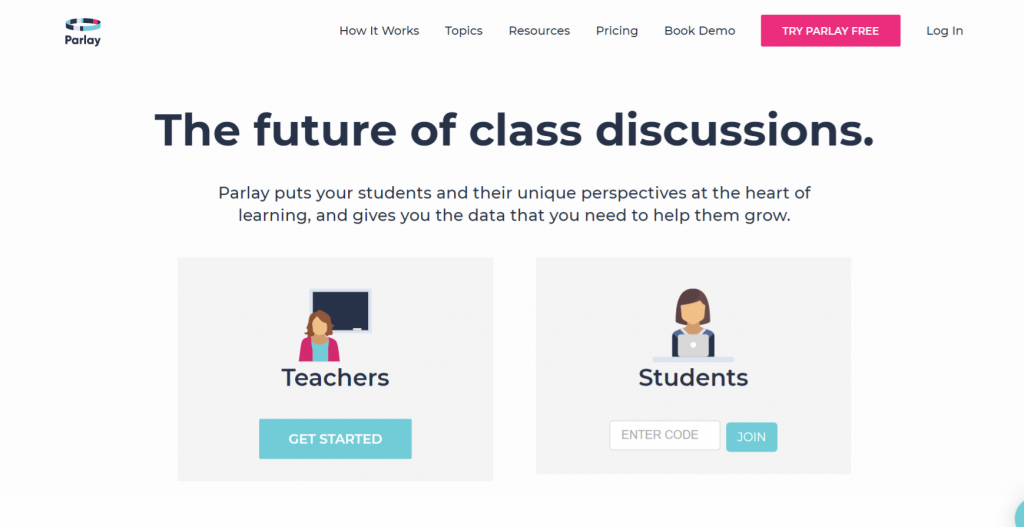 Parlay is a great student collaboration tool for round table discussions to get students to a higher-order level in thinking. It's a complete discussion platform that allows learners to interact with their educators and each other, both virtually and in person. An educator can lead the discussion by starting a RoundTable topic, learners then write a response, incorporate peer feedback, and participate in in-depth discussions.
The content within the RoundTable topic can be multimedia or text-based and can be edited or supplemented with educators' own material. Learners can also have a "live" discussion, where they sit in a Socratic circle with their devices and respond in a discussion
Parlay provides a good structure for productive class discussion and dialogue. It allows educators to design the RoundTable as per their requirements so you can use it to emphasize key concepts, or as a summative assessment to evaluate learning. Parlay includes an assessment tool that uses analytics on both the quantity and quality of student participation and provides suggested feedback to learners.
6. Padlet – Student Collaborative Bulletin Board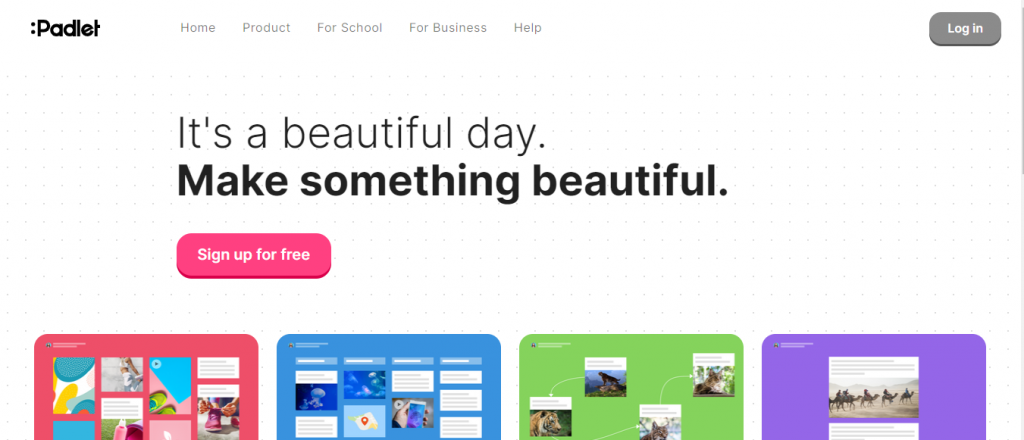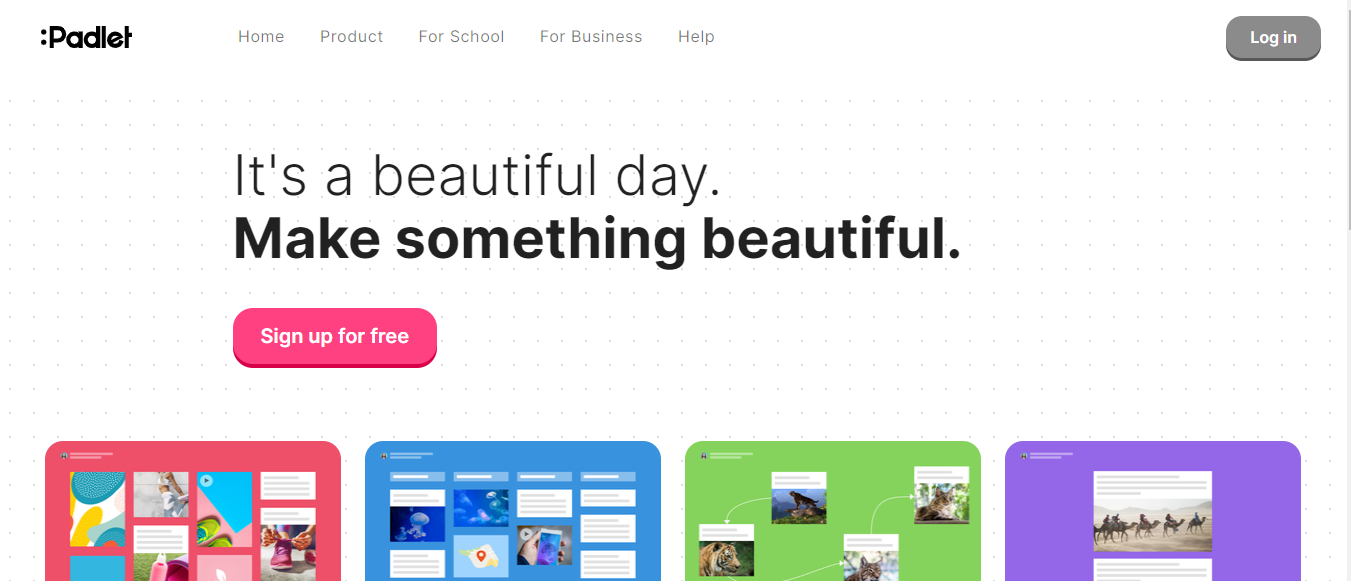 Padlet is the next wonderful student collaboration tool that is aesthetically pleasing and easy to use. It allows learners to collect information from the internet and pin it onto virtual bulletin boards. Like a wall full of Post-it notes you can add text, links, images, videos — basically anything — can be added to a board and organized.
Learners can also upload documents they've own resources, like class notes or completed assignments. Padlet encourages collaboration and is an effective way for students to learn on their own at their own pace. It is a great research tool with each student bringing their resources and perspectives on a topic.
Padlet is a quick and easy way to enable learners to interact with each other. Boards are a great way to break a class into smaller study groups, facilitate a class project, or enable further private learning. Educators can use it as a form of formative assessment to track students' understanding of a concept. It is well suited for subjects that have creativity or research components.
7. Drawp Unlimited – Collaborative Brainstorming Tool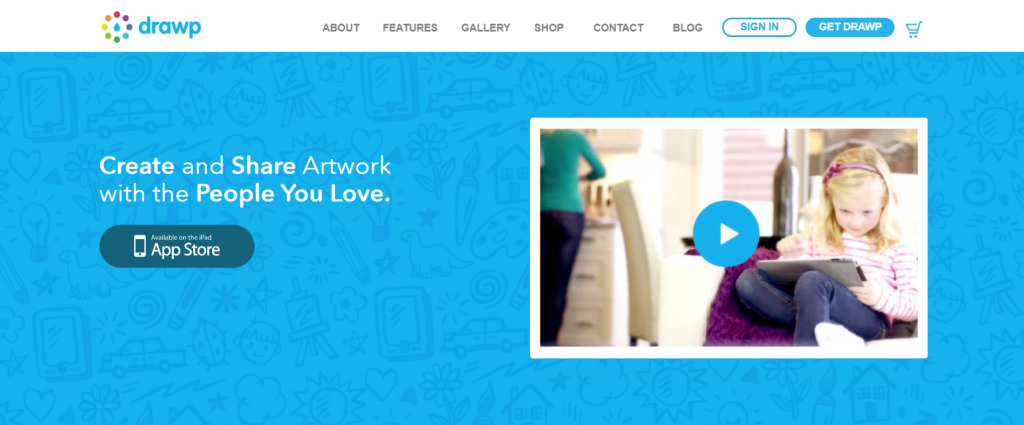 Next on the list of best student collaboration tools we have, is Drawp Unlimited which is a student creative collaboration app to create drawings and assignments. Teachers can create assignments to work on and students can work independently or with a peer to create original drawings.
Drawp has many creation tools such as paintbrushes, photos, audio, sticky notes, text, clip art, etc. Learners can share their pictures with the educator and other classmates, who can comment to provide feedback. Educators can also utilize the resource marketplace to collaborate on lesson plans and other resources. Teachers can use Drawp to promote group brainstorming and teamwork.
Drawp is better suited to younger students who will enjoy the collaborative and free-form drawing aspect. Teachers can upload a worksheet or use a premade graphic organizer or even create reports on a variety of topics. It can be used to brainstorm digitally and even make collaborative presentations by using pictures to create a slide show.
8. Edmodo – Student Social Media Collaboration Tool
Edmodo is a social media-like student collaboration tool that can be used in an educational environment. Teachers can create a classroom where students and teachers can post and add comments. Teachers can post a discussion question, and students can respond with their comments, or a teacher can start a poll or discussion question, and even assignments can be posted. Edmodo contains a searchable repository of lessons that teachers can use.
Teachers can assign projects or assessments, and students can submit their work within the platform. You can also give a quiz which could be either a formative or summative assessment. These grades can then be shared with parents too who also have access to the platform. Students enjoy Edmodo because of its social media feel, rest assured it is an educational tool.
9. Google Classroom – Classroom Organization Tool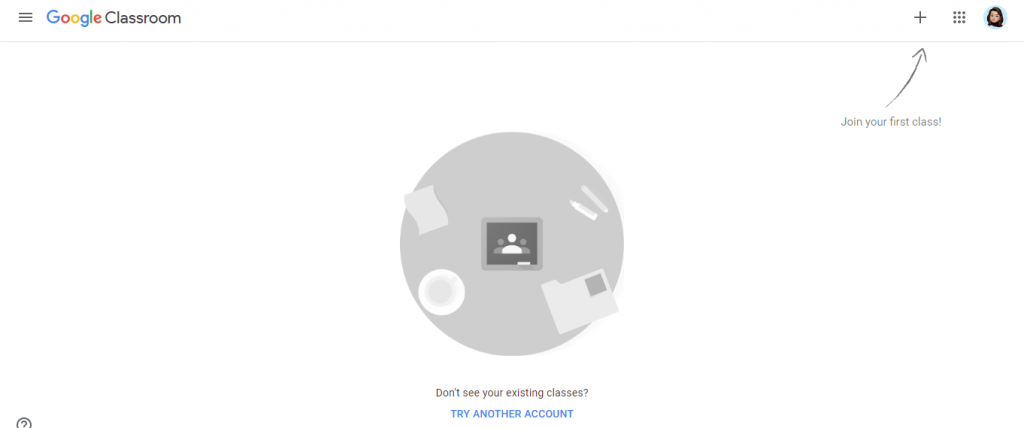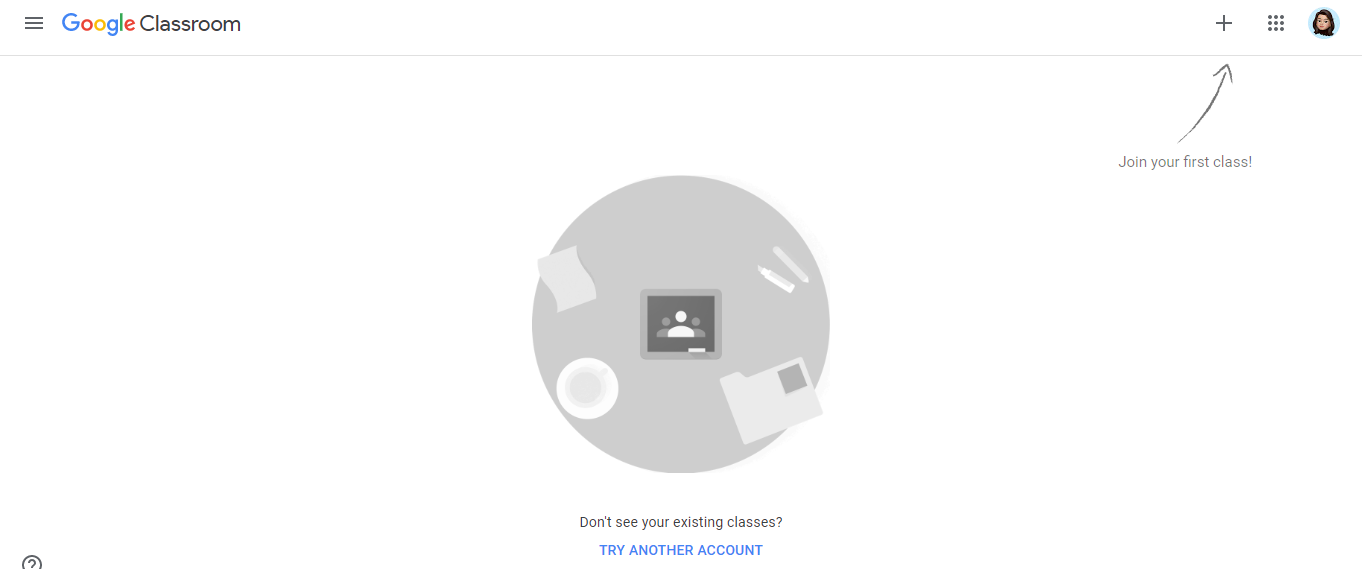 No student collaboration tool list could be complete without Google Classroom. This is primarily because firstly it's free and secondly most learners are familiar with their existing email, sheets, and presentation tools – all of which can be easily integrated.
Teachers can create a Google Classroom for any course and invite all the students, the integrated Google Drive can contain all important links, lessons, presentations, images, videos, and more. Students can easily collaborate in real time using Google's free apps, such as Google Docs, Google Sheets, and Google Slides. Teachers can set up assignments and note submissions, they can also add in comments while students are working.
Google Classroom makes group projects easier to manage — both for teachers and students — because it allows students to work from any device at their convenience. Google Classroom also integrates with numerous other apps for additional functionality and variety in the learning process.
10. Classcraft – Gamified Learning Platform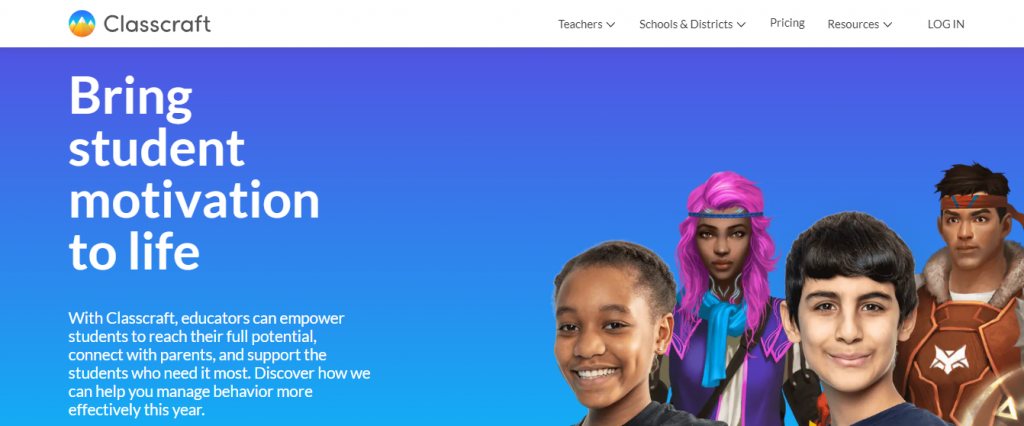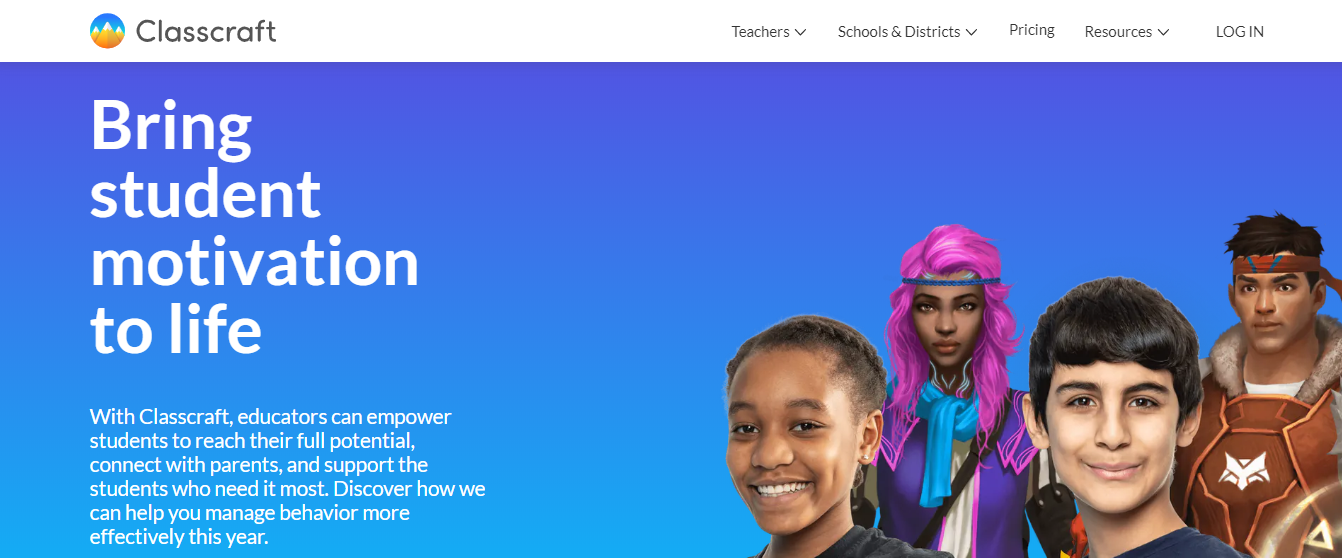 Classcraft has got to be my favorite learning app as you can gamify your class! Classcraft is generally a classroom management platform that engages students through gamified lessons. It's carved out a niche for itself as an engagement management system (EMS).
Students can create characters for themselves and they either power up or lose health points based on how they're doing in class. As students are in teams, if a student does poorly, the whole team suffers, so students truly come together and collaborate to learn.
An educator can create quests that weave lesson objectives into an exciting adventure story where students can move at their own pace and participate in challenges to earn rewards for their virtual avatars.  Classcraft is an incredible student collaboration tool to reinforce positive behavior while students build knowledge and strengthen communication.
Before you go!
Our team at bit.ai has created a few awesome education templates to make your processes more efficient. Make sure to check them out before you go, you might need them!
Final Thoughts
Student-led collaborative learning in this modern era needs to be facilitated in the right way. Many benefits can be achieved using student collaboration in the desired way. Online student collaboration tools facilitate interaction and self-discovery while they work with others beyond the classroom material.

Student collaboration is important in learning social skills and exploring areas of interest. This shift in digital learning is here to stay so the earlier you try out some tools, the easier it would be to adapt to the new digital learning. We would love to hear about your experience with any of the student collaboration tools above or your favorite tool, go ahead, and comment on your thoughts below.
Further reads:
Learning Objectives: What, Why & How to Write?
How To Create Effective Lesson plans For Students?
How to Create an Amazing Study Guide?
12 Best Student Tools for Better Learning!
Best Homeschooling Apps and Tools to Educate Kids!
How To Make Class Notes Worth Reading?
Workplace Collaboration Tools for Productive Teams!
How To Create A Recommended Reading Document?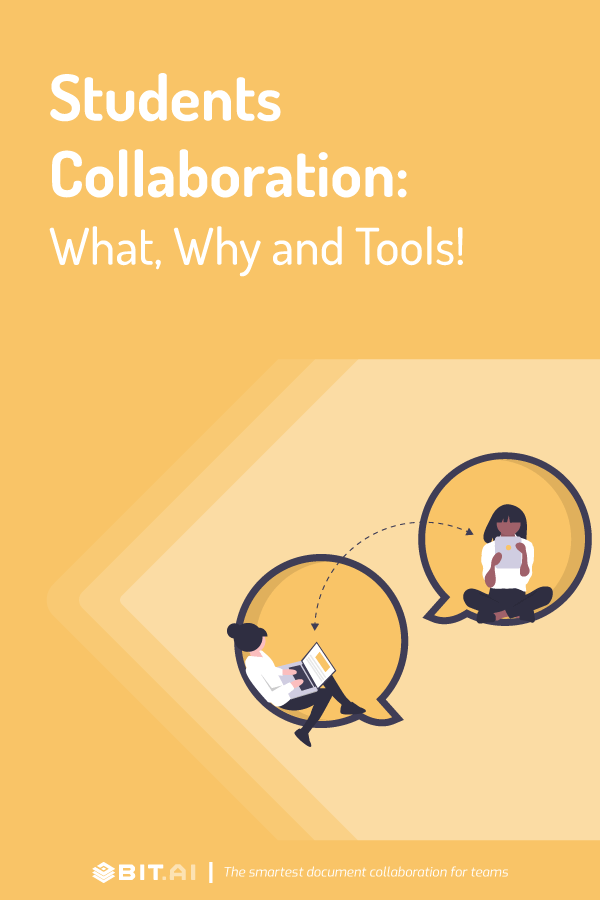 Related posts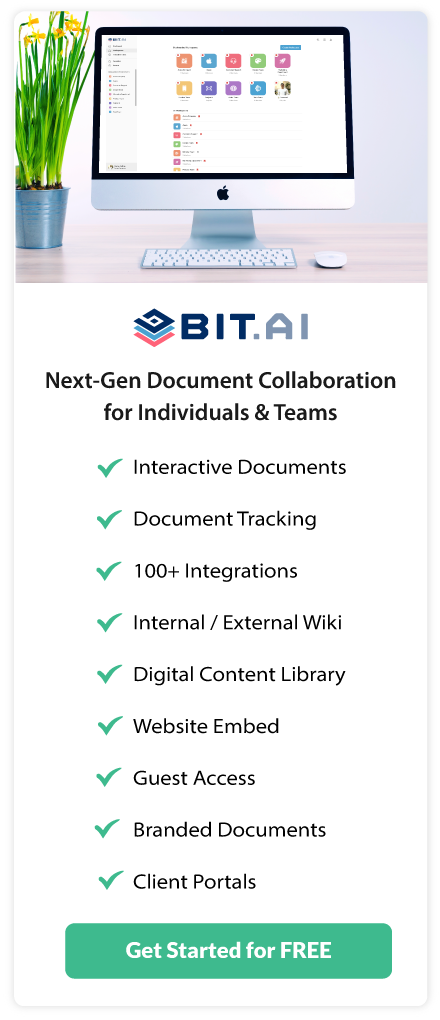 About Bit.ai
Bit.ai is the essential next-gen workplace and document collaboration platform. that helps teams share knowledge by connecting any type of digital content. With this intuitive, cloud-based solution, anyone can work visually and collaborate in real-time while creating internal notes, team projects, knowledge bases, client-facing content, and more.
The smartest online Google Docs and Word alternative, Bit.ai is used in over 100 countries by professionals everywhere, from IT teams creating internal documentation and knowledge bases, to sales and marketing teams sharing client materials and client portals.
👉👉Click Here to Check out Bit.ai.