Imagine, you are sitting in your classroom and the teacher is teaching on the whiteboard. You are trying your best to focus and yet, your mind is always drifting off to someplace. It happens to the best of us!
It's common to lose focus during a lecture and imagine yourself sitting on a beach or daydreaming about playing Fornite with your friends. However, if you really want to be productive and pay attention to your classes, simply "trying" to focus just doesn't cut it. 
A great way to focus on the lecture is by taking notes. Note-taking has always been the staple activity of academic life. And with the rapid technological advancements, note-taking has been revolutionized with the introduction of digital notes as well as note-taking software services.
According to research, taking class notes is extremely beneficial to students and helps them not only focus on what is being taught but also improves their power of recollection.
Taking class notes is fundamental to better learning and should be encouraged by all teachers. This is why we have an amazing class notes template for you at the end of this blog post.
But we jump to it, let us first take a quick look at what class notes actually are and why should every student take notes in the classroom.
What are Class Notes?
Class notes are nothing but written recordings or summary taken by students during or after a lecture. Class notes are typically taken for every class you take whether it's in college or high school. If created correctly, they can help you with tests, assignments, projects and be reviewed later at any time.
Why Class Notes are important?
Class notes are an important part of taking any class. They help you understand and remember the topics and discussions your class has. Class notes can be shared with classmates and compared to see if there was anything missed or misunderstood.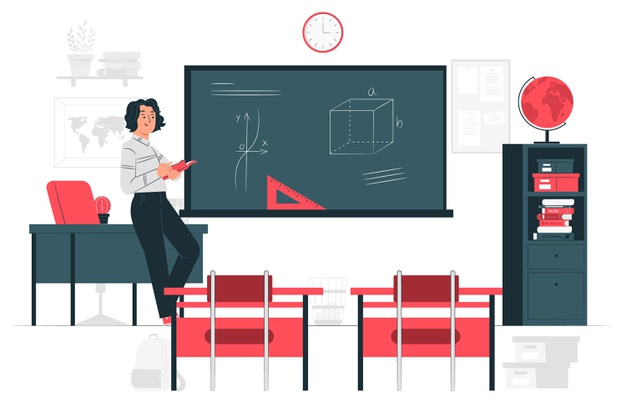 Its an important part of any class, as textbooks can be reviewed and read but often class lectures and discussions happen once. Even if the lecture is recorded, notes still play a very important role. Take a look at these stats:
Data suggests that students recall more lecture material if they record it in their notes (Bligh, 2000).
Students who take notes score higher on both immediate and delayed tests of recall and synthesis than students who do not take notes (Kiewra et al., 1991).
Moreover, the more students record, the more they remember and the better they perform on exams (Johnstone & Su, 1994).
There are many benefits to taking class notes. Some of which include:
keep you focused: Since distractions are simply one notification away, it's easy to lose focus while studying. Taking notes helps you pay undivided attention to your class and keeps distractions at bay.
Note-taking means keeping a record: Class notes are essentially a record of what happened during a particular class and what you need to remember from the information received during the class.
It helps you prepare for your exams: Class notes should be reviewed before exams to get the best out of them. Not only do they help you prepare for your test better, but they can also be used as flashcards to quickly revise the curriculum.
Note-taking helps you learn better: Research has shown that taking class notes help you compile your learnings more effectively as well as remember it better in the future.
As you can see, taking notes is critical for students to improve their recall abilities and learn more effectively. Now that you know how important taking class notes really is, here are the few key points every class note-taking session should include:
Read more: How to Create an Interactive PDF in Minutes

‍
What You Should Include in Your Class Notes?
A typical note-taking session should involve the following elements: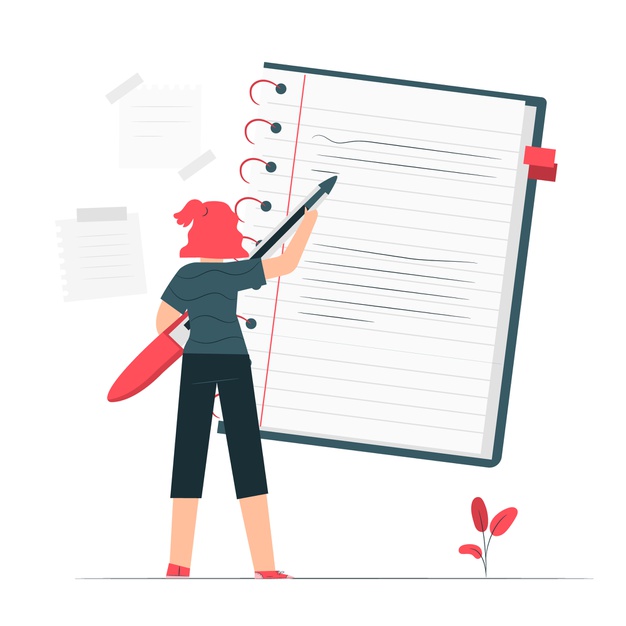 Course Name: Write the name of the course you are in
Course Details: Short details about the course.
Instructor: Write the name of the instructor teaching the course.
Date: Add the date on which notes are being taken.
Notes By: Write the name of the person taking notes
👉 Topics
Add all of the topics that are covered today.
✍️ Notes
Start adding your notes for the class.
❓Questions
Add questions students are asking and also jot down the responses.
👍 Summary
Add the key takeaways from the lecture.
👩🏻‍💻 Assignments
Add any assignments that have been given to you.
Take Class Notes The Right Way with Bit
Ready to class notes? We have the perfect tool for you!

Bit.ai is a new age online document collaboration tool that helps anyone create awesome notes, assignments, reports, and other classroom documents in minutes.
Bit has an amazing UI that's easy to understand by a new user, making onboarding easier. The user experience is phenomenal too as things flow from documents to workspaces swiftly.

Bit is the dream tool for both students and teachers as it helps revolutionize classroom education and makes it more modern, fun and interactive. Some of the reasons why you should use Bit.ai in your classroom includes:
Workspaces to keep notes organized: Students can use Bit as their digital notebook. Bit organizes files and documents into "Workspaces," making it easier for students to keep files from different subjects into different workspaces.
Studies have found note taking is most effective when notes are organized, which is why Bit allows students to keep their class notes, assignments, report research, and other resources organized in different folders and workspaces for easy access.
Create media-rich notes: Studies have found that if students read text alone, three days later they only remember 10 percent of the information—but adding a picture to the text increases recall to 65 percent.
This is why Bit encourages students to create media-rich notes. Add YouTube explainer videos, images, spreadsheets, PDFs, podcasts, and more to add context around your notes and foster deep learning.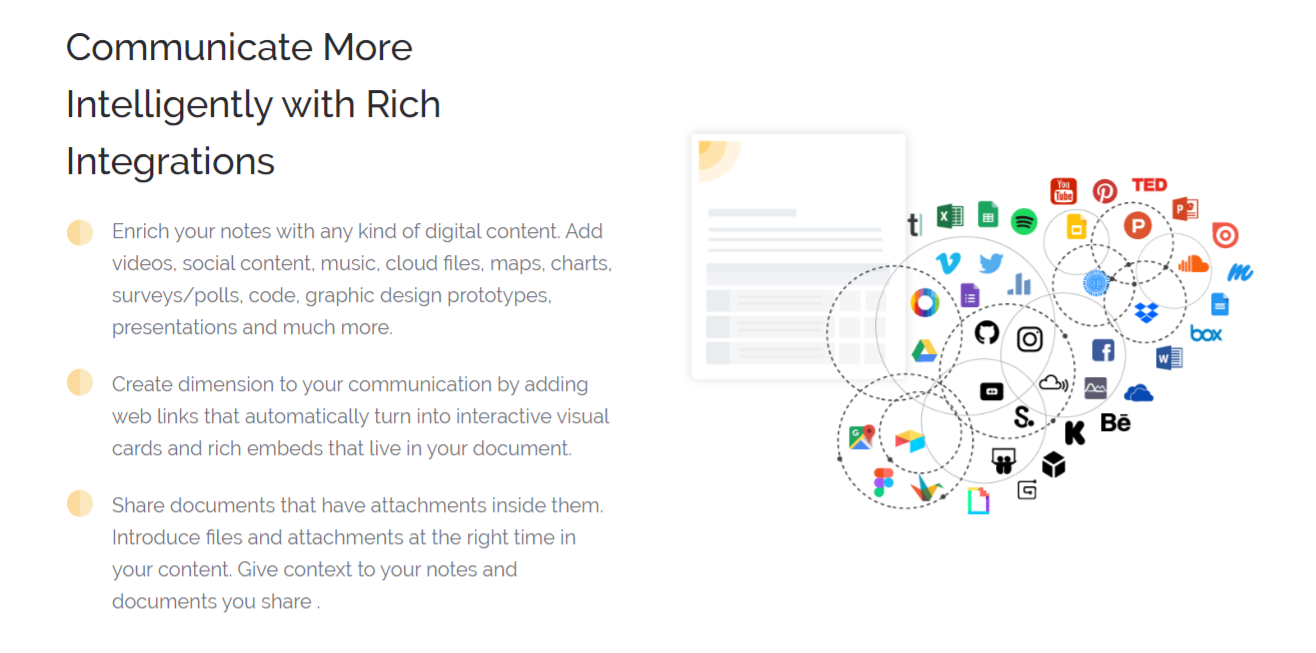 Real-time collaboration to foster co-learning: Bit supports real-time collaboration features that allow students and teachers to work together on assignments in real-time from the comfort of their homes. With the presence of real-time chat, teachers can mark up things that need changes and give feedback.
Immersive learning experience: Bit can also be used by teachers to create media-rich assignments, reports, and documents for their students to give them a more immersive learning experience than sharing boring text-only PDFs, emails, etc.
Users can add anything to their documents- images, videos, Gifs, images, PDFs, Word documents, spreadsheets, etc. – basically anything on the internet with a link.
Multiple ways to share: Bit documents can be shared in a live state meaning that all changes that you make to the document will update in real-time. If you are sharing your documents with clients, they will always get your most up-to-date changes.
You can even embed Bit documents on any website or blog. Since Bit documents render and are responsive, any changes made to these documents will reflect live on the site! Moreover, features like document tracking, password protection, file access restrictions, etc. help keep your class notes and other workplace documents safe. 
Some cool features of Bit include:
Workspaces to organize files and documents
Real-time collaboration between students and teachers
Document tracking provides teachers with the ability to see how many students have viewed their document, and how many have actually spent time reading it.
Embed feature to embed documents on any website even google sites.
Key Benefits of Making Your Class Notes on Bit.ai:
Collaborate in real-time
Interlink class notes and other documents
Create fully responsive documents
Create class notes only visible to yourself or your classmates
Track engagement on shared class notes with classmates, instructors, etc.
Read More: How Bit.ai Can Help Students Better Manage Their Schoolwork? 
As promised, here's an awesome template for you to take class notes easily. Check it out below: 



How to use Class Notes Template with Bit
The process of creating class notes document on Bit is insanely easy! Just follow these four simple steps to create class notes document quickly:
Step 1: Create a Bit Account
Go the home page of Bit.ai and click on Get Started for Free or Sign Up to get started. Enter your email address to sign up. Once in, you can create your personal profile.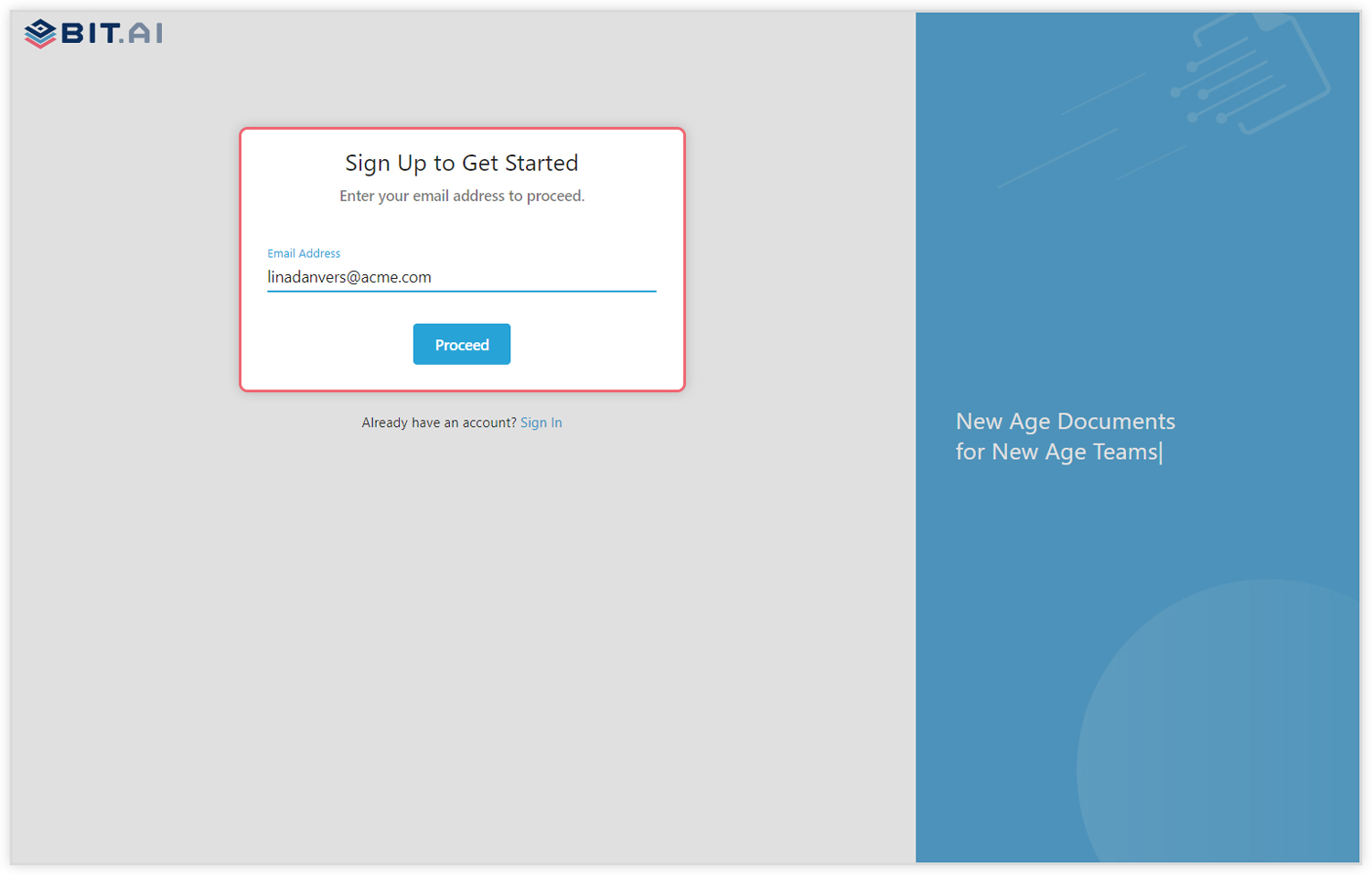 Step 2: Create a Workspace
Workspaces are where the work gets done. Click on the 'Create Workspace' button on the right. A popup will show up prompting you to add a name for your new workspace.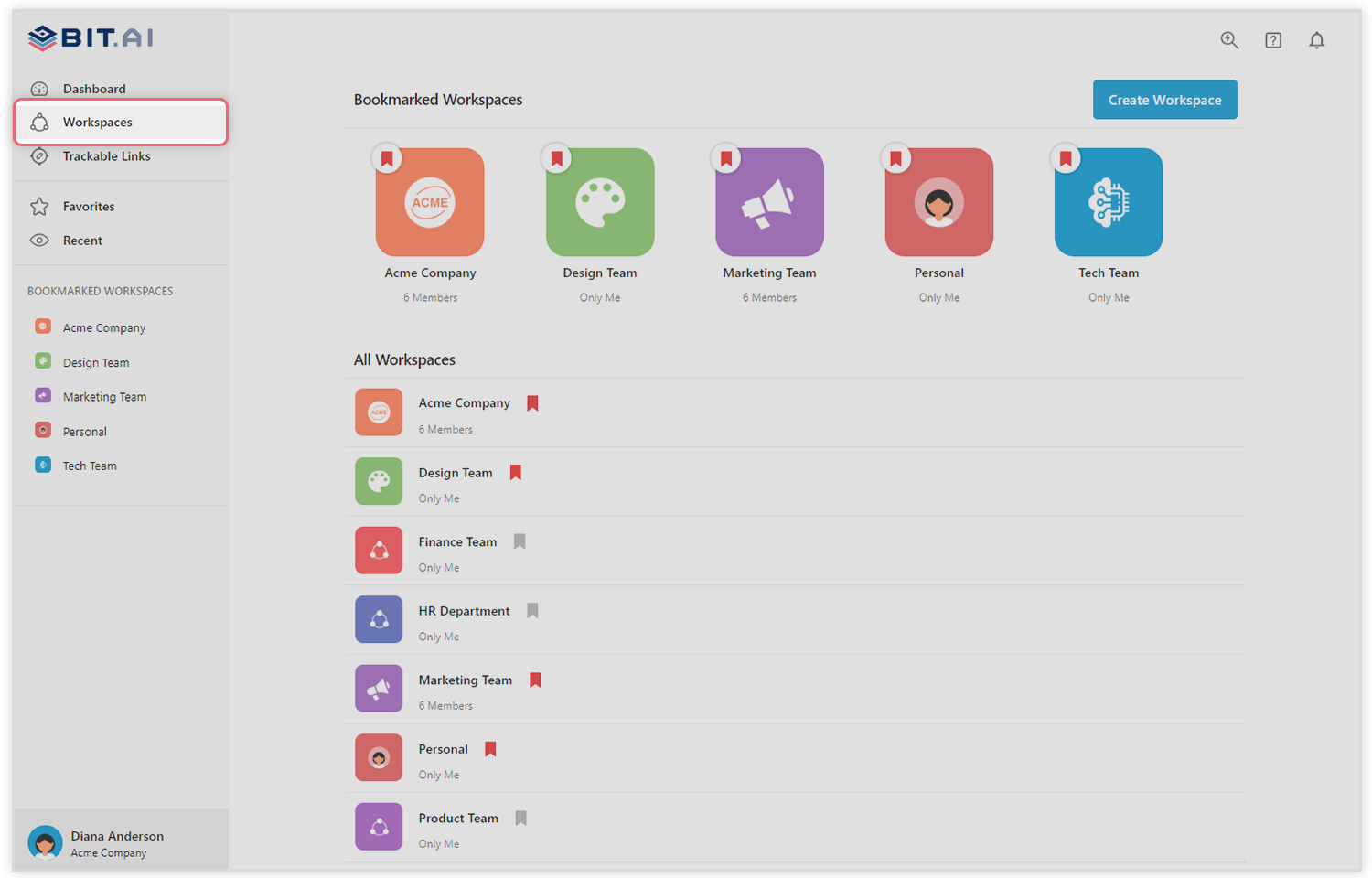 You can create a workspace around a team, department, large project, client, partner, etc. Inside each workspace, you can create an unlimited amount of Bit documents and access your content library (storage area for all of your digital assets – web links, files, cloud files, rich embeds, etc.).
Step 3: Add Team Members
Bit allows your team members to collaborate in real-time and get work done. Collaboration starts at the workspace level.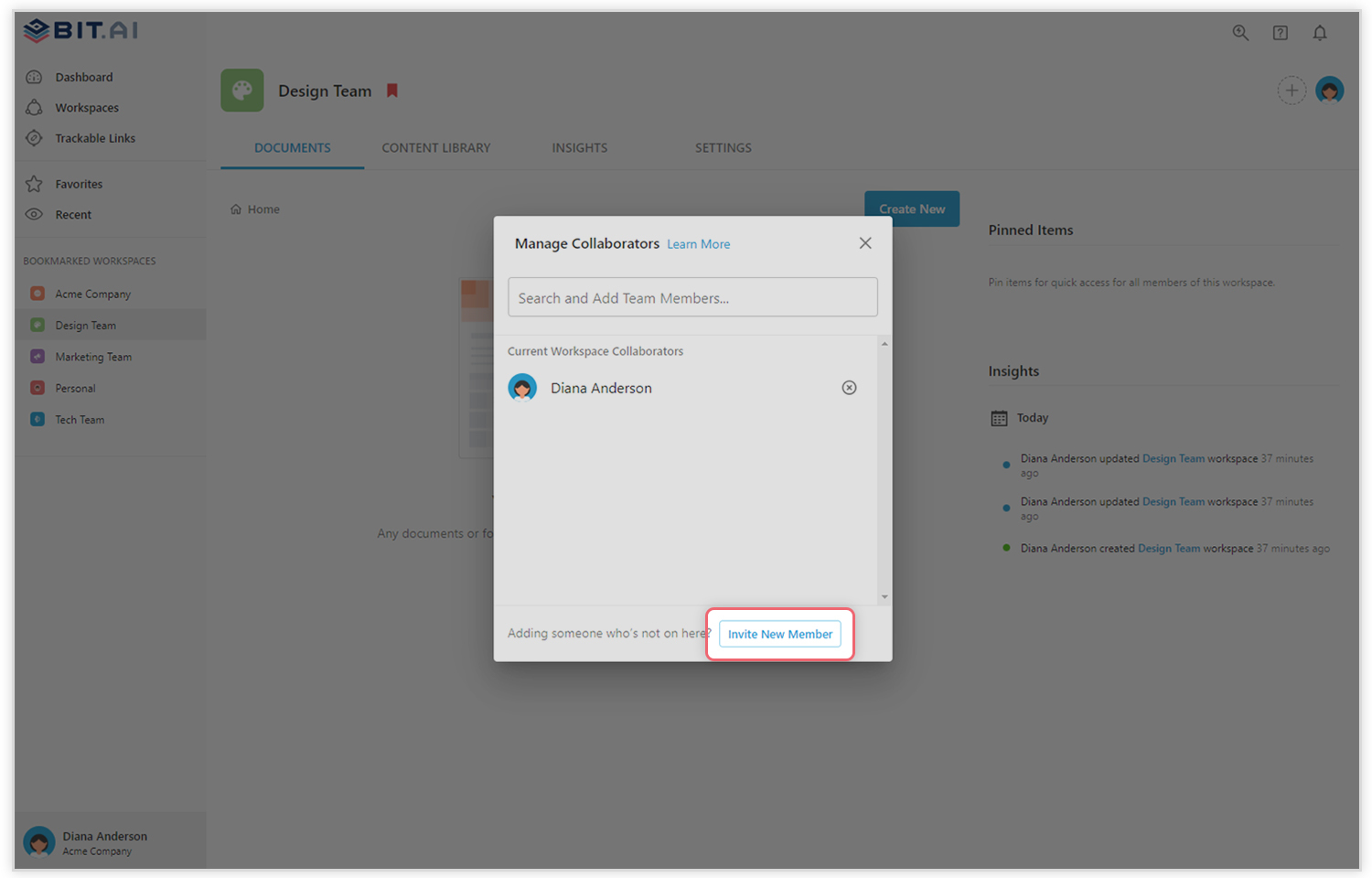 You create private workspaces by default. However, you can invite others to join you inside of a workspace and collaborate together with the knowledge, projects, documents and content inside of the workspace.
Step 4: Create Your Desired Document
Once you are in the workspace, click on the 'Create New' button. Select 'From Template' in the dropdown. A pop up will display allowing you to select a template from the gallery.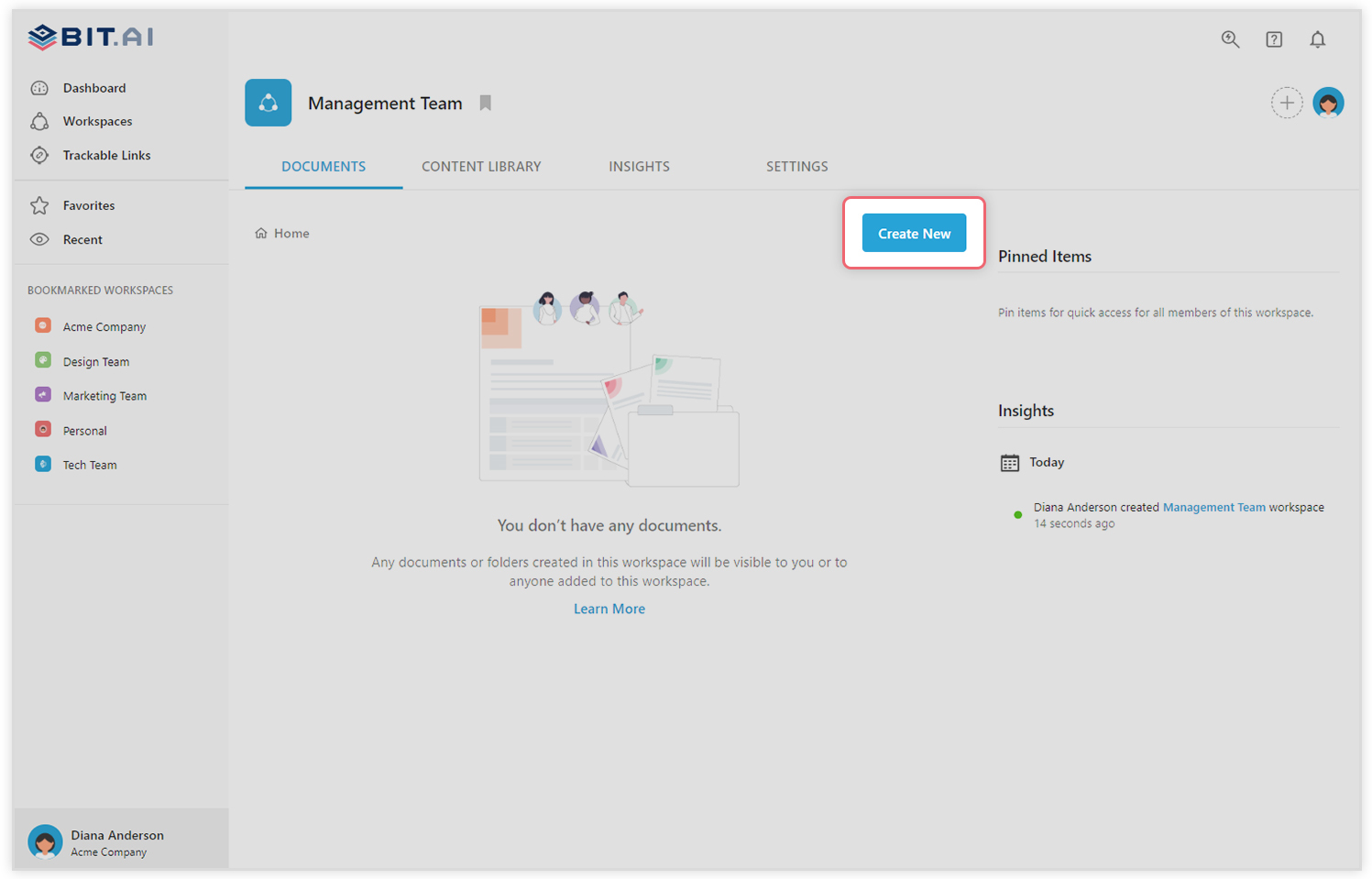 In the search box on the top left corner, you can search for "class notes template". Once your desired template pops up, click on it and click on the "Use Template" button on the bottom right corner.
That's it! Your class notes document is ready for use!
Before you go!
Our team at bit.ai has created a few awesome education templates to make your processes more efficient. Make sure to check them out before you go, you might need them!
🎥Watch this video to learn more👇
Over to you
Taking class notes is important. But what are good notes if you don't have a place to store them safely? Bit provides a centralized location to store all your class notes, projects, assignments, research, and more.
With real-time collaboration, Bit also acts as a distance learning tool, helping teachers and students collaborate remotely. If you need any help with our class notes template, let us know by tweeting us @bit_docs. Cheers!
Further reads: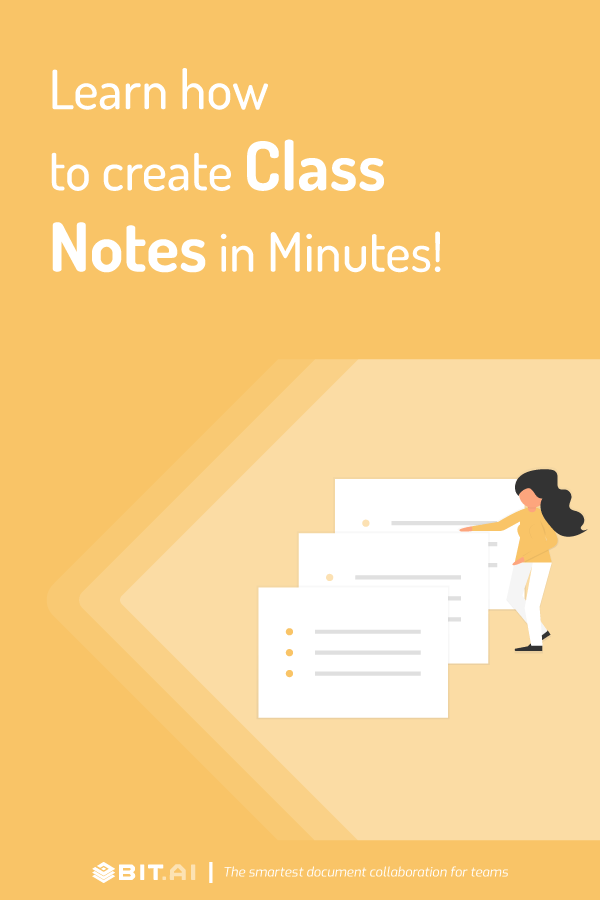 Related posts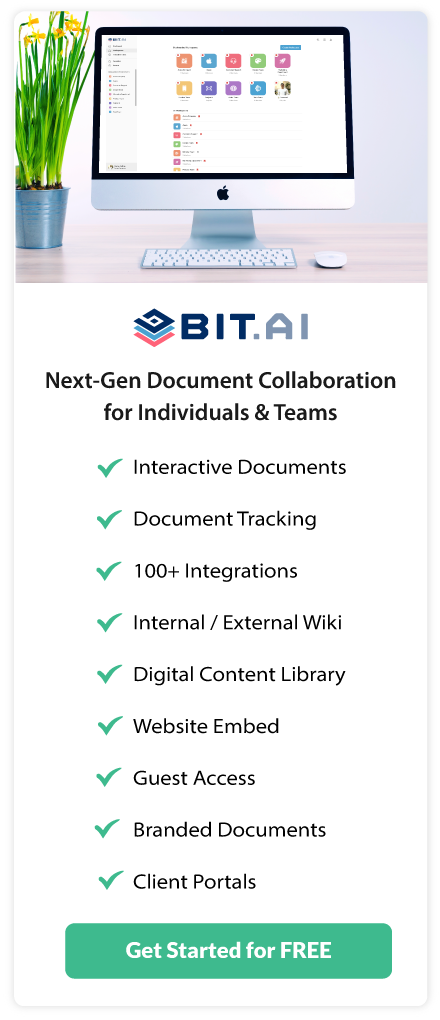 About Bit.ai
Bit.ai is the essential next-gen workplace and document collaboration platform. that helps teams share knowledge by connecting any type of digital content. With this intuitive, cloud-based solution, anyone can work visually and collaborate in real-time while creating internal notes, team projects, knowledge bases, client-facing content, and more.
The smartest online Google Docs and Word alternative, Bit.ai is used in over 100 countries by professionals everywhere, from IT teams creating internal documentation and knowledge bases, to sales and marketing teams sharing client materials and client portals.
👉👉Click Here to Check out Bit.ai.