Do you remember the age-old saying – to err is human?
Well, It might have become a cliche, but it still holds true. None of us is perfect. We all mess up and make mistakes at some point in our lives – either personally or professionally.
However, the thing is, owning up to our mistakes and apologizing isn't always easy. Admitting you were wrong can be a tad bit difficult and humbling.
Nevertheless, It's really important to acknowledge your mistake, apologize, and promise to learn from your mistakes. A heartfelt apology is sometimes all you need to mend your personal or professional relationships.
In this blog, we will walk you through everything you need to know about writing good apology letters. We will also be sharing some examples that you can refer to while writing one.
What's an Apology Letter?
An apology letter is a written statement that you send to someone who has been deeply affected by what you said or did. Simply put, this letter is used to apologize to someone for a mistake.
In an apology letter, you first acknowledge your mistake or wrongdoing, and then you show how sorry you are. It's the first step towards repairing the broken relationship between you and the person you're apologizing to.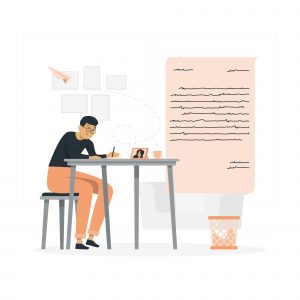 In the business world, an apology letter is a permanent record of an error made by a company, and its response to it. This is why it becomes extremely important to create the letter accurately and efficiently.
When you reach out to someone to fix your mistakes by sending an apology letter, it shows that you care about them and you're going to make sure that such a mistake doesn't happen again.
Well, now that you have a crystal clear idea of what an apology letter is, let's head over to the next section – the format of an apology letter.
The Format of a Professional Apology Letter
(Your Name)

(Your Organisation/Institution/Location)
(Date)
(The Recipient's Name)
(The Recipient's Organisation/Institution/Location)
(Dear Salutation + Name of the Recipient)
(Body of the Letter)
Opening Section: Firstly, accept your mistake and describe what happened so that the recipient knows what you're talking about. The letter should reflect that you understand the depth of the problem and the consequences of the mistake you've made. Make sure to include the words "I apologize" and "I'm sorry" in the first few lines.
Middle Section: Now, write how you plan to fix your mistake. If it is not possible to redo the mistake this time, state that you're taking it seriously and you will make sure that it won't happen again. This is the part where you need to fix the blunder and make promises to the recipient.
Closing Section: It's time to conclude the letter by asking the recipient for forgiveness, patience, and another chance. Take the blame and don't be afraid to show vulnerability. This would help in bringing closure to whatever happened.
(Yours Sincerely)
(Your Name)
(Designation)
(Signature)
The above format is certainly going to help you write a solid apology letter. We have also curated a list of tips that will make the letter even more effective. Let's go!
Read more: Complaint Letter: What is it & How to Create it? (With Examples)
How to Write a Good Apology Letter? (5 Tips)
1. Take Responsibility
Avoid using such sentences:
"I'm sorry, but…"
"I'm sorry you were hurt by my actions…"
"Mistakes were made…"
Why? Well, the first sentence sounds like you're trying to make excuses for your mistakes and shift the blame. This doesn't count as an honest apology.
In the second phrase, you are only apologizing for how others reacted to what you did – and not for what you did. You should rather say, "I'm sorry for my actions."
The third one seems insincere, mostly because it's in passive voice. Instead, you can simply say, "I made a mistake." Yes, your apology might not have an impact if you use passive sentences.
The key takeaway is, you need to take full accountability and responsibility for your actions. If you are not sorry for your actions, there's no point in writing an apology letter.
2. Do Not Exaggerate
You need to make sure that every word you write in your apology letter is coming straight out of your heart because a shallow statement can put you in trouble at any time.
It's important to express your regret in the apology letter, but avoid using flowery language and dramatic phrases. Avoid saying things like, "My actions were monstrous and I don't deserve forgiveness."
All you have to do is state what you're apologizing for, and that you are deeply sorry. Also, don't get carried away and take responsibility for things that weren't your fault.
Most importantly, give yourself some time and think about what exactly happened and what you need to say in the apology letter. Get everything fixed in your mind before you start to write.
3. Take Care of Your Tone
The tone of your apology letter depends entirely on your relationship with the person you're apologizing to. For instance, an apology letter to your best friend would be very different in tone from a letter to your colleague.
However, you need to remain respectful and sincere regardless of whom you're writing to. It demonstrates that you understand the severity of the situation, and it would also make it easier for them to regain their trust in you.
4. Timing Matters
The timing of your apology letter is as important as the content of the letter. If you've made a grave mistake, you need to send the letter as soon as possible.
However, it is also important that you don't apologize too soon. The offended person might still be angry and might react harshly towards your apology. Even you might not be in the correct state of mind to compose a good apology letter.
With that in mind, it's also important that you don't delay your apology letter so much that it becomes meaningless. Simply put, the letter needs to be sent at the right time – neither too soon and nor too late.
5. Keep it Clear and Concise
Sometimes, we get a little carried away while writing an apology letter. In the quest of crafting the perfect apology letter, we end up making it way more complex than it should be.
Remember, an apology letter is just that – a letter seeking forgiveness for an incident. Anything which isn't directly related to the apology is a waste of time. Just say what needs to be said, and end it there.
You don't need to mention each and every detail of the incident. Keep your letter short and to the point. Ideally, you should stick to two or three short paragraphs.
Need some inspiration to start writing your apology letter? In the next section, you will find some awesome examples of apology letters – both personal and professional.
Four Examples of The Perfect Apology Letters
Apology Letter Example #1 – Apologising to a Friend
Dear Joey,
I can't express how sorry I am for missing your bachelor's party. It was entirely my fault as I had forgotten to put the event on my calendar. I know you were looking forward to seeing me, and I feel terrible about it.
Your friendship is extremely important to me, and I have now written your wedding date in my calendar so that I don't end up repeating the same mistake again. I have also decided to start using an electronic calendar so that something like this doesn't happen again.
Once again, I'm extremely sorry. I know that this has upset you, and I deeply regret it. I hope you are able to forgive and I promise to do better in the future.
With Best Wishes,
Chandler
Apology Letter Example #2 – Apologising To a Client
Charlie Green
The Director
Star Clothings Inc.
Nob Hill, San Fransisco, California
20/01/2022
To,
Kim Geller
The Manager
Times Boutique & Co.
Harlem, Manhattan, Newyork
Dear Kim,
We regret to inform you that due to the COVID situation, the products that you ordered on the 15th of January, 2022 are still in transit. We understand that this is a huge inconvenience to you, however, we are trying our best to clear the backlogs and deliver the products to all our customers at the earliest. Rest assured that you will get your products delivered by 30th January 2022.
We hope that you understand the unlikely situation we are in and bear with us till we sort out this problem. We value your relationship with us, and we will make sure that this isn't repeated in the future. Once again, we sincerely apologize for the delay and hope that you continue to work with us.
Thank you in advance for your understanding, patience, and cooperation.
Sincerely,
Charlie Green
Director, Star Clothings Inc.
Apology Letter Example #3 – Apologising to a Supervisor
Mike Hannigan
Content Marketing Manager
Chalk & Duster Co.
Manhattan, New York
20/01/2022
To,
Michael Garcia,
Head of Marketing
Chalk & Duster Co.
Manhattan, New York
Dear Mr. Garcia,
Please accept my sincerest apologies for sending the wrong quarterly report to our client, Rhodes & Co. I take complete responsibility for my actions and any inconveniences it has caused.
I can't defend my actions, however, I will immediately reach out to Rhodes & Co. and make amends. I will make sure that no such mistakes will ever be made from my end in the future.
I completely understand your disappointment with me, and I am truly sorry for my actions. Let me know if there are any other remedial steps that need to be taken by me.
Sincerely,
Mike Hannigan
Marketing Manager
Chalk & Duster Co.
Apology Letter Example #4 – Apologising to a Neighbour
Dear Mrs. Smith,
I am writing to apologize for all the construction noise that's coming from my apartment for the last few days. I am having my apartment rewired as I was experiencing some electrical issues. The old wiring in my apartment was severely damaged so I had no other choice but to get all the wires replaced.
I understand that there has been a lot of noise during the day, and I sincerely apologize for any disturbance it might have caused you. I was hoping that the construction work would be done before you came back from work, but it ended up continuing till night yesterday.
To get the work done as quickly as possible, I have hired another electrician. Although there's inevitably going to be some noise for a few days, I will ask them to be as quiet as possible, and make sure that they finish their shift by 6 PM, which is the time you usually get home.
Please accept my sincerest apologies.
Yours Truly,
Michelle Peterson
You're sad, regretful, and filled with remorse. Your fingers are hitting the keyboard as you're writing the apology letter. At such a time, taking care of the format and design aspect of the letter is something you'll put on the backseat. We completely understand.
But, this doesn't change the fact that the way you present your apology letter is extremely crucial. After all, it is the first thing someone would see when they open the letter!
Don't worry. Taking care of the presentation aspect of your apology letter doesn't have to be a chore, because there's a platform out there that can do all that and more for you – Bit.ai!
Through its intuitive and integrated tools, Bit.ai has simplified the often complex and long process of writing an apology letter. Want to know more about Bit? Read on!
Bit.ai – The Platform That Helps You Create a Powerful Apology Letter

Writing an apology letter is not a cakewalk. It takes so much time that you end up having no energy to make it look appealing, right? Well, Bit solves that problem for you by automating the entire design aspect for you.
With 90+ pre-built, fully responsive, and gorgeous templates, Bit has made the entire process of creating documents super smooth. Just pick a template that fits your needs the best, and you're good to go! You can easily share this letter with the recipient, internal teams, and other stakeholders. ✨
The most amazing feature of Bit is that it gives you the ability to work collaboratively with others on your documents in real-time. So, if you need someone to help you out in writing your apology letter, you can work with them using inline comments, @mentions and more!
Moreover, Bit lets you add videos, charts, surveys/polls – basically any rich media you can think of in your document. That means you can make your apology letter much more comprehensive and effective.
All in all, using Bit.ai, you can create an apology letter that highlights your text, has the perfect format, and is great to look at. So, are you ready to write an apology letter using Bit.ai? We know you are!
Wrapping Up
An apology letter doesn't fix everything and magically makes everything A-OK. However, it does establish that you acknowledge what you did was wrong and that you will make sure it doesn't happen again in the future.
Not apologizing when you are wrong could damage your personal and professional relationships. It often leads to anger, resentment, and hostility – which builds over time.
Moreover, a genuine apology can bring you some relief, especially if you're feeling a lot of remorse over your actions. By apologizing, you would have an easier time forgiving yourself and moving forward!
Lastly, remember that the other person might need some time to warm up to you again. Accept this, give them the personal space they need, and be patient!
Further reads: 
Two Weeks Notice Letter: Definition, Format, Examples & Samples!
Motivation Letter: What is it & How to Write it?
Employment Verification Letter: What is it & How to Write it?
Proposal Letter: What is it & How to Write it?
Happy & Collaborative Work Culture: 10 Effective Ways to Create it!
Leave of Absence Letter: What is it & How to Write it?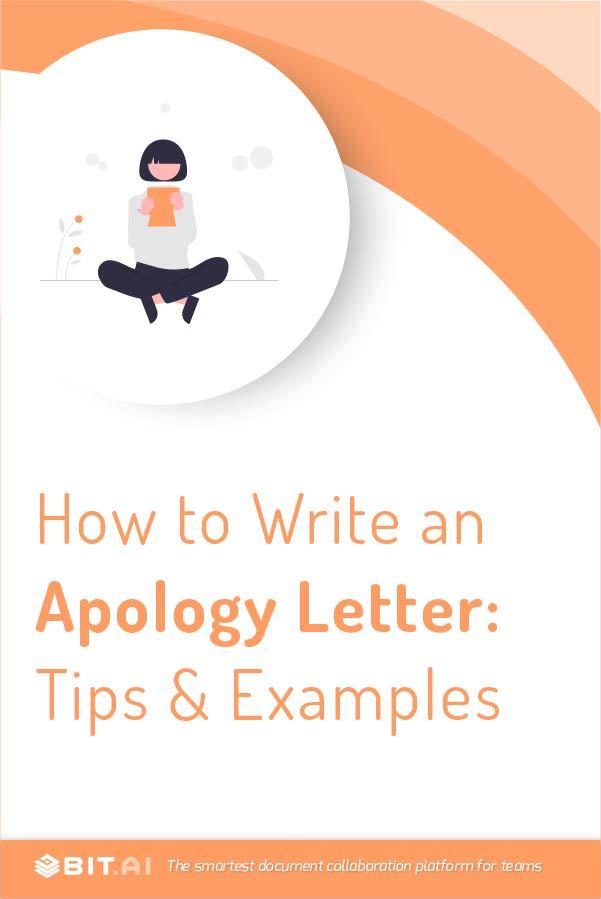 Related posts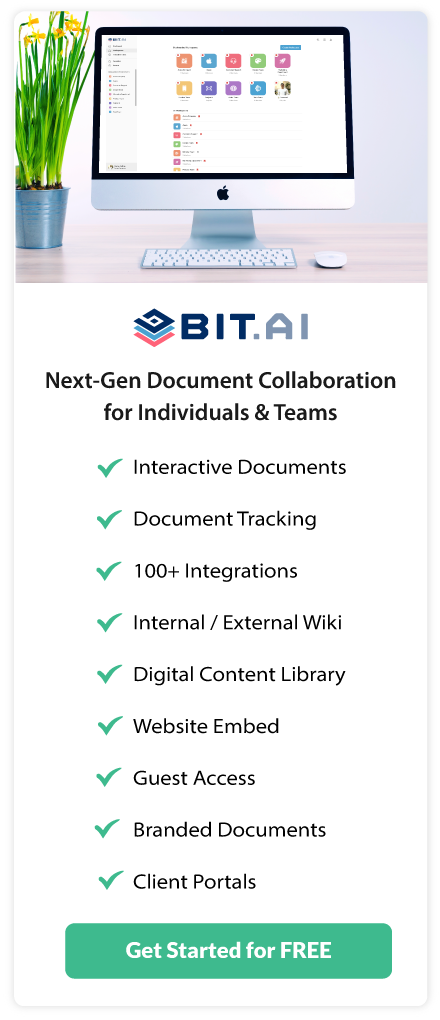 About Bit.ai
Bit.ai is the essential next-gen workplace and document collaboration platform. that helps teams share knowledge by connecting any type of digital content. With this intuitive, cloud-based solution, anyone can work visually and collaborate in real-time while creating internal notes, team projects, knowledge bases, client-facing content, and more.
The smartest online Google Docs and Word alternative, Bit.ai is used in over 100 countries by professionals everywhere, from IT teams creating internal documentation and knowledge bases, to sales and marketing teams sharing client materials and client portals.
👉👉Click Here to Check out Bit.ai.