Have you ever watched those Black Friday shopping videos? People standing in long queues, right in front of the stores, waiting to get the best deal of the year.
Just imagine how much easier everything would be if there was a secret back door to enter the shop, and you won't have to stand in those long queues.
Well, we don't really know if there's any such secret door, but there's one that we know about. It's the secret door to landing your dream job – a motivation letter!
There might be so many questions running across your mind right now. Don't worry, because we're going to get into the nuts and bolts of a motivation letter. Let's roll!
What's a Motivation Letter?
A motivation letter, also called a letter of motivation, is a one-page personal pitch that documents your background, skills, and motivation.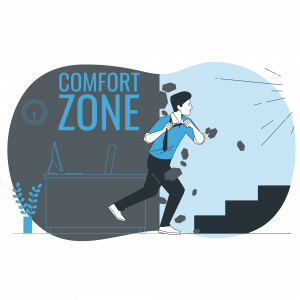 A motivation letter is generally used while applying for a job or an internship. However, sometimes, it's also used while applying to a university or a scholarship.
The motivation letter is accompanied by a resume/CV, and it offers a quick glance at the motivation of the candidate. It shows why you want the opportunity, and how can you contribute to the organization.
So, is a motivation letter similar to a cover letter? The answer is NO! There's a huge difference between a motivation letter and a cover letter.
Motivational Letter VS Cover Letter: What's The Difference?
Yes, a cover letter and motivation letter serve the same purpose, i.e, informing the recruiters and hiring managers why you're the perfect fit for the role.
However, in a cover letter, you are supposed to highlight the information mentioned on your resume/CV – and match it with the job requirements and company profile.
Whereas, in a motivation letter, you need to talk about your interests, motivations, and aspirations that align with the job profile you are applying to.

Now that you know what a motivational letter is, when it's used, and how it differs from a cover letter – it's time to learn how to write one. Read on!
Read more: Query Letter: What is it & How to Create it?
How to Write a Motivation Letter? (Step By Step)
Step 1: Basic Information
This is the easiest part of writing a motivation letter. Start with a friendly greeting, and then add some basic information about yourself – such as your name, title, and contact information.
Once that's done, add the details of the person you're addressing the letter to, and the date on which you're writing the letter. This part needs to be short, concise, and yet descriptive.
Step 2: Write The Introduction
Your introduction needs to capture the reader's attention and encourage them to read the rest of the letter. One way to write an intriguing introduction is by including a personal anecdote or achievement.
Along with that, describe the reasons why you've chosen to apply for this position and highlight your strengths. Your goal is to keep the reader hooked and interested throughout!
Here's an example:
Dear John,
Your organization, Acme Co. has made a tremendous impact on my life. From an early age, it has been my dream to work with Acme Co. and give back to the organization.
Step 3: Your Story & Motivation
This is where you need to sell yourself and demonstrate that you're the perfect fit for the role. Talk about your qualities, your work experience, your academic background, and how you stand out from other applicants.
Don't repeat the information that's already there in your CV. Also, don't overwhelm the reader with a huge blob of text. Divide the content into small paragraphs, and make sure that there's plenty of white space in the letter.
Here's an example:
I'm currently pursuing a Diploma in Practical Nursing. When I was 6 years old, I was diagnosed with asthma, and I was in and out of hospitals for quite a long time.
So, when I saw that you're looking for volunteers at the Children's Care Hospital in Manhattan, I just knew that I would be able to make a real difference here.
As I've firsthand experience of being in a children's hospital, I know that I will be able to help you in the best possible way. I could use my education and practical experience to the benefit of Children's Care Hospital.
Step 4: Add a Call To Action
Now, write a paragraph to sign off and keep a formal tone. Your goal here is to leave the reader on a positive note and persuade them to contact you for the interview.
Here's an example:
To sum it up, I feel that I would be a great fit for your organization, and I truly hope that you will consider me for the position. If you would like further information, you can give me a call or send me an email. Looking forward to hearing from you!
Sincerely,
Michelle Peterson
Step 5: Proofread, Proofread & Proofread
The final step of writing a motivation letter is to proofread it. Correct any spelling and grammatical mistakes, get rid of awkward sentences and make sure that you sound professional and competent.
Most importantly, remove any information that's already present in your resume, so that your motivation letter only has unique and fresh information!
If you have got the time, start proofreading your motivation letter one or two days after you complete it, as it will allow you to review it more objectively.
It's always a good idea to ask your friends, professors, or someone who has already written a motivation letter for some good advice and feedback.
The above format is certainly going to help you write a solid motivation letter. We have also curated a list of tips that will make the letter even more amazing. Read on!
Read more: Letter of Interest: What is it & How to Write it? (Format Included)
A Few Tips For Writing a Great Motivation Letter
1. Stay Original
This is a personal document and your goal is to prove that you're different from the rest of the applicants. Give the recruiter some insight into who you're as an individual, your qualities, and your skills.
Yes, you can take some inspiration from the motivation letter examples available on the internet, but don't copy them blatantly. Try to be original and realistic!

Moreover, don't try too hard to be liked and don't brag too much about yourself. You don't have to come across as a superhero, but an objective and realistic person.
2. Remember The Purpose
Here's something you need to remember: your CV/resume already has all your personal and professional information, so you don't need to mention it again in your motivation letter.
Instead, use your motivation letter as an opportunity to talk about things that aren't listed in your resume. Make sure that your letter is in sync with the information that you've provided in your resume.
3. Be Professional & Consistent
The way your motivation letter looks, the way it's presented, organized, and structured, the font that you've used, the length of the letter – these small details can make a huge difference.
So, present your letter in a professional format and style. Use the same font and abbreviations throughout the letter. As we all know, the first impression is the last impression.
Moreover, avoid using long sentences, and this can make the letter difficult to comprehend. Also, try using common terms instead of jargon and fancy words.
4. Show, Don't Tell
'I led a sales team for 6 months, where we successfully…." sounds a lot better than "I've great leadership skills". Avoid using ambiguous statements, and always have something to back up your claims.
Moreover, don't show the same things twice. If you've already written something extensive in your resume/CV, don't talk about it in your motivational letter.
5. Be Interesting
This goes without saying – your motivation letter should capture the hiring manager's interest. If you come across as a boring individual, you might not get an interview call.
You need to stand out, and the best way to do that is by being yourself. Talk about what makes you the person you are, why you've chosen to apply for the job, and why you deserve to be selected.
Now, that you have learned everything about writing a solid motivation letter, the question you should ask yourself is…are you equipped with the perfect tool that can help you write it? Confused? Not sure what we mean by 'the perfect tool'? Read on!
Read more: Formal Letter: What Is It & How to Create it?
Bit.ai – The Ultimate Platform For Creating a Motivation Letter

Bit.ai is the world's most powerful document collaboration platform. It is built for teams and individuals to create, collaborate, and organize all the documents and company knowledge in one place.
See, if you actually want your motivation letter to leave an impression, you have to make sure that it highlights your text, has the perfect format, and is great to look at.
However, writing a motivation letter takes so much of your time, that you might not have the energy to make it look appealing. We totally understand!
Luckily, Bit takes care of the formatting and designing aspects for you. With over 90 pre-built, fully responsive, and gorgeous templates, Bit has made the entire process of creating documents super smooth.
Pick a template that fits your needs the best, and you're good to go. You can even change the entire look of the document with the click of a button. Basically, all you need to do is add the content and leave the rest to Bit.
Oh, and do you need someone to help you out in writing the motivation letter? Well, multiple people can simultaneously collaborate on a Bit smart document in real-time. They can highlight changes, add comments, and can even chat with you – without stepping out of the document.
What's more? Bit lets you add videos, social content, charts – basically any rich media you can think of in your document. In addition, you can get real-time insights on your shared docs with Bit's document tracking feature.
That's right! You can see how much time someone has spent reading your motivation letter, how often they come back to read it, and more.
All in all, having Bit.ai in your toolkit might make the difference between landing your dream job or landing your application in the rejected pile.
Wrapping Up
Writing a solid motivational letter can be a tough nut to crack. Nonetheless, it is what helps you tip the balance of the recruitment and selection process in your favor.
Well, now that you know everything about a motivation letter and the tool that can help you create it, your job application game is going to be unbeatable.
Any questions? Concerns? Suggestions? We are here for you, always. Tweet to us @bit_docs, and we would be happy to help you out. Good luck, folks!
Further reads:
Proposal Cover Letter: What is it & How to Create it?
Internship Cover Letter: How to Write a Perfect one?
Apology Letter: Definition, Format, Tips & Examples!
What is a Character Reference Letter & How to Write One?
Letter of Resignation: Definition, Examples, and Format!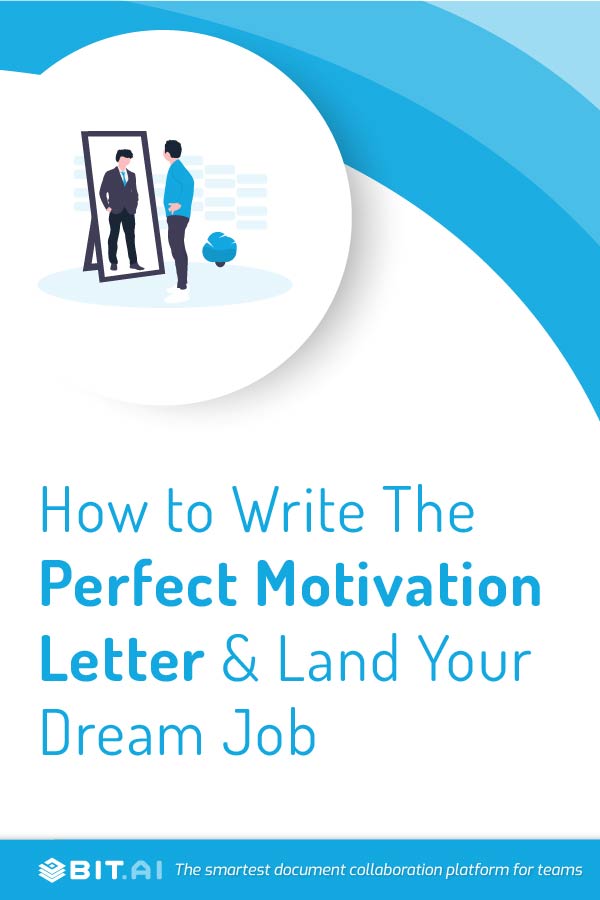 Related posts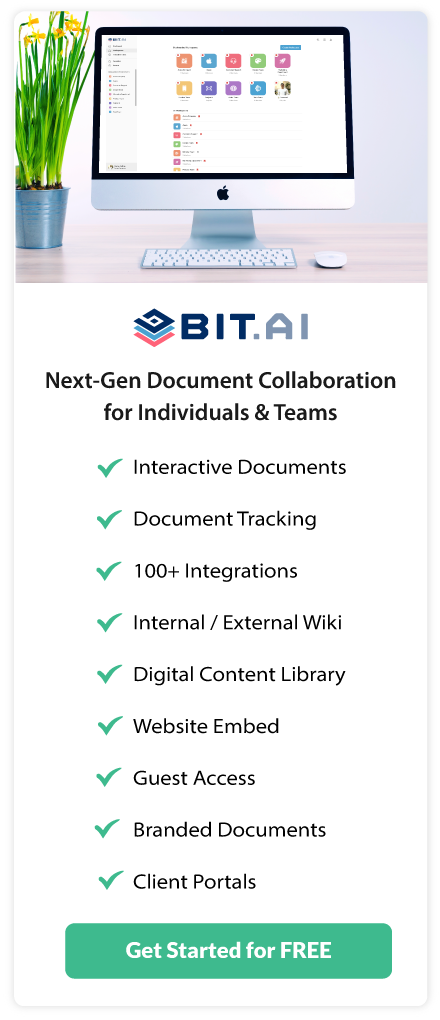 About Bit.ai
Bit.ai is the essential next-gen workplace and document collaboration platform. that helps teams share knowledge by connecting any type of digital content. With this intuitive, cloud-based solution, anyone can work visually and collaborate in real-time while creating internal notes, team projects, knowledge bases, client-facing content, and more.
The smartest online Google Docs and Word alternative, Bit.ai is used in over 100 countries by professionals everywhere, from IT teams creating internal documentation and knowledge bases, to sales and marketing teams sharing client materials and client portals.
👉👉Click Here to Check out Bit.ai.