Made a resolution this year to create a monthly budget and live by it? Want to recover from the overspending at Christmas? OR do you just want to know your financial position at the moment?
No matter what the situation is, it's never a bad time to get your financials in order…and that's where a personal financial statement (PFS) comes into the picture.
A personal financial statement helps you take a hard look at your income, expenses, assets, and liabilities. It shows whether you're healthy as a horse (financially) or if things are a little rocky.
See, your personal finances are pretty dynamic, and just like a river, they're constantly changing and might be subjected to unanticipated disruptions.
So, in order to know your financial health at any given point and monitor the fluctuations in the value of your assets and liabilities, creating a PFS is a wise idea!
No, you don't need to be an accountant or have a finance degree to create a simple financial statement. In this blog, we will tell you everything you need to know about creating a PFS. Ready? Let's go!
What's a Personal Financial Statement?
A personal financial statement shows your finances at a certain point in time and helps you assess your current financial position. It's basically a document that provides a quick glimpse at your assets and liabilities.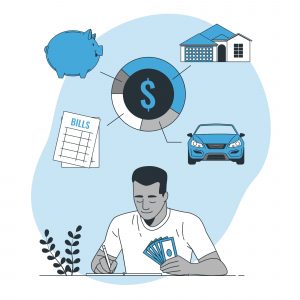 Also referred to as PFS, every good personal financial statement mainly consists of two elements: the income statement and the balance sheet.
If these terms are unfamiliar to you, don't worry. We'll explain them in greater detail in this blog. Firstly, let's explore why you should create a personal financial statement in the first place.
Read more: 15 Most Important Financial KPIs You Should Be Tracking!
When Do You Need a Personal Financial Statement?
If you want to make financial plans, you must create a personal financial statement (PFS). This statement is goal-oriented and helps you reach your financial objectives.

If you're a young individual who has just started his or her financial journey, a PFS is a great place to start. Why? Because it will help you gauge your present financial position, as well as your opportunities in the future.
While a PFS is beneficial for your own financial growth, it's also used when you're applying for a loan. Lenders might ask you for your personal financial statement to gauge your debt to income ratio.
If your total assets are more than your liabilities in the PFS, it demonstrates a positive net worth. This shows the lender that you're a trustworthy borrower.
On the other hand, if your liabilities are much more than your assets, it signals that you have a negative net worth. In such cases, you'd be seen as a high-risk borrower!
Now, let's get to the soul of this blog and learn the two things that you must include in your personal financial statement – the income statement & the balance sheet.
The Two Essential Elements of Your Personal Financial Statement
1. The Income Statement
The income statement comprises of two parts: income i.e money flowing in, and expenses i.e money flowing out. Let's delve a little deeper into these two components.
Income: All the money that you generate will be put into the income column of your income statement. This includes your wages, commission, interest that you make on your investments, passive income (interest on saving accounts, bonds), tax refunds, etc.
Expenses: This section contains everything that you pay each month, such as your rent payment, student loans, medical bills, gas bill, utilities, clothes, food, and more. Don't leave off smaller expenses such as your Netflix membership. List down every single expense!
2. Balance Sheet
The income statement shows how you make your money. On the contrary, the balance sheet gives you a sneak peek into what you own and what you owe.
The balance sheet has two main components – assets and liabilities. Assets are fundamentally the things that put money into your bag, and liabilities take money out of your bag. Let's explore these further.
Assets: These are valuable items that you own which can be turned into cash when required. The cash in your savings account, jewelry, land – these are all examples of assets. An asset is something that can be converted to cash within a short span of time – so your baseball card collection isn't an asset.
Liabilities: These are obligations/items that you owe to others. Liabilities included taxes owed, student loans, bills due, the money you owe others for services, car loans, rent, and more. Apart from that, the interest and principal on loans and mortgages are liabilities too!
Now that you know what you should include in your personal financial statement, here are some things that you should never include in it.
Read more: Top 10 Financial Tools for Businesses in 2022!
A Few Things You Should Not Include in Your Personal Financial Statement
A personal financial statement is just that – personal. If you're running a business, or have assets and liabilities related to your business – do not include them in your PFS, unless you're directly responsible for the costs.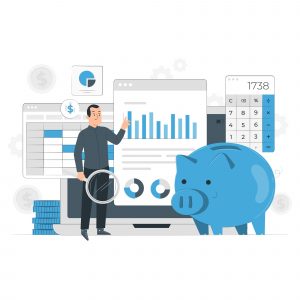 For example – if you're taking out a personal loan for your business, then you can include this cost in the PFS.
Moreover, anything rent shouldn't be included on a PFS as an asset, as it's not owned by you. For example – if you've rented out an office space, don't label the office space as an asset, as it's not yours.
Whereas, if you own the office space and you've rented it out to someone else, the rent that you collect will be considered as an 'income', and must be included in the statement!
Wait…There's More!
As you already know by now, creating a personal financial statement isn't an easy feat!
It includes a lot of data and information and if this data isn't presented in a structured format, it will all be a mess and no one would be able to comprehend it.
Luckily, with Bit.ai's visually-appealing templates and rich-media embedding features, you can create a smart personal financial statement with ease.
So, what's Bit.ai? Let's find out!
Bit.ai – The Ultimate Platform For Creating a Personal Financial Statement

Bit.ai is a new-age document collaboration and knowledge management tool designed exclusively to satisfy all your documentation needs. It helps you create, edit, organize, manage, and share documents all under one roof. Yes, that includes your personal financial statement as well.
Want to know some more reasons why you should be using Bit? Read on:
1. Ready-made Templates: Bit has an extensive template gallery that offers over 70+ professionally designed templates from which you can choose your favorite. Find a template for your personal financial statement, fill it in with your customized content and you'll get the statement ready in a few minutes.
2. Auto-formatting: The last thing you want to focus on while creating a PFS is its format. However, the structure of your PFS is as important as what's inside it. With Bit's auto-formatting feature your entire statement will be formatted automatically to give you a very uniform and consistent look. You can even change the entire look of the document with the click of a button.
3. Smart Tables: If you include a table in your PFS, you would be able to grasp the complex figures easily. No, we're not talking about those black and white tables. We're talking about the ones that Bit lets you create! On Bit, you can choose between 6 amazing layouts for tables. You can even change the colors of the table by changing your document's theme color.
4. Over 100+ Integrations: Is there an Excel file or a Word document that you need to share along with your PFS? You can embed it in your Bit document. Not just that, Bit offers over 100+ rich media integrations! By embedding rich media in your PFS, you can make it far more comprehensive.
5. Real-time Collaboration: Bit allows you to seamlessly collaborate with others and work together on the same document in real-time, chat privately, make inline comments, co-edit, and do so much more to ensure that you do not miss out on any important details to be included in your financial statement
6. Smart Workspaces: Since creating a PFS involves a lot of information, you'll need a place to store all the data. This is where Bit helps you. It lets you create infinite workspaces and folders to help you manage and organize information related to your finances.
7. Simple UI: Even though Bit is jam-packed with features, it has a simple and easy-to-understand user interface, which makes it extremely easy for new users to get on board with the platform.
That's not the end of the list. We could go talking about the amazing features of Bit, but we think it's better you experience it first-hand. So, what are you waiting for? Get Bit right now!
Wrapping Up
A personal financial statement sheds a light on your financial picture and helps you understand whether you're moving away or closer to your financial goals. It helps you build your own path to financial freedom.
All you need to do is understand the basics of managing your money, and the difference between income, expenses, assets, and liabilities – and you will be on your way to creating a good PFS.
Remember: while creating a PFS, be as honest as you can about your income and liabilities. You will only be able to make the right decisions if you have the most accurate information!
Further reads: 
Statement of Work: What is it & How to Write it? (Template Included)
Purpose Statement: What is it & How to Write it?
Financial Plan: What is it & How to Create an Impressive One?
11 Budgeting Tools & Software to Keep Track of Business's Budgets!
6 Crucial Financial Documents For Every Organization!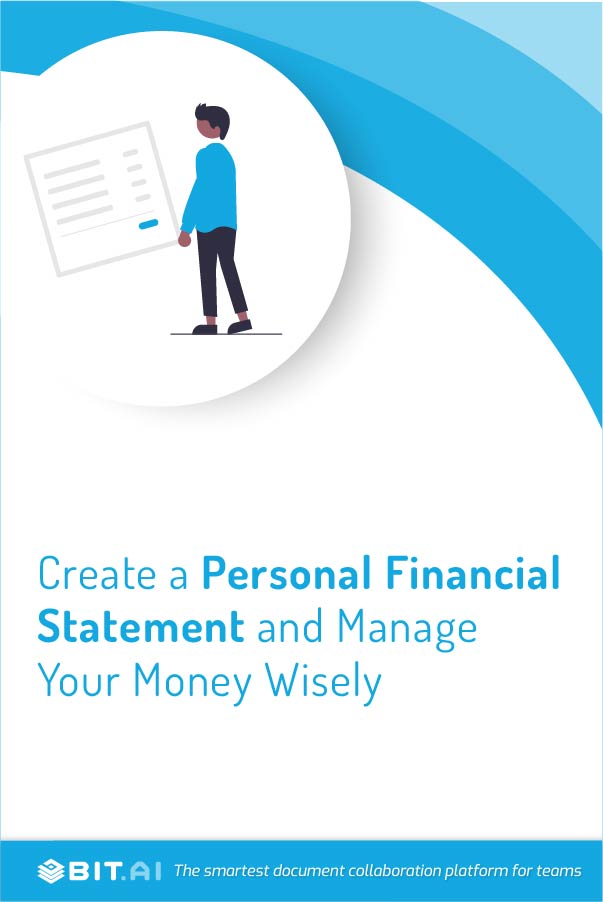 Related posts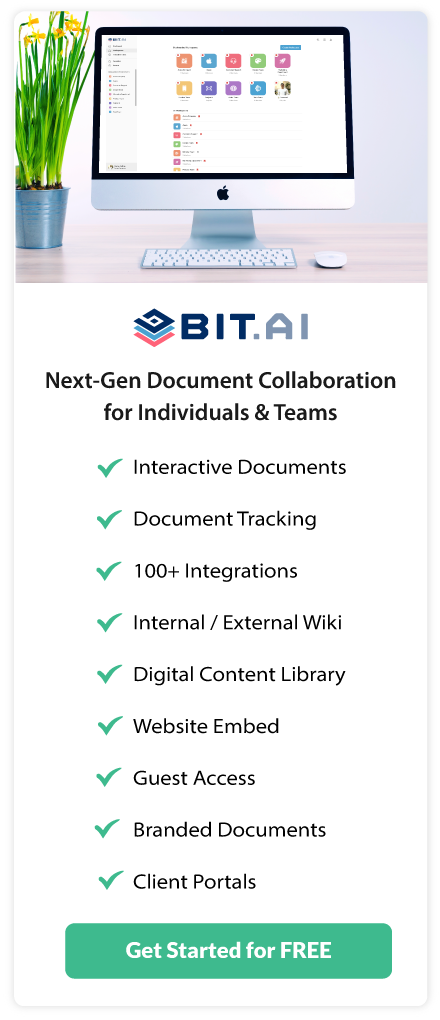 About Bit.ai
Bit.ai is the essential next-gen workplace and document collaboration platform. that helps teams share knowledge by connecting any type of digital content. With this intuitive, cloud-based solution, anyone can work visually and collaborate in real-time while creating internal notes, team projects, knowledge bases, client-facing content, and more.
The smartest online Google Docs and Word alternative, Bit.ai is used in over 100 countries by professionals everywhere, from IT teams creating internal documentation and knowledge bases, to sales and marketing teams sharing client materials and client portals.
👉👉Click Here to Check out Bit.ai.