Let's all admit it! We hate doing finances. In fact, the word even makes us scrunch up our forehead.
Because we know that handling money matters is a lot of work. Not only is it stressful and difficult, but it's also very dry and boring. But, financial management is one of the most important aspects of business. So, we cannot just ignore it because we don't like it.
Well, here's the good news: we have technology on our side! You know what that means? Managing finances just got a lot easier!
You can just download financial tools on your phones and computers, and manage your money like a pro!
Hurray to financial tools!
But, What Exactly is a Financial Tool?
Imagine trying to keep track of all your company's accounts, calculate profits and losses, plan budgets, pay taxes and so much more, all the while making sure you follow the right rules.
You'll be drowned in paperwork, completely stressed and exhausted.
This is where a financial tool comes in to rescue you!
A financial tool is a software or system that helps your company manage your assets, income, and expenses with the aim of maximizing profits.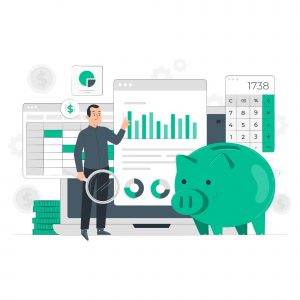 It helps your company by performing various other functions such as reducing accounting errors, ensuring compliance with tax and accounting regulations, quantifying budget planning, balancing multiple bank accounts, and lots more.
Basically, a financial tool is in charge of your company's financial health and well-being. It makes sure that your company does not fall sick and is well taken care of.

Why Does Your Business Need a Tool to Manage Finance?
Financial tools are a product of technology, and we know that, unlike human beings, technology rarely makes any mistakes.
So, apart from the obvious reason that financial tools make money management accurate, easy, and hassle-free, it also offers you a number of reasons why it is a necessity for your business. Let's take a look:
Using financial tools helps you get real-time insights into all your important financial details.
It eliminates any sort of delay when it comes to handling customer dealings.
It drastically reduces the chances of any errors or typos while bookkeeping.
It makes the procedure of lodging your yearly tax returns precise and quicker.
Financial tool simplifies accounting investigations
The list could go on, but you get the point right?
Now that we know that financial tools are absolutely necessary for your business, we think it's time you took a look at some of the best ones available in the market.
Here we have gathered for you, a list of the top 10 financial tools that you can explore to organize your company's financial life!
Dive right in, folks!
Read more: 15 Business Intelligence Tools & Software Every Business Needs!
List of Financial Tools to Manage, Track and Monitor Expenses!
If you are looking for a financial tool with versatile features, then we suggest you look at QuickBooks, an amazing accounting and bookkeeping software to make your financial management effortless and efficient. It allows you to track expenses, monitor your business' financial data and records, customize your financial reports, process payrolls, and offer advanced reporting.
What makes QuickBooks great is that it takes your data and develops financial statements and makes creating income statements, balance sheets and statements of cash flows an easy task. In addition, it also lets you create and edit customers' invoices, sales receipts, and estimates, which becomes immediately available in the app for you to access anywhere.
QuickBooks is super cool from the tax perspective because it simplifies your financials during tax time. Also, it syncs with your bank account and business credit cards so that you always have updated financial data. What's more? It develops illustrative charts and graphs for your business.
It is available in both Windows and Mac mobile app and is 100% web-based.
Key Features
Develops financial statements
Simplifies financials during tax time
Syncs with bank accounts
Pricing
Next on the list is Mint, a secure web-based financial tool for managing your company's finances in one place. It is known for being a great budget planner that helps create budgets, set goals and reminders, and sync your online data with the app.
Mint automatically updates your banking and credit card transactions, providing an overview of your budget bills, credit score, and overall spending. It then categorizes and labels them when they are downloaded so that you can keep track of your day-to-day finances. In addition to this, Mint also has a portfolio and investment tracker which also allows you to keep a close eye on all your accounts.
Mint is protected by firewalls, encryptions, and authentication procedures which keep all your personal finance data in safe hands.
Key Features
Is a budget planner
Helps track financial expenses
Highly secure
Pricing
Bit is a smart document collaboration software that provides you with great tools for streamlining all you financial processes and documents in one place. It offers a minimal and distraction-free editor to create your financial documents and lets you choose between 6 different layouts for creating smart tables within them.
Bit integrates with over 100+ web applications such as Google Sheets, Microsoft OneDrive, Lucid Chart, etc. to help you create media-rich and interactive financial plans and provides you with a content library where you can upload and organize all your important financial documents, files, spreadsheets, etc.
Another great feature of Bit is that it lets you create separate workspaces and folders where you can neatly organize all kinds of financial documents. It also lets you collaborate and work together with your finance department in real-time and use its client portal to invite your clients to view their financial documents. What's more? Bit has a smart search feature that allows you to quickly search all your important financial documents.
Key Features
Allows you to create infinite workspaces
Supports real-time collaboration
Integrates with 100+ web applications
Pricing: 
Free with limited functionality.
Paid plans: Standard – $12/month and Plus – $20/month
Read more: 11 Gantt Chart Software You Should Check Out!
Xero is a cloud-based accounting platform that lets you get real-time access to your cash flow, create professional recurring invoices, and import and categorize your latest banking and credit card transactions. It comes with over 700 tools that help you manage your financial transactions, payroll management, and inventory management.
With Xero's intuitive dashboard display, you can have a clear financial overview of your business which not only helps you to track your payments, but also avoid bookkeeping errors, which is what makes it a cool financial tool. Xero also has bank account syncing which keeps your data up-to-date. What's more? Xero has a clean user interface and supports an unlimited number of users on its platform.
Key Features
Is a cloud-based platform
Offers an intuitive dashboard display
Supports unlimited users
Pricing
Basic plan starts at $9/month
Read more: Personal Financial Statement: What is it & How to Create a Solid One?
Gnu Cash is a financial tool that is perfect for small business accounting. It allows you to track bank accounts, stocks, income, and expenses. GnuCash has an easy-to-use interface that helps you effectively manage payrolls and statement reconciliation.
What makes GnuCash unique is that it is almost like a checkbook register that is based on double-entry accounting principles which ensure that the books are balanced and the reports are accurate. It also offers features that let you manage your customers and vendors, and handle your invoicing and bill payment.
GnuCash is available on Windows, Mac OS, and Linux.
Key Features
Based on double-entry bookkeeping
Provides accurate reports
User-friendly interface
Pricing
It is totally free to use
If you are a freelancer or a service-based business on a tight budget, then Wave is your go-to financial tool for bookkeeping. It offers income and expense tracking, financial reporting, invoicing scanning receipts, and double-entry bookkeeping which can be accessed online or on the mobile app.
Wave has an easy-to-read dashboard and offers easy integration with PayPal, Etsy, Shoeboxed, and more. It also allows for custom invoicing and unlimited bank account linking. The reports prepared by Wave can be used to prepare your business' tax return at the year-end.
Since it is available for both Windows and Mac and is 100% web-based, you can access Wave from anywhere.
Key Features
Offers custom invoicing
Easy integration with third-party apps
Offers easy-to-use dashboards
Pricing
Expensify is a really great financial tool that comes with a set of super cool features that make financial management easy. It reduces time dedicated to data entry, receipt filing, expense report generation, receipt sorting, expense approval, and reimbursement.
Expensify offers a smart scan feature that lets you take pictures of your receipts and then turn them into categorized business expenses which it automatically codes and reports, making recording expenses a really easy process. Its smart system also looks for duplicates or unusual activity and then alerts you for a manual review, if it finds anything.
With its reimbursement system, Expensify lets you scan your receipts and helps you reimburse your employees' expenses the very next day, and also syncs your accounting system whenever changes get made.
Key Features
Offers a smart scan feature
Alerts in case of any duplicates or unusual activity
Offers a quick reimbursement system
Pricing
Next on the list is FreshBooks, a cloud-based financial tool that offers a user-friendly interface and an ability to automate invoicing, organize expenses, and manage projects and payments. It can integrate with your bank accounts, generate financial reports, and also process your payroll and business payments.
FreshBooks has a time-tracking feature that lets you keep track of your timesheets and billable hours if you are a freelancer. It offers integrations with a long list of CRM and customer service apps and is compatible with 84 different applications like Zoom, Shopify, etc. The tool also allows you to build your own customized billing system as well.
FreshBooks lets you have a simultaneous unlimited number of users and allows you to collaborate with them on projects. You can even assign them different levels of permissions. It is a great tool to have during tax time because it lets you categorize your expenses as well.
FreshBooks is available on both Windows and Mac
Key Features
Offers time-tracking feature
Allows collaboration with unlimited users
Offers integrations with multiple applications
Pricing
If you are looking for a hassle-free and secure accounting experience, then Zoho Book is a great financial tool that you can use for your business. It is a smart accounting solution that lets you manage your business' income and expenses and allows you to send professional invoices to your customers.
It is an excellent tool for collaboration with your customers because it provides them access to their invoices and estimates and also allows them to make direct online payments. In addition to this, it provides automatic payment notifications to remind your clients to make their payments on time.
Zoho Books eliminates manual data entry through automatic bank feeds that import all your credit card and bank transactions. What's more? It offers a dashboard with a great display that includes graphs and charts that show your financial overviews.
Key Features
Offers automatic payment notifications
Allows collaboration with clients
Offers a display dashboard
Pricing
Gusto is an amazing financial tool that supports payroll automation, taking most of the difficult work off of your hands. It comes with a wide selection of features that supports inventory management, employee compensation systems, and external accountant for error checking.
Gusto supports automatic tax processing and filing at the local, state, and federal levels. It also gives you access to manage the human resource side of the business, allowing you to enroll in health benefits plans and deal with retirement plans. Furthermore, it supports integrations with pure accounting software like QuickBooks and FreshBooks as well.
Gusto is accessible on your mobile phone allowing you to access it anywhere at any time.
Key Features
Supports automatic tax filing
Gives access to the human resource side of the business
Supports integrations with other accounting software
Pricing
$39/month plus $6 per employee per month
Conclusion
No matter how big or small your company is, finances will always be a headache. But, not if you use one of the financial tools that we listed for you in this blog.
Whether you are a professional accountant who loves to swim in financial dealings or an entrepreneur who hates all the financial mumbo-jumbo, these financial tools are at your service to provide you with a fantastic business experience.
Pick your tool and watch it make a difference! No more stress! No more delays! Just smooth sailing finances all the way!
Further reads:
10 CRM Tools and Software You Should Explore Right Now!
15 Most Important Financial KPIs You Should Be Tracking!
9 Brainstorming Tools You Should Use in 2022!
11 Awesome Sales Management Tools That Your Business Needs!
11 Smartsheet Alternatives & Competitors You Must Check Out!
6 Crucial Financial Documents For Every Organization!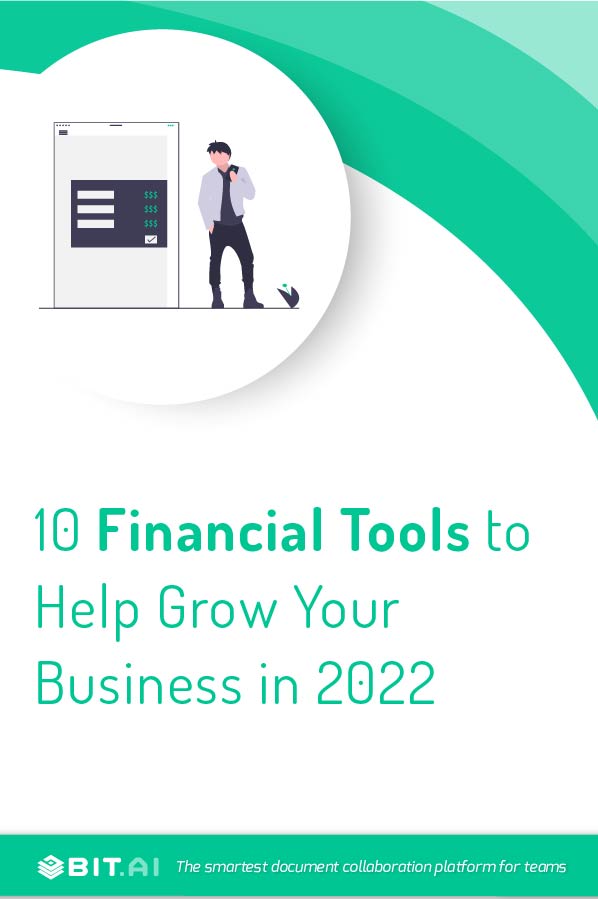 Related posts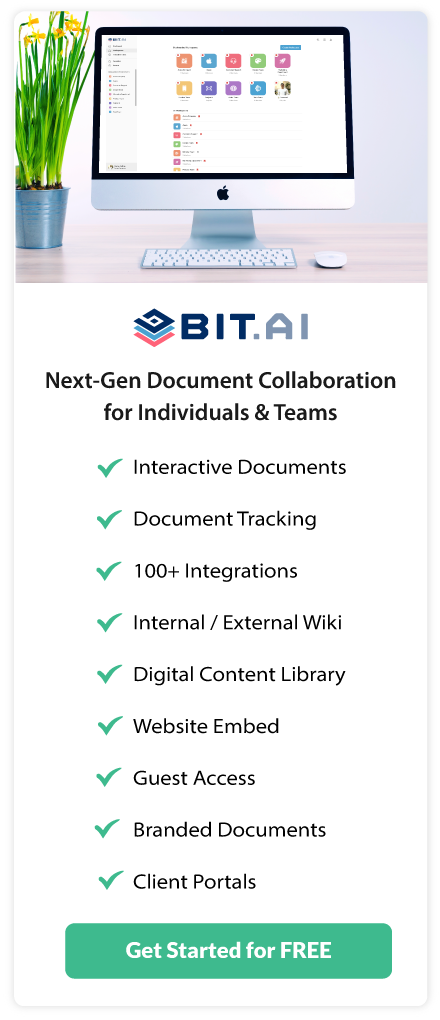 About Bit.ai
Bit.ai is the essential next-gen workplace and document collaboration platform. that helps teams share knowledge by connecting any type of digital content. With this intuitive, cloud-based solution, anyone can work visually and collaborate in real-time while creating internal notes, team projects, knowledge bases, client-facing content, and more.
The smartest online Google Docs and Word alternative, Bit.ai is used in over 100 countries by professionals everywhere, from IT teams creating internal documentation and knowledge bases, to sales and marketing teams sharing client materials and client portals.
👉👉Click Here to Check out Bit.ai.