If you don't have a competitive advantage, don't compete!
Gone are the days when starting and growing a business was easier and risk-free, as there wasn't much competition. In the current world, competition has grown leaps and bounds in every single industry.
Thanks to the advent of technology, customers now have a wide range of choices. And, if you fail to meet their demands, your business would end up in shambles in no time.
So, to succeed in today's rapidly changing world, you have to focus on warding off your competitors. Irrespective of which industry you belong to, business competition is one of the major factors that will determine whether your business will survive or not.
In this blog, we've shared a few simple yet powerful ways that will help you keep your competitors at bay. Whether you own a start-up or a big-shot company – this blog has something for you!
11 Full Proof Ways to Beat Business Competition
1. Know your Competition
If you have absolutely no idea who your competitors are, how will you compete with them? You need to find out who you're up against in business and what your competitors are offering to your target audience.
You should have a forensic knowledge of your competitors' strengths and weaknesses, and where the gaps lie between you and them. You can then use this data to market in a much better way to your target audience.
Basically, knowing where your competitors stand will help you identify your competitive advantage, and devise strategies for beating them. So, dig out as much information as you can about your competitors!
2. Put your Customers First, Always
Getting a deeper understanding of your customers is another way to combat the business competition. Find out where your customers are, what matters to them, and what makes them tick. These insights will shape everything – from product development to branding and marketing.
Take as much time as you want and find out what exactly your customers' current needs are. Always remember: no matter how much money you spend on marketing, you won't be able to compete effectively if you don't study your customers and find out their needs, wants, and interests.
You can even use the data that you've about your current customers to get a better understanding of what kind of customers find your product or service the best. This isn't a one-time task. Customers' tastes and habits change at a fast-paced rate, so keep a close eye and be quick to spot the changes!
Read more: 12 Awesome Tips To Help You Grow Your Business!

3. Promote Your Unique Selling Proposition
It's tempting to think about what it would be like if you didn't have any business competition at all, isn't it? Well, it is actually possible by having a unique selling proposition. To put it simply, the more unique your product is, the less competition there would be!
It goes without saying – you need to give your customers solid reasons to choose you over a competitor and stick to your product. Be very clear on what sets you apart, what's your X-factor and what you can offer that your competitors simply can not.
Most importantly, your customers should not have to ask you what makes you different. They shouldn't have to figure it out on their own. Your USP should be clear and obvious. Put it at the heart of your website, branding, marketing, PR, and product design so it stands out.
4. Identify The Gaps In The Market
If you want to stay ahead of your business competition, you should constantly be on the lookout for innovative and practical ways to fill the gaps in the current market with new products and services.
Yes, this approach requires a substantial amount of investment in product development. However, you will surely be able to win customers by offering a unique product or service that isn't currently available in the market and fulfills customers' unmet needs.
This brings up the question: how can you find a gap in the current market? Well, you can ask your customers to share their pain points. You can even research the up-and-coming trends in your industry. Your competitors might come up with a similar product/service later, but you will have the first-mover advantage.
5. Jump On The Digital Bandwagon
It's pretty obvious that you need to have a great website, but digital marketing needs your attention as well! Creating informative content – whether it's in the form of a blog, webinar, video, or social media post – will help you build a credible brand image.
Moreover, social media will help you reach your target audience more effectively. It will help you build strong relationships with your customers! After all, social media is the hot thing right now. People use it to communicate, but they also use it to find out more about the products and services available.
With more people consuming digital media than ever before, digital marketing is crucial to increasing your brand awareness and growing your customers. The more you can capitalize on this trend, the better!
Read more: 9 Most Successful Business Models You Should Know About! (With Examples)
6. Focus On Building Brand Loyalty
It's really exciting to enter new markets – we totally understand! However, you should never forget your existing customers who are already loyal to your company. Don't take them for granted, because they will probably be your competitors' target market.
One way to continue supporting your existing customers is by constantly improving your existing products like your bestsellers. This way, you would be able to instill customer trust and brand loyalty. Not to forget – you will have a much better chance of retaining your customers for life and outperforming your competitors.
Show your customers how much you value them. You can invite them to be a part of your brand through a membership or loyalty program, or you can offer them discount codes and improved credit terms. Another way to show that you care about your customers is by asking them for feedback.
Read more: Business Presentation: How to Create One to Woo Clients!
7. Make Your Customer Support Highly Responsive
Providing excellent customer support is one of the best ways to outshine your business competition. It helps you retain existing customers, and gain new ones. Offering great pre-sale support increases your chances of winning new customers, and outstanding post-purchase support helps you build brand loyalty.
Moreover, as far as customer support is involved, your customers are looking for quick responses and resolutions. So, always try to respond to your customers swiftly – no matter the method they are using to reach out to you. Not to forget, make sure that your responses are as satisfactory and comprehensive as possible.
To provide better customer service than your competition, you must prioritize hiring the right customer service executives. Don't rush the process! Make sure that the people you hire and the team you build are courteous, respectful, and have a problem-solving approach.
8. Empower Your Employees
When you're trying to get ahead of your competitors, this might not seem like the most obvious tactic. However, the truth is, your products and services will only be as good as your team.
Employees perform best when they feel the love for your company, and to keep your team productive, you need to ensure that they are happy and satisfied.
No, that doesn't mean you need to get them a beanbag chair or beer bottles. Most employees are looking for trust, appreciation for their work, rewards, and professional development. Help your employees find happiness in their work and boost their spirit.
As we all know, a business lives or dies by its employees, so it's imperative to invest in your people. Attract the best people, retain them and offer them an environment where they can thrive!
9. Remember That Change Is The Only Constant
Businesses that keep reiterating are more successful than those that don't. To be honest, 'Iterate, iterate and iterate' should be your business's mantra in today's age.
By keeping up with the current developments in your sector, following consumer trends, building new products, and improving the existing ones – you will be able to keep your customers hooked to your company.
Don't miss out on any new opportunity to broaden your reach and target new markets. Your competition will constantly improve what they offer and you need to do the same if you want to stay ahead.
10. Set Competitive Pricing
This is by far one of the easiest ways to handle business competition – offer more affordable pricing. To determine the ideal price for your product/service, you first need to get a clear picture of the prices of your competition's products and services.
Do some digging and identify which competitors offer the best value. Once that's done, you have to find out if your product brings more value and if it should be priced higher.
You can also opt for a competition-based pricing strategy. Basically, you can ignore the consumer demand and product cost and instead focus on the existing market rate for your product. You can then set your price on the basis of the market value.
See, the best pricing strategy is not always about decreasing your prices. The market has a lower, middle, and upper-tiered customers – you've to figure out which group you want to target and set the price accordingly.
11. Give Back To The Community & Your Customers
You likely expect a lot from your customers – their excitement when you launch a new product, loyalty, positive word-of-mouth marketing, referrals, and more.
But the thing is, a relationship is a two-way thing. That means you should also pay attention to what you can give to your customers – whether it is discounted, loyalty schemes, freebies, or anything else.
Now more than ever, customers prefer engaging with businesses that give back – to the community and the environment. Look out for ways you can give back to the community as it will give you a competitive edge, and you will be helping a great cause! It's a win-win.
Wrapping Up
The bad news is, competition exists in every market. The good news is – you can nullify the effect of competitors and increase your market share.
By following the above strategies, you would have a much easier time combatting the competition. These strategies will make you the master of your game, and help you compete at a whole new level.
So, are you ready to survive the competition, win customers, boost your sales and grow your business? We know you are! Don't forget to let us know how it goes by tweeting us @bit_docs.
Further reads:
Purpose Statement: What is it & How to Write it?
Target Audience: What is it and How to Find them? (Steps Included)
Competitive Strategy: Definition, Types, Importance & More!
Business Markets: Definition, 5 Types (with Examples) & Characteristics!
Customer Profile: What is it & How to Create it?
Product-Market Fit: What is it & How to Achieve it?
Design Brief: What is it & How to Create One that Works?
Management Report: What is it & How to Create it?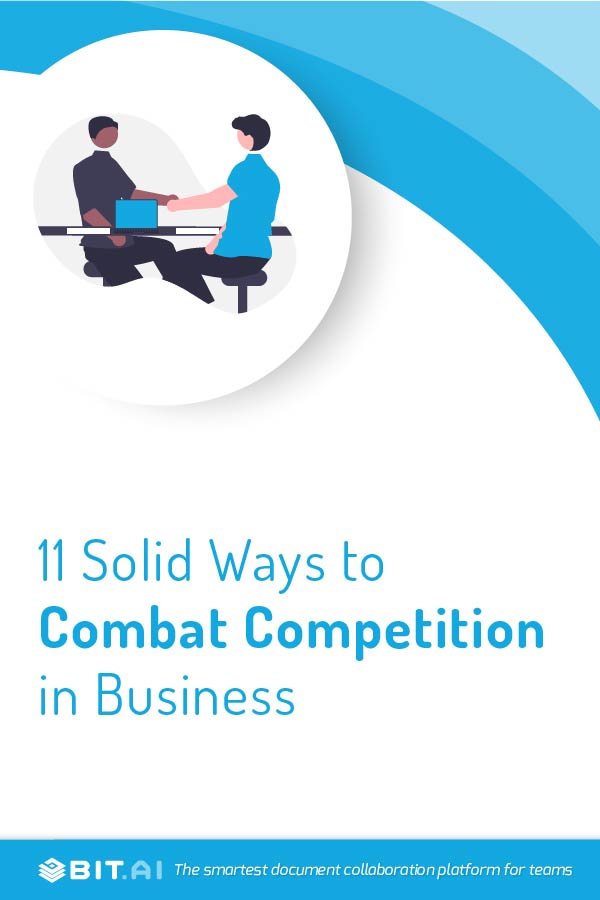 Related posts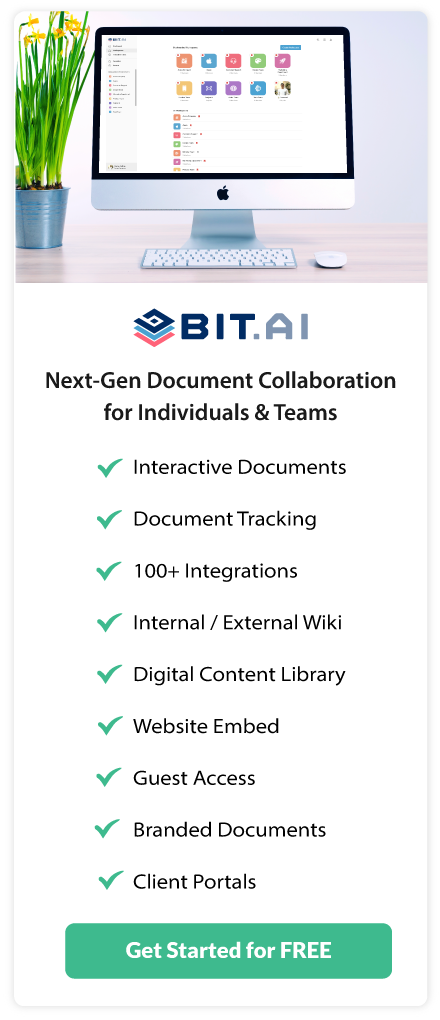 About Bit.ai
Bit.ai is the essential next-gen workplace and document collaboration platform. that helps teams share knowledge by connecting any type of digital content. With this intuitive, cloud-based solution, anyone can work visually and collaborate in real-time while creating internal notes, team projects, knowledge bases, client-facing content, and more.
The smartest online Google Docs and Word alternative, Bit.ai is used in over 100 countries by professionals everywhere, from IT teams creating internal documentation and knowledge bases, to sales and marketing teams sharing client materials and client portals.
👉👉Click Here to Check out Bit.ai.