Why did you take up marketing as your career? Why do you want to see the northern lights? Why did you decide to buy a home theater? Why do you love watching Friends over and over again?
This 'why' accompanies every single thing we do in our lives. After all, there's a reason behind why we do what we do. A purpose. The answer to 'why'.
Things are pretty much the same with organizations too. Every organization has its own reason why it exists. Can you imagine an organization that doesn't have a purpose? Clearly not on this planet.
Even though we can't roam on the streets with our life's purpose dangling around our necks, organizations totally can. Yes, every organization can (and should) announce to the world why it exists – loud and clear.
How? Through their purpose statement! It is nothing very fancy, but just a few words that encapsulate why your organization exists and what it aims to achieve.
Writing a purpose statement is kind of a big deal because you've to convey what your organization is about and why it exists in a few words…and that's certainly not an easy feat.
That's why, in this blog post, we'll tell you the A to Z of purpose statements, how to ace them, and so much more. Ready? Let's get started!
What's a Purpose Statement? (Definition)
A purpose statement is exactly what it sounds like – a statement that states the purpose of your business. Usually, this statement has a few words that encapsulate the "purpose" of your organization.
In a nutshell, a purpose statement defines where your business is heading and the reason why your organization exists. It answers the simple question: Why your organization is doing what it is doing?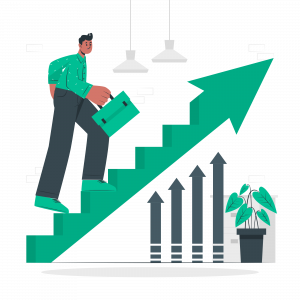 Your purpose statement is guided by your morals, values, ethics, beliefs, and things that inspire you to make a difference. It explains why your organization was established, and why it is on that journey – clearly and concisely.
Well, now that you know the basics of a purpose statement, let's find out why it's something that you should create. Read on!

3 Reasons Why You Need a Purpose Statement:
1. Helps You Reach Your Goals Sooner
Okay, you've set the "SMART" goals all those marketing books want you to. Way to go!
Now, if someone asks you WHY you've set those particular goals, will you be able to give a logical answer? No, you can't, unless you have got a purpose statement in hand.
See, if you don't know the "why" behind your goals, your goals aren't "smart", they're useless. You'll never be able to reach them in time. It is what it is. 🙂
Like we said above, a purpose statement tells you and everyone else why you're doing what you are doing. It gives you a much-needed push towards your goals.
2. Increases the Motivation of Your Employees
Here's a simple fact related to life: you can't do anything efficiently until and unless you have got a solid motivation to do it. The same goes for your employees.
According to a survey, employees work 20% better when motivated. In fact, engaged employees are 87% less likely to leave their companies. That's the dream, right?
And, when your employees know exactly what they're working towards and what's the purpose of the organization they are working for, they'll be more motivated to work.
3. Distinguishes You From The Competitors
Why should someone choose you and not the other guy? What makes you different from your competitors? What is that one problem you can solve but your competitors can't?
The answers to these questions lie in your purpose statement. This statement makes people choose you over your competitors. This differentiates you from the others in your industry.
Your purpose statement demonstrates that what you're doing is the best. It tells people about the change you want to bring through your actions, and it makes people pick YOU over others.
Creating a purpose statement isn't easy. After all, the growth of your organization depends on this tiny statement. You've to make sure that it's clear, concise, and perfect. Let's learn how to do that!
How to Write a Purpose Statement? (Format & Steps)
Step 1. Team Up With Employees & Other Stakeholders
We've all heard this a thousand times – teamwork is dream work. Case in point, 86% of executives and workers claim that a lack of collaboration is the top reason for failure in the workplace.
So, when you're doing extremely important things like creating a purpose statement, teamwork is inevitable. Even if you're the CEO of the company, you can't create a purpose statement alone.
Why? Well, let us ask you a simple question: who knows the BEST about your organization's strengths and weaknesses? It's your employees and other people who're associated with your organization!
If you want to create the perfect and most accurate purpose statement, team up with your employees and other stakeholders, and start brainstorming. It's going to be a super fun process, especially if you use Bit.ai.
(In case you don't know, Bit.ai lets you and your team collaborate together on documents in real-time using inline comments, @mentions, and much more. That means, you and your team members can put all your ideas in a single document, give each other feedback, and come up with a great purpose statement!)
Step 2. Think About The "Why"
Here comes the essence of your purpose statement – Why? The answer to this seemingly simple question can either take your purpose statement (and your organization) to heights – or burn it in flames.
Why did you establish your organization? Why are you in this industry? Why are you the best? You need to think about the "why" aspect of your organization deeply. Dig into it as much as you can.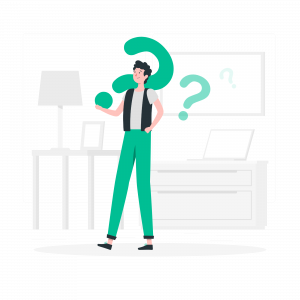 Even though you might get multiple answers for each of these questions, you need to pick and use the best one. After all, a purpose statement is a "statement", not an essay.
Step 3. Dig Into Your Product Or Service
The step we discussed above will give you an overall picture of your organization. After that, you've to get into the specifics i.e, what your company is offering.
Take a deep dive into your product or service, and ask yourself: What are the best features of my product? What problems does my product solve? Why should someone buy my product?
Once you find out the answers to these questions, you'll find out your organization's strengths, and then you can incorporate them into your purpose statement.
Step 4. Take a Look at Your Competitors
It's time to take a look outside your organization. Stalk your competitors and evaluate their moves. (Not in a creepy way of course.) Identify what they're doing right, and where they are lacking.
Here's why competitor research is so important: while creating a purpose statement: your competitors are selling the same products as you, so you both most probably have a similar purpose, and a similar purpose statement.
So if you want your purpose statement to stand out, you need to understand your competitors' weaknesses and turn them into your strengths. (Yes, that's the good old business mantra.)
Step 5. Take Feedback From Your Customers
To be honest, no one knows how awesome you're more than your existing customers. After all, they decided to spend their hard-earned money on YOUR product. There must be a solid reason behind that.
So, ask your customers about the reason. Ask them why they chose your product over the others in the market, and what they love the most about your organization.
To get the feedback and insights of your customers, you can conduct surveys, send questionnaires or ask them to fill up a feedback form after they buy your product.
Read more: Improve Customer Satisfaction in these 11 Smart Ways!
Step 6. Start Working On The Statement
You've all the things you need to create the greatest purpose statement, so it's time to get the ball rolling!
Compile all the information you've gathered about your company, your product, your customers, and your competitors and start working on your statement.
Tip: You can create and compile all the information neatly in Bit's workspaces. You can create as many workspaces as you want around different subjects, teams, and projects. The coolest part? You can easily find the document you're looking for using Bit's smart search feature.
Wrapping Up
We know that you don't want to ruin your purpose statement. No one does. After all, it's your one true chance to tell the world how awesome you're. No pressure.
Just put everything we've discussed into practice, get suggestions from your employees and customers, and your purpose statement would be ready in no time. (Well, TBH, it will take some time because it's a big deal.)
No matter how much time and effort it takes, we know that you'll come up with a great purpose statement. We're always rooting for you! Also, do not forget to let us know how it goes by tweeting us @bit_docs.
Good luck!
Further reads: 
Positioning Statement: Definition, Elements & Examples!
Problem Statement: What is it & How to Write it?
Mission Statement: What is it & How to Write it? (With Examples)
Sales Pitch: What is it & How to Create a Killer One?
Formal Report: What is it & How to Create it!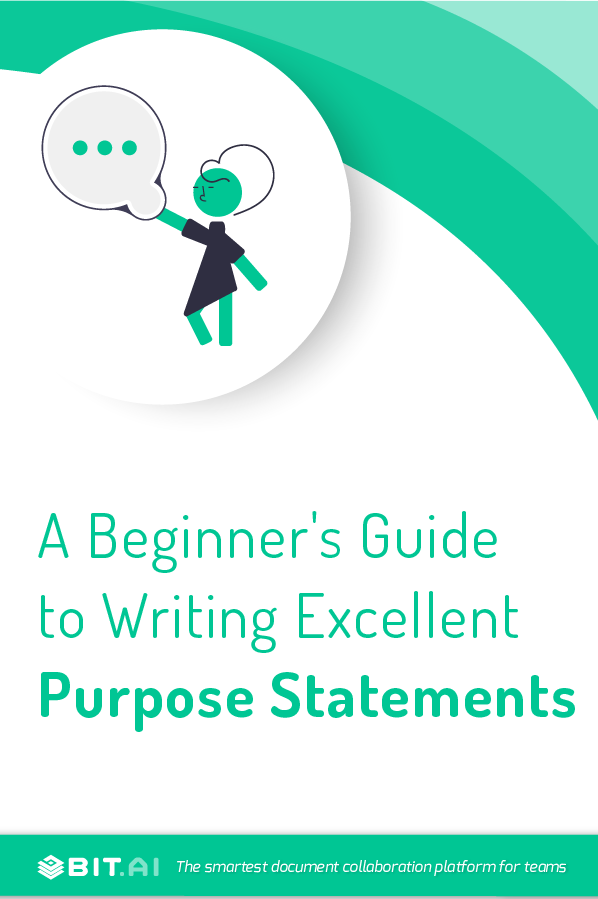 Related posts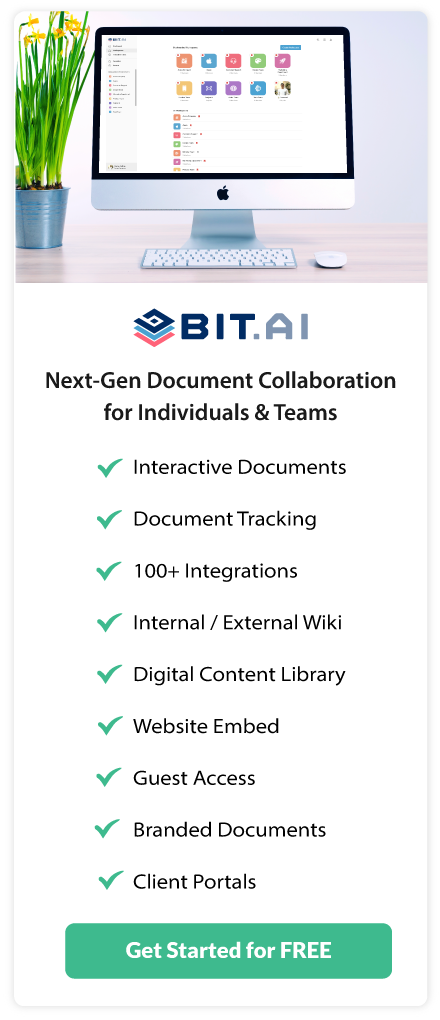 About Bit.ai
Bit.ai is the essential next-gen workplace and document collaboration platform. that helps teams share knowledge by connecting any type of digital content. With this intuitive, cloud-based solution, anyone can work visually and collaborate in real-time while creating internal notes, team projects, knowledge bases, client-facing content, and more.
The smartest online Google Docs and Word alternative, Bit.ai is used in over 100 countries by professionals everywhere, from IT teams creating internal documentation and knowledge bases, to sales and marketing teams sharing client materials and client portals.
👉👉Click Here to Check out Bit.ai.