Social media is like our alternate reality. There is this whole other life happening online and it's so hard to keep up these days, right?
What's the latest trend? Is that a new hashtag? What is that challenge everyone is doing?
There are way too many things going on and we know how overwhelming that can be. FOMO (fear of missing out) is real, people!
Do you know what's even worse? Coming up with new ideas for social media posts!
Especially when you are in business, you need to be able to use social media platforms in a way that you attract more followers, engage with them consistently, and finally convert them into customers.
But, if your followers get bored with your page, then they will simply unfollow.
A recent study from Sprout Social suggests that 41% of people unfollow a brand on social media if they feel the information is irrelevant to them. 46% of users unfollow a brand if they post too much, while 18% of people unfollow because they don't post enough.
You don't want to be like that, do you?
But, figuring out what to post is such a daunting and time-consuming task! We know! That's why we have come up with a set of creative new ideas for your social media posts.
Idea #1. Make & Post Memes on Social Media
Who doesn't love a good meme? They are taking over the internet by storm – and for good reason. Memes are engaging, relatable, and funny – and that's exactly why they are a great form of communication and expression.
With millions of people always sharing memes in their free time, it is one of the most creative and effective ways to get people to engage with your social media page.
Memes have become so popular in the marketing world that the term 'meme-marketing' has also popped up. It's time you start utilizing them and make share-worthy content for your audience.

Idea #2. Get Creative with Social Media Challenges
Social media is the breeding ground for some bizarre and quirky challenges. Every now and then, a random video or internet challenge pops up and then social media goes wild.
Remember the Ice Bucket Challenge? The Mannequin Challenge? The latest Dalgona Coffee Challenge? They were all trends that caught the attention of millions of people.
If you are up-to-date about what's driving social media crazy, then you can capitalize on these trends and incorporate them into your own posts to stay relevant.
You can get creative and make up your own version of the challenge or even start your own challenge to attract your followers and keep them engaged.
Read more: 7 Social Media Trends To Watch Out For in 2022
Idea #3. Host Contests and Giveaways
Everybody loves free stuff! That's why contests and giveaways are so popular.
According to stats, 91% of Instagram posts with more than 1,000 likes or comments are related to a contest, and accounts that run contests on a regular basis are noted to grow 70% faster than those that don't.
Ask your followers to tag their friends in the comments and share the post on to their stories to win free giveaways and prizes, and watch your engagement levels shoot up like a rocket.
You might even get new followers in the process!
Idea #4. Go Live!
Going live is the 'in' thing on social media right now. Facebook, Twitter, Instagram, and Snapchat all have the live streaming option that lets you engage with your followers and viewers in real-time.
And it turns out that there's something about live streaming that attracts people a lot.
In fact, surveys show that 82% of people prefer live video from a brand than simple posts, while another study shows that people spend 3x longer watching Facebook Live videos compared to normal videos.
So, it's plain and simple: go live and get your followers to engage with you. You can even invite other people to join your live and make it even more interactive.
Idea #5. Caption This
If you are looking to engage your social media followers, playing the 'Caption this' game can really create a buzz on your page.
You can share an interesting photo or GIF and ask your followers to comment on the post with the funniest or wittiest caption they can come up with. You can then share the best out of the lot and tag those people.
This sort of activity is not only entertaining and fun, but it is an amazing way to shake up the engagement levels on your page.
Idea #6. Make More Videos on Social Media Channels
Don't we all love watching short clips when they pop up on our feed? Videos seem to capture our attention more than interesting pictures.
As a matter of fact, studies show that videos have a 135% greater organic reach compared to photo posts on average and 64% of consumers make a purchase after watching branded social videos.
So, make use of all the video features on social media platforms like the story option, IGTV, reels, etc. Use your creativity to explore the types of video content you can make, like animated videos, unboxing videos, previews, teasers, behind-the-scenes footage, etc.
Idea #7. Put Customers in the Limelight
You probably never thought about the impact your customers can have on other customers.
According to Hubspot, 50% of customers say they're more likely to buy something through a business's social media profile if they see user-generated content.
So, you need to make posts that put your customers in the limelight.
If you have some regular customers, then ask their permission for posting their pictures on your social media page. You can repost their reviews, tag the customer, conduct customer interviews and even offer them gifts as a token of appreciation.
This not only builds the credibility of your brand but also helps you expand your business.
Idea #8. Use GIFs and Emojis
Gifs and emojis are the cutest and funniest forms of online communication.
There's nobody out there who hasn't used one. It makes your content light-hearted and generally has a way of making people feel comfortable.
A recent study from AdEspresso showed that Facebook headlines with emojis generated 241% more clicks than those without one.
Include a funny GIF or couple of emojis along with your captions and see the engagement levels on your social media page improve in a jiffy.
Read more: 11 Best Link in Bio Tools in 2022
Idea #9. Conduct Social Media Takeovers
Social media takeovers are the breath of fresh air your social media page needs. Have someone influential or famous in your field of business takeover your social media page for a day or even a week.
For example, if you are in the food industry, then let a celebrity chef takeover your page to engage with your followers. Let them manage all the content and stories for that day, reply to comments and questions, and maybe even go live from your page.
Before you even know it, your social media page would be buzzing with activity!
Idea #10. Share Employee Photos
Your employees make your business happen. Posting their stories and experiences, funny anecdotes, silly behind-the-scenes shenanigans will create a positive impact on your overall business appeal.
Followers love to see the people behind all the hard work. Not just that, it helps create a more human connection between your brand and customers!
Idea #11. Post a Hashtag Series
Hashtags are extremely crucial on social media. It makes your content easily discoverable online and helps you connect based on a common theme. #thatistrue
You can start by using already trending hashtags from social media or from recent news events on your page in a way it matches with your content.
You can use the common #throwbackthursday or #TGIF every week to get better engagement. You can even post something seasonal and use a hashtag series along with it, to be consistent about the theme.
For example, hashtags relating to Halloween or Christmas could be used to post themed content during that particular season. It not only keeps your page highly relevant but also makes it extremely interesting.
Idea #12. Run Polls and AMA Sessions
If there is anything we know about people, it is that they love to make their opinions heard. People love it when you ask them direct questions or allow them to ask you questions. It makes them feel heard.
So, you can very easily run polls on Facebook and Instagram asking your followers about their preferences, likes, dislikes, or anything in general that requires their opinion or feedback and make them feel heard.
'Ask Me Anything' sessions allows one-on-one interaction between you and your follower, giving them the freedom to raise questions about absolutely anything. You can even post your answers on the page making it available to the general public.
These sessions are great for social media because not only do they increase your traffic and engagement levels, but they also allow you to learn a thing or two about your customers.
Idea #13. Celebrate Your Success
You heard us right! Celebrate your victories and successes with your followers, even the small ones!
Did your company get featured in a news article? Did your brand reach its sales goal or win an award? Or excited about hiring a new employee? Share it and celebrate it all with your followers!
Post a picture of your team celebrating awards or share a welcome post for the newly hired employees with their images.
Moments like these show the human side of your brand while making your growth and accomplishments public. It also improves your credibility as a brand!
Conclusion
Social media is a world full of opportunities for your business.
You can't miss out on those opportunities because you are having an 'idea block'. And because we #totallyrelate with that feeling, we created a blog that has covered some really super cool ideas for your social media posts.
You should no longer be staring at your screen for hours trying to come up with something innovative. No more  "I don't know what to post on social media".
Just come down here and take a quick glance at these ideas, and you can get back on track to producing some of the most engaging content your followers will ever see.
Pick and choose the ones that fit your business the best or include a mix of everything. Go a little wild. Show them that your business is not boring. Show them your fun side. Show them you care.
The rest will just fall into place!
Further reads: 
9 Best Social Media Planners You Should Be Using This Year!
Social Media Proposal: What is it & How to Create it?
Influencer Media Kit: What is it & How to Create it?
Learn How to Create a Social Media Report Like A Pro!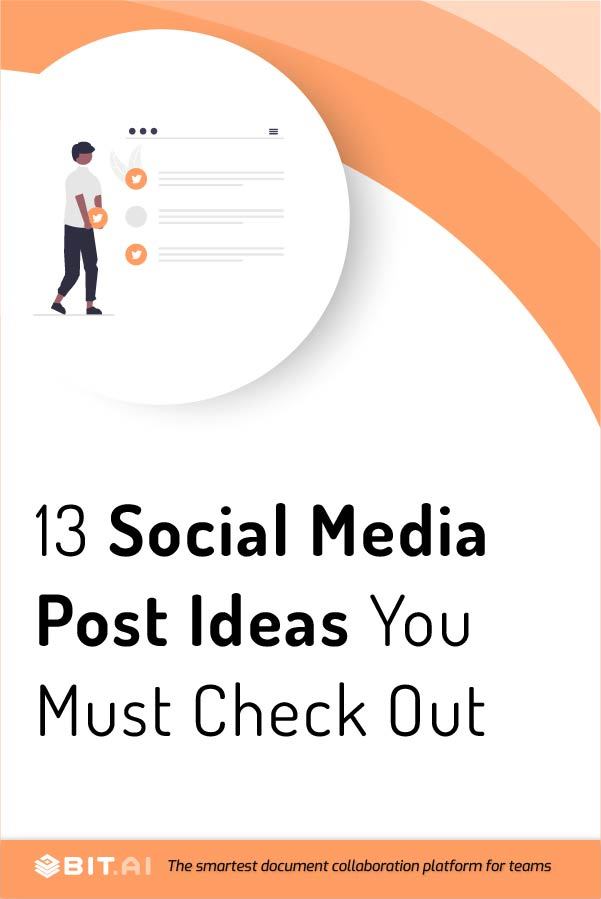 Related posts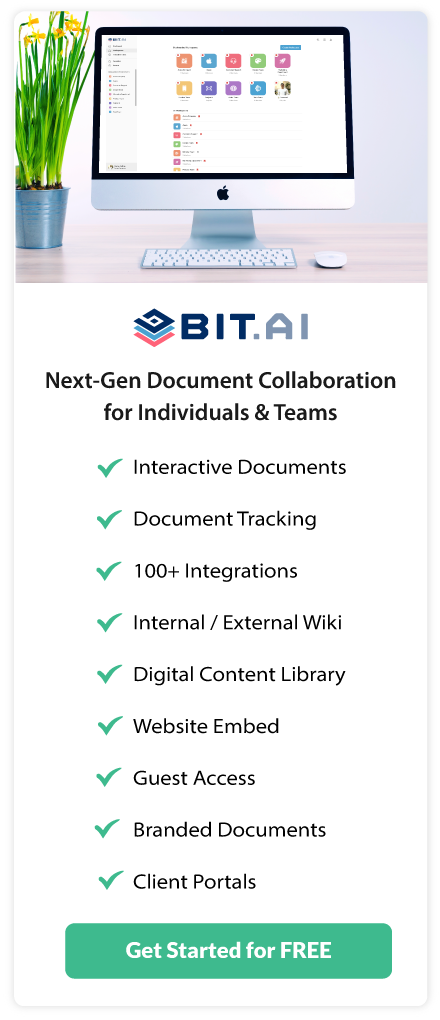 About Bit.ai
Bit.ai is the essential next-gen workplace and document collaboration platform. that helps teams share knowledge by connecting any type of digital content. With this intuitive, cloud-based solution, anyone can work visually and collaborate in real-time while creating internal notes, team projects, knowledge bases, client-facing content, and more.
The smartest online Google Docs and Word alternative, Bit.ai is used in over 100 countries by professionals everywhere, from IT teams creating internal documentation and knowledge bases, to sales and marketing teams sharing client materials and client portals.
👉👉Click Here to Check out Bit.ai.