Influencer marketing is on the rise. So much so that around 72% of major brands say they are dedicating a sizable portion of their marketing budgets to influencers.
Yes, things are really getting serious for influencers out there. And with influencers popping up every other day, how do you make sure you stand out enough to get partnership offers from big brands?
Enter: influencer media kit, an all-in-one document about your #influencer life as internet slang would like to put it. Whether you're a blogger, vlogger, photographer, or videographer, you need to have an influencer media kit if are really serious about building a career on social media.
Are you scratching your heads right now because you have no clue what an influencer media kit is?
Don't worry, you have come to the right place! In this handy little blog, we will walk you through everything you need to know about influencer media kits and how to put together a striking one so that you don't miss out on any cool collaborations!
Are you ready, folks? Then, dive right in!
What Exactly is an Influencer Media Kit?
The influencer media kit is a digital document that tells your clients everything about your work and personality as an influencer. It highlights your influencer stats, details your demographics, showcases your USP, and provides a brief overview of your brand and your achievements.
Imagine you have a website that provides a full picture of you as a person and a professional. That's essentially what an influencer media kit aims to display.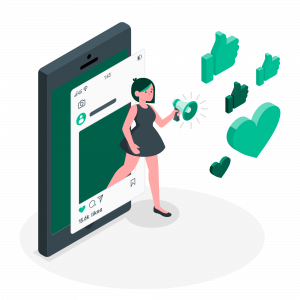 Think of it like your resume, business card, portfolio, and cover letter, all in one document. It's basically a whole comprehensive package that provides all the necessary data about you at once.
Now you're probably wondering why an influencer media kit is even necessary if everything about you as an influencer is readily available online just a few clicks away.
Does it have any benefits? Well, let's find out!

Benefits of Creating an Influencer Media Kit
Doesn't matter whether you are a mega influencer or a nano influencer, you definitely need an influencer media kit for yourself. It is a promotional tool – a way for you to advertise yourself to big-shot companies and ask for collaborations.
By sending your influencer media kit out to bigger brands, you are raising awareness and making yourself visible to them. This also helps you make connections in the industry and is an important step towards growing your business.
Nowadays, most brands always look for an influencer media kit, so the last thing you want is to be caught off guard when they ask you for one. In fact, with a great influencer media kit, you can even stand out in the world of competitive influencer marketing.
Since this kit contains everything from your achievements to audience demographics to your personality and pricing, it will save you and your client from unnecessary questions.
Not just that, being prepared with an influencer media kit shows that you are serious about your work and have put in effort for it. This way, it adds to your brand's credibility as well.
What's more? An influencer media kit is a fantastic way to organize and formalize all your professional work in a single document, even the ones that might get lost in your memory. This means that you will never lose your own details and will never miss out on any collaborations that come your way!
Now that you know how important an influencer media kit is, it's time you learned how to create one for yourself! Ready? Here we go!
Read more: Social Media Proposal: What is it & How to Create it?
How to Create an Influencer Media Kit? Follow these Steps!
Depending on how long you have been in the influencer marketing scene, your media kit can have between 1-3 or even more pages.
Regardless of the page number, there are certain elements that form its skeletal structure. Let's take a look at them and learn how to create a killer influencer media kit!
Step 1. Write Your Bio
The first thing a brand is going to read when they open your influencer media kit is your bio. This can be written under an ABOUT ME section where you summarize yourself in a few sentences and highlight your area of expertise. Here are a few things you must include:
Your name
Location (city, state)
Your mission statement and values
Brief description of yourself and your work (your personality, interests, passion, etc.)
Try to keep this section short and sweet, ideally somewhere between 100-150 words, and don't forget to include a picture of yourself so that people can put a face to your name.
Step 2. Include Your Social Stats
All brands want to know everything about your social media statistics because it's a great metric to get a quick idea of your reach and popularity. That's why it is important that your influencer media kit mentions the number of followers you have on each social media platform.
Keep in mind that your followers keep changing, so you need to constantly update your kit to show your latest statistics.
While your follower count is crucial, most brands are focused on your engagement rates on each platform to ensure that your audience is active and responds positively to your posts. So make sure that it's included along with your number of followers. You can calculate your engagement rate as follows:
Engagement Rate = (Likes + Comments) / Followers x 100
Step 3. Highlight Your Demographics
WHO FOLLOWS YOU is just as important as HOW MANY people are following you on social media because brands are looking to collaborate with influencers who have followers that are similar to their target audience.
This is why it is imperative that you highlight your audience demographics in your influencer media kit by presenting details about the geographic distribution of your followers, their age breakdown, gender mix, language, etc.
If you have a niche follower base, then you can also mention their interests and likes so that you can showcase to brands your typical audience persona.
Step 4. Mention Your Blog or Website
If your influencer life extends beyond social media platforms to blogging platforms or websites, then you must definitely include it in your influencer media kit.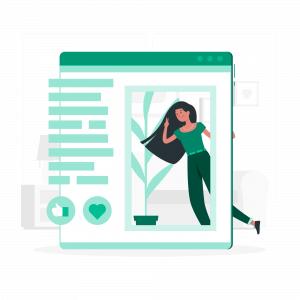 This is a great way to show brands that you have a wider reach that is not merely restricted to one type of content creation and help them understand where your skills and creativity lie.
Just like how you shared your social media statistics and audience demographics, here you can also share your website statistics and demographics.
Step 5. Present Your Previous Collaborations and Testimonials
What makes your influencer media kit stand out will depend on this section. Your history with collaborations, campaigns, and testimonials from customers is your golden ticket to get chosen by bigger brands. It gives a real insight into your work ethic, style of collaboration, professionalism, and credibility.
Here, you can highlight the previous brands that you've worked or partnered with, the types of content you've created, the successful campaigns you've led, and the results you've delivered.
An added advantage would be to show an analytics report of your previous performance by including your campaign results, engagement rates, link clicks, and items you managed to sell.
Don't shy away from flaunting your testimonials if you have any. Your repeat customers and long-stand relationships with particular brands are excellent social proof of your competence and credibility. So mention them!
If you are new to the field and have not collaborated with any brands yet, then you can mention the types of collaborations that you are up for. This can include sponsored posts or blog posts, product reviews, hosting giveaways and contests, displaying ads on blog posts, affiliate marketing, etc.
Step 6. Mention Your Pricing Rates
Yes, your influencer media kit needs to have a section detailing your pricing or rates for your services.
It's true that there is no centralized scale you can follow to charge brands, but you can decide your pricing rate based on factors such as your reach and engagement, your audience quality, your expertise level, the quality of your content, and other elements depending on your service.
In this section, you can list your suggested services along with your price rates on the side. Mention that there is room for negotiation because no one wants a rigid pricing system. Make sure your prices are clear and have a specific range so that it's easier for you to negotiate.
In case you are a newbie to the influencer marketing scene, you can tell brands that you are open to other options of payments such as free products or discounts in exchange for your services.
Read more: 14 Guerrilla Marketing Examples & Ideas You Must Explore!
Step 7. Include Your Contact Details
You'd be surprised how many people actually forget to put their contact details in their influencer media kit, that's why we thought this section needed a special mention.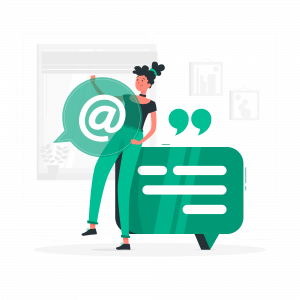 Since the whole purpose of creating this media kit is to build connections and get brands interested, you must make it a point to mention your professional email address, contact number, social media handles, and in some cases even postal address so that it's easy for people to find you or contact you.
Remember to keep your contact details in case you get them changed over the course of your career.
Step 8. Wrap it in a Good Design
Now we come to the last, but most essential part of your influencer media kit – a good design. Your media kit is an extension of your brand and your personality, so it is imperative that it is reflected in the overall design and style of your kit. It's also a great way to show your aesthetic and creative skills.
Choose the right pop of colors and a uniform font throughout your kit. Leave some white space between the columns to give your media kit a tidier look.
Make it visually appealing by adding relevant imagery and photographs and ensuring that it all matches the style of your brand. Not only does it help make your kit more attractive but it also showcases your work better while also giving brands an idea about your design and photography skills.
You can hire a graphic designer if you feel it's too much effort on your part, but why do that when you can use ready-made templates that can be customized to your own style in just a matter of minutes?!
Now you must be wondering whether it's really simple to do something like that, and our answer is: YES!
How, you ask? Scroll down and find out!
Bit.ai: The Ultimate Tool for Creating Any Types of Media Kits
Being a full-time influencer can mean that you get caught up in creating content all the time. And the last thing you probably want to do is create an influencer media kit for yourself in the midst of all that work. We get it.
But an influencer media kit is your gateway to major brand collaborations and publicity, and you don't want to mess it up just because you had an average-looking media kit, right?

Well not to worry, my friend, we have the perfect tool for you! Presenting to you, Bit, a new-age cloud-based document collaboration tool that helps anyone create, manage and track documents.
Bit has an extensive gallery with over 70+ ready-made templates from which you can choose your favorite one! Yes, that includes your influencer media kits as well!
Don't worry about being restricted to a template design because Bit's templates are easily customizable, which allows you to add a dash of your personality to your media kit design and make it your own.
Want to add a product video, upload media files, attach cloud files, and show your brand features? No problem, Bit has got it covered for you! You can directly embed links to your cloud files – your logos, videos, audio files, articles, PDFs, social media posts, etc. in your Bit-Media Kit. No need to share separate folders and links to files that reside someplace else. Give everything to your audience in one place by creating your media kit with Bit.
What's more? You can embed a lead capture form into your media kit document and share it with your clients and prospects with a trackable link. This means that whenever someone opens your document, you'll get a notification! This will provide you with information on how often your kit was viewed, how far it was scrolled, how much time was spent on it, etc.
Amazing, right? All in all, Bit has everything you could ask for creating a funky influencer media kit! So, what are you waiting for? Get Bit and have fun creating documents!
Tips for Creating Media Kits
Now that you are aware of the steps involved in creating an influencer media kit and you have Bit on your side to make things easier and creative, here are some general tips you have to keep in mind:
Keep your influencer media kit as brief as possible. Even if you have a lot of things to show off about, try to limit your story to no more than 3 pages. Include all important information, but keep it concise and simple.
Add clear visible and eye-catching titles and headings. This will make it easy to navigate within your influence media kit and find the necessary information.
Make sure your color palettes, typography, fonts, etc. align with the aesthetics on your social media channels.
Stick to an organized and logical order. You don't want to start your influence media kit with your pricing section and end with your bio. So, make sure that order is maintained.
Round off your numbers while mentioning your followers. For example, if you have 23,233 followers, it's always better to write it as 23K followers.
While stating your prices, avoid using phrases like "starting at" as it can result in brands negotiating your rates down to your starting figure. Be specific and clear about your price range.
…and that pretty much includes every single detail you need to be aware of. Now, there's only one thing left for you to do – to go and make your influencer media kits right away!
Conclusion
With that, we come to the end of this blog. Here we have given you everything you need to know about creating an influencer media kit that will make you stand out from the crowd.
But remember, an influencer media kit can only act as a promotional tool or a facilitator. You still need to put in hard work and generate buzz about your content on social media and websites.
So keep creating and keep posting! Good luck!
Further reads: 
How to Embed Social Media Posts into Your Documents?
9 Best Social Media Planners You Should Be Using This Year!
Marketing Funnel: What is it & How to Create it? (Steps included)
Market Targeting: What is it & How to do it Perfectly? (Steps Included)
Marketing Campaign Plan: What is it & How to Create it?
12 Marketing Goals You Must Include In Your Plan!
How To Market To Gen Z The Right Way in 2023?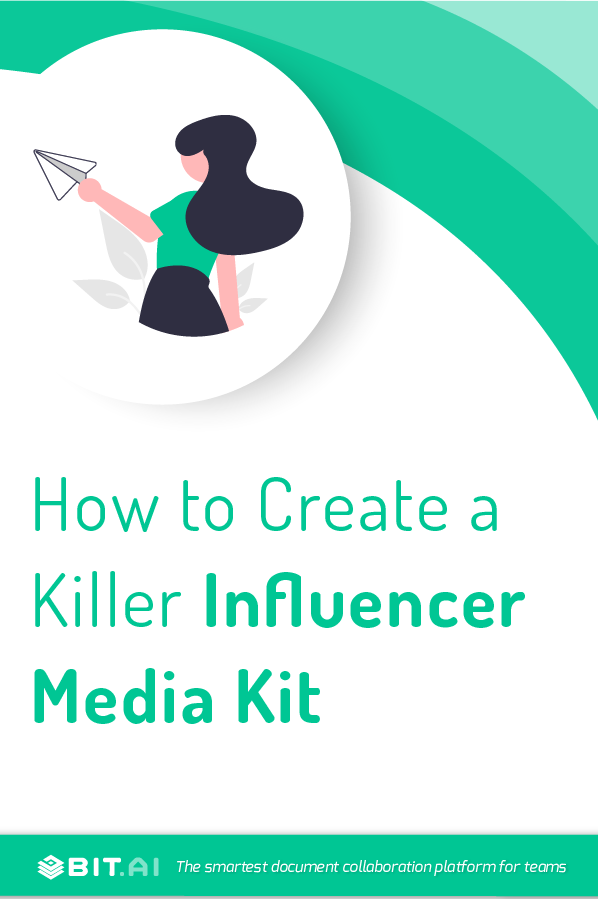 Related posts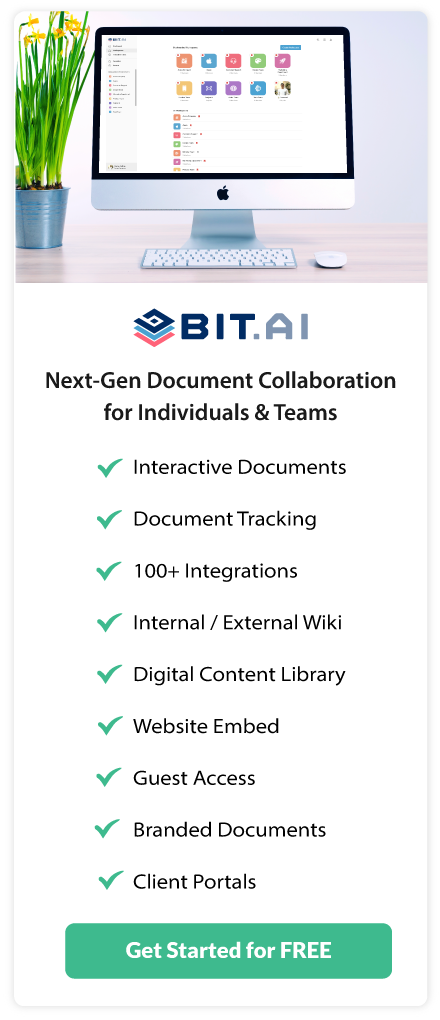 About Bit.ai
Bit.ai is the essential next-gen workplace and document collaboration platform. that helps teams share knowledge by connecting any type of digital content. With this intuitive, cloud-based solution, anyone can work visually and collaborate in real-time while creating internal notes, team projects, knowledge bases, client-facing content, and more.
The smartest online Google Docs and Word alternative, Bit.ai is used in over 100 countries by professionals everywhere, from IT teams creating internal documentation and knowledge bases, to sales and marketing teams sharing client materials and client portals.
👉👉Click Here to Check out Bit.ai.