Let's learn about how SMART goals are better than ordinary goals and how they can help you achieve more.
PS: we also have a free SMART goals template for you at the end of this article. Do check it out!

The trouble with not having a goal is that you can spend your life running up and down the field and never score.– Bill Copeland
Do you ever feel overwhelmed by an upcoming project? Do you feel like your professional life isn't going in the direction you want? Do you want to improve your personal skills, but just don't have the time? If yes, then what you need are some well-defined goals.
Goals are an important part of every aspect of life, from your professional life, personal desires and relationships. Everything in life boils down to having a certain goal in mind and working towards achieving it.
However, if you haven't set any goals or objectives, life becomes messy and chaotic. Without an endpoint, actions become meaningless, giving you no sense of fulfillment…
Every achievement in life- small or big starts with setting a goal and becomes a success only when that goal is realized. When it comes to achieving success, one of the most important steps that you can take is setting SMART goals.
In this blog post, we'll take a look at this special class of SMART goals called and show you how they are better than setting ordinary goals.  SMART goals increase your chances of achieving success multi-fold.
What is a Goal?
A goal can be defined as the desired outcome that a person or a group of people envision, plan and commit to achieving. A goal can be small, like going to bed earlier than you normally do, or a big one like becoming a pro athlete.
However, setting up a goal doesn't magically make your objectives and desires come true. While having a goal is always beneficial and a pre-requisite to achieving something, there are some drawbacks if you do the following:
Setting arbitrary goals with no true meaning. They end up giving no significant benefit to your life.
Setting unachievable goals. People often think that setting higher goals will push themselves beyond their limits. This may turn out to be true, but only to some extent. In most cases, unachievable goals lead to frustration and disappointment when you are unable to hit them.
Setting immeasurable goals. When you cannot measure the progress of your goals, it becomes hard for you to determine if you have made any real progress. If you have not set up a time limit to achieve your goals, they are often abandoned midway or are dragged on for months and years.
That's where SMART goals come into play. They counter these serious limitations if you set up simple goals.
SMART goals will not only help you achieve your goals but help you do so in an efficient manner. Who doesn't want to achieve success faster?!
Let's learn a bit more about SMART goals, shall we?

What are SMART goals?
SMART goals, as the name suggests, are well, smarter than normal goals! They bring structure, measurement, and a timeline to your goals so that they are not mere resolutions you "wish" to achieve "someday".
The idea for SMART goals was introduced by Peter Drucker's Management by Objectives concept. The first known use of the term occurred in the November 1981 issue of Management Review by George T. Doran. SMART goals also received a big boost in popularity when Professor Robert S. Rubin wrote about them in an article for The Society for Industrial and Organizational Psychology.
In case you're wondering, SMART is an acronym that stands for "Specific", "Measurable", "Achievable", "Relevant", and "Time-Bound".
SMART goals bring accountability and credibility to standard goal setting and make the possibility of achieving your targets more plausible.
For organizations, SMART goal setting is one of the most effective, yet underutilized tool to achieve and measure success.
SMART goals can be used to improve project management, planning, employee performance management, financial goals, as well as personal development.
SMART goals allow an immense level of accountability, trackability, and transparency throughout the organization by providing a checklist to measure the success and progress of your company's objectives.
How to Set SMART Goals?
Setting SMART objectives and goals is simple – all you have to do is create a goal that fits into each of the criteria in the SMART acronym.
S – Specific
Your goals should be clear and specific to give you the idea of what you really want to accomplish.
A specific goal describes the mission statement for your goal. It's not about the detailed points on how you're going to reach the goal, but rather answering the famous "W" questions:
What – Write clearly exactly "what" you want to accomplish.
Why – This involves specifying the reason behind achieving a goal. For example, the reason for setting up a goal to improve your company profits 2x could be to return investor's money quickly.
Who – Specify exactly who will be involved in the process of achieving the goal. This is especially important when you're working on a group project.
When – Set at time-frame as to when are you planning to achieve the goal.
Where – If there's a location to achieve the goal, do mention it. This may not always apply.
Which – Which resources are required or any limitations involved in the process of goal attainment.
M – Measurable
The ability to measure the success or failure of a goal makes it more tangible in nature. Answering questions like "what metrics are you going to use to determine success"? is a must.
By having the procedures in place to measure and track your progress keeps you on track and motivated towards success.
When you know how far you've come, you are always motivated to march ahead. Keeping track of your progress and ticking off milestones along the way helps you stay focused and feel the joy of getting closer to achieving your goals.
A – Achievable
This is an often overlooked aspect of goal setting- determining whether a particular goal is realistic and attainable. It's not meant to be discouraging but preparing yourself for the ride.
You have to ask yourself whether you have the resources, financial or otherwise, the time, or the tools required to achieve the goal within a set period of time.
There's nothing wrong with shooting for the stars, but you have to weigh in the time, cost, and effort required versus other commitments and priorities in your life.
R – Relevant
Why is the goal relevant to you? Is it really necessary? Is it worth the time and effort? Does it align with your other business/personal goals?
You and only you can decide the relevance of your goal and whether you or your team have the bandwidth to achieve it. You might think that it's important, but you have to ask yourself – is it really necessary?
For example, your goal might be to expand the team to build new products. However, when you examine what achieving that goal means you will need to consider whether a bigger team can really speed up the process of building out new products.
Is it possible a larger team will surface new and bigger challenges that will hamper the current state of work? Take the time to consider all the ramifications of achieving your goals and uncover those unintended consequences.
Read more: 13 Business Goals You Must Set In 2022
T – Time-Bound
A goal is a dream with a deadline.- Napoleon Hill
This is the most important aspect of SMART goal setting. Anyone can set goals, but if it lacks a realistic deadline, chances are you're not going to succeed.
Having a time-bound goal helps you answer questions like "when am I going to succeed" and "what can I do today to keep moving forward".
Deadlines are actually what makes the majority of the people to get off their back and start making progress (no matter how small) towards their goal.
Targets kill procrastination and excuses and make you accountable for your actions and behaviors by creating a sense of urgency.
Read more: What Are Smart Documents And Why They Will Make Your Work Life Easy
SMART Goal Setting with Bit.ai
The biggest aspect of creating SMART goals is that they need to be written down. You cannot possibly specify your goals, weigh the perks, uncover limitations, and measure the results without having a proper tool to guide you along the way and help you in the process. This is where Bit comes in.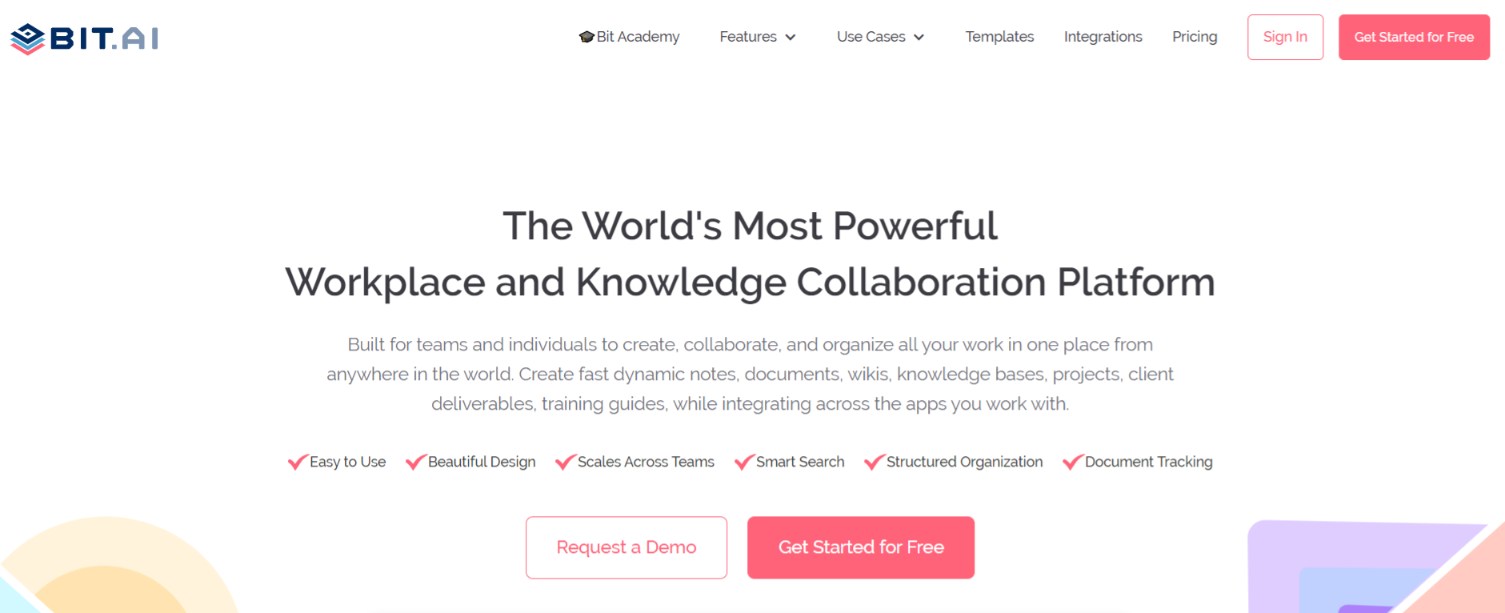 Bit.ai is a new-age document collaboration and communication tool that helps teams to collaborate, share, track and manage all company knowledge in one place.
Bit helps you create documents of the future that are dynamic and much more than plain-boring text.
Thus, apart from allowing multiple users to collaborate on documents, Bit also allows users to share any sort of rich media like YouTube videos, SoundCloud Playlists, Google Docs, One Drive Excel Spreadsheets, GIFs, Tweets, Pinterest boards, etc. Basically, anything on the internet with a link (i.e. www.example.com, https://example.com) can be shared and Bit will automatically turn it into visual content.
Multiple people can simultaneously collaborate on a Bit smart document in real-time. It's a wonderful way to write down SMART goals, manage projects, create client-facing material, brainstorm, share meeting agendas, create proposals, and share knowledge as a team.
Let's take an example. Suppose your team needs to set up SMART goals for your upcoming project. Here's how Bit can help:
Bit's collaborative workspaces allow you and your team to create, manage and collaborate on projects. Team members can write down individual goals with people chipping in, giving valuable feedback and suggestions. It's important to work together, hit your deadlines and keep everyone in the loop. Bit documents allow you to add various content to applications in your documents so that you don't have to jump around looking for updates on different projects.
To make the process more engaging, teams can add Google Spreadsheets, Excel spreadsheets from One Drive, Google Forms, YouTube videos, visual web links and so much more. By adding content from a variety of resources in one place you're able to help your team manage and collaborate on projects efficiently.
You can use Bit for solo goals or across any size team. It's especially useful when you need to keep everyone on the same page. You can then send these SMART goals documents to your supervisors or ask them to join in the discussion itself. Your update meetings will run faster and you'll be able to focus on problems and solutions instead of checking off parts that are completed.
Bit provides individuals and teams a collaborative environment to set SMART goals and helps facilitate the success of these goals.
When you have your whole team working towards a common goal, the chances of it becoming a success skyrocket. So what are you waiting for? Get your team together and achieve goals quicker than ever with Bit!
SMART Goals Template
Need a template to start documenting your SMART goals? Take a look at this one 👇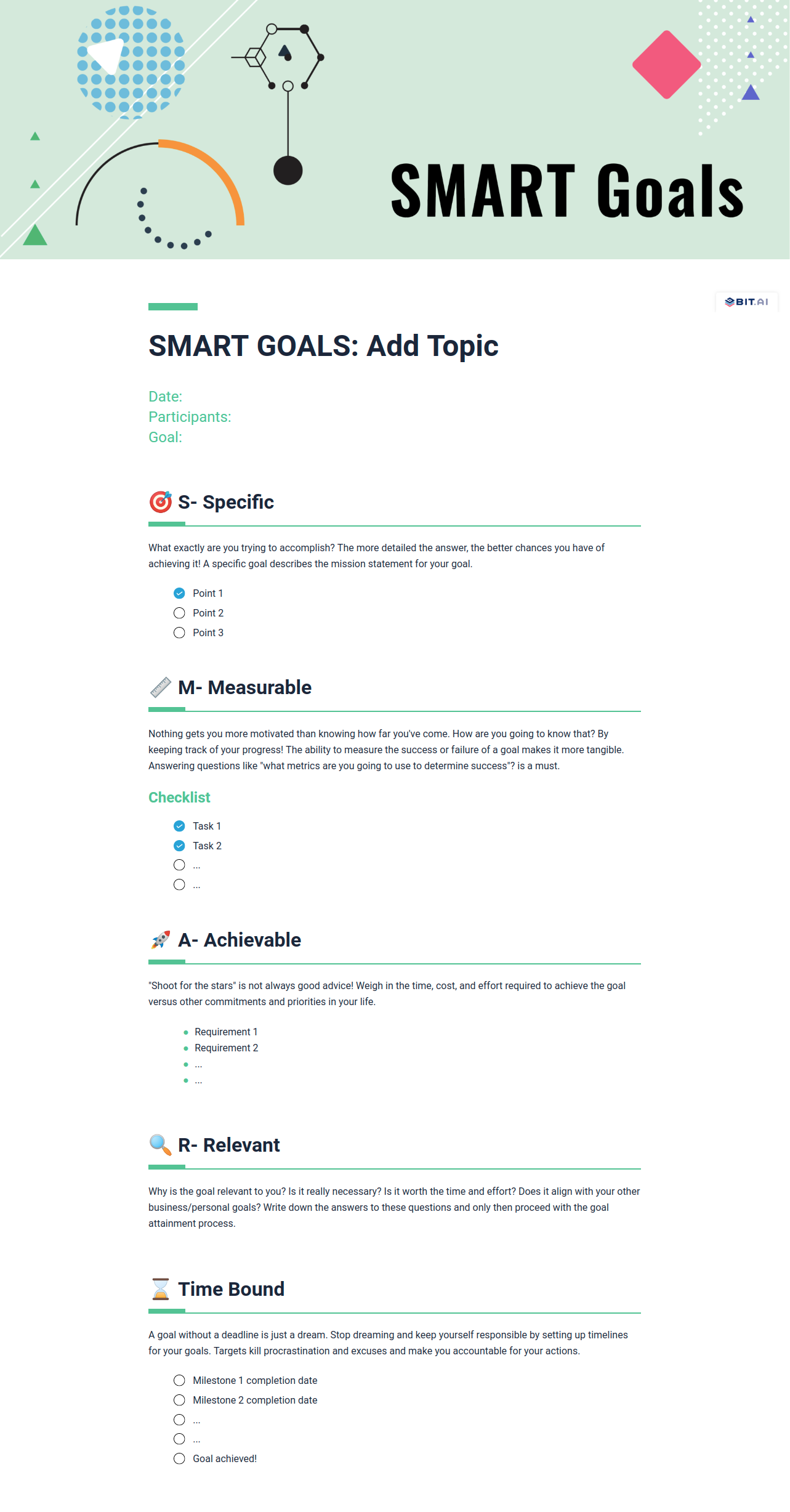 🎥Watch this video to learn more👇
Further reads : 

[/vc_column][/vc_row]
Related posts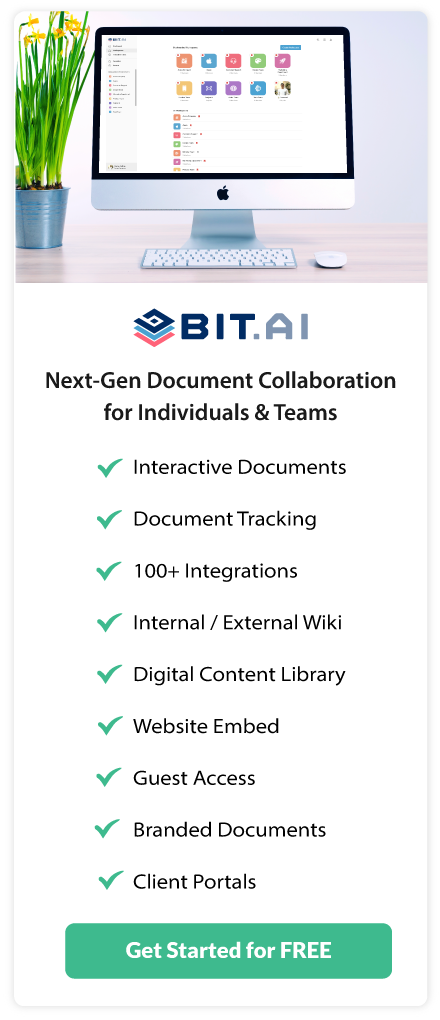 About Bit.ai
Bit.ai is the essential next-gen workplace and document collaboration platform. that helps teams share knowledge by connecting any type of digital content. With this intuitive, cloud-based solution, anyone can work visually and collaborate in real-time while creating internal notes, team projects, knowledge bases, client-facing content, and more.
The smartest online Google Docs and Word alternative, Bit.ai is used in over 100 countries by professionals everywhere, from IT teams creating internal documentation and knowledge bases, to sales and marketing teams sharing client materials and client portals.
👉👉Click Here to Check out Bit.ai.