Are you unsure about where your business is headed? Do you want to know about a foolproof way to help get your business on track? You are at the right place! 
When you start a business, there are loads of things to look after. And that is why you must consciously spend your time. Business goals let you do exactly that!
Regardless of the size of your business, its profitability, or geography, any business needs to set viable business goals if it wants to increase its outreach.
Business goal setting can be a tedious task but it's an important one. You just can't afford to leave them out! It sets the perfect tone about where the firm wishes to direct its resources at a certain time.
One biggest misconception is that business goals are about getting into the tiniest details, it is not! It's about determining the bigger picture and the vision of your firm!
Business goal setting doesn't necessarily need to be overwhelming, although we know it can get difficult to decide where you want to take your business in the long run.
But don't worry, we're here to help! We've brought together 13 simple yet effective business goals that are bound to get you on track!
1. Goal to Decreasing Business Expenses
"A penny saved is a penny earned" is such a wise saying and one that every business should adhere to.
This business goal can be extremely powerful but when expenses are reduced in the wrong areas, the working of a business could be ravaged.
Just because reducing expenses is a good practice doesn't mean you need to fire employees left and right.
Being mindful about where money is being sucked into without any returns is a good way to start. Think of ways that can reduce expenses and also not affect the experience you offer as a firm.
Modernizing software, cutting production costs, sticking with cost-effective marketing tactics, etc are some of the smart ways to reduce expenses.
2. Conduct a Marketing Audit 
Every business is so caught up in marketing their product that they easily forget to check if they are receiving the value for what they are investing. That is why you need to conduct a marketing audit.

Marketing is one of the major expenses any business undertakes, so it is important to know what campaigns are worth your time and money and what aren't.
Once you've deciphered this, you can choose to eliminate the low-performing campaigns and instead invest in your best-performing assets.
Read more: Market Targeting: What is it & How to do it Perfectly? (Steps Included)
3. Employee Retention Goal
When you hire an employee, you spend time and money on training him. But what if they end up leaving the firm after all the efforts you put into them?
That is why employee retention is vital. Firstly, calculate the employee turnover rate and understand if employees are leaving at an alarming rate.
If yes, try setting a business goal to improve this rate by the next quarter. Use tactics to set better programs, build a rapport with your employees and try to retain them.
Employee retention is a great business goal to secure all the experienced and proficient talents in your firm.
4. Evaluate Company Mission
Evaluating a company mission is one business goal that tends to be overlooked by many firms.  A mission statement acts as a portal to what your company intended to do when it started vs where it is today.
But it can't always stay constant. As businesses grow and trends change, your firm might be at a completely different stage today than it planned to be three years ago.
With the right mission statement, you can say a lot in just a few words and demonstrate your organizational values for both employees and customers.
 Read more: Writing Vision Statement: Definition, Examples, and Best Practices!
5. Goal of Improving Online Business Image
Being online is inevitable today. Every business and brand is available online and is using it to streamline their business in a better manner.
And you can't afford to stay behind either. So take the dust off from your inactive social media profiles, create a mighty website and start using blogs, posting images and videos, and making your brand visible online.
This business goal will help you get on track with your competitors and create more brand awareness.
6. Healthy Budget Planning for Business
Do you know how much money is coming in and how much is going out of your firm daily? Do you have a budget to guide you? If you don't, creating a budget should be your top business goal.
When creating plans and goals, a good and stable budget is a must-have. Cash flow in any company keeps fluctuating, and you must keep track of it.
In case your company ends up needing some funds and you reach out to a bank with no professional budget report in hand, you'll be shown your way out!
Budgeting is a goal that will give you clear metrics on how to stabilize your firm's cash flow and what you need to do to achieve it.
7. Goal to Boost Productivity
Another business goal to improve your business efficiency is to boost productivity. When you ramp up productivity, you can automatically achieve more in less time.
Set clear expectations and offer all your support to your employees. Engaged employees are more productive, resulting in a 21% increase in profits.
Use techniques to help improve employee morale and remove distractions that could hamper productivity in your workplace. Setting clear deadlines and objectives will also go a long way in boosting productivity.
8. Developing New Products
When a brand offers only a single product throughout its lifetime, customers tend to get disinterested.
So if it's been a while since you gave your customer something new, try introducing a new product. This way you give your business a newfound way to attract people and your customers.
Listen to what your customers want and then get started on this business goal. You can even update already existing products that have become outdated with time or due to new product offerings by competitors.
Read more: Business Development Plan: What Is It And How To Create A Perfect One?
9. Focus On Your Customer
Customer experience with your product is an important business goal your firm should strive for. After all, the customer is king!
Start taking feedback from your customers and gain valuable information. Is your product easy to use? Does your product offer value for the money invested? 
Ask such questions and let the customers reveal what they feel. You may be doing great currently, but when you know better, you'll do even better!
10. Timely SWOT Analysis
Without an idea of where your firm stands in the larger picture, you'll never be able to make fine decisions. That's why SWOT analysis is a great starter.
Once you analyze what your strengths and weaknesses are, who your competitors are, and what opportunities you have in hand, you'll make more sound and efficient decisions.
Hence, a timely SWOT analysis should be a 'must-be-achieved' business goal for your firm!
11. Offering Incentives 
We can't just forget the employees who help you run the business's day-to-day operations, can we? This business goal is aimed at keeping them content and motivated.
Many businesses tend to overlook this, and that's a cause for concern because incentives are not as difficult as they may seem.
Incentives don't always need to be financial, they can be felicitations like employee of the month, extra leaves, things that make your employee feel valued for the work they provide.
12. Increasing Market Share
The most crucial business goal for any firm is to be in a better position than they started at.
This goal is all about increasing market share and becoming a leader. When you achieve this business goal, you also achieve higher profitability.
Research all about your market and use it as a way to drive growth. Be more flexible, understand your customer needs, keep innovating and you will be on your way to attaining this goal!
13. Be a Socially Conscious Company 
This business goal is all about giving back to the community. Establish CSR activities and other philanthropic programs to benefit society.
Always remember that if you are a small company that can't afford to donate, you can just volunteer for community programs. But it is vital that your firm takes this stance to enhance its repute as a socially aware company and not to forget, it's a feel-good activity!
It's also a good way to tell your team that your firm is not all about monetary profits but about giving back too!
Our team at bit.ai has created a few awesome business templates to make your business processes more efficient. Make sure to check them out before you go, your team might need them!
Wrapping Up
Business goals need to be established with changing times.
They can never be a one-time thing, you need to track their progress and keep tweaking till you create the perfect plan. You should always be at the edge of the seat in a market as fast-moving as the current one.
Try to find new ways to innovate and you'll never fall back! But for now, you can get started with these business goals and get your firm moving.
Also, tweet us @bit_docs and let us know if you have any query and we'd be happy to help you out!
This blog was written and published by the Bit.ai team. Bit.ai is an amazing documentation and collaboration platform that can take your team's productivity levels to new heights. On Bit, you and your team can easily create, access, share, and manage all your business documents under one roof. With Bit's intuitive features like real-time editing, inline comments, @mentions, and more, you and your team can collaborate effortlessly. To learn more about this wonderful platform, visit Bit.ai.
Further reads: 
10 Business Drivers to Grow Your Business!
9 Most Successful Business Models You Should Know About! (With Examples)
11 Amazing Goal Tracking Apps and Tools! (Free & Paid)
12 Marketing Goals You Must Include In Your Plan!
Business Documents: Definition, Types, Benefits & Steps to Create Th
What Are SMART Goals: A Quick Overview With Examples
Client Brief: What is it and How to Write it? (Steps Included)
Business Markets: Definition, 5 Types (with Examples) & Characteristics!
Business Objectives: How To Set & Achieve Them?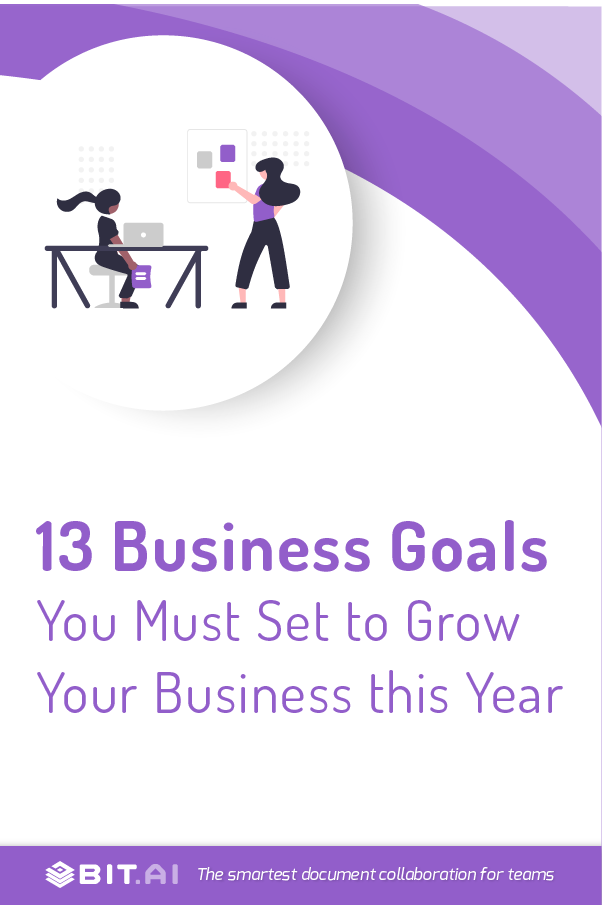 Related posts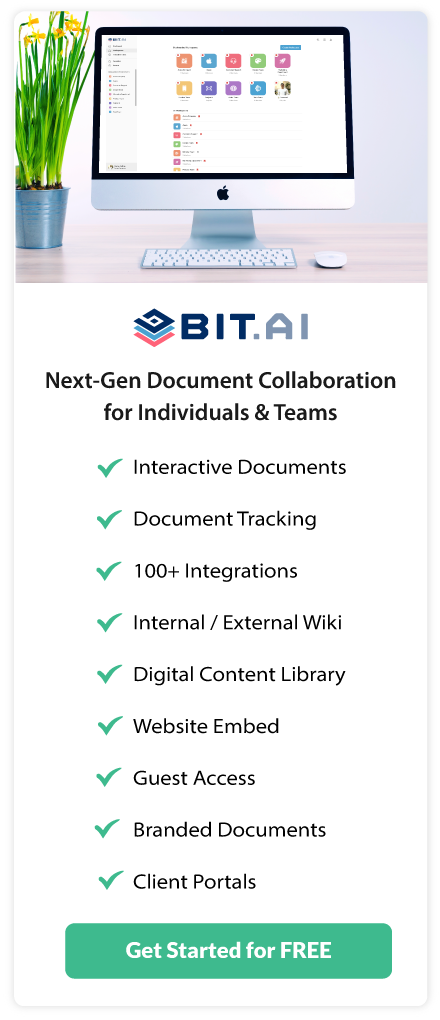 About Bit.ai
Bit.ai is the essential next-gen workplace and document collaboration platform. that helps teams share knowledge by connecting any type of digital content. With this intuitive, cloud-based solution, anyone can work visually and collaborate in real-time while creating internal notes, team projects, knowledge bases, client-facing content, and more.
The smartest online Google Docs and Word alternative, Bit.ai is used in over 100 countries by professionals everywhere, from IT teams creating internal documentation and knowledge bases, to sales and marketing teams sharing client materials and client portals.
👉👉Click Here to Check out Bit.ai.