As a business owner, you obviously want to expand your business and increase your network.
But the question is, how to get started on it?
It's simple! A business development plan is the first step you need to take.
A business development plan is much more than a piece of document. It is what defines your current positioning and helps you devise and implement a strategic plan.
That, in turn, doesn't just bring in sales, but also goodwill and long-term relations with your stakeholders.
Having a business development plan is like living a healthy lifestyle – it will only offer great things in return but it does demand a little effort and time.
Whereas, a business with no such plan is bound to misplace time, energy and suppress its growth.
So, let's learn a little more about this business-altering plan. Have a seat because we're in for a ride!
What is a Business Development Plan? (Definition)
A business development plan is a detailed strategic plan on how to develop your business by implementing various ideas, tactics, and strategies that assist a company in scale better in every sphere of the business. This business development plan is what defines your current positioning and helps you devise and implement a strategic plan to grow in the market.
Simply put, it is the development of long-term value that a firm enjoys from all of its stakeholders.
A business development plan is a guide to bring everyone in the organization on the same page and get them to work towards a common goal.
For your firm to not just be complacent and make big leaps in the industry, a business development plan is a must!
Now, let's see how this development plan is beneficial for your firm…

How Creating a Business Development Plan is Beneficial?
1. Helps a Business Boost Sales
Profitability is one of the key metrics to judge a business's growth.
Devising a strong business development plan helps a business to understand the markets that are the most profitable and which plans need to be pursued first.
Business development plans also involve documenting your firm's revenue model and all of its pros and cons.
This way, you can better assess what changes need to be made in your revenue model and what other streams can be added to it.
Read more: Business Letters: Definition, Types, Format, and Tips!
2. Presents Expansion Opportunities
Expansion into new markets is always a coveted opportunity for any business.
Business development is all about staying ahead of current trends and curating plans to make the expansion possible.
It's this research that makes you better acquainted with the best target audiences and customers for your firm and thus paving way for entering new, undiscovered markets.
3. A Better Understanding of your Consumer
As discussed earlier, a good business development plan requires assessing a company's key demographic and target markets.
It acts from a customer's perspective so that the business can bring forward a solution to a problem large enough to make profits.
This way the focus turns to the "customer is king" model which works to promote loyalty among customers towards your brand.
4. Improves Company Image
When business development plans are created, it's not only the customers that are analyzed but also the daily working of the firm.
A business developer can use this information and assimilate it into marketing campaigns.
By keeping potential customers in mind, a firm can address how they strive daily to help satisfy the needs of their customers.
This makes for a solidified marketing campaign.
Now that we know why a business development plan is so crucial, let's get to creating one!
How to Create a Business Development Plan? Follow these Steps!
Step 1. Revisit your Vision
When you started your business, you probably asked yourself the "Where do you see yourself a year from now?" question.
Well, the business development plan starts right there! This is the focal point for all your inspiration.
It defines what YOU want from your firm, and that's why it's necessary to think-free and dream high.
Do you want to have a certain amount of sales?
Do you want to win the best local business award?
Whatever it is. Start right here. Articulating what you think you need to reap from your business is where it all starts.
It'll serve as a baseline to get your firm going and keep you motivated despite hardships.
Step 2. Assessing your Business
The next step is to evaluate your own business.
Conduct SWOT analysis to identify your strengths, weaknesses, and what markets you can venture to.
Align these with your vision, check where you're slacking and what you need to do to achieve your vision.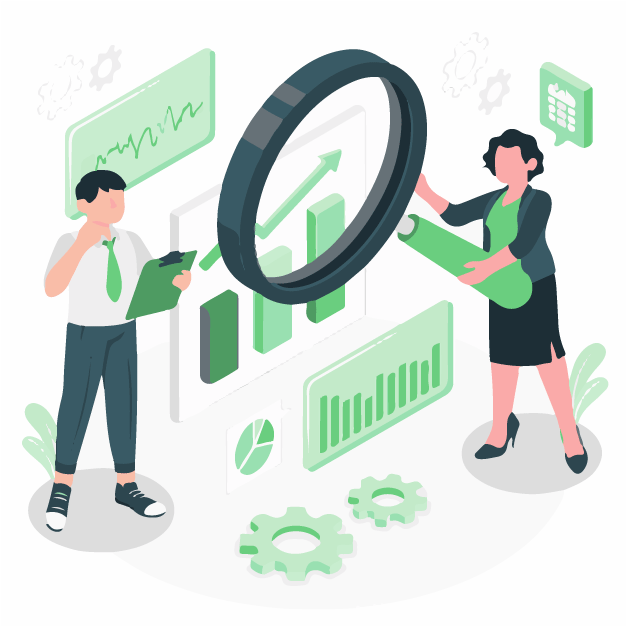 For example:
Acme, a beauty brand has the vision to become an international firm in the next two years. Let's say that their strengths are:
It resonates well with the customers.
It is low cost and produces good profit margins.
Whereas their weaknesses are:
Their marketing plans are not as effective as they need to be.
Sales haven't been picking off lately.
This way they can focus better on what needs to be tweaked and work towards attaining their vision.
Read more: Business Documents: Definition, Types, Benefits & Steps to Create Them!
Step 3. Define your Target Audience
"When you speak to everyone, you speak to no one."
Sums it all up, doesn't it?
Without knowing your exact audience, there is no way to make it through in any industry.
A business development plan looks forward to deciphering this and assessing changing trends which helps you find the best-fit audience.
For more details on how you can identify your target audience, check out our blog:
(Linking our target audience blog here once it's published online)
Step 4. Identify Competition
Knowing what other competitors offer will act as a great tool to understand how your business stands out.
Assess what pricing policies they use, what marketing campaigns they've undertaken, and what worked for them.
This way you can identify the best strategic moves for your business moving forward!
Read more: Business Report: What is it & How to Write it? (Steps & Format)
Step 5. Deliberate New Ideas
From the evaluation you've done so far, start setting priorities for what you think needs to change.
And then depending on those, start listing what all possible solutions could help solve them. Mention anything and everything you think would work.
For example: Let's consider our previous example of Acme which was lacking on its marketing fronts. Now their possible solutions could be:
Beginning a new marketing campaign.
Hiring a campaign manager.
Starting blogs or email marketing.
Advertising in beauty magazines.
Thus, a firm can tackle all its issues by listing down every possible way to address them.
This brainstorming session may seem far-fetched but can lead you in the right direction and help you find the most accurate solution to your problems.
Step 6. Setting a Goal
Once you've devised a plan, it's important to set dates.
For example: If you plan to begin a marketing campaign, make sure it gets started by a certain date and yields results by a certain date.
Only when you set smaller goals, you'll be able to achieve your vision.
These goals will set you and the people in your firm into motion and serve as a reminder as to what's expected of them.
Step 7. Assess your Business Plan
Although many firms overlook this part, it's utterly crucial.
Now that you have implemented your plans and you're ready to achieve your vision, it's time to assess it.
Monitor the impacts and document all of it as you go, so when you get back to it a year from now, you're more informed about what went wrong and what yielded shining results.
Read More: Reasons Why You Should Write a Business Plan!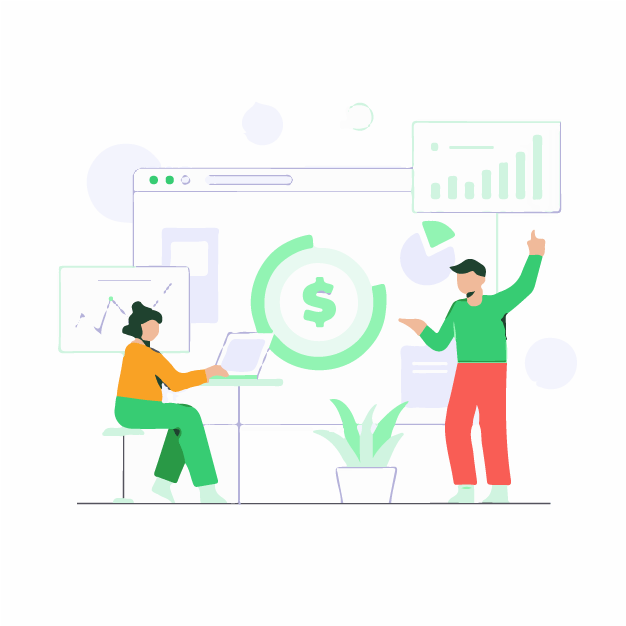 Now you've not only created your development plan and assessed it, but you've also got ideas and insights into what you need to include in your next one!
Sounds like a concrete business documentation plan may require an even faster and smarter tool!
Well, it's time for you to meet Bit.ai…
Bit.ai: The Ultimate Tool for Creating a Business Development Plan
We know that creating a business development plan is a complex task and it seems like it requires highly proficient documentation skills…
Well, let us break that bubble for you!
With Bit, you can make documentation fun and exciting and create the perfect business development plan for your business.
Working with Bit is very simple. With its integrated and interactive tools, it will take you much less time to create documents and you'll get solid results too!
Don't believe us? Check out some of its amazing features:
Real-Time Collaboration: When working on a document as comprehensive as a business development plan, it's obvious that you'll be working with a team. At such times, it's more important than ever to have a seamless collaboration experience! Bit facilitates exactly that with its real-time collaboration feature that lets you work on the same document together, comment to exchange ideas, and chat on the side.
Fully Responsive Templates: Want to create an exciting development plan? Bit has you covered. With its fun and awesome templates that are fully responsive on every kind of device, you are bound to have an exhilarating experience!
Sleek Editor: A business development plan is deemed to have corrections and require edits and thus a sleek editor like Bit's would be a handy tool to allow interruption-free editing!
Sharing and Permissions: A development plan is a vital plan for any business and only needs to be accessed by the right people. Bit supports features like document tracking, password protection, file access restrictions, etc. which help secure your document and lets you decide who gets to access it.
Real-time Insights: With its trackable links, you can keep an eye on who viewed the plan, for how long, and more. Bit has you covered in offering accurate and powerful insights!
Smart Workspaces: When working with multiple teams, it's important that everything is as organized as possible. Bit's smart Workspaces helps you do just that! Not only can you efficiently work with different departments and teams, but you can also store information of varied kinds in a neat manner.
Content Library: Bit has a powerful content library that you can use to save and access all your images, videos, and other digital content you might need in your business development plan.
Rich Media Integration: One of the ways to make your development plan more comprehendible and accessible is to make it interactive. Bit lets you do that! You can add videos, social media posts, music, cloud files, presentations, maps, charts, surveys/polls – basically every kind of rich media in your Bit doc.
Client Portal: Bit provides a smooth experience for your team and clients to review your business development plans. All you need to do is invite clients into your workspaces by giving them 'guest access'. The 'guests' aka your clients can get two types of access to the documents: comment-only and read-only.
Trust us when we say that no documentation tool out there is as robust as Bit. It even offers a free account for up to 5 users and we think you should absolutely give it a try!
Our team at bit.ai has created a few awesome business templates to make your business processes more efficient. Make sure to check them out before you go, your team might need them!
Conclusion
We know that everyone craves success but only very few have the patience and perseverance to reach that peak of glory.
A business development plan may not scream success when you're creating it, but it's a stepping stone that will take you there!
It will constantly acquaint your organization with its long-term goals, and help it strategize and execute its plans in a resounding manner.
We hope that we've gotten you all fired up to get started with your business development plan. Follow our steps and you're ready to rock!
Don't forget to let us know how it goes by tweeting us @bit_docs. We'd be happy to hear from you!
Further reads:
13 Business Goals You Must Set In 2021
Formal Report: What is it & How to Create it!
Growth Plan: What is it & How to Create One? (Steps Included)
Market Orientation: What is it & How Does it Work? (The Complete Guide)
Related posts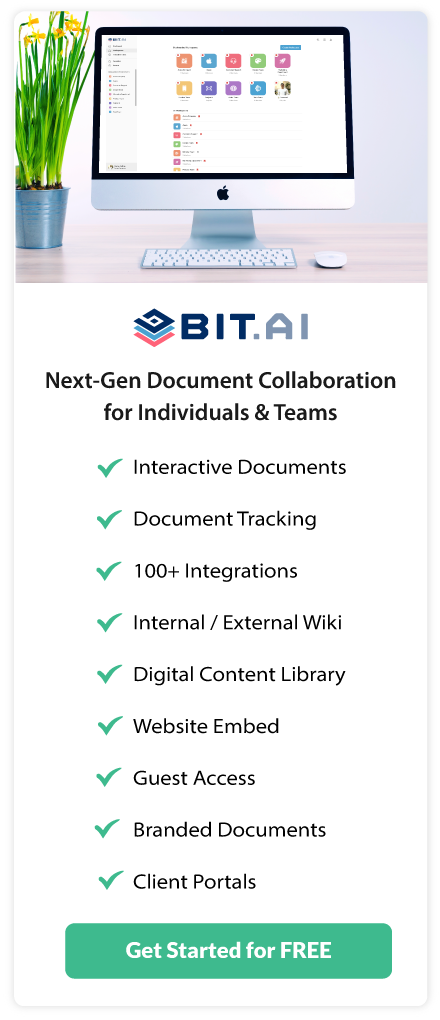 About Bit.ai
Bit.ai is the essential next-gen workplace and document collaboration platform. that helps teams share knowledge by connecting any type of digital content. With this intuitive, cloud-based solution, anyone can work visually and collaborate in real-time while creating internal notes, team projects, knowledge bases, client-facing content, and more.
The smartest online Google Docs and Word alternative, Bit.ai is used in over 100 countries by professionals everywhere, from IT teams creating internal documentation and knowledge bases, to sales and marketing teams sharing client materials and client portals.
👉👉Click Here to Check out Bit.ai.