"Data will talk if you're willing to listen to it." 
In the world we live today, businesses are bombarded with so much data that it becomes difficult to keep track of what's important.
To make sustainable and profitable decisions, you need to turn this data into information and use this information as insights to boost performance.
Now with all hands already on deck, it might not be feasible for a firm to use more manpower to assess this data. Not to say that this data might not even be accurate.
So what do you do?
Enter: Business Intelligence Tools.
Business Intelligence Tools or Software will collect all your data and analyze it, so while you're devising new plans, you can rest assured knowing that the information you need to make your plans a success – is right there waiting for you.
In this blog, we'll talk about some amazing Business Intelligence Tools and Software out there. Let's go!
What Are Business Intelligence Tools? (Definition)
Business Intelligence Tools help you to make sense of all the data in your hands.
Simply put, Business Intelligence Tools are software that helps you collect data, analyze them, and turn it into actionable data that you can use to make better decisions.
This way you can make sound data-driven decisions that will drive business growth. No matter what size your organization is, you need BI tools and we'll tell you exactly why…
Why Do You Need Business Intelligence Tools? (Benefits)
Business intelligence tools are an investment that will reap benefits for you in the longer run. Here are a few reasons why you need them…
1. Valuable Insights
With BI tools, businesses can gauge productivity, revenue, marketing campaign outreach and offer valuable insights.

Data analytics makes assessing valuable insights 5x faster for business – which means you don't have to wait for days or weeks to create reports that may end up being outdated. You will also be able to set up alerts and track the most beneficial metrics and stay on top of data that will reap the most benefits.
2. Competitive Edge 
Business intelligence tools are your gateway to a better and more optimized future. In itself, business intelligence tools are a competitive edge as they provide data of top-notch precision which will make your daily processes smarter and efficient. And only when the company is aware of its market and its performance in it, can they wield it to their benefit.
More and more companies are realizing this now – 54% of enterprises agreed that BI tools were vital to their current and future initiatives. Business intelligence tools are an efficient way to monitor changes, anticipate customer demands, and keep up with them.
3. Improved Customer Experience
Business intelligence tools have a direct impact on customer experience. And when used correctly, can help improve customer experience.
When Verizon deployed BI systems across its departments, these dashboards pulled out data from every crevice and identified actionable insights to improve customer experience. And they were successful –  BI tools improved customer service and reduced support calls by 43 percent.
Read more: Best Customer Analytics Tools and Software in 2022
4. Better Operational Efficiency
BI tools take into account multiple data sources, which means that may make it as easy as possible to track down all the information you need, so that your employees don't have to waste time doing so. And when the managers have a complete picture of the organization with such data, they can identify new areas of opportunity.
With constantly updating and accurate data collection, the company can rest assured and focus all of its energy on long-term goals like innovating or creating new programs.
5. Quicker Decision Making
The market you position your firm in will always be unpredictable and so will be your competitor's moves. Business Intelligence Tools will make all the difference and lead you in the right direction by displaying your strengths and opportunities, and you can leverage this data to make hard-hitting and accurate decisions.
So without further ado, let's take a look at the 15 awesome business intelligence tools that we've handpicked just for you and your business!
15 Business Intelligence Tools Every Business Needs In 2022
1. Zoho Analytics


Zoho Analytics is a great business intelligence tool to develop insightful dashboards and it offers more than 500 integrations for all your needs. It's easy to use and to make it even easier, an AI assistant is at your service. It answers all your queries in the form of meaningful reports.
From easily visualizing data through reports to being able to share data in real-time, Zoho analytics has it all covered. Not just this, it also provides smart alerts for all your data to keep you on track with updates.
Price: 15-day free plan. Basic plan starting at $22/month.
Read more: 16 Best Business Tools Every Business Needs in 2022
2. Dundas BI


Dundas BI is a browser-based and enterprise-ready business intelligence tool. It can transform all your data into visually appealing reports and analytics.
You can easily analyze all your data and customize the reports even on your mobile devices. With open APIs, and rich, full-fledged BI capabilities for data analysis – Dundas Bi is an all-in-one integrated platform.
Price: 45-day free trial.  Contact vendor for other details.
3. Tableau


If you have ever dipped into the world of business intelligence, this tool will be something you've probably already heard of. Tableau is more than just another reporting tool – it is a live analytics tool.
Tableau is mobile-friendly, with easy shareability, and over 150+ built-in functions for data analytics. If you want an all-rounder, low code tool, then Tableau is the perfect fit!
Price: Free trial available. Basic plan starting at $70/month.
4. Clear Analytics


Clear Analytics is an awesome business intelligence tool that requires little to no training! It collects all your data and allows you to drag and drop this data in excel sheets. It easily identifies issues and offers predictive analysis to visualize the company's key data in the most optimized manner.
Price: Free trial available. Basic plan starts at $11/month per user.
5. MicroStrategy


From simple spreadsheet data to enterprise analytics, MicroStrategy is a business intelligence tool to access it all in one single place.
They also provide contextual insights, all you need to do is hover your mouse, and the software will recognize relevant data. Your queries are easily addressed due to their intuitive and high-speed analytics.
Price: 90-day free trial. Contact vendor for pricing details.
6. Google Data Studio


GDS is a great business intelligence tool to turn all your complex data into easy-to-understand and customizable reports. You can schedule regular updates via mail and check your reports whenever you want.
For a perfect BI tool that easily integrates with your Google stack, Google Data Studio is just what you need.
Price: Absolutely free.
Read more: 9 Powerful Mind Mapping Software & Tools You Need to Check Out!
7. Jaspersoft 


Jaspersoft enables its end-user to perform interactive analysis of all their data. This business intelligence tool is powerful and integrates seamlessly with mobile devices.
Its smart features support your decision-making processes through key performance indicators and problem indicators. It is available as a SaaS, on-premise, and cloud platform.
Price: 30-day free trial available. Contact vendor for other details.
8. IBM Cognos


Need a business intelligence tool that analyzes your data from a multitude of perspectives and offers a comparison between the current data trends? Well, IBM Cognos has got your back!
IBM Cognos provides cloud support and complete control over your data, offline or online. It also works effectively on mobile devices. This is an awesome business intelligence tool that will bring all the data you need for better results, right at your fingertips.
Price: 30-day free trial. Basic plan starting from $15/month.
9. Yellowfin BI


This business intelligence tool just has the perfect mix consisting of product dashboards, signals, stories, data discovery, and data prep. And not to forget – it's also available as a mobile app.
With Yellowfin BI, you can assimilate all your data with a message via videos or images and pave way for powerful data reports. It has also struck the right balance when it comes to the ease of use and the governance required by firms.
Price: Free trial available. . Contact vendor for pricing details.
10. SAP Business Intelligence


SAP offers the best business information management solutions. With its predictive analytics, they help you to stay ahead of trends and the changes in the industry.
You can create wonderful data visualizations with SAP that can integrate with any system. It follows a modular concept for easy setup and provides support for both on-premise and cloud deployment.
Price: N/A (Contact vendor for pricing details)
11. Board


Board is an all in one, business intelligence, corporate performance management, and business analytics tool.  This is a decision-making platform that offers you full control of business planning and performance.
Board will help you reach your goals and transform your organization. It also includes features like data visualization, drill-down, and drill-through functionality.
Price: N/A (Contact vendor for pricing details)
12. Microsoft Power BI


This software giant is offering a business intelligence tool, Power BI, that takes both a web-based and a downloadable approach, unlike its competitors.
This platform is based on 3 components: a dataset that brings all data together, a dashboard that is created to represent visual data analytics, and a report that contains several pages of visualization in the form of charts, reports, and graphs. Reports are created here in a matter of minutes!
They guarantee to offer clarity when you need it the most, and we think your firm deserves this clarity!
Price: 60-day free trial. Basic plan starts at $9.99/month.
13. Sisense 


Sisense is another highly efficient business intelligence tool that claims that its processes are so well streamlined that it can help businesses go from  "data to dashboard in just 90 minutes."
Some more key features include Key Performance Indicators, Profitability Analysis, Strategic Planning, etc.  Sisense works on both on-premise and cloud platforms.
Price: You have to directly contact them for a price quote.
14. Oracle BI


Oracle BI is a business intelligence tool that delivers reporting, ad hoc query analysis, and much more. Decision-makers can easily find answers to predictive and statistical questions.
End-users can access needed information in multiple ways through their collaborative workplace. It is the perfect BI tool that blends all types of data, both local and corporate.
Price: Free trial available. Standard plan starting at $150/month.
15. Pentaho


Last but definitely not the least is Pentaho. Pentaho encourages businesses to access, discover and merge all kinds of data to aid in effective decision making.
This business intelligence tool supports the cloud and also provides predictive data analytics. Overall, this is a great tool that will help you make more data-driven decisions and turn complex data into insights.
Price: N/A. Contact vendor for pricing details.
Our team at bit.ai has created a few awesome business templates to make your business processes more efficient. Make sure to check them out before you go, your team might need them!
Final Words
The influx of data that is around us cannot be stopped, it'll only increase and you need to keep up with it. With that being said, there's not a single reason why you shouldn't already be using business intelligence tools.
We've only just scratched the surface when it comes to business intelligence tools, but we've made sure to mention the best, most agile tools available in the market currently.
They'll make tasks more manageable, effective, and improve performance significantly. Now it's up to you to decide which one fits your business best!
Do tell us which business intelligence tool you'd be using by tweeting us @bit_docs!
Further reads: 
13 Timesheet Software & Tools to Manage Time Perfectly!
9 Most Successful Business Models You Should Know About! (With Examples)
Business Documents: Definition, Types, Benefits & Steps to Create Them!
KPI Dashboard: Definition, Tools, and Tips!
11 Budgeting Tools & Software to Keep Track of Business's Budgets!
10 Best Reporting Tools and Software for Businesses
Best Resource Management Tools and Software
6 Workflow Tools and Apps for Smoother Processes!
Top 9 HR Software and Tools for Human Resource Departments!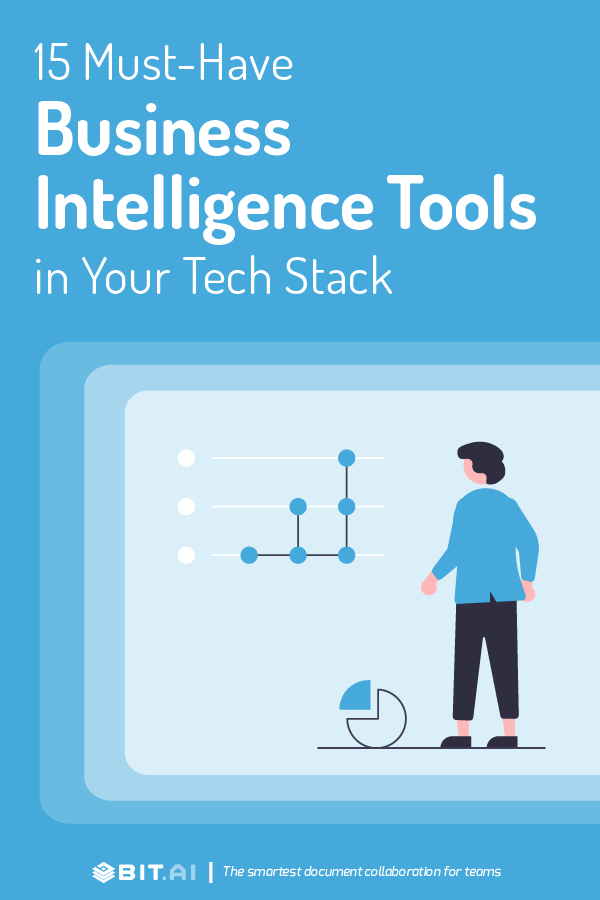 Related posts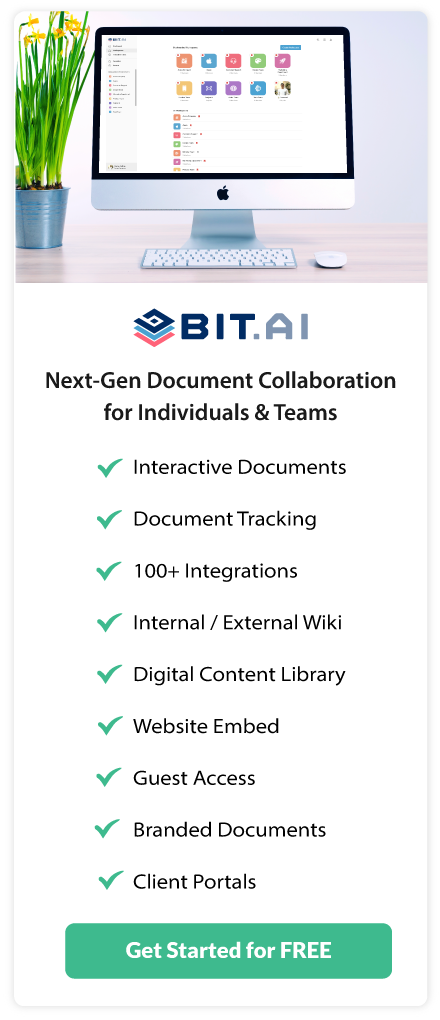 About Bit.ai
Bit.ai is the essential next-gen workplace and document collaboration platform. that helps teams share knowledge by connecting any type of digital content. With this intuitive, cloud-based solution, anyone can work visually and collaborate in real-time while creating internal notes, team projects, knowledge bases, client-facing content, and more.
The smartest online Google Docs and Word alternative, Bit.ai is used in over 100 countries by professionals everywhere, from IT teams creating internal documentation and knowledge bases, to sales and marketing teams sharing client materials and client portals.
👉👉Click Here to Check out Bit.ai.