Back in the 19th century, people used a sheet of paper to write down tasks, workdays, and work hours. On this sheet of paper, employees stamped the time they arrived at work or left it. These were called time books.
Flash forward to the 21st century and we have gone completely digital! Now we call them timesheet software. They basically monitor the time your employees take to work on a task.
Why are we telling you all this? Because studies have shown that time theft can cost employers an average of $11 billion per year! Sheesh!
And that's why we thought you should know that there are many timesheet software out there that can help you eliminate this problem!
But first, let's get to know more about timesheet software.
What Exactly is Timesheet Software? (Definition)
Timesheets software are digital applications used to track and record the time spent by an employee to work on tasks and projects during a certain period of time.
People also call it the 'budget of time management" because it basically has all information about your company's utilization of time.
Timesheets software are generally of two types – simple apps that focus on time tracking and comprehensive project or task management tools loaded with various features.
So, you can choose them according to your business needs.
But you must be wondering – Do timesheet software really have any benefits? Of course, they do! Take a look:
Timesheets help you reduce time wastage and assist you in optimizing your tasks.
They help you accurately bill your clients.
It measures the overall efficiency and productivity of your employees.
Enables you to monitor progress and anticipate any delays.
Helps you make better decisions in the future.
Clearly, timesheets are a wonderful tool for your business!
So, here we have compiled for you a list of timesheet software – both simple and advanced – to help you manage your time perfectly!
Dive in, folks!

List of 11 Timesheet Software and Tools!

First on the list is ClickTime, a highly user-friendly online timesheet software that helps you track your employees' time usage, improve your team's workflow and efficiently plan your budgets and time. Its interactive dashboards help you track employee availability, costs, and productivity.
Using ClickTime, you can schedule and allocate employee time, create reports and make employee analyses. Its analytics feature offers over 80 reports for time usage trends and insights.
With this software, your employees can track billable and non-billable hours. What's more? It has integrations with CRMs, project management tools, payroll automation, and communication tools.
Key Features
Offers simplified timesheets
Provides interactive dashboards
Has multiple integrations
Pricing
Starter plan at $12/user/month
Team plan at $16/user/month
Premier plan $28/user/month
Read more: Best Time Tracking Software and Tools in 2021

If you are looking for a very simple and basic timesheet software, then Hourstack is a great option! It provides basic time tracking and reporting features. With this tool, you can manage multiple workspaces, export your data, manage teams, and generate reports around all your users, teams, and projects.
Hourstack offers Kanban-like dashboards which allow you to create time entries and drop them like sticky notes. The allocated time and actual time of each entry on this software helps you in estimating, planning, and executing your tasks.
What's more? Hourstack also has a rollover function that lets you move your tasks to a later date.
Key Features
Offers Kanban-like dashboards
Records allocated and actual time of each entry
Has a rollover functionality
Pricing
Personal: $7/single user/month
Professional: $15/user/month
Enterprise: custom

Looking for a tool that offers advanced features in monitoring your employees' work activities? Then, Hubstaff is an amazing timesheet software you should consider!
This tool allows you to track your employee's website usage and monitor their activity through keystrokes and mouse clicks. It even allows you to take screenshots of their screen every 10 minutes.
Hubstaff automatically logs the first and last mouse movement or button press done by your employees to give you an accurate result of their check-in and check-out timings. You can determine how productive each employee has been over a certain period of time through individual activity levels.
Moreover, Hubstaff is linked to payroll, which means that you don't have to do manual calculations for billing by the hour.
Key Features:
Offers advanced employee monitoring features
Track mouse movements and buttons presses
Linked with Payroll
Pricing
Basic version costs $4/user/month annually
Premium version is available for $8/month annually.
Read more: 9 Powerful Mind Mapping Software & Tools You Need to Check Out!

Time Doctor is packed with features that help you automatically track time and visualize it in the form of various reports. It has a timer that starts tracking your employees and their tasks from the time they enter.
It has dynamic reporting and timesheet reporting which displays and visualizes the total amount of time your workers have spent on reports during a period.
With its time use report feature, Time Doctor helps you break down the duration of time your user spent on each project. The timeline daily report lets you do the same for activities of a single day.
In addition, its features also include an attendance report which helps you see the absentees of the week, and a project report which helps you review the time spent on a certain project. With all these features, there is practically no scope for inaccurate time tracking in Time Doctor!
Key Features
Provides automatic time-tracking features
Visualizes multiple reports
Breaks down time duration of tasks
Pricing
Starts at $7 per month per user
Standard Plan – $10/per month
Premium Plan – $20/per month
Read more: 10 Best Reporting Tools and Software for Businesses

Next up on the list is Paymo, a super cool timesheet software that offers multiple ways to track and record time. It offers an in-app stopwatch, a desktop widget with an idle time detection feature, and an automated time tracker called Paymo Plus that runs in the background for monitoring time.
Paymo provides a resource scheduling module to work alongside your timesheets, which allow you to see your employees' current workload, and manage their time off by leave type and billable and non-billable hours.
It has a high-level project dashboard that offers a comprehensive overview of all running projects including the number of hours. It also provides a visualized timesheet data in a calendar format.
Thanks to its accounting module, Paymo lets you turn timesheet data into an invoice with accurate payment with just a few clicks! What's more? It's 'Active Timer' feature allows you to see all running timers in parallel at the same time.
Key Features:
Provides multiple ways to track and record time
Offers automated time tracking
Allows you to see all running timers in parallel
Pricing:
Free plan up to 10 users
Small office: $11.95/user/month
Business: $18.95/user/month

Quickbooks Time is a great timesheet software that provides employee time tracking and invoicing. It allows manual, punch, and automatic time tracking and clock-in and clock-out records of your employees. It supports a 4-digit PIN entry for its timesheets to ensure security.
Quickbooks Time is known to offer some really cool features such as GPS location tracking, real-time coordination, facial recognition, and geofence time tracking, which gives you an entire real-time map view of who is working and where.
It has a drag and drop interface that allows you to create and modify job schedules every week. Furthermore, it notifies or alerts your employees about shift changes and overtime.
Key Features:
Allows manual and automatic time tracking
Supports real-time coordination and geo-fencing time tracking
PIN-based entry system for timesheets.
Pricing
Basic plan starts at $15/single user/month
Plus plan at $50/user/month

Up next is Timecamp, a cloud-based timesheet software that allows you to keep an accurate record of your billable hours. It allows you to keep a close eye on your employee's work activities and their project statuses which in turn helps you track their productivity.
Timecamp's attendance tracking feature ensures that it always runs in the background documenting every second. It also allows you to create employee payrolls automatically.
What's more? Timecamp has integrations with various other software such as Trello, Asana, Slack, Xero, etc.
Key Features
Keeps accurate records of billable hours
Automatically creates payrolls
Manually tracks offline activity
Pricing
Basic version – $5.25/user/month.
Pro version – $7.50/user/month

Harvest is a really great timesheet software that offers many integrations and timesheet solutions such as time tracking, expense reporting, and invoicing.
It has an in-built time tracker that monitors the time your employees spend on each project or task, gathers its data, and then generates visual reports that provide insights into your teams' activities.
Harvest has automatic reminders that prompt you and your employees to log work hours until a specific date. In Harvest, you can enter the workload capacity for each of your team members in terms of the number of hours per day or week. In addition to all this, it has accounting and invoicing features.
Key Features
Simple and easy-to-use interface
Has integrations with many project management tools
Provides real-time reports
Pricing:
Pro plan at $12/user/month

Everhour is a simple and well-designed timesheet software perfect for freelancers and small and medium businesses. It has a browser tracking feature that allows you to track your time directly from the browser and also sends reminders to track your time on workdays.
Since Everhour seamlessly integrates with other task management software, it helps you keep a track of your reported and estimated time next to your task titles and also helps measure productivity.
It also allows you to build highly customizable reports such as monthly timesheets and overtime reports to make analyze your data. In addition, it can also be used for invoicing.
Key Features
Allows tracking directly from browsers
Builds highly customizable reports
Seamless integration with task management software
Pricing
Solo version for $8/user/month
Team version at $5/user/month
Zoho Projects is a timesheet software that focuses on project management! It allows you to collaborate with your team, create a seamless workflow, and provide you with detailed information about total employee hours to quickly analyze your company's growth and financial situation.
Zoho has project-oriented time tracking which allows you to transfer time spent on each project task to your employees' timesheet. You can also break down your tasks and allocate them to your employees with time limit.
What's more? Zoho also integrates with Zoho Invoice or Zoho Books for sending invoices with ease.
Key Features
Allows collaboration with employees
Has a project-oriented time tracking feature
Sends automatic reports about time spent
Pricing
The free plan only supports 5 users and 2 projects.
Premium plans range from $20 – $125.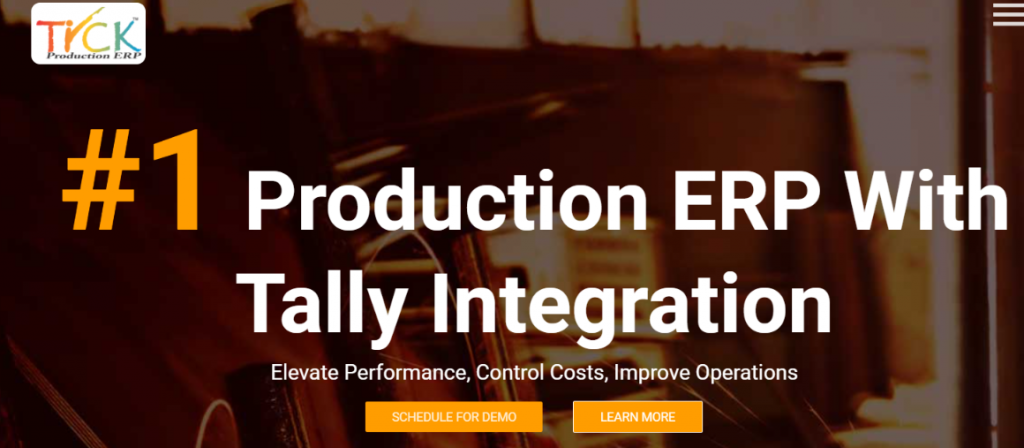 Next on the list, Tick is a simple timesheet software that automatically monitors time for tasks and gives you an insight into how much time is spent on each activity. It also enables you to track time against your expected project schedule and budget so that you can meet your deadlines on time.
Tick is a great software for freelancers, small businesses, and startups that work on recurring projects and tasks. It has the option of project budgeting tracking and also provides transparent reports.
You can integrate Tick with QuickBooks and automate your billing and calculate your employee payroll. It's super convenient because it is accessible from any place.
Key Features of Tick:
Tracks time against the projected schedule and budget
Resets recurring projects every month
Integration with QuickBooks for sending invoices
Pricing: 

BeeBole is a super cool timesheet software because it is a timesheet in itself! It lets you track your time daily, weekly, monthly, and in real-time to control costs and monitor budgets.
With this software, you can create a customizable dashboard and generate employee reports, attendance, budget, billable hours, margins, and profits.
What makes BeeBole appealing is that it is suitable for companies of any size and it has configurable reports! You can integrate this timesheet with resource planning and billing software and also keep track of your employees' total overtime hours.
What's more? Its mobile app works offline and it is available in 8 different languages.
Key Features:
Creates customizable dashboards
Works offline
Suitable for companies of all sizes
Pricing: 

If you are a small business looking to track your remote staff, then ATTO is a great timesheet software for you! It ensures that your teams are clocked in, their time is tracked, and their location is monitored all at the touch of a button!
Atto provides you with clear and detailed timelines which give you insights into your teams' activity and work throughout the day. Its automated timesheet reports help you gather and compile data in a matter of few seconds.
Furthermore, it provides real-time updates about employees during their work hours.
Key Features
Offers detailed timelines
Provides real-time updates
Organizes tasks with job codes
Pricing

That's it!
That's a wrap to our list of amazing timesheet software!
We covered everything from simple time tracking tools to advanced project management tools. Now, it's time for you to decide which track you want to take.
Time is ticking, folks!
Further reads:
Project Timeline: What is it & How to Create it? (Step By Step)
11 Smartsheet Alternatives & Competitors You Must Check Out!
11 Powerful Time Management Strategies to Save Time!
Employee Training Software for More Efficient Employees!
13 Productivity Tools That Will Help You Achieve More in Less Time!
Best Resource Management Tools and Software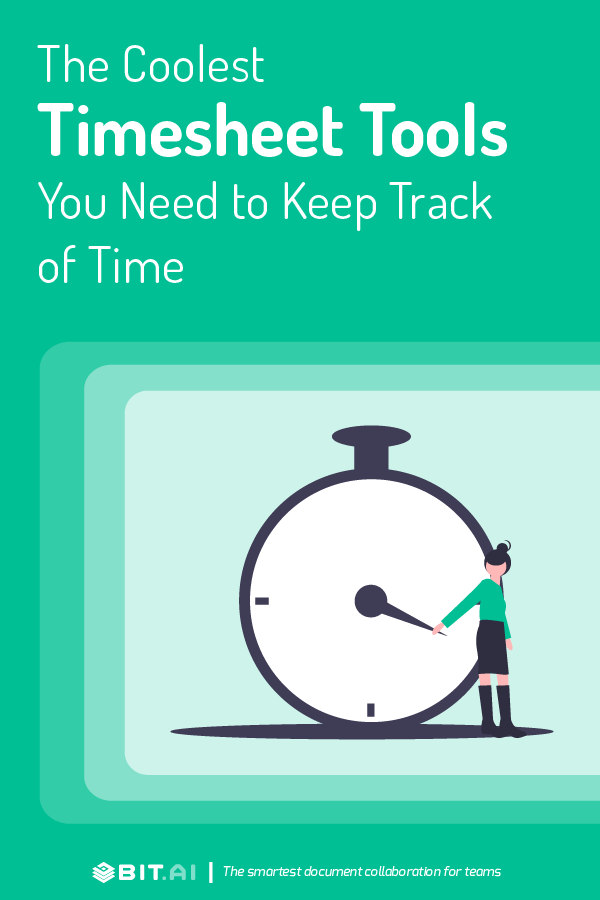 Related posts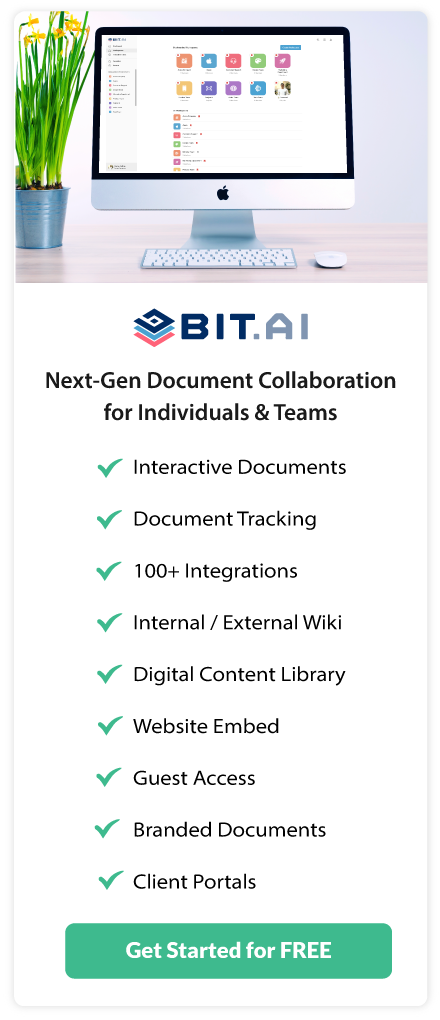 About Bit.ai
Bit.ai is the essential next-gen workplace and document collaboration platform. that helps teams share knowledge by connecting any type of digital content. With this intuitive, cloud-based solution, anyone can work visually and collaborate in real-time while creating internal notes, team projects, knowledge bases, client-facing content, and more.
The smartest online Google Docs and Word alternative, Bit.ai is used in over 100 countries by professionals everywhere, from IT teams creating internal documentation and knowledge bases, to sales and marketing teams sharing client materials and client portals.
👉👉Click Here to Check out Bit.ai.