Looking to improve productivity at work? Or perhaps you want to carve out some personal time to work on some passion projects? These productivity tools can help…
There is a plethora of information hitting the internet waves regarding productivity. With countless articles, videos, or podcasts focused on the topic – it's a lot of information to sift through. Right?
Our collective obsession with getting more done in less time seems like it's the top goal we all have. How can we be more productive? How can we get more work done quicker? How can we better manage our time? How can we maintain a work-life balance?
You have likely asked yourself all of these questions at some point…
Naturally, we all end up scouring the internet, looking for an answer to our productivity troubles. Yep, in the end, we end up wasting more time in the process than ever!
To help you out and cut down that wasted research time, we have curated a list of the best productivity tools. This blog post will be your go-to guide to everything productivity-related.
List of Best Productivity Tools For enhancing performance:
Let's take a look at the best productivity tools and decide which one is the best fit for you:

The first productivity tool on our list is calendly. What's more productive than having a schedule in place and knowing exactly what to do and when? For all your scheduling worries, Calendly is there to help.
Calendly aims to solve the headache of scheduling meetings and video conferences, especially if you have a remote team.
Just let Calendly know your availability preferences and it'll do the work for you. Once you have created your calendar, you can share your Calendly link via email or embed it on your website.
Calendly makes it super easy to book meetings by getting rid of the endless back and forth via email to find a convenient time. As far as good productivity tools go, Calendly is a must-have.
Notable features include:
Set buffer times between meetings, prevent last-minute meetings, create secret event types
Integrate with Google calendar, Outlook, Office 365 or iCloud calendar
Seamless timezone detection for your invitees


The biggest productivity killer in the office is coincidentally the numerous productivity tools we end up using in the first place.
Messaging someone on Skype, email, collaborating on Google Docs, finding content stored in Dropbox, etc. all drain our productivity as we keep juggling between apps and we don't seem to make any progress with the actual work.
This is why we all need Bit, a new-age document management and collaboration tool that helps teams to collaborate, share, track, and manage all company documents, files, and other content in one place.
Bit is the ultimate productivity tool as it brings all your company documentation, media files, and knowledge under one smart roof.
Bit allows teams to:
Collaborate on interactive workplace documents where all of your digital content from Google Spreadsheets, Forms, Airtable databases, and much more can live and be accessible inside of them.
Documents can go from personal notes to team research, to coordinated documents and client-facing material that can be shared and track to get intelligent engagement insights.
Amazing content management capabilities as Bit's content library that allows teams to save images, files, and any type of digital content you add to your documents (or workspaces) so that you can access and reuse them easily.
Read more: Top Real-Time Document Collaboration Tools for Team Productivity

elink makes it easy for you to save content from around the web. You can save article links, videos, cloud files, social media posts and much more!
That's not it! You can even bundle these links to create beautiful content. Whether you want to embed social media content, RSS feeds, user-generated content, or captivating visual content galleries on your website – elink has you covered.
All you've to do is simply collect links of things you want to show up on your website, customize the content inside, copy the embed code, and paste it on your website!
elink also gives you the option of saving content to your searchable link library or add it directly to content collections you want to share with your world. Apart from that, it also has a robust RSS Feed Reader which allows you to add RSS feeds and then read them without any obtrusive ads or other distractions.
What's more? To make the bookmarking process a breeze, elink offers a bookmarks extension for chrome. Just click on it or right-click anywhere on any page to save the content directly to your elink dashboard.
Elink also has an automation tool that you can use to automate content creation for your website. Choose sources and add filters to make your content more relevant and engaging!
Definitely, a nifty app that is action-packed with features to the brim!
Read more: Productivity Plan: What is it & How to Create a Perfect One?

If juggling many apps to manage tasks, plan projects, communicate with team members, and report progress is killing your productivity, then ProofHub is the perfect solution. With this all-in-one project management and team collaboration software, you can stay in ultimate control of your teams, tasks, projects, and communications. This is a perfect productivity tool for teams.
It allows you to add tasks with deadlines and assign them to team members so that things don't slip through the cracks. You get a dedicated space to have discussions in real-time. You can share files, review, annotate design files using markup tools and approve them from a centralized place.
With ProofHub, you get features like:
Flexible task management with the option to switch between simple to-do lists and custom workflows.
Custom reports with parameters of your choice for better project and resource planning.
In-built chat app to bring all your communications at one place.
Integration with popular apps like Google Drive, OneDrive, Dropbox, Box, and more.

Happeo is an easy-to-use intranet solution that connects employees and improves communication and productivity. The tool combines intranet, enterprise social networking, collaboration, and targeted distribution of news into a single digital workplace.
By focusing on the social aspects of an organization, Happeo drives engagement, alignment, and employee retention. This awesome tool connects with third-party apps like Slack and integrates with Google Workspace, including Google Sheets, Docs, Calendar, Drive, and more, making it the perfect addition to your digital toolset. Because of its ability to connect employees from different locations and time zones, Happeo is the ideal solution for remote teams.
Notable features include:
Mobile App: Helps you to connect with your team anytime, anywhere.
Google Workspace Integration: Integrates with a varied range of Google tools.
Security: Protects and stores all sensitive company data.
Happeo API: Connects seamlessly with external tools.
Intranet Widgets: Let's you add your favorite widgets.
According to research, people who listened to music while working complete their tasks more quickly and had better ideas overall than those who didn't. If you thinking of increasing your productivity with the power of music, you should try out Brain.fm.
Brain.fm is a great productivity tool that works with teams of scientists and composers to engineer music specifically designed to help you achieve and sustain deep focus.
By combining functional music design with our science first approach and patented technology, Brain.fm creates music with a purpose- helping people get more done, feel more relaxed, or get better sleep! With the promise of delivering noticeable results within 15 minutes of use, Brain.fm is a must-try productivity tool!

Productivity is all about keeping track of your time and allocating it well to achieve better results. If your company employs freelancers working on an hourly rate, tracking the time spent on work becomes indispensable.
Time Doctor is a time tracking productivity tool that allows remote workers as well as employers to track time spent on work and send invoices. Time Doctor is a feature-rich tool, some of which includes:
Pop-up alerts remind you when you stray into time-wasting websites.
Daily time reports show you your metrics for the day. Set yourself a target and try to beat it.
Dashboards make tracking your time easy. See at a glance the tasks, clients, and distractions that use up the most time
Detailed reports, timesheets, and Billing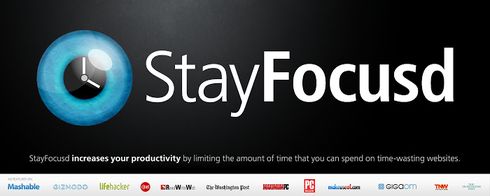 Distractions play a huge role in hampering our progress in life, and it plays an even bigger role when you are trying to stay focused at work.
This is why we recommend you try out StayFocusd, a chrome extension that blocks the websites you ask it to and prevents you from getting distracted.
StayFocusd increases your productivity and forces you to focus on your work by limiting the amount of time that you can spend on time-wasting websites.
It's highly customizable as you can set it to block entire websites, subdomains or even specific in-page content (videos, games, images, forms, etc). Once your allotted time has been used up, the sites you have blocked will be inaccessible for the rest of the day.
Read more: Eisenhower Matrix: Definition, Quadrants & Tips!

With over 8 million daily active users (3 million of which are paid users!), Slack is the go-to communication app for remote teams.
Slack allows teams to create chat groups called 'channels' for transparent, open communication. In a short amount of time, Slack has gained significant popularity with over 35,000+ paid companies like IBM and Airbnb.
Slack is easy to use, has an intuitive design, and makes communication fun and efficient and might just cure your email troubles for good. Slack is the finest productivity tool that integrates with nearly every third-party apps and makes file sharing a breeze. Slack offers apps for iOS and Android to keep the communication going wherever you go.

Creating and following a to-do list help many achieve greater productivity in their professional as well as personal lives. This is because having a to-do list in place allows you to clear your mind and go about your work in a strategic and systematic manner.
Todoist, a task manager/to-do list creator and productivity tool has a clean and simple interface that lets you create tasks in minutes.
Just go to Todoist, create a task, set a due date (or a recurring due date), organize the task into a project, and add a due date.
You can even share projects or delegate a task to a teammate and add a priority level so you know what's important and what can wait. The app is available for desktop as well as your smartphone so you can quickly take a glance at your tasks on the go.
Related: Best Free Online To-Do List Apps To Help Improve Your Productivity

Email is well-known to be a productivity killer as it's so easy to go down that rabbit hole and try to reach "inbox zero". Although, being an indispensable part of our workflow, we can't really get rid of email either. So, to help you out with your email mess, we bring you Boomerang.
Boomerang is one among well known Gmail plugins that allows you to write an email now and schedule it to be sent at a later date. Just click on the send later option and boomerang will remind you to send the email on the date/time you have set.
One neat feature of Boomerang is the ability to, well, 'Boomerang' your emails. There are times when you want to read an email or a newsletter from your favorite publication but don't have the time to read it just then.
You can click the Boomerang button next to the email and set a date for it to appear again in your inbox. Boomerang will archive your email and bring it back to your inbox– at the time you have chosen- marked unread. Cool, right?!
Related: The Best Productivity Hacks You Can Find
Zoom video communications were named a 2018 Gartner Peer Insights Customers' choice for meeting solutions and is a must-have productivity tool. Whether you want to conduct an online meeting, video webinar, or just need to share screens with your IT team, Zoom is the tool for you.
A perfect productivity tool for remote teams, Zoom's free account option lets you share screens with up to 25 participants and host an unlimited amount of meetings. However, each meeting can be only 40 minutes long.
Apart from screen sharing, Zoom also provides cross-platform messaging and file sharing, which can be a welcome addition to simple screen sharing.

While time tracking won't offer to build you a personal time machine, using time tracking tools is definitely one of the key strategies to stay ahead of potential time-sucks.
DeskTime is a desktop and mobile time tracking app for companies and freelancers. It makes it easy to measure productivity, boost performance, track attendance, and effectively manage workflow. If you're in need of some serious time tracking power, here are the various key features DeskTime has to offer:
Automatic online and idle time tracking so you don't lose track of any productive time even when on a work-call or in a meeting.
Project and task time tracking in combination with easy-to-use budgeting and invoicing.
Absence calendar and shift scheduling.
Smart reporting and data exports.
Conclusion
That concludes our list of some of the best productivity tools out there! These tools will not magically add more hours in your day, but they will certainly help you achieve more in the time you've got.
Below is an infographic that you can save for your reference!

If we missed out on your favorite productivity tool, do let us know by tweeting us @bit_docs. Cheers!
Further reads: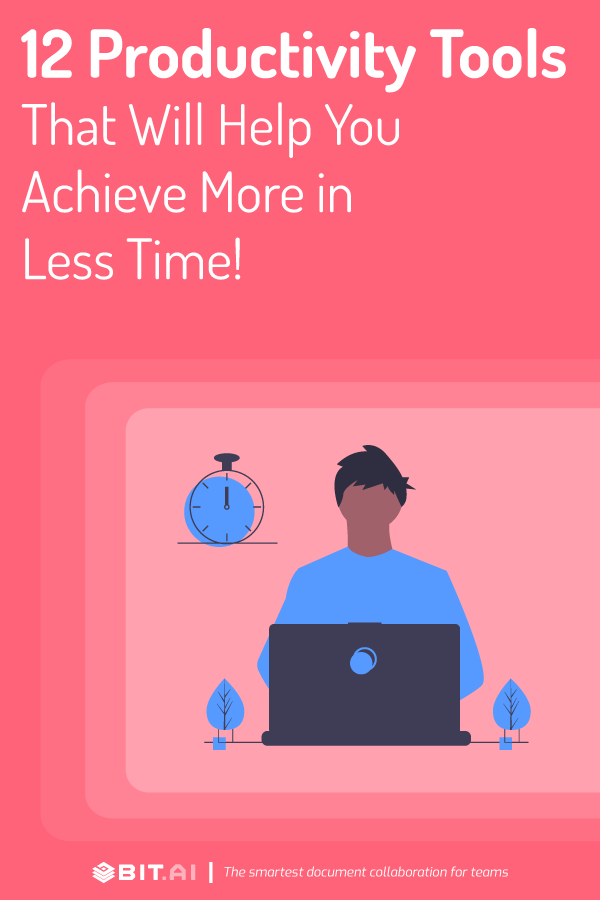 Related posts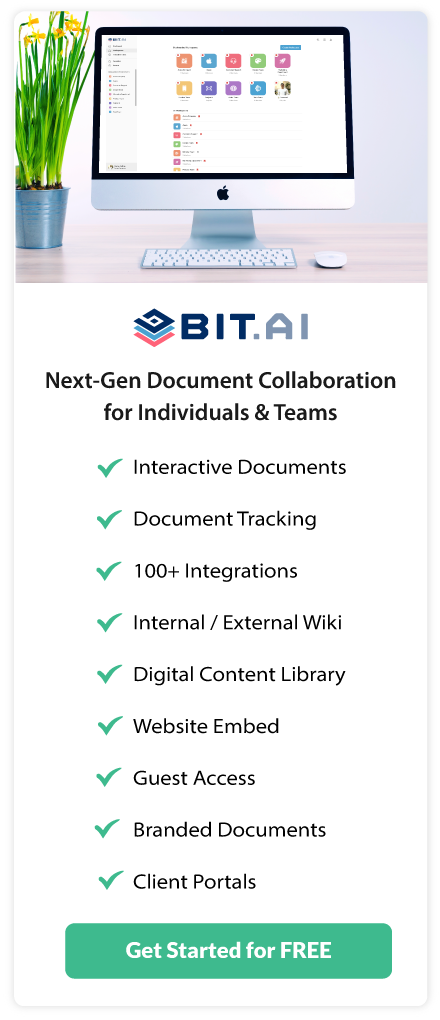 About Bit.ai
Bit.ai is the essential next-gen workplace and document collaboration platform. that helps teams share knowledge by connecting any type of digital content. With this intuitive, cloud-based solution, anyone can work visually and collaborate in real-time while creating internal notes, team projects, knowledge bases, client-facing content, and more.
The smartest online Google Docs and Word alternative, Bit.ai is used in over 100 countries by professionals everywhere, from IT teams creating internal documentation and knowledge bases, to sales and marketing teams sharing client materials and client portals.
👉👉Click Here to Check out Bit.ai.