If you are obsessed with productivity and always have tons of things to tackle in a day, I would bet you use a to-do list app.
To-do list apps are a dime a dozen. Just Googling to-do list apps can give you an overwhelming amount of results, all claiming to be the best one out there!
But why is the market literally filled with hundreds of to-do list apps? You see, to-do lists are personal. Every person has a different way of writing their to-dos and requires a different tool based on their process of jotting down tasks.
Some need a blank piece of paper with no distractions while others might need to color code, organize notes, add various types of digital content and tasks in separate folders.
Then there are people who need to collaborate with their teams or peers and create a joint to-do list. Some need a casual-looking, fun tool while others might need something more professional and feature-rich.
Since the use cases are endless, there exists an endless stream of to-do list apps to help you get stuff done.
The good news is that there are a ton of options to pick and choose from. The bad news is that there are a TON OF OPTIONS TO PICK AND CHOOSE FROM!
If you don't have that kind of time to go through Google search results, install an app, play around with it, and see if it's the right one for you, don't fret. We've got you covered!
What are To-Do List apps?
Before we dive into the list, let us go through a brief overview of what To-Do list apps are and what are they used for?
Well, as the name suggests, a to-do list app is a digital tool to write down your tasks, things to do, projects- basically, anything you want to accomplish in a day or don't want to forget.
A to-do list app gives a clear overview of your day so you are always ready to get work done and not spend time wondering what to do next.
What Makes a Great To-Do List App?
As we discussed before, every person has a different way of writing their to-dos and requires a different tool based on their process of jotting down tasks.
However, for a to-do list app to be worth using, it must have the following features and functionalities-
Interface: It must have a clean and easy-to-use interface, having no friction between writing down tasks and to-dos.
Scalable: It must be scalable in case you want to share notes and tasks with your teams and peers.
Organization: It must keep all your to-dos organized so you don't have to keep looking for your goals and objectives.
Search: It must have awesome search capabilities to quickly find the exact text you are looking for
We have done our bit to find the best possible to-do list app that does everything mentioned above and more. Hopefully, you'll find the one you are looking for!

List of 10 Best Free Online To-Do List Apps:
In this list, we are covering only those to-do list apps which are free or have a free plan available. You ready? Let's dive in…

Todoist is another task manager/to-do list creator tool, with a clean and simple interface that lets you create tasks in minutes.
Just go to Todoist, create a task, set a due date (or a recurring due date), organize the task into a project, and add a due date.
You can even share projects or delegate a task to a teammate and add a priority level so you know what's important and what can wait.
The app is available for desktop as well as your smartphone so you can quickly take a glance at your tasks on the go.
Read more: How To Create A Checklist The Right Way!

A note-taking/to-do list app by Google, Google Keeps allows users to add notes, audio, photo, shared to-do lists, etc. in one place.
Keep not only lets you maintain a catalog of tasks and reminders, but it also allows you to set location and time-based triggers to make sure you follow up on your to-dos.
For example, you can set a location-based reminder to pull up your grocery list right when you get to the store or set a time-based reminder to make sure you never miss those deadlines.
You can also share these notes with your colleagues and keep everyone on the same page. However, Keep is geared more towards personal note-taking and to-dos rather than an office environment.

Evernote has been in the note-taking and productivity business for a decade, earning itself over 225 million customers and over 20,000 businesses worldwide.
Evernote helps all your personal ideas, to-do lists as well as professional meeting notes and work documents in one place. Easily create separate tags and folders for the different types of information and keep it all organized.
This to-do list app auto-syncs across all your devices, including desktop, smartphone, and tablet. Your ideas, photos, and clipped pages are always available, no matter where you are.

After their acquisition by Microsoft, the Wunderlist team came up with Microsoft To-Do, a note-taking, and a to-do list app.
If you are a heavy Office 365 user, then Microsoft To-Do can be a great addition to your workflow. To-Do allows users to sync their tasks and to-dos to Outlook for keeping your workflow in sync.
Users can keep track of deadlines by adding reminders, due dates, and notes to their to-dos.
To-Do's Suggestions take a look at your to-dos across your lists and recommend the most important ones for you each day, making it easy for you to prioritize your tasks.
You can also share lists with colleagues, friends, and family and collaborate on projects to get things done faster. However, it's still more geared towards personal use and lacks decent collaboration features.
Read more: 11 Best Focus Apps to Eliminate Distractions!

Lifehacker names this the best to-do list app for iPhone and we were certainly not disappointed by their judgment.
A beautiful, clean to-do list app, Any.do lets you organize your tasks, lists, and reminders in one easy-to-do list app.
Any.do syncs seamlessly across all of your devices, making your to-do list accessible everywhere- be it your laptop, tablet, or phone.
You can also connect your calendar to get a complete overview of your schedule. Users can add smart reminders and can even swap between beautiful themes to change the look and feel of the app.
With a neat and clean interface and some great features, Any.do is one of the best to-do list apps out there!

Another great to-do list app, TickTick has all the bells and whistles of a task manager. Users can create new tasks, sub-tasks, set deadlines, reminders and can also share with other users.
Features like voice input, the ability to turn emails into to-dos, or the ability to ask Siri to enter tasks are a nice addition to an overall decent task management app.
A great feature of TickTick is the ability to add recurring tasks that happen every day/week/month so you don't have to manually add the same thing over and over again.
You can keep your tasks organized in folders, lists, tasks, or subtasks and can even add tags for more flexibility.
Users can also integrate and view their calendars to get a weekly or monthly overview of their tasks ahead.

If you need a powerful task manager, you might want to check out Toodledoo.
More than just a to-do list, Toodledo provides you with a place to write long notes, make custom lists, create structured outlines and track your habits.
You can collaborate with friends, family, or co-workers, and we'll safely store and sync all your data to your devices.
If the user interface feels too overwhelming, you have the ability to customize almost anything in your Toodledo settings and control what, when and how data is displayed.
You can even set alarms for your tasks and Toodledoo will send you an email or in-app notification as a reminder. However, if you are a casual user, Toodledoo may just be too feature-rich for your taste.

Bear is more of a note-taking app than a simple to-do list app but it's worth mentioning. Bear is great for everything from quick notes to in-depth essays.
Users can link notes to each other to build a body of work, use hashtags to organize, and use beautiful typographies to make their writing look great.
If you don't want to get distracted by its feature-rich editor, you can use the Focus Mode to keep your focus on creating tasks and to-dos.
One of the cons of Bear is that it is only compatible with Apple iOS and Mac. This means Android users miss out right off the bat.
It's a great to-do list app for basically anything that involves typing, provided that you're tied to the Apple, ecosystem.
Related: 11 Best Note-Taking Apps for Better Productivity!

For some reason, Google has a task app in addition to Google Keep. Keep is more of a personal to-do list app while Tasks are geared towards professional use.
You can easily manage, capture, and edit your tasks from anywhere, at any time, with to-dos that sync across all your devices.
Integrations with Gmail and Google Calendar mean that you can convert your emails into to-dos and also get a bird's eye view of your schedule.
Stay on track with due dates and notifications by setting a due date for every task. You can organize your tasks by date or prioritize using drag-and-drop and can even receive due-date notification reminders to keep your tasks on track.

Kicking off the list of the best to-do list apps is Bit.ai. Bit is well rounded and simple enough to be used as a to-do list app by an individual and powerful enough to be used as a full-fledged collaboration and documentation tool for teams.
If you are looking for a new, advanced yet simple editor to jot down to-dos and tasks, look no further!
Bit's smart, minimal editor is perfect for distraction-free note-taking. No more word-styled ribbon with confusing and distracting tabs and buttons.
The support for Markdown gets rid of all the distractions of a formatting toolbar and mouse clicks by helping you focus on your to-dos and tasks without lifting your fingers off of the keyboard.
One of the best parts is that all the digital assets you need to get work done can be included seamlessly (files, images, editable visual weblinks, rich embeds, etc.)
Conclusion
Whether you need a tool to jot down daily to-dos, journal ideas, or work on an upcoming project with your teammates, there's a to-do list app for you.
Every one of the above-mentioned free to-do list apps is pretty great at getting the job done.
However, if you are looking for a well-rounded, easy-to-use to-do list app that can be used for both personal as well as professional tasks and notes, you should try out Bit.ai!
Do you have a favorite free to-do list app that didn't make the list? Let us know by tweeting us @bit_docs.
Further reads:
Related posts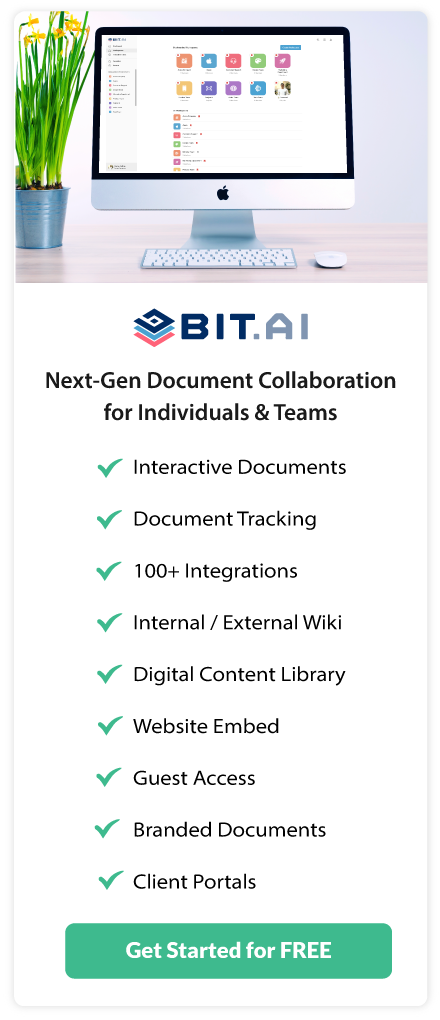 About Bit.ai
Bit.ai is the essential next-gen workplace and document collaboration platform. that helps teams share knowledge by connecting any type of digital content. With this intuitive, cloud-based solution, anyone can work visually and collaborate in real-time while creating internal notes, team projects, knowledge bases, client-facing content, and more.
The smartest online Google Docs and Word alternative, Bit.ai is used in over 100 countries by professionals everywhere, from IT teams creating internal documentation and knowledge bases, to sales and marketing teams sharing client materials and client portals.
👉👉Click Here to Check out Bit.ai.