What do you do when one of your clients wants to make an appointment with you? You both simply decide on a date and, voila, an appointment is scheduled.
But what if more than 10 clients want to make an appointment? Sure, you could manually schedule your client appointments one by one, but that would eat up all your precious time.
After all, who wants to spend time cross-checking dates and making calls to fix dates – when you have tons of other work on your hands? This is where an appointment scheduling software can save your day.
It will allow you to set and routinely adjust your own available appointment times and even help you process online payments, all in a matter of just a few seconds!
If you're looking for dynamic appointment scheduling software, then you have come to the right place!
In this blog, we have compiled for you a list of some of the best appointment scheduling software to help you organize your business and everyday tasks!
But before we get to the list, let's find out what exactly an appointment scheduling software is! Ready? Then dive right in!
What is an Appointment Scheduling Software? (Definition)
Appointment scheduling is the process of managing schedules or arranging a setup to meet someone in relation to work or something serious.
An appointment scheduling software is a business tool or system that helps clients automatically book, reschedule, and cancel appointments through a medium of their choice.
A good appointment scheduling software works 24/7 and allows the clients to book appointments at their convenience. It also enables you to send automatic notifications via email or text message about upcoming appointments.
The purpose of the software is to avoid confusion, save time, improve efficiency in scheduling and booking appointments, and enhance the overall customer experience.
Now that you know what appointment scheduling software is, here is a list of some of the best ones available on the market!

List of Appointment Scheduling Software
To start off this list, we have Acuity Scheduling, an appointment scheduling software that is basically like a virtual assistant who works for you 24/7. It is a highly user-friendly platform for business owners and customers alike.
Acuity Scheduling helps organize schedules by updating calendars of reschedules, cancellations, and new appointments. It maintains and organizes client information and also lets clients fill out intake forms.
This software also sets up branded and customized confirmations and auto-send follow-ups and reminders to its clients. It lets you customize your calendar and appointment page and makes cancellation and rescheduling easy.
What's more? Acuity Scheduling easily integrates with programs such as MailChimp, Google Analytics, Quickbooks, Stripe, Square, PayPal, and more – making it a complete business suite
Pricing:
The emerging plan costs $15 per month
The growing plan costs $25 per month
The powerhouse plan costs $50 per month
Read more: The 9 Best Payroll Software For Every Business! (Free & Paid)
Appointy is a simple and powerful cloud-based appointment scheduling software that lets your clients schedule appointments anytime, anywhere, and in seconds. It offers a scheduling facility for classes, workshops, events, tours, rides, and activities.
With Appointy, you can accept appointments online and schedule events and activities by managing visitors' databases and automating registrations. It lets you set up deals, offers, promotions, and rewards on websites, social media promotions, and listing sites and helps track booking conversions from your campaigns.
Appointy also lets you send automated email and SMS reminders, accept online prepayments, sync with Google calendar, and much more.
Pricing:
Free plan available
Growth plan at $29.99 per month
Professional plan at $59.99 per month
Enterprise plan at $99.99 per month
Up next is SimplyBook.me, a highly intuitive appointment scheduling software that accepts bookings from multiple channels. It is suitable for both big and small companies.
SimplyBook allows for real-time omnichannel scheduling solutions and round-the-clock management of all your bookings. It offers a comprehensive dashboard that helps monitor the number of cancellations, workload per employee, online reviews of your business, text message reminders, and lots more.
SimplyBook automates and customizes your booking confirmations, adds appointments to all your calendars, and sends customized emails. It also supports 32 different languages and offers integration with more than two dozen payment processing services, making it an excellent option for international businesses.
Pricing:
Free: $0 per month
Basic: $9.9 per month
Standard: $29.9 per month
Premium: $59.9 per month
GigaBook is a full-service, cloud-based appointment scheduling software that is designed for small business owners, freelancers, micro-businesses, and medium-sized companies.
This highly customizable tool helps you streamline appointment scheduling and lets you specify the staff, room, time, and equipment necessary for each appointment slot. It has a central scheduling dashboard that gives you an overview of the state of your appointments and allows you to shift between a daily, weekly, and monthly view.
With GigaBook, you can embed a booking page widget onto your website, display to-do lists, projects, etc., send email and text notifications about appointments, generate invoices, collect payments, and even sync it with Google Calendar, Office 365, or Outlook.
Pricing:
Solo accounts start at $15 per month
Contact GigaBook for custom booking systems
Looking for a budget-friendly appointment scheduling software? Then Calendly is an excellent choice for you. It has a free plan that comes with integrations for Google Calendar, Outlook, Office 365, and more.
With Calendly, you can easily book your appointment in three simple steps – creating availability, sharing links, and getting booked. It lets you integrate with your business website so that appointments can be made without leaving the site.
Calendly automatically sends out custom confirmation emails, creates automatic reminding triggers, and notifies all meeting participants via email if an attendee rescheduled. It also automatically maintains your availability status up to date.
What's more? Calendly supports over 700 app integrations and allows you to collect payments via its integrated applications such as Paypal and Zapier.
Pricing:
The Basic plan is free
Premium plan costs $8 per month
Pro plan costs $12 per month
Enterprise plan: contact for pricing
Next on the list is 10 to 8, a secured, fully automatic cloud-based appointment scheduling software that offers a 24/7 online booking portal to let you book appointments and streamline scheduling operations easily and effectively.
With 10to8, you can facilitate remote and virtual appointments, meetings and online classes via third-party integrations that support video chat and conferencing. It allows you confirm, cancel or reschedule an appointment with smart reminders, over SMS, email and voicemail.
Through its centralized platform, you can access everyone's schedules and availability, share notes, reminders and messages, and collaborate with your team. It also allows you to store, manage and update client data.
Furthermore, 10to8 tracks business performance with live updates and processes client payments at the time of online booking through integrations such as PayPal, SagePay and Stripe.
Pricing:
Small business plan is free of cost
Basic plan costs $9.60 per month
Grow plan costs $20 per month
Bigger Business plan costs $40 per month
Contact company for Enterprise pricing
Read more: 10 Reminder Apps & Software to Help You Out!
Square Appointments is an all-in-one platform that comes with a flexible appointment scheduling software that enables you to manage bookings and appointments, generate leads, and accept integrated payments.
With Square Appointments, you can create a custom booking website and embed that into your existing website through an integrated widget or booking button. Through this, people can book, cancel or modify appointments on their own devices.
To ensure that everyone stays in the loop about changes and updates, Square Appointments automatically sync your master calendar with each employee's calendar. It lets you view employee schedules across multiple locations and even saves the personal and billing information of customers so that rebooking is easier.
Furthermore, Square Appointments supports a point of sale system that accepts payments, manages inventory, adjusts prices for tax, tips, and discounts, views sales reports, and more.
Pricing:
Square Appointment is free for individuals
$50 per month for businesses with 2-5 employees
$90 per month for 6-10 employees
Contact Square for a quote if you have more than 10 employees
ScheduleOnce is a robust, cloud-based meeting and appointment scheduling software that schedules and manages online interactions with your customers and prospects. It is simple and user-friendly.
ScheduleOnce's automatic calendar-booking feature allows you to schedule meetings, set up booking methods, reassign tasks, and even select the meeting type. It also includes features such as group scheduling, class scheduling, automated scheduling, facility scheduling, resource scheduling, reservations, etc.
The best part about ScheduleOnce is that you can have an unlimited number of appointments without extra fees. To ensure user privacy, the platform provides high-end security functions and complies with all necessary guidelines. What's more? It allows customers to link their Google, Office 365, or Outlook calendars.
Pricing
Starter plan is free for up to 25 users
The Solo plan starts at $10 per month
Custom pricing for large teams
If you want to book a virtual or in-person appointment in a fast and easy way, then we present to you, Arrangr, an appointment scheduling software that is part of the HubSpot ecosystem.
Arrangr helps you set up conference calls and video chats, and book meeting spots in under 30 seconds. To prevent any form of miscommunication, it lets you decide the time, place, and ways to meet all within the platform itself.
Arrangr's Intelligent Spot Finder feature suggests meeting spots based on reviews, ratings, pictures, distance, and the user's meeting history. As it is a part of HubSpot, it allows you to launch and send invitations to contacts from directly within HubSpot.
Furthermore, Arrangr works with Google Calendar, Office365, Outlook, Apple iCal, HubSpot CRM, Zoom, Uberconference, and much more!
Pricing:
Has free version
Pro plan costs $10/month billed annually
Contact company for Enterprise plan
Appointlet is a simple appointment scheduling software that allows you to customize appointment pages and share or integrate them with websites, emails, and landing pages. It automatically updates the calendar after a booking, cancellation, or rescheduling.
Appointlet provides you with full control of their calendars. It recognizes and accounts for different time zones and gives the ability to set available times. You can also create short breaks or longer vacations on your scheduling page.
The software also lets you collect prospect information at the time of booking and also processes payments. With Appointlet, you book an unlimited number of meetings and appointments in a variety of languages, including Spanish, German, Dutch, Italian, and more. The best part? It's all for free!
Pricing:
Free forever plan available
Premium plan at $8 per month per member
Conclusion
Appointment scheduling software is a must-have for a business to grow beyond limits. By using it in your business, you are giving your clients the ability to schedule appointments directly with your business.
No more making multiple calls or exchanging voicemails or returning emails to schedule and reschedule appointments when you have this amazing tool by your side. You have nothing to lose and only to gain.
We hope that our list has given you an idea about the different appointment scheduling software available in the market and that you arekp[ able to choose the one that fits your company's needs.
Take the work out of bringing business through your doors with appointment scheduling software! Happy meeting!
Further reads: 
9 Best CRM Software You Should Use This Year!
7 Best Issue Tracking Software!
Top 7 OKR Software You Need To Use This Year!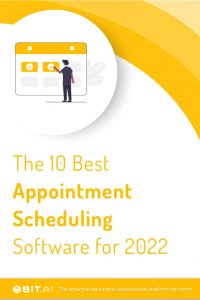 Related posts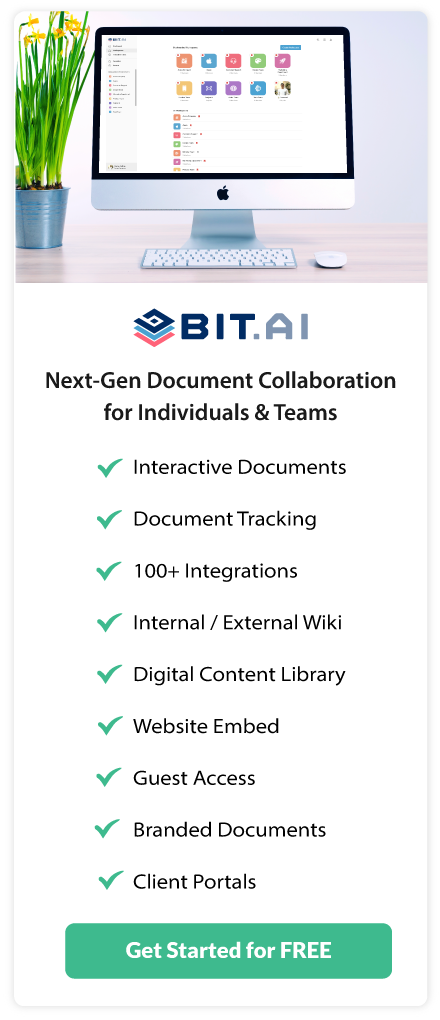 About Bit.ai
Bit.ai is the essential next-gen workplace and document collaboration platform. that helps teams share knowledge by connecting any type of digital content. With this intuitive, cloud-based solution, anyone can work visually and collaborate in real-time while creating internal notes, team projects, knowledge bases, client-facing content, and more.
The smartest online Google Docs and Word alternative, Bit.ai is used in over 100 countries by professionals everywhere, from IT teams creating internal documentation and knowledge bases, to sales and marketing teams sharing client materials and client portals.
👉👉Click Here to Check out Bit.ai.