Your employees work hard for you and your customers. It won't be wrong to say that your business is up and running because of the employees that are working for you.
The least you can do is pay your employees the wage that they deserve – on time – and on a consistence basis. However, sorting out finances for each and every employee, every month, can be downright complicated.
It's very easy to make a mistake while calculating employee hours, tax withholdings, and wages. In fact, in 2020, the IRS levied more than $4.9 billion in penalties for problems such as bad checks and failure to pay.
Well, guess what? It doesn't have to be that way! All you need to do is invest in a software that automates the entire payroll process, aka, payroll software. 
In this blog, we are going to expl some of the very best payroll software out there that will save you time (and money). But, before that, let's quickly understand what a payroll software is.
What Exactly is a Payroll Software?
A payroll software manages, organizes, and automates all the tasks related to employee payment and tax filing. These tasks include tracking working hours and attendance, calculating wages, withholding taxes and deductions, completing direct deposits, printing and delivering checks, and more.
These software integrate easily with a company's existing procedures and make tracking payments and maintaining payment records easier. Different payroll software offer different functionalities, and they can be used by a small business, as well as a multinational company.
A payroll software improves compliance, ensures timely payments, helps you keep records effortlessly, allows employee self-service, eliminates payroll errors, and alerts staff of discrepancies. Now that you know what a payroll software is and why you should use one, let's get to the list of the best ones out there.
List of The Top 9 Payroll Software
Paychex Flex is super easy to set up, integrates with many software such as QuickBooks and Xero, and offers more than 160 reports for you to evaluate wages, turnover, taxes, and more.
Some other features that make Paychex Flex one of the best payroll software are time tracking, attendance, human resources, automatic submission of taxes, health insurance, etc.
What's more? Paychex Flex offers many options to upgrade, which might come in handy as your business grows. It even has a 'custom fields' feature, which lets you add data fields of your choice.
Key Features of Paychex Flex:

Easy to set up
Additional HR capabilities
Robust reporting feature
24/7 customer support
Pricing Plans:
Paychex Flex Essentials – $39/month + $5 per employee
Paychex Flex Select – Price is custom based on your needs.
Paychex Flex Pro – Price is custom based on your needs.
Read more: 9 Best CRM Software You Should Use This Year!
This is one of the most well-known software in payroll and HR, and with good reason. It allows you to manage multiple aspects of your business together – including HR, hiring, onboarding, and payroll.
ADP recently launched a new payroll product called 'Roll', which uses AI to help business owners manage payroll directly from their phone or tablet, even with no prior experience.
Roll is entirely chat-based, so you can simply tell it to run payroll, answer a few questions, and pay your employees. The money will get deposited into your employees' accounts the next day.
Key Features of ADP:
Self-service employee portal
Multiple HR add-ons
Robust reporting, including customization
Detailed and effective reports
Pricing:
Starts at $29/month, plus $5 per employee
For further details regarding the pricing, please contact the vendor.
Patriot does not just assist you with the basic task of creating employee records, but it also helps you process payroll runs, submit payroll taxes, and define deductions and contributions.
A few other noteworthy features offered by Patriot are multifactor authentication and e-signatures for vendor and contractor payments. It even integrates with QuickBooks Time (formerly known as TSheets).
This payroll software also has a dedicated software wizard, which walks you through everything you need to do to run your first payroll and issue your first paycheck.
Key Features of Patriot:
Exceptional setup wizard
Great payroll flexibility
Optional accounting features
Guaranteed tax filling accuracy
Pricing Plans:
Basic: $10/month, plus $4 per employee.
Full-Service Payroll: $30/month, plus $4 per employee.
If you're already using QuickBooks for accounting and finance, then setting up QuickBooks Payroll will be a cakewalk for you. They also have many detailed tutorials regarding the nitty-gritty of the software.
QuickBooks Payroll added several new features and functionalities last year, such as creation and distribution of form 1099, the payroll tax center, and improved online help resources.
Furthermore, the user interface of this payroll software is extremely simple and intuitive, which makes running payroll easy for everyone – irrespective of their experience in the field!
Key Features of QuickBooks Payroll:
Seamlessly integrates with QuickBooks accounting software
Super-fast direct deposit
Simple and intuitive interface
New payroll tax center
Pricing Plans:
Core – $22.50/month, plus $4/employee/month
Premium – $37.50/month, plus $8/employee/month
Elite – $62.50/month, plus $10/employee/month
OnPay is an easy-to-use, affordable payroll software that's perfect for small to medium-sized businesses. It has a setup wizard, that makes it easier for you to get the software rolling.
If you have data from other payroll software that would like to import into OnPay, you can get help with that. You can also file for 1099 and W-2 workers at no extra cost!
Along with full-service automated payroll, OnPay also offers plenty of HR features that can help you hire new employees, such as e-signing, automated onboarding, and more.
Key Features of OnPay
Robust setup wizard
Full-service automated payroll
Easy to import data from other software
Additional HR features
Pricing:
$36/month, plus $4/month/person
The first month and setup are free.
Payroll4Free is one of the best payroll software you can find that is completely free, as long as you're okay with doing a lot of administrative tasks manually.
You need to input hours for payroll yourself, but the software will calculate things for you. Plus, you need to set up the software manually, but there's a 'setup tool' to help you figure out the steps you need to take.
All in all, Payroll4Free is a step up from the pen-and-paper method of doing payroll, and if you have a business with less than 25 employees, there's no reason why you shouldn't give it a try.
Key Features of Payroll4Free:
Totally free to use for up to 25 employees
Inexpensive to file taxes
Pay by direct deposits or paper checks
Vacation time tracking
Pricing:
All basic services are included for free for up to 25 employees.
After the first 25 employees, there's a monthly payment processing fee of $35 for each group of 25.
$15 per month for the tax-automation feature.
$15 per month for direct deposit payroll transfers.
Rippling isn't a full-fledged payroll software, but an HR software that offers payroll as an add-on feature. The payroll feature is powerful and comes with exceptional customizability.
What makes Rippling awesome is that it can be integrated with more than 400 apps out there. Additionally, it can sync all the data that you require to run payroll – in a much easier and faster manner.
What's more? Rippling automatically calculates your payroll taxes and files them with agencies at the right time, even when your employees move to different locations!
Key Features of Rippling:
Integrates with over 400 apps
Pay employees anywhere in the world
Track hourly work and PTO effortlessly
More than 100 pre-built workflow templates
Pricing:
Starts at $8/month/user.
For further details regarding the pricing, please contact the vendor.
Another payroll software on our list is Gusto, which is most suitable for small to midsize companies. Apart from offering features related to payroll, it has a few HR-related features as well.
Just like all other payroll software, Gusto allows you to pay your employees through direct deposit or cheques. Also, it tracks the local, state, and federal taxes automatically.
If you choose the higher version of Gusto, it becomes easier to manage the direct deposits. In the lowest plan, direct deposits can take up to four days to clear, but in the high-tier plans, they will be cleared the very next day.
Key Features of Gusto:
Unlimited payroll runs
Straightforward payroll processing
Paid time off tracking
Comprehensive mobile access
Pricing Plans:
Core – $39/month, plus $6/month/person
Complete – $39/month, plus $12/month/person
Concierge – $149/month, plus $12/month/person
Select – Contact sales for pricing.
Read more: Top Employee Management Systems You Should Be Using!
Workful is relatively new, but it's already making waves because of its features such as a geolocation time-clock, uncomplicated dashboard, and great customer service.
Your employees can simply use this payroll software to clock in/out and submit their expenses so that they can appropriately get reimbursed in the next payroll run.
However, Workful doesn't integrate with any other software except QuickBooks online. So if you're looking to integrate other apps and tools, Workful isn't the right payroll software for you.
Key Features of Workful:
Employee expense tracking
Document storage
Geolocation time-clock tracking
Affordable and easy to use
Pricing:
Starts at $25/month/feature.
For further details regarding the pricing, please contact the vendor.
Wrapping Up
It goes without saying that the payroll aspect of a business needs to be absolutely error-free and tailored according to each employee.
Not to mention, labor laws and regulations, income tax filing, deductions, leaves, incentives, and many such factors need to be considered while handling payroll.
So, if you're still performing payroll manually, you're putting yourself at a risk of making costly mistakes. Just pick a payroll software from our list, and let it take care of your employees' salary!
Which one of these payroll software are you most excited to use? Did we miss out on any of your favorite software? Don't forget to let us know by tweeting us @bit_docs. Cheers. ✨
Further reads:
13 Timesheet Software & Tools to Manage Time Perfectly!
11 Bug Tracking Software to Check Out in 2022!
9 Best CRM Software You Should Use This Year!
Top 10 Financial Tools for Businesses in 2022!
Top 9 Virtual Data Room Providers in 2022
13 Timesheet Software & Tools to Manage Time Perfectly!
10 Reminder Apps and Software to Help You Out!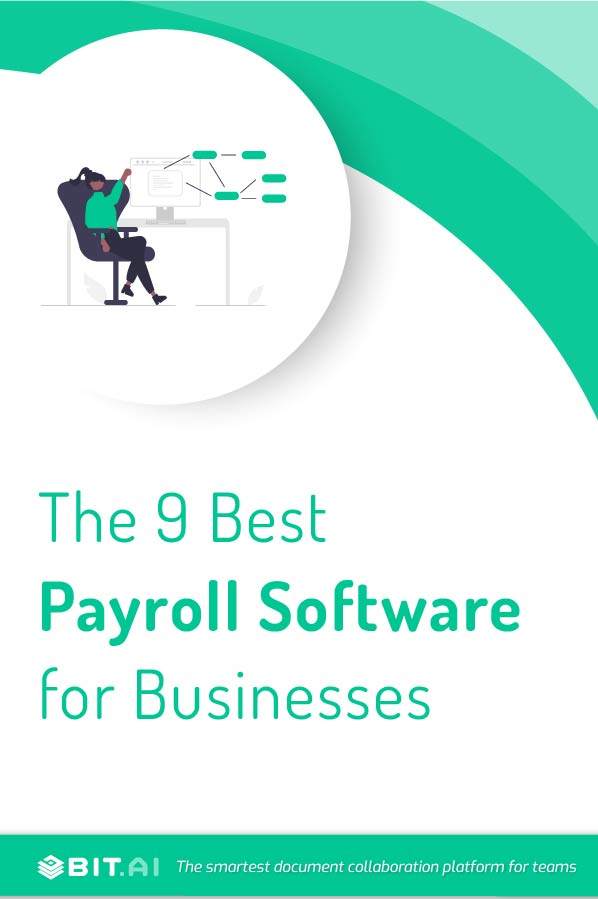 Related posts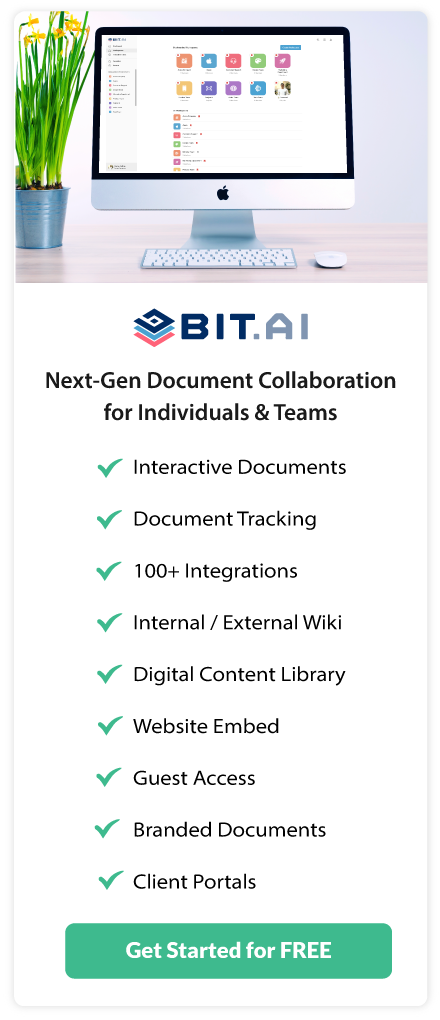 About Bit.ai
Bit.ai is the essential next-gen workplace and document collaboration platform. that helps teams share knowledge by connecting any type of digital content. With this intuitive, cloud-based solution, anyone can work visually and collaborate in real-time while creating internal notes, team projects, knowledge bases, client-facing content, and more.
The smartest online Google Docs and Word alternative, Bit.ai is used in over 100 countries by professionals everywhere, from IT teams creating internal documentation and knowledge bases, to sales and marketing teams sharing client materials and client portals.
👉👉Click Here to Check out Bit.ai.