In the past, buying a couple of filing cabinets for your workspace was enough.
However, the times have changed. We are currently living in a world where every company collects and processes huge chunks of crucial data every single minute.
But, if you still think those filing cabinets can still do the job, ask yourself:
Are you really confident that your documents are safe and secure in that cabinet?
Are all your documents well organized or do you waste all your time sorting through documents?
Are the documents quickly accessible in the event of an emergency?
If the answer is no, you need to switch to virtual data room providers – platforms that allow multiple parties to manage, organize, store and share critical information securely.
The best part of using a virtual data room is the peace of mind that comes from knowing that any third party can't see your confidential information – unless you grant them the permission to do so.
However, with so many virtual data room providers out there, it can be hard to figure out which one is the best. That's exactly why we scoured the internet and compiled a list of the 9 most amazing VDRs out there.
Ready? Let's go!
List of 9 Best Virtual Data Room Providers:

With this intuitive, cloud-based virtual data room provider, you can safely and securely create, organize, share, track, store, and manage all company knowledge – in one place. What makes Bit different from some other VDRs is that it lets you collaborate in real-time with your team members and co-edit documents.
On Bit, you can create an infinite number of workspaces across your entire organization, teams, clients, and more. Inside each workspace, you can create as many folders and documents as you want and access your content library (a place where you can store all kinds of digital media).
The major reason why people love to use Bit is because of its highly secure user roles and permission levels. Every workspace is only and only visible to the person who creates it and the members he adds to the workspace.

You can also invite people as "guests" and only give them access to particular workspaces. These "guests" would only be allowed to comment or read documents. They can't see any activity or content libraries and can only see the documents.
What's more? You can get insights into all the activities that take place in the workspace. You can find out who has invited team members, created or deleted documents and folders, and a lot more.
That's not it! You can also share your documents via a trackable link and get insights on how much time users spent on the documents, scroll ratio, user information, etc.
Along with all these amazing features, Bit also offers features like lead capture, which allows your team to collect information about your audience before they view the document. You can even protect your document with a custom password and add an expiration date for your trackable documents.
All in all, if you're looking for a robust, pocket-friendly, yet easy-to-use virtual data room provider for sharing and collaborating on business-critical documents, you need to consider Bit.ai!
Key Features:
Infinite and personalized workspaces.
Lead capture, password protection, and document tracking.
Real-time collaboration.
Supports over 100 file types.
Pricing: Business Plan with guest access is $15 per month. For the enterprise plan, contact the team. A free plan is also available!
Read more: Virtual Data Rooms (VDR) Explained with Use Cases

Whether you're involved in a business deal, a due diligence process, or any other confidential business activity, Citrix ShareFile has got you covered.
Many companies from Fortune 100 and Fortune 500 lists use this virtual data room provider as their go-to resource for sharing and storing information and files.
Citrix offers some really great protection features like e-signatures, watermarks, tracking downloads, restricting sharing and downloading, and more.
The platform is compatible with all platforms, including Windows, Mac, iOS, and Android!
Key Features:
Analytics for security and performance
Web app & API protection
Application delivery management
Watermarking, click trails and view-only permissions
Pricing: Starts at $338 per month.

Since 2006, Firmex has helped to drive the virtual data room marketplace.
Every year, millions of documents are shared using Firmex. From financial transactions to mergers and acquisitions – Firmex streamlines complex and mission-critical processes for companies of all sizes.
Within 12 years, Firmex has worked alongside many big-shot companies like Good Year, KPMG, Deloitte, and over 100,000 other companies.
Firmex is undoubtedly one of the most widely used virtual data room providers!
Key Features:
Intuitive, affordable, and HIPAA-compliant
Different software packages for all kinds of businesses
Reporting and audit trails
Biometric safeguards
Pricing: A free trial is available. However, to purchase Firmex, you need to contact the vendor.

What started as a financial communication and print-related business has now turned into a high-growth SaaS technology company.
What makes Datasite a great virtual data room provider is the fact that it provides industry-leading security and can fulfill even the most stringent security requirements.
This platform caters specifically to higher-revenue sectors such as litigation and M&A.
When it comes to the customer support of Datasite, there's no communication barrier because the executives can reply in more than 20 languages!
Key Features:
256-Bit SSL Encryption
Audit logs and automatic audit reports
Dynamic watermarks
Two-factor authentication
Pricing:  To get its tariff plans, contact the sales team directly and provide the necessary information to get a cost estimate.

Brainloop was launched in 2000 and since then, it has been providing all kinds of businesses a friendly and effective platform to store and share files.
Just like every other virtual data room provider, Brainloop offers functionalities like automatically generated watermarks, Q&A, encryption, and more.
What makes Brainloop different is that it offers integration to an enterprise's existing infrastructure, allowing you to set up a more economical cloud web-based document repository.
The high levels of security of Brainloops are almost invisible to end-users, making work super simple and normal.
Key Features:
On save/on open encryption
Bulk uploads
Mobile device interface
Multi-language support
Pricing: Brainloop has not mentioned its pricing and tariff plans. You need to contact them directly for details.
Read more: 15 Business Intelligence Tools & Software Every Business Needs!

iDeals has been tried and tested by investment bankers, lawyers, and managers from all around the world.
The major aim of this virtual data room provider is to offer their customers the most secure and comfortable solution that will help them achieve their business goals.
The platform supports more than 25 file formats and offers tools such as data encryption, two-step verification, smart filters, among many others.
It can even provide audit trails, allowing your company to boost accountability and transparency.
Key Features:
Wide range of customization and collaboration tools.
Graphs and customs reports showing users' activity.
Easy setup software and user-friendly interface.
Bulk uploads with no limitation on the size and number.
Pricing: There are three plans i.e. Basic, Pro, and Business. For exact prices and details, you need to contact the vendor.

New to virtual data rooms? Worry not, because BlackBerry Workspaces provides you with many user guides, admin guides, and training material to help you learn all about it.
With its native integration to Office 365, the platform saves you the hassle of migrating your documents and files. You can easily edit and collaborate on files using the tools you already know.
BlackBerry Workspaces also offers a 'collaboration mode' using which you can keep track of activity on the files you've shared with your team and colleagues.
This virtual data room provider supports seven languages, namely English, German, French, Spanish, Arabic, Indonesian, Japanese, and Chinese.
Key Features:
AES-certified 256-bit encryption to files.
Supports existing data stores. (No need for data migration!)
Provides a detailed activity log.
Quick Access Filters such as Favorites and Recent Locations
Price: There are three editions i.e. Send, Collaborate, and Secure Plus. The pricing starts at $15 per user per month. For more details, you need to contact the vendor.

With more than 100 features like extensive security controls, digital rights management, and reports that track interest levels – Ansarada is a virtual data room provider worth checking out.
Just like DataSite, Ansarada has been exclusively designed for mergers and acquisitions. Its easy-to-use interface, 24/7 advisors and analysts, as well other such features, can significantly facilitate the process of M&A.
From preparing the deals to closing them, Ansarada optimizes all the tasks by harnessing the power of AI & machine learning!
Key Features:
99.9% uptime guarantee
Web-based spreadsheets viewer
Customizable document watermarks
Real-time audit trail
Pricing: Starts at $39.00 per month. They also provide a 14-day free trial.

Digify was founded in 2011 in the USA, which makes it a very young virtual data room provider.
This user-friendly platform covers all the low-level business needs and small transactions and therefore, it comes at an affordable price.
Digify offers functionalities like access control, revoke access, print and download permissions, security presents, and more.
The best part? Digify can be integrated with Dropbox, Google Drive, and Box. Its Gmail extension will help you track your email attachments.
Key Features:
Team-wide file statistics
Mobile device interface
Real-time notifications for file activities
Supports most of the popular file formats
Pricing: There are two plans: Team & Business. The team plan costs $96 per month. To get the details of the Business plan, contact sales.
Wrapping Up
You all know the far-reaching consequences your business can face if it loses confidential information.
That means, no matter what industry you are in, a virtual data room is something that you need to have.
A virtual data room erases the boundaries of time and regions, giving everyone a secure and neutral space to conduct business processes from anywhere in the world. What more could a business ask for?
So, now that you know how awesome a virtual data room is, compare the VDRs we've listed above and choose the one that is best for your business!
Also, if we forgot to mention any virtual data room provider that you love, let us know by tweeting us @bit_docs.
Further reads:
Best Time Tracking Software and Tools in 2022
Essential Cybersecurity Guidelines to Protect Your Business
Top Airtable Alternatives & Competitors You Must Explore!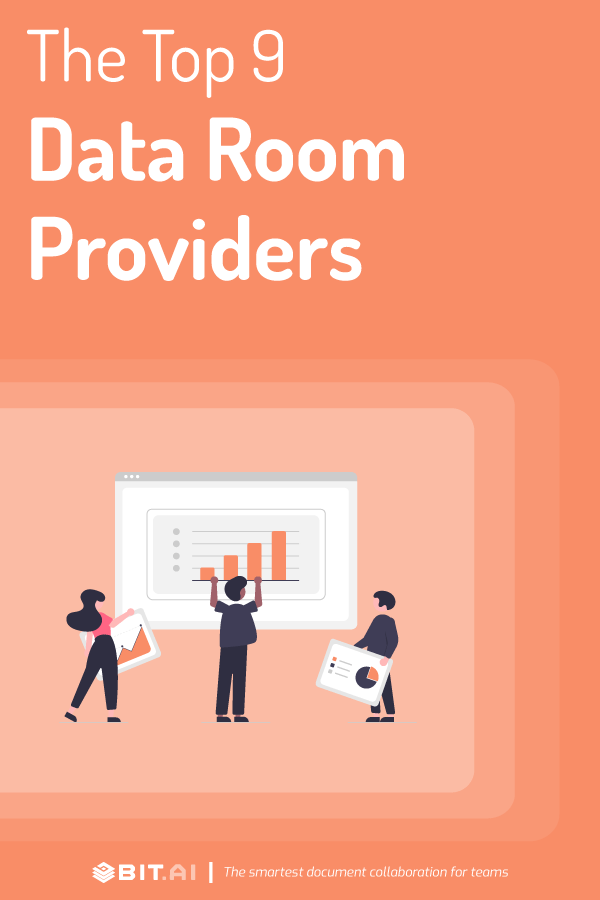 Related posts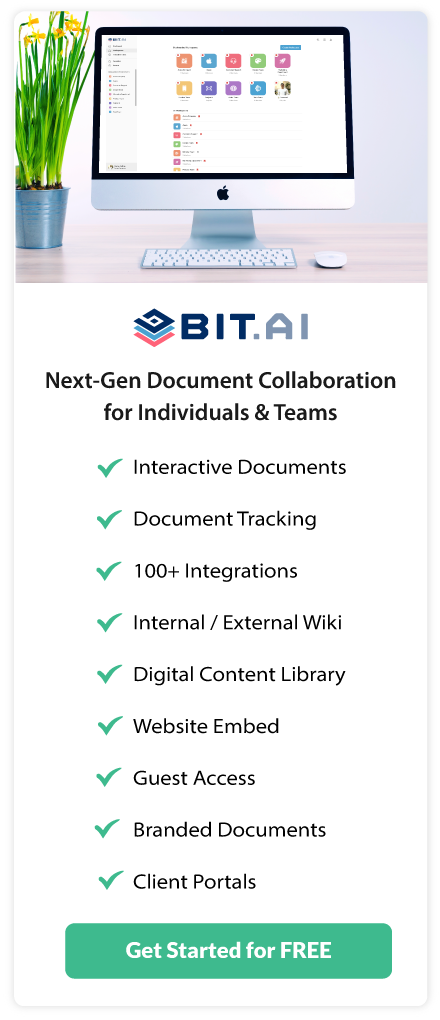 About Bit.ai
Bit.ai is the essential next-gen workplace and document collaboration platform. that helps teams share knowledge by connecting any type of digital content. With this intuitive, cloud-based solution, anyone can work visually and collaborate in real-time while creating internal notes, team projects, knowledge bases, client-facing content, and more.
The smartest online Google Docs and Word alternative, Bit.ai is used in over 100 countries by professionals everywhere, from IT teams creating internal documentation and knowledge bases, to sales and marketing teams sharing client materials and client portals.
👉👉Click Here to Check out Bit.ai.