In this blog post, we will dive deep into sales enablement and answer the three most important questions about it:
What is Sales Enablement?
Why does it really matter?

What are some of its benefits?
Sales and marketing misalignment costs businesses, one trillion dollars each year in decreased sales productivity and wasted marketing efforts.
Yep, you read that right.
Aren't sales and marketing teams supposed to be two peas in a pod? Batman and Robin? Chandler and Joey?
Marketers work on wooing prospects by helping to generate leads through their marketing efforts in social media, blog content, events, etc. The sales team focuses on turning those leads into paying customers and generating revenue for the company.
This seems like an obvious match and the perfect equation:
[ sales  +  marketing  =  working together to achieve a common goal ]
But data doesn't lie. And the data is saying something drastically different.
There is a BIG lack of alignment.
Every day, there's so much content created by both sales and marketers, from proposals, blog posts, customer success material, product videos, how-to guides, whitepapers, case studies, datasheets, etc.
There's a big difference between creating content and putting the content to use effectively. 
This is where sales enablement comes in.
The term sales enablement has been thrown around a lot in the past few years. Quite frankly, everyone has different definitions, and no one really knows what it means.
Does it mean training material? Is it used for assessment? Or does it mean providing resources to salespeople? Bottom line what is it and how is it carried out?

Well, we're here to clear things up and help you understand what sales enablement is and how you can use it to successfully grow your business!
We're confident when we say; this will be your holy grail to sales enablement. Read on…
What is Sales Enablement? (Definition)
Apart from the hundreds of sales enablement definitions, we came across, this one by IDC really hits the nail on the head:
Getting the right information into the hands of the right sellers at the right time and place, and in the right format, to move a sales opportunity forward.
There are three key elements of this definition:
Right Information: Having the right information becomes critical when a sales rep is working on prospective and existing clients.
They don't have time to draft up and create the material from scratch. It's important they have case studies, sales email templates, competitive comparison charts, pricing plans, discount codes, and contracts.
Right Time: Having the right information at the right time and place can make all the difference. Suppose a prospect asks you, 'how is your product or service different from the competitors?'
Having the relevant competitive intelligence data at the right time can help build trust with your prospects and increase the chances of conversion.
Right format: This is an extremely crucial step that businesses tend to ignore. Giving information in the right format is important.
For example, videos are great training tools for onboarding new customers. The buyers love it. In fact, four times as many buyers prefer video over written content.
Sales enablement can be defined as the process of providing the tools, knowledge, and data to sales professionals to help them maximize every sales opportunity.
The goal of this material is to provide assistance to the sales team so that they are prepared to close every potential sale that comes their way!
Read more: The Beginner's Ultimate Guide To Sales Prospecting
Why is Sales Enablement Important?
A well-thought-out sales enablement program can reap many benefits for the organizations. Some of these benefits are:
1. Better alignment of sales and marketing
Since sales enablement requires both the marketing and sales departments to work together, it results in better alignment of the two.
Sales enablement typically originates in the marketing department, and the resources created by marketers are passed on to the sales department to assist in the sales process.
Only with the input of salespeople can marketers create useful content that the sales team actually uses. Both sales and marketing need to operate as a single unit, sharing data, insights and creating valuable content, to close more deals.
Read more: 10 Must-Have Tools For Sales And Marketing Teams In 2021
2. Provide sales with valuable data
Persona documents, customer profiles, pain points are some of the valuable data that can help salespeople better understand the buyer's motivation and in turn, close more deals.
When a salesman has valuable data at his or her disposal, he/she can easily steer the conversation. It helps them to address customer pain points and how the product or service will help solve that problem.
3. Meaningful relationships with customers
Getting more leads is great. But the true power lies in making customers a fan of your business. This happens when a buyer is so satisfied with your services that he/she wants to have a long-lasting relationship with the company.
When your company's front-runners aka salespeople, truly understand customer pain points, their motivation, their wants, and needs (thanks in part to the data provided by marketers), it leads to an ever-lasting, meaningful relationship.
4. Increased sales conversions
In a nutshell, the sole purpose of sales enablement is to increase sales conversions.
Sales enablement works best when sales and marketing work together to create valuable data, generate customer insights and deploy the strategies effectively.
The number of conversions is bound to increase. This, in turn, drives revenue and creates more meaningful relationships with customers.
Sales Enablement's Major Functions:
Sales enablement's functions can be divided into four broad categories:
Recruitment

Training

Providing resources

Assessing
1. Recruitment
Sales enablement is responsible for ensuring the right candidates, and the right amount of candidates are hired for the sales team.
It requires that only the best candidates are hired for sales by making sure the sales team, HR team, and recruiters work in tandem to find the best possible talent.
2. Training
After proper recruitment comes the training of new recruits. A major goal of sales enablement is to provide the best tools and information to the trainees to better equip them to do their jobs.
It is important for your new sales reps to know how to present themselves, how to engage with a prospect, what information to use, and how to close a deal.
All this is possible through content and resources provided by sales enablement.
However, 80% of marketing content is rarely or never used by sales, according to ITSMA. Without proper guidance and training on how to make use of resources, the sales team can't execute strategies effectively.
Sales enablement programs need to keep a check on which enablement materials are being used and which are not, to optimize future training.
Read more: How To Create A Training Manual That Actually Gets Read
3. Providing Resources
So until now, you have hired the right people and have given them the right training to go out in the field and bring in the deals. What's missing? The focus on resources.
Sales reps use on average more than 17 pieces of content to enable the selling process. That sales content must be relevant, meaningful, and shared at the appropriate time to assist the buyer on their journey.
Sales reps need to have the right tools to be good at what they do and do it efficiently. Access to great resources is the heart of sales enablement. These can be divided into two categories:
The content salespeople provide to the buyer.
The content, tools, information, or data salespeople need themselves to make help keep up with their sales pipeline.
4. Assessing
The final stage of sales enablement is to evaluate how well the sales team is able to perform and whether the resources are being used effectively. After the assessment, you should be able to answer the following:
Are your salespeople skilled enough?
Are they performing to their expected level?
Are they making effective use of resources provided via sales enablement activities?
Are the marketing and sales team working in tandem?
Depending on your answers, you need to strategize the next move in your sales enablement initiatives to make sure sales reps are actually improving.
It is important that management enforces the use of tools, practices, and resources that can help with the overall sales experience.
What types of resources are included in sales enablement?
Here are some of the most common sales resources and materials sales professionals use during the sales process:
1. Blog Posts
Blog posts are THE weapon of content marketers. By capitalizing on relevant keywords, content marketers work hard to get in front of prospects and sell them on the valuable content they provide.
Those valuable blog posts which prospects find useful have to be made available to the sales staff as well.
By having the knowledge of what kind of content attracts which leads, the sales team can target their prospects coming from different marketing channels appropriately.
2. Whitepapers & e-books
E-books and white papers are research-intensive and long-format content pieces. Although it takes more time to create long-form content, e-books act as lead magnets and are one of the primary tools marketers use to generate leads.
These detailed content pieces need to be a part of the sales enablement toolkit and should be made available to new and established salespeople alike.
Apart from gaining knowledge from the detailed content, the sales team can figure out the motivation behind a prospect for downloading the whitepaper or e-book and can strategize their sales accordingly.
Read more: How To Write A White Paper That Gets High Engagement
3. Case Studies or Success Stories
Salespeople love to have a proof-of-concept at their disposal while meeting with prospects.
Having case studies depicting the success previous customers have had with the product or service strengthens the sale. In short, it adds credibility to the company, product, and service.
4. Sales Scripts
Nobody likes to talk to a robot, mindlessly blurting out product features and benefits. It's however, very important for salespeople to have a reference point to keep the conversation in the right direction and make sure that all of the product's value propositions are touched upon.
Giving a small list of talking points to the sales staff can go a long way in having a meaningful conversation with prospects.
The length of information can, however, depend upon the experience the salesperson has. For instance, a trainee or junior sales rep may need detailed help and be given a long-form script.
5. Competitive Intelligence Information
Marketers often conduct deep competitor research to help them market to the right prospects and help them create competitor comparison content.
Sales teams often need similar if not the exact same information as they work to close more deals.
This is again why sales and marketing need to work together to create, educate and share content. It creates efficiencies, better content and ultimately leads to happy new customers.
It's crucial that sales reps can share what makes their company better and how their product or service can solve their prospect's problems.
Read more: What Is Competitive Analysis And How To do It Right
6. Datasheets:
Datasheets include vital information like:
Who is the product for

Pricing information

Features and benefits

Use cases
Datasheets are a handy resource for both salespeople and buyers as it answers most of the buyer's questions instantly and speeds up the initial meeting.
The product and marketing teams need to work together to put create a datasheet that is easy to read and understand and points to all the information clearly.
7. Product Videos
Videos are an engaging information resource for buyers to help them understand the product or service better.
Products with videos are more likely to convert. Check out these stats:
Videos are a critical part of sales enablement and must not be taken lightly.
8. Email templates
Did you know that only 24% of sales emails are opened? Sales teams need to have a set of pre-designed email templates to test their outreach campaigns and see what works and what doesn't.
Marketers need to make sure that the sales team is equipped with plenty of email templates for various stages in a buyer's journey.
These include outreach, follow-up, check-in emails, etc. There must be an email template for every type of customer interaction.
9. Presentations/Sales Decks
A sales deck is an important aspect of the sales process. It is the tipping point that decides whether or not you are going to convert your prospects into customers. Thus, taking your sales deck seriously is a good call.
Sales decks are often used during the first major interaction with a prospect. Decks help describe the problems buyers face and how your product or service can help them overcome those challenges.
Every sales deck can be typically broken down into three parts:
The problem exists in the current scenario.
The solution your company provides.
And lastly, how they will their problem will be solved.
Must Read: The Best Sales Deck Examples For Your Sales Team
10. Company Profile
A company profile page or document is a great resource for both new sales staff and prospects.
A company profile page can help new sales reps get up to speed with company overview, history, origins, mission, and vision. It can also be used by salespeople in outreach emails to give prospects a general overview.
11. Training Documents
According to a survey, 84% of all sales training is lost after 90 days. With companies in the US spending over $20 billion in sales training, this is a costly problem.
Sales enablement programs need to make sure that the training documents and content created by marketers is:
Easy to understand

Have clear instructions

Includes videos and images to ensure better retention
Is constantly updated with changes in consumer behavior and purchasing patterns
Involves input from the sales team
Delivered in a format that is easy to understand by the sales staff
Over 50% of sales managers are too busy to train and develop their sales teams. Training documents play a crucial role in getting sales reps ready for the field.
These documents prepare reps for the sales floor and give them the confidence to answer buyer questions promptly.
Every dollar invested in sales training can lead to $29 in incremental revenues which makes training documents, a critical part of sales enablement.
12. Social Media Content
Although not a part of the conventional sales toolkit, social media plays a big role in buyer's purchase decisions. 81% of consumers' purchasing decisions are influenced by their friends' social media posts.
It only makes sense to provide salespeople with marketing messages curated for specific buyers and let them engage in a dialogue with prospects on social media, especially Twitter and LinkedIn.
13. Persona Documents
Persona documents describe fictional characters, depicting a typical buyer.
A persona document consists of information like general background, age, gender, job description, the size of the company they work for, and other details of a prospect that can help form a better understanding of the prospect and their motivation for buying.
Having these documents help sales reps to fine-tune their strategies according to the buyer and talk to them in a way that really hits the nail on the head!
14. Product Page
Product pages help in:
Listing all your product and service offerings on one page
Displays features, benefits, product demos, and how-to videos
Describes how they solve consumer problems
Act as a one-stop-shop for your customers and prospects for product info
This page is a great resource for salespeople to quickly direct prospects who are interested in their offerings and let the product page do all the talking.
15. ROI Reports
ROI reports should be made available not only to the marketing or finance department but to the sales department as well.
This ensures that salespeople know the result of their hard work and how they fared in the field. These can be made available either quarterly or annually.
16. How to Sell Section
A "how to sell" section is a resource especially created and curated for the sales team to help them sell more effectively. This section can be a part of an internal company blog, internal newsletter, wiki, or as a document or PDF.
These pages act as the "playbook" for the sales team, where they can come back any time to sharpen their skills, get up to speed with new techniques, ideas, and resources. It's a handy tool take for sales professionals to refer to before heading out to an important meeting.
These pages can include:
Techniques, tools, ideas, & resources to sell effectively
Quick psychological hacks
Details about your company's product and services like features, benefit, pricing, problems the product solves, competitive advantage, etc.
Persona documents
Use cases
Case studies
Product videos, images, screenshots, and other visual assets
All the content should reside in a central location from where it can be easily accessed by the entire sales staff.
17. Internal Newsletters
Internal newsletters can be created, curated and sent by the content or product marketers to the entire team.
This is especially important for the sales staff and an efficient way to keep everyone in the loop about new developments in the company. These developments can include:
New product or service launches
New features
News about new hires
Changes in employee policies or reinforce organizational policies
Communicating roles, responsibilities, and tasks effectively helps remove any confusion and enables team members to perform their roles with autonomy.
Share learning videos and new blog posts, and resources
 Conclusion: 
Sales enablement is an essential way of increasing your sales conversions and drive revenue. Not only do these programs help guide the sales team to success by providing them with tools and resources, but it also keeps the sales team in the loop with the rest of the organization.
Sales enablement forces sales and marketing to work together towards a common goal. Without their joint effort, any sales enablement program is bound to fail.
Hiring the right amount of talent, giving them the right training, equipping them with necessary resources, and evaluating their efforts, all lead to one heck of a sales squad!
It's no longer a question of whether sales enablement is right for your business, it's about when are you and your organization going to formally start implementing it?
What are your thoughts on sales enablement? Do you and your company have a great sales enablement plan? Share your thoughts below.
Further reads:
[/vc_column_text]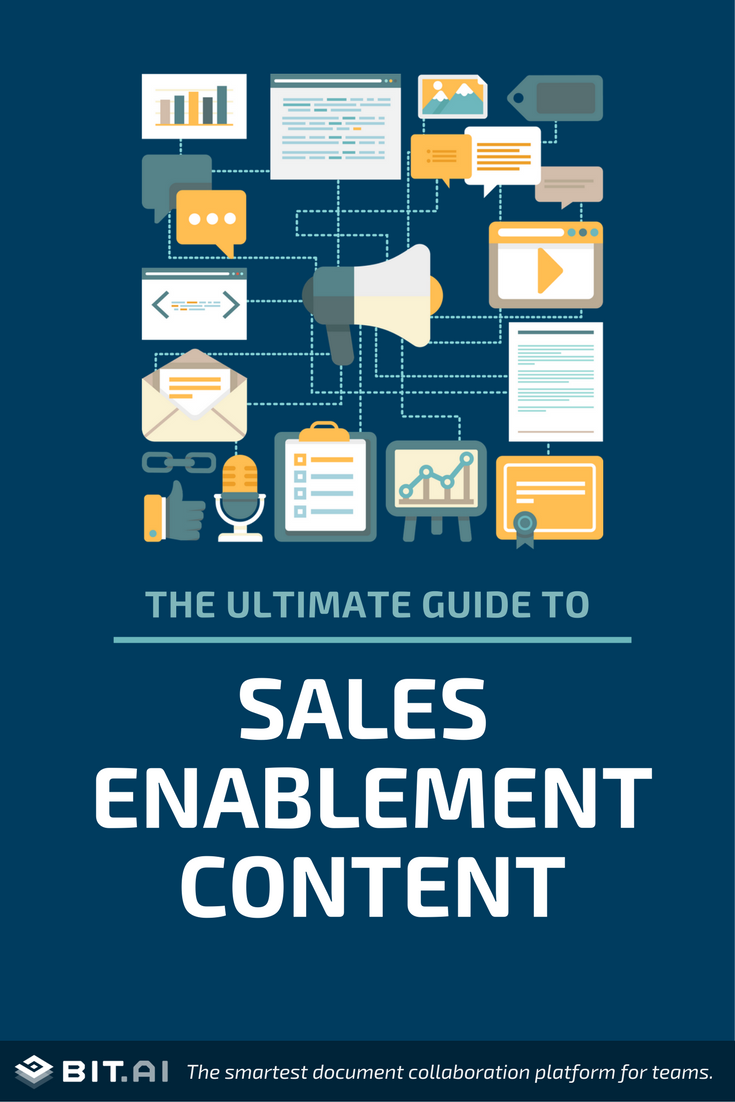 [/vc_column][/vc_row]
Related posts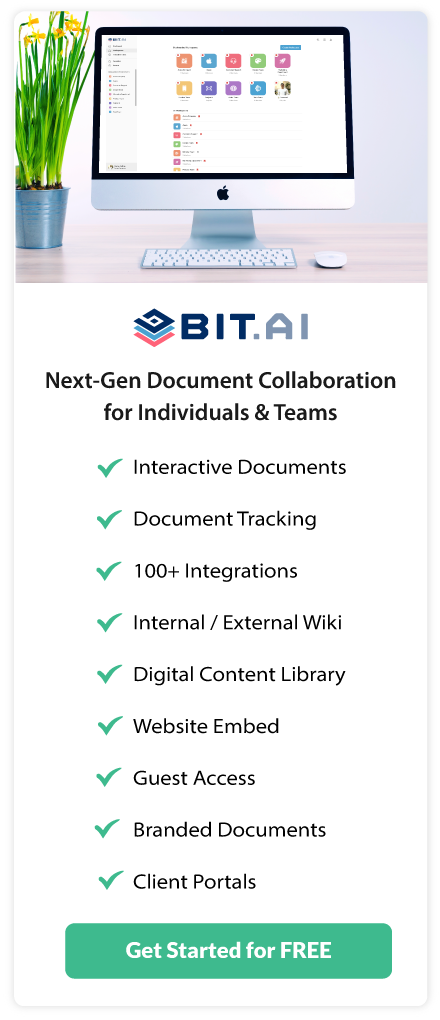 About Bit.ai
Bit.ai is the essential next-gen workplace and document collaboration platform. that helps teams share knowledge by connecting any type of digital content. With this intuitive, cloud-based solution, anyone can work visually and collaborate in real-time while creating internal notes, team projects, knowledge bases, client-facing content, and more.
The smartest online Google Docs and Word alternative, Bit.ai is used in over 100 countries by professionals everywhere, from IT teams creating internal documentation and knowledge bases, to sales and marketing teams sharing client materials and client portals.
👉👉Click Here to Check out Bit.ai.