Information overload is the prime reason behind our lack of productivity at work. Let's see how having too much information and data scattered all over the place can cause blunders at work and how Bit can help bring your work-life back on track!
What Causes Information Overload?
Let's talk about productivity first, shall we? It's everyone's favorite topic to discuss at the workplace, isn't it? How to be more productive, how to get more work done quickly, how to better manage our time, how to have a work-life balance– all are some popular questions which loom around our work life every single day.
In order to be productive, we all end up doing the same thing- scout the internet looking for apps and tools that would make our busy work lives, a bit more bearable than before.
However, the very apps and tools we use to make our lives better often end up as being the main culprit behind our lack of productivity. And in most cases, it's not the software or the lack of features to be blamed, it is the sheer amount of tools we end up using at our workplace that leads to this information overload.
Read more: What's the Best Way to Create an Internal Wiki?
We are all over the place!
Ask yourself this- how many tools do you use to get your work done? Caution: the answer might surprise you!
In your day today, you use a communications app (Skype, Slack, Hipchat, etc) to talk to your coworkers, you create your work documents in Google Docs or Microsoft Word, share these documents via email, Slack or any other messaging service, and store them in Google Drive, Dropbox, OneDrive or some other cloud storing service.
Basically, you create your files in a document editor, share them via email, get notified about the email via a messaging app, and store it in the cloud. Now let me ask you, is it really that surprising that there is this information overload that comes in the way of you looking for that file somebody emailed you last week?
Don't even get me started with those messy URLs that float around everywhere. They come to you when you don't need them and when you need them you can't seem to find them!
We are wasting a heck lot of time!
We often don't realize the amount of time we waste on non-value adding activities like searching for a document or a file on our laptops or in the cloud.
It is not until you have a customer on hold while you frantically search for an answer to their question or when your manager asks for an expense report from the last quarter and you just can't the file in your email.

It's times like these that you realize the kind of digital swamp of information overload you're living in!
Even though we are way past the dreaded "file cabinets" phase, digitally storing documents has emerged with its own fair share of problems and limitations.
Browsing through hundreds of folders, searching in your disorganized and massively populated inbox, searching through your cloud files, etc., all end up being a search mission that's impossible to crack.
A global survey of workers and IT professionals by IDC revealed that document challenges account for 21.3 percent of productivity loss. Employees often can't find the right documents at the right time or can't access the document due to time or location barriers. All of these add ups to a big loss of time and productivity.
Creating and sharing work in a digital form is supposed to be more efficient and less time consuming than traditional methods. Even though we are way past the dreaded "file cabinets" phase, digitally storing documents has emerged with its own fair share of problems and limitations.
Read more: The Ultimate Guide To Document Management Workflow
So where do we go from here? 
To better organize your work, make sense of this information overload, be efficient and productive with your workplace documents, you need to have a tool that replaces all of your work apps-
Your dated document editor,
Cloud storage, and
Messaging platforms.
Something that has the power of a great document editor, can store all your documents in one place and can search any document intelligently in a matter of seconds while notifying everyone without the email chain. Enter, Bit.ai.
Get Organized With Bit!
Bit.ai is a new-age document management and collaboration tool that helps teams to collaborate, share, track and manage all company documents, files, and other content in one place.
Bit's document management system allows you to create workplace documents like-
training documents
how-to guides
company policies
case studies
e-books etc.
Multiple people can simultaneously collaborate and create a smart document in real-time. It's a wonderful way to manage projects, create client-facing material, brainstorm, share meeting agendas, create proposals, and most importantly, share and manage information and knowledge! Bit's smart editor makes the process of documentation and content creation quick and easy.
Smart workspaces are created around projects, teams, departments, and clients to keep your documents, data and information organized, helping you sort through information overload.
Workspaces make it easy to collaborate and ensure that the right team members have access to the right documents at the right time. They are fluid, so your information can move through your organization's workflows.
Bit documents also support smart search, which allows anyone to search and find any files, images, documents, and text inside documents quickly and easily across the system.
With the ability to effectively label content, users can search their digital assets using keywords, titles, descriptions, or tags. They can even search for files based on their source. (i.e., YouTube). This is extremely useful for new hires to not feel overwhelmed while looking for information.
Bit allows users to manage permissions and information access that suits your organizational needs. It supports features like document tracking, password protection, file access restrictions, etc. that help keep your important company information safe.
Read more: 8 Best Digital Assets Management Software in 2022
Bring your content and files under one roof!
As mentioned before, Bit has amazing content management capabilities that allow users to add cloud files, videos, images, GIFs, and other rich media assets in a single place. This helps employees to quickly find everything they need without going down the dreaded email spiral and getting overwhelmed by information overload.
Bit has a content library that automatically saves the images, files and digital content you add to your documents (or workspaces) so that you can access and reuse them easily.
Users can also connect their cloud service accounts, i.e. their Dropbox, Google Drive, OneDrive, or Box account and upload files directly to your Bit content library. This way you will have all of your files, videos, images, PPTs, spreadsheets, and more in one place. No more switching tabs and sharing multiple links!
Bit is reimagining digital content storage by allowing you to add any type of content from anywhere. Now you can bring together files, images, rich embeds and weblinks into one central repository.
Parting Words…
All in all, Bit allows you to:
Create modern documents (replaces document editors)
Store all of your content (files, videos, company logo, and other digital assets) in one place with advanced search and categorization capabilities (replaces cloud storage services)
Share these documents with a trackable link (replaces email or any other messaging service)
Bit provides a common workplace for knowledge workers and experienced executives to collaborate with employees, share their knowledge, brainstorm ideas, store digital assets, and innovate together. The best part is that this knowledge is safely secured in your workspaces and can be shared (or kept private) with anyone in your organization!
Bit provides you a way to get rid of information overload and organize your work in a way that facilitates flexibility and efficiency, helping you do the work you were hired to do and not just look for documents all day!
Further reads: 
[/vc_column_text]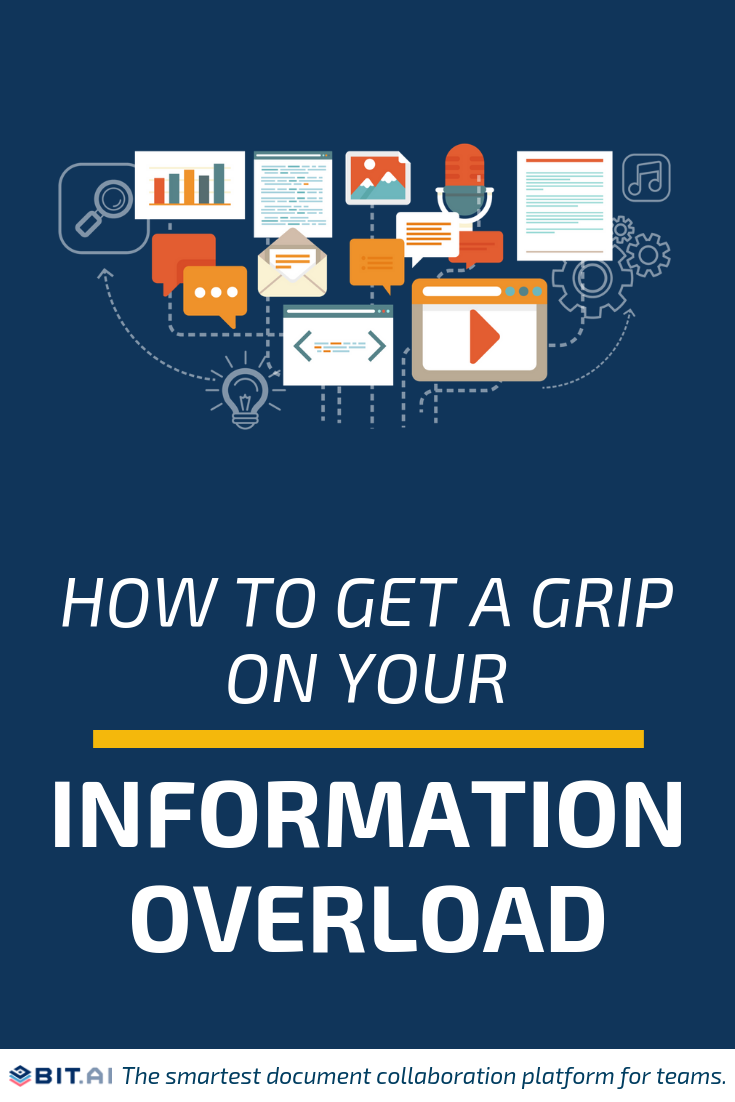 [/vc_column][/vc_row]
Related posts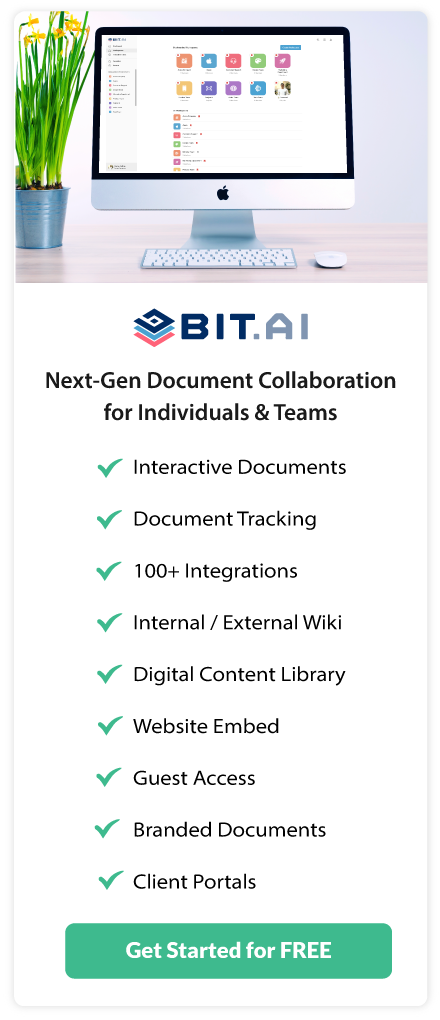 About Bit.ai
Bit.ai is the essential next-gen workplace and document collaboration platform. that helps teams share knowledge by connecting any type of digital content. With this intuitive, cloud-based solution, anyone can work visually and collaborate in real-time while creating internal notes, team projects, knowledge bases, client-facing content, and more.
The smartest online Google Docs and Word alternative, Bit.ai is used in over 100 countries by professionals everywhere, from IT teams creating internal documentation and knowledge bases, to sales and marketing teams sharing client materials and client portals.
👉👉Click Here to Check out Bit.ai.