Want to convert Spanish to English? or maybe French to Spanish? but doesn't want to use google translative anymore! No worries, read on…
Nothing beats a flesh and bone translator, but tragically it is not that simple to carry a human around in your pocket! So, when a speedy translation is needed, the mobile phone offers some relief.
No matter if you are traveling to China, texting your Spanish boyfriend, or trying to ordering butter chicken in Delhi, translation apps are the best option.
But among all the apps around, Google translate is probably on everyone's fingertip. With more than 200 million users daily, Google translate is defiantly a trustworthy + multilingual + mechanical + translator.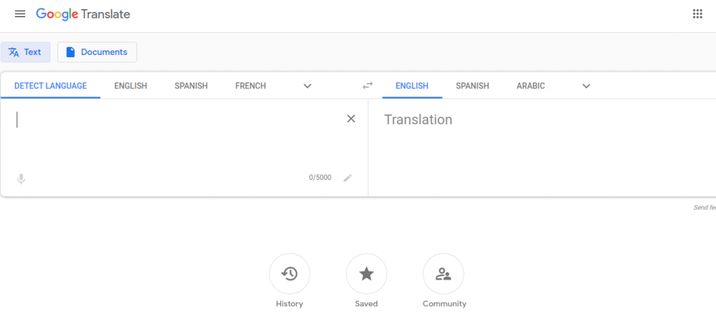 Google translate offers some amazing features like:
A way to translate diverse forms of text, media, and speech
Translate pictures and handwriting by connection through a camera translation
Supports 104 languages on different levels
Stores language offline
But even with all the latest updates, Google Translate does not generate perfect translations *sometimes!* In some areas, Google translate actually fails, like during the times of hardcore accuracy!
For example:- An easy yet common term like 'light' has multiple meanings in the English language, including the antonym of heavy, but Google Translate doesn't offer this meaning as an option over all language pairings.
Therefore, it is okay to use a Google translate alternative and there are tons of options in the market to make your life easy!
Read more: Google Docs Alternatives You Must Try In 2022
Why Look for a Google Translate Alternative?
Before you decide on any other translator besides Google Translate, here are some pointers on why to choose one, and make that decision more solid.
1. Google Translate Supports Only a Fixed Number of File Types
Do you wish to translate InDesign files? Perhaps scanned PDF files? Or do you want to spend your time copying and pasting a text document into a Word file for a fixed type of translation?
Well, Google Translate does not support these kinds of slow and expensive conversions. Hence, some Google Translate alternatives will help you keep your formatting and convert it through the translation process.

2. Customizing Translations Produced by Google Translate is Not Possible
Even though Google Translate is free and easy to use, it's also excessively limited due to the way its algorithm works.
With Google Translate, what you give is what you get. There's no way for you to customize the mechanized translation engine or alter any of the translated text and speed.
3. Google Translate is Not a Solution for Companies
Google Translate is a great option for tourists or personal usage, But it lacks a translation Editor and does not support user collaboration features.
Some Google Translate alternatives offer security and functionality at the company level to help produce translations faster and easier. They also help you save a significant amount of money.
4. The Data You Feed into Google Translate is Not Secure
Did you know that when you use Google Translate for any type of translation, you actually give access to Google of storing, publishing and sharing your text?
While this may be okay if you're just searching for cafe menu items as a traveler or looking for a place to go sight-seeing. But it can hamper anyone concerned with confidential and protected data especially businesses or those dealing with some legally sensitive material.
List of 7 Best Google Translate alternatives for Language Conversion
In comparison to Google Translate, alternatives can be much more trusted, flexible and secure with more functionality and elements.
And to save you from the stress of looking for the best one, we've come up with 7 best Google Translate alternatives. So, let's Dig in!

Offering both Business and personal versions, Microsoft Translator is a smart translation app available for Windows, iOS, and Android. It helps you translate images, screenshots, texts, and voice translations for more than 60 languages ranging from Hindi to Spanish, and Urdu to French. FYI all of this can be downloaded for offline use as well.
Users can type the text they wish to translate, speak aloud, or take a picture containing the text. Microsoft Translator offers integration with other Microsoft applications, like MS Office and Skype. It is available as an app for Smartwatches as well.
To use the most out of Microsoft Translator, you can save & pin down the recent search results to use them for later.
Platforms: iOS, Windows, and Android
Pricing: Free – $15
Read more: 10 Best Translation Extensions for Chrome to Explore!
The iTranslate app by a company named Sonico Mobile, helps you translate text, websites or lookup words with meanings and even verb conjugations in more than 100 languages.
iTranslate is built for all types of systems like Windows, iOS, Mac, Google Play and Kindle Fire. It supports gesture-based controls and can translate Chinese characters into readable words for simpler translations
It is straightforward software and can translate anything by just typing text or voice-to-voice speech.
Platforms: iOS, Windows and Android
Price: Free

Linguee is a web-based service launched in 2009 that helps you to translate singular words or sentences in place of paragraphs and supports more than 25 dialects. Similar to any other language translator, you can use it offline as well, at times of poor internet connection.
 Linguee shows you diverse, bilingual pair of sentences that are used in online publications. This way, you can actually know how a single word or an expression can be used in different contexts.
This software is used in major European law firms because of its core functionality in French, German and Dutch.
Platforms: Windows, iOS, and Android
Price: Free

Babylon is said to be one of the leading translation and dictionary software globally. It holds a set of 1,700 glossaries and dictionaries in multiple languages. This translator is in the game with over 19 years of experience and provides accurate results in thesaurus or dictionaries.
Unlike any other translation software, Babylon translates Office documents without losing its original format. You don't have to go through the process of copying and pasting text, open-up new screens, or exit applications. Babylon allows you to translate everything in just one click.
Babylon Translator supports unlimited terms translation in more than 77 languages including English and Dutch.
Platform: Windows, Android, Mac, and iOS.
Price: Free

Reverso Translation is another intuitive software, which is developed by Softissimo Inc. This software is trusted by more than 6 million users globally. You can learn about words & expressions and easily translate them in various languages like English, French, German, Spanish, Polish, Hebrew, Italian, Arabic, etc.
This Translation software also lets you search for idiomatic phrases and suggestive words while typing text. With Reverso, you can actually share the translated information with other people via email, Twitter, Facebook, etc.
This tool helps you can check the pronunciation and can be a great Google Translate alternative.
Platform: Windows, iOS, and Android.
Price: Free
TripLingo is the ultimate software for foreign travelers. You can learn important phrases, quickly translate your voice notes, connect to a live speech translator and get a short crash course on the local culture while traveling across various countries.
TripLingo supports voice and text-based translations in more than 42 languages including a safety tool to help dial all the suggestive safety numbers like 911 or 108 in dialects according to the country you are visiting.
TripLingo is a perfect translator for travellers but this software is not apt for translating large chunks of content.
Platform: Windows, iOS, and Android.
Price: Free

Memsource is a cloud-based translation platform built to support the safe and seamless collaboration of translators. This software offers easy yet robust translation tools that allow users to process hundreds of dialects provided in various file types.
Memsource is trusted by reputable companies, agencies, and freelancers that are involved in the intuitive translation process.
It is a perfect fit for those who work in similar surroundings to maximize productivity, boost accuracy, guarantee consistency and speed-up delivery process to achieve business demands.
Platform: Windows, iOS, Android, and Linux
Price: Free
Conclusion:
The list of Google Translate alternatives is nearly endless and we hope that the ones mentioned above will help you with the times in need of a perfect translator. It is up to you to discover which alternative will bring you the most benefits.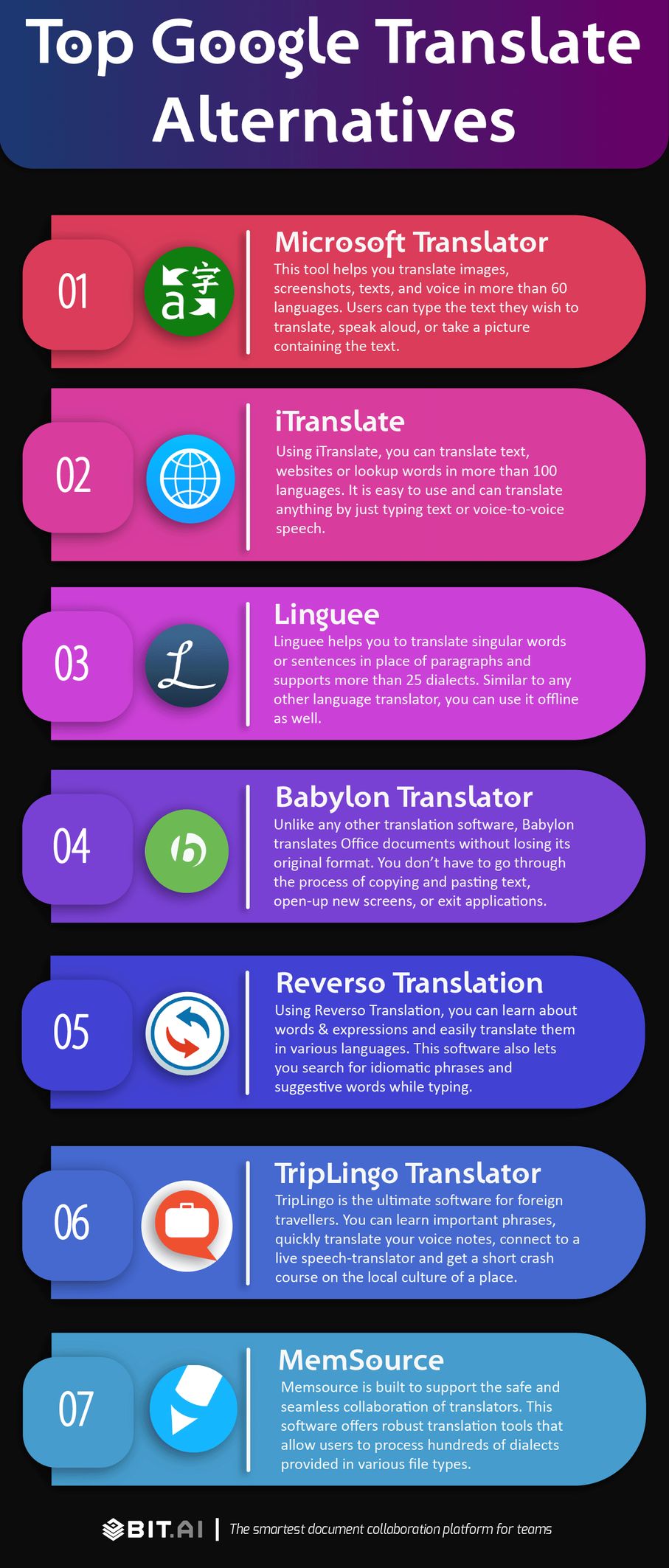 Do you have a favorite alternative to Google translate? Let us know in the comments and we would love to add it to our list.
Further reads:

Don't want to forget this information?
Pin it for future reference!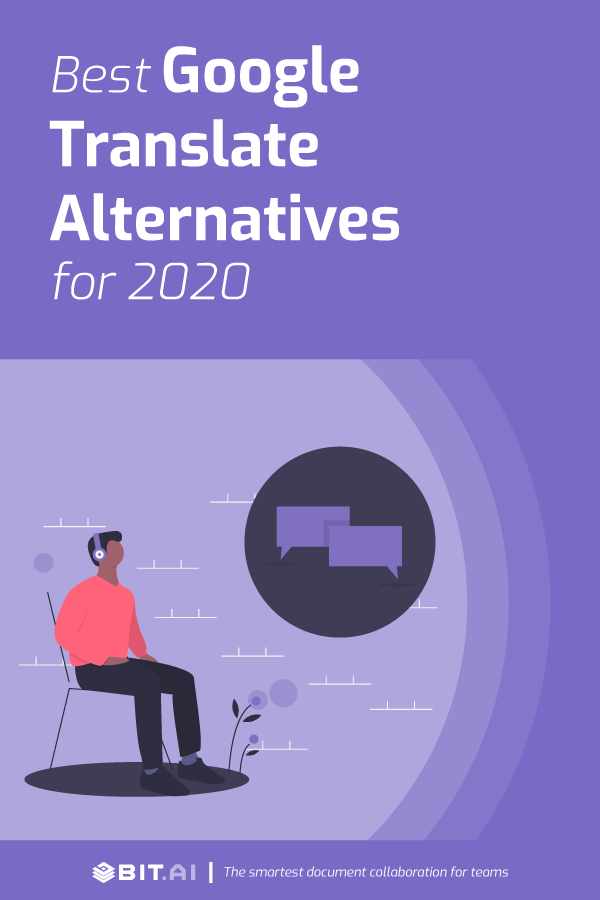 Related posts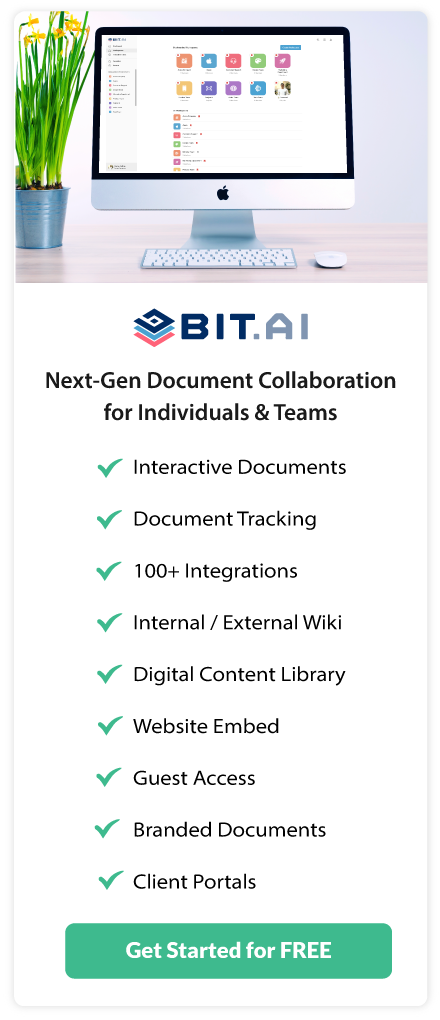 About Bit.ai
Bit.ai is the essential next-gen workplace and document collaboration platform. that helps teams share knowledge by connecting any type of digital content. With this intuitive, cloud-based solution, anyone can work visually and collaborate in real-time while creating internal notes, team projects, knowledge bases, client-facing content, and more.
The smartest online Google Docs and Word alternative, Bit.ai is used in over 100 countries by professionals everywhere, from IT teams creating internal documentation and knowledge bases, to sales and marketing teams sharing client materials and client portals.
👉👉Click Here to Check out Bit.ai.