Looking for digital assets management software to manage all your content? These software help!
Our work is becoming more digital with each passing day and we can't help but work with a ton of documents, PSDs, images, videos, podcast transcripts, email attachments, excel sheets, PDFs, GIFs, and much more.
Have you ever wondered where that PSD file is that your colleague emailed you last month? Or in which Dropbox folder you put your sales pitch in? We bet you have no idea how much productive time your employees are leaving on the table just because they couldn't find the desired information or content they were looking for.
Since all your important work documents are scattered over Google Drive, OneDrive, email attachments, PC folders, and USB sticks, it becomes an impossible search mission to quickly find that exact piece of information you need, at the time you need it.
And as your business grows, it leads to more customers, more documentation, more media content, and thus more digital assets to manage, store, and share.
For you to manage these ever-increasing digital assets, there are several awesome digital assets management software out there. Let us show what we are talking about!
List of Digital Assets Management software Every Growing Business Needs!
The Digital Assets Management market will continue to expand as newer, faster software emerges to help you counter this ever-increasing digital mess.
These digital assets management software allow your team, especially your marketing, sales and customer service reps, to quickly access brand assets and do their job more effectively. They also keep your information organized, safe, and instantly accessible by everyone on your team, no matter where they are in the world.
To help you manage all your videos, images, and documents in a single place, we have put together a list of some of the best digital assets management software out there. Have a look…

Bit.ai is a new-age document management and collaboration tool that helps teams to collaborate, share, track and manage all company documents, files, and other content in one place.
Apart from documents, Bit also provides amazing content management capabilities. Bit is an amazing digital asset management software that has a content library where you can save all your digital assets like logos, videos, images, files, and digital content with a single click.
With Smart Search, users can search and find any files, images, documents, and text inside documents quickly and easily across the system. With the ability to effectively label content, users can search their digital assets using keywords, titles, descriptions, or tags.
They can even search for files based on their source. (i.e., YouTube). This is extremely useful for new hires to not feel overwhelmed while looking for information.

Documents today need to be multidimensional and as the information around us keeps growing we need powerful software like Bit that can adapt to our needs!

Mavenlink is a powerful project-delivery system that helps automate project management, resource planning, and team collaboration.
Designed for service organizations, Mavenlink allows you to integrate your employees, task, projects, and resources for transparency and effective utilization.
Bringing all your required resources and project information in one place, Mavenlink is a digital assets management tool worth checking out.
With Mavenlink's project management capabilities, you can improve your project's performance by monitoring budget, time, and margins. You can also manage multiple projects with ease across different departments. Mavenlink's advanced analytics provides business intelligence, identifies problem areas, and suggests best practices making it a must-try digital asset management software. It integrates with popular applications like Google, Microsoft, and Salesforce.
Read more: How Digital Collaboration in the Workplace Improves Workflows?
3. Bynder

Known for its user-friendly interface, best-in-class customer service, and innovative functionality, Bynder's digital assets management solution is the leading platform to safely store your digital content in the cloud.
Bynder gives organizations that are going through change, a platform to manage brand, campaign, and product assets consistently.
It provides all departments of your company with one central location to store marketing, product, and brand assets—making them directly available for users across the world and reducing the risk of incorrect assets and files being used.
By having everything in one place, Bynder simplifies everyday processes such as searching for images, establishing copyrights, and sharing large files, enabling you to reduce time, risk and hassle when working with media.
With world-class security, two-factor authentication, user rights, and access controls, Bynder makes sure that your digital assets are safe and ready to use whenever you need them.
Templafy tries to maintain uniformity across your organizational data and informational chaos by letting professionals create on-brand, legally compliant, and personalized business documents.
Templafy keeps your company document templates consistent across emails, presentations, spreadsheets, memos, contracts, and other company material.
You can manage, update and share business documents across the organization from a single dashboard, thereby reducing your workload and keeping everyone on the same page.
Since Templafy operates in the cloud, you can access it from anywhere –on Mac, Windows, Android, or iOS and can even work offline.
Templafy integrates with all the major cloud services- Dropbox, Box, etc and allows you to have all your company's assets in one single location for easy and timely access making it in this list of best digital asset management software. By integrating with the digital assets management systems your company is using, Templafy allows users to access all the digital assets easily.
Read more: Workflow Management Softwares Every Business Should Be Using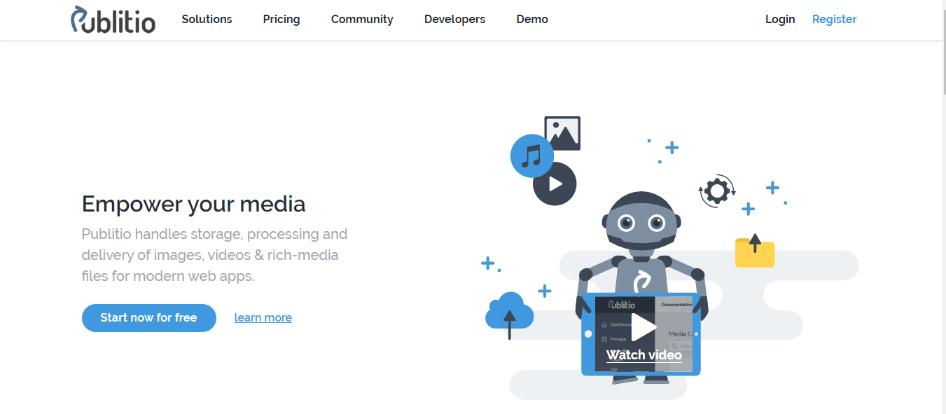 Publitio is a could-based media asset management tool. From videos to images to PDFs, Publitio handles storage, processing, and delivery of rich-media files for modern-day web applications. It's the unicorn solution for digital assets management that you've been looking for!
With Publitio all your media files are safe and secure. You can easily limit access to your files and control engagement, views, or changes that have been made. Also, to prevent viewers from copying or using your images without permission, you can add customized watermarks as well!
Along with, media storage, this tool provides simple integration via CMS, REST API, and SDK of your choice. Process, Upload, manage and publish images, audio files & videos with one line of code.
Some of the key Publitio features are:
URL based transformations
Cloud-based platform
Custom video players
100GB storage space
6. Swivle

If you are a small business and don't have a hefty budget to spend on assets management, you can try out Swivle. Another cloud-based digital assets management software, Swivle offers a lot of great features along with unlimited storage options.
This means, Swivle not only provides assets management but can potentially replace all your cloud service providers too!
Swivle works with a lot of nonprofits and has a lot of neat features like:
advanced metadata functionalities
automatic tagging through AI
a modern and intuitive interface
public or private portals to share your assets
You can collaborate with your teammates as Swivle provides 1-click share functionality. Make comments, design recommendations, approvals, and uploads all from the shared file.
It also integrates with all your favorite apps like Photoshop and uploads files to your dashboard easily and quickly!

Daminion is a digital assets management software specially designed for teams. Daminion allows teams to work with a single content repository. No more file transfers via cloud or email as you can access all your company's digital assets in one place.
It is a multi-users image management platform that allows you to easily store, categorize, catalog, and retrieve images. Daminion supports a wide variety of formats including JPEG, PNG, PSD, PDF, video, audio, Microsoft Office documents, and much more.
Daminion offers a variety of features:
Integration with 3rd party services through metadata
A quick search for finding assets
Ability to restrict access to assets
Version control and audit history
Powerful cataloging capabilities- add tags to classify media files
Supports over 100+ media formats
You can control who can access your image library or folders to protect your assets or accidental "screw-ups".
Daminion is available as both standalone and server versions which are both fast and extremely flexible. As it primarily caters to small to medium-sized businesses, the pricing is pretty affordable in comparison to other digital asset management software.
Read more: 11 Secure File Sharing Sites And Tools For Easy Collaboration

if you are a solopreneur and are not looking for any advanced digital assets management features or collaboration, our last option would be to try out Google Drive.
Google Drive offers free 15GB of cloud storage to store all your documents, spreadsheets, and media files but you can always upgrade in case you need more. Google offers quite robust and handy smartphone apps for their entire office suite so that you can work from anywhere, anytime.
Google Doc's intuitive, simple and user-friendly design makes it easy to access, edit and share images, videos, documents with friends and peers.
Even though Google Docs is not as robust or powerful as other digital assets management software on this list, it is the perfect tool for the average user and can easily get the job done on a budget.
Final Words:
That's all folks! This is our top picks for the best of the best digital assets management software on the market today.
In this race to enhance productivity, we will soon see more of these digital assets management software emerging in the market to help manage our digital mess and work seamlessly without hiccups. Did we miss any major digital assets management software? Let us know by tweeting us @bit_docs
Further reads: 
Don't want to forget this information?
Pin it for future reference!
Related posts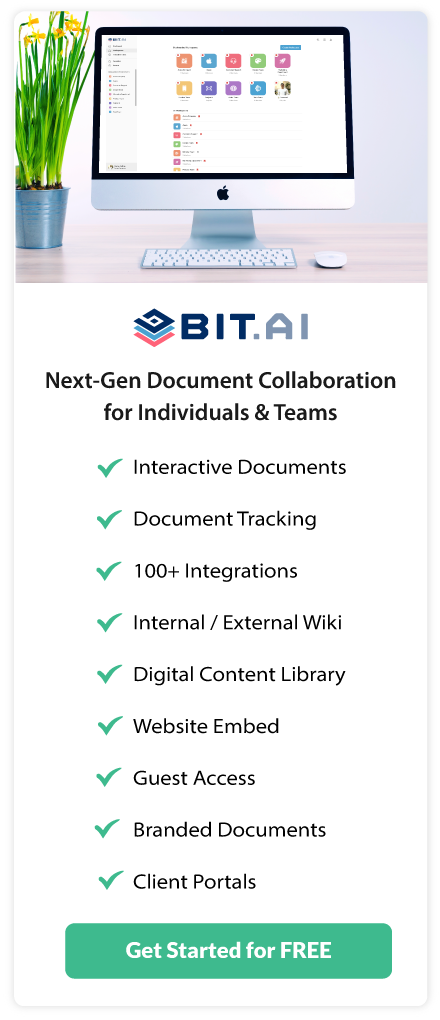 About Bit.ai
Bit.ai is the essential next-gen workplace and document collaboration platform. that helps teams share knowledge by connecting any type of digital content. With this intuitive, cloud-based solution, anyone can work visually and collaborate in real-time while creating internal notes, team projects, knowledge bases, client-facing content, and more.
The smartest online Google Docs and Word alternative, Bit.ai is used in over 100 countries by professionals everywhere, from IT teams creating internal documentation and knowledge bases, to sales and marketing teams sharing client materials and client portals.
👉👉Click Here to Check out Bit.ai.