Did you know that a whopping 70% of the buyer's journey is complete before a buyer even reaches out to sales?! Customers today are more tech-savvy and well-informed than ever. In this world of empowered customers, salespeople need to be on top of their game to close down deals. 
However, the stats are not in their favor. A shocking 71% of salespeople say they lack the necessary knowledge to sell better and increase their close rates.
Form the first point of contact to the close of a deal, salespeople need to be equipped with everything they need to nurture relationships with prospects and help them solve their problems.
A smart way of doing this is making sure that salespeople are armed with all the assets they need to close out a deal. These sales assets provide a way for salespeople to be more connected to their prospects and help move them through the buyer's journey swiftly.
However, the challenge is not creating these assets, but making sure salespeople have access to the sales assets as and when they need it. This is where a sales content asset document comes in.
But before we jump into our sales asset document template, let us first discuss what sales content assets are, why are they important, and what are the elements of such documents. Read on…
What are Sales Content Assets?
Sales content assets are nothing but resources to help them optimize their interactions with clients and prospects and close more deals.
Most sales teams have access to a wide array of various sales content pieces they can share with prospective customers and clients. By dipping into these content pieces they can help address customer questions and move the sale forward.
Read more: How to Create an Agile Product Roadmap?
Why Sales Content Assets are Important?
Sales content assets are an important part of any sales process. Sales content is an important way to assist in meetings, address questions, keep the sales process hot, and eventually close the deal. The easier it is for sales professionals to locate, find, and share the sales collateral they need to with customers, the better their closing rate becomes.
However, a shocking 80% of marketing content is rarely or never used by sales. This sales and marketing misalignment costs businesses $1 trillion each year in decreased sales productivity and wasted marketing efforts. It's crucial that the assets created by the marketing team are made available to the sales team for the proper utilization of resources and effort.
A sales content assets document brings all your sales and marketing assets in one place, making sure that your sales team has access to the right information at the right time.
Since sales reps spend 40% of their time searching for or creating content, providing them with a sales content assets document frees up their time and allows them to focus on more important work.

What You Should Include in Sales Content Assets?
There are a number of resources you can include in your sales content asset document. Some of these include:
Case Studies
Company One Pager
Top Blog Posts
eBook
White Paper
Product Sheets
Competitor Comparison
Email Templates
Presentations
Customer Testimonials
Creating these sales assets can be a time-consuming affair. Let us now explore an awesome tool that will allow you to create such sales assets quickly…
Read more: The What, Why, and How of Lead Generation
Create Your Sales Content Assets Document The Right Way With Bit.ai
Marketing and Salespeople often find themselves making a lot of documents in the form of ebooks, whitepapers, blog posts, sales playbooks, sales processes, presentations, email templates, competitive analysis, company one-pagers, scripts, persona documents, proposal documents, case studies, sales decks, etc. Hence, having a tool to create and store all these documents in a centralized location becomes more than a necessity. This is where Bit comes in
Bit is a modern-day workplace collaboration tool that empowers sales teams to make marketing and sales materials while collaborating in a common workplace.

The sales and marketing team can create, customize, collaborate and share ebooks, whitepapers, blog posts, sales playbooks, sales processes, presentations, email templates, and other internal as well as client-facing material.
Whether your team is creating internal or external sales content assets, they can easily add videos, PDFs, Slideshare decks, spreadsheets, and more directly into a Bit document. It's a smart way to add context to the content you are sharing.
Create Interactive Assets: You can add content from over 100+ various applications that will live inside of your Bit documents.
Add Excel spreadsheets, PDFs, Google Forms, Gantt charts, social media posts, YouTube videos- basically anything on the internet with a link, and Bit will automatically convert that into live content living inside your sales content assets document!
Recommended power links and files you can add to your Bit document sales content assets document:
Weblinks
Sketchfab, Figma, Marvel
PDFs, PowerPoint in Google Drive/OneDrive
Google Sheets, OneDrive Excel, Airtable
Social Media posts
YouTube, Vimeo
Draw.io, Lucidcharts
Collaborate in real-time: Salespeople and marketers can simultaneously collaborate on a Bit smart document in real-time. Employees can collaborate to create Sales playbooks, Process documents, Case studies, White paper, Ebooks, Blog posts, Persona documents, Training documents, Presentations/Sales Decks, Email templates, Datasheets, Social media content, Competitive Intelligence documents, Sales scripts, Product pages, and more.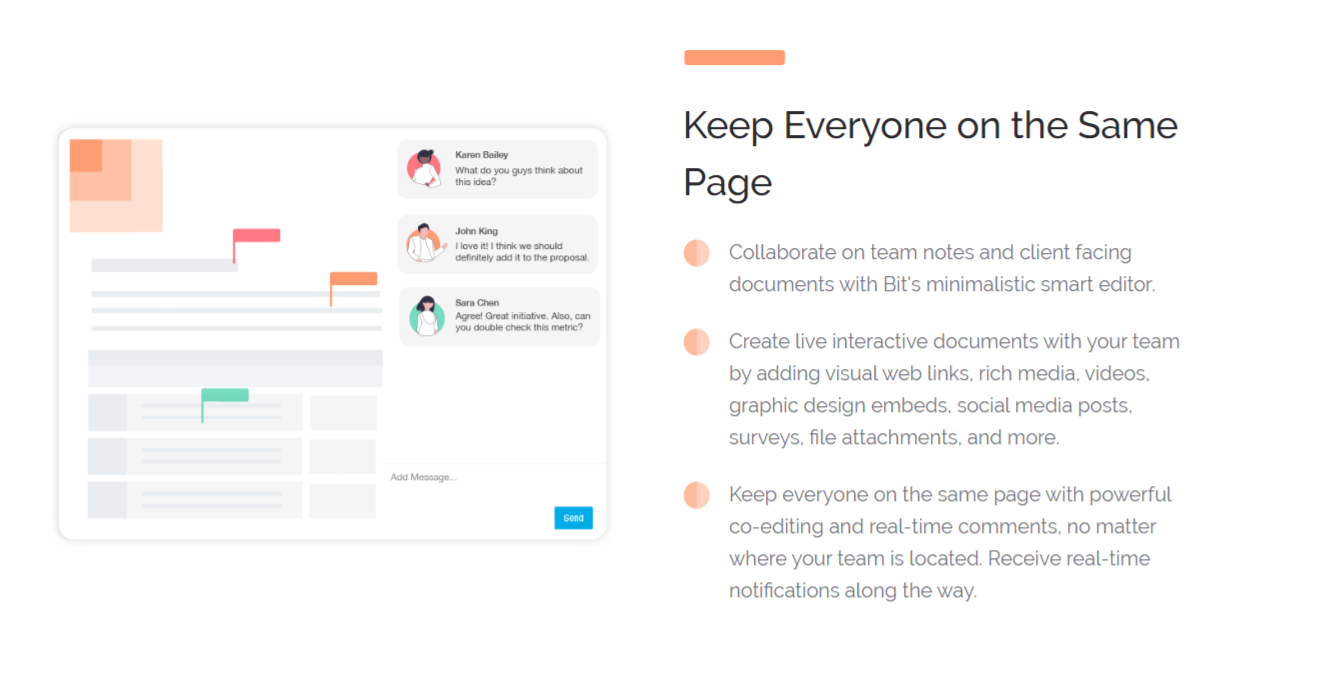 It's a wonderful way to manage projects, create client-facing material, brainstorm, share meeting agendas, create proposals, and most importantly, share the knowledge! Bit's sleek, minimal, and distraction-free editor makes a great tool for documentation.
Avoid Confusion: With the ability to tag co-workers, interlink documents to create wikis, collaborate on a document in real-time, and chat functionality makes it very easy for everyone (especially remote teams) to stay on the same page and avoid confusion and chaos.
Track Documents: With Bit, you can track the time spent by external parties, how frequently they were viewed, or if they were viewed at all.
This is extremely helpful as it gives you an idea of whether clients, prospects or partners have actually read the material given to them. Bit allows you to track your documents and gain amazing insights, helping you create an even better version of your playbooks.
Multiple ways to share: Bit documents can be shared in a live state meaning that all changes that you make to the document will update in real-time. If you are sharing your sales content assets document with outside partners and clients, they will always get your most up-to-date changes.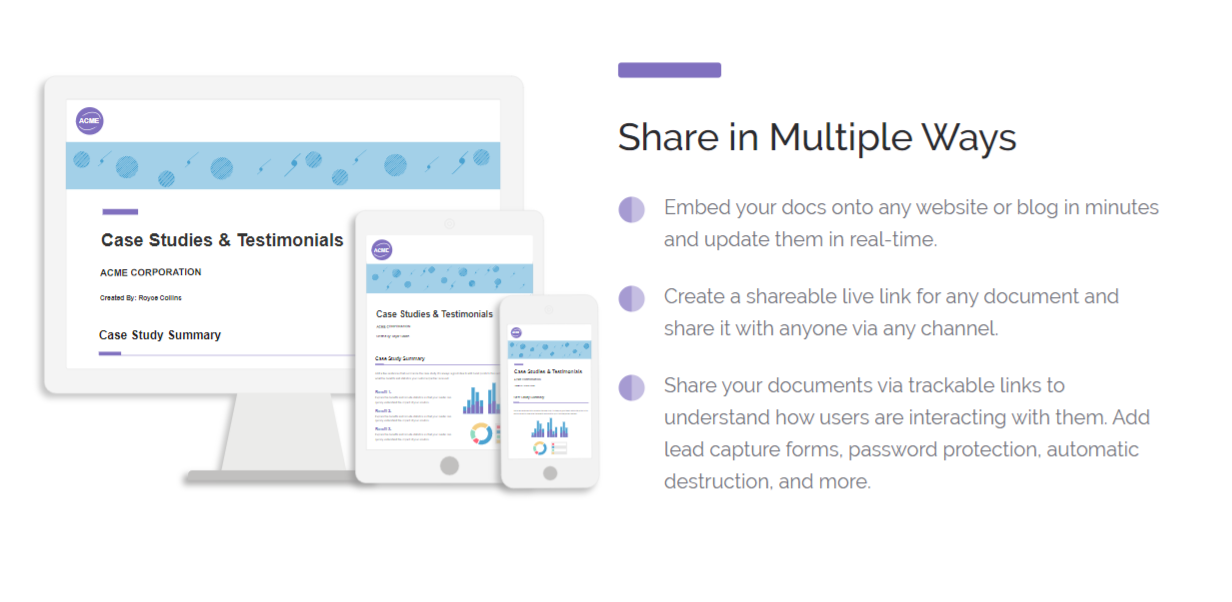 You can even embed these documents on any website or blog. Since Bit documents render and are responsive, any changes made to these documents will reflect live on the site! Moreover, features like document tracking, password protection, file access restrictions, etc. help keep your playbooks and other workplace documents safe.
Bit provides a common workplace for salespeople to collaborate, document, share their knowledge, brainstorm ideas, store digital assets, and innovate together. The best part is that this knowledge is safely secured in your workspaces and can be shared (or kept private) with anyone in your organization or the public!
Here are some of the main benefits of using Bit:
Collaborate in Real-Time
Interlink sales content assets and other documents
Create fully responsive documents
Create private sales content documents only visible to yourself or your team.
Track engagement on shared sales content assets documents with partners, etc.
To make the process of creating your sales content assets easier, we have created a ready-made sales content assets template for you! Check it out below:

How to use Sales Content Assets Template with Bit
The process of creating sales content assets on Bit is insanely easy! Just follow these four simple steps to create a sales content assets documents quickly:
Step 1: Create a Bit Account
Go the home page of Bit.ai and click on Get Started for Free or Sign Up to get started. Enter your email address to sign up. Once in, you can create your personal profile.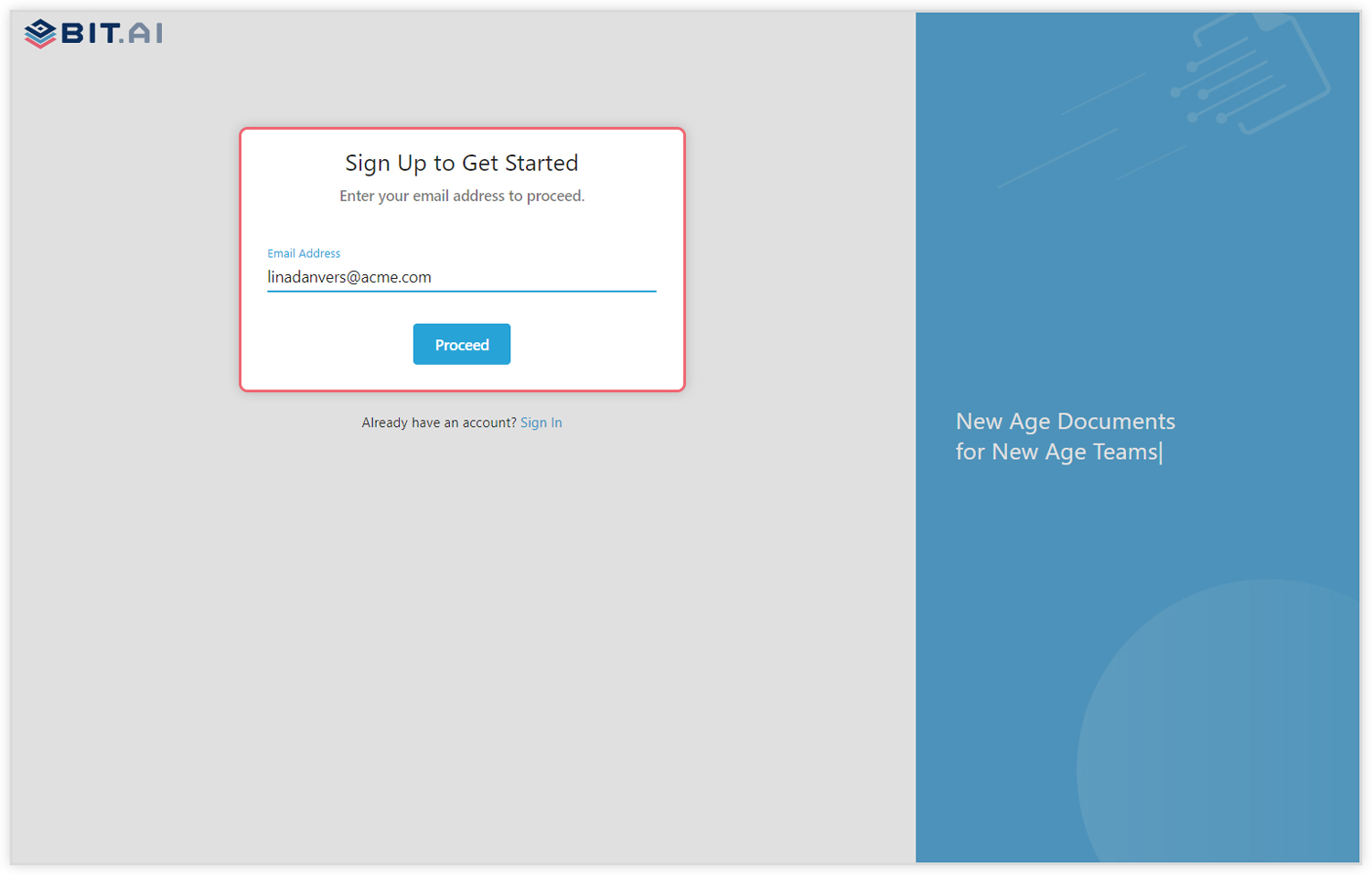 Step 2: Create a Workspace
Workspaces are where the work gets done. Click on the 'Create Workspace' button on the right. A popup will show up prompting you to add a name for your new workspace.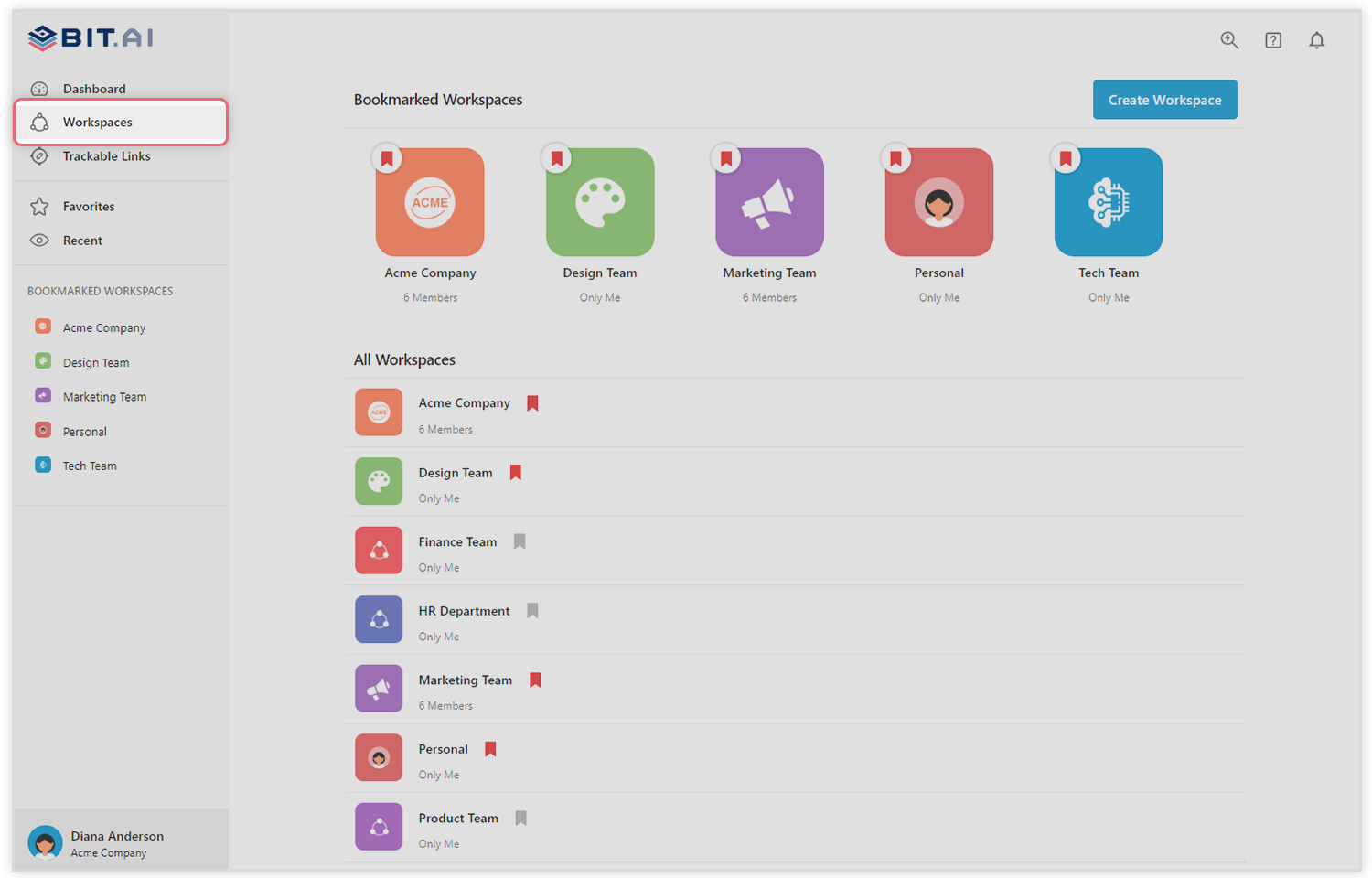 You can create a workspace around a team, department, large project, client, partner, etc. Inside each workspace, you can create an unlimited amount of Bit documents and access your content library (storage area for all of your digital assets – web links, files, cloud files, rich embeds, etc.).
Step 3: Add Team Members
Bit allows your team members to collaborate in real-time and get work done. Collaboration starts at the workspace level.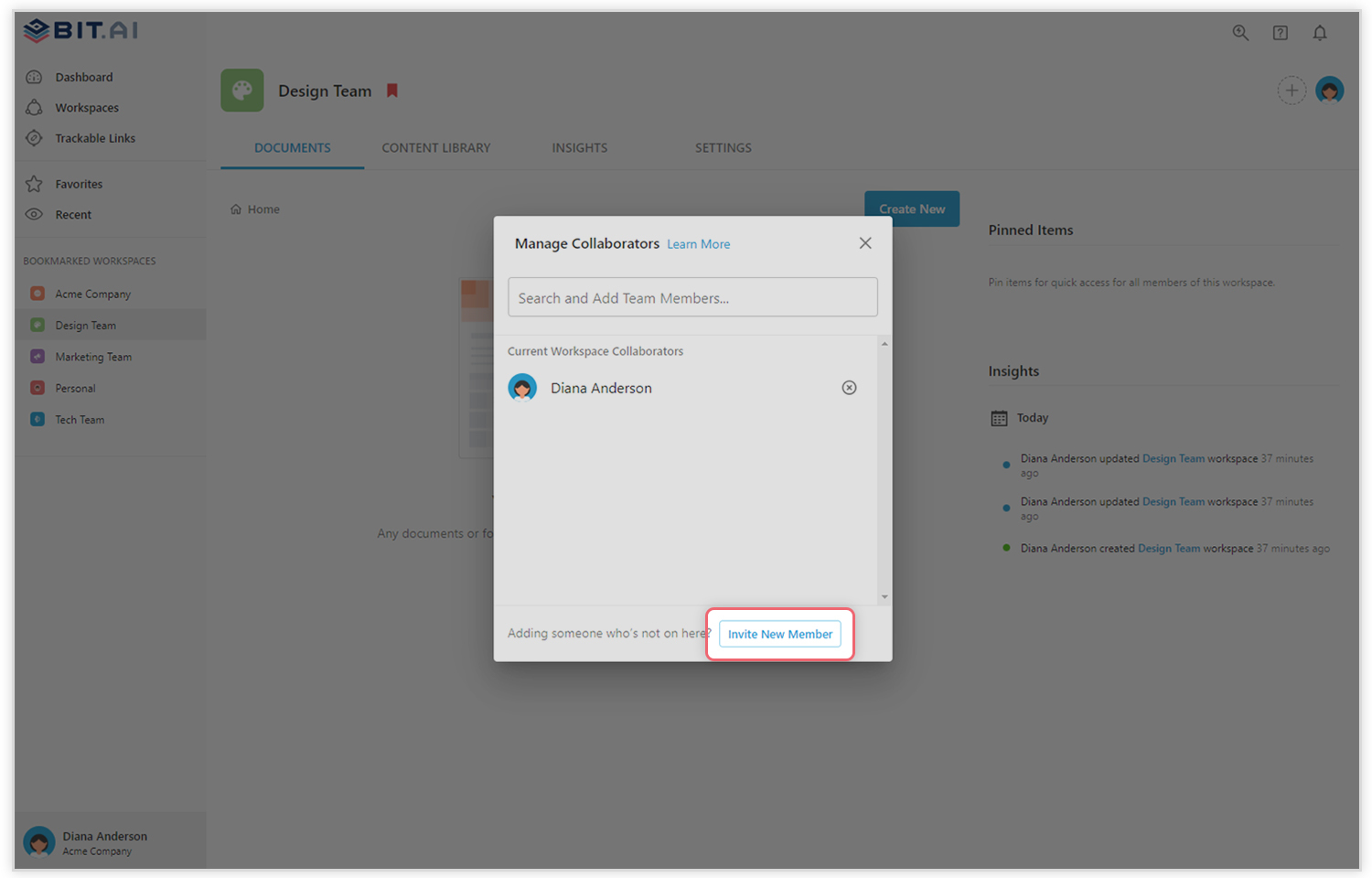 You create private workspaces by default. However, you can invite others to join you inside of a workspace and collaborate together with the knowledge, projects, documents, and content inside of the workspace.
Step 4: Create Your Desired Document
Once you are in the workspace, click on the 'Create New' button. Select 'From Template' in the dropdown. A pop up will display allowing you to select a template from the gallery.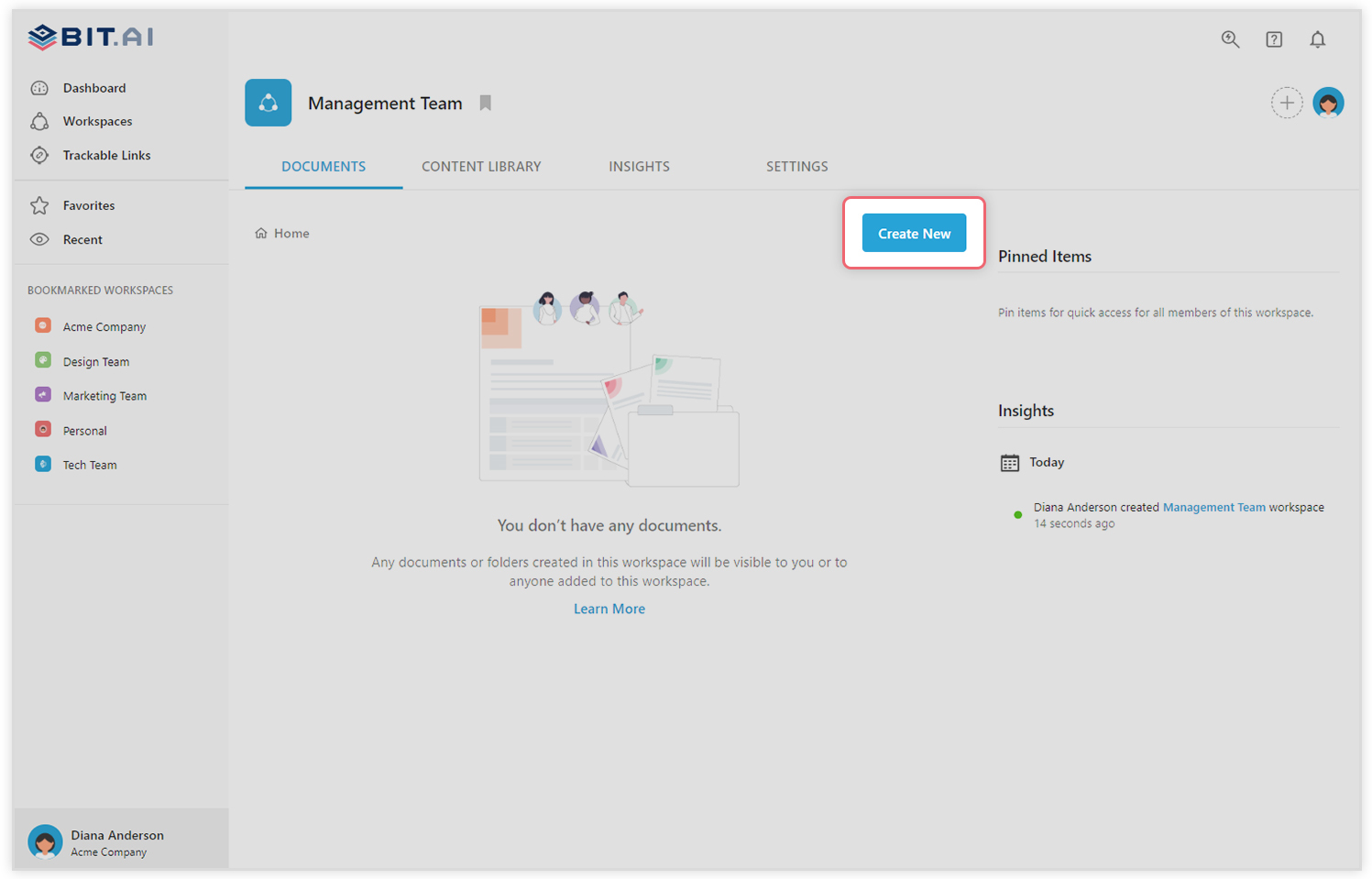 In the search box on the top left corner, you can search for a "sales content assets template". Once your desired template pops up, click on it and click on the "Use Template" button on the bottom right corner.
That's it! Your sales content assets document is ready for use!
Before you go!
Our team at bit.ai has created a few awesome sales templates to make your sales process more efficient. Make sure to check them out before you go, your sales team might need them!
🎥Watch this video to learn more👇
Over to you
Even though creating sales content assets documents can be time-consuming, it's worth the effort. Providing a single document to salespeople helps them stay on top of the latest content they can use to close more deals and nurture customer relationships. This, in turn, increases their work efficiency and skyrockets productivity.
Using a sales content assets template can significantly reduce the time and energy required to create such sales documents, providing sales reps with everything they need to be victorious. If you need any help with the sales content assets template or want to know how Bit can help your sales team, let us know by tweeting us @bit_docs. Cheers!
Further reads: 
How To Create A Sales Playbook For More Leads
9 Sales Collateral Examples You Should be Using in 2020
How to Create a Sales Contract for Your Business?
How to Create a Killer Sales Plan Document?
How To Create A Professional-looking Invoice?
How To Create A Sales Process Document The Right Way!
The Best Sales Deck Examples To Revamp Your Sales Strategy
How to Skyrocket your Sales with a Sales Dashboard (Template Included)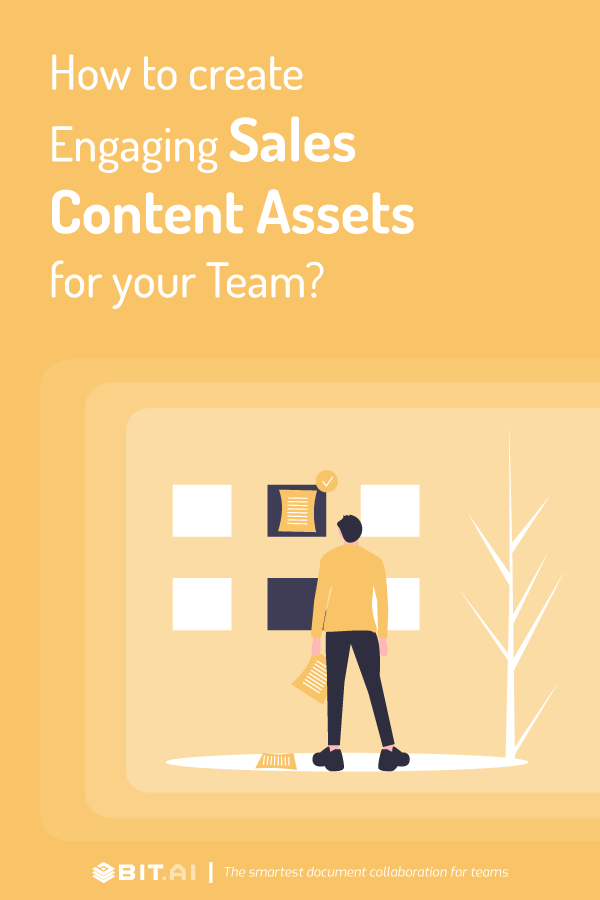 Related posts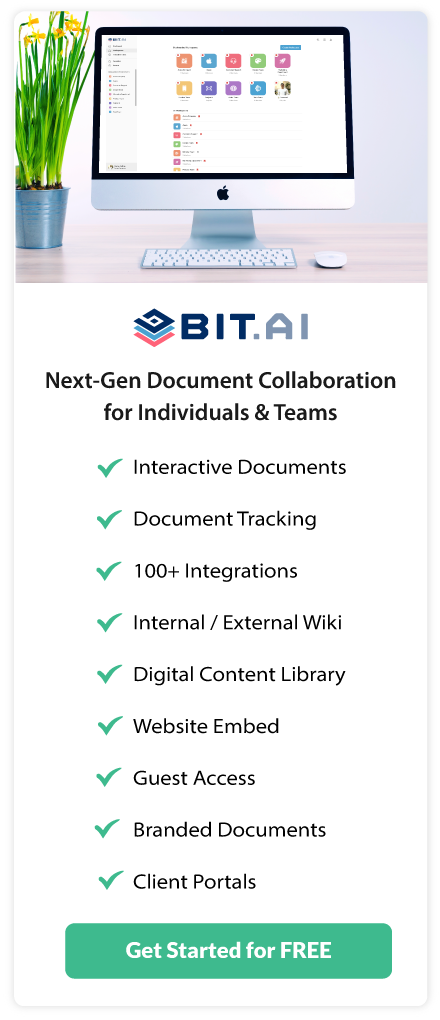 About Bit.ai
Bit.ai is the essential next-gen workplace and document collaboration platform. that helps teams share knowledge by connecting any type of digital content. With this intuitive, cloud-based solution, anyone can work visually and collaborate in real-time while creating internal notes, team projects, knowledge bases, client-facing content, and more.
The smartest online Google Docs and Word alternative, Bit.ai is used in over 100 countries by professionals everywhere, from IT teams creating internal documentation and knowledge bases, to sales and marketing teams sharing client materials and client portals.
👉👉Click Here to Check out Bit.ai.