Have you ever experienced a scenario, where you're focused on a serious text message conversation, and you suddenly receive a spammy message, "Get $100 off your next iPhone," isn't it frustrating?
Well, here's a secret- it not just frustrating for you as a customer, it is extremely exhausting for the sender (seller) as well. With the evolution of technology, lead generation has emerged as a significant cure to fight this frustrating flu!
Imagine having customers self-select themselves, showing interest in your business, and provide you with their contact information. Talk about a time-saving, annoying-free way of contacting prospective clientele.
Lead generation is a solution that can save you and your business from being put in that dark category of annoying and aggressive sales tactics.
Say goodbye to those disruptive cold texts, emails, and phone calls that disturb the very audience you want to convert into customers.
Before we jump in with how you can generate great leads, let's start with defining what a lead is, and then we'll cover everything else about lead generation!
What is a Lead?
A lead is defined as a potential visitor who visits your website, expresses interest in your products or services, and voluntarily provides their contact information.
A visitor turns into a lead when they do one of the following things:
Register for a free trial, webinar, or product demo.
Fill in the lead capture form and provide their contact details voluntarily.
Call you or send you an email to get more information about your products and services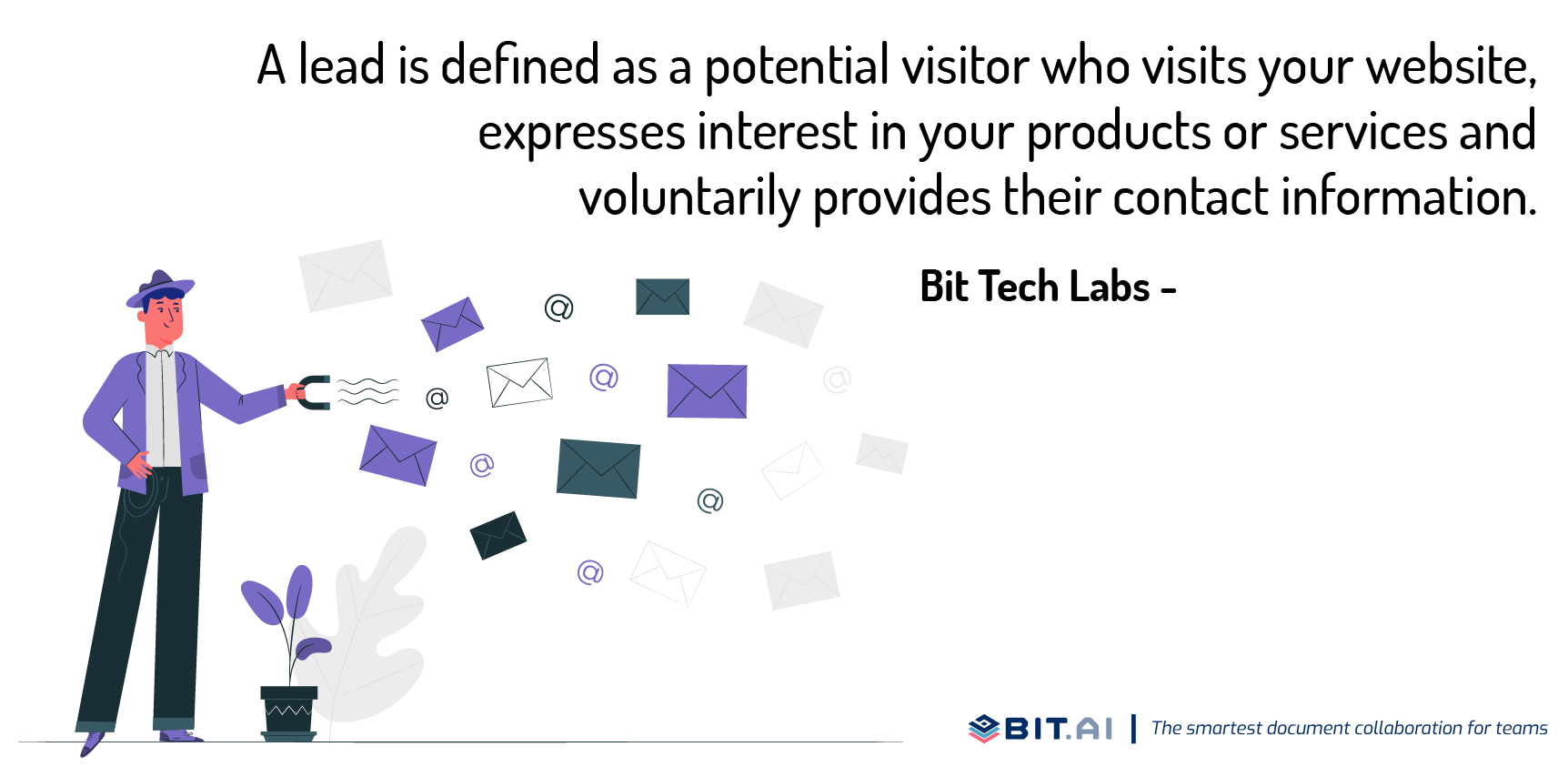 The important contact information they provide represents a prospective 'lead.' Since they have shown interest in your company it has a higher likelihood of resulting in a sale and conversion. The goal is to create a continuous flow of leads to help your business prosper.
It's important to understand that not all leads are created equally and are qualified the same way. Some of these differences depend on how much information they provide and what customer lifecycle stage they are in.
Four Types of Leads:
Here are four types of leads to help you understand the different types of leads that are generated by businesses.

1. Marketing Qualified Lead (MQL)
MQLs are generated from your marketing efforts, like providing a downloadable guide or a product demo. Generally, these buyers aren't ready to connect with your sales team and are in the early stages of the purchasing funnel.
2. Sales Qualified Lead (SQL)
SQLs show an instant interest in your products, like by submitting a contact form or a quote request. These buyers usually want to talk to your sales team and occupy a lower stage of the purchase funnel.
3. Product Qualified Lead (PQL)
PQLs indicate an interest in your products or services by signing up for a free trial. They take action after trying the products. A PQL, for instance, may contact your sales team to ask questions and learn more about what your company is offering.
4. Service Qualified Lead
SQLs showcase an active interest in your products or services because they already use and pay for them. These types of buyers will contact your sales team regarding a potential upsell opportunity like by choosing a different plan, service offering, etc.
The goal with lead generation is that in almost every case, you will hear from a lead before a lead hears from you.
However, the issue with a majority of these buyers is that they actually never make a purchase the first time around. In fact, approximately 96% of website visitors are cold buyers and are not ready to make a real purchase.
As a marketer, your focus should be to turn this 96% of website visitors into promising customers. So, how will you turn this audience into paying leads? The answer is simple: you need to understand what is lead generation, what benefits does it offer, and how to put it into practice!
What is Lead Generation? (Definition)
Lead generation is a technique of using different marketing strategies to capture visitors and bring them to your product or service. This process is accomplished when the visitor either signs up for a service or requests more details by entering their contact information on the website.
If you look closely, lead generation is very similar to bartering, which was introduced thousands of years ago.
In today's digital world it's where people trade their contact details for something valuable like access to a webinar, coupons, a free consultation, or an eBook.
However many businesses struggle to do this trade right and unfortunately miss out on gathering organic leads or even paid customers. In fact, 61% of marketers believe that generating premium-quality leads is one of the biggest challenges in the sales funnel.
This is because, most marketers think keeping a form or a phone number alone is enough to generate organic leads, which is never the case, especially in the current marketing world.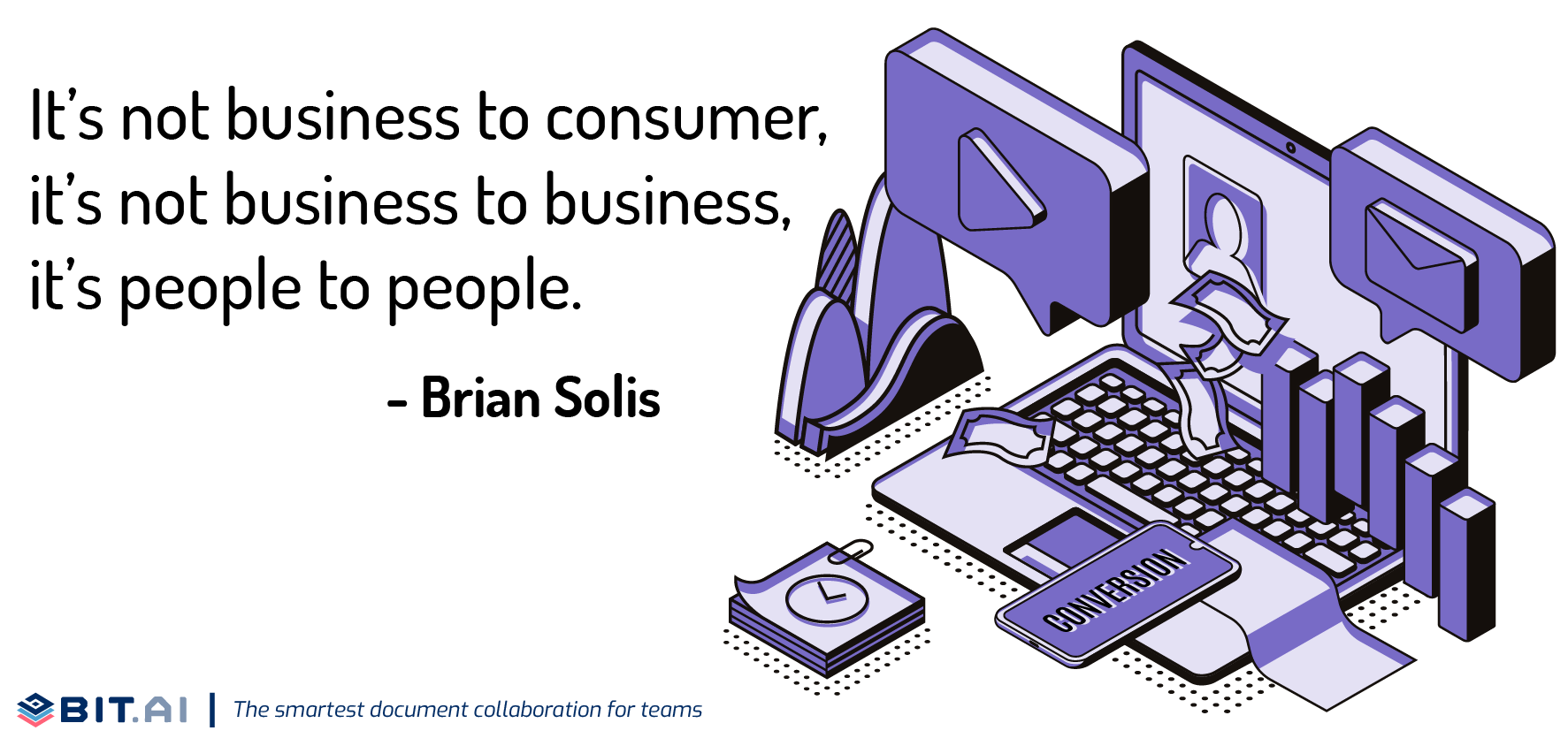 Hence, lead generation is all about nurturing and building a relationship with your lead to offer valuable, user-specific content that is likely to move them towards becoming a paid customer for your business.
As your customers move from strangers to leads, you're building credibility and trust towards the golden customer experience. That generally resonates better, and that's what lead generation truly is: It's a way of warming up prospective leads to your business and getting them on the path to eventually making a purchase.
According to a survey, 80% of customers say the experience a company offers is as important as its products or services.
Read more: Tripwires: Definition, How to Include them & Examples!
Why do you Need Lead Generation?
Well, in a bid to make more sales and take your business to the next level, you need to have a line of sales-ready and premium leads. This is where lead generation comes to the rescue.
Lead generation helps you establish the interest of your target audience in the products or services you're offering. So, with an aim to generate quality leads, we will look at some benefits of lead generation.
1. Help You Stay Ahead of Your Competition
A study showed that more than 60% of online generated leads are two times more profitable than the leads generate through traditional sales. Therefore, Lead generation helps you calculate the market situation in a very cost-effective way and help you stay ahead of the competition.
It allows both the sales and marketing team to work side-by-side and close any communication gaps to convert customers.
2. Increase in Profit and Sales Ratio
Did you know, over 55% of marketers spend half of their marketing budgets on lead generation? That's because one of the most important benefits of using lead generation is the boost in sales of your products or services.
Companies that use lead generation plans are more likely to make more sales by turning leads into full-fledged paid customers, eventually increasing the profit margin of the business.
3. Target Your Desired Customers
Lead generation lets you target your desired customers based on demographic and geographic locations. This helps you analyze where you might make more sales and target those audiences.
The sales team can even conduct some detailed research on leads before approaching them. It's a winning situation for your business to find genuine customers.
4. Costs Less than Other Modes of Advertisements
Promoting a business is a requirement for success in any market. With all the avenues of promotion is important for companies to choose marketing tactics that will be cost-effective and produce better results.
Lead generation costs way less than the traditional sales methods with better results. According to a survey, the Facebook ad campaign costs 2.07% more than basic lead generation tools!
5. Generate Awareness
Brand awareness is an estimate of how well your brand is known in the target markets. It's when buyers think of you when they need to make a purchase within your business product category. In fact, companies that are involved in social selling (brand awareness) get a 199% better ROI.
The more people know about your brand the stronger your reputation and brand value are. Lead generation is a great way to build brand awareness by educating your audience about your product and services.
6. Shorten the Process of Sales
As you test various lead generation methods for your business, you'll find that some techniques work better than others to gather well-qualified leads.
It's easier to approach prospective buyers when they are showing 'buying signals.' Your lead generation journey will help you map and understand those key moments prospective customers are 'hot' and can be converted.
Now that you realize the importance of lead generation, it's time to move on to the next section. We're going to walk through the importance of building a lead generation plan that resonates well with your leads and positively impacts their buying decisions.
Read more: The Ultimate Beginners Guide For Sales Funnel With Examples!
How to Create a Successful Lead Generation Plan?
Today, marketers face the challenge of finding innovative ways to reach out to their customers and create effective lead generation plans that cut through the competition and beat the odds!
Devising a solid lead generation plan is the best way to find interesting leads and compel them to be a part of your sales funnel. In fact, 46% of marketers believe that the lack of an effective plan is the biggest challenge in reaching the next level of the lead generation cycle.
Don't fret! We're going to equip you with the steps you need to take to create a fruitful lead generation plan! Let's dive in…
Step 1: Plan
A well-mapped plan is important to lead generation success. Plans help support decision-making and increase the control of your strategies by reducing the risks involved.
Analyze Your Present Needs: Figure out an 

in-depth analysis of your needs ahead of time. Perform analysis for your needs early in the beginning.

 Smart Goals Setting: It's important to set real SMART goals. Once you have decided what you require to achieve with your lead generation strategy, set a specific, measurable, accurate, relevant, and time-bound goal for your lead generation plan.
Developing Buyer Personas: To figure out a perfect lead generation strategy, find out who your ideal customers are, what's their average age, where do they come from, what do they do, what are their needs and how do your products or services solve their problems.
Step 2: Create
Now that you've established your requirements, set your goals and understand what your lead wants. It's time to create captivating content, communication, messages, and offers that they simply cannot resist.
Remember, your aim is to create a lead generation plan that is likely to convert even the most discerning souls into new leads.
Create Productive Offers: The process of lead generation mostly runs around one thing: creating an irresistible offer for your customer. You need to generate these offers for each stage of your lead funnel.
Create Awesome Content: Content is a necessity at every stage of your lead funnel. You need to create content to engage, educate your prospects, and convince them for a commitment.
Step 3: Distribute
Now, it's time to distribute your content to ensure the maximum impact of your lead generation strategy. Don't forget to use relevant keywords for your content and offers you create to make your content stand out. A content calendar is a great tactic to schedule strategic content distribution
Use Owned Media Platforms: Distribute your content on your website, blog, and social media networks to drive traffic. You can also use your email and send out your content and offers to your email contacts.
 Use Earned Media Platforms: Use press coverage, social proof, testimonials, and customer reviews to your advantage to increase brand awareness and grab the attention of leads.
Use Paid Media Platforms: Paid media are third-party channels that may give you an edge to catching and holding the attention of your target audience. Some of these third-party channels may get you quick results in terms of inbound leads and surging traffic.
Step 4: Analyze 
You'll need to figure out what's working and what's not, in order to make possible changes to your lead generation strategy. It is important to closely track your major performance measures to identify the areas of strength and find out the areas that need improvement.
Find Top Lead Sources: Analyze your lead sources to find out which ones are driving you maximum traffic.
Analyze Your Content: Check the performance of your content at every stage of the funnel to see what type of content is working for your business. Analyze what topics are read most and which ones aren't able to get any clicks or views.
Monitor Your Offers: Offers don't ensure that your audiences will like it. So, you'll need to regularly track and monitor if your offers resonate well with your target audiences.
Step 5: Convert
Finally, it's time to come up with a conversion strategy to sway your customers towards the point of sales. You need to carry out a smooth plan of approach and conversion to turn leads into new paid customers.
Segment Your Visitors: Once you are able to get to the top of your lead funnel flow with target customers, it's time to segment your visitors according to their site behavior and browsing history.
Personalized Offers: Personalize your offers based on the taste and preferences of your visitors to tempt them into making a purchase and cultivate a relationship with your business for a longer period of time.
Remember, even the most thoroughly sketched plan may backfire if you aren't being effective about what lead generation strategies to use.
Before you start drawing out a robust plan, take a moment and get familiar with these helpful lead generation strategies.
Read more: SMART Marketing Objectives: What are they & How to Write them?
Top Strategies to Help You Generate Leads
At some point in time during your business journey, you've probably asked yourself, "Is there a way to increase lead generation?" Well, this section breaks down some highly effective lead generation strategies so you can optimize your efforts to engage and successfully accomplish your lead generation plan!
To begin with, both B2B & B2C lead generation strategies include four major components:
Lead Capture: Lead capture is a way to collect data from a lead. This data may include the lead's name, contact information as well as relevant qualifying details or professional information.
Lead Magnets: A lead magnet in the form of an incentive or offer that drives the prospective visitor to become a lead.
Lead Qualification: Qualification of the lead as we have discussed in the beginning helps in determining how likely they are to make a purchase.
Lead Segmentation: Lead segmentation is a process of filtering leads based on their information, activities, and habits (e.g., job title, which lead magnet attracted them, pages they visited on your website).
Now, to pillar each of these components we have got 4 reliable lead generation strategies that you can use to boost the whole process.
So, let's dig in!
1. Create Insanely Awesome Content
As a marketer, one of the top things you should be hooked on is writing. Start serving your audience with well-cooked, premium content as you might have heard the phrase "Content is king."
And to justify this phrase, offer content that will intrigue your visitors to start looking for your subscription form or follow button without you compelling them to, the type of content that will open doors and engage your leads.
Stats show that: The top three goals of effective content marketing are Lead Generation (59%); Market Education (43%); Brand Awareness (40%). Notice that lead generation is the most important attribute on this list. This shows that content marketing is a highly responsive lead generation strategy.
Also, when you create quality content, it has the ability to go viral and get seen by a number of readers, eventually funneling more leads for your business.
Well, no wonder that 88% of marketers use content marketing as a lead generation technique!
2. A Power-Packed Email Marketing Plan
Email marketing is one of the oldest online marketing channels and has remained in the words of every marketer. In fact, email marketing is one of the most common lead generation strategies are email marketing- 78%
One of the latest trends in email marketing at the moment to generate great results for many B2B businesses is marketing automation.
Marketing automation is an effective hybrid email marketing feature that connects with your CRM and enables you to automatically send highly targeting emails to leads that are personalized based on their qualification.
Do you know, there are more than 480,000 websites that are currently using marketing automation as a potential lead generation strategy!
While traditional email marketing and newsletters are still significant, the ability to capture more information on leads has allowed B2B marketers to get a lot smarter with how they plan to target users in the inbox.
3. Optimize Your Website with Opt-In Offers & Lead Magnets
The success of generating leads via lead capture depends on the quality of what you're giving away as we discussed earlier – it's a barter system. You have to give something of value to receive something of value.
You don't want to give an offer that users can easily find elsewhere; you need to give away something of great value, something irresistible! It should be an offer that your visitors will be happy to get even if they didn't know that they needed it.
This is when lead magnets work their magic! One of the most popular lead magnets on the internet today is free eBooks.
A lot of people grew their customer reach with minimal effort, just by giving away eBooks as an opt-in incentive on their landing pages.
It's not only eBooks which you can giveaway; there are other types of magnets as well that have proven to work for many businesses:
Opt-in forms
Landing pages
Pop-ups
Discount coupons
Webinars
There are so many things you can offer in exchange for people's personal information. Just make sure that your giveaways are as valuable and relevant as possible.
4. Sharing Case Studies on Real Experiences
Till thinking of what lead generation strategy to use? Share some real-life case studies.
People like reading and listening to case studies, because it affects the way they think and drives them to take certain actions to receive a similar experience.
Timothy Sykes a stock trader mentioned in a Neil Patel blog that just one case study boosted his website traffic by 26%, which resulted in an 11% increase in the number of leads.
This happened because readers are tired of those generic "how-to" articles. They want practical tips & proof that something is working and they can experience the same thing.
You just have to spin around a little, do some research and find something that you think your readers might relate to, the aim is to ensure that it's relevant and actionable.
Then, they'll happily become your customers! 🙂
Final Words
There you have it, folks! It would not be hyperbole to say that…
"The measure of any marketing campaign is the volume and quality of leads they drive-in."- Bit Tech Labs
By lead generation, you will not only able to gain revenue for your business but also help lift you with the ever-increasing competition.
With this handy guide, you may set your business off the ground easily and successfully, build real-time return on investment, penetrate new markets and convert sales-ready, high-quality leads.
Further reads: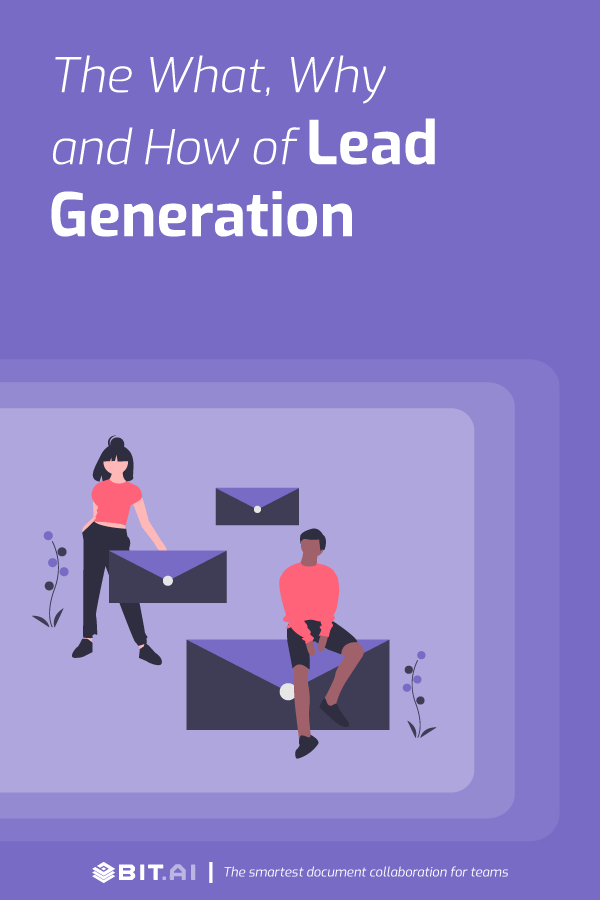 Related posts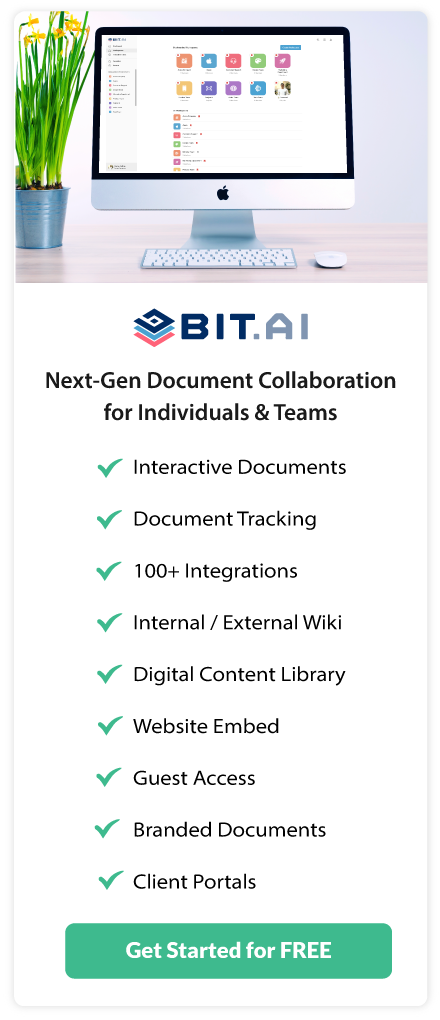 About Bit.ai
Bit.ai is the essential next-gen workplace and document collaboration platform. that helps teams share knowledge by connecting any type of digital content. With this intuitive, cloud-based solution, anyone can work visually and collaborate in real-time while creating internal notes, team projects, knowledge bases, client-facing content, and more.
The smartest online Google Docs and Word alternative, Bit.ai is used in over 100 countries by professionals everywhere, from IT teams creating internal documentation and knowledge bases, to sales and marketing teams sharing client materials and client portals.
👉👉Click Here to Check out Bit.ai.