According to Cisco, videos will account for 82% of all internet traffic by 2022! It hardly comes as a surprise as the growth of video as a communication and entertainment medium has grown tremendously over the last decade. With cute cat videos on YouTube to fun travel vlogs on Instagram, our appetite for videos never seem to end.
However, videos are not just used for talking to friends in a different country or watching cat videos on YouTube. They can be a tremendous way to supercharge your workflow and turn you into a productivity juggernaut.
Videos have a way of getting messages across efficiently as studies have shown that we all understand better when communication has visual elements.
In the workplace, videos can help you communicate better with your employees, customers and as a result, help you get more work done in a day! Ah, the sweet sound of productivity 🙂
Why Your Company Needs a Video Screen Recording Software and Tool?
Email isn't always the best way to communicate with clients, co-workers, or customers. Using mere text can hamper your ability to articulate your point, describe problems, and deliver instructions.
Whether you work in design, development, marketing, sales, customer service, or anywhere else – there are challenges in communicating feedback, resolving issues, and making decisions.
Challenges with communication don't just happen with your team, it occurs as you interact across distributed teams, customers or partners. We're all striving for ways to communicate in an easily understandable way.
This is where screen recording software comes in.
A video screen recording software records everything that's happening on your computer screen, along with the movement of your cursor, to help solve and communicate about business problems quickly.
This kind of video sharing software is extremely useful for professionals, and boosts both productivity and efficiency, by giving users the ability to share knowledge easily and quickly.
A screen recorder software can be used by a business in many ways. Some of these include:
Collaborating on a team project
Working with the design team to showcase changes easily
Showing processes step-by-step in a tutorial
Sharing your screen for tech support to solve recurring problems
Onboarding new employees
Responding to support tickets
Demonstrating software to customers and much more!
Read more: 10 Best Video Conferencing Software For Teams

What Makes for Great Screen Recording Software and Tool?
A screen recording software is not something you would use to create high-quality movies and videos. It's a utility that can be used to do everyday tasks and make them easier and faster.
A great screen recorder must have the following characteristics:
Records the entire screen or a particular area
An easy to use and user-friendly interface
Concurrent microphone and system audio recording
Has options to export the recorded footage
Allows you to annotate the recorded footage
To help you find out the best screen recorder software out there, we searched the internet and came up with the best 11 tools and software out there.
List of Top 11 Screen Recording Software and Tools
The following 11 screen recording software has been carefully selected to help you out with all your screen recording needs. We have included both paid as well free tools so that you can pick one according to your needs and use case. So without further ado, let's dive in…
Cloudapp
Snagit
Calipio
ShareX
Nimbus Capture
Loom
LiteManager
Camtasia
Zoom
TeamViewer
Mikogo

Kicking off our list of awesome screen recording tools and software is Cloudapp, a visual communication tool for teams. Cloudapp has many fascinating features and is not a screen recorder. It combines video walkthroughs, GIF creations, webcam recordings, and screen capture into a well-packed communications software for businesses.
Knowing how tough workplace collaboration can be, especially if your team members work remotely, Cloudapp has designed its app to make visual collaboration, a breeze.
Whether you want to annotate changes to be made to your website or app, explain a method step-by-step, or give feedback to your designer, CloudApp helps you do it all that easily. The interface is easy to use and makes sure that the message doesn't get lost in translation! Cloudapp has surpassed over 2 million users worldwide and is a worthy screen recorder software.
Key Features
GIF creation
Enhance screenshots and GIFs with annotations.
Upload & share files
Pricing:
Free with limited features
Paid plan starts at: Pro ($9 per month per user), Team ($8 per month, minimum 2 users), Enterprise (contact sales).
Read more: How To Add Cloudapp Videos To Your Documents?

Next up is Snagit, another great screen recorder software for teams. Snagit wants to get rid of all ways of communication like "Wordy emails, help desk articles, training manuals, and documentation" and replace them with visual instructions that people can easily follow and understand.
Simply use Snagit to capture a process via screenshot and screen recordings, mark up the video or talk over with audio or video to add context, and create custom how-to guides, tutorials, and quick videos right within Snagit.
A great feature of Snagit is the panoramic capture that allows users to capture wide, horizontal scrolls, scrolling webpages, and everything else. Snagit also provides pre-made layouts to help users create visual documentation, tutorials, and training materials quickly and easily.
Key Features
Convert a bunch of screenshots, talk and draw over them, create a quick "how-to" video or GIF
Extract text from an image, screen capture, or file
Panoramic screen recording and screen capture
Pricing:
A license of this tool costs $49.95 and can be installed on up to two different computers.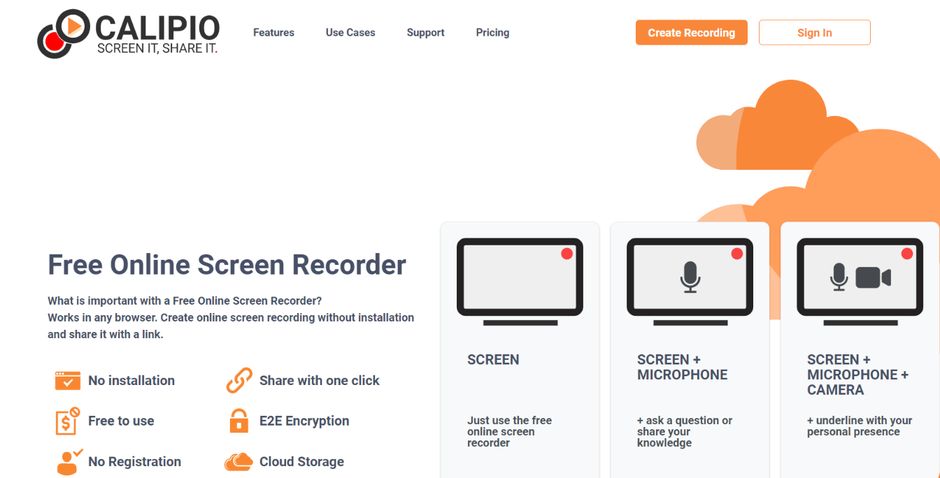 A more recent addition to the variety of screen recording apps is Calipio. It is distinctively aimed at the user who wants the thing itself but access it quickly and without any limitations at all.
Calipio is the only online screen recorder on the market which is really online! You don't need to download or install any software or even a browser extension to get full functionality without any delay. You can use whatever platform (Windows, Mac or Unix) and the browser of your choice.
To speed things up they even provide unregistered access. So go there and record immediately! Those unregistered ones are quite short but there is proper free package available anyway, so in the end it is just an additional user value and no limitation.
You can add your microphone or computer audio and include your camera as well of course.
An interesting aspect comes at the end when you just get a link to distribute the recording as a shared link rather than as a download which requires you to handle an enormously large file which is usually perceived as very inconvenient. They provide end-to-end encryption which is very handy in case you are talking about relevant key information of your company.
Key features
No download or installation needed
No registration needed
Runs on all platforms
Runs in all browsers
Link sharing from their cloud
End to end encrypted
Pricing:
There is a free version and different volume-based packages with additional functionality.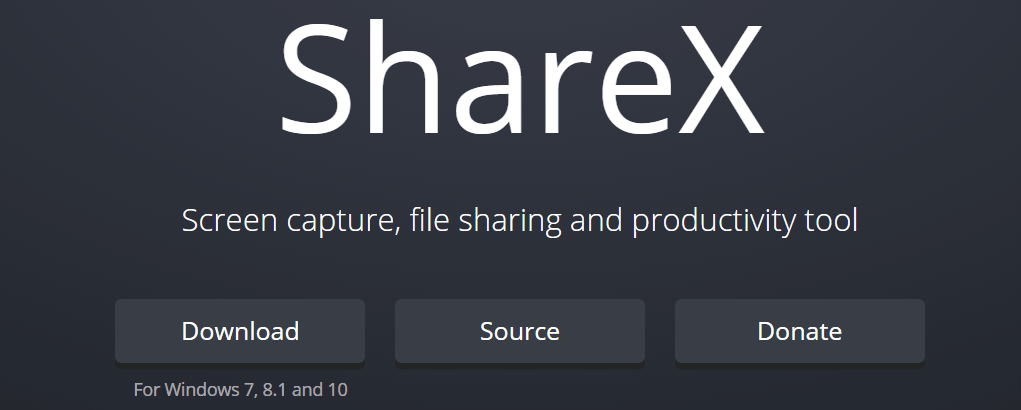 Looking for an open-source tool? ShareX is the screen recorder software you need. ShareX markets itself as a productivity tool as apart from screen sharing and recording, you can share files with your peers and get work done quickly. A great feature of ShareX is the ability to record only a portion of your screen. Sometimes, you don't want to showcase your entire monitor and in that case, ShareX comes to the rescue.
ShareX also has a ton of cool features like color picker, image editor, image splitter, video thumbnail generator, ruler, DNS changer and many more. For someone who is looking for a free tool that gets the job done, ShareX is worth checking out.
Key Features
Open-source software
A ton of editing options
No advertisements, completely free.
Pricing:
Read more: Top 10 Digital Whiteboard Software for Team Collaboration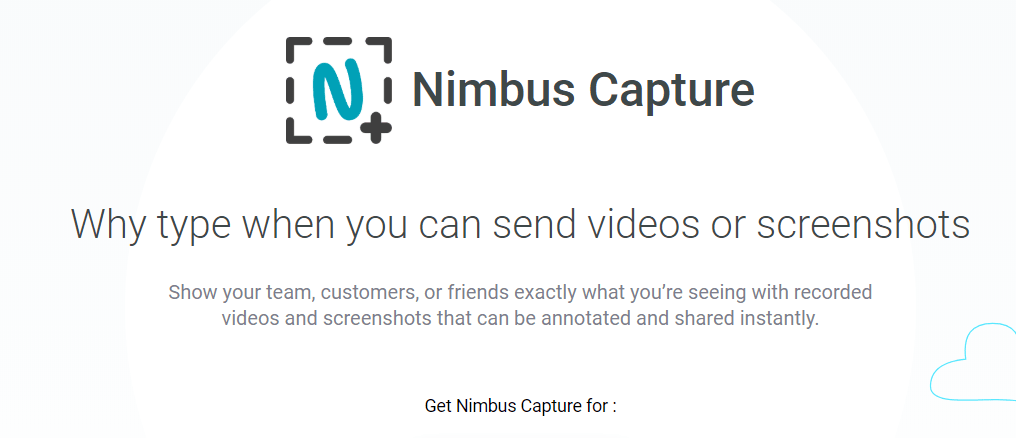 Nimbus Capture is a Chrome Extension that works in your browser and requires no software download. Just add Nimbus capture to your Chrome browser and you can take screenshots, record videos or your entire desktop or just a tab, and create videos using your webcam- right from your browser. You can easily record and annotate screen and help share information visually.
If you share screenshots and visual assets like screen recordings frequently with your team, you likely need a place to store all this information to make it easily accessible in the future. This is why Nimbus also has an additional tool called Nimbus Note.
With Nimbus note, you can easily store all your screenshots, images, videos, and everything in between in an organized workspace and streamline all company knowledge. With the Nimbus Clipper, users can quickly grab all kinds of content from web pages and add them to your Nimbus Note for easy access.
Key Features
Capture screen fragments, full screen, scrolling webpages and more
An organized workspace to keep all your screen recordings and data in one place
A web clipper to grab info on the go.
Pricing:
Free with limited features
Paid plan starts at: Pro ($24.99 per month up to 5 users), Team ($5.83 per month, up to 5 users), Enterprise (contact sales).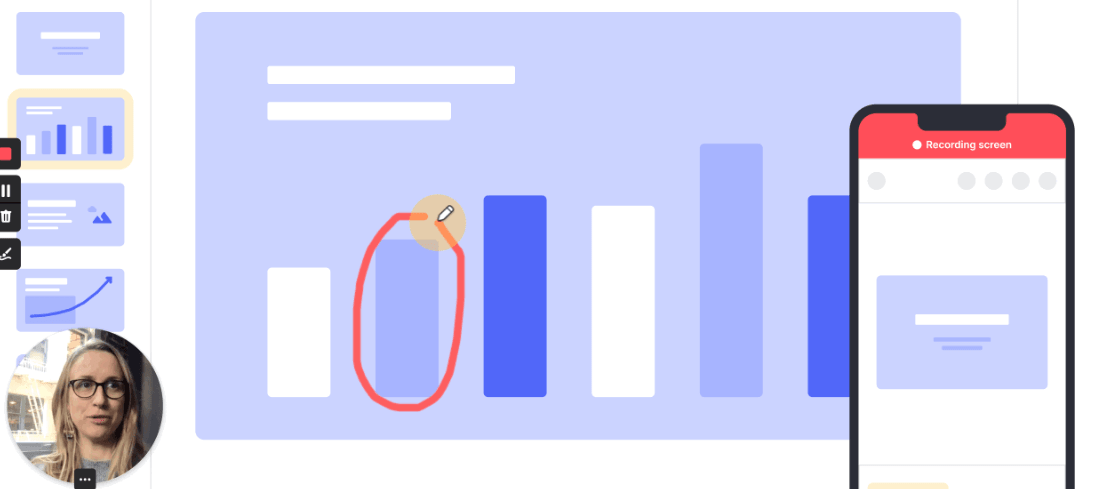 Loom is a new kind of work communication software that helps you get your message across instantly shareable videos. With Loom, users can record their screen, voice, and face and instantly share their videos quickly.
Whether you want to help out a customer, embed a video tutorial on your website or YouTube channel, share videos for social media, or want to record a detailed video response to an email, Loom is there to help you out with all your business problems.
Apart from video recordings, you can also screen capture videos and have the option to include your face in it in a small bubble at the bottom of the screen. These kinds of videos are perfect for creating how-to guides and tutorials. Loom has garnered over 1.8 million people across 50,000 companies and is a great tool for visual communication and screen recording.
Key Features
Save videos automatically to the video library
You can trim your videos, add call-to-action and even custom thumbnails.
Add passwords or make your videos viewable only to specific email addresses.
Pricing:
Free plan with limited features
Pro plan starts at Pro ($8 per month)
Read more: How To Add Loom Videos To Your Documents
A powerful screen recording tool, Litemanager allows users to easily control computer desktop. Great software for providing remote tech support, Litemanager can access computers in real-time. LiteManager also has built-in tools for collecting technical data, creating network maps, configure private ID router (NOIP), deploy and update using remote installation services, and many other features.
The free account of LiteManger gives you the freedom to control up to 30 computers simultaneously and even more computers if you have a license key!
Apart from screen recording and remote PC access, Litemanager has features like power management, text chat, and audio and video chat, telnet control of computer via command line, device manager and much more. It's not the easiest tool to get around but if you are looking to remotely access a lot of computers, Litemanager is the tool for you.
Key Features
Classroom management software
Great tool for tech support
Text, audio, and video chat
Pricing:
Free with limited features
Paid plan starts at: $10 per license.

With Camtasia, you can record anything on your computer screen, be it websites, product pages, webinars, software, presentations or any file. Once done recording, you can enhance the look and feel of the recorded footage with call-outs, animations, or cursor effects to help your viewers follow along.
Camtasia sees itself as more than just a screen recorder. It wants to be the tool with which you can create quality YouTube tutorials, helpdesk material, how-to guides, training material, onboarding videos and much more.
Users can also customize their videos with intros, music, and different color schemes to match the look and feel of their brand. Once you're done creating your Camtasia video, you can share this video to your favorite hosting site with a single click. There are over 24 million Camtasia users worldwide so you know you're in good hands!
Key Features
Pre-made animations to add professionalism and polish to your videos
Add zoom in, zoom out, and pan animations
Add quizzes to make your videos more interactive and engaging
Pricing:
One-time fee, Install on 2 machines: $199.00/month
Read more: 8 Best Digital Assets Management Software in 2022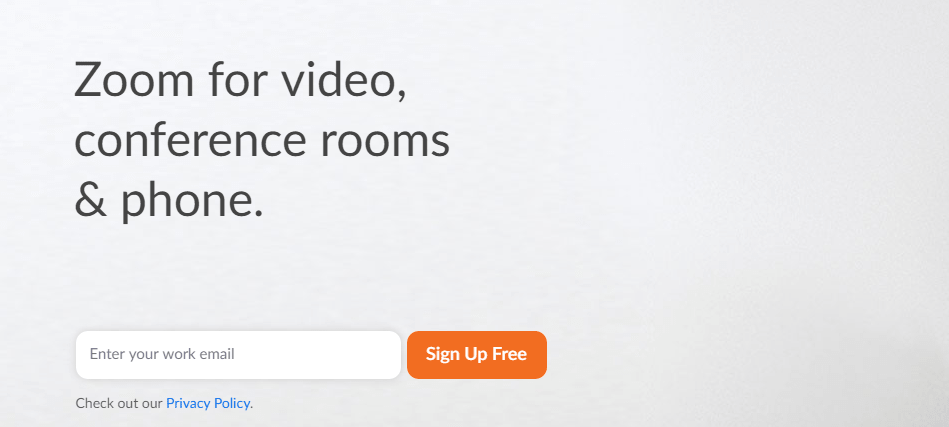 Zoom is more of a video conference/meeting tool, but it also serves the purpose of screen recording. The tool was named a 2018 Gartner Peer Insights Customers' choice for meeting solutions, so we had to include it on our list of awesome screen recorders.
With Zoom, you can conduct a video webinar, an online meeting, or simply share the screen with a co-worker or a customer. Zoom is particularly helpful in case you have a large team with whom you share screens or conduct meetings.
Zoom's free account option lets you share screens with up to 25 participants and host an unlimited number of meetings, provided that each meeting is only 40 minutes long. Apart from screen sharing and meeting functionalities, Zoom also has messaging and file-sharing capabilities.
Key Features
Auto-generated transcripts for videos
Co-annotate with team members.
Chat and file sharing.
Pricing:
Free with limited features
Paid plan starts at Pro ($14.99 per month), Business ($19.99 per month), Enterprise ($19.99 per month)
Read more: 10 Killer Zoom Alternatives and Competitors Worth Checking Out!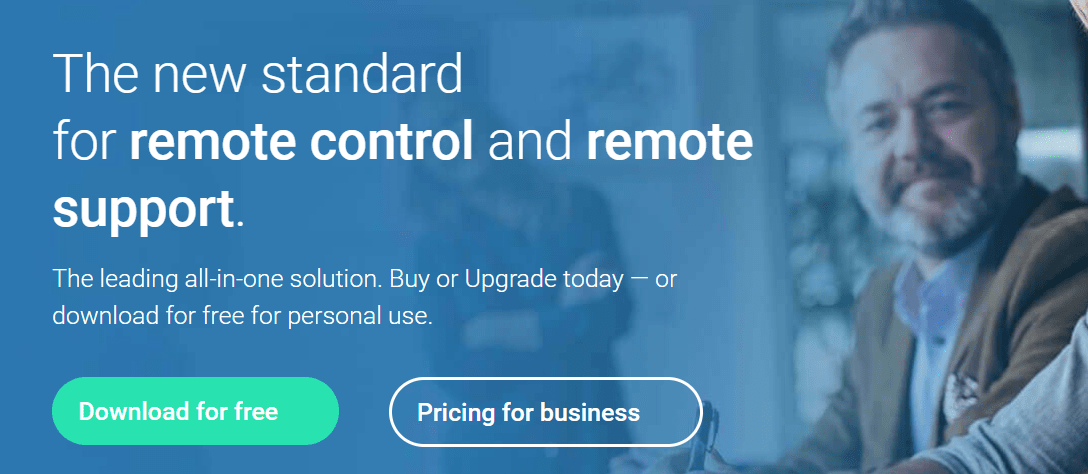 With over 400,000+ people downloading it every single day, TeamViewer is a well-reputed screen recording software available on the market today. TeamViewer allows you to show friends, colleagues or clients any sort of media like documents, images, and even videos- that are on your device.
Whether you work in IT support, have a remote work culture, are often traveling for work, or work from home, TeamViewer has great collaborative features to help you get work done anytime, anywhere.
The tool is available on all major platforms including Mac, Linux, Windows, iPhone, iPad, and Android, and is available in over 30 languages. Other notable features of Teamviewer include remote printing, mobile device access, remote file sharing, and much more!
Key Features
Augmented reality features for screen sharing
Easy file transfer
Connect across multiple platforms, from PC to PC, mobile to PC, PC to mobile, and mobile to mobile.
Pricing:
Free with limited features
Paid plan starts at: $49/month (or $588/year)
Read more: Best Cloud Document Management System in 2022

The last screen recording software on our list is Mikogo. Mikogo is a browser-based screen recorder tool, making it easy for new users to quickly sign up and jump in; no software download required. A browser-based screen-sharing service, Mikogo doesn't require any downloads. Users can easily connect via a web browser and start sharing their screens quickly and easily.
Apart from screen sharing, Mikogo also allows high-quality video and voice conferencing to conduct online meetings with teammates and clients. You can even schedule your meetings in advance using the "Session Scheduler," so you never miss an opportunity to communicate with your team.
Mikogo also as iOS and Android apps available using which you can share your screen. The best part? Mikogo offers a free account to both private users and businesses so you can check out the product only pay for it if you love the tool or need additional features.
Key Features
Schedule your meetings in advance
Browser-based, hence no downloads required.
 Offers solutions for IT support
Pricing:
Free with limited features
Paid plan starts at: Standard ($14 per month), Professional ($16 per month), Team ($48 per month, for 5 single-user licenses)
So, which screen recording software and tool is the best?
So there you have it folks, top screen recording software on the market right now. All of these tools offer a broad variety of features, some more than others, and are fairly easy to get used to.
It majorly boils down to your use case and personal inclination. If you are looking to be more productive and improve workplace communication, any of the above-mentioned screen recording software will do the job. Which one of these tools did you like the most? Did we miss out on your favorite video screen recording software?
Tweet us @bit_docs for suggestions and feedback.

Further reads: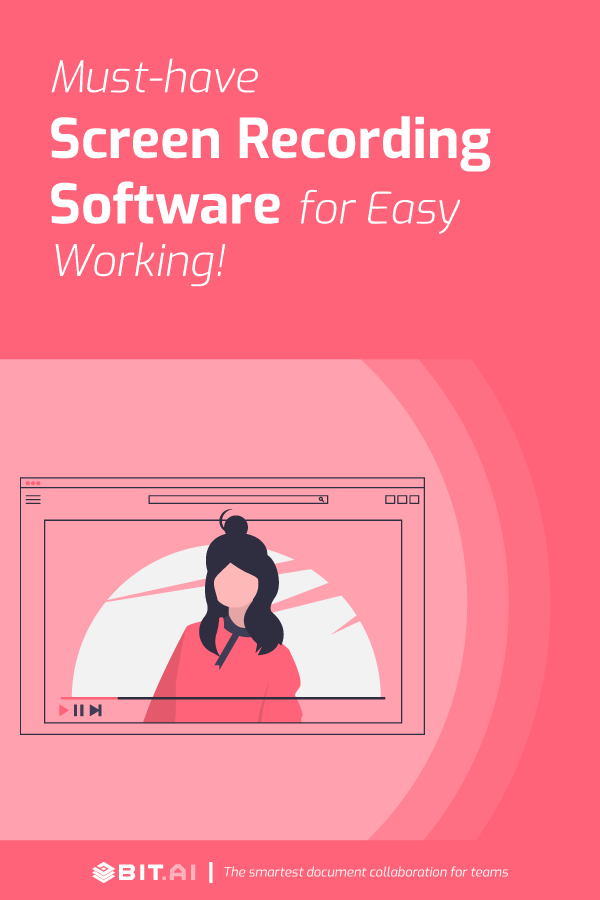 Related posts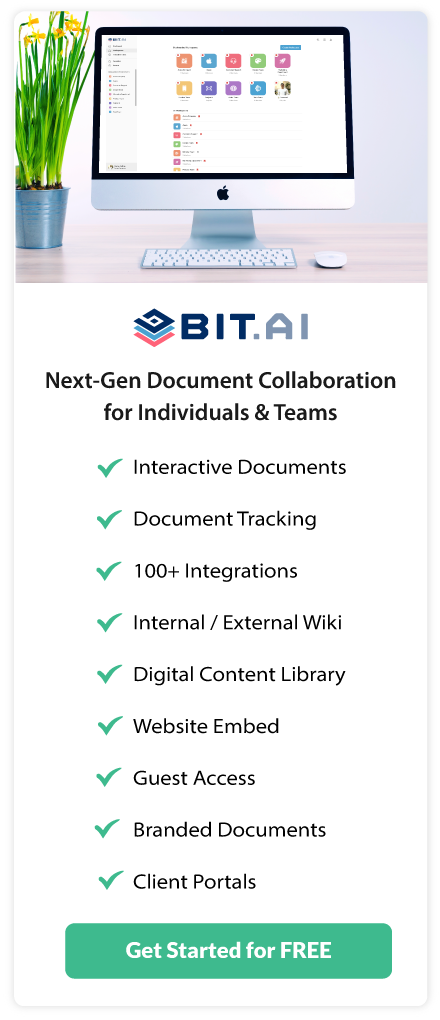 About Bit.ai
Bit.ai is the essential next-gen workplace and document collaboration platform. that helps teams share knowledge by connecting any type of digital content. With this intuitive, cloud-based solution, anyone can work visually and collaborate in real-time while creating internal notes, team projects, knowledge bases, client-facing content, and more.
The smartest online Google Docs and Word alternative, Bit.ai is used in over 100 countries by professionals everywhere, from IT teams creating internal documentation and knowledge bases, to sales and marketing teams sharing client materials and client portals.
👉👉Click Here to Check out Bit.ai.