Looking for Zoom alternatives and competitors to get in touch with your remote team quickly? These tools might help…
"The day would come when the man on the telephone would be able to see the distant person to whom he was speaking."
Those are the words of Alexander Bell, famously known as the father of the Telephone for his first U.S. patent for the telephone in 1876. Fast forward a hundred years and video calling is the go-to source of communication around the world. Amid the coronavirus crisis, millions of people were asked to work from home to curb the spread of the virus.
As a result, businesses were forced to quickly changes business processes to enable remote employees. Thus they set out looking for the best video conferencing and collaboration tools to get work done. One software platform was the clear winner in this race- Zoom. In March 2020, Zoom's daily active users jumped from 10 million to over 200 million in just 3 months. Apart from businesses, 90,000 schools across 20 countries use Zoom's video conferencing services to conduct classes remotely.
However, with so many people around the globe using the app, privacy concerns started creeping in. Vulnerabilities were found in Zoom's security as hackers tried to steal customer data and sell their information on the "dark web". Zoom has, since then, taken a lot of immediate steps, released new updates and security patches to better safeguard customer data. But if you are still a bit concerned about your privacy or just want to try out a different video conferencing tool, you're in luck!
List of 10 Awesome Zoom Alternatives and Competitors:
Whether you are looking for a desktop application, a cloud-based platform, or a mobile app, there's a Zoom alternative for you. So without further ado, let's jump into a quick review of the best Zoom competitors and alternatives out there: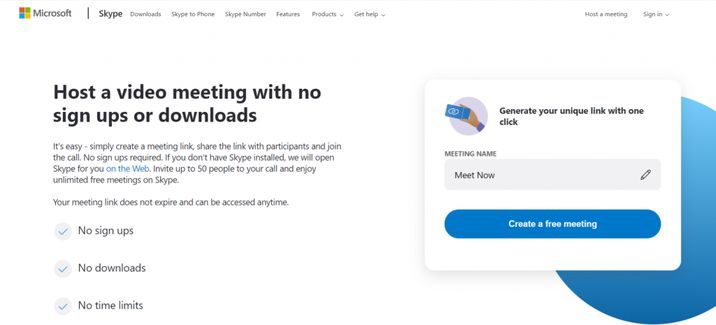 Skype, owned by Microsoft, is a hugely popular chat and video conferencing app and has been around for over 18 long years. Since Zoom took the crown of the go-to video conferencing app, Microsoft recently introduced a light-weight Zoom alternative called "Skype Meet Now". With Meet Now, you can host a meeting with your teammates without signing up for a service or downloading the software. Simply create a meeting room, share the link with participants, and join the call.
To rival Zoom, Skype Meet Now allows you to invite up to 50 people to your call and enjoy unlimited free meetings on Skype. You can even record your calls for later reference and share screens with peers whenever necessary. Skype also has a desktop client and a smartphone app, allowing you to use it however you like!
Key Features of Skype Meet Now: 
No setup or sign up required
Live subtitles and call recording
Blur your background during a meeting
Pricing:
Free
Paid plans start at $2.99 for phone calls within the US

Google Meet is a newer, cleaner, and faster version of Google's Hangout app for texting and video calling. Designed especially for business meetings and conferences, Meet takes the headaches out of joining a video call at work. Simply set up a meeting room and share your room link with your co-workers and before you know it, you're in a meeting!

Available only as a paid service to educators, Meet was made free to all users worldwide this past May, as a move to provide stiff competition to Zoom. Meet supports up to 100 meeting participants with 16 participants visible at a time. Meet is integrated with G Suite, meaning that users can join meetings directly from a Calendar event or email/Gmail invite. A great feature of Meet is its ability to create a dial-in phone number for each meeting, so guests can join a meeting even when they are offline with no data/Wi-Fi.
Key Features of Google Meet: 
Encrypted video calls with enterprise-grade security
Live captions, low-light mode, and noise cancellation
Join meetings with Gmail or dedicated Meet mobile app
Pricing:
Free (until October 2020)
Paid plans start at $10/user per month.
Read more: 6 Awesome Video Presentation Software and Tips to Follow!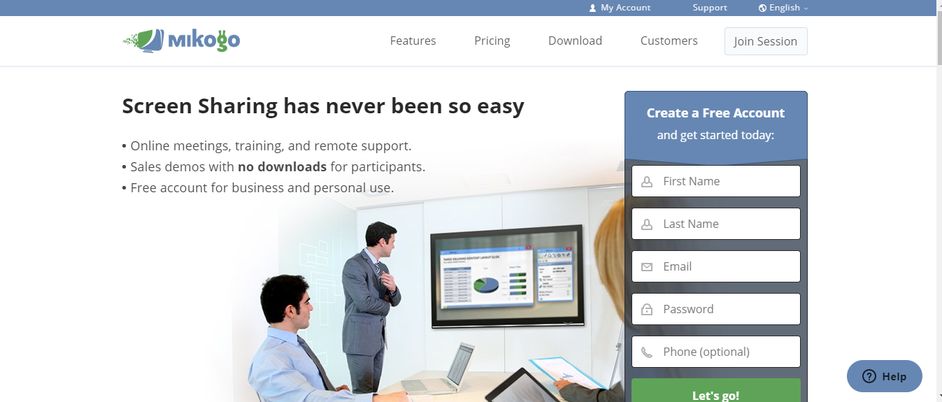 Another browser-based Zoom alternative/competitor and screen sharing tool is Mikogo. Since it's browser-based, Mikogo doesn't require any bulky software download. Simply sign up from your browser and start using the service instantly. Offering high-quality video and voice conferencing, Mikogo allows you to conduct online meetings with your clients or team members.
A great feature of Mikogo is its "Session Scheduler" that allows you to schedule your meetings in advance. Aside from the browser, users can also conduct video calls using Mikogo's iOS and Android mobile apps. Mikogo offers a free account, so it's definitely worth checking out.
Key Features of Google Meet: 
Screen sharing, training, and remote support
Schedule meetings in advance
Mobile apps for both iOS and Android.
Pricing:
Free with limited functionality
Paid plans start at: Standard ($14/user per month), Professional ($16/user/month), Teams($48/5 users/month)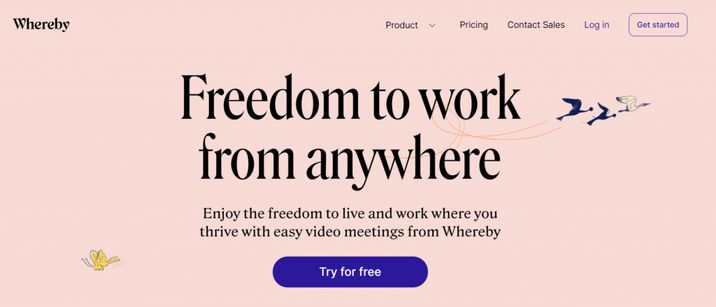 If you are looking for a rather simple Zoom competitor and alternative to quickly jump into meeting with someone, Whereby might just be the tool for you. Simply open your browser, create your own meeting room, share the link on Slack, Skype, or email and you're good to go. The only limitation with Whereby is that only up to 4 people can join in the call for free! If you want more people to join the meeting, you're going to have to buy the PRO plan.
Whereby doesn't require your guests to sign up as they can simply click their invite link and join the call, making the whole experience frictionless. You can also make the meeting room private so guests have to "knock" or ask for permission before joining in on the call. Whereby also supports chat, screen sharing, recording, and floating emojis for the quick feedback!
Key Features of Whereby: 
Screen sharing for collaboration
Add custom branding and logos to personalize your meeting experience
Watch YouTube videos in your room together
Pricing: 
Free plan with limited features.
Paid plans: Business ($59.99 / month up to 50 participants), Pro ($9.99/month up to 12 participants)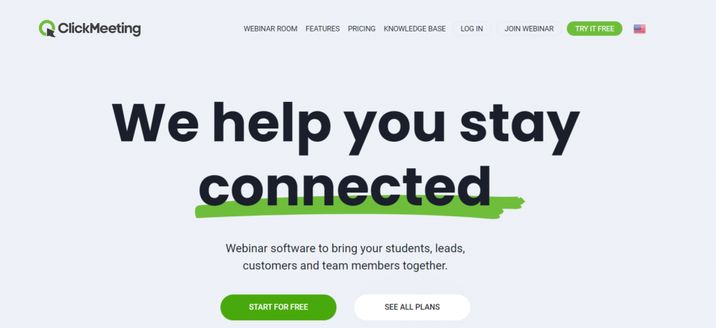 Primarily focussed on personal development via webinars, Clickmeeting is another great Zoom alternative. If your company works with a lot of trainees or freelancers, Clickmeeting can help you connect with them easily and teach them about your business. Members can host team conferences and sales meetings with up to 25 attendees and broadcast up to 4 video streams. Discuss, share presentations, and media files- all from one easy-to-use platform.
Quickly scale from 25 to 5,000 attendees and make your webinars accessible to a wide audience. ClickMeeting is highly customizable, meaning that businesses can add their own color, font, and logo to match their brand look. With Clickmeeting, you can also stream your events live on Facebook or YouTube.
Key Features of Clickmeeting: 
Great tool for webinars and sales meetings
YouTube and Facebook Livestream
Whiteboard to brainstorm ideas or give feedback
Pricing: 
Free plan with limited features.
Paid plans: Live ($25/months), Automated ($40/month), Enterprise (contact sales)
Read more: 13 Online Meeting Apps and Software for Remote Teams!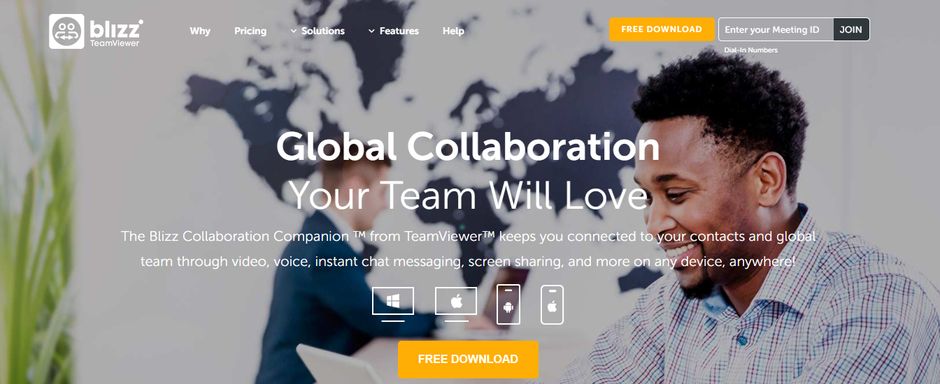 Over 400,000+ download Teamviewer software daily, conducting 40 million+ sessions! Teamviewer has been around for a while and is most commonly used by the support community for taking remote access to client/customer's computer. Blizz by Teamviewer is the video conferencing arm of Teamviewer which allows HD-quality video conferencing and collaboration. Video call, voice call, send instant chat messaging, share screens, and more on any device, anywhere!
Users can schedule meeting one-to-one or can invite up to 300 people and record video sessions for later use. With dial-in phone numbers in over 30 countries, Blizz makes sure collaboration never takes a hit. Encrypted video calling means that you don't have to worry about safety with Blizz as you connect with your remote team.
Key Features of Blizz: 
Indexed chat messaging
Video call with 300 people simultaneously
HD calling, screen sharing, recording, and more.
Pricing: 
Free plan with limited features.
Paid plans: Crew 50 ($7.99/month/host), Crew 100 ($10.99/month/host), Company ($16.99/month/host)
Read more: How to Embed Loom Videos to Your Documents?

Our next Zoom competitor and alternative comes from the remote access platform LogMeIn. GoToMeeting is a reliable video conferencing tool for businesses of any size. Users can conduct online meetings, do video-conference calls, provide online training, and screen share with peers, clients, or customers easily. You can also schedule meetings in advance so you never miss out on important stuff.
No need to take notes as GoToMeeting's cloud recording feature available on its mobile app. There's also an Office 365 plugin that allows you to seamlessly schedule and join upcoming online meetings directly from your calendar. With over 18 million users worldwide, GoToMeeting is a great Zoom alternative for businesses of all sizes.
Key features of GoToMeeting: 
Host meetings with up to 250 participants
Screen sharing and whiteboard
Unlimited recordings
Pricing: 
Free trial
Paid plans: Professional ($12/month), Business ($16/month), Enterprise (contact sales).

One of the most popular video conferencing apps after Zoom is Microsoft Teams. According to Microsoft, Teams have over 44 million daily active users, up from 20 million in November 2019. Part of the Office 365 suite of apps, Microsoft Teams allows complete collaboration between team members via chat, audio call, or video meetings.
Apart from video calls, Teams allows you to access, share, and edit Word docs, PowerPoint, and Excel files in real-time with team members bringing all your work under one roof. Users can also share their screens for presentations or record meetings for further use. With Microsoft Teams, you can video conference with up to 250 members simultaneously.
Key features of Microsoft Teams: 
Host meetings with up to 250 participants
Search any file or message quickly
Integrates with Office 365
Pricing: 
Free trial
Paid plans start at $5 per user per month

Zoho, the collaboration suite, offers meetings and webinar solutions in the name of the Zoho Meeting. The best thing about Zoho is its ease of use and that anyone can quickly join a meeting from their browser without having to download any desktop app (though they have one). You can also download the Zoho meeting app for Android or iOS or use their extension from Chrome and Firefox browsers.
With a special focus on security, Zoho Meeting encrypts audio, video, and screen sharing to keep your information safe and secure. Other amazing security features include Lock Meetings functions, organization-level video settings, and Entry/Exit notifications. Users can also record their meetings and share with those who missed out. Store these recordings in the cloud or download them to your PC for offline use.
Key features of Zoho Meeting: 
Organize meetings and webinars
Screen sharing and remote access for IT teams
Secure meetings with lock features
Pricing: 
Free trial available
Paid plans: Meeting up to 100 users – $10, Webinar for upto 25 users – $19, Webinar for up 50 users- $29, Webinar for upto 100 users – $39, Webinar for upto 250 users- $79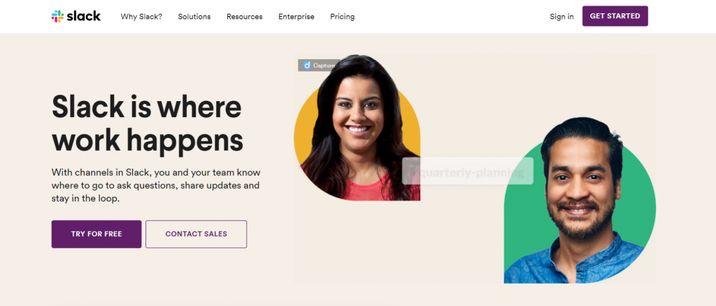 While Slack is usually associated with team chat, Slack also has video conferencing capabilities. Millions of teams worldwide use Slack to communicate with their team members and get work done. Apart from voice and video calls, users can share their screens and communicate complex ideas.
The best part of Slack is that it knows its place in workplace communication and doesn't force you to use its video conferencing features. Instead, it happily integrates with Zoom, Microsoft Teams, Google Hangouts, and more to quickly start meetings or join calls without leaving your Slack conversations.
Key features of Slack: 
Integrate with Zoom and other alternatives
Chat, share files, and video calls all from one place
Fast and reliable
Pricing: 
Free plan available
Paid plans: Standard ($2.6/month), Plus ($5/month), Enterprise Grid (contact sales).
So many Zoom Alternatives to Choose from!
There you have it folks, our top picks for Zoom alternatives and its competitors. All of these alternatives are easy to set up, easy to use, and cheap. Apart from the above-mentioned tools, there are various other video conferencing tools like BlueJeans, Cisco Webex, Starleaf, etc. all capable of handling video conferencing and remote collaboration. At the end of the day, it all boils down to the size of your team, your budget, and your personal preference.

Did we miss out on your favorite Zoom alternative/competitor? Do let us know by tweeting us @bit_docs. Good luck!
Further reads: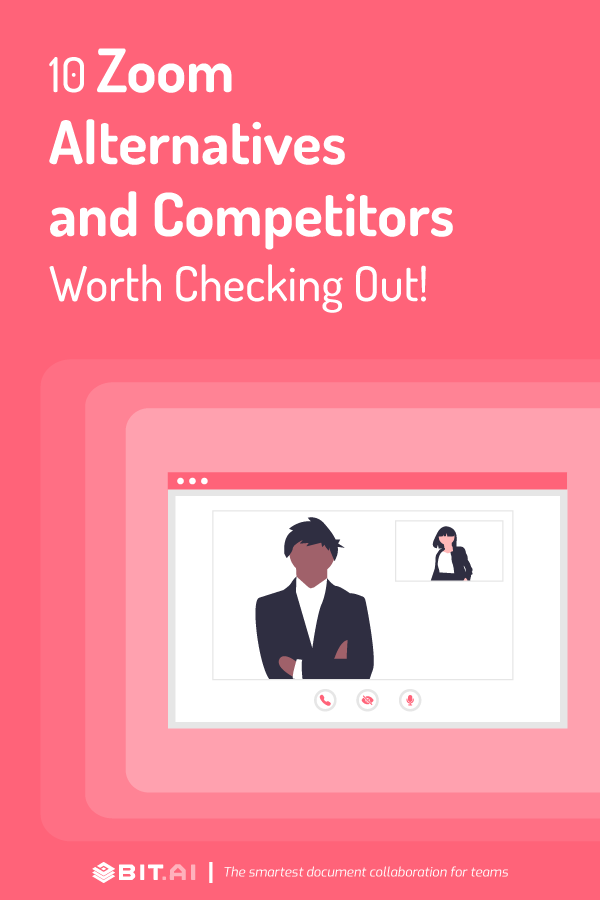 Related posts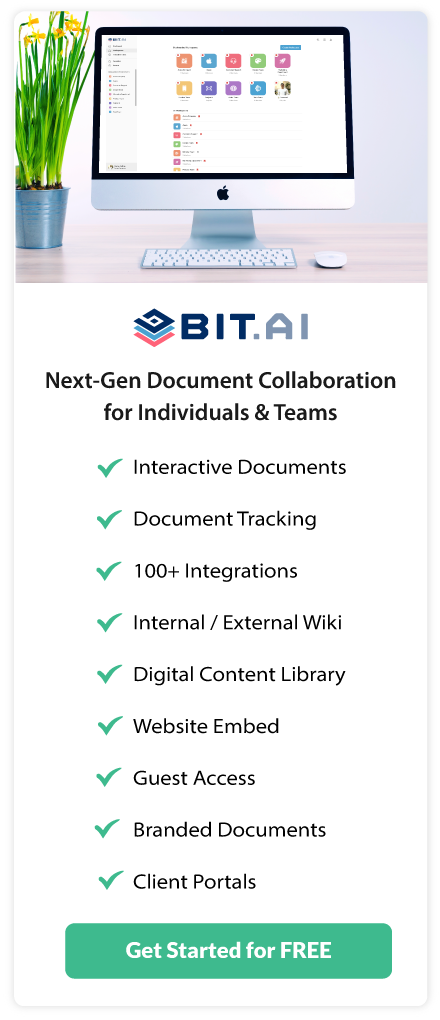 About Bit.ai
Bit.ai is the essential next-gen workplace and document collaboration platform. that helps teams share knowledge by connecting any type of digital content. With this intuitive, cloud-based solution, anyone can work visually and collaborate in real-time while creating internal notes, team projects, knowledge bases, client-facing content, and more.
The smartest online Google Docs and Word alternative, Bit.ai is used in over 100 countries by professionals everywhere, from IT teams creating internal documentation and knowledge bases, to sales and marketing teams sharing client materials and client portals.
👉👉Click Here to Check out Bit.ai.