Let's face the facts – modern workflows are full of repetitive and tedious tasks that take up a heck of a lot of time and energy.
70% of business leaders report spending around 45 minutes to 3 hours on repetitive tasks, from an 8-hour workday! Another study shows that office workers manually hunt for files for more than 50% of their time! In addition to all this, in 90% of accidents, human error is a contributing factor.
How do we solve this? Fortunately for us, we live in the age of technology, and workflow automation is the 'in' thing right now! Most businesses are now starting to adopt automation into their workflow and eliminating unnecessary and repetitive tasks so that they can focus on things that matter.
If you wish to keep up with the changing times, then there's a lot you need to learn about workflow automation. And this blog is the perfect place to start!
Here, we will guide you through the meaning, importance, examples, use cases, and lots more about workflow automation! So strap in folks, you're in for a ride!
What is Workflow Automation?
Workflow automation refers to the creation, design, usage, execution, and automation of a series of tasks based on pre-defined business rules. It reroutes and manages tasks so that they are properly connected between persons involved, technologies in use as well as relevant data.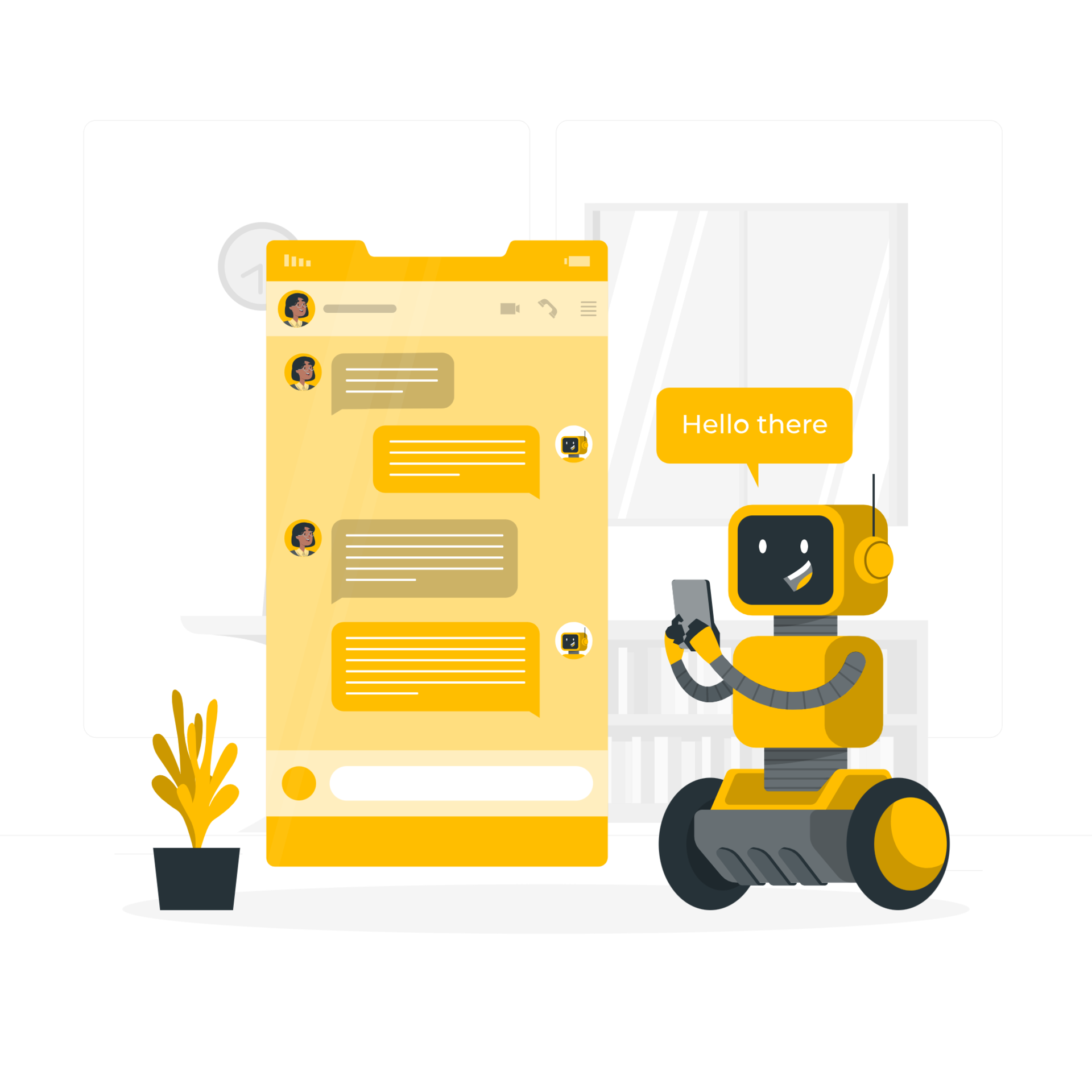 The main aim is to ensure that the right people perform the right tasks at the right time. Workflow automation's characteristic feature is that emphasis is laid on the replacement of paper-based, time-consuming and expensive manual processes with digital tools.
Workflow automation also means that businesses can standardize work, present business rules, follow regulations, reduce chances of human error, and ensure transparency and accountability in every step of the automated business journey.
Now that you know a little about what workflow automation is, let's go over the importance of incorporating it into your business functions.
Why is Workflow Automation Important?
1. Increases Productivity and Efficiency
Digitalizing tasks within workflow automation results in increased efficiency of the overall business and boosts productivity. As every task is now defined and roles assigned, the chances of disruption of work are kept at a minimum.
Every task is performed with a set purpose and follows pre-set rules. This speeds up processes that previously required manager intervention.

2. Reduces Errors
The advantage of utilizing workflow automation in business is that the majority of manual labor is replaced by digital labor. This helps prevent discrepancies and errors, while also ensuring accuracy.
Half of the business leaders and employees feel that automation can help reduce manual errors and 38% agree that automated workflows result in better product quality.
3. Saves Time
Digitizing tasks not only reduces chances of deviation and increases productivity, but also reduces time in a process cycle. Studies show that 70% of business leaders believe they could save up to 30 hours every month with workflow automation, while nearly 80% believe that employees would save 60 hours a month!
Workflow automation speeds up all processes related to task management and quickly completes them all. 42% of business leaders say that tasks get completed faster with process automation than when completed manually. This is vital as time equals money in business.
Read More: Task Management Tools Every Business Must be Using!
4. Reduces Cost
Saving on expenditure is the goal for any business or organization and automating workflow helps to a great extent in this process. Workflow automation creates processes that reduce costs.
In fact around a third of business leaders believe that automating tasks would reduce labor costs. Why? Because workflow automation cuts down repetitive tasks and reduces administration, which in turn decreases labor hours and lowers staffing costs.
5. Improves Customer Experience 
With workflow automation, there are fewer errors and delays. This means that your products and services are more likely to be of high quality and they are also likely to be delivered on time. Not to mention, automation also helps make tasks within workflows easier, thereby providing a better customer experience.
Now that you know the benefits of having workflow automation, let's go over some examples of the types of tasks that workflow automation can tackle. Let's check out some examples of workflow automation.
6 Examples of Workflow Automation!
1. Organization
Workflow automation can help organize documents, document approval workflows, facilitate signing documents, and more. This saves a lot of time and aids in the swift completion of tasks in business.
2. Onboarding New Employees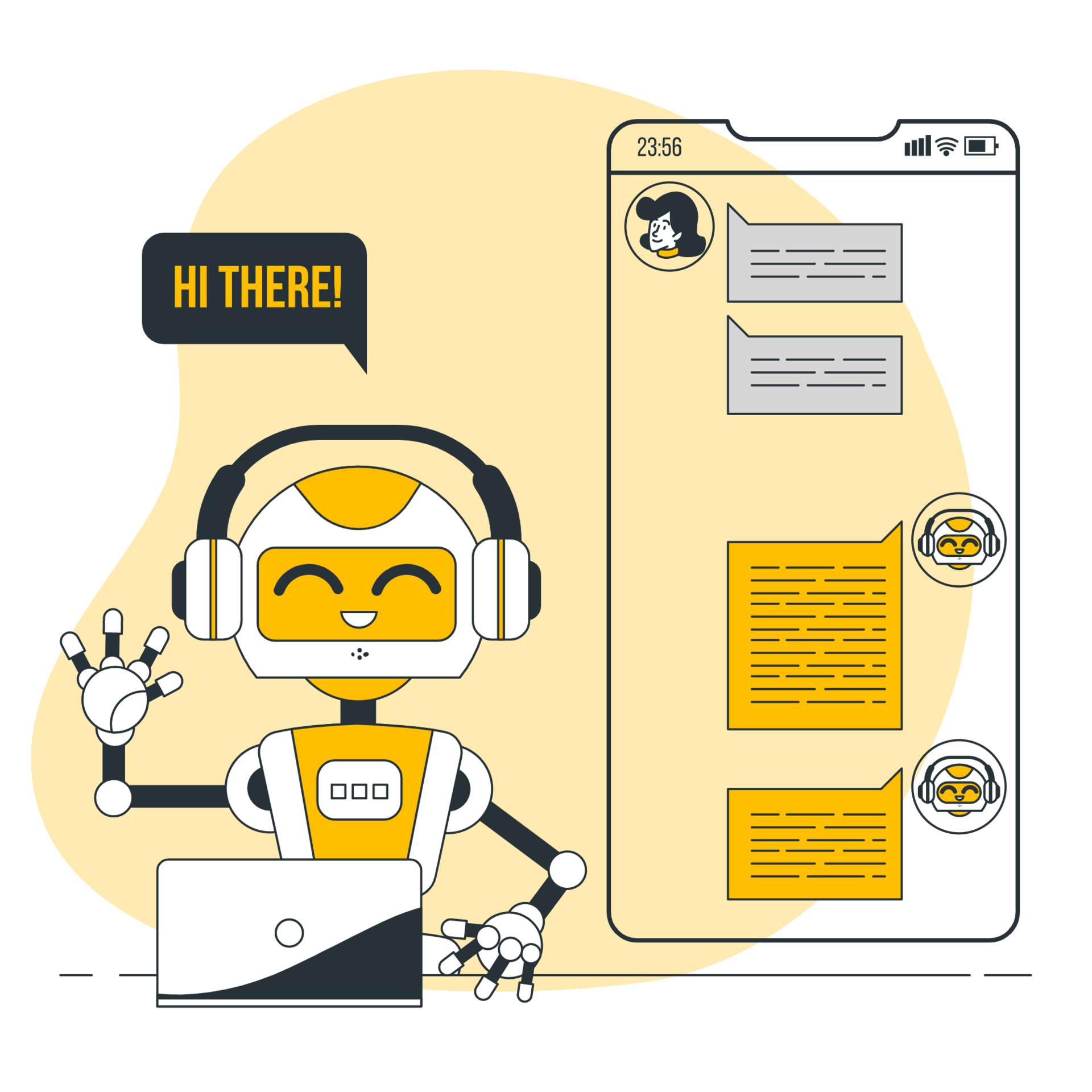 Workflow automation can help ensure efficient employee onboarding by offering a standardized experience for every hire. It can help speed the process of delivering training materials, HR benefits, employee-related information, and more.
Read More: Onboarding Checklist: What is it & How to Create it?
3. Facilitates Invoicing
An apt example of workflow automation is that it can facilitate invoicing. It can help to create and send invoices on a set schedule. Not only this, but it also plays a part in facilitating other accounting and sales-related processes. This aids in freeing staff for tasks that require more skills.
4. Feedback
Another example of workflow automation is that it makes responding to customer inquiries and requests easier. This means that the entire business endeavor is made more transparent and visible. With the help of workflow automation, feedback of all forms can be efficiently handled.
5. Human Resources
An example of workflow automation is in human resources. It can help make employee onboarding and offboarding easier. It also helps in handling hiring requests and leave management.
6. Incident Management and Issue Tracking
Automation of tasks enables easy digital tracking of both incidents and issues. Tracking makes management and response to such instances easier and swifter.
Now let's take a look at the several use cases of workflow automation in different departments!
 Read More: How To Create Effective Issue Tracking Documents For Your Company?
Use Cases of Workflow Automation in Different Departments
Workflow Automation can be utilized across various departments. Here are some helpful examples to inspire your workflow automation ideas:
1. Healthcare
Workflow Automation is utilized to a great extent in healthcare. Examples would be generating staff work schedules, on-call rotations, and supporting patient admission, discharge, and transfer. It effectively finishes these tasks so that more time can be dedicated to more important work, like caring for patients.
2. Legal Field
Workflow automation in the legal space can help manage several legal clauses and templates. You can also automate billing, input client information, track contract reviews, and manage case deadlines. What's more? Using workflow automation software can help create consistency in how your information is created and stored.
3. IT Department
This is a no-brainer. IT departments use automation in all avenues such as software development, data monitoring, data collection, testing code development, service requests, deployment of tests, coding, and so on.
4. Finance Department
Workflow automation is also heavily utilized for different functions in finance departments. It offers real-time integration with ERP systems like SAP and helps create a robust ecosystem for faster accounts payable processes.
It also helps with data entry, accounts approval processes, paid time off requests, salary adjustments, and more.
5. Sales and Marketing
In the sales and marketing departments, workflow automation is used to manage tasks such as branding, campaigns, sales approvals, lead generation, streamlining pricing, discounts, proposals, and more.
6. Cybersecurity
Workflow automation makes it easy to collect data of concerned persons and suspects, makes responding to incidents much quicker, and also makes tracking a lot swifter. This ultimately helps in the bigger picture of security in cyberspace.
7. Human Resources
HR departments of all businesses and organizations make great use of workflow automation. It digitizes and simplifies the end-to-end employee onboarding and offboarding process and also speeds up the time of sheet approvals, employee management, and personnel changes.
As workflow automation is in rampant use by all departments and fields these days, a plethora of options will be available for you. This can lead to confusion and indecisiveness when it comes to choosing what will work best for you.
Here are some points you should keep in mind when browsing for workflow automation software!
What to Look for in a Workflow Automation Software?
1. Intuitive User Interface
What is the use of fancy and complex software if you can't even understand it properly, right? So it's always best to find software that has a simple and intuitive user interface and easy-to-understand solutions, but at the same time is also equipped with essential features.
2. Cloud Compatibility
It's best to choose software that has cloud operability because it makes the overall process even easier and more accessible. It also comes with the added benefit of reliable security and data scalability.
3. Easily Customizable
Your workflow automation software has to be customizable. Each business is different and requires changes that are unique to such businesses. Therefore, make sure you choose software with features that can adapt to your personal preferences.
4. Budget Friendly
As with all things, keep in mind not to exceed your budget. Splurging on expensive software is not a necessity. As long as it can perform the required tasks and can be easily handled by you, that is all you need.
Now that you know some essential elements to consider while looking into workflow automation software, let's take a look at a list of some of the best workflow automation software in the market!
5 Best Workflow Automation Software Solutions!
Zapier is popular automation software that is beginner-friendly and intuitive. It helps over 3,000+ applications to work together and automates repetitive tasks.
Zapier lets you build Zaps or workflow with the help of thousands of pre-built templates. You can customize the automated solutions depending on the needs of your team.
Since Zapier makes connections between one app to another, it pushes data through these apps to get the job done. It can run silently in the background for processes like lead capture, email, signup, etc.
Pricing: Zapier offers a free plan. Paid plans start from $19.99 per month.
Integrify is a workflow automation software that utilizes a service-based approach. It is easy to use and comes with a drag-and-drop editor. It is suitable for both large and small businesses.
This platform lets you build automated processes, design dynamic forms, track performance via dashboards and reports, create self-service portals, review activity, and analyze problems.
Integrify easily connects to CRM, ERP, and HRIS systems which makes it easy for data to be freely moved between systems. It is available on the cloud, private cloud, and on-premise configurations.
Pricing: Integrify offers customized pricing on request. It doesn't have a free trial.
Nintex is a workflow automation software that helps businesses manage, automate, and optimize their processes easily and quickly. It has a people-driven design suitable for both everyday and complex procedures.
Nintex is intuitive and has a browser-based drag-and-drop feature for creating workflow without any coding experience. It enables you to streamline work processes and integrate content to achieve better outcomes.
With Nintex, you can automate the processes of collaboration and content management platforms and also link cloud workflows, on-premise systems, and mobile users.
Pricing: The standard Nintex workflow pricing starts at $910 per month for 10 workflows with unlimited users.
Kissflow is an end-to-end workflow automation software that allows you to build your custom workflows and manage projects from a single platform.
This software comes with features such as contextual collaboration, detailed reporting, a wide range of templates, metrics, and a visual form and workflow designer. It has a simple interface with a drag-and-drop editor as well.
What's more? Kissflow integrates with popular business software such as Salesforce, Google Drive, Asana, Dropbox, and more.
Pricing: Kissflow costs from $9.80/user/month. A free trial is available.
ClickUp is a cloud-based workflow automation software with project management and collaboration features. It has a simple and easy-to-use user interface that makes it easy to visualize your workflow.
With ClickUp, you can replace manual procedures by creating a combination of triggers and actions. You can create custom automation or choose from over a hundred different pre-built templates.
ClickUp comes with workflow features such as task assignment, task management toolbar, statuses, alerts, and more. Moreover, it seamlessly integrates with the most popular collaboration, productivity, and scheduling apps.
Pricing: ClickUp has a free plan available. The pricing plan starts from $5/user/month.
Wrapping Up
… and with that, we can confidently say that you are well-equipped with everything you need to know about workflow automation!
At the end of the day, workflow automation is a requirement because you need to have a leg up when it comes to your competitors. Every field is cutthroat these days, so why not save time and choose automation to make things easier?
That's all, folks!
 Further Reads: 
How Digital Collaboration in the Workplace Improves Workflows?
Document Management Workflow: What is it & How to Create it?
10 Workflow Management Software Every Business Should be Using!
14 Best Marketing Automation Tools to Help Grow Your Business!
Top Email Automation Software for Marketers!
6 Best Workflow Tools and Apps in 2022!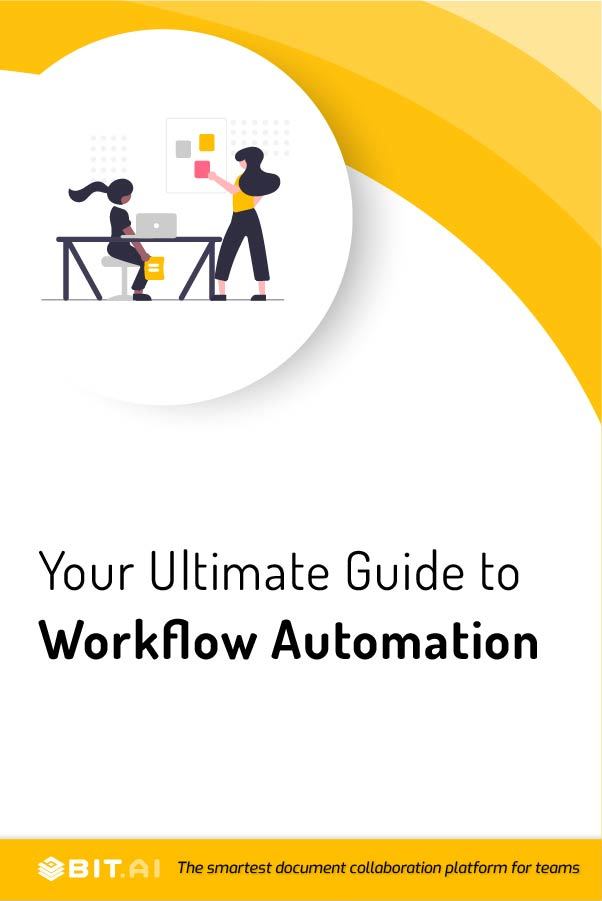 Related posts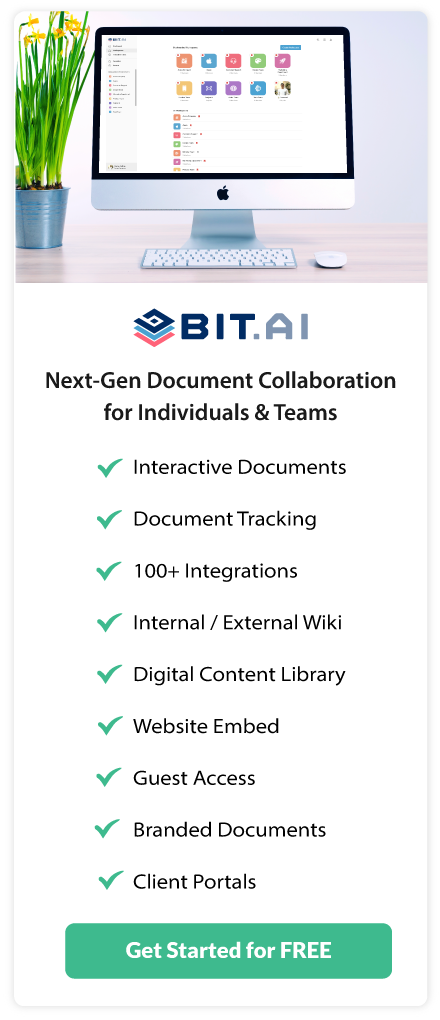 About Bit.ai
Bit.ai is the essential next-gen workplace and document collaboration platform. that helps teams share knowledge by connecting any type of digital content. With this intuitive, cloud-based solution, anyone can work visually and collaborate in real-time while creating internal notes, team projects, knowledge bases, client-facing content, and more.
The smartest online Google Docs and Word alternative, Bit.ai is used in over 100 countries by professionals everywhere, from IT teams creating internal documentation and knowledge bases, to sales and marketing teams sharing client materials and client portals.
👉👉Click Here to Check out Bit.ai.