Looking for email automation software to help solve your email marketing woes? Look no further!
As marketers, we all know that email marketing is all about trying to stay relevant! Sending the right message at the right time to the right person! If you can't hit that, your marketing campaign will head to the trash without the slightest chance of being read!
With the pressure of staying relevant and making sense of the process- managing your time becomes extremely important! Thanks to the recent growth of email marketing automation service in the digital world, marketers are able to breathe a sigh of relief.
In fact, marketers at top-performing companies use email automation as #1 reason to increase revenue! But, why is email automation so effective? Simple because automation software helps marketers to get rid of the redundant tasks they have to perform every day of sending emails!
In this blog post, we will take a look at some of the top email automation software- taking over the market by storm! But, before that let's get a deeper understanding of what exactly is email automation!
What is Email Automation?
Email automation can be any task that automates the creation of your emails or schedule and delivery based on a certain set of rules that the user defines.
In other words, it is a service to send emails to your subscribers in a sequence, with specific timelines in between them. Automation allows you to create and schedule your emails based on keywords or data sources, then send them to relevant users at scale, which is crucial for effective email marketing. Users can build newsletter as their email marketing campaigns and can even send them automatically.
Email Automation Software: The New Normal
Today, marketers are quickly embracing email automation software to get the most out of their email marketing efforts. As, email is still widely considered to be the best medium for lead generation, and providing amazing returns.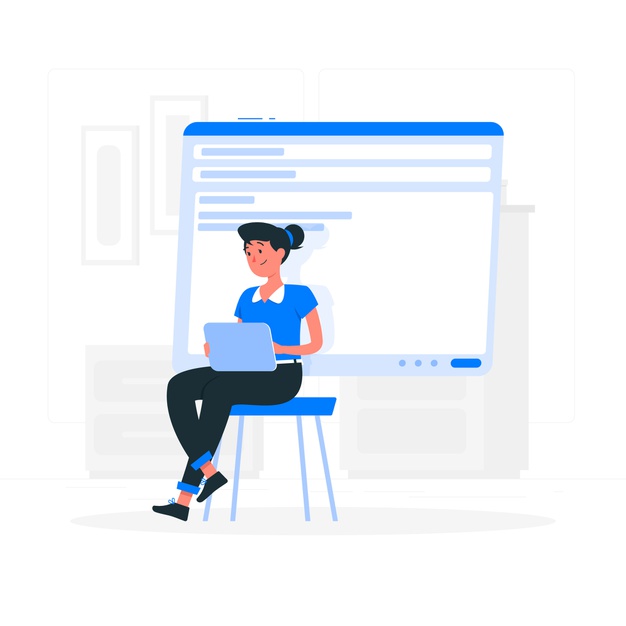 In fact, marketers gain a return of over $38 for every dollar invested in email marketing. That's an ROI of whooping 3800%! Along with that ROI, the number of email users is expected to grow to 4.3 billion by 2022!
With modern email automation software, marketers can save hours by streamlining processes and eliminate redundancies in their day-to-day workflow.
Look at the following statistics on email marketing automation:
Email marketing services are used by 80%+ of businesses.
B2C marketers see conversion rates as high as 50% when connecting with customers through automated emails.
Automated emails get click rates 119% higher than broadcast emails.
75% of marketers say they currently use at least one marketing automation software.
Automated birthday email offers can boost conversion rates 60% over non-timed emails with a similar offer.
So without wasting any further, let's delve straight into some of the best email automation software in the market!

List of Best 6 Email Automation Software:
Let's discuss each one of the following 6 software in detail and decide which one is the best fit for you: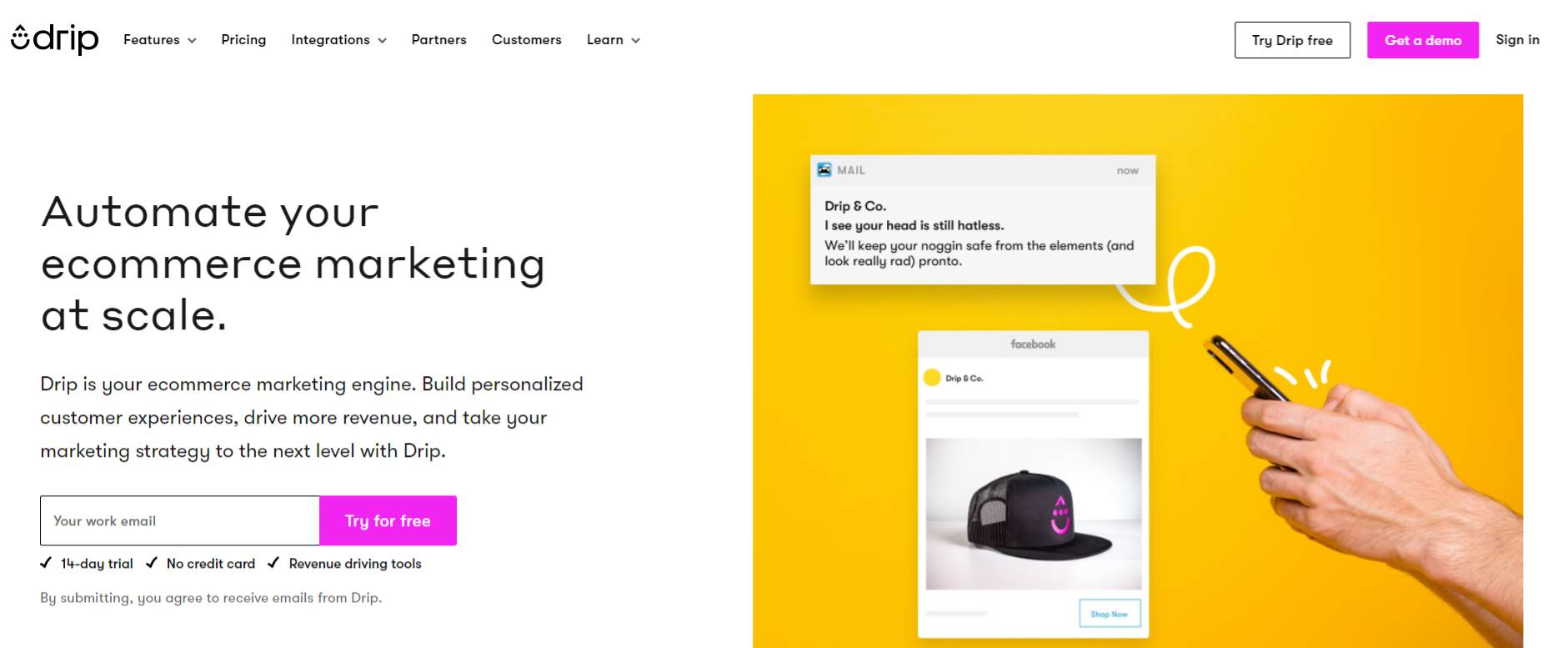 Drip is a powerful email marketing automation software that is notable for its eCommerce automation and segmentation features. Offering active integrations with the biggest online store platforms such as Shopify, Magento, etc, Drip enables users to send targeted emails at every point of the customer journey.
This not only includes sending abandoned cart campaigns and upsell emails, but also communications around smaller tasks – product views, order updates, deleted checkouts, and many more.
Along with CRM, Drip also offers cross-channel marketing automation functionality. It helps you reach your customers anytime, anywhere- from emails to Facebook; all without writing a line of code! Users also get intelligent data points like clicks, opens, revenue attribution, and more for automating their email campaigns.
Key Features:
Behavior-based automation
Automatic revenue attribution
Facebook and Instagram integrations
Pricing:
Paid plans start at $49/month for up to 2500 people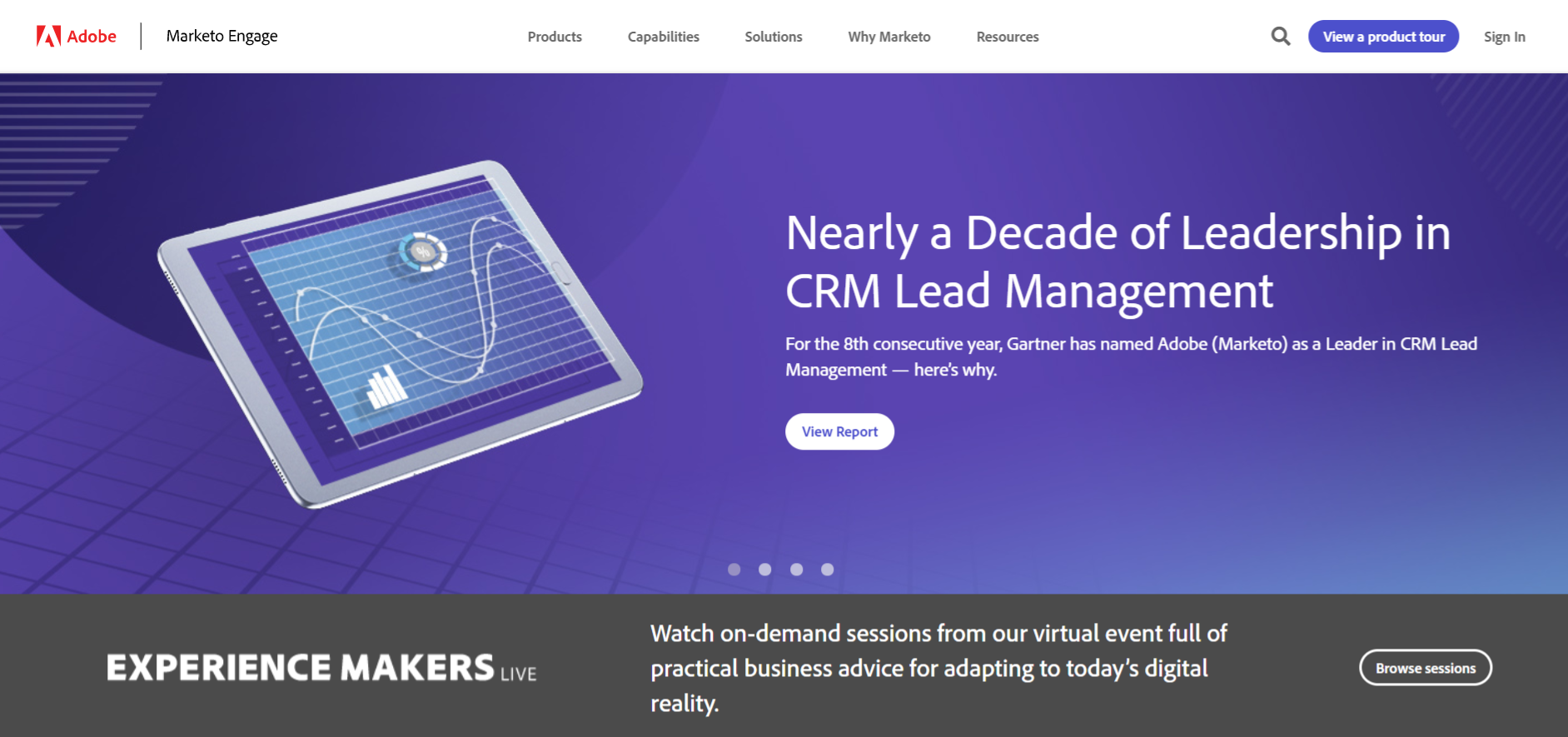 Marketo is one of the most feature–rich email automation software on this list, it lets you manage everything from email marketing, lead management, consumer marketing to revenue attribution, and account-based marketing.
With over 100,000 active users from all over the world, Marketo is said to be the leader in CRM Lead Management Tools on the market right now.
Marketo helps with automation of marketing communications like email and send targeted messaging simple and quick. With user personas, you can ensure you deliver personalized messaging at each stage of the user's journey.
Key Features:
Easy to use UI
Intelligence
Rich segmentation
Pricing: 
Paid plans start at Starting at $895/month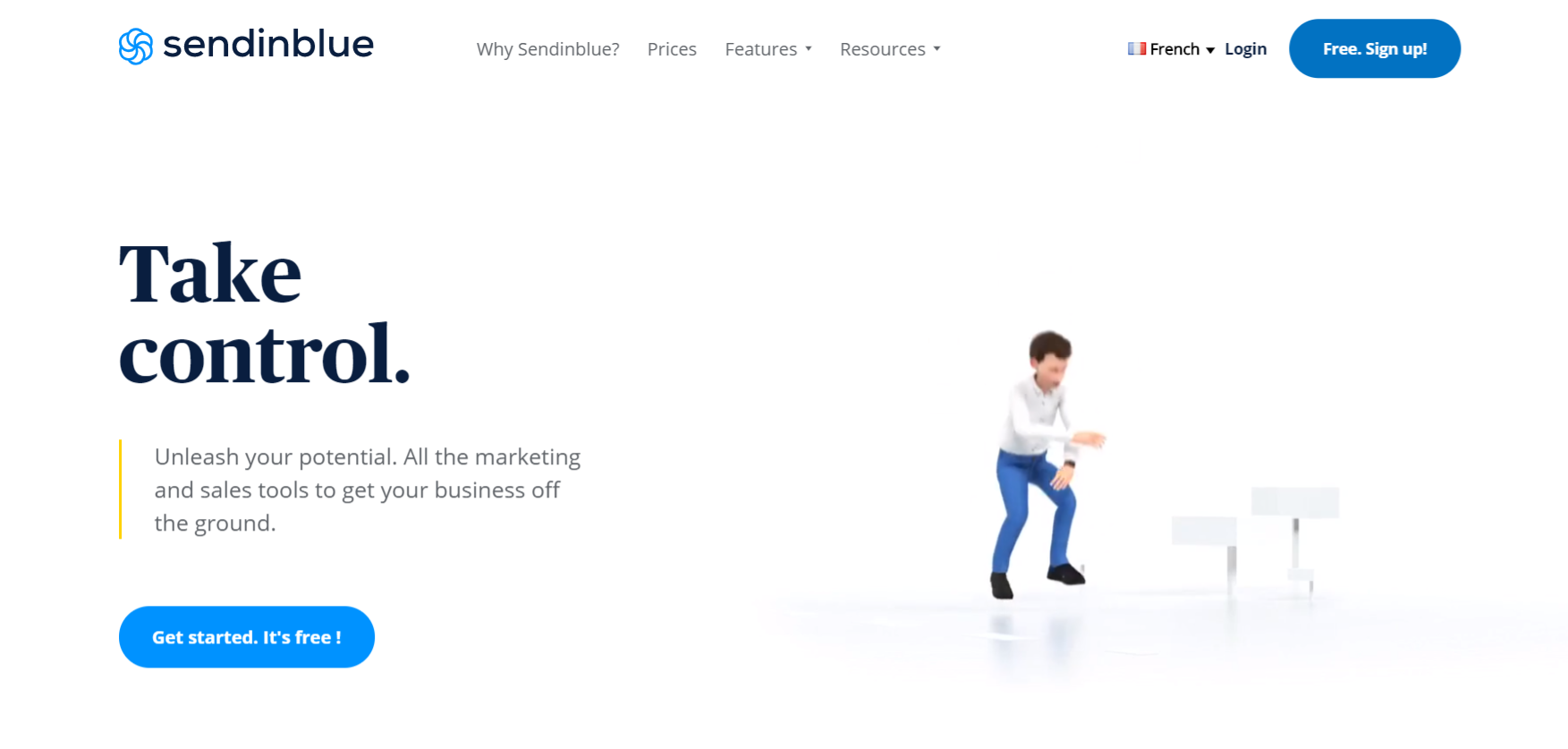 Originally, Sendinblue was a transactional email service that has evolved into a complete software offering advanced email marketing automation, at a surprisingly affordable rate. This software gives you access to its automation, allowing you to send up to 300 emails per day.
Automations functionality includes a website objective-based campaigns, sales reminders based on custom triggers, and even lead scoring. You can use its transactional email feature to send emails such as purchase invoices and confirmations.
Sendinblue's Send Time Optimization allows users to emails at the optimal time for each contact to increase open rates and eventually, sales.
Key Features:
Machine learning to optimize emails
Chatbots
SMS marketing
Pricing: 
Paid plans start at: Lite ($25/month), Essential ($39/month), Premium ($66/month)

GetResponse is a robust email marketing software providing users with everything they need to boost sales and close deals using their email campaigns.
Users can easily set up complex campaigns with GetResponse's drag-and-drop workflow builder and design the entire UX (user experience). You can simply build multiple scenarios and get a real-time vision of your visitor's journeys.
You can even track and address website visitors, cart abandoners, and create autoresponders to assist them in completing their purchase and convert them into potential customers. With so much automation and flexibility, GetResponse is truly a great email automation software.
Key Features:
Landing Page optimization
Autofunnels
Workflow automation
Pricing: 
Paid plans start at: Basic ($15/month), Plus ($49/month), Professional ($99/month), Enterprise ($1199/month)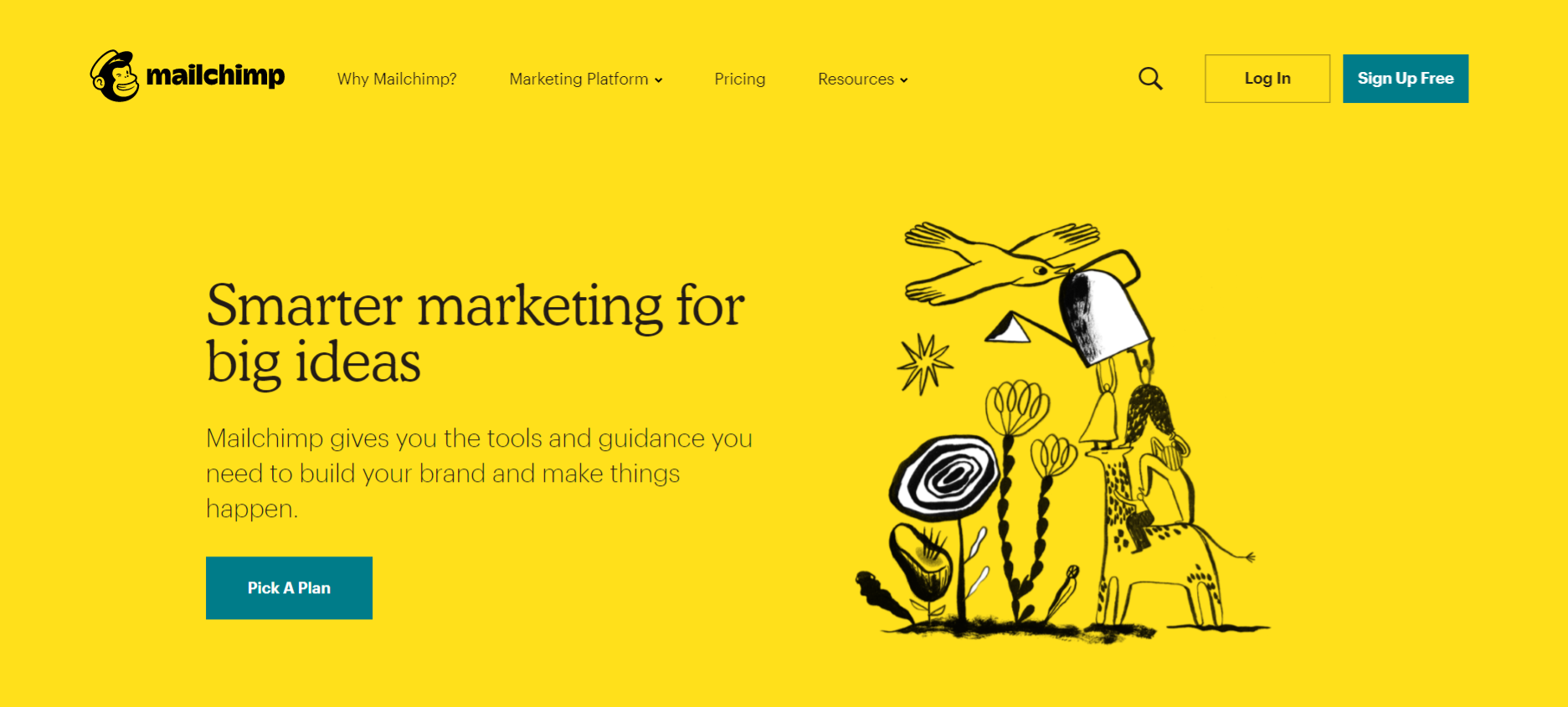 Mailchimp one of the leading email marketing and automation solutions in marketing with more than 5 million users worldwide, collectively sending a billion emails every day!
MailChimp's scope of automation is worth attention. Users can send standard autoresponders, along with advanced campaigns with triggers such as blog post updates, contact data updates, and clicks, etc.
MailChimp also allows for eCommerce integrations, meaning you can send abandoned cart campaigns, related product suggestions, and order confirmations. Making it an all in one marketing solution for big and small businesses alike.
Key Features:
Behavioral Targeting
CRM
Website builder
Pricing: 
Paid plans for email suite start at: Premium ($299/month), Standard($14.99month), Essentials ($9.99/month).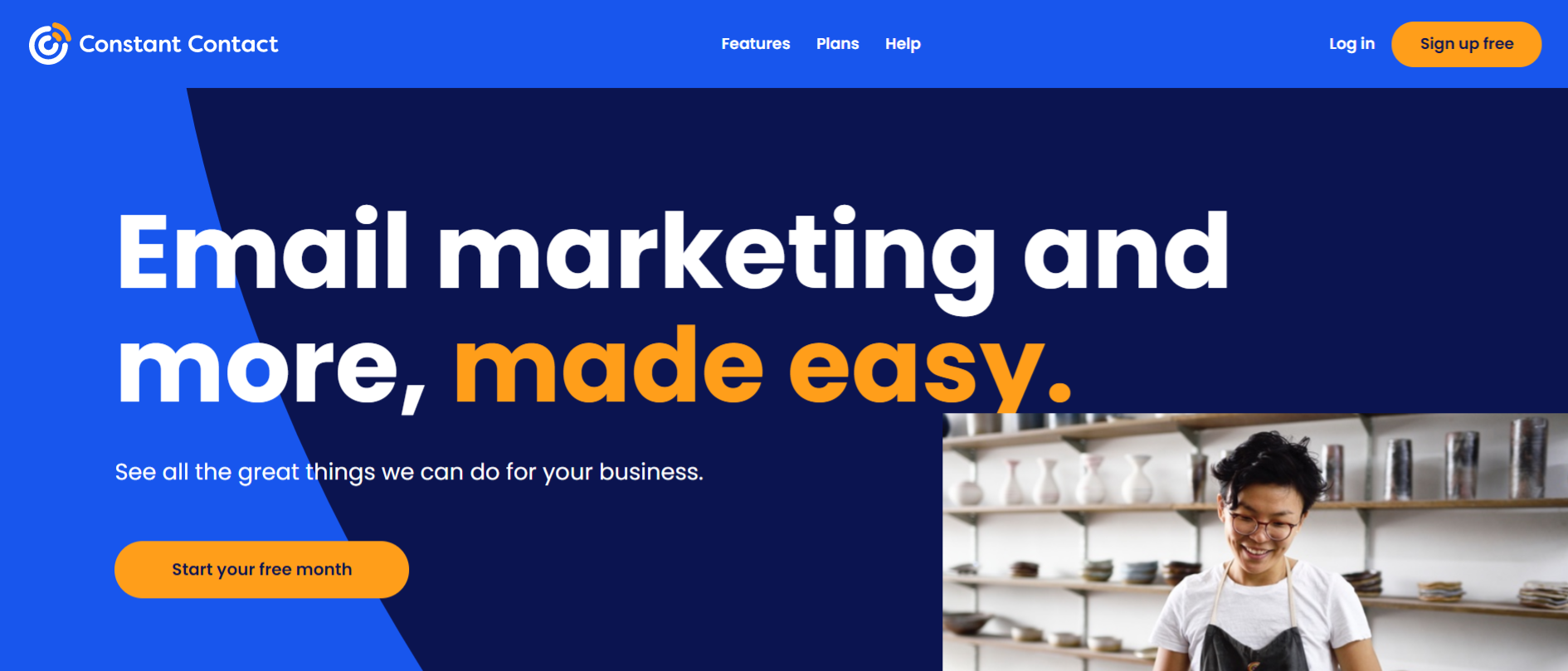 Constant Contact is one of the biggest email marketing platforms with an astounding 15.8% market share and that too for a good reason.
Its strong drag-and-drop editor makes it agile for users to create personalized and customized emails to engage customers on any device. Features like audience segmentation, trigger-based messages, powerful list-building capabilities, and e-commerce integrations make Constant Contact a well-rounded email marketing automation software.
Constant Contact knows the challenges faced by both customers and marketers have built a pretty powerful email automation software from the bottom to the top.
Key Features:
Real-time tracking
Dynamic signup forms
Contact Management
Pricing: 
Paid plans start at Email plan ($20/month), Email Plus ($45/month), Lite ($5/month)
Final Words…
It's interesting to see the wonders of modern-day email automation software. The amount of information you can collect and use for marketing purposes is striking. Remember, every company has a unique marketing goal. Compare the possibilities of automation with the existing state and affairs of your business!
Based on the areas of your business you are looking to automate, you can choose between any of the above-mentioned email automation software, with all your trust. If we missed out on any the email automation software that you like, do let us know by commenting in the section below!
Further reads: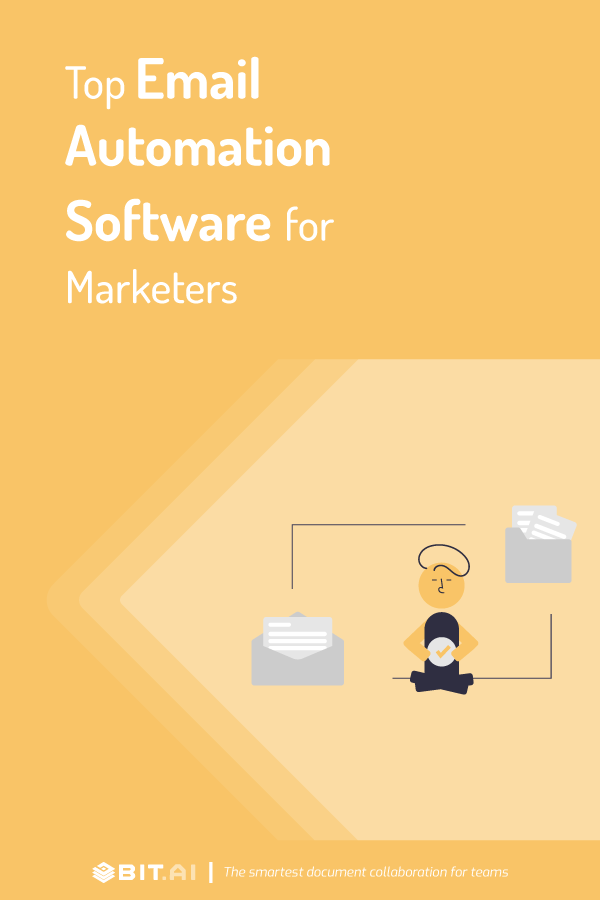 Related posts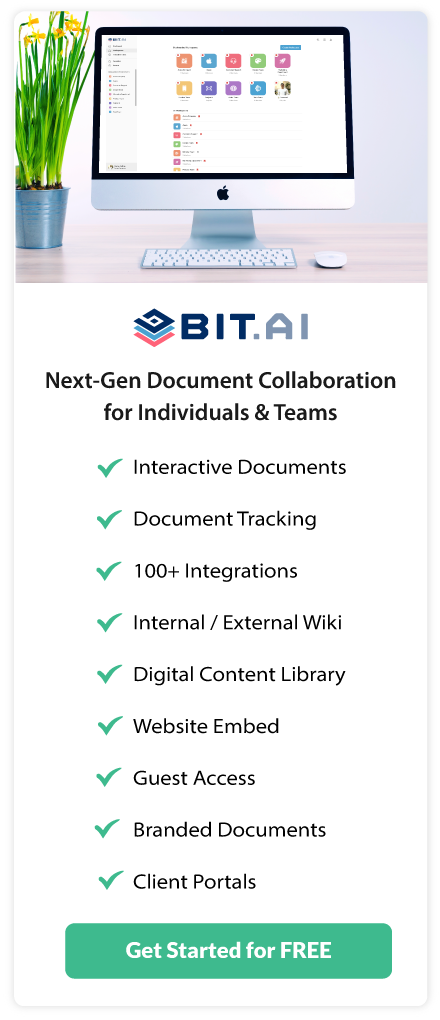 About Bit.ai
Bit.ai is the essential next-gen workplace and document collaboration platform. that helps teams share knowledge by connecting any type of digital content. With this intuitive, cloud-based solution, anyone can work visually and collaborate in real-time while creating internal notes, team projects, knowledge bases, client-facing content, and more.
The smartest online Google Docs and Word alternative, Bit.ai is used in over 100 countries by professionals everywhere, from IT teams creating internal documentation and knowledge bases, to sales and marketing teams sharing client materials and client portals.
👉👉Click Here to Check out Bit.ai.