Looking for email tracking software to improve your email game? Look no further!
Salespeople often spend a ton of time in their inbox- prospecting leads, reaching out to customers, collaborating with clients, and more. Emails are the go-to communication software for most salespeople which makes it extremely crucial to do it right. 
One way to improve the quality of your emails is to have intelligent data on whether your customers or prospects are reading your emails, how warm or cold the leads are, where are they spending most of their time in the email, which links are they clicking, which content is resonating with them and what is being completely ignored. 
However, a shocking 40% of salespeople say they lack the necessary knowledge to sell better and increase their close rates. 
This is where email tracking software comes in. 
Email tracking software provides you with a ton of critical data on your email- like who opened up your email, from what device, and what links they clicked on, etc- and helps you improve the quality of the emails you send out.
To help your sales team win at email marketing and send better emails, we have compiled a list of 14 awesome email tracking software. Go through them and let us know your favorite one by tweeting us @bit_docs!
Mailtrack
SalesHandy
MixMax
Snov.io
Yesware
Bananatag
Hubspot
Boomerang
Groove
Streak for Gmail
Mailtag.io
Cirrus Insight
Reply.io
Salesforce Pardot

Kicking off our list is one of the most straightforward and simple-to-use email tracking software out there. Works as a Chrome Extension, Mailtrack is currently being used by 1,300,000 worldwide (more than 54,000 paying customers) and is arguably the easiest email tracker for Gmail. 
Mailtrack notifies you when an email is opened by adding a double tick symbol next to it, similar to what your Whatsapp messages get after being read (or delivered).
Mailtrack is perfect for freelancers and SMBs (small business owners) who just want a no-fluff email tracking solution that is easy to set up. 
Key Features:
Easy setup

Slick interface

Real-time notifications
Pricing: 
Free plan with limited features.

Paid plans start at- 

Monthly

 ($4.99/month), 

Quarterly

 ($3.99/month), and 

Yearly

 ($2.49/month).


SalesHandy is a Sales Engagement Platform with a ton of features including Email Tracking, Mail merge campaigns, Email Scheduling, Automated follow-up, Link Tracking, and In-depth engagement data of prospects. 
SalesHandy provides real-time desktop notification as soon as someone opens your tracked emails along with detailed email analytics. 
If you don't want the whole software suite, you can just download their chrome extension that provides 100% free email tracking without any hidden signatures or branded logos.  
Key Features:
Document tracking

Email scheduling

Works with Outlook
Pricing: 
Free with limited features

Paid plans start at- 

Regular ($7 per user per month), Plus

 ($16 per user per month), and 

Enterprise

 ($40 per user per month)
Read More: Email Marketing Stats That'll Shock You!

Next up is Mixmax, another Chrome Extension that works seamlessly with Gmail. Mixmax is a bit more advanced than Mailtrack with powerful analytics, automation, and enhancements for your outbound communications. 
Along with email tracking, you can schedule your emails, save emails as templates, and can also add interactive polls, surveys, link previews, slideshows and more with Mixmax. 
By integrating your inbox with Google Calendar, Mixmax also allows you to schedule meetings with clients and customers with a single click!
Key Features:
Undo send

Email templates

Scheduling 
Pricing: 
Free plan with limited features.

Paid plans start at- 

Starter

 ($9 per user/month), 

Small Business

 ($24 per user/month), 

Growth

 ($49 per user/month), and 

Enterprise

 (custom pricing). 

Snov.io is an email finder and validator software that has recently added email tracking to their arsenal as well. Snov.io is now a featured-packed software to find prospects with just one click of a button, validate their authenticity, send emails, and track open rates- all from one platform. 
The email tracker is completely free and works as a browser extension. You also receive real-time browser push notifications when people read your emails or when they click on links.
Key Features:
Email finder

Create Drip campaigns

Technology checker
Pricing: 
Free plan with limited features.

Paid plans start at- 

Small

($26 per user/month), 

Medium

 ($49 per user/month), 

Large

($89 per user/month), and 

XL

($139 per user/month). 
Read more: Top Email Automation Software for Marketers!

Get the who-what-when for every email open, link click, and attachment view with Yesware. A useful Gmail plugin, Yesware gives you the ability to track every email you send, right from your inbox.
Yesware also allows users to create and save email templates to reuse later and test different subject lines.
Apart from tracking open rates, users can also find out how long customers are spending on their slide decks, PDFs, and other attachments via the attachment report.
Key Features:
Easy setup

Progress report for bird's eye view

Salesforce integration
Pricing: 
Free plan with limited features.

Paid plans start at- 

Pro 

($12 per user/month), 

Premium

($25 per user/month), and 

Enterprise

($55 per user/month).

Bananatag is another Gmail plugin that lets you track your daily emails after you hit 'send.' 
Using Bananatag, you get data on when (time), where (location), and how (on which device) the receiver interacted with your email. Bananatag also sends you instant notifications when the receiver has interacted with your email. Users can receive real-time analytics on email opens, clicks, trends, and user behavior.
Apart from email tracking, Bananatag has a block-based email designer that lets you create internal newsletters in Outlook without writing code. 
It's free to use and easy to set up.
Key Features:
Email designer

Social reactions

Embedded surveys
Pricing: 
100% custom

 and based on your organization's specific needs, number of recipients, etc.

If you work in sales and marketing, there's a high probability that you already know what Hubspot is. However, many people are unaware that Hubspot also offers email tracking capabilities. 
With Hubspot's email tracking, users get a desktop notification the second a prospect opens their email and clicks a link inside or downloads an important document inside (like a proposal). 
You can then instantly personalize your sales pitch and reach out to prospects at the right time, increasing your chances of closing. 
Key Features:
Pricing: 
Free plan with limited features.

Paid plans start at- 

Starter

 ($50 per month), 

Professional

 ($400 per month), and 

Enterprise

 ($1200 per month).

Boomerang lets you track the number of times an email was opened, the time it was first and last opened, which links have been clicked, how many times each link was clicked, and the first time and most recent time each link was clicked. 
Apart from email tracking, this nifty Gmail plugin has a ton of useful features like Inbox pause (to stop getting emails for a specific period), email scheduling, follow-up reminders, and even an AI assistant to help you write better emails. 
Boomerang is a must-have Gmail plugin with a ton of awesome features for everyone!
Key Features:
Email pause

Gmail Snooze

Email Reminders
Pricing: 
Free plan with limited features.

Paid plans start at 

Personal

 ($4.99 per month), 

Pro

 ($14.99 per month), and 

Premium

 ($49.99 per month).
Read more: 10 Awesome Affiliate Marketing Tracking Software To Skyrocket Sales
If you are looking for an email tracker for your sales team, Groove is worthy of your consideration. Groove allows you to sync your email and calendar with Salesforce to make sure all your data is up to date. 
With Groove, you can track the performance of any email template, allowing you to share the successful ones with the entire team and fine-tuning the underperforming ones.  
Groove is a full-on productivity suite for sales teams with campaign automation, account-based engagement, deep Salesforce integration, and some useful integrations. 
Key Features:
Salesforce integration

Campaign automation

Account-based engagement
Pricing: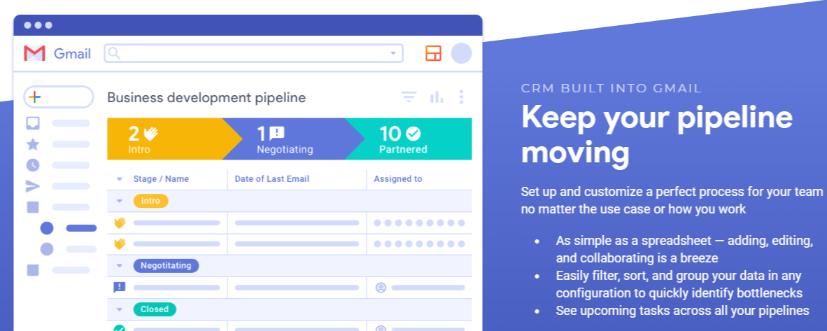 Used by teams at Uber, Lyft, WeWork, and more, Streak is a powerful extension that converts your Gmail into a CRM powerhouse.
You can track emails, schedule follow-ups, share data (contact info, files, emails, and much more.) with teams, automatically capture data from the contacts and emails, and much more. 
Users can also export important data to Google Sheets and use their native mobile apps (both Android and iOS) to work on the go. 
Key Features:
G-Suite integrations 

Mobile apps

CRM
Pricing: 
Free plan with limited features.

Paid plans start at- 

Professional Plan

 – $59 / Per User, 

Enterprise Plan – $129 / Per User (billed monthly)
11. Mailtag.io

Mailtag lets you know in real-time, if and when your sent email was opened. Users can receive real-time desktop alerts when their emails have been opened and track open rates, link-click rates, and more.
Apart from email tracking, Mailtag helps you increase your open rates by allowing you to schedule your emails to be sent at the perfect time.
Users can also automate email follow-ups by what Mailtag calls "Automated Pings" which sends automated emails to remind prospects and increase your open rate. 
Key Features:
Scheduling

Automatic follow-ups

Easy to use
Pricing: 
Free trial for 14 days. 

Paid plans start at- $9.99/month (billed annually)
Read more: 10 Must-have Tools For Sales And Marketing Teams 

Another great email tracker, Cirrus Insights is feature-packed- email tracking, scheduling, email analytics, email templates, drip campaigns- it has it all!
With Cirrus Insight's email analytics, users can study important metrics including email opens and click-through rates and find out what's working and what needs improvement. 
Since it works right from your Gmail or Outlook account, you never have to leave your inbox to access Cirrus Insight's awesome features. 
Key Features:
Salesforce integrations

Follow-up reminders

Drip campaigns
Pricing: 
Free trial for 14 days. 

Paid plans start at- 

Starter plan– $27/month, Closer plan – $45/month. 

Reply is a great email tracker for the sales team. Users can track email delivery, clicks, open and response rates. You can also A/B test your subjects and get intelligent insights on how to improve campaign results.
You can find new prospects directly from Reply, design email campaigns, collaborate with your sales team, and can even integrate your CRM to get all data in one place. 
From inbound sales to HR/recruiting, Reply has a ton of features for every professional!
Key Features:
Account-based sales

Detailed analytics

CRM integration
Pricing: 
Free trial for 14 days. 

Paid plans start at- 

$200/month

Salesforce Pardot helps B2B marketers automate their marketing efforts and drive revenue. With an easy-to-use interface, Pardot engages buyers on their terms with dynamic, personalized campaigns. 
Users can easily track and understand each step of the buyer's journey and help close more deals. 
From email building to automation, A/B testing, and optimization, Pardot is a complete solution for all your B2B marketing efforts. 
Key Features:
SPAM filter check-ups

Automatic segmentation

Analytics
Pricing:  Starts at $1,250 per month for up to 10,000 contacts.

RightInbox lets Gmail users see who opens their emails and clicks on their links in real-time. You can also set reminders and private notes against each of your conversations, pull up relevant email templates and automatically log your conversations into the CRM of your choice.
Key Features:
Integrates with Gmail
CRM integration
Trigger emails sequences based on clicks and opens
Pricing:
Email tracking not available on their free plan (that has other features like email scheduling and reminders)
Unlimited tracking starts at $5.95/month
Final Words;
Approximately 124 billion emails are sent out every day yet, people have no way of knowing whether the recipient opened or viewed their attachments.
Email tracking software like the ones we have mentioned above handsomely solves this problem and provides your inbox with superpowers! You cannot go wrong with any of the above-mentioned email tracking software, just pick one based on your budget and use case! Happy tracking 😉
Further reads :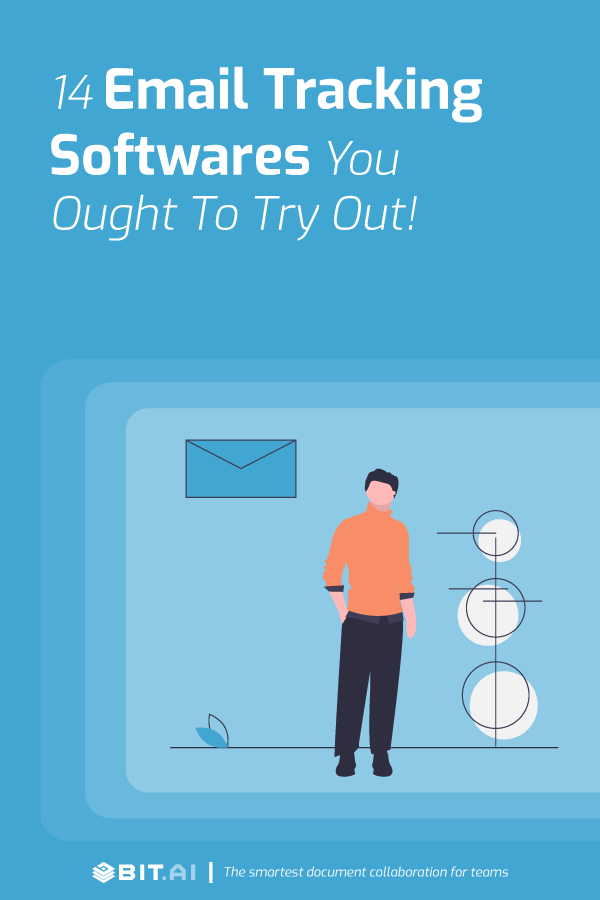 Related posts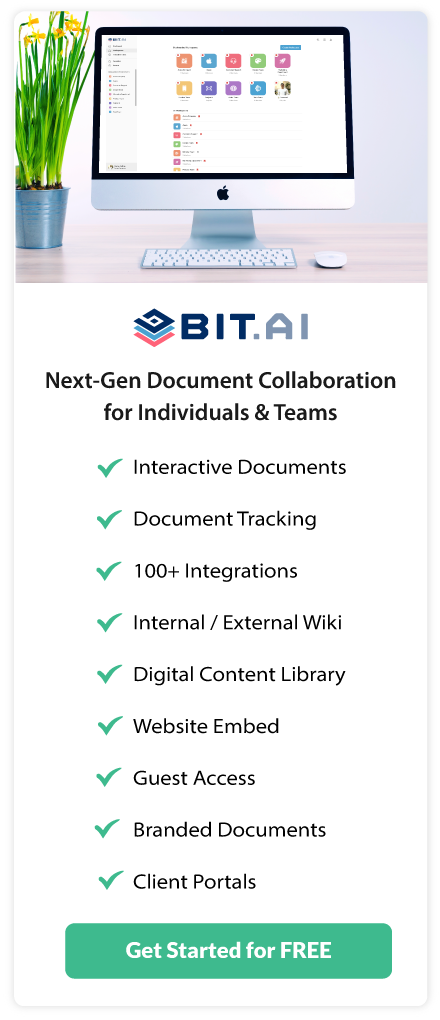 About Bit.ai
Bit.ai is the essential next-gen workplace and document collaboration platform. that helps teams share knowledge by connecting any type of digital content. With this intuitive, cloud-based solution, anyone can work visually and collaborate in real-time while creating internal notes, team projects, knowledge bases, client-facing content, and more.
The smartest online Google Docs and Word alternative, Bit.ai is used in over 100 countries by professionals everywhere, from IT teams creating internal documentation and knowledge bases, to sales and marketing teams sharing client materials and client portals.
👉👉Click Here to Check out Bit.ai.