Let's say you started a campaign. It generated huge traffic onto your websites which resulted in people contacting you via email, calls, or other CTAs.
What would be your next step? Is it to tell your sales team to track every message, every client, and manage them? That will be time-consuming, and to say the least, not highly effective.
So what do you do? Use CRM software! CRM software are a game-changing way to manage customer data and use it to drive growth.
And let us back this up with some stats because CRM software have been turning heads for quite some time now.
A properly implemented CRM solution can yield an ROI of 45% per dollar invested. (Source)
CRM systems improve customer retention rates, which leads to a profit increase of 25% to 85%. (Source)
Companies with CRM have increased their sales forecast by 42% (Source)
Every interaction with your prospective customers is a chance to understand them and missing out on such an opportunity is not viable for any firm.
With CRM software, you can store data about customers and improve your customer service, drive sales and generate revenue.
So let us take you on a brief journey about CRM software and help you learn more about them…
What is a Customer Relationship Management (CRM) Tool or Software? (Definition)
Customer Relationship Management (CRM) are all the technologies, tools, strategies that a business uses to acquire, maintain and foster deeper connections with its clientele.
Simply, CRM helps you in increasing efficiency, time management, and impressing your clients all the way from the time they become leads to customers.
These software will record any transaction between a business and its potential or existing clients, in a single place, making them easier to be accessed.
CRM software makes the task of enhancing relationships with customers simpler, more agile, and more accurate.  These tools are a great way to support and automate all your daily processes.
So, which tool should you use? Don't worry because we have curated a list of the 10 most popular and effective CRM software that firms are raving about!
Read on…

List of 10 CRM Tools and Software You Must Explore:
1. Zoho CRM

Zoho CRM has been leading the market in customer relations for 15 years. Over this time, they've been entrusted with building everlasting relations of 150,000 businesses in over 180 countries.
Zoho CRM is a cloud-based CRM software that turns mundane tasks into contests and motivates your sales reps to compete.
Key features:
Free trial
24-hour support for premium subscribers
Customizable dashboards and reports
Email integration for quickie overview
Advanced security features
Mobile app available
Pricing: Standard plan starts at $12/month
Read more: Top 9 Customer Onboarding Software Platforms For Businesses
2. Pipedrive

Pipedrive as they say, "is designed to keep you selling." It is a cloud-based system that helps you envision your sales activity better, and makes sure that you're able to generate the most even with the tiniest of inputs.
With a 93% customer satisfaction rate as mentioned on their website, we believe you will love this CRM software!
Key features:
Free trial
Integrates with Google apps
Easy to use user interface
Supports multi-environment with 24×7 support
Single data location
Pricing: Basic plan starts at $12.50/month
3. Nimble

A fairly popular CRM software, Nimble brings together the robustness of traditional CRM coupled with its powerful tech and automation, to foster deeper relations with clients.
It is also a cloud-based system that integrates seamlessly with productivity apps to keep all your data in one place.
Key features:
Search and segment options
Chrome Plugin
Sales pipeline tracking and reporting
Smart App
Templates with merge tags
Pricing: Starts at $9/month
4. Salesforce

Salesforce is an all-in-one cloud-based platform for all your CRM needs. It helps you to understand and assess the needs of your customers and offers various solutions to address them.
Salesforce Lightning Experience is an upgraded version that streamlines the sales process by allowing sales reps to easily follow up on leads, manage account activity, track the status of each campaign, and create reports quickly.
Salesforce will definitely help you unite teams and drive growth. In addition, the Salesforce app provides a technology stack that covers database and security as well as workflow and user interfaces.
Key features:
Free trial
Lead management
Advanced analytics and real-time visualization
Contact and opportunity management
Customized dashboard
Pricing: N/A
5. Oracle CRM

One of the most eminent CRM software on the list, Oracle CRM will help your business drive sales and increase service effectiveness. Companies like Accenture, Larsen & Toubro, and many others are using its CRM services.
With Oracle, you can create an automated sales process too. With its mighty customer service and systems, you're bound to succeed.
Key features:
Industry-specific capabilities
Easy installation
Integrates with other Oracle tools
Supports business intelligence apps
Top-notch analytics and reporting
Pricing: Starts at $70/month
Read more: 10 Best Customer Analytics Tools and Software in 2022
6. Microsoft Dynamics

Microsoft Dynamics is another highly renowned CRM software that assists you in boosting your sales process and streamlining your work processes. It creates a centralized location for all customer data and automates interactions.
With such digital detailing, you will definitely be able to better assess customer needs.
Key features:
Customer opportunity management
Supports both Saas and on-premise
Creates data of customers in excel format
Automated workflow
Mobile CRM
Pricing: N/A (depends on feature selection)
7. SugarCRM

If you need better management for all your sales and marketing needs, then SugarCRM should be your go-to CRM software! It also offers flexibility for choosing your deployment method and customization options to fit the varied needs of any given company.
It offers you a complete 360-degree view of your customer journey so that you can better anticipate opportunities. The software supports Windows, Linux, MySQL, SQL Server, and Oracle systems.
Key features:
Pipeline management
Multiple personalized dashboards
Centralized storage
Integrations with MySQL, Oracle, etc
Pricing: Starting at $40/month
8. HubSpot CRM

Hubspot is another popular and widely-used CRM software. With its bounty of robust features and training resources, it's a foolproof plan for all your CRM needs.
Given that it's built with a salesperson's perspective in mind, your sales rep can see everything about a lead in one place. No more digging through inboxes to find information!
It's super easy-to-use and its free plan offers more powerful integrations than any other CRM software does!
Key features:
Invoice template generators
Single data location
Extensive online training library
Automated sales activity
Super customizable dashboards
Pricing: Starts at $50/month
Read more: Top 9 Customer Service Software for Small Businesses
9. Keap
If you run a small business or startup looking to centralize all your customer information, then Keap is the CRM software you need.
Within just a few clicks, users can manage their inventory, payments, track digital storefront activity, send quotes, invoices, and receipts.
It allows your sales teams to seamlessly perform tasks by managing and organizing all data. They also offer free demos to help you understand their platform and features better before you sign up.
Key features:
Customizable dashboard
Advanced analytics
API integrations
One-click up-sell & cross-sell
Smart forms for leads
Pricing: Starting at $40/month
10. EngageBay 

EngageBay, in their own words, will help you "market better, sell better, and support smarter" with their CRM software.
It'll help you identify opportunities and target them to the right customers to nurture loyalty. It is a great way to aid sales growth. They also offer training manuals to help ease processes.
EngageBay enables businesses to use Zapier and Xero integration to connect the platform with several third-party applications.
Key features:
Free plan
Visual deal pipeline
360-degree customer view
Easy synchronization between departments
Automated data entry
Pricing: Basic plan starts at $8.99/month
Final Words 
Sales is a two-way street, and to address it in an effective way, you need to enhance customer experience from top to bottom.
To enhance this experience, personalization is a must today – 90% of U.S. consumers find marketing personalization very or somewhat appealing.
That's where CRM software come in handy because they're a one-stop destination for all things customers and make the sales experience worthwhile for both your business and the customers.
Tweet us @bit_docs to tell us about your experience with these CRM software. Trust us, it's a sure-fire list – you just can't go wrong with it.
Further reads: 
Top 9 HR Software and Tools for Human Resource Departments!
9 Client Management Software You Must Check Out!
9 Powerful Mind Mapping Software & Tools You Need to Check Out!
9 Customer Acquisition Strategies Your Boss Wishes You Knew!
10 Best Customer Retention Strategies for Startups!
12 Must-Have Tools for Sales and Marketing Teams for 2021
Best Resource Management Tools and Software
10 Best Reporting Tools and Software for Businesses
15 Business Intelligence Tools & Software Every Business Needs!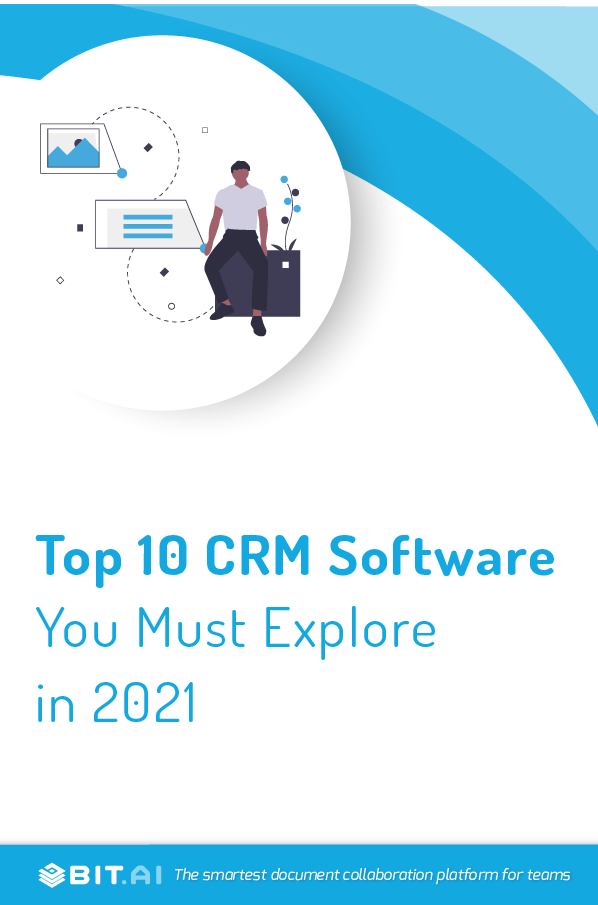 Related posts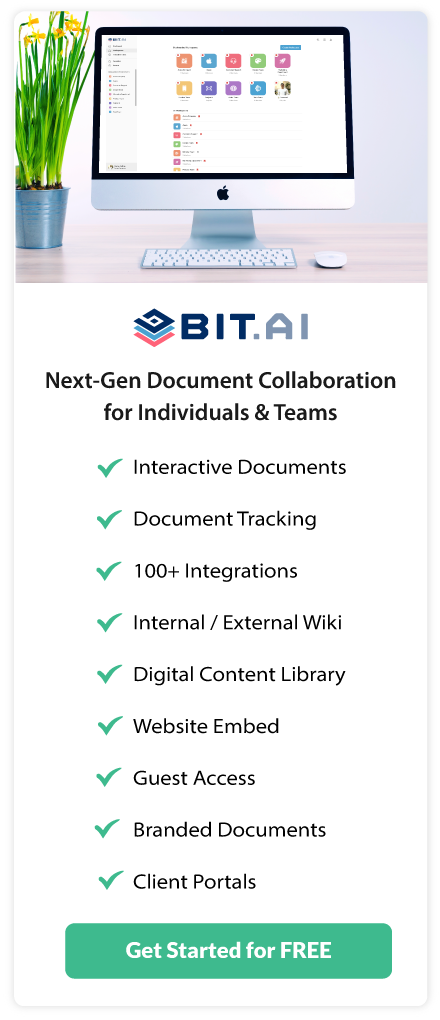 About Bit.ai
Bit.ai is the essential next-gen workplace and document collaboration platform. that helps teams share knowledge by connecting any type of digital content. With this intuitive, cloud-based solution, anyone can work visually and collaborate in real-time while creating internal notes, team projects, knowledge bases, client-facing content, and more.
The smartest online Google Docs and Word alternative, Bit.ai is used in over 100 countries by professionals everywhere, from IT teams creating internal documentation and knowledge bases, to sales and marketing teams sharing client materials and client portals.
👉👉Click Here to Check out Bit.ai.