There is no doubt that good customer service is the foundation of any thriving business. Customer devotion is quickly turning into the Holy Grail in business. In today's world customer expectations have changed.
In the past, a thoughtful ear at the end of a phone has now evolved to a fully managed solution that provides customer service based on customer experiences. There is an expectation that customers are delivered quicker response times, less to and fro and more transparency.
With these new expectations in place, it can bring challenges to small businesses who need to 'win' their competitors on the customer service front.
Did you know that 7 out of 10 U.S. customers state that they would spend more to guarantee a great consumer experience? Companies that make customer service a strong focus not only result in great profits, but it's ultimately an ideal way to generate loyal customers.
Faithful customers are less likely to buy from competitors.
One of the main ways to improve customer service efforts is through well-run customer service software. The right software should help:
Increase the turn around time of customer requests
Help convey solutions to customer problems and
Create an ideal structure for customer resources and shared knowledge
The ideal customer service solutions empower customers to find solutions to their problems without the constant need of a customer service representative.
Small businesses have fewer resources of 'man/woman' power, time and money and it's imperative that they find an ideal customer service software to lend them a hand. If you're a small business owner read on and learn about these software solutions that will propel your small business to great heights!
Why use Customer service software?
These days, consumer requests can easily fall through the cracks, since clients use various communication channels to reach your organization. They may reach out via email, social media, in-app chat messages, contact us forms, etc.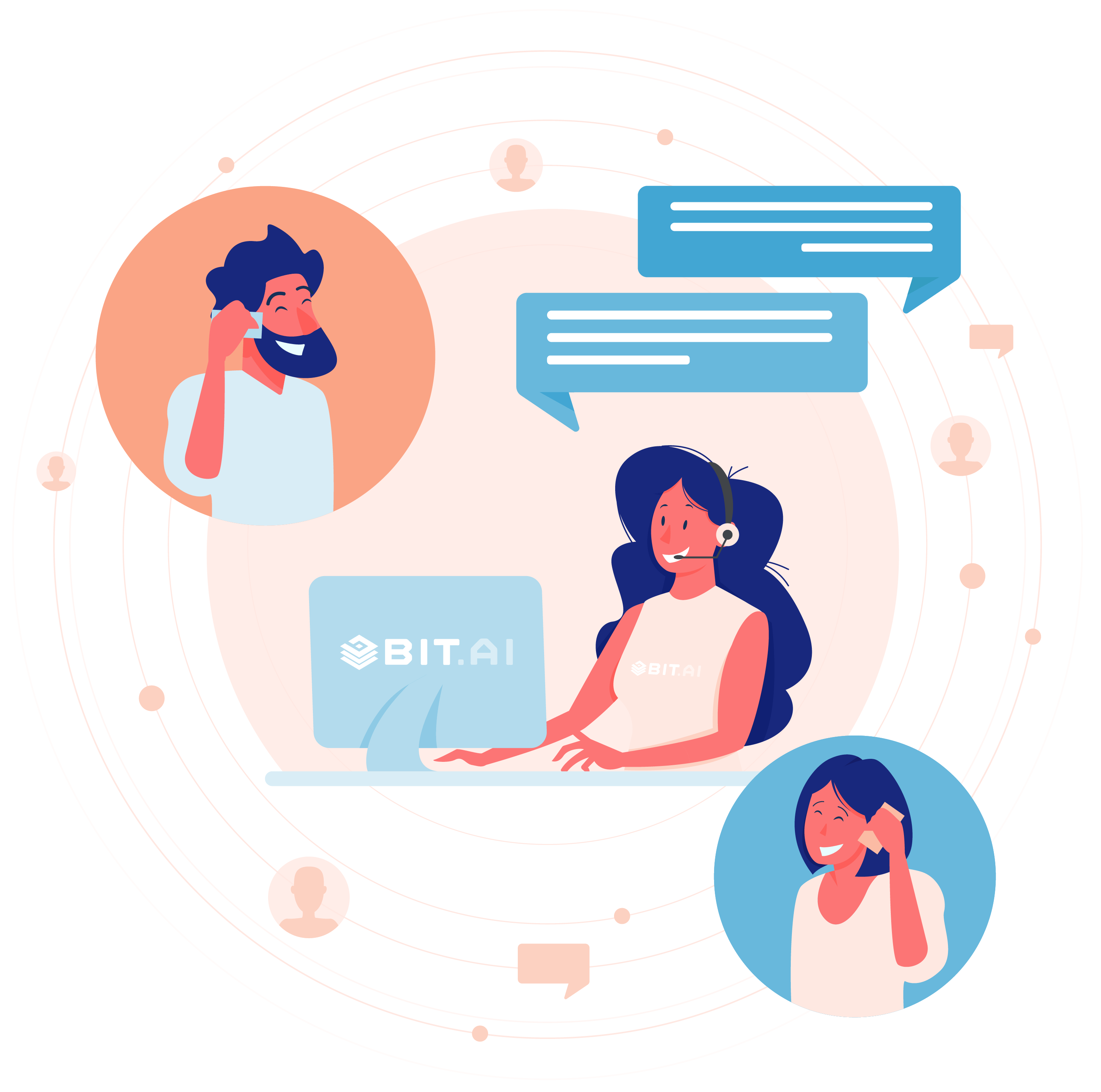 Customer service software will revolutionize the way you speak with your clients and help you with the following:
Quicker responses
Focus on your loyal customers
Simplifies reporting and analysis.
Provides transparency into your sales pipeline
Connects your teams internally (sales, marketing, and support)
Provides a central system to share data
Can scale as your small business grows
Prioritizes requests
Standards for Good Customer Service Software
Anytime you're looking at the software it's important to identify standards to help you narrow down what would work best for your business and team. Here are some expectations and questions you should ask yourself while you are searching for the perfect customer service software:
Ease of use: How simple is the software to set up? Is it easy to utilize? Will operators appreciate using it in their day-to-day work process?
Viability: How well does the software address the issue it is supposed to resolve?
Worth: How much return do you get for the amount you pay? Will the software benefit both your clients and your team?
Reporting: Can you measure the analytics you need? Does this software empower you to keep a finger on the beat of your customer support experience and prevent dissatisfaction?
Automation: Will you have the option to streamline manual tasks? Does automation accelerate your client support? Can you segment out premium customers and handle their customer service differently?
Place these standards in the back of your mind, while you take a look at these top 9 customer service software that will make your customer service life a breeze!

Our Recommended Top 9 Customer Service Software
Let's go through each one of these software in more detail and decide for yourself which is the best fit for your business.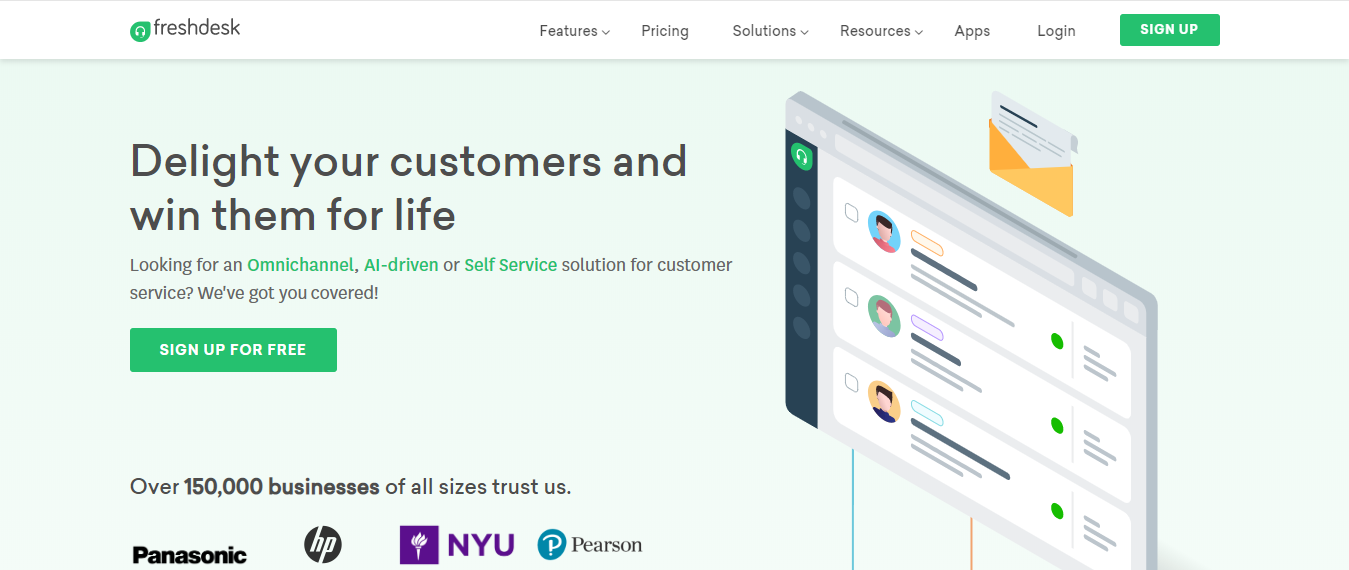 Offering multi-channel customer care, Freshdesk unites each client's conversations into a single interface, helping the client care team to address and resolve the inquire tickets generated by customers.
Freshdesk also offers client-facing features, for example, a self-service portal, an information base, and a community forum so clients can see the status of their tickets, find solutions online and share ideas. This software provides client care in 26 distinct dialects, making it one of the most comprehensive customer service software.
Key Features:
Ticketing support to manage tickets from various communication channels (email, site, online networking, etc.).
Call center to immediately set up a call center to handle telephone calls from clients.
Reporting to see the times and days of the week for ticket generation.
Also, Freshdesk is significantly less expensive than Zendesk when you look at the entire bundles together.
Freshdesk provides a free trial for 21 days!

Helpjuice's self-service client software empowers you to avoid frequently asked questions while giving customers with instant answers. The tool doesn't require much preparation and can be quickly adopted by your team as it has a cleaner interface than the rest of the software on the list.
HelpJuice exceeds expectations when it comes to software analytics. It allows you to customize the internal settings of the software, so you can have the analytics that you're interested in, upfront on the dashboard. With its advanced analytics, your team can discover what's working and what could be improved. Combine these features with ease-to-use and amazing design, and we think HelpJuice is a champ.
Key features:
Effectively co-creator content in 130+ dialects
Computer-based intelligence-powered chat-bot can recommend significant articles on your site
Restrict access to all the customer tickets as and when required.
Today customers are tech-savvy and have become more comfortable with the latest in technology and self-service software like HelpJuice is a perfect fit!
Read more: How To Create A Customer Survey For Better Insights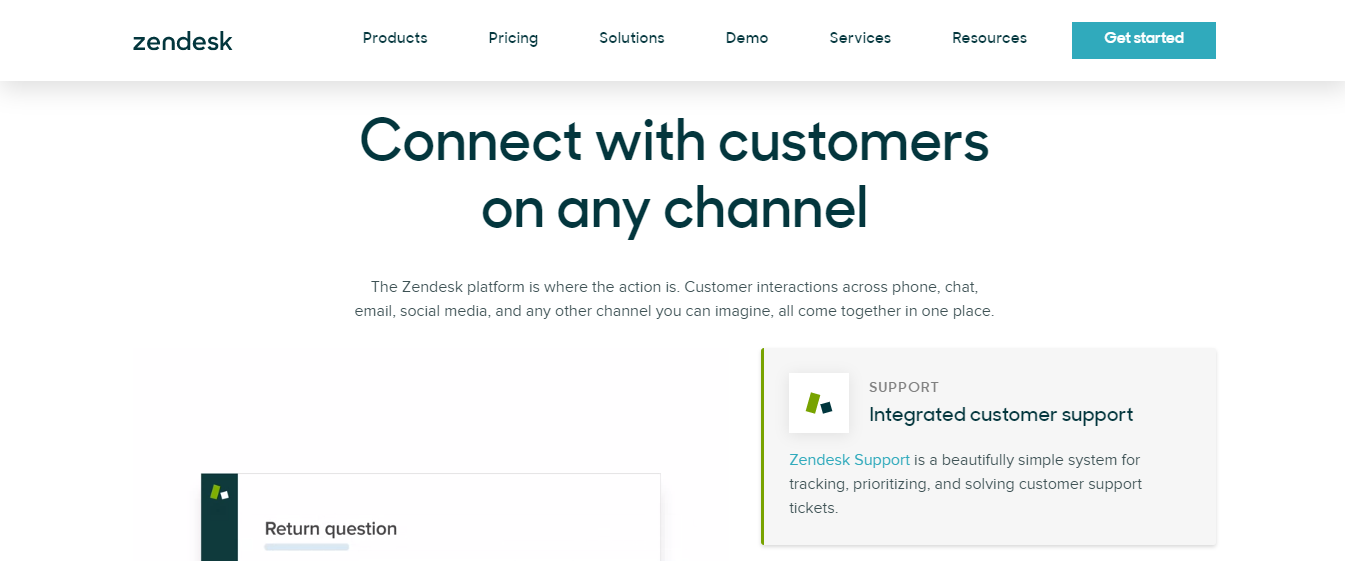 Zendesk is a customer care software that is worked to improve the client relationship. The top highlights of this software incorporate knowledgebase management, multi-channel communication, email coordination, IT resource management, and others. It stands-out among the top customer service software for small and large businesses.
Using Zendesk, businesses can set up an online network where their clients can post queries and reply to an ongoing discussion thread. Zendesk also offers to brand the customer support pages with business logos, themes and brand pictures
Key Features:
Ticketing solution that enables you to follow, assign, and manage tickets that clients build.
A standard live chat app that you install on your website.
Supports both telephone calls and emails. Enables you to disperse them to your client support agents.
A content management system that enables you to make a simple-to-use information base for your customers.
You can either purchase every one of the tools together or separately. The pricing scales are pretty sensibly for a single user. Zendesk offers a 30-day free trial.

HubSpot is known for its advertising and sales software, yet they offer a full suite of customer care software. HubSpot's customer care tools incorporate a range of highlights that helps to improve how you associate with your clients.
Service Hub offers a mutual inbox to make 1:1 communication simple with clients at scale. It includes ground-breaking automation to route messages to the best possible channels and improves productivity. You can also utilize bots to give quick responses to FAQs.
Key Features:
Universal inbox for most all-in-one client customer care tools, HubSpot accompanies a team inbox.
Inbox messages converted into automated tickets for which operators can react using layouts, canned reactions or short recordings.
Live chatbots can assist your clients with simple, routine inquiries by referring them to help documents or the most fitting live chat operator.
Gather customer input information through studies and different forms. Client response is a significant component in improving your customer care.
Free CRM for tickets and mails are incorporated with HubSpot's free CRM so you have an in-depth profile of the client.
This software can be used with small to medium-sized businesses and there are also enterprise plans available for larger teams.
Read more: 16 Best Business Tools Every Business Needs in 2022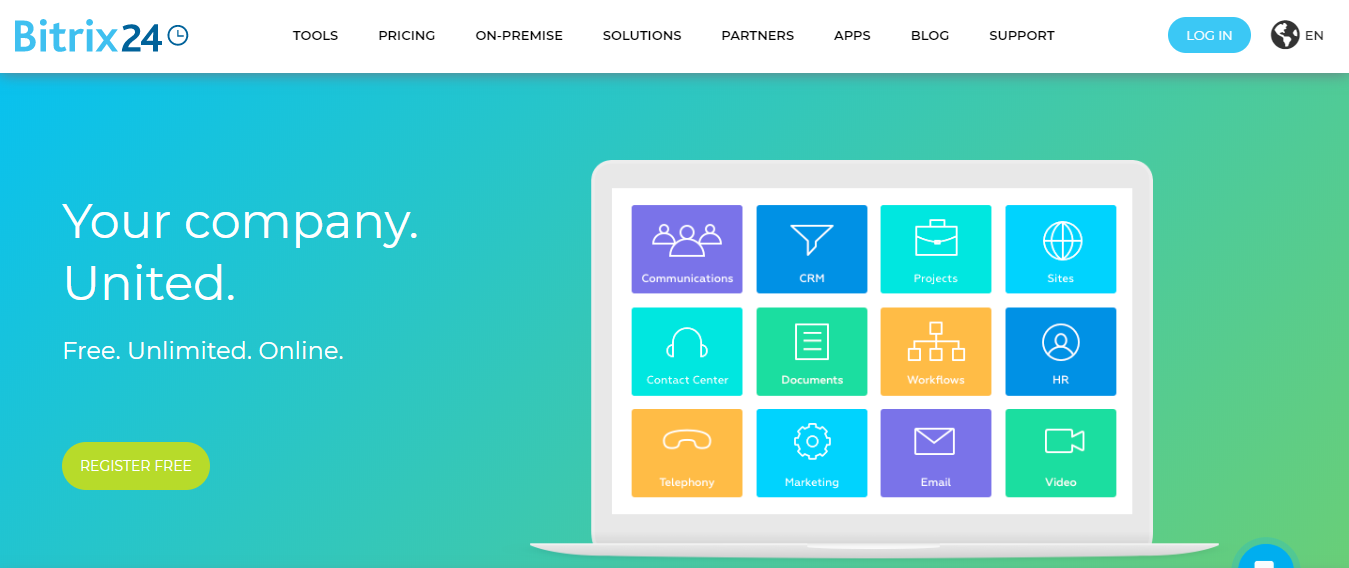 Bitrix24's CRM software provides a place for organizations to compose and follow interactions with potential or existing customers. The software enables businesses to log in and oversee customer connections, catch and store lead information, create sales reports, and create segments of the target audience.
This customer service software is jam-packed with highlights, which can either be an upside or a drawback, depending upon your requirements.
Key Features:
Software automation feature for record sharing and email advertising joining
Integrates with numerous well-known tools, for example, Basecamp, MailChimp, and Zoho CRM
Easy video conferencing that is similar to Skype.
The Bitrix24 CRM interface is similar to Facebook. With bitrix24 your co-worker will be able to see, like or comment on an invoice, CRM account you create, and the leads generated by you via their "Active Feeds".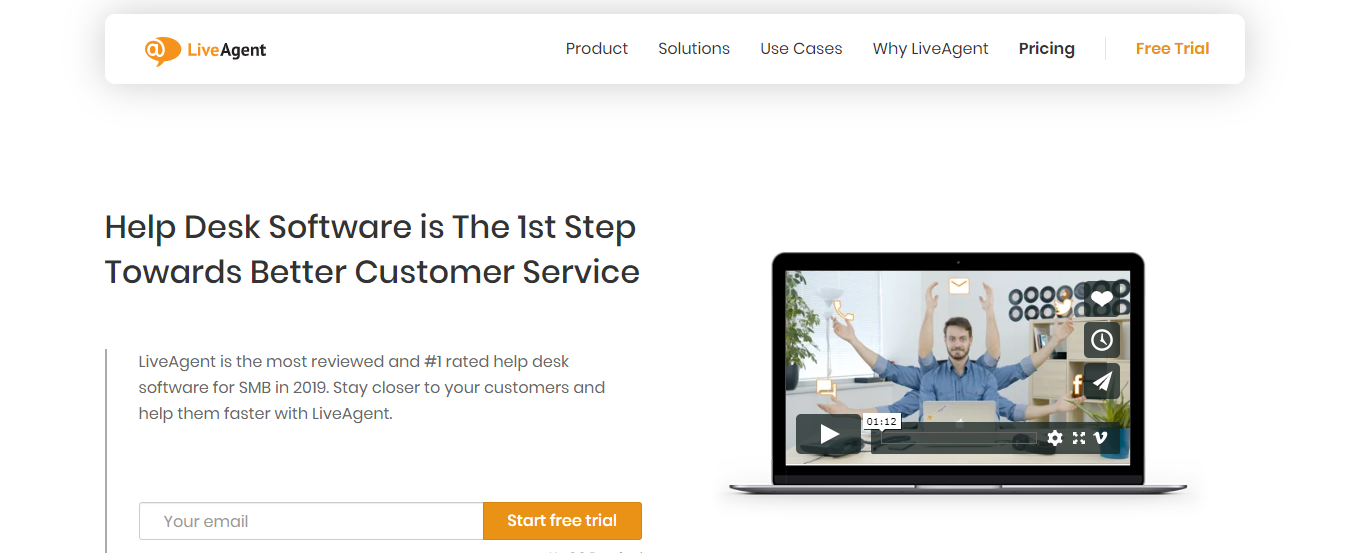 LiveAgent is an online live chat software for web-based e-commerce business organizations that are small to medium-size. This customer service software offers a ticket management framework, where each ticket contains the total numbers chats, emails and calls form other communication platforms between the client and the support staff of the company.
The software offers a live chat application, ticket management, online self-service platform, and change & permit management. They can be purchased together as either in-suite or as independent applications.
Key Features:
Computerize ticket service that enables you to set what number of tickets a specific agent should get, and it assigns new tickets accordingly.
Live chats boxes for a standard live conversation on your site.
Call center that gives you a chance to accept client calls. It also has a video call alternative, which could be helpful for certain kinds of organizations.
LiveAgent offers a selection of more extensive CRM applications, for example, advertising and sales power automation in collaboration with outsider software organizations. It is an adjustable solution that can scale eventually, as small businesses grow and online sales increase.
Read more: 10 Best Intercom Alternatives and its Competitors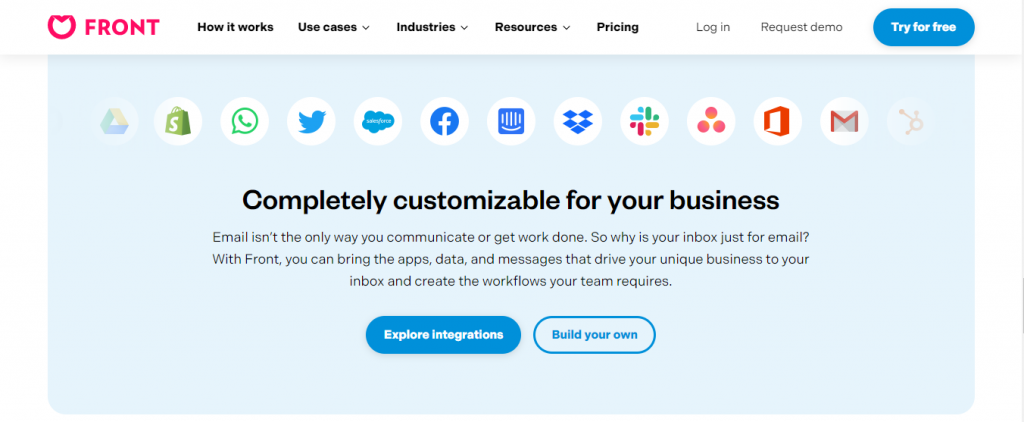 If you are looking for software with a simple interface then Front can be a great fit for managing all of your private and team emails, including all other communication channels like social media, calls, and chats. The Front team is very serious about upgrading the software based on client feedback. The recent iterations in Front CRM added new services like 50+ app integrations which make Front an ideal software for communication workflow.
Key Features:
You can integrate Front software with various third-party platforms like popularCRMs, project management tools, and knowledge-based platforms.
Generate automated rules, updates, and schedules that will help streamline client communication.
 Collision detection keeps two agents from reacting to the same client conversation simultaneously.
The best thing about Front is the highlight to organize messages which involve conversations that require more attention than others.
Front App offers a 7-day free trial.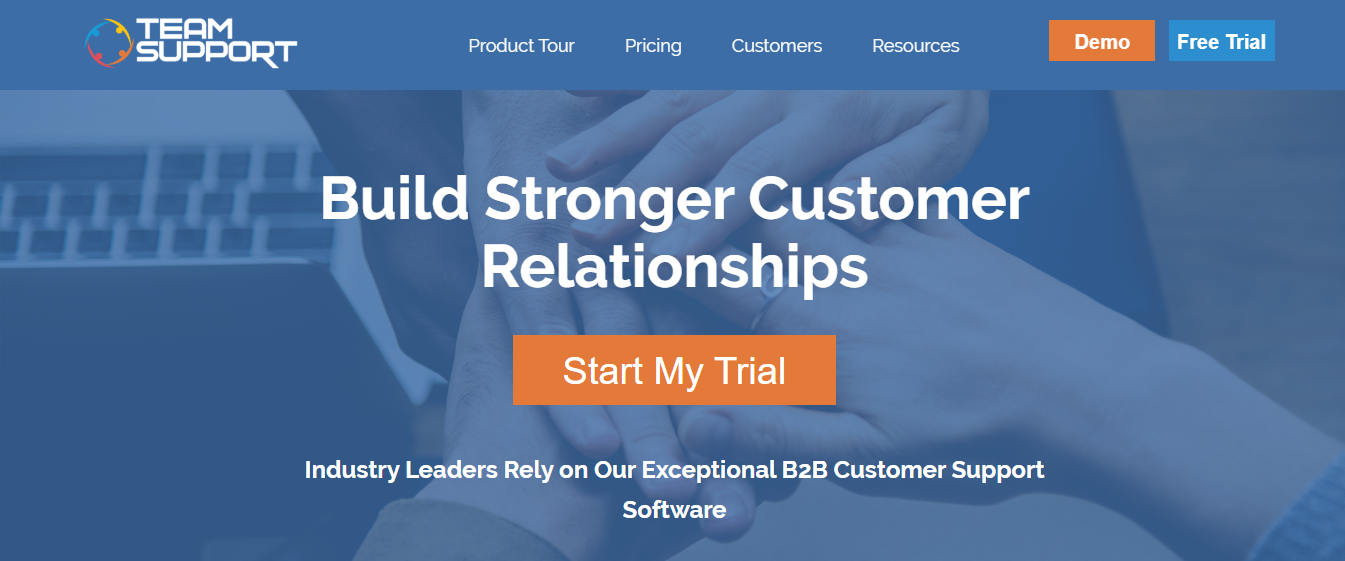 TeamSupport is a B2B customer service software that will help your team eliminate miscommunication, improve client response time, and quickly address urgent client problems. TeamSupport can also be used to maintain the tickets raised by the clients one at a time. This helps the client to invest less energy in calls and emails by simply generating a ticket for one-on-one communication.
To enhance team communication efforts and deliver strong client assistance TeamSupport offers the following features:
Key features:
Ticketing system to easily track all the generated tickets.
Keeping track of which items your clients are using to help them quickly in case of any issue.
Customize your client service portal so they can resolve simple inquiries themselves.
TeamSupport can be the answer to any type of organization that requires customer service software for their team. If you run any-size business and have battled to reach clients that need customer support, TeamSupport is a perfect choice.
TeamSupport offers a 21-day trial.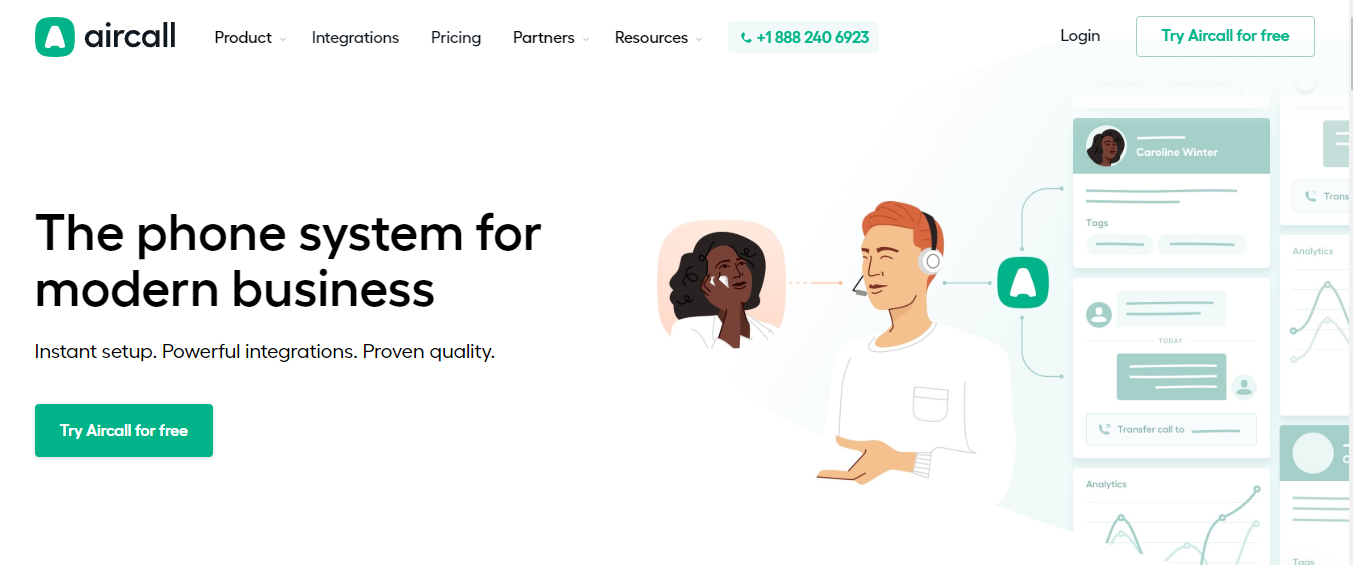 AirCall is a cloud-based cellular support system built for client service and sales teams. Aircall allows small and mid-sized businesses to receive telephonic support in 30 nations, configure their numbers for customer care and forward calls effectively to the assigned help agent. Each client makes and gets calls from Aircall's application which is available for PC, Mac or mobile.
This call support software is designed for businesses that have client assistance teams somewhere in the range of five and 50 members. Aircall also coordinates with famous CRM solutions like Zoho and Salesforce, which allows you to bring your sales personnel on the support platform.
Key Features:
You can remark calls and appoint them to a teammate as well.
Direct calls to teammates with specialized information.
Forwarding calls to cell phones.
Aircall offers three paid packs to look over. Each charged either monthly or yearly, and are based on clients' requirements.
Our team at bit.ai has created a few awesome customer service templates to make your processes more efficient. Make sure to check them out before you go, your team might need them!
Conclusion
It's important to understand that each software offers different features and you need to figure out which feature fits your business the best.
These customer service software for small businesses enable you to create an automated help system that will assist your teams with serving your customers better, provide top-notch support and approach them with helpful solutions. Always remember that whether you have decided to automate your customer service or not, try not to keep your clients waiting for responses, the faster you address your client's concerns the happier your clients will be!
If we have missed out on any of the customer service software that you believe are worth mentioning in the above list please tweet us and let us know @bit_docs
Further reads : 
To sum up, here's an infographic on Top 9 customer services software for small businesses
Don't want to forget this information?
Pin it for future reference!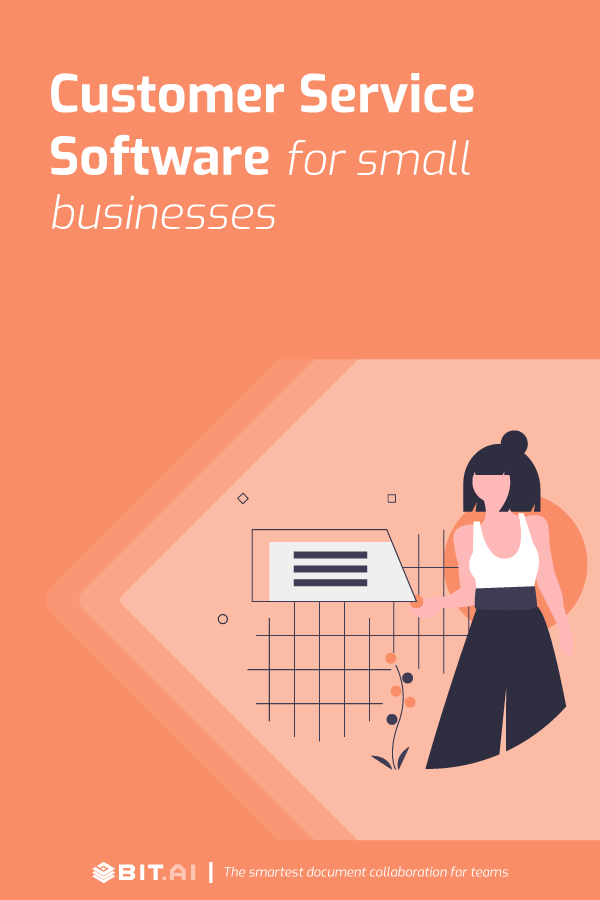 Related posts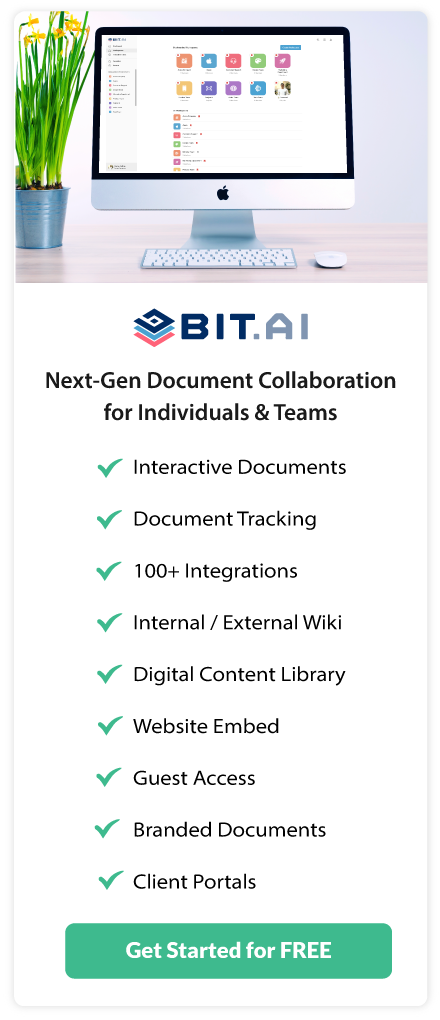 About Bit.ai
Bit.ai is the essential next-gen workplace and document collaboration platform. that helps teams share knowledge by connecting any type of digital content. With this intuitive, cloud-based solution, anyone can work visually and collaborate in real-time while creating internal notes, team projects, knowledge bases, client-facing content, and more.
The smartest online Google Docs and Word alternative, Bit.ai is used in over 100 countries by professionals everywhere, from IT teams creating internal documentation and knowledge bases, to sales and marketing teams sharing client materials and client portals.
👉👉Click Here to Check out Bit.ai.