How do you communicate with clients? I bet 90% of you just thought about "email" in their minds, right?! The other 10% would be thinking of Zoom! An email has long been our go-to communication tool for decades. Whether you run a marketing agency, a design firm, or have a consulting firm, we all use email to communicate with our clients.
Email completely revolutionized the way we communicate with our friends, family, co-workers, and clients. Not only that, but it radically improved our business workflows, making us more productive than ever. It quickly became the go-to tool to develop business relationships, make decisions, and have professional to-the-point conversations with colleagues or clients.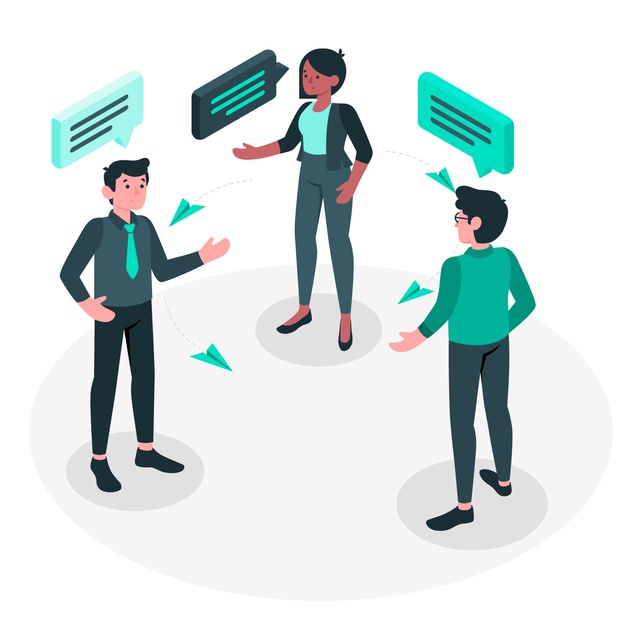 Fast forward to 2020 and there's probably nothing that we hate more than opening up our inbox and getting drowned in a sea of unwanted messages.
How Email failed?
Email quickly went from the go-to tool for communication to becoming a collaboration nightmare. We often confuse these two terms- communication and collaboration. With the rapid digitization of our work and the culture of distributed teams or remote work, collaboration has garnered almost as much importance as communication in the workplace and email is still playing catch-up.
An email has long been our number one instrument for communication with clients. However, the number of software tools we use to communicate at work has increased over the years, and email doesn't always fit in. Email is being forced to bridge a gap it was never intended to bridge. When it comes to collaborating with your team or your clients on projects and getting work done, email alone just doesn't cut it anymore. Here's why:
Having a group conversation via email is simply impossible.
Information often gets buried in email threads.
It's difficult to keep track of the most current version of an attached file.
It's tedious to assign tasks and get clarity on who's in charge of what.
There's the limited context around information being sent.
It's difficult to provide suggestions and feedback.
In the end, email ends up wasting a lot of crucial time for everyone which can lead to major inefficiencies in the workplace.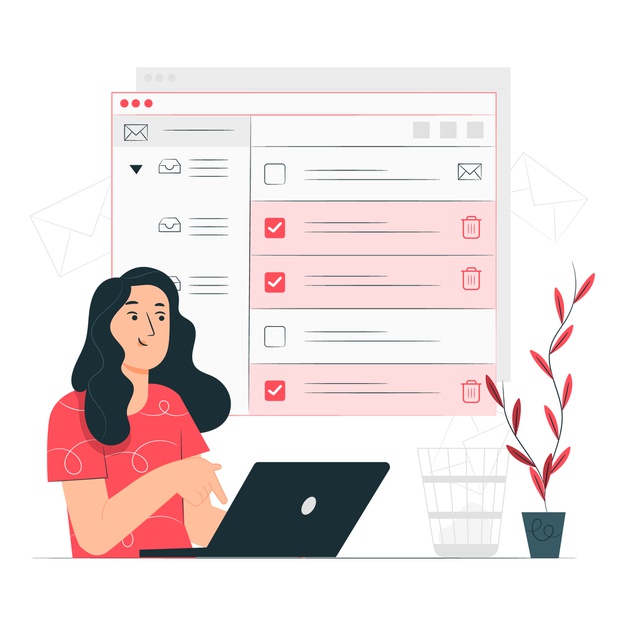 There's gotta be a better way!
According to McKinsey, as much as 25% to 30% of all time spent on email could be saved if the main channel for business communication in a company was moved over to a social platform. The nuance of email and the consequent loss of productivity has led to many businesses moving towards cloud-based client portals to improve their workflow and share content with their clients.
A client portal is a platform that can help team members view, edit, and work with clients simultaneously on projects without sending emailing attachments to each other all day.
What's a Client Portal?
A client portal makes it easy for companies to simultaneously manage projects and smoothen the flow of information throughout the organization. Say goodbye to clogged email and Slack/Skype threads. Dealing with clients was never this easy!
A client portal is a software tool that allows you to work with an external client swiftly and share resources with them efficiently. The most common client portals these days are web-based, so that work never stops wherever your team is located around the world.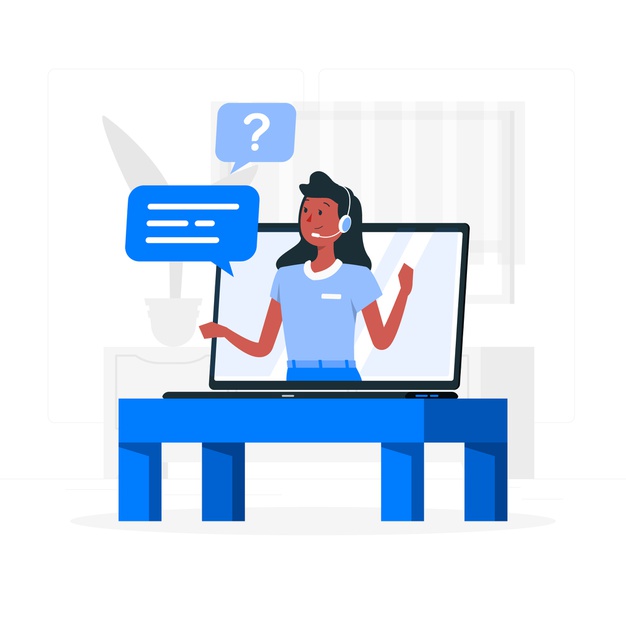 Companies are quickly realizing the power of such tools in the workplace as around 53% of large companies use some type of team chat and collaboration tool to get work done. This number is 38% for mid-sized companies and 42% for small companies.

If you don't want to be left behind in this race towards productivity and efficiency, we would suggest you find a client portal software quickly.
Read more: How to Write a Client Brief in 2021
Looking for an Easier Way to Collaborate With Clients? Try Bit!
If you want to ditch email and effectively collaborate with clients, try Bit: the perfect collaboration tool for teams! (Sorry, Email!).
Now that we all agree on the massive productivity killer and how inefficient email can be, let us introduce you to a new tool that will not only help you get rid of your email madness but also increase your productivity 10x by bringing all your work tools and apps in one place.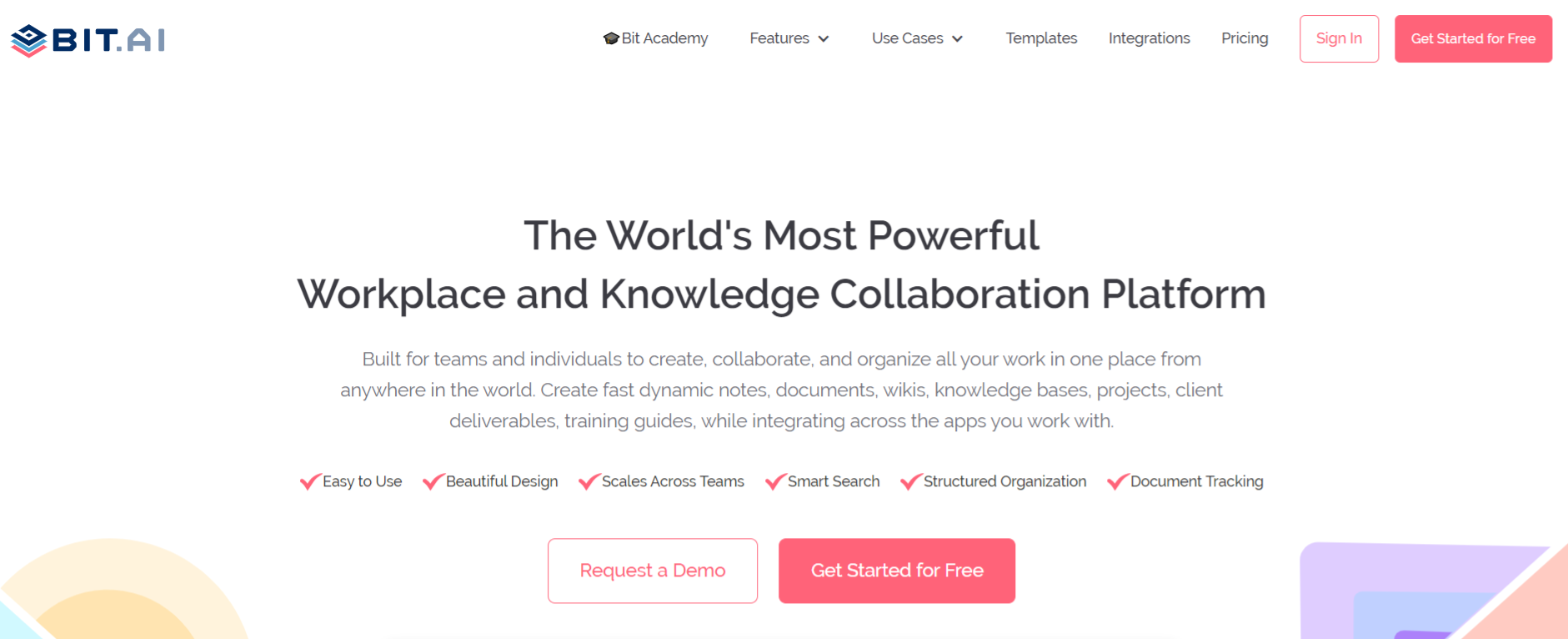 Bit is a cloud-based collaboration tool that helps teams create, manage, and track all your business documents in one place and get work done efficiently.
Bit is also a great client portal. Bit's platform allows teams to invite guests (clients, contractors, vendors, or partners) into their workspaces. Guest access is a great way to bring in clients, partners, contractors, interns, etc. into your workspace without providing the ability to edit the content in your workspace.
Wondering why Bit is the ultimate tool to deal with clients and work together? Let's find out…
1. Quick and Easy Setup
Your client will have absolutely no problem coming in and navigating the platform as Bit has a very minimal design aesthetic to it, allowing a newbie to quickly get on board with the software. Even though the platform is feature-rich, it does a great job not to overwhelm a new user and provides a systematic approach to work.
2. More Collaboration, Less Email
Bit allows teams and clients to collaborate in a common workspace without the chaos of email threads.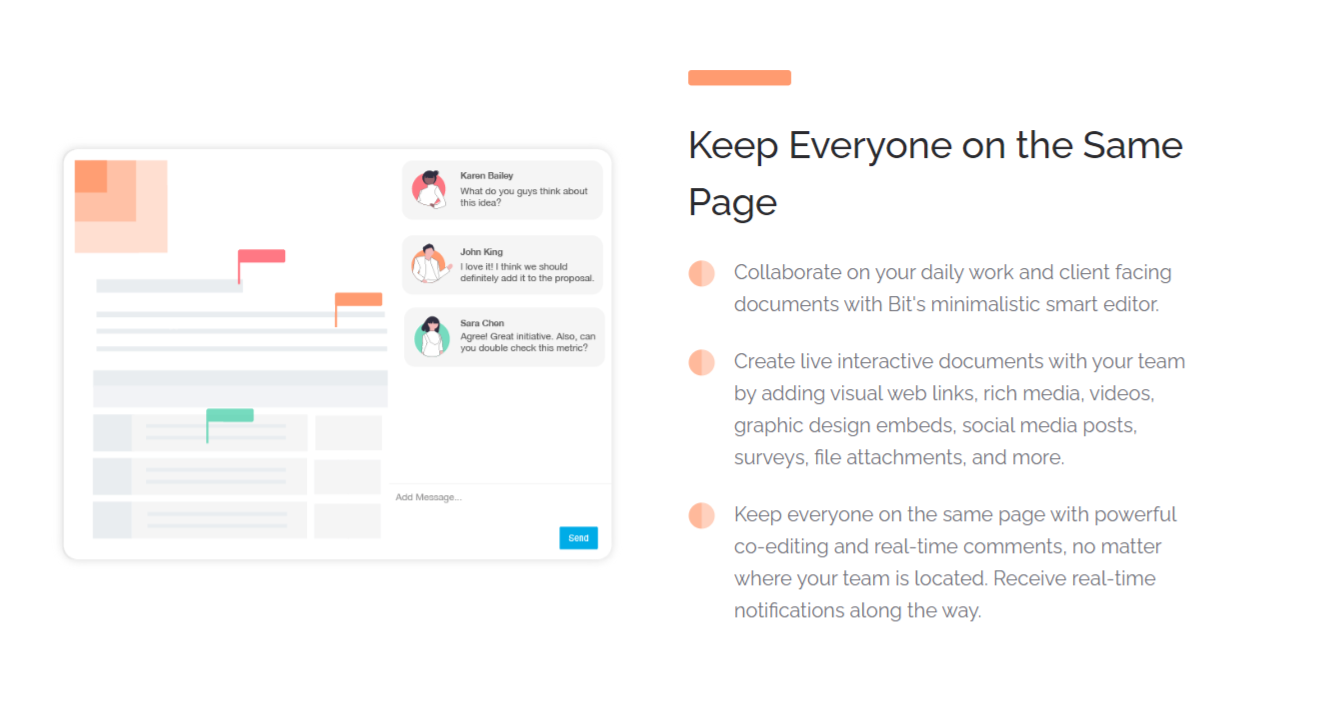 Every document you share in a workspace comes with its own comment stream where you can chat with clients and fellow teammates without the need to hop on a call or message on Slack. Simply @mention anyone in the workspace and bring them to a conversation.
3. Invite Guests the Right Way
Guests can be invited to an unlimited amount of workspaces and access unlimited documents inside of each workspace. Everything else has been removed from their view and access. Guests can get two types of access to documents: read-only or comment-only.
With read-only access, guests can only read the content you have shared with them, while comment-only access allows them to @mention team members and give their suggestions or feedback.
Guest access is a great way to incorporate more workflows into Bit so that your organization's productivity increases. Here are some examples of ideas you can run with by inviting guests:
Create client portals and share monthly / quarter reports.
Create workspaces that your clients can see project updates.
Create partner portals where partners can come in and provide feedback on the work you are doing.
And much more!
4. Get Everyone Under the Same Roof!
Get your team, clients, investors, partners, etc. together in a Bit workspace and start collaborating on workplace documents like customer knowledge bases, investor updates, partner proposals, etc. An added benefit of Bit docs is that they are unlike any other traditional documents.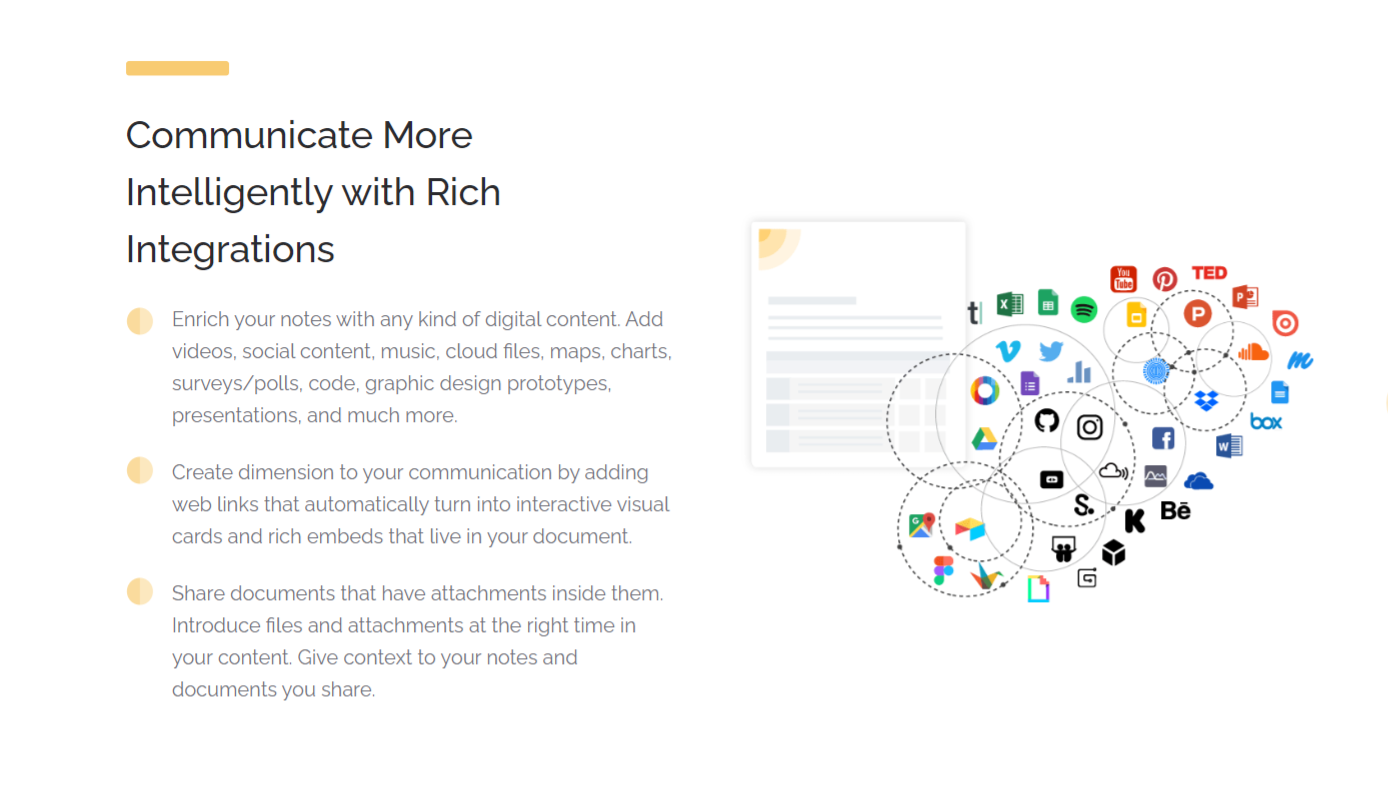 You can add videos, Google Spreadsheets, audio files, Typeforms, or any sort of rich media available on the internet to your document, and Bit will automatically turn into interactive content. Wow, your guests with amazing, media-rich documents and get work done 10 times faster!
5. Have Context, Always!
A huge problem with communication in today's world is the lack of context around it. This problem is not only limited to email, but it also extends to our chat apps like Skype and Slack. These apps are good for a quick chat or video conference, but when it comes to getting actual work done, they often fall behind.
Bit's client portal solves this problem handsomely with in-app chat and tagging features. Apart from sharing files or documents, users can also add comments or notes to any information piece so you always have context, no matter where you are in your document.
All-in-all, Bit provides a central location for all your communication, content, and collaboration; helping you chain all of your information together seamlessly.
6. Search Everything!
Bit has very robust search functionality that allows anyone to search and find their documents swiftly.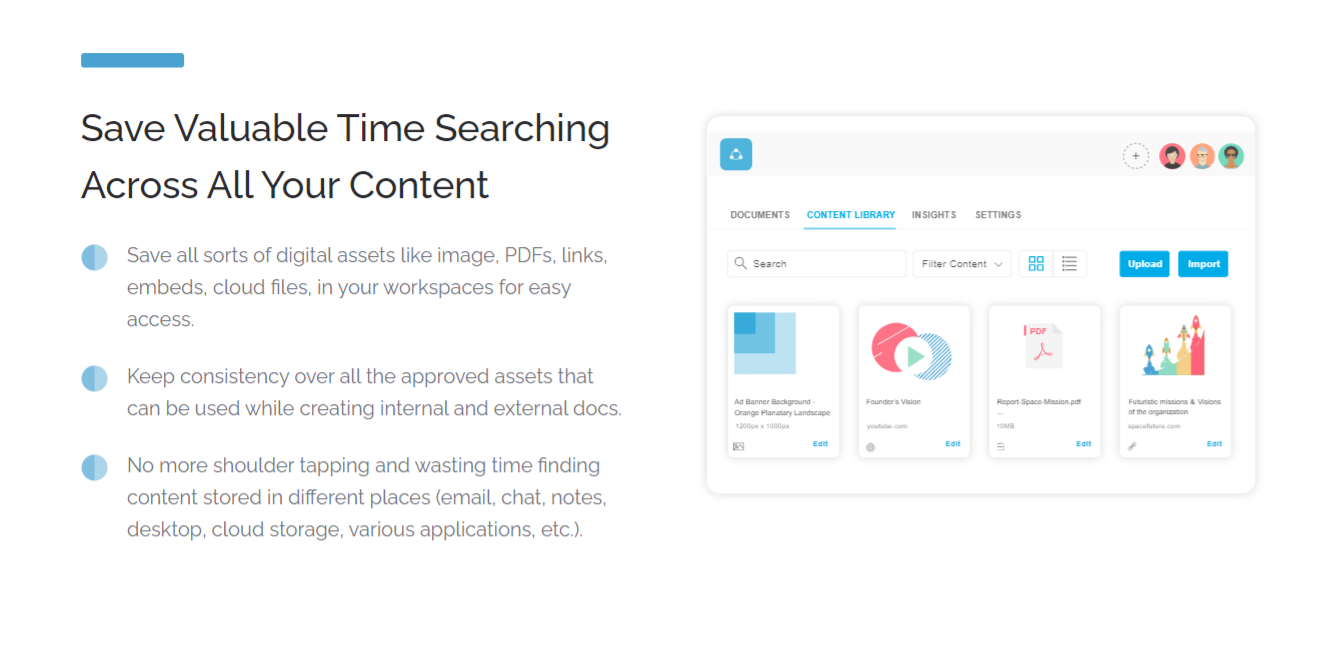 Clients can search workspaces, folders, document titles, and the content inside of documents with Bit's rich-text search. They can even search for files based on their source. (i.e., YouTube).
Provide a Better Client Experience!
A client portal provides a smooth experience for your guests to review work, share knowledge, and collaborate with your team. Bit is the perfect client portal as it allows you to gain control of your documents and share information securely with people outside your organization. With the ability to chat and give feedback right there inside a document, Bit gets rid of the biggest bottleneck of work itself- email!
So, what are you waiting for? Sign up now and see Bit's awesomeness yourself! Good luck.
Further reads: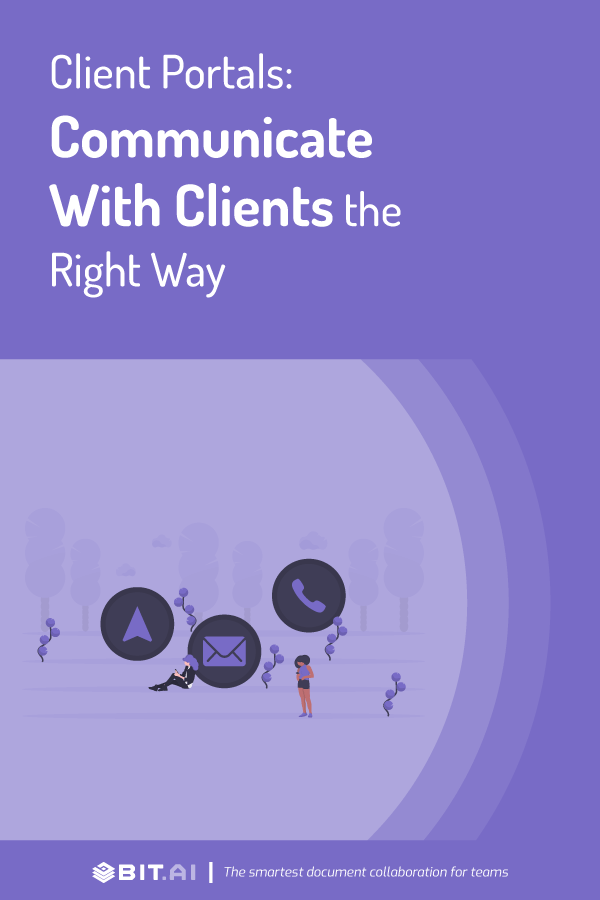 Related posts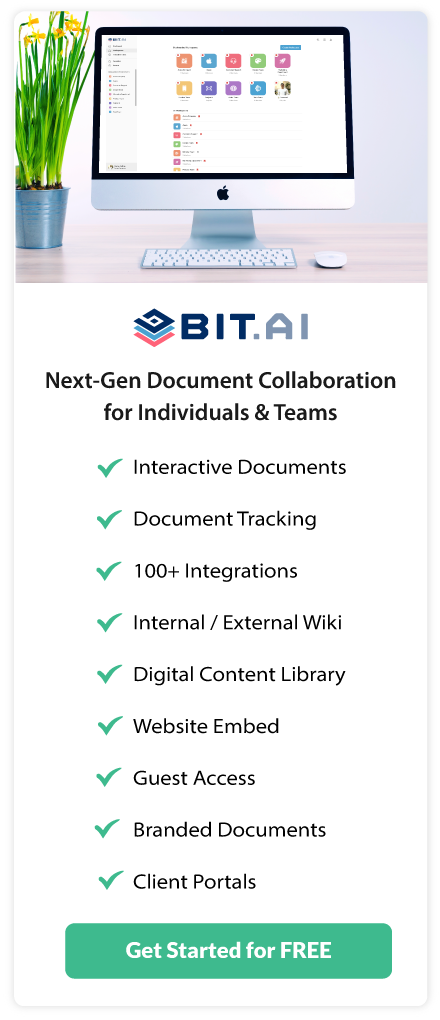 About Bit.ai
Bit.ai is the essential next-gen workplace and document collaboration platform. that helps teams share knowledge by connecting any type of digital content. With this intuitive, cloud-based solution, anyone can work visually and collaborate in real-time while creating internal notes, team projects, knowledge bases, client-facing content, and more.
The smartest online Google Docs and Word alternative, Bit.ai is used in over 100 countries by professionals everywhere, from IT teams creating internal documentation and knowledge bases, to sales and marketing teams sharing client materials and client portals.
👉👉Click Here to Check out Bit.ai.