Digital collaboration can help improve organizational workflows to get the job done faster! Let's dive into what you have to do to make your work 'flow'…
Technology has revamped how teams work and how business is being operated on a global scale. Our smartphones, tablets, laptops, and cloud technology have given rise to remote working, diversifying the talent pool and allowing teams to work more efficiently.
This rise in telecommuting has been possible due to the increased acceptance of a digital working environment that allows employees to work from anywhere they want.
More than 77% of people working remote report greater productivity and 52% are less likely to take time off.
According to a  survey of American remote workers, about 91 percent of people who work from home feel that they're more productive than when they're in an office.
A ConnectSolutions study also found that 77 percent of remote workers get more done in fewer hours thanks to fewer distractions like meetings, conversations, and noisy coworkers.
Since the workplace is becoming increasingly digital, it begs questions… How can businesses aim to tackle workplace collaboration in this new era? And what can digital collaboration bring to the table?
Digital Collaboration in the Workplace
In its essence, digital collaboration is collaborating and getting things done using technology and digital devices. These may include apps, tools, software, processes, procedures, or an entirely new methodology of getting work done.
Digital collaboration is essentially a fundamental shift in the working mindset of an organization in the hopes of facilitating improved efficiency and workflow.
The digital collaboration aims to improve workplace communication, collaboration, content management, document management, and information flow across the organization and leads to increased productivity and employee efficiency.
Apart from work apps, the cloud is an essential part of digital collaboration as it ensures that companies can function beyond geographical boundaries and time zones.
Read more: The Ultimate Guide To Workplace Productivity
How Digital Collaboration in the Workplace Improves Workflow?
We know that digital collaboration is helping us get our teams together and work more efficiently, but the question arises- how exactly?
Let's see how digital collaboration actually helps in improving workflow across the organization:
1. Improves Team Interaction
Digital collaboration plays a huge role in improving team interaction, especially among geographically dispersed team members.

Tools like email, Skype, Slack, and more have made it really easy for teams and individuals to communicate with each other at any point in time, via text, audio, or even video.
There are software tools that can be used to carry out discussions, accompanied by screen sharing and video chat. So no matter where your team members are in the world, a continuous and smooth workflow is maintained by digital collaboration and helps team members have real, meaningful interactions.
2. Quick Access to Information
Do you know how much time we spend looking for information at work? Since all your important work files and documents are scattered over Google Drive, OneDrive, Dropbox, email attachments, PC folders, and USB sticks, how can you count on yourself to find the exact piece of information you need at the time you need it!
Almost 20 percent of a working week – the equivalent of one day per working week – is wasted by employees searching for information to do their job effectively.
Digital collaboration in the workplace thus improves workflow by making sure employees have access to the right files and content at the right time. A digital workplace provides a central location for all files, documents, weblinks, and other rich media.
This makes it extremely easy for team members, irrespective of their location to access information from any device quickly. Employees no longer need to log into their various cloud storage systems, save files to their hard drives or on those forgettable USB sticks. Just log in to your digital workplace and you're good to go!
Read more: Workflow Management Software Every Business Should be Using
3. Improved Business Execution
Digital collaboration tools provide employees with the ability and flexibility to work and tackle problems, wherever and whenever. Especially with the mobile-first approach of communication and collaboration, employees can be in the loop anytime they want.
Since collaboration platforms tend to provide a one-stop solution for teammates to chat, work, and share files and data, decisions are taken much quickly, and work is done faster.
When employees are always in the know-how of what's happening in the company and have the tools in place to get in touch with the team at any time, they are left with much-needed space to brainstorm and think of better ways to move the business forward.
4. Knowledge Sharing
Knowledge is your company's primary asset as it provides you the kind of edge over your competitors that no software or money can provide.
As baby boomers continue to retire, they are taking away their wealth of knowledge and experience with them. According to data, Fortune 500 companies lose roughly $31.5 billion a year by failing to share knowledge.
This lack of knowledge creates a gap in the organization which is often costly to fill with expensive and intensive training. Knowledge sharing is extremely useful in teaching new hires the do's and don'ts of the organization and quickly lays the foundation of a much more efficient workforce.
Digital workplace tools like knowledge management systems allow organizations to document the know-how and experience of senior managers so that the knowledge of the organization does not leave when the employee leaves.
With a knowledge management system in place, your current or future employees can easily access this information and continue doing their work with ease.
5. Remove Organizational Silos
Most organizations act as a single unit for the outside world but are broken down into specialized silos from the inside. This prevents the information and knowledge flow from one department or employee to another, often leading to inefficient and at times disastrous outcomes.
Digital collaboration opens up an amazing number of opportunities to keep in touch with your peers at all times and improve workflow.
Faster communication tools specifically instant messaging and real-time collaboration tools have increased transparency amongst employees and are helping them develop better interdepartmental relationships.
Read more: Importance of Teamwork & Collaboration in a Digital World
6. Increase Team Productivity
Digital collaboration can help increase productivity by getting rid of commute times, time spent searching for information, as well as time spent on other administrative tasks that technology can do very quickly.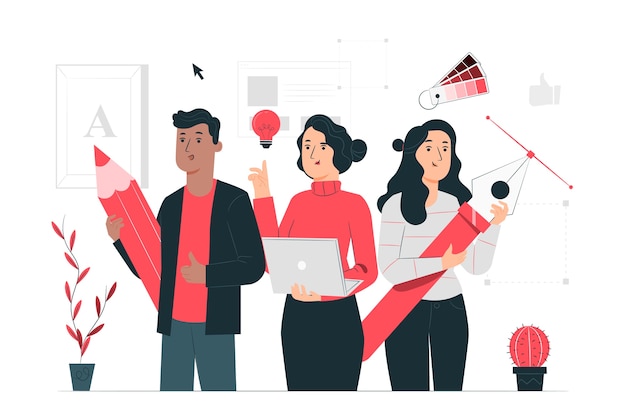 By allowing team members to work on the same document collaboratively, it removes the dreaded email chain and helps convert ideas into reality pretty quickly. Real-time communication like Slack and Skype can get you in front of your team members in seconds, rather than waiting for them to reply back.
Conclusion
Digital collaboration makes it easy to create quickly communicate, collaborate, and get work done effectively with team members, thereby improving workflow and reducing lead times.
Digital collaboration can gather all your co-workers in one place, brainstorm ideas, communicate, collaborate, store files and knowledge, and get work done without any hiccups.
With digital collaboration, you can develop new ways to work productively, create an efficient workflow, better ways to brainstorm and come up with new solutions to age-old organizational problems.
It is now up to us to choose how we plan on using these revolutionary tools to our advantage rather than expecting the bare minimum from them!
Further reads: 
[/vc_column_text]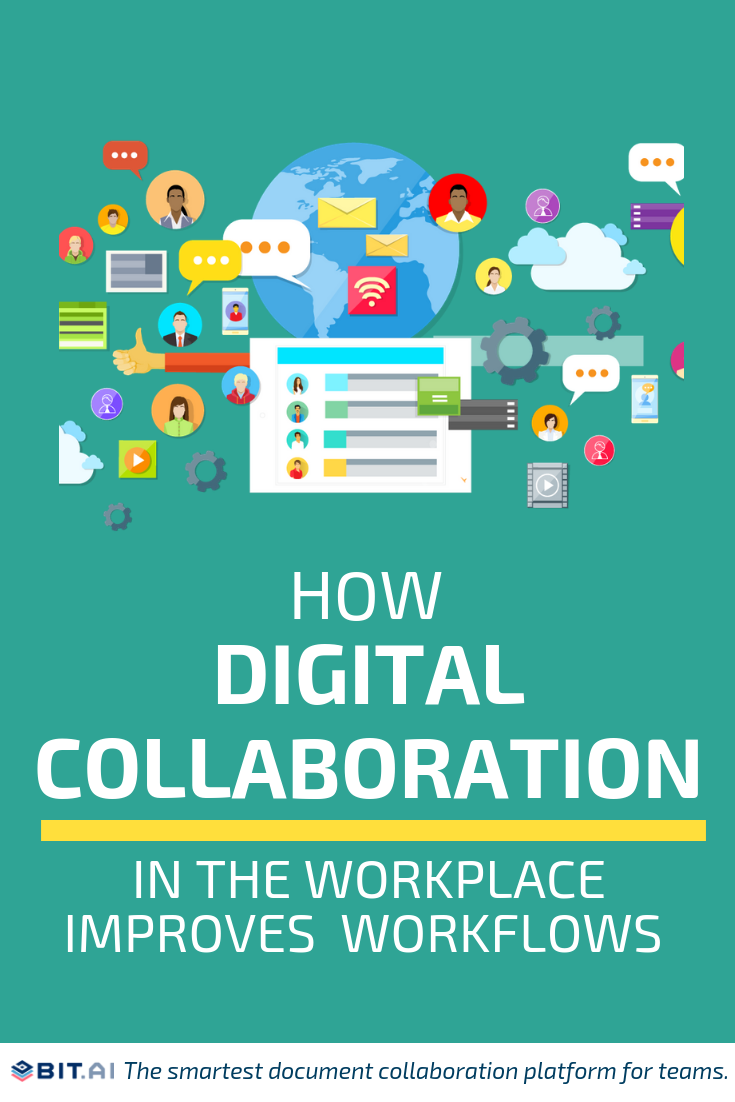 [/vc_column][/vc_row]
Related posts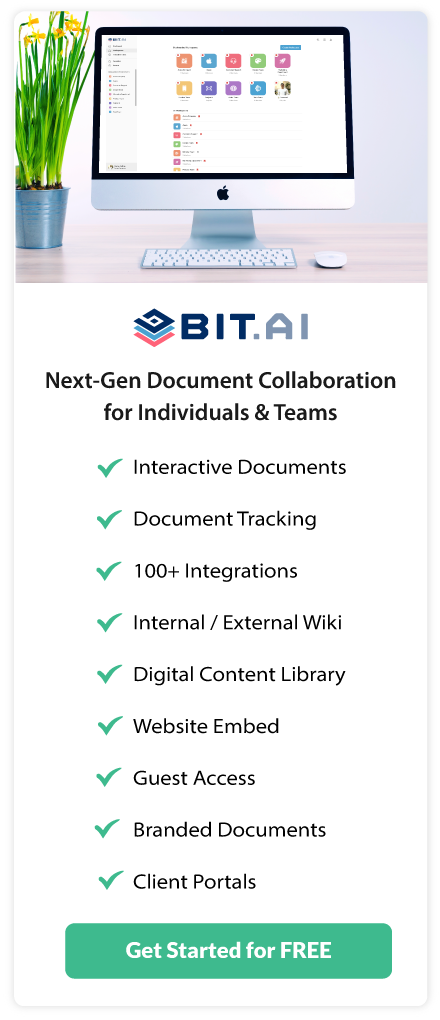 About Bit.ai
Bit.ai is the essential next-gen workplace and document collaboration platform. that helps teams share knowledge by connecting any type of digital content. With this intuitive, cloud-based solution, anyone can work visually and collaborate in real-time while creating internal notes, team projects, knowledge bases, client-facing content, and more.
The smartest online Google Docs and Word alternative, Bit.ai is used in over 100 countries by professionals everywhere, from IT teams creating internal documentation and knowledge bases, to sales and marketing teams sharing client materials and client portals.
👉👉Click Here to Check out Bit.ai.