Want to be more productive at work? Or perhaps you would like to free up some personal time for hobbies or side projects? Check out our workplace productivity guide that can help you achieve more in less time. Read on …
According to a report by The Engagement Institute, lost workplace productivity collectively costs U.S. companies up to $550 billion per year. Yep, you read that right. Lack of productivity in the workplace and getting things done on time is costing businesses billions of dollars every year.
However, data from the U.S. Bureau of Labor Statistics shows that American workers now spend longer at work (8.8 hours) than they spend sleeping. If we are spending more time at work than we are at home, how come we are doing less in more time? 
This strange phenomenon can be directly related to productivity. Even though we are spending more time at work, the actual amount of work getting done is decreasing.
There can be a number of reasons for this workplace productivity loss, but first, let's discuss what do we actually mean by the term 'productivity!
What do we mean by productivity and what it has to do with the workplace? 
Simply put, workplace productivity is getting your work done in the least amount of time without compromising the quality of work and your physical as well as mental well-being. 
It is all about the speed, the quality of work being done, maintaining an insane level of focus and determination by avoiding distractions and doing work under a certain deadline.
In a nutshell, workplace productivity is a combination of time management, focus on the task at hand, motivation to achieve success, and more.
Freeing up our time for personal goals and aspirations, or simply achieve more at work or in business is something we all want for ourselves. Yet, only a few of us are able to achieve the level of productivity and focussed work we so crave. 
According to research, in an eight-hour workday, the average worker is only productive for two hours and 53 minutes. That's right, we are only productive for about 3 hours a day while we spend over 8 hours (commute time excluded) in the office!
You might be wondering how we are not even spending half of our time at work, working. There many reasons for this which may seem small when considered individually but adds up a lot of unproductive time when added up together. Let's see what are these common enemies of productivity. 
Read more: The Best Productivity Hacks You Can Find

Common Workplace Productivity Challenges We All Face
Before we give you some much-needed recommendations on workplace productivity tips and tools, let's first discuss the root cause of the lack of productivity in the workplace.
Tools and techniques can help improve the result but those are just temporary solutions. If we don't counter the problem at the system level, none of the productivity techniques will stick. 
#1. Emails do more harm than good
A study from Adobe Systems reports that the average worker spends around 30 hours a week checking email. Imagine in a 40 hour work week, spending 30 hours in your Inbox!
Since we receive approximately 304 business emails on average, the problem is deeper than we anticipated.
Add junk mails to the list and email overload ends up costing billions of dollars to US companies in a year! A whopping 96 percent of workers agree that unnecessary emails waste their time.
#2. Stress is the silent killer
According to data, 9.7 million workers say their workplace productivity is damaged by stress and anxiety. In our always 'on', always-connected environment, not having enough time to lay back and relax can add to stress and anxiety and can ultimately hamper your office productivity.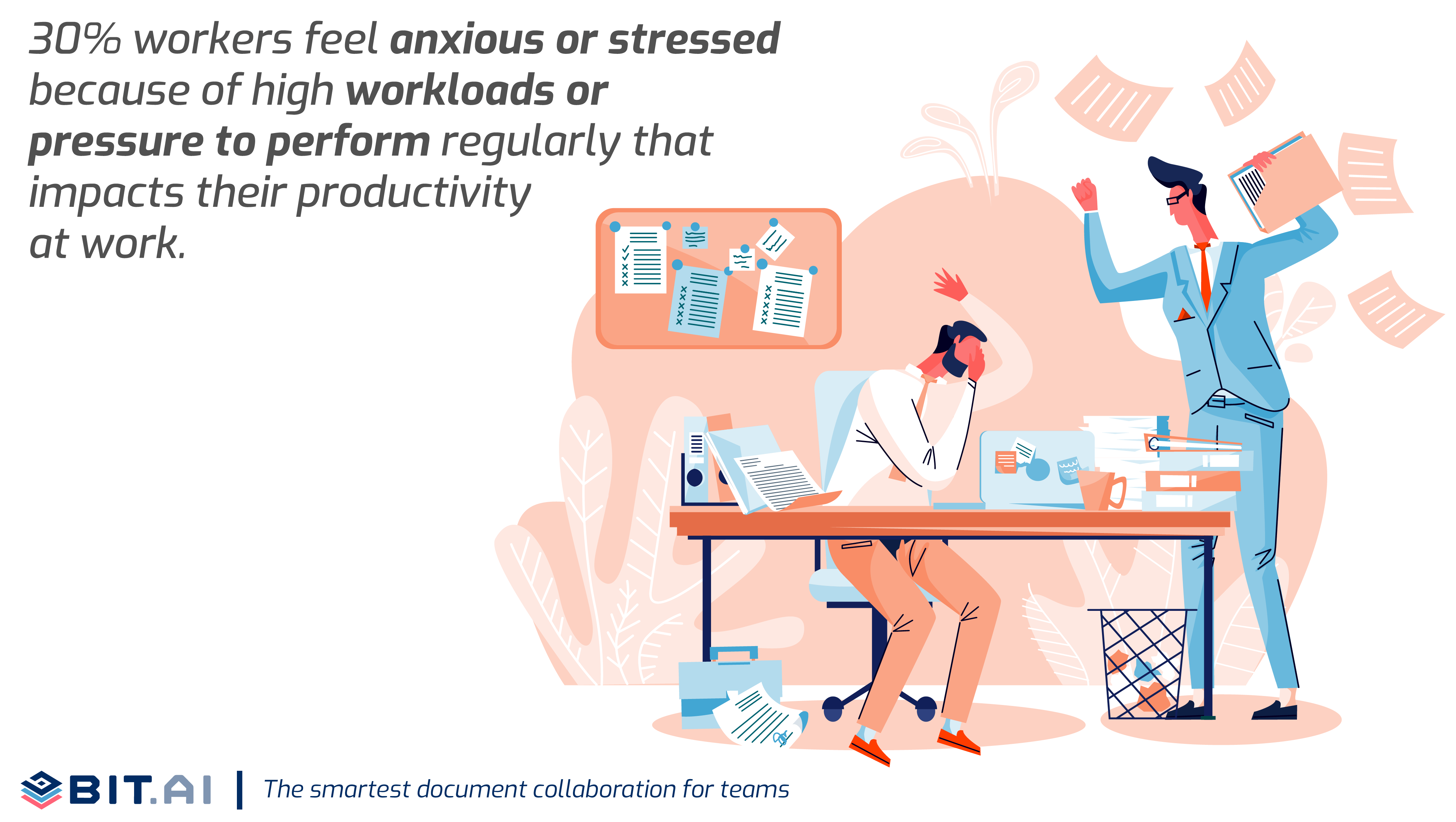 Three in ten (30%) workers say feeling anxious or stressed because of high workloads/pressure to perform regularly impacts their productivity at work.
Creating a stress-free environment, listening to your employee's needs, communicating goals effectively, and conducting outings and team-building activities are some exercises that can lower stress and anxiety in the workplace.
#3 The Ugly Truth About Meetings 
According to research, almost 50 percent of employees think meetings are the biggest waste of their time at work and the number one productivity killer.
Even executives agree that around 67% of the meetings are actually failures and lead to nowhere. Yet, a staggering 25 million meetings conducted on a daily basis in the US alone.
All of these unproductive hours and resources spent on meetings cost businesses a socking $37 billion a year!
#4. Distractions, Distractions, and some more Distractions!
Distractions are easily one of the biggest productivity killers at the workplace. From social media to water cooler gossips, there are a ton of activities that we do in our workplace that rob us of our precious time and make us unproductive.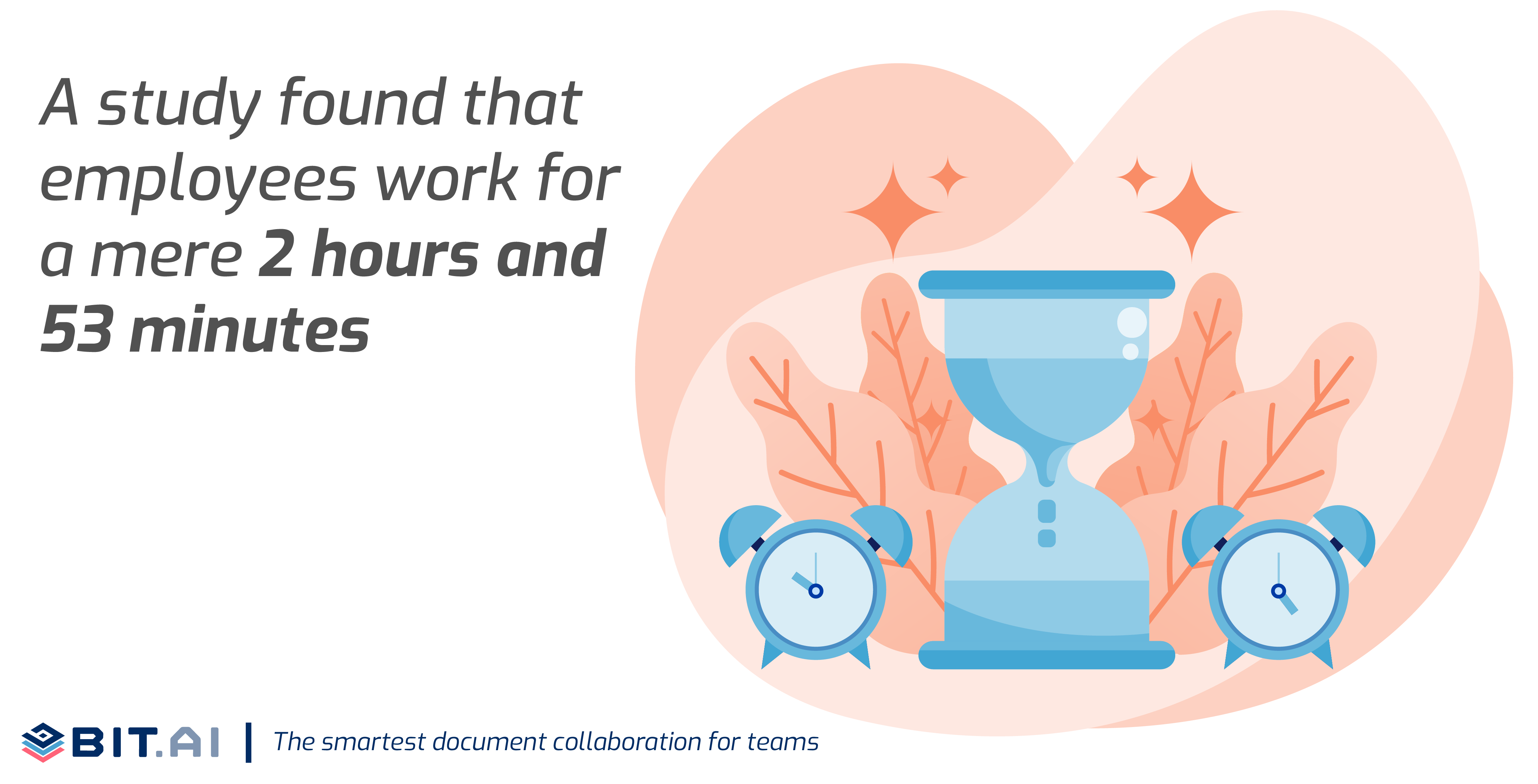 The study found that employees work for a mere 2 hours and 53 minutes also researched what they were doing the remainder of the time. The most popular unproductive activities were:
Discussing non-work-related things with co-workers– 40 minutes

Reading news websites–1 hour, 5 minutes

Making hot drinks–17 minutes

Texting or instant messaging–14 minutes

Searching for new jobs–26 minutes

Making food in office–7 minutes

Taking smoke breaks–23 minutes

Making calls to partners or friends–18 minutes

Checking social media–44 minutes

Eating snacks–8 minutes
As you can see, the top three culprits were checking social media reading news websites, and non-work-related communication with colleagues. 
All the above-mentioned challenges to productivity can be resolved by developing your productivity skills. The first step is to be aware of the roadblocks and acknowledge them. Next comes the resolution part. 
Read more: How Collaboration Leads To Workplace Productivity?
Tips and Techniques to Improve Workplace Productivity
Productivity completely depends on your end goal, your style of working, your information grasping capacity, and other obscure details about your work and life. 
#1. Use the Pomodoro Technique for Focus
The Pomodoro Technique is a time management method developed by Francesco Cirillo in the later half of the 1980s. With this method, you break down a task into time intervals, traditionally 25 minutes in length, separated by short breaks (usually 5 minutes).
A 52-17 minute variation (52 minutes of work followed by 17 minutes of break) is also common amongst people. After four consecutive Pomodoro, you can take a longer break of around 20 or 30 minutes.
#2. Use Website Blockers to keep distractions at bay
Since reading new websites and checking out social media is a huge time-waster and productivity killer, it's important to keep your phone at bay while working.
However, you can't simply go offline on your phone or laptop/PC if your job depends on it. In that case, using website blockers like Stayfocusd can help you out.
These apps (available as chrome extensions) can block time-wasting websites and apps for a pre-determined time, forcing you to pay attention at work by reducing the urges. 
#3. Save Time with Remote Work
Working remotely has known to reduce stress and anxiety and at the same time, improves focus and productivity. 
A Connect Solutions study also found that 

77 percent

 of remote workers get more done in fewer hours thanks to fewer distractions like meetings, conversations, and noisy coworkers.

According to a survey of American remote workers, about 

91 percent

 of people who work from home feel that they're more productive than when they're in an office. 

More than 

77%

 of people working remote report greater productivity and 52% are less likely to take time off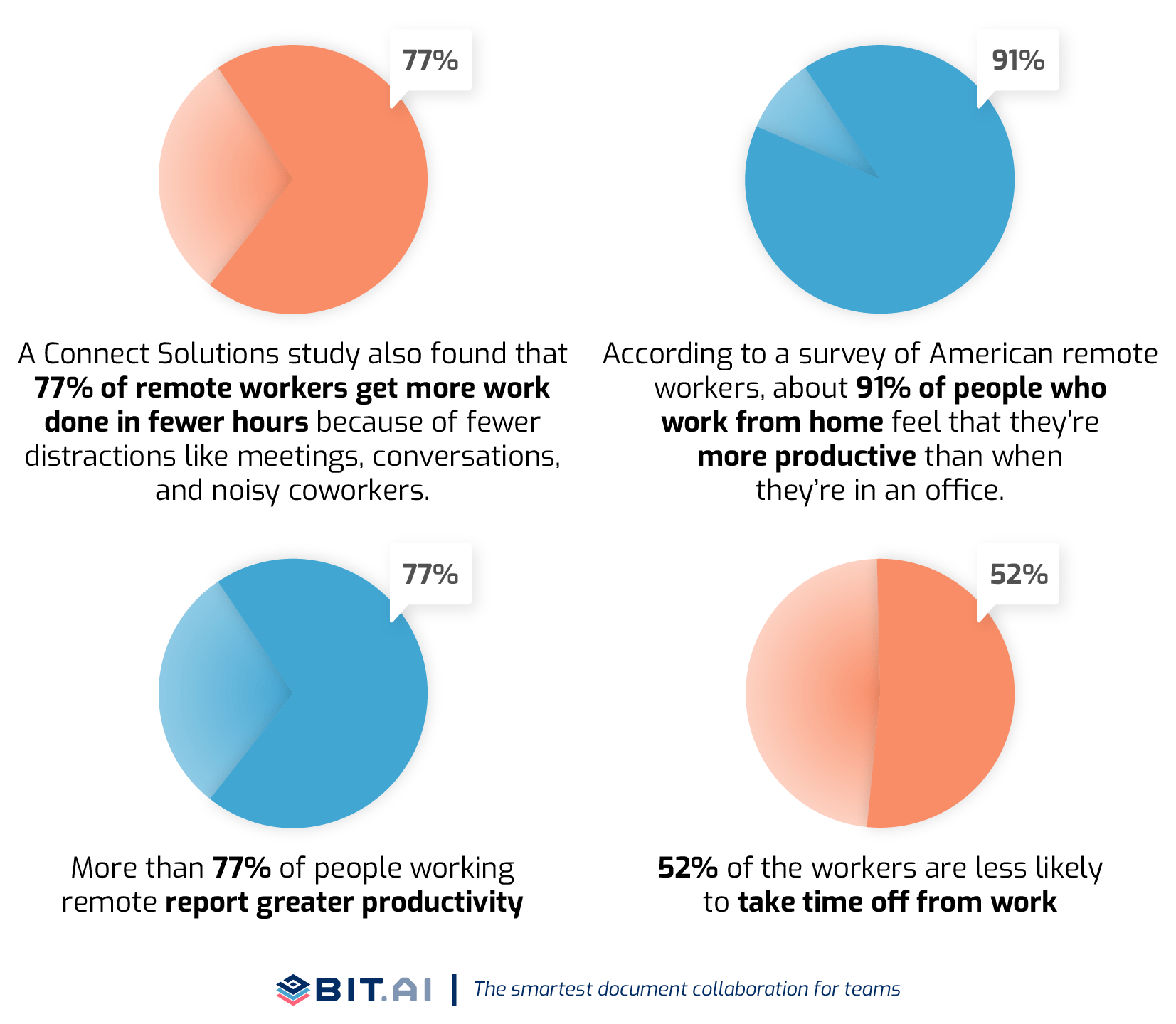 Since you save a lot of time that would otherwise be spent on traveling or office chit-chat, businesses are increasingly improving their remote work policies. 
Read more: 9 Must-Have Saas Tools For Remote Teams
#4. Learn more with Productivity Books 
What better at learning about a topic in-depth than a book? Our struggle with productivity has spurred a plethora of self-help books aimed at personal development and productivity.
Some great books on workplace productivity and goal setting include:
The Power Of Habit by Charles Duhigg

Atomic Habits by James Clear

The One Thing by Gary Keller

Deep Work by Cal Newport

Daily Rituals by Mason Currey

The Productivity Project by Chris Bailey
All of these books cover topics like productivity, distractions, habit formations, and goal setting and can help you get a more in-depth view of productivity and getting things done effectively. 
List of Workplace Productivity Apps and Tools to Help You Get Things Done!
There are a ton of productivity apps and tools to help you reach your goals and make your life easy. With so much noise out there, the trick is to find the productivity app that is right for you and your specific goals and needs. Here are a few of the best ones out there- 
Technology can help you be more productive or it can distract you away from work. The biggest productivity killer in the office is coincidentally the infinite productivity tools we end up using in the first place.


Collaborating on Google Docs, finding content stored in Dropbox, messaging someone on Skype, email, etc. all drains our productivity as we keep shuffling between apps and we don't seem to make any progress with the actual work.
This is why we all need Bit, a new-age document management and collaboration tool that helps teams to collaborate, share, track and manage all company documents, files, and other content in one place.
Bit is the ultimate productivity tool as it brings all your company documentation, media files, and knowledge under one smart roof.
Bit allows teams to:
Collaborate on 

interactive workplace documents where all of your digital content from Google Spreadsheets, Forms, Airtable databases, and much more can live and be accessible inside of them.

Documents can go from personal notes to team research, to coordinated documents and client-facing material that can be 

shared and track

 to get intelligent engagement insights.

Amazing 

content management

 capabilities as Bit's content library that allows teams to save images, files, and any type of digital content you add to your documents (or digital workspaces) so that you can access and reuse them easily.
Key Features:
Content Management to store all your media files in one place

Built-in chat for improved collaboration

Workspaces to keep things organized
Pricing: 
Free plan with limited features

Paid Plans starts at: Standard ($12/user/month), Plus ($20/user/month), Enterprise (contact sales)
Read more: Top Real-Time Document Collaboration Tools for Team Productivity
Next up is a tool for marketers and content creators. elink is the easiest way to turn links into beautiful shareable content.
Convert a collection of web links into a web page, embed it on a blog/website, or send them off as a beautifully curated newsletter. They have 30+ responsive newsletter templates to make the process of content creation faster and easier. 

According to elink, their average user is saving nearly 40 hours of time per month by using elink. If you are looking for a tool to create newsletters and content pages, elink is definitely a must-have. 
Key Features:
Versatile- can be used to create website pages, social bio links, and social media content

Integrates with all the major email marketing software

Fastest newsletter creator
Pricing:
Free plan with limited features

Pro plan starts at Pro Monthly ($15/month), Pro 1 Year ($12/month), Pro 2 Year ($10/month)
ProofHub is an easy-to-use, intuitive work management and team collaboration software that enables users to achieve more efficiency and productivity at work. The tool offers a host of features under one virtual roof, which allow users to plan and organize their daily tasks as well as monitor their progress at every stage. 

An inbuilt Time tracking tool helps users to record how much time they spend on every task while Table view, Board view, and Gantt view offer visualization of tasks' priority and progress from a centralized location. 
ProofHub helps users to be more productive by saving their valuable time as they can manage various aspects of their work without having to switch between various applications. 
Key features: 
Task management

Time tracking

File management

Group chat
Pricing: 
The Essential Control plan is priced at $45/month, billed annually. (

no per-user fee)

The Ultimate Control plan is priced at $89/month, billed annually. (

no per-user fee

)
Reading news websites and checking social media collectively accounts for almost 2 unproductive hours per day at work. If you are struggling with the temptation of checking out Facebook over and over again, we have a tool for you.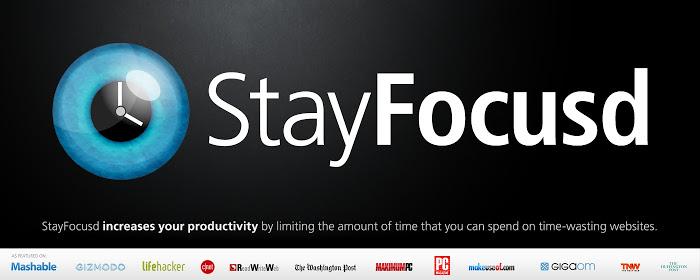 A chrome extension called Stayfocused blocks the websites you ask it to and prevents you from getting distracted. You can block all social media websites like YouTube, Twitter, etc and also other news/media websites you often find yourself reading at work. 
StayFocusd improves your productivity and makes you focus on your work by limiting the amount of time that you can spend on these time-wasting websites.
Key Features:
Highly customizable- block entire websites, subdomains or even specific in-page content (videos, games, images, forms, etc).

Easy to use

Free 
Pricing:
Read more: 9 Best Organisational Tools To Get Rid Of Chaos And Be More Productive
Writing down your goals and tasks for the week/month allows you to plan every minute of your day and stick to a schedule. Calendly is a great tool to do just that. If you have a remote team, Calendly solves the headache of scheduling meetings and video conferences with team members.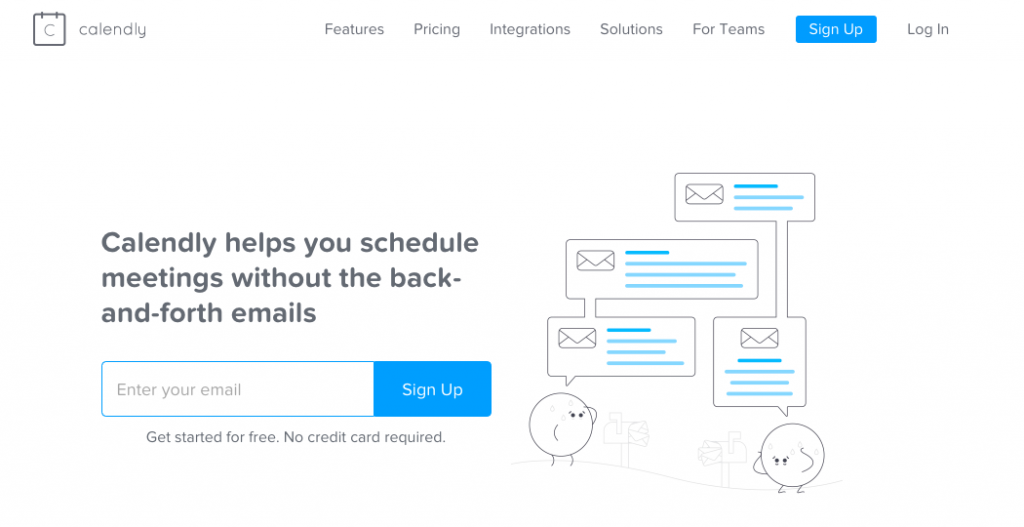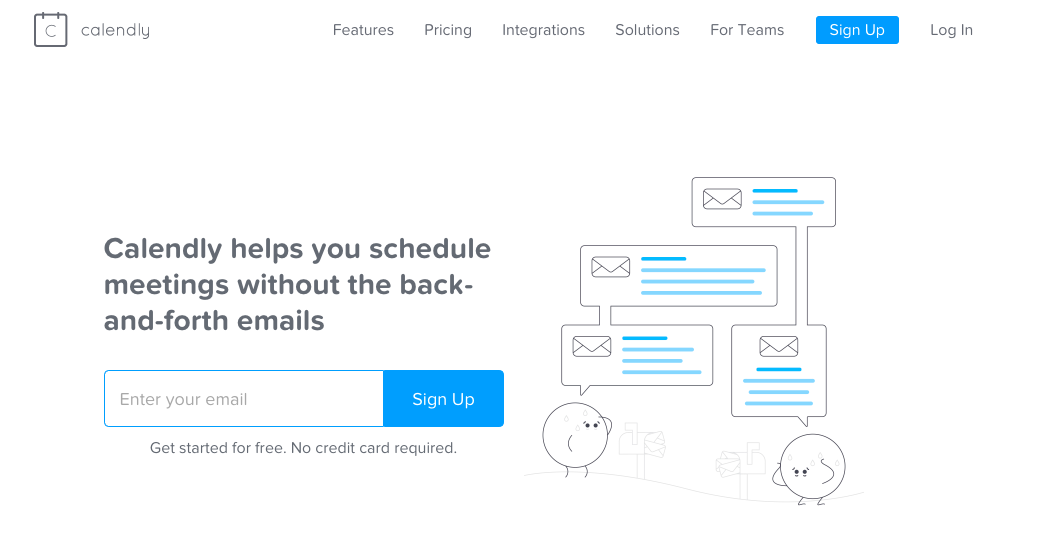 Calendly makes it super easy to book meetings by eliminating endless back and forth via email to find a suitable time. Add your availability preferences and Calendly will do the rest.
Key features:
Integrates with Google calendar, Office 365, Outlook, or iCloud calendar

Intelligent time-zone detection to keep everyone on the same page

Automatically distribute meetings based on factors such as availability, priority or equity.
Pricing: 
Free plan with limited features.

Paid plans start at- 

Premium 

($8/month), 

Pro 

($12/month)
Remember how we talked about the Pomodoro technique to increase productivity in the previous section? To make the process easier for you, there are a lot of Pomodoro mobile apps and chrome extensions that calculate the work time and breaks for you. One such tool is the Pomodone app.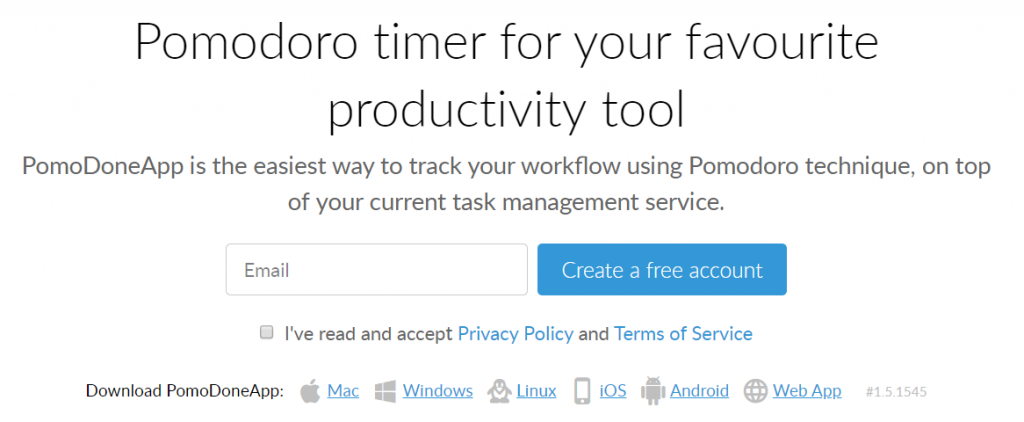 What sets it apart from other Pomodoro tools is that the PomoDoneApp lets you apply the Pomodoro technique on top of your preferred task management tool. Just connect your favorite task management app like Trello, Slack and so on, to the PomoDone app and get to work! The app is available as a web app and also has both Android and iOS mobile apps.
Key Features:
Highly customizable

Connects with every major task management app

Time tracking available
Pricing: 
Free plan with limited features.

Paid plans start at- 

Lite 

($2.29/month), 

Ultimate 

($4.01/month) 

5 Licenses 

($28.64/month)
Final Words
Understanding your roadblocks to productivity is the best thing you can do for your personal as well as professional well-being.
Being productive can increase your business output, make an awesome employee that everyone loves to have in their team, free up personal time for friends, family, and leisure, and gives you a sense of accomplishment. 
Note that there's no magic wand for increasing workplace productivity. Everybody works at their own pace and is distracted by different things.
Creating a stress-free work environment should be on top of your priority list when talking about improving employee productivity. Reducing the amounts of meetings conducted in a day or week should also be taken into account. 
Techniques like Pomodoro are known to be effective at improving focus and motivation as well as ensuring the right utilization of time. 
Lastly, software and apps can also play a huge role in increasing workplace productivity. However, make sure that you are not deploying too many tools at once as they can do more harm than good.
According to data, over 66 percent of workers want a single platform for workplace collaboration to achieve better workflow, improve productivity, and reduce chaos.
Thus, using a collaboration tool like Bit can supercharge your workplace productivity as it brings all company data and communication in one place, reducing reliance on a bunch of different apps.
Further reads :
Don't want to forget this information?
Pin it for future reference!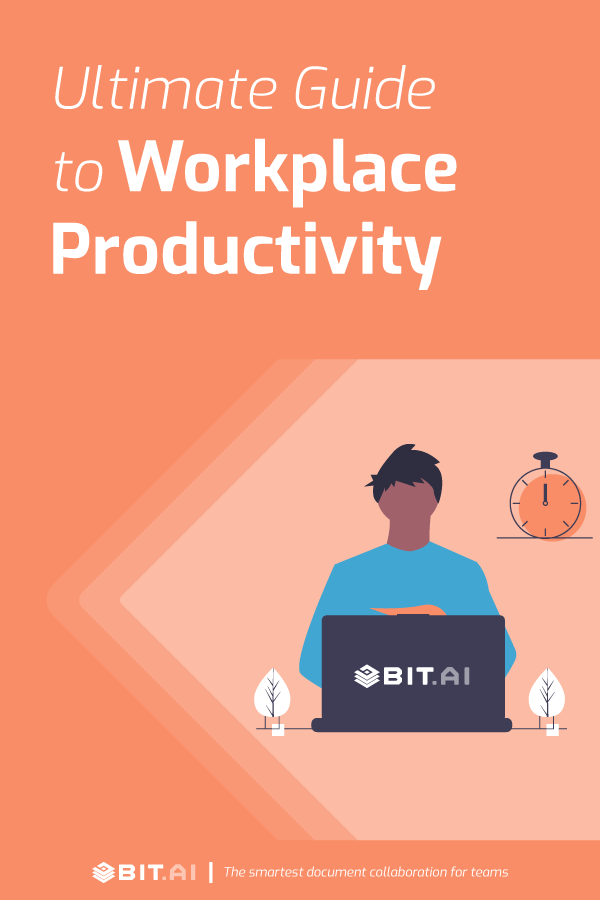 Related posts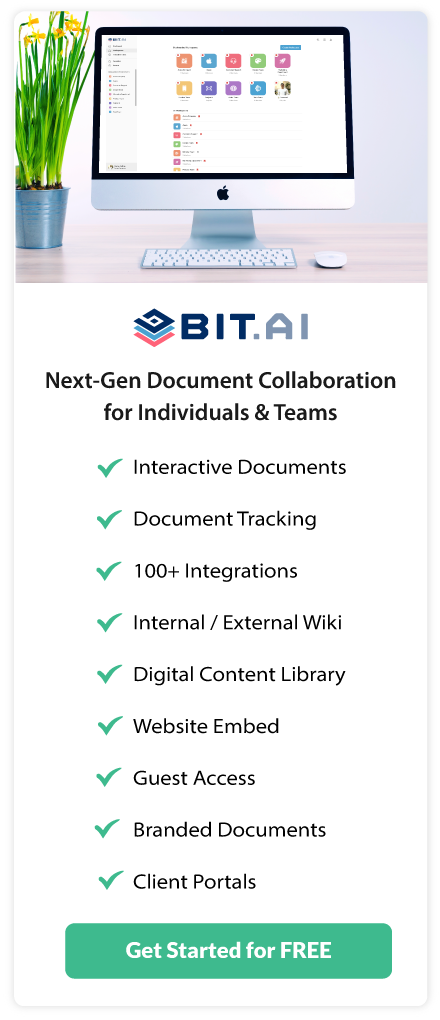 About Bit.ai
Bit.ai is the essential next-gen workplace and document collaboration platform. that helps teams share knowledge by connecting any type of digital content. With this intuitive, cloud-based solution, anyone can work visually and collaborate in real-time while creating internal notes, team projects, knowledge bases, client-facing content, and more.
The smartest online Google Docs and Word alternative, Bit.ai is used in over 100 countries by professionals everywhere, from IT teams creating internal documentation and knowledge bases, to sales and marketing teams sharing client materials and client portals.
👉👉Click Here to Check out Bit.ai.