What's the key to building a successful business? If you said 'teamwork' and 'collaboration', brownie points for you because you're absolutely right.
When your employees combine their strengths, work towards a common goal, help each other out, and have a strong sense of unity – your business is bound to thrive and outperform the competitors.
After all, collaboration improves creativity, employee productivity, and morale. Not just that, it also leads to better execution of ideas, faster problem solving, personal and professional development, and much more.
With the rise in remote, dispersed, and diverse teams and businesses becoming more complex – collaboration has now become more important than ever.
Whether you're an e-commerce giant like Amazon, or just a small pop-up store, collaboration is something that can easily make or break your business.
So, how can teams and employees successfully and efficiently collaborate with each other? That's precisely what we're going to explore in this blog. Let's go!
Firstly, What Exactly is Team Collaboration?
Team collaboration is made up of two words: team and collaboration.
A team is a group of individuals who work towards a common goal, and the Cambridge dictionary defines collaboration as the "situation of two or more people working together to create or achieve the same thing".
So, what's team collaboration? It's all about working together as a group on a project or process, in order to meet a particular goal or reach a solution.
Team collaboration involves brainstorming, creative thinking, discussing ideas and methods, offering different perspectives, seeing the bigger picture, and more!
But Why is Collaboration & Communication Important for Teams?
People like working in an environment that encourages teamwork, collaboration, and communication. Don't believe us? Well, countless studies have provided the importance of collaboration in the workplace!
As the data shows, efficient collaboration is super important for a productive (and happy) work environment. Now, let's take an in-depth look at why collaboration is important for teams.

1. Brings Your Team Together
Effective communication and collaboration ensure that every team member knows which goals they need to achieve, what they need to do to achieve these goals, and how their work fits in the bigger picture.
When every team member knows what they need to do and how the team's productivity increases by leaps and bounds.
2. Boosts Productivity
In the modern workplace, your employees are split between different locations, time zones, and languages.
By communicating and collaborating with your employees properly, you can keep your projects on track and initiatives aligned. This won't just increase productivity, but also save you loads of money!
3. Lowers Employee Turnover
Organizations that communicate effectively are 50% more likely to have a lower employee turnover rate. They are also 4.5 times more likely to retain the best employees! This is why it's important for companies to create an environment where everyone can freely give suggestions, feedback, and opinions.
4. No More Misunderstandings
Whether it's a misunderstanding over who is responsible for the disaster or a clash of ideas – conflicts are inevitable in the workplace. However, with the right communication and collaboration strategies in place, you can reduce the number of conflicts, or avoid them altogether.
5. Increases Employee Morale
Lack of open, honest communication can dramatically lower employee morale. This is why it's important for every organization to build a culture of open and transparent communication. Your employees should be able to share their thoughts and ideas, without the fear of being rejected or criticized.
So, What's The Best Way to Improve Team Collaboration?
In today's fast-paced work environment, there are SO many challenges that organizations face when trying to achieve their goals. Most importantly, every project requires seamless collaboration and full efficiency.
However, as your organization grows, collaboration gets more difficult because your team members are spread out across different geographies and time zones.
This is where team collaboration tools and software come into the picture!
For both big-shot organizations and small businesses, collaboration tools are becoming a popular way to improve communication, collaboration, and productivity.
According to McKinsey, digital workplaces and online collaboration tools can increase productivity by 20 to 30%. In fact, 83% of employees now depend on technology for collaborating!
This is why you need to use a digital tool where your employees can brainstorm new ideas, communicate in real time, store and share knowledge, discuss work, and get things done without jumping from one app to the next.
Well, this is exactly what Bit.ai helps you do! It provides a common workplace for employees to collaborate with each other, share their knowledge, brainstorm ideas, store digital assets, and innovate together.
Want to learn more about Bit.ai? Read on!
Bit.ai – The Team Collaboration Tool That Your Organization Needs
Bit.ai is a new-age document management and collaboration tool that helps teams create, collaborate, share, track, and manage all company information in one place. It's the perfect tool for teams to get work done without relying on a number of apps and complicated software.
Bit makes it easy for your entire team to work together intelligently across integrated smart documents. You can work together from anywhere in the world using co-editing, inline comments, document chats, @mentions, and much more. (We will get into the details of it later!)
On Bit, you can create smart workspaces around projects, teams, departments, and clients to keep your documents and data organized. Workspaces make it easy to collaborate and ensure that the right team members have access to the right documents at the right time!

Within a workspace, you and your team can create interactive live documents, dynamic notes, documents, knowledge bases, instruction manuals, client deliverables, proposals, to-do lists, training manuals, and more – while integrating across multiple apps.
Bit's superpower is that it helps you make sure your documents are more than just plain boring text. That means you can add any sort of rich media to your documents – be it YouTube videos, SoundCloud Playlists, Google Docs, One Drive Excel Spreadsheets, GIFs, Tweets, Pinterest boards, etc.
Bit also offers 'smart search' using which your employees can search and find any files, images, documents, etc quickly and easily across all of their workspaces. Moreover, Bit supports features like document tracking, password protection, file access restrictions, etc that help keep your important company information safe.
Now, let's get to what you came for – how Bit.ai can supercharge your team's collaboration! Buckle up folks, because you are in for a ride.
Read more: Teamwork Collaboration Quotes To Get Your Partnerships Pumped Up!
8 Ways Bit.ai Can Supercharge Your Team's Collaboration
1. Smart Workspaces
On Bit, you can create smart workspaces around projects, teams, departments, and clients to keep your documents and data organized. Anyone who is part of a workspace can collaborate across the documents inside that workspace. The best part? You can add an unlimited number of collaborators to the workspaces!
2. Work on Documents Simultaneously
Bit allows you to work together with your team on projects, processes, collateral, and more. You all can enter documents simultaneously and work together on various sections of your document or even the same paragraph and line. You can even add files, rich embeds, web links, and more together.
3. Add Comments Anywhere Inside Your Document
Whether you're editing a document, have questions, or want feedback on different parts of a document, just highlight the text and add an inline comment. You can @mention any collaborator and a notification will be sent to them. When they click the notification they will arrive at that exact spot in the document.
4. Turn Back Time with Version History
When you're collaborating with a team, it's possible that changes were made to a document and you need to revert it back. Or you need to copy something from an earlier version and add it to your document. Bit offers an unlimited version history, allowing you to go back in time and revert your document to a previous version or find content that you needed to copy.
5. Pin Important Documents for Easy Access
On Bit, you can pin documents that are important or need to be frequently accessed by yourself or your team. This will reduce the time it takes to find the information you're looking for!
6. Know Who Has Done What Inside of Each Workspace
Bit allows you to keep track of your teammates' activities inside of the workspace. You can see who has created what document, who has deleted a document, what changes have been made to workspace settings, who added a particular collaborator – basically anything and everything that happened while you were away.
7. Create a Shared Content Library
Everyone who has access to the workspace has access to the content library as well. All team members can add any type of digital content in the content library – be it files, rich embeds, cloud files, weblinks, and more.
8. Get Document Insights
Bit smart documents can be shared with a trackable link. That means that you can study visitor engagement levels on your shared documents. This includes how much time someone spent on the document, how often they come back to read it, and more.
Wrapping Up
86% of employees and executives stated lack of collaboration and ineffective communication as a reason for workplace failures. Moreover, 28 percent cited poor communication as the main reason for failing to deliver a project within the set time frame.
Simply put, inefficient collaboration can lead to chaos, confusion, and disastrous outcomes. Effective collaboration in the workplace doesn't just help in delegating tasks and goals to team members but also helps in keeping everyone on the same page and mitigating conflicts!
And, with Bit.ai in the back of your pocket, team collaboration has become easier than ever! So what are you waiting for? Start using Bit.ai right away! If you have got any questions, queries, or suggestions, hit us up on Twitter at @bit_docs and we would be happy to help you out.
Further Reads
Team Collaboration: Why Do You Need To Invest In It?
Remote Collaboration Guide & Tools For Distributed Team
Benefits of Remote Collaboration for Distributed Team
Importance of Teamwork & Collaboration in a Digital World!
Collaboration Strategy: Definition, Benefits & Process!
What is Cross-Functional Collaboration & How To Build A Team?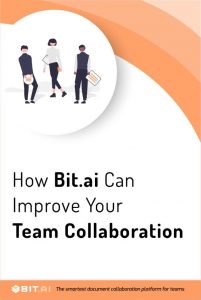 Related posts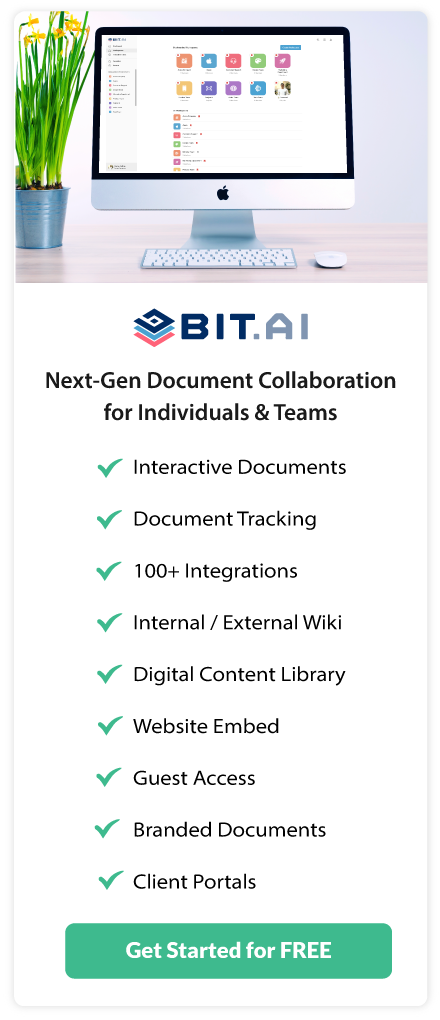 About Bit.ai
Bit.ai is the essential next-gen workplace and document collaboration platform. that helps teams share knowledge by connecting any type of digital content. With this intuitive, cloud-based solution, anyone can work visually and collaborate in real-time while creating internal notes, team projects, knowledge bases, client-facing content, and more.
The smartest online Google Docs and Word alternative, Bit.ai is used in over 100 countries by professionals everywhere, from IT teams creating internal documentation and knowledge bases, to sales and marketing teams sharing client materials and client portals.
👉👉Click Here to Check out Bit.ai.