After the outbreak of the COVID-19 pandemic, the concept of distributed teams and remote work became immensely popular. As we know, the' office' is quickly becoming a thing of the past.
70% of the world's workforce is working remotely at least once a week and studies show remote work will equal or surpass traditional fixed office work by 2025.
It's safe to say that this trend isn't fading away anytime soon, and with good reason. Remote work comes with many benefits, and these stats prove just that:
A study by Stanford showed there's a boost in productivity when employees work remotely.
One study found turnover to be 25% lower at companies that support virtual work environments.
According to a Gallup report, remote employees are more engaged than office employees.
Nonetheless, managing a distributed team can be quite challenging, even for the most experienced managers. The team members might feel disconnected, misinterpret a few words, and the list goes on and on.
Fret not! With Bit.ai in the back of your pocket, you can actually have a productive and engaged distributed team. Before we get to what Bit.ai is, let's first understand what exactly is a distributed team.
What Exactly is a Distributed Team?
The word 'distribute' means to share or spread out. That's the main characteristic of distributed teams – a group of people who work in separate geographical locations from each other.
For instance, you work from New York City and manage a team of eight. Two of your team members work from California, the other three work from Kansas, and the rest of them work from San Francisco.
Together, you and the seven others form a distributed team! This brings up the question: what's the best way to ensure all your team members can collaborate and communicate effectively?
This is where Bit.ai enters the picture!
Bit.ai – Just What You Need To Effectively Manage Distributed Teams
Whether your team members are 6 feet apart or 6000 miles apart, Bit.ai is an all-in-one platform that will make effortless collaboration your new normal!
What's Bit.ai? It is a new-age cloud-based document collaboration platform that helps individuals and teams collaborate, share, track and manage all company documents, files, and other content – in one place.
No matter where your team members are located, you can bring them all together on Bit.ai, brainstorm ideas, communicate, collaborate, store files and knowledge, and get work done.

Now, let's take a deep dive into some amazing features of Bit.ai.
1. Smart Workspaces
Bit's smart workspaces make it easy for your distributed team to collaborate and ensure that the right team members have access to the right documents at the right time! You can create smart workspaces around projects, teams, departments, and clients to keep your documents organized. The workspaces are fluid so your information can move through your organization's workflows.
2. Collaborate in Real-Time
Bit's superpower is that it enables you and your teams to continue working to their full potential, even if they don't meet in person every day – or at all. With Bit, you get to brainstorm and collaborate with your team and work together on your documents in real-time.
You can co-edit, make inline comments, chat via document chat, @mentions, etc! What's more? Bit always sends you real-time notifications every time someone leaves a comment or feedback on your document, adds you to a workspace, and mentions you in a comment. Version history ensures that you can rollback any changes you did not want.
3. Embed Rich Media
With Bit, you don't have to spend hours jumping from one platform to another to find and share the right information. Bit seamlessly integrates with 100+ platforms, including OneDrive, Google Drive, Typeform, Tableau, & Airtable. Just add any web link on any blank line of your Bit document and hit enter. Bit automatically generates a live preview of your rich media, right there in your document.
4. Manage Permissions
Unsecured wi-fi connections, unattended computers, and data breaches are just a few of the security threats a company might experience because of distributed teams.
Bit offers features such as document tracking, password protection, etc. so you can ensure that all your company information stays safe, secure, and private. You can even set up a custom password or an expiration date when you are sharing your documents to ensure that your documents are protected at all times.
Moreover, you can also choose the permission level that you want to grant the collaborator. You can choose from full access (edit, invite, share and manage), edit only (edit and share), comment only (read and comment), and read-only.
5. A Simple, Distraction-Free Editor
Let's accept it: staying focused while working from home is a little difficult. Nonetheless, creating documents requires all your attention and Bit understands that. This is why Bit offers a minimal and distraction-free editor.
You can choose whether you want to bold, italicize, or underline your text, add a heading or subheading, create a quote, add bulleted, numbered, check-marked lists, and much more.
6. Advanced Sharing Capabilities
Bit documents can be shared in a multitude of ways:
Method 1: You can share your document through a 'live link'. Live links allow the recipient to access the document from a shareable link. There's no login required by them and anyone you share the link with can view the document in a read-only state.
Method 2: You can copy Bit's embed code and embed the document on your site. Watch as the entire document beautifully renders on your webpage!
Method 3: You can generate a trackable link, share it, and monitor engagement levels on the document. You can view how much time someone has spent on the document, when it was accessed, etc.
(You can customize your trackable link settings by adding a custom document title for your recipient, internal notes for quick search, and an optional lead capture form. You can also set a password and a document expiration date!)
Method 4: You can invite someone as a 'guest' to your workspace. The 'guests' can get two types of access to the documents: comment-only and read-only. With comment-only access, they can give their suggestions or feedback while read-only access only allows them to read the content you have shared with them.
Method 5: You can export your Bit document as a PDF, Word Doc, ePublication, Markdown, Rich Text Format, and more.
A Few More Tips To Manage Your Distributed Teams
1. Hire the Right people
As Wade Foster, the co-founder of Zapier, rightly said: "Doers will get stuff done even if they are working from a secluded island."
You might not be able to regularly check in on each remote employee, so always make sure that you hire people who can contribute to your team without micromanagement and constant attention.
2. Make your Expectations Clear
It goes without saying that communication is more effective in-office because people can interpret each other's body language and talk more often.
However, in a distributed environment, it's super easy to misunderstand an instruction or overlook it. That's why it's better to communicate your expectations clearly and set deadlines.
Read More: How Team Communication Can Empower Teams & Amp Up Productivity?
3. Host Team Meetings Regularly
The best way to keep your distributed team productive and engaged? Communication! It would be best if you host team meetings every week to discuss project status, and weekly goals, and take feedback from the employees. Don't forget to hold regular one-on-one meetings with your employees!
(Did you know that employees of managers who do not have regular 1:1 meetings are four times more likely to feel disengaged at work?)
4. Make Sure Your Employees Understand Their Tasks
While communicating the roles and responsibilities of an employee during a particular project, always use clear and precise language. You can also use tools like Bit.ai to help employees stay on track, understand what they need to do, and know when the project is due!
5. Focus on The Results
Instead of tracking your distributed team members' work hours, it's better to focus on their contribution and the results.
It doesn't matter how much time they're spending on a particular task, as long as the work is done well and on time! Try to create a result-orientated culture and trust your employees.
6. Offer Bonding Opportunities
Regular in-person get-togethers aren't really possible for most distributed teams. This is why you've to find other ways to improve team bonding, such as book clubs, virtual game nights, and more. You should also try to host an in-person get-together with the entire team at least once every few months.
Read More: 9 Virtual Team Building Games for Remote Employees!
Wrapping Up
More and more companies are leaning towards a distributed workforce, and it's probably the future of work. Yes, creating and managing a distributed team isn't easy, but it's definitely worth it!
All you need to do is fill the gaps that distance creates using collaboration tools such as Bit.ai, and watch your company grow by leaps and bounds.
We've shared everything you need to know to manage in a distributed team. However, if you still have any queries, concerns, or suggestions, hit us up on @bit_docs and we will get back to you!
Further Reads:
15 Team Meeting Ideas & Topics For Your Next Meeting!
7 Compelling Reasons Why You Need To Invest In Team Collaboration
Remote Collaboration Guide & Tools For Distributed Team
Why do Companies Need to Invest in Work-From-Home Technology?
How Bit.ai Makes a Freelancer's Life Easy?
Why Workplace Collaboration is More Important Than Ever?
Workload Management: Definition, Importance, Process & Tools!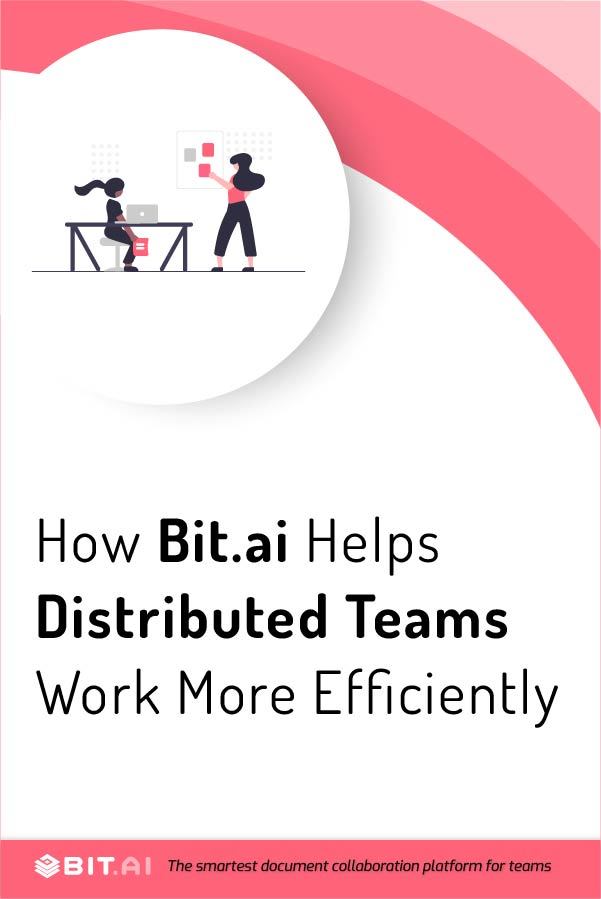 Related posts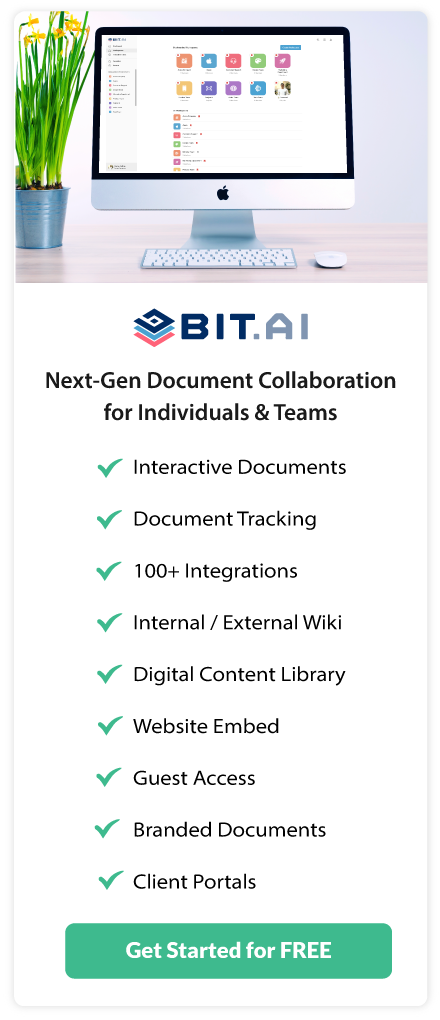 About Bit.ai
Bit.ai is the essential next-gen workplace and document collaboration platform. that helps teams share knowledge by connecting any type of digital content. With this intuitive, cloud-based solution, anyone can work visually and collaborate in real-time while creating internal notes, team projects, knowledge bases, client-facing content, and more.
The smartest online Google Docs and Word alternative, Bit.ai is used in over 100 countries by professionals everywhere, from IT teams creating internal documentation and knowledge bases, to sales and marketing teams sharing client materials and client portals.
👉👉Click Here to Check out Bit.ai.