"Effective teamwork begins and ends with communication."
Undeniably, the secret ingredient to any successful business is good communication. By simply developing a connection with employees, organizations can increase their productivity by 25%.
And with the ongoing rise of work from home practices and distant working, this communication can be seriously hampered if not taken care of.
Trust us, your employees want effective communication systems in place even if they are miles away from their teams.  Statistics back this:
This makes it more important than ever for organizations to work hand in hand with modern technology and come up with ways that enhance communications.
Team communications tools do all that and more!  They provide a safe space for teams to interact, create, share and store all kinds of data, making communication easier than ever!
Let us dig deeper into how they solve your problems…
4 Benefits of Team Communication Tools 
1. Seamless Collaboration 
One major drawback of remote working is that teams cannot connect easily with other team members! Every employee needs to constantly stay in the loop, and communication tools let you do that easily.
With team communication tools, you don't have to worry about constantly going back and forth on emails every time you need to have a chat with your team members.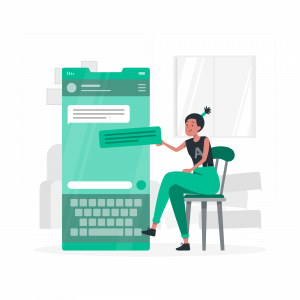 Most team communication tools have inbuilt chat systems that allow you to easily mention other team members and notify them about crucial changes.
2. Employees Can Work Faster 
Out of date tools, poor communication and inaccessible information are a few of the many reasons why employees can't reach their maximum potential.
A powerful work environment requires removing such friction from day-to-day work and team communication tools have a big part to play.

Team communication tools not only allow for easy access to data and better communication, but they also help employees get their work done more efficiently.
3. Better Project Management 
Managing a project is a difficult task and there is data to corroborate this – most organizations have a 70% project failure rate.
Team communication tools allow you to squeeze out the most from team efforts and it also saves time! With efficient communication in place, the chances of teams failing become almost zero!
4. Enhanced Security 
For organizations with a lot of legal and confidential data, it becomes the topmost priority that all their data is secure!
Team collaboration & communication tools are fully encrypted and offer a great deal of security when it comes to who gets to see your data.
And it's clearly a much better option than emails given that they have seen over a 600% increase in threats over recent weeks.
The list goes on and on, but one thing is clear: it's not possible to work efficiently without using team communication tools. That's why we're providing you with a list of robust tools that you can choose from…
Read more: Marketing Communication Strategy: What is it & How to Create it?
Top 5 Team Communication Tools You Must Check Out 
1. Bit.ai 

Pricing: $12/month
Bit.ai is a new age, cloud-based team communication tool that helps teams create, manage, organization and share documents – all in one place.
It will help you create a full-proof documentation system that will in turn boost your team communication and help them carry out tasks effectively.
With Bit's intuitive features like real-time editing, inline comments, @mentions, and more, you and your team can collaborate effortlessly. It has a powerful content library that you can use to save and access all your images, videos, and other digital content you might need for your documents.
Once your interactive documents are created, sharing is just as easy – you can either share your document with the people in the workspace, share it as a live link, invite guests or embed them onto your blogs/website!
Worried about security? Trust us, people love Bit.ai because of its high-level security and permission levels. Your workspaces will be visible to only the creator and the members they invite!
All this is just the tip of the iceberg – Bit offers many more amazing features like smart search, fully responsive templates, 100+ integrations.(Click Here For More)
Bit.ai is the perfect destination for all things documentation and collaboration! And it is also providing a free plan with limited features so you can try it before committing to it!
Key Features:
Powerful search
Supports 100+ file formats
Real-time collaboration
Client Portal for Guests
Document Tracking
100+ app integrations
Grammarly Integration
Robust Version History
Read More: Make Your Distributed Teams Work More Efficiently With Bit.ai!
2. Slack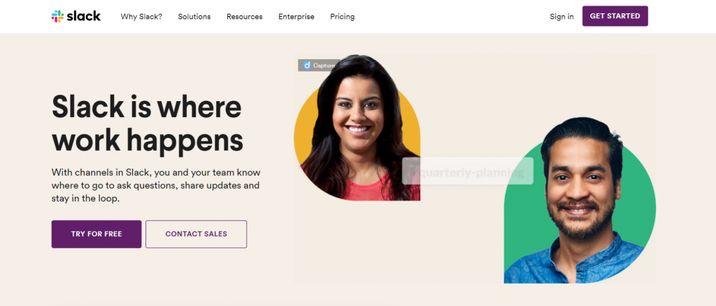 Pricing: $6.67/month
Slack is a team communication tool that you've probably heard of.  It has an easy-to-use and intriguing user interface, making it easy for first-time users to understand the platform easily.
Slack offers three different channels to communicate: public channels for members across organizations, private channels to enable interaction within smaller teams, and direct channels to send messages directly to colleagues.
You can also archives messages, notifications, files (as well as the contents of files), and projects, and can search for them easily whenever you want!
With such great ways to connect and smart features like file transfer, screen-sharing, Slack is just a great app for collaborating with team members!
Key features: 
1500+ integrations
Keyword notifications
RSS feed capabilities
Customizable themes
3. Microsoft Teams 

Pricing: $5/month
Microsoft Teams is a part of the Office 365 package, so if you already use it, this team communication app should be your go-to!
Other than being able to chat and do video conferencing here, you are also able to centralize all your data and collaborate on literally any type of document! And sharing these files is just as easy.
The user interface is super easy to navigate around and it also provides you with assistant bots, multi-factor authentication, easy conversation search, and more.
Key features: 
Integrations with Trello, Asana, and more.
Email-style threaded conversations
AI-powered functionalities
Open API
Team chats & Private Discussions
4. Chanty 

Pricing: $3/month
Chanty is a comparatively new team communication platform, but it is a mighty AI-powered tool known for its budget-friendly price.
Chanty offers a seamless onboarding process across all devices, so you can finally wave goodbye to hours of reading how-to guides to get started.
Here, you can hold audio calls, video conferences, and even share your screens and files to improve productivity and business communication.  To makes things all the more fun, you can send emoji reactions, images, videos, and GIFs, which facilitates engagement among teams.
You can easily create, assign, set deadlines, and discuss tasks directly here. Chanty also enables users to pin important messages, highlight specific members, and start messaging threads to ensure context-based discussions.
Key features: 
Unlimited searchable message history
Message and task tracking
Automated workflows
Integrations with Trello, Mailchimp
AI-powered search
Read more: 15 Team Building Skills You Must Develop for Better Collaboration!
5. Flock 

Pricing: $3/month
Flock is another great communication tool that merges communication and collaboration seamlessly. It will help you organize your conversations and manage all your work in an effective way.
Flock has a multitude of inbuilt productivity tools like shared notes, reminders, to-dos, polls which helps to empower teams.
From seamless file sharing to easy project management to some tech-savvy features like last message preview, etc, Flock definitely fosters smart communication.
And if that wasn't all – Flock's app store allows teams to plug apps into Flock and eliminate the need to switch between multiple tools to get work done.
Key features: 
Built-in task management
Native polls and to-do lists
60+ integrations
Invite guests onto the platform
Multilingual interface
Wrapping Up 
There's no one perfect team communication tool for every business, so you'll have to find one that best serves your needs.
And who says you have to only use one? You can try a combination of more than just a single tool, given that they are all super dynamic.
Whatever you choose, it will significantly boost your team's productivity.
If you have any queries about team communication tools, do tweet us @bit_docs and we'd love to help you out!
Further reads: 
Communication Plan: What is it & How to Create it? (Steps included)
Team Plan: What is it & How to Create it?
Project Management Communication Plan: Definition & Steps to Create!
Effective Workplace Communication For Better Collaboration
17 Best Internal Communication Tools for Your Business!
Communicate Effectively: How to do it in Workplace! (Types & Techniques)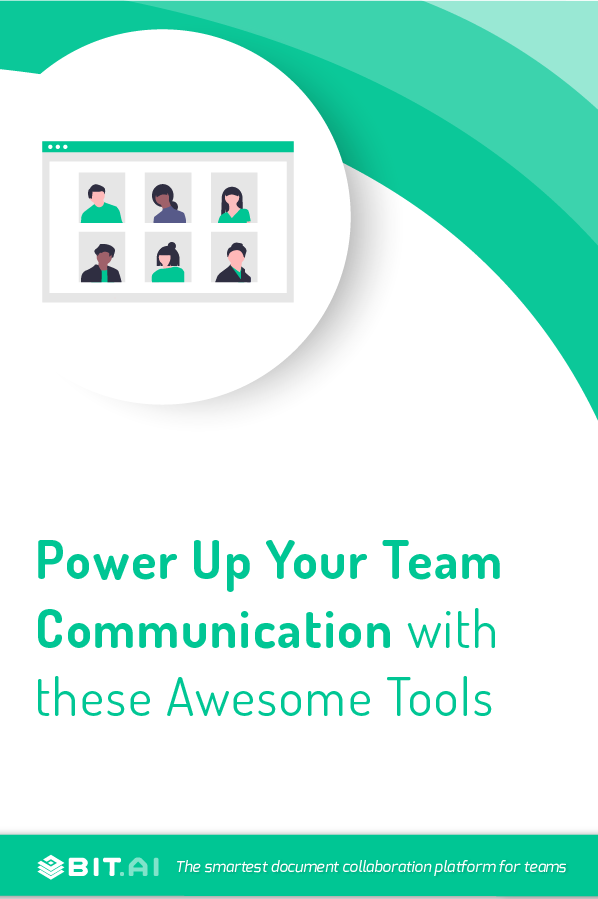 Related posts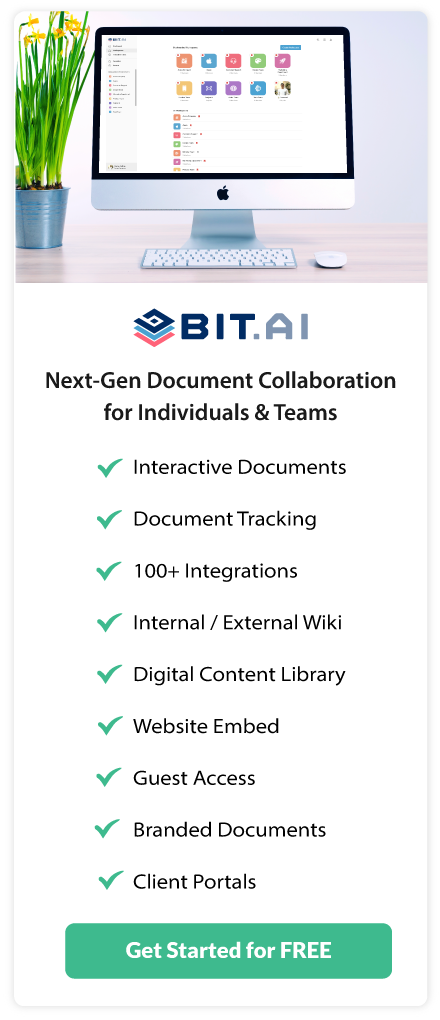 About Bit.ai
Bit.ai is the essential next-gen workplace and document collaboration platform. that helps teams share knowledge by connecting any type of digital content. With this intuitive, cloud-based solution, anyone can work visually and collaborate in real-time while creating internal notes, team projects, knowledge bases, client-facing content, and more.
The smartest online Google Docs and Word alternative, Bit.ai is used in over 100 countries by professionals everywhere, from IT teams creating internal documentation and knowledge bases, to sales and marketing teams sharing client materials and client portals.
👉👉Click Here to Check out Bit.ai.