The hype about Bit.ai is real.
Bit.ai has taken document collaboration to whole another level by helping you and your team create, collaborate, organize and manage all company knowledge and documents under one roof.
And, what's better than one killer document collaboration tool? 2 killer tools (or more) working together, just like Batman & Robin, or Iron Man and his Avengers gang.
Well, guess what? You can bring all of your favorite apps and tools into your favorite tool, Bit.ai. To put it simply, Bit offers over 100+ integrations that you can embed in a Bit document and enhance your workflow!
In this blog post, we will walk you through some of the most powerful Bit.ai integrations that you can use. But before that, let's take a quick look at what Bit.ai integrations exactly are.
What Exactly are Bit.ai Integrations?
Bit.ai integrates with over 100+ popular applications to help teams weave information in their documents – beyond text and images. On Bit.ai, you can embed any sort of digital content and enrich your Bit documents, be it videos, social content, cloud files, surveys/polls, presentations, and more.
Just add any web link on any blank line of your Bit document and hit enter. Bit will automatically generate a live preview of your rich media, right there in your document. That means you won't have to spend hours jumping from one platform to another to find and share the right information.
The result? A document that's more informative, engaging, and easier to negative! This would ultimately lead to better collaboration, increased productivity, and a consistent experience. Now let's get to what you came for: the best Bit.ai integrations you can use to strengthen your workflow.
List of The Best Bit.ai Integrations You Can Use
1. YouTube
A free video-sharing platform, YouTube allows users to watch videos, upload their own, and interact with other users from around the globe. One reason why YouTube is extremely popular is the number of videos that you can find. 100 hours of video are uploaded to YouTube every minute, so you'll never run out of things to watch.
Here's how you can embed YouTube videos in a Bit document:
2. Google Sheets
Google Sheets is a free, cloud-based spreadsheet tool that allows you to create, edit and collaborate on spreadsheets. That's not it! Google Sheets also allows you to present your data in a visually appealing manner using charts and graphs. It comes with built-in formulas, pivot tables, multiple formatting options, and more.

Here's how you can embed Google Sheets on a Bit document:
3. OneDrive Excel
OneDrive is a cloud storage service by Microsoft that allows users to store all their files – documents, images, videos, and more. One Drive Excel is a cloud-based spreadsheet builder. The best part? You can access the spreadsheets you create from any device, anywhere in the world.
Here's how you can embed a OneDrive Excel Spreadsheet on a Bit document in 5 easy steps:
1. Open up your OneDrive Excel Spreadsheet and click the more button on the top right corner.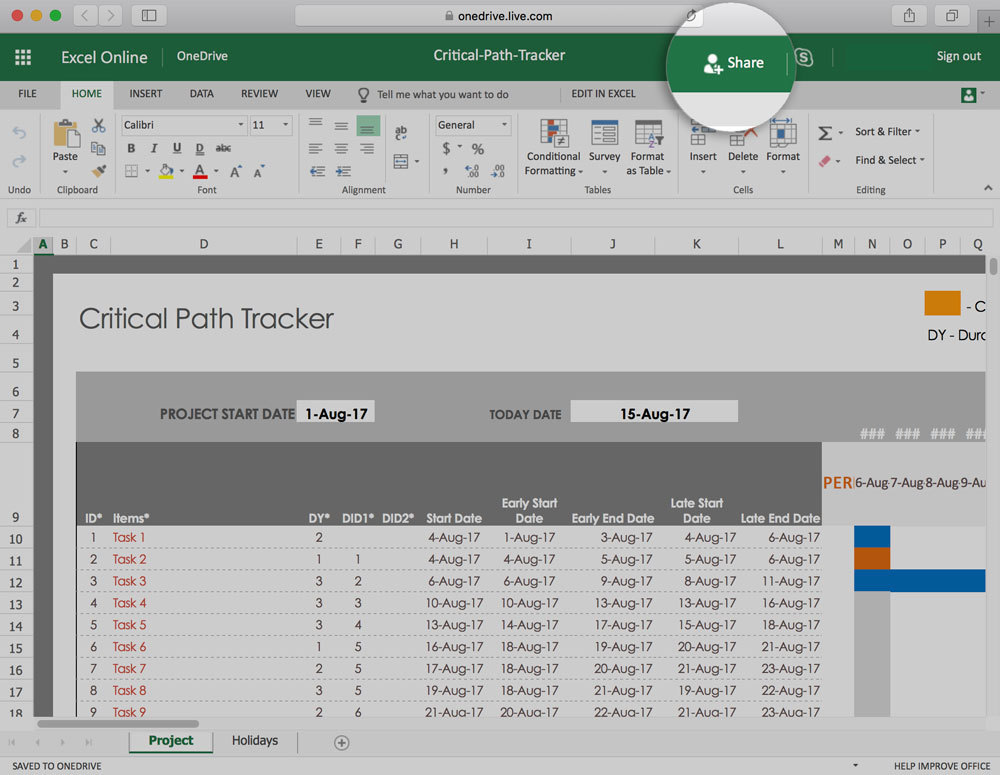 2. Create & copy your shareable link.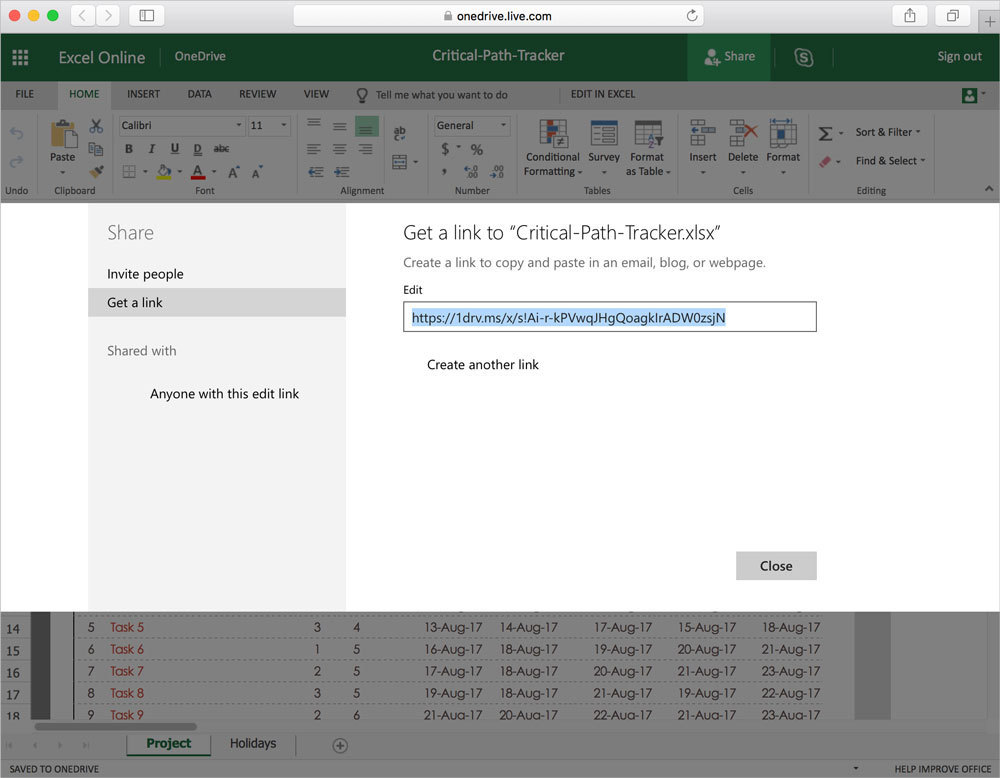 3. Go to Bit.ai and paste the OneDrive Excel Spreadsheet weblink on a blank line and hit enter.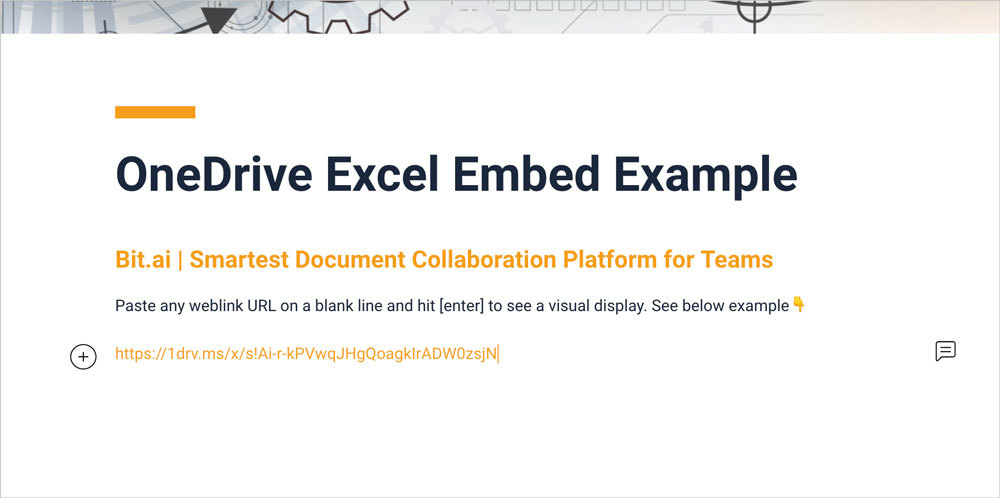 4. Bit will automatically fetch the OneDrive Excel Spreadsheet and display it like this.

4. Google Forms
Google Forms allows you to create, share and analyze surveys! While creating your surveys, you can choose between different options, such as text-field information, answer interfaces, multiple-choice questions, and more. All the survey responses are directly saved to a Google Spreadsheet that you can view anytime!
Here's how you can embed Google Forms on a Bit document:
5. Typeform
Typeform is another survey tool that helps you create modern interactive surveys, contests, forms, product feedback, quizzes, and more! What's more? It lets you choose from various Q&A options such as multiple-choice page questions, text-field, drop-down, and more.
Here's how you can embed Typeform on a Bit document in 5 easy steps!
6. Airtable
Airtable is used for creating and sharing relational databases, and it's super easy to use. Its user interface is straightforward and intuitive, allowing anyone to create a database in minutes. On Airtable, you can store, manage, and collaborate on employee directories, product inventory, and much more!
Here's how you can embed an Airtable database on a Bit document:
7. Github
GitHub is a rapidly growing programming resource that's used for sharing codes. It's basically a social networking site for programmers that's used by many organizations to facilitate project management. In 2020, it had over 60 million new repositories and over 56 million total developers.
Here's how you can embed Github Gists on a Bit document:
8. Loom
Loom is a video messaging platform that allows you to quickly get your message across through videos. You can record your camera, microphone, and desktop all at once using Loom. Then, through Loom's proprietary technology, your video is available to share right away.
Here's how you can embed Loom videos on a Bit document:
9. Google Slides
Google Slides is a cloud-based presentation tool that allows you to create presentations. As this tool is cloud-based, you can access it from anywhere in the world. Google Slides also supports real-time editing and collaboration, making it a great choice for all the project teams!
Here's how you can embed Google Slides on a Bit document in 5 easy steps:
1. Click the share button on the top right corner of the tool.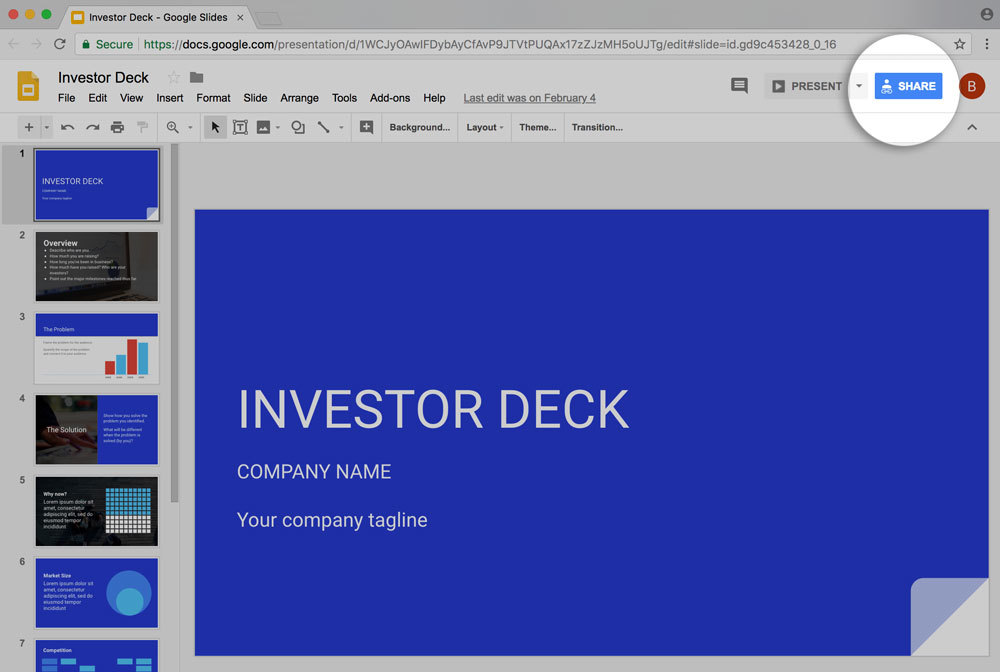 2. Customize your shareable link. It's best to choose 'Anyone with the link can view.'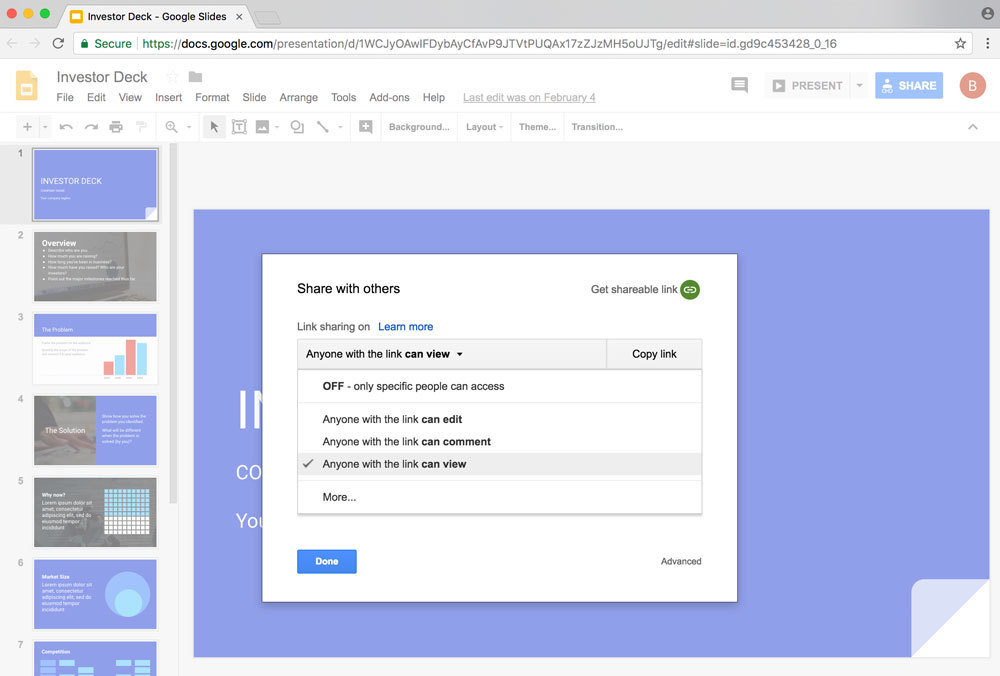 3. Copy the shareable link.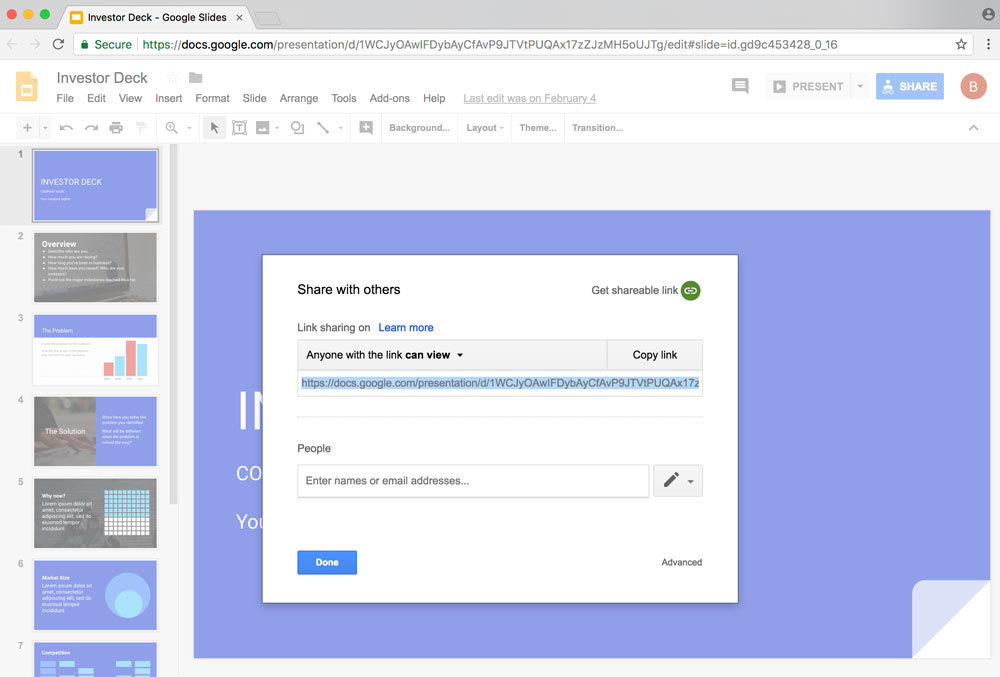 4. Go to Bit.ai and paste the link on a blank line and hit enter.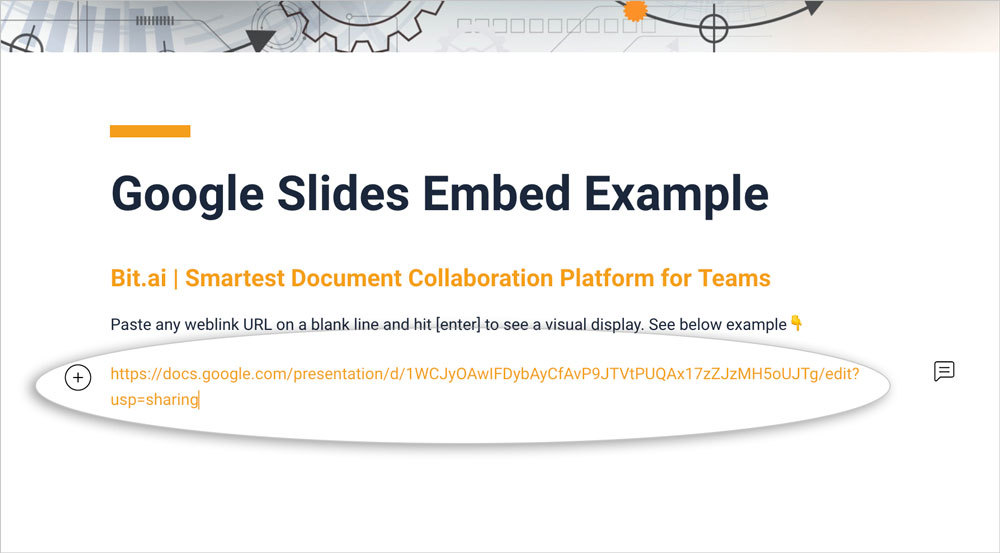 5. Bit will automatically fetch the Google Slides presentation and display it like this.

10. OneDrive PowerPoint
OneDrive is Microsoft's cloud-based storage space that you can use to save, edit, and share your files, including your PowerPoint presentations. You can then access these presentations from your computer, smartphone, or any other device that you use. How cool is that?
Here's how you can embed OneDrive Powerpoint on a Bit document:
11. Calendly
Calendly helps you schedule your appointments, meetings, and events. Instead of email chains or phone tags, you can use Calendly to share your availability with others (even if the other person isn't using Calendly). Invitees will see all the available time slots on your schedule, and pick one that suits them.
Here's how you can embed Calendly on a Bit document:
12. Tableau
Tableau is an incredible data visualization and business intelligence tool which helps in reporting and analyzing large quantities of data. On this tool, you can create a variety of charts, graphs, maps, dashboards, and stories to visualize and analyze data and make business decisions.
Read More: Learn How To Embed Tableau Charts In Your Bit Documents
13. Miro
Miro is an online collaborative whiteboard platform that enables distributed teams to work effectively. It offers a variety of collaboration features, facilitates cross-departmental teamwork, and helps you organize meetings and workshops. Some additional features include video chat, presentations, sharing, etc.
Here's how you can embed Miro on a Bit document:
14. Google Maps
A free online map from Google, Google Maps can be accessed via a web browser or as a mobile application. Apart from offering street maps and step-by-step directions, Google Maps provides interactive 360 ​​° panoramic street views, real-time traffic conditions, satellite images, aerial photographs, and more.
Here's how you can embed Google Maps on a Bit document:
15. Marvel
The Marvel app allows you to prototype any digital platform. If you're interested in creating websites, apps, wireframes, or anything design-related, this app is for you. You can test millions of assets and create custom versions of websites – even if you don't have any prior technical knowledge!
Here's how you can embed Marvel on a Bit document:
16. Invision App
InVision is a cloud-based digital product design platform. It helps product-development professionals and businesses to create and manage prototypes. Some key features of Invision are digital whiteboarding, wireframing, feedback management, vector editing, layer styling, and more.
Read More: Learn How To Embed Invision App into your Bit Document
17. Figma
One of the most revolutionary graphic editing apps, Figma provides all the tools you need during the design phase of a project, including vector tools for creating illustrations, prototyping capabilities, and code generation. What makes Figma stand out is that it's totally free to use!
Here's how you can embed Figma on a Bit document:
18. Google Draw
Anyone with a Google account can use Google Draw – a virtual board that allows users to create content by drawing, pasting images, inserting shapes, and other content. Using Google Draw, you can create flow charts, visual storyboards, concept maps, etc. You can even collaborate with others on the same drawing!
Here's how you can embed Google Draw on a Bit document:
19. Spotify
Spotify is essentially a digital music and podcast service which gives you access to millions of songs and other such content from creators around the globe. The basic functions such as playing music are totally free, however, you can also choose to upgrade to Spotify Premium to use advanced features.
Here's how you can embed Spotify on a Bit document:
20. Prezi
Prezi is a web-based tool used for creating presentations. Instead of the usual slide-based approach where you move back and forth between slides, Prezi uses a canvas-based approach. Basically, there's a large canvas that your presentation moves around on, and you can simply zoom in and out to view different frames.
Read More: Learn How To Embed Prezi into your Bit Document
21. Elink
elink.io is a content curation platform that you can use to create email newsletters, webpages, social bio links, save bookmarks, automate content, and more. It has a robust editor which lets you add elements like images, texts, bullet lists, numbered lists, dividers, buttons, and even social media icons to your header and footer body.
Here's how you can embed Elink posts on a Bit document:
22. Twitter
Twitter is a social networking and online news platform where people communicate using short messages known as 'tweets'. Twitter and tweeting can be described as 'microblogging', as the platform only allows you to write tweets containing 280 characters or less.
Here's how you can embed Twitter posts on a Bit document:
23. Survey Monkey
SurveyMonkey allows you to create, send and analyze surveys. It uses question, page, block, and order randomization, which reduces data bias drastically. Moreover, it provides you with multiple question types such as A/B testing, matrix, rating, star, video, slider, and ranking questions.
Here's how you can embed Survey Monkey on a Bit document:
24. Matterport
Also called 'the standard for 3D space capture', Matterport is an all-in-one platform that transforms real-life spaces into immersive digital twin models. It's more than just a panoramic scan of what you see in front of you – it enables you to create, capture and connect different areas and turn them into interactive 3D models.
Wrapping Up
Bit.ai has earned its well-deserved popularity by being a stellar document collaboration platform, and it takes things up a notch with its integrations. All the 100+ integrations offered by Bit.ai are super-easy to integrate.
Bit's integrations are exactly what you need to save time, enhance your documents and bring together all your favorite apps and tools into a single platform!
We know that there is a lot of information to digest here, so if you have got any questions, suggestions, or concerns, hit us up on Twitter at @bit_docs and we would get back to you. Cheers!
Further Reads: 
How to Embed Canva Designs into Your Bit Document?
How To Embed Mixcloud into Your Bit Document?
How to Embed SharePoint PowerPoint in Your Documents?
How to Embed Lucidchart Diagrams to Your Documents?
How Bit.ai Makes a Freelancer's Life Easy?

Related posts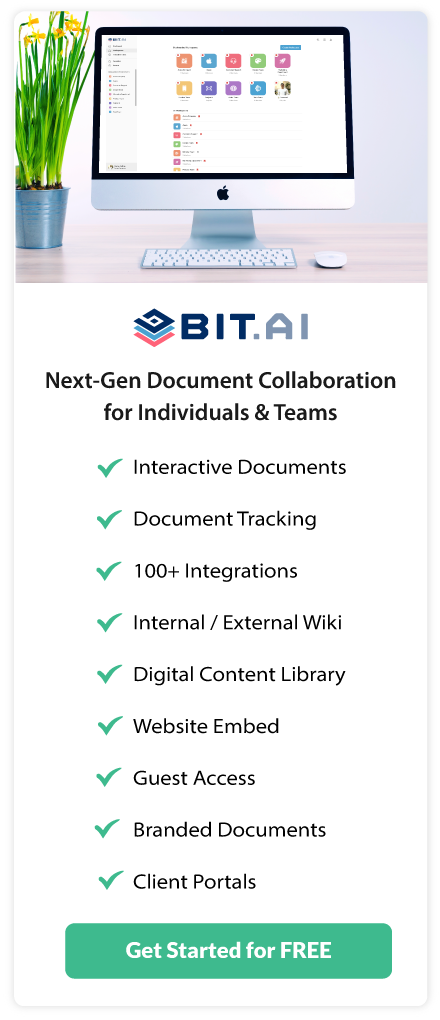 About Bit.ai
Bit.ai is the essential next-gen workplace and document collaboration platform. that helps teams share knowledge by connecting any type of digital content. With this intuitive, cloud-based solution, anyone can work visually and collaborate in real-time while creating internal notes, team projects, knowledge bases, client-facing content, and more.
The smartest online Google Docs and Word alternative, Bit.ai is used in over 100 countries by professionals everywhere, from IT teams creating internal documentation and knowledge bases, to sales and marketing teams sharing client materials and client portals.
👉👉Click Here to Check out Bit.ai.