Let's imagine something for a minute.
We're living in a world where we don't have the ability to communicate. That means, we can't share ideas, knowledge, emotions, and learn.
That just sounds so horrifying, doesn't it?
For every single one of us, communication is extremely important. It is the glue that holds people together – and the same goes for businesses.

But, what happens when a business is not able to communicate properly?
Believe it or not, companies are losing over $37 billion every year because of unplanned communication. Well, that's not very shocking considering that 60% of companies don't even create or use a communication plan.
The thing is, your company doesn't exist in a void. It entirely depends on what your prospects, customers, and other stakeholders say about you.
You can't leave their opinion to chance, right? Because that would mean you're leaving your company's fate to chance too.
So, whether you've secured funding, hit a revenue goal, or hired a new CEO, every communication should start with some good planning.
Why? Because a communication plan is what helps you deliver the right message to the right audience and achieve the best results!
Okay, But What Exactly is a Communication Plan?
Imagine that you're in a new, unfamiliar city and you have to find your way to your hotel without a GPS or a physical map.
Well, that's exactly what it is like when you try to deliver a message to your target audience without a communication plan – driving somewhere without a clue about where you're going.

A communication plan is your roadmap for getting your message delivered to your audience!
It helps your organization send a clear, specific message to the target audience with measurable results. All you've to do is put yourself in your audience's shoes and evaluate:
What do they already know and what do they still need to know?
What exactly do they want to hear?
What's their preferred way of receiving information?
What will make them lose interest in your message?
In short, your communication plan is a place to bring together your objectives, audience, key messages, tone of voice, and channel strategy.
But, How Do I Get Started With a Communication Plan?
Developing a communication plan can seem like an overwhelming task, so here are five steps to help get the ball rolling. We'll try to keep everything simple and actionable enough to start putting the process into practice as soon as you're done reading it!
Step 1. Define your Objectives
A very common mistake everyone makes while building a communication plan is jumping straight to the tactics. Don't forget that goals and objectives are the building blocks of every plan.
So, first and foremost, assess your business's current situation.
Once you've established where you currently are, think about the short and long-term goals and objectives for your business. Be very clear about what you want to achieve, when, and why.
Also, keep your goals and projections realistic enough so that you can actually accomplish them. A communication plan is not the right place to gloat, because that'd just hurt you in the end.
For instance, don't say you want to raise your profit margins by 50% next year if you only increased them by 10% this year.
Read more: Best Internal Communication Tools for Your Business
Step 2. Identify Your Key Audiences
You certainly don't want to waste your precious resources on an audience that doesn't even want your product.
This is exactly why you need to identify who your product will appeal to the most. The answer to this question will reveal who your target audience is and to whom you've to deliver the message.
To pinpoint the target audience, find the answer to these questions:
Who would benefit the most from your product or service?
What are the key interests of your audience?
What actions do you want the audience to take?
Where exactly do you fit into their big picture?
What characteristics do your current customers share?
Remember, your business might have the greatest, most impactful message on earth, but if you're not delivering it to the right people, it's good for nothing.
Step 3. Recognize Media Channels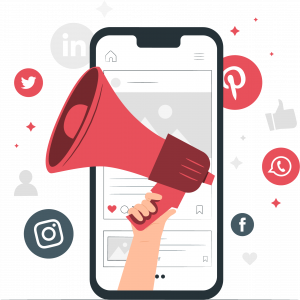 Now that you've identified your target audience, decide which media channel would be the best to get your message delivered to them.
You can start with jotting down all the possible communication channels you could use – be it emails, newsletters, posters, events, podcasts, or billboards.
Just don't make your audience go out of their way to hear your message. Make sure that you deliver it straight to them.
For instance, if you've to announce a piece of grand corporate news, a corporate event is the ultimate place for it. You can use newsletters to announce the news too.
To be honest, why won't you use newsletters when elink.io makes it super easy to create one? All you've to do is bundle weblinks, customize the layout to fit your brand's theme, and share your newsletter with the world!
Step 4. Establish a Timetable
It's time to develop a solid schedule to execute your communication plan. Decide when do you want your audience to hear your message and how often.
For example, if you have got a blog, you can create an editorial calendar. Similarly, if you're sending out social media posts, create a social media calendar.
Simply put, stay organized, focused, and on task.
Tip: Create a segment for the names of the people who're accountable for each task on the schedule – so they are aware of their responsibility.
Read more: Productivity Plan: What is it & How to Create a Perfect One?
Step 5. Evaluate the Results


This step is something many people forgo because they're just "too busy".
But, won't you rather spend a few minutes every month to ensure you're spending your hundreds of hours wisely?
Be it email open rates or social media likes – if you want to understand whether you've achieved your objectives or not, delve into the data to see what went right and what didn't.
A particular channel isn't working? Cut it. Your audience's behavior has evolved? Update the plan.
When you evaluate your results from time to time, you can fine-tune all the future communications to better meet your target audience's needs and fill in any gaps.
By the way, you might have heard the saying:
"If a tree falls in the forest, and no one is around to hear it, does it make a sound?"
Quite similarly, when your business has something significant to share, but you don't have a solid communication plan, it will not make a sound.
But it's cumbersome and exhausting to draft a solid communication plan and that's why there are so many marketers out there who are struggling with setting it up.
That's a pity – because it is one of the most valuable documents in the marketing department.
Fortunately, we've something that will help you, and all those struggling marketers. Ready? Let's go!
Read more: 9 Customer Acquisition Strategies Your Boss Wishes You Knew!
Bit.ai – The Tool You Need to Create a Robust Communication Plan & Other Documents
After getting familiar with Bit.ai, your perception that creating a communication plan is tough will change forever.


Bit.ai centralizes all your tasks related to creating a communication plan – be it formatting, co-editing, organizing, and sharing! It offers everything you'll ever need to master your communication plan or any other document for that matter.
Simply put, Bit takes the guesswork out of the equation and helps you create documents that are just perfect – both in terms of format and aesthetics. It is all action-oriented and easy to use, so you can create the best documents ever!
Now buckle up, because we're going to explore some mind-blowing features of Bit that'll help you with your communication plan:
1. Pre-Built, Beautiful & Fully-Responsive Templates – Bit.ai offers 90+ gorgeous document templates and takes care of the design and formatting aspect for you so you can focus on research and content. As we said, creating a communication plan is not so tough when Bit has got your back!
2. Workspaces & Folders: A communication plan isn't a "one-size-fits-all" thing. You've to customize it for every product or service that your business offers. You've to customize it every time you've to target a different market. The same goes for all other business documents. This is exactly why this feature of Bit is the bomb! It lets you create infinite workspaces around projects, teams, departments, and clients to keep all your work organized.
3. Real-Time Collaboration: This is probably one of the coolest features of Bit. No matter where your team is located, you can keep everyone on the same page. You can co-edit, make inline comments, and much more on Bit!
4. Sharing & Permissions: Yes, the people who are already there in your workspace can see the documents whenever they want. However, there are more ways to share your Bit document – you can create a shareable live link, embed your docs onto any website and even invite guests into your workspace. Guest access is the best if you just want someone to review your documents in a particular workspace, but you don't want them to see anything else!
5. Interactive Documents: Take your documents up by a notch by adding any kind of rich media to them to make them come alive. You can add cloud files, presentations, videos, social content, music, cloud files, maps, charts, surveys/polls – basically any rich media you can think of in your Bit document!
With Bit.ai, little creativity, dedication, and planning, you'll create a fabulous communication plan and other critical business documents in no time!
Wrapping Up
We're living in the digital age with endless information streams. That means, there are high chances of your business getting lost in the noise.
It's becoming more and more difficult to communicate with your target market and this is exactly why you need a solid communication plan.
A solid communication plan is very much like solid marketing.
You have got a message (product) that you want to "sell" to your audience (customers). If you want them to "buy" it, it needs to be perfect and something that they were looking for!
So, what are you waiting for? Create your communication plan using Bit.ai, streamline your messaging, and take your business to heights!
Got any questions? We're always there for you! Just tweet to us @bit_docs and we'll get back to you.
Further reads:
Self-Care Plan: What is it & How to Create an Effective One?
Marketing Communication Strategy: What is it & How to Create it?
Growth Plan: What is it & How to Create One? (Steps Included)
Target Audience: What is it and How to Find them? (Steps Included)
Effective Workplace Communication For Better Collaboration
Project Management Communication Plan: Definition & Steps to Create!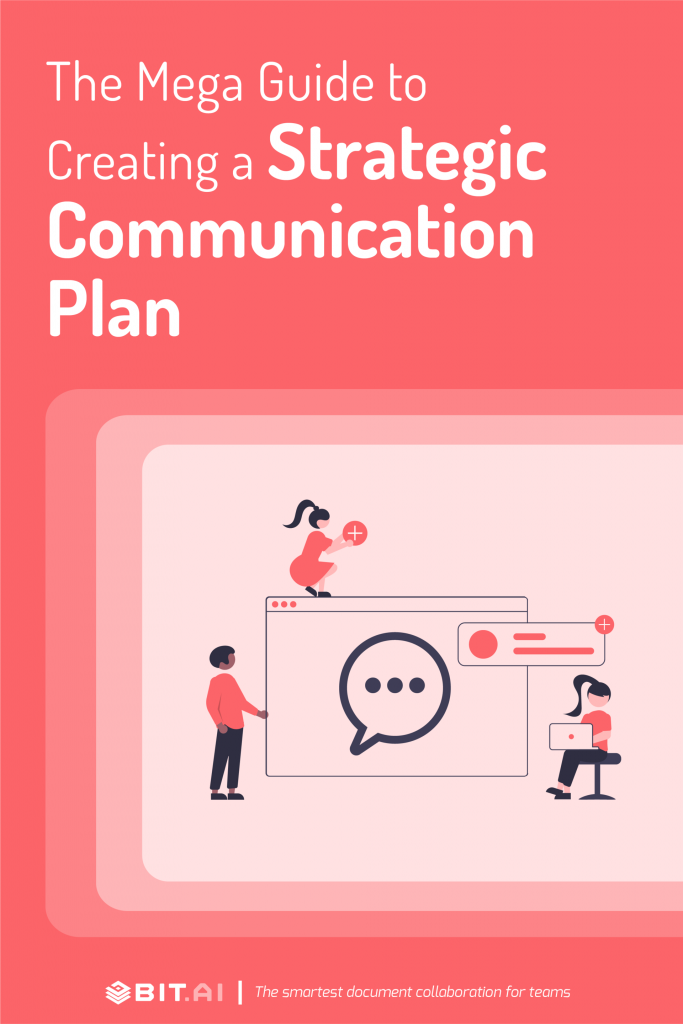 Related posts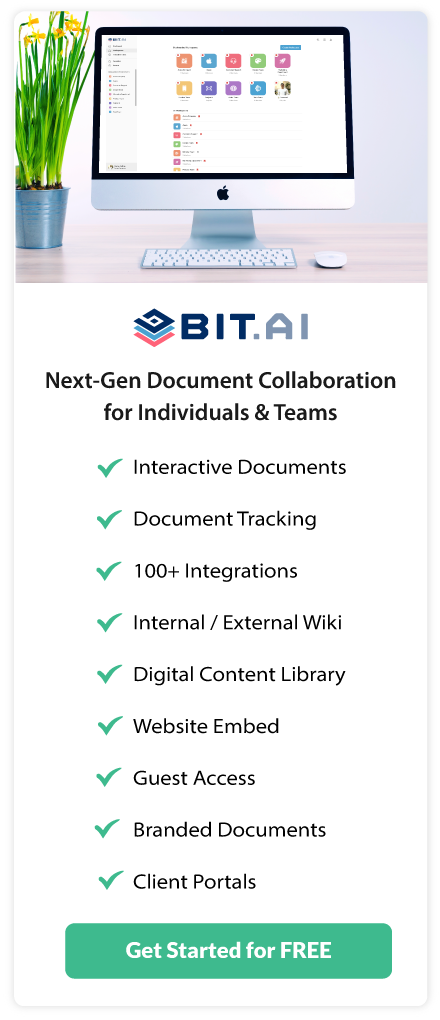 About Bit.ai
Bit.ai is the essential next-gen workplace and document collaboration platform. that helps teams share knowledge by connecting any type of digital content. With this intuitive, cloud-based solution, anyone can work visually and collaborate in real-time while creating internal notes, team projects, knowledge bases, client-facing content, and more.
The smartest online Google Docs and Word alternative, Bit.ai is used in over 100 countries by professionals everywhere, from IT teams creating internal documentation and knowledge bases, to sales and marketing teams sharing client materials and client portals.
👉👉Click Here to Check out Bit.ai.