Data suggests around 5.2% of the workforce in the US worked from home in 2017, which is roughly around 8 million people. That percentage is up from 5% in 2016, and 3.3% in 2000!
Work from home, remote work, or telecommuting- whatever you like to call it- is the ability to do your office work from any place you want. Some choose to work from the comfort of their couch while others like the solace of a coffee shop. 
Work from home has continued to rise over the years but was only accessible to a small percentage of the world. However, with the recent Coronavirus, or COVID-19 outbreak, more and more businesses are deploying work from home strategies as they take measures to control the spread of this deadly virus.
Even though businesses don't have any other choice but to allow employees to work from home, there are many benefits to remote work that companies are unaware of.
Even after the Coronavirus gets under control, companies should be pushing their remote work agenda and should start investing heavily in work-from-home technologies. Why? Here's why…
Reasons why should companies need to Invest in work-from-home technology
Flexible work schedules provide freedom to employees as they are trusted to do their jobs in an environment they find the most convenient, reducing stringent norms and policies. Working from home is not only beneficial to employees but brings a massive upside to businesses as well.
For instance, remote work widens your company's talent pool, allowing you to hire the best minds from across the globe. The quality of talent is, therefore, not limited to a region or state.
There are numerous benefits to remote work for both the employer as well as the employee- from reduced office expenses to higher employee morale. Let's take a look at some of these benefits in detail…
1. People Like Flexible Schedules!
Over 40% of people consider the greatest benefit of remote work to be their flexible schedule. The flexibility to work at your pace and schedule is one of the greatest benefits of working from home. Different people are productive at different times of the day. Some like waking up super early while others are their most productive after 12 am!
If you are a night owl, remote work gives you the flexibility to schedule all your work at night and hence, take care of your errands and leisure during the day.
On the contrary, if you are one of those people who feel their best early in the morning, you can finish up your work super early and have the rest of the day to yourself!
This is the reason why 74% of older Americans would want work flexibility and 34% would like to work from home. However, this kind of flexibility may not be there for all remote workers as most of the companies have a fixed schedule when the whole team is online for work.
If you are a parent, remote work can be like a godsend to you as you can take care of your kid's needs and schedule the work that works best for both of you.

The flexibility of work also gives people, an opportunity to take up a new hobby, an activity, or take an online course for higher learning. Lastly, the flexibility to choose when to go to bed and wake up, remote workers gain on average an additional hour of sleep each week!
Read more: Combating Social Isolation in Remote Working
2. Work from Home is Productive. REALLY!
Did you know that people who work from home are more productive than those working from the office? Despite contrary beliefs, people working remotely report a higher level of productivity than their office counterparts. The stats are there to prove it:
But why? Employees working from home report higher levels of productivity because of the following reasons:
Since employees don't have to travel to the office every day, they end up saving hours in commute. This newly-found hours add more time in a day, allowing them to do their job more efficiently.
Working from home also means that there will be fewer office distractions. Water-cooler talks, chit chat, shoulder tapping, smoke breaks- all are reduced, leading to improved productivity.
As we talked in our first point, the flexibility in work timings allows remote workers to schedule their day according to their own working style. Some people are more focused during the day while others thrive at night!
3. Remote Employees Feel Less Stressed
Working from home could also be beneficial for your physical as well as mental well-being, as data suggests people who work from home are less stressed out than their office counterparts. Some stats that prove this claim:
In a report published by the Royal Society for Public Health in the UK, it was found that 55% of participants felt more stressed as a result of their commute.
A study found that when couples commute long distances (more than 45 minutes away), divorce rates are more than 40% higher
86% of people feel that working remotely reduces stress.
People who work remotely at least once a month are 24% more likely to be happy.
Remote workers are either "not-stressed" or "moderately stressed" during the workday.
One study found that remote workers are 57% more likely than non-remote workers to be satisfied with their job.
By allowing flexible work schedules and work from benefits, employees eliminate the stress of a long commute and are able to work in an environment they are most comfortable in. If you want your employees to be healthier as well as happier, adding a work from home option to your work policies can do wonders!
Read more: 11 Must-Have SaaS Tools for Remote Teams
4. Save Money with Remote Work
When fewer people work from an office location, the company is able to tone down a lot on operational costs and other miscellaneous office expenses.
Office expenses like furniture, rent, stationery, printing, document storage, file cabinets, janitorial services, caffeine, etc. lower as more people work from home.
Take a look at these amazing stats:
Companies can save millions of dollars in overhead by allowing employees to work from home even a few times a month! What's not to like?!
5. Boost Company Revenue
Businesses end up losing a ton of money due to a lack of employee productivity. In fact, studies suggest that employers in the US lose $1.8 trillion a year in productivity! Productivity is a huge barrier to honest and efficient work and must be dealt with quickly.
Remote work provides an excellent solution to this productivity trouble as more a whopping 77% of people working from home report greater productivity and 52% are less likely to take time off!
Managers worldwide agree to this increased employee productivity as a staggering two-thirds of managers who were surveyed reported an increase in overall productivity from their remote employees.
Not only remote employees are more efficient, but they are also more likely to work extra hours and put extra effort into their jobs than their peers who work in the office. The cumulative effort results in increased revenue for the company and improved the lives of employees.
‍
6. Remote Employees Are More Engaged 
Apart from the revenue boost, businesses also benefit from increased employee engagement if they allow their employees to work from home.
A recent research on "the state of remote work" by TINYpulse and Owl Labs found that remote employees have "slightly higher levels of investment in their work. Increased employee engagement means higher productivity and often leads to greater employee retention.
Data suggests that highly engaged employees are 75% less likely to be looking for a job compared to actively disengaged ones.
Some studies suggest that every time a business replaces a salaried employee, it costs 6 to 9 months' salary on average. It's important to keep your employees engaged at work to improve retention and lower turnover.
In fact, companies that support remote work have a 25% higher retention rate than companies that don't. Therefore, it makes sense to allow employees to work from home at least a few times a month and keep them satisfied. Take a look at these stats:
75 percent of employees surveyed in a Softchoice study said they would quit their job for one that offered remote work.
A robust 68 percent of job seekers who are millennials said an option to work remotely would greatly increase their interest in specific employers.
87% of remote workers feel more connected through the use of video conferencing.
79% of knowledge workers in a global survey by PGI said they work from home, and 60% of remote workers in the survey said that if they could, they would leave their current job for a full-time remote position at the same pay rate.
Read more: Tips and Tools to Manage Your Distributed Team
7. It Even Helps You Save The Environment!
Remote work is not only beneficial to the employer and the employee but its also sustainable. With growing concerns over climate change and employees preferring more eco-friendly workspace and practices, it makes sense for businesses to do their bit in reducing their carbon footprint.
Remote work can do wonders for the environment as evident from the following statistics:
As you can see, working from home can have a positive impact on the environment and help combat climate change very effectively!
Are you ready to invest in work from home technologies?
Working from home is here to stay and will continue to shape our lives in the coming future. This is a great time to finally lay down the groundwork (policy, structure, tools, etc) and start investing in work from home technologies to gain a competitive advantage. What do you think? Do you work from home regularly? What key advantages have you witnessed while working remotely? Do let us know by tweeting us @bit_docs.
Further reads: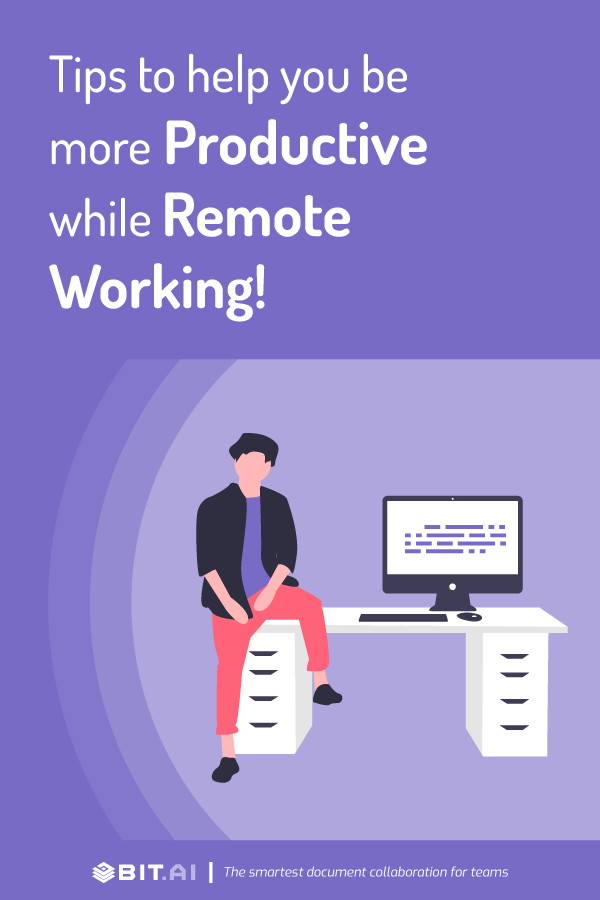 Related posts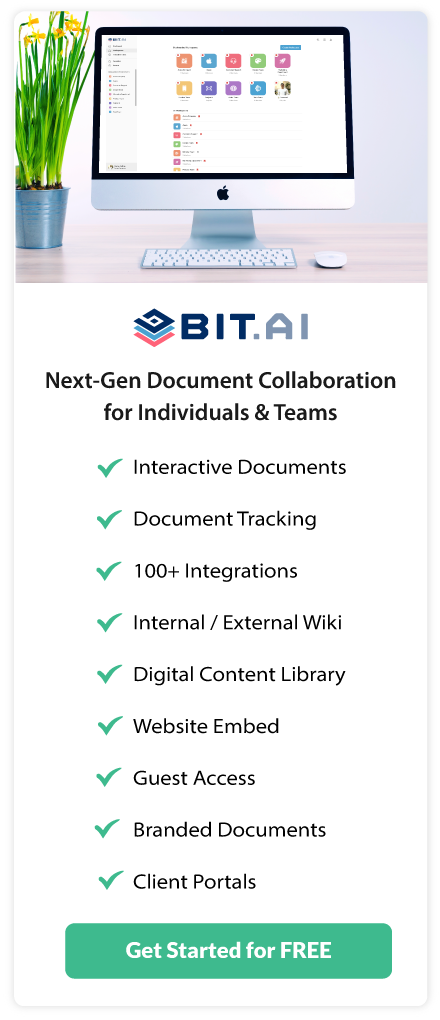 About Bit.ai
Bit.ai is the essential next-gen workplace and document collaboration platform. that helps teams share knowledge by connecting any type of digital content. With this intuitive, cloud-based solution, anyone can work visually and collaborate in real-time while creating internal notes, team projects, knowledge bases, client-facing content, and more.
The smartest online Google Docs and Word alternative, Bit.ai is used in over 100 countries by professionals everywhere, from IT teams creating internal documentation and knowledge bases, to sales and marketing teams sharing client materials and client portals.
👉👉Click Here to Check out Bit.ai.