E-signature software is like a digital wizard that transforms boring paper documents into electronic masterpieces. It lets you sign, seal, and deliver essential files with just a few clicks. No more ink stains on your fingertips or paper cuts—huzzah!
E-signature software is your secret weapon for soaring efficiency. It zaps away time-consuming tasks and replaces them with lightning-fast digital processes. Say goodbye to mountains of paperwork and hello to streamlined operations. Your customers will love the quick and hassle-free experience!
E-signature software saves you precious time, moolah, and trees. Imagine the joy of skipping printing and shipping costs while reducing your carbon footprint. Plus, it keeps your documents safe and secure, protecting you from the clutches of fraudsters. It's a win-win for you and the environment!
Imagine signing important papers without using a pen or paper! It's like using special digital magic. We'll explore this awesome world together and learn how e-signature software makes handling documents easy and fun. Let's begin!
Signing Online Documents Using E-signature Software
Step 1: Choose your e-signature software
To sign e-signatures, you first need an e-signature software. So start your digital signing journey by selecting a reliable e-signature software that meets your needs. With numerous options available, you need to explore the features, user-friendly interface, and security measures to find the perfect fit for your document signing requirements.
Step 2: Upload your document
Once you've settled on your preferred software, it's time to upload the document you need to sign. Whether it's a contract, agreement, or other important paperwork, most e-signature software allows you to effortlessly import documents from various sources like your computer, cloud storage platforms, or email attachments.
Step 3: Prepare the document
Before diving into the signing process, take a moment to review the document. Identify the areas where your signature is required and consider any additional fields that need to be filled. Fortunately, many e-signature software platforms offer intuitive tools to add signature fields automatically or allow you to insert them manually at the appropriate places, ensuring a seamless signing experience.
Step 4: Add your signature
Get ready to leave your mark! Within the software's user-friendly interface, look for the option to add your signature. The exciting part is that you'll often have multiple options. You can draw your signature using a mouse or stylus, type your name and select a font that resonates with your style, or even upload a scanned image of your physical signature. The choice is yours, so get creative!
Step 5: Customize your signature
Elevate your signature game with customization options. Many e-signature software platforms allow you to personalize your signature further. Adjust the size, color, or style to make it uniquely yours while maintaining a professional touch.

Step 6: Place your signature
Now comes the moment you've been waiting for! Click on the designated signature field in the document, and with a swift motion, apply your signature. The e-signature software will typically guide you through this process, ensuring your signature finds its perfect place on the digital document.
Step 7: Review and finalize
Before you celebrate your signing success, take a moment to review the document. Double-check the placement of your signature, ensuring all other required fields are appropriately filled. Once you're satisfied that everything is in order, it's time to save the document and prepare for the next step.
Step 8: Send or download the signed document
The final stretch! Depending on your needs, you can conveniently send the signed document directly from the e-signature software, effortlessly sharing it with the relevant parties. Alternatively, download the document as a PDF if you require a local copy. Just follow any additional steps the software specifies to complete the signing process seamlessly.
Overview of Additional Features and Functionalities Offered by E-signature Software
1. Document Preparation
E-signature software streamlines document preparation by providing tools for creating, editing, and formatting documents within the platform. Users can conveniently perform these tasks without switching between multiple applications. This integrated approach ensures a seamless workflow and saves time by eliminating the hassle of navigating between different software. With document preparation features, users can efficiently customize their documents, add the necessary information, and format them according to their requirements.
2. Templates and Automation
Templates and automation are valuable features found in many e-signature software platforms. Users can create templates for frequently used documents, which saves time by eliminating the need to recreate them from scratch. These templates can be customized and pre-populated with recurring information like names, dates, and company details. Automation further enhances this process by automating repetitive tasks, such as generating documents based on predefined rules or triggering specific actions upon signature completion.
3. Document Storage and Organization
E-signature software offers secure cloud storage for storing signed documents, ensuring easy access and retrieval whenever required. This eliminates the hassle of managing physical paperwork or searching multiple file cabinets. The software provides advanced search functionality, allowing users to quickly locate specific documents based on keywords, names, or other criteria. Additionally, organization features such as folder structures, tags, and metadata help categorize and organize documents for efficient management.
4. Collaboration and Workflow Management
Collaboration and workflow management are key features of e-signature software, empowering multiple parties to collaborate on documents seamlessly. Users can work together on a document simultaneously, making real-time edits, adding comments, and providing feedback. Version control ensures that everyone is working on the latest version of the document, avoiding confusion and conflicts. With real-time notifications, stakeholders are instantly informed about updates, changes, and pending actions, keeping everyone in the loop.
5. Integration with Other Tools
E-signature software seamlessly integrates with various business applications, enhancing productivity and streamlining workflows. By integrating with customer relationship management (CRM) systems, users can easily initiate the signing process directly from the CRM platform. Integration with project management tools allows for efficient collaboration and document signing within project workflows. Additionally, integration with document management systems enables easy access and retrieval of documents for signing purposes. These integrations eliminate the need for manual data entry and ensure that data is seamlessly transferred between systems, saving time, reducing errors, and enhancing overall productivity.
6. Advanced Security and Compliance
Regarding e-signature software, advanced security, and compliance are of utmost importance. These software solutions prioritize the protection of your documents by implementing robust encryption methods, ensuring that your data remains confidential and secure. Additionally, authentication mechanisms are in place to verify the identity of signatories, preventing unauthorized access and maintaining the integrity of the signatures. E-signature software also incorporates audit trails, which track and record every action taken within the system, providing a transparent record of events.
Examples of How E-signatures Can Streamline Document Workflows and Enhance Collaboration
1. Contract Management
E-signature software simplifies contract management by digitizing the entire process. It allows parties to review, negotiate, and sign contracts electronically, eliminating the need for physical paperwork and enabling faster turnaround times. Collaboration features facilitate seamless communication between parties, ensuring efficient contract management.
Read More: Contract Management Software: A Guide To Taking Control of Contracts!
2. Remote Onboarding
With e-signatures, companies can streamline the onboarding process for new employees. All necessary documents, such as offer letters, employment agreements, and tax forms, can be sent electronically for signing. This eliminates the need for physical presence, reducing administrative burdens and enabling remote hiring.
3. Approval Processes
E-signature software enables efficient approval workflows, such as purchase order approvals, expense reimbursements, or project proposals. Documents can be routed to the appropriate stakeholders for review and signature, with notifications and reminders ensuring timely completion.
4. Compliance Documentation
In industries with stringent compliance requirements, such as healthcare or finance, e-signature software ensures the secure signing and storage of compliance-related documents. This includes consent forms, financial disclosures, privacy agreements, and more. The software's security features help maintain data integrity and compliance with regulatory standards.
5. Customer Engagement
E-signature software enhances customer experiences by offering businesses a seamless signing process. Whether signing sales contracts, service agreements, or loan applications, customers can conveniently sign documents from anywhere, eliminating the need for in-person meetings and paper-based processes.
9 Best E-Signature Software, Apps, and Platforms (Free & Paid)
1. SysAid
SysAid is a highly-scalable help desk software designed for IT service administration. It simplifies workflows and provides a smooth customer experience. With SysAid, you can handle tickets, resolve issues, and manage assets efficiently. Its ticket automation feature automatically sorts and prioritizes customer tickets, sending them to the right desk for a quick resolution.
The software also offers powerful asset management features, allowing you to manage IT assets directly within the software. SysAid's routing and matching capabilities ensure customer tickets are assigned based on team member skills and workload. Additionally, automatic notifications and reminders keep you on top of ticket priorities and due dates.
Pricing: Contact SysAid directly for pricing.
2. Hiver
Hiver is a help desk software specifically built for Google Workspace. It integrates seamlessly with Gmail, allowing you to organize, track, and collaborate on customer queries and requests within your inbox. With Hiver's customizable automation, you can efficiently assign queries, categorize them, and change their status. The workload distribution functionality provides real-time visibility of your team's tasks. Hiver's advanced analytics dashboard offers insights into key metrics, enabling you to make data-driven decisions.
Pricing:
Growth plan: $22 per user/month
Pro plan: $37 per user/month
Elite plan: $57 per user/month
3. Jira Service Desk
Jira Service Desk is a widely-used help desk software that offers comprehensive service management and customer service solutions. It provides a user-friendly interface for quick issue resolution and allows you to create custom workflows to streamline your processes. With Jira Service Desk, you can gain real-time visibility into your team's performance through burnout charts, velocity charts, and other reports.
Pricing:
Free plan available
Paid plans starting at $7.50 per user/month
4. Zendesk
Zendesk is a customer service platform and helps desk software that consolidates customer interactions from various channels into a single place. It offers features like AI-enabled chatbots, targeted triggers, offline forms, and more.
Zendesk's self-service portal allows customers to submit requests, track their status, offer feedback, and access relevant articles. The software also includes a knowledge base and community forum for enhanced communication and collaboration. Live chat analytics provide valuable insights into agent efficiency and customer satisfaction.
Pricing:
Suite Team plan: $49/agent/month
Suite Growth plan: $79/agent/month
Suite Professional plan: $99/agent/month
5. LiveAgent
LiveAgent is a feature-rich help desk and ticketing software that provides a central platform for managing customer tickets and messages. It offers 24×7 customer support, a knowledge base, FAQs, and community forums. With LiveAgent's unified inbox, you can streamline all incoming tickets and messages from various channels for efficient multichannel communication.
The software allows customers to discuss new features, ask questions, offer feedback, and more through the community forum. LiveAgent's reporting capabilities and progress review features also help you stay on top of your ticket resolution process.
Pricing:
Forever free plan with limitations
Ticket plan: $15/agent/month
Ticket+Chat plan: $29/agent/month
All-Inclusive plan: $39/agent/month
6. Hubspot's Service Hub
Hubspot's Service Hub is a popular help desk software that helps log, organize, and track all customer issues and requests. It provides flexible customer support options and helps expand customer relationships. With Hubspot's central dashboard, your team members can access important information and report on sales activity, website insights, and productivity.
The software also offers a knowledge base that ensures information is readily available for every team member. Additionally, Hubspot's customer feedback tools and support for live chat, email tracking, and prospect tracking enhance customer engagement and satisfaction.
Pricing:
Free plan available
Starter plan: $50/month
Professional plan: $400/month
Enterprise plan: $1200/month
7. HappyFox
HappyFox is a cloud-based help desk software that enables you to organize customer tickets, create an online forum, and streamline support requests. It offers features like task assignment, ticket status updates, and a knowledge base for efficient ticket resolution. HappyFox's issue routing system helps prevent recurring issues, and its smart automation and integrations enhance productivity. The software supports more than 35 languages, making it accessible to global teams.
Pricing: Starts at $39/user/month
8. Freshdesk
Freshdesk is a reliable help desk software with AI capabilities, automation tools, and multi-channel support. It helps track customer complaints and tickets, automates ticket assignments, and provides intuitive reports for monitoring team performance and customer satisfaction.
Freshdesk's unified platform brings all customer conversations to one place, and its knowledge base and community forums promote self-service and collaboration. The software also supports multi-product and multi-lingual environments.
Pricing:
Free plan available with basic features
Growth plan: $15/agent/month
Pro plan: $49/agent/month
Enterprise plan: $79/agent/month
9. Zoho Desk
Zoho Desk is a cloud-based help desk software that resolves customer service challenges by converting queries and requests into tickets. It offers multiple help centers, client portal ticket submissions, and behavior monitoring for enhanced customer engagement. Zoho Desk's knowledge base portals and community forums provide customers with self-service options and valuable information. The software also supports various communication channels like email, chat, social media, phone, and web forms.
Pricing:
Free plan available (limited to 3 agents)
Standard plan: $12/agent/month
Professional plan: $20/agent/month
Enterprise plan: $35/agent/month
How to Choose the Right E-signature Software For You? 
Choosing the right e-signature software for your needs requires careful consideration of various factors. Here are some key factors to consider:
1. Features
The first and foremost thing to consider while choosing e-signature software is the features. Carefully evaluate your requirements, then examine whether those features are available in the software. Some features to look for include document preparation, collaboration tools, integrations, and mobile accessibility.
2. Pricing
The next most important thing to consider while selecting an e-signature software is the pricing. This means comparing pricing models to find the most cost-effective solution out there. Look for providers with transparent pricing structures, including clear information on subscription plans, pricing tiers, and any additional costs associated with advanced features or higher document volumes. Also consider factors such as the number of users, document limits, and potential overage fees.
3. Ease of Use
The last thing you want is complicated e-signature software to operate. Consider the software's interface, intuitiveness, and ease of navigation to ensure a smooth user experience. Look for solutions with a simple learning curve, allowing you and your team to grasp the software's functionalities quickly.
4. Security
Choosing e-signature software that offers robust security measures to safeguard your information is crucial. Prioritize solutions that provide encryption, which protects your documents by encoding them and making them unreadable to unauthorized individuals. Authentication mechanisms such as multi-factor authentication add an extra layer of protection by verifying the identity of signatories. Additionally, ensure that the e-signature software complies with industry standards and regulations to maintain the integrity and legality of your signed documents.
5. Integrations
Finally, consider the compatibility of e-signature software with your existing business tools. This means looking for tools that have integrations with popular applications like CRM platforms, document management systems, and cloud storage services. Software that seamlessly integrates with your tools will help create an efficient ecosystem that enhances productivity and fits seamlessly into your business processes.
Comparison of Features, Pricing, Ease of Use and Security
| Software | Features | Pricing | Ease of Use | Security |
| --- | --- | --- | --- | --- |
| DocuSign | Document preparation, advanced security, collaboration tools, integrations | Subscription plans | User-friendly interface | Advanced encryption and authentication measures |
| Adobe Sign | Seamless integration with Adobe products, customizable templates, workflow automation | Pricing available upon request | Familiar interface | Identity verification and encryption |
| HelloSign | Simple interface, document signing, team collaboration, cloud storage integration limits | Free plans, paid plans with additional features and usage | Intuitive interface | Encryption and compliance measures |
| PandaDoc | Document creation, customizable workflows, collaboration features, CRM integration | Pricing available upon request | Intuitive interface | Secure platform with encryption and access controls |
| SignNow | Document signing and sharing, form creation, collaboration features, cloud storage integration | Subscription plans | Easy-to-use interface | Advanced encryption and multi-factor authentication |
| SignEasy | Intuitive interface, document signing and sending, in-person signing, cloud storage integration | Subscription plans | Simple and intuitive | Secure platform with encryption and access controls |
| SignRequest | Easy document signing, integration with popular business tools, collaboration capabilities | Subscription plans | User-friendly interface | Secure platform with encryption and authentication measures |
| Signable | Document signing and sending, template creation, integration with CRM platforms | Subscription plans | Simple and intuitive | Secure platform with encryption and audit trail capabilities |
| OneSpan Sign | Robust security, customizable document signing, workflow automation, integration with business systems | Pricing available upon request | User-friendly interface | Robust security measures, including encryption and authentication measures |
Tips for Evaluating and Selecting the Best E-signature Software for Your Specific Needs
1. Assess your requirements
Take some time to evaluate your specific needs and goals while using e-signature software. Consider factors such as the volume of documents you handle regularly, the level of collaboration required with team members or clients, the need for integrations with other tools or systems, and the importance of security and compliance in your industry.
2. Read user reviews and testimonials
It's always a good idea to hear from other users with experience with the e-signature software you are considering. Look for user reviews and testimonials from businesses similar to yours. Pay attention to feedback regarding the software's ease of use, the responsiveness and helpfulness of customer support, the software's reliability, and overall satisfaction.
3. Request demos or trials
Many e-signature software providers offer free demos or trials of their software. Take advantage of these opportunities to get hands-on experience with the software. Request a demo or sign up for a trial to explore the features and functionality firsthand. This will allow you to see how intuitive the interface is, how easy it is to navigate and use the software, and whether it meets your requirements.
4. Seek recommendations
Don't hesitate to contact colleagues, industry peers, or professional networks to gather recommendations for reliable e-signature software. Ask for their experiences and insights into different software solutions. They may be able to provide valuable advice based on their own experiences and can point you toward software options that have worked well for them.
5. Consider scalability and future needs
As you evaluate different e-signature software options, consider your business's scalability and future needs. Consider how your business may grow and evolve and whether the software can accommodate those changes. Look for software that offers flexible pricing plans or allows for upgrades as your document volume or user base increases.
6. Evaluate customer support
Assess the availability and quality of customer support offered by the e-signature software providers you are considering. Check if they provide timely and responsive support channels like live chat, email, or phone support. Prompt and reliable customer support is crucial for troubleshooting any issues that may arise and ensuring a smooth experience with the software. Consider reading customer reviews or reaching out to the support teams with any questions or concerns to get a sense of their level of support.
Conclusion
There's no denying that e-signatures have become an indispensable tool for businesses, organizations, and individuals alike. And they're proving to be a game-changer in terms of efficiency and productivity. By choosing the right software, you can bid farewell to paperwork hassles and electronically sign documents anywhere at any time!
And we hope that this blog has helped you learn a thing or two about the different e-signature software out there and how to choose the right one! Now all you have to do is pick one that fits your organization and buckle up to send out your own digital mark to the world! Good luck!
Further Reads:
Types of E-signatures & Everything You Need To About Them
Types of Employment Contracts Every Employer Should Know!
Business Contracts: What are the Types & the Benefits?
The Benefits of Contract Documents in Project Management!
Related posts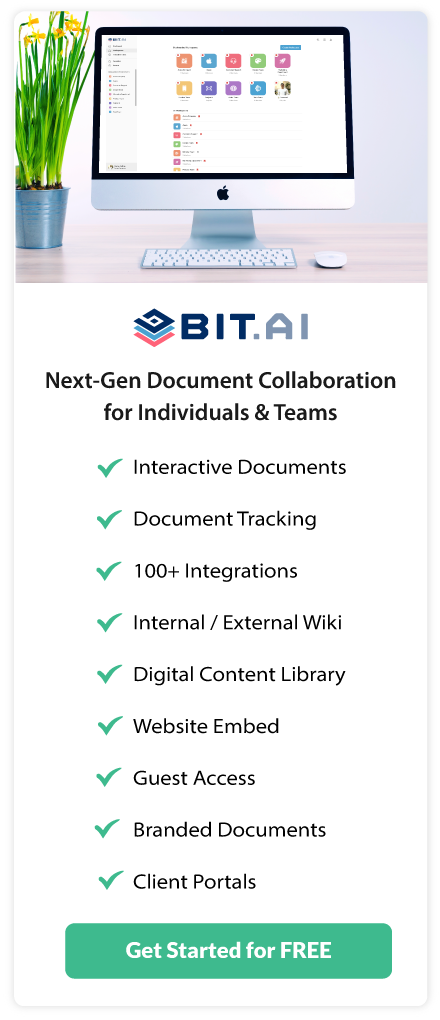 About Bit.ai
Bit.ai is the essential next-gen workplace and document collaboration platform. that helps teams share knowledge by connecting any type of digital content. With this intuitive, cloud-based solution, anyone can work visually and collaborate in real-time while creating internal notes, team projects, knowledge bases, client-facing content, and more.
The smartest online Google Docs and Word alternative, Bit.ai is used in over 100 countries by professionals everywhere, from IT teams creating internal documentation and knowledge bases, to sales and marketing teams sharing client materials and client portals.
👉👉Click Here to Check out Bit.ai.