Hey there! Did you know that before the invention of contracts, people would seal deals with a handshake and a promise? That might have worked back then, but we need something more reliable nowadays. That's where contract management software comes in!
With this software, you can effortlessly manage all your contracts in one place and never have to search for that one elusive document again. American businessman and author Harvey Mackay once said, "The best contracts are the ones where neither party feels like they got the better deal." With Contract Management software, you can ensure that all parties involved are happy and satisfied with the agreement.
So, why waste time sifting through piles of paper? Read on and explore this insightful journey on Contract Management Software.
What is Contract Management Software?
As the great American businessman and investor Warren Buffet once said, "Risk comes from not knowing what you're doing." And let's face it, managing contracts can be a risky business if you don't have the proper tools and knowledge. Well, fear not, my friend, because there is a solution to your problem- Contract Management software. This amazing tool can streamline your contract process, improve communication, and reduce risk. Think of it like having a personal assistant, only better. And because of its amazing benefits, the contract management software market is expected to reach $5.8 billion by 2030.
Also, According to the IACCM, a typical organization with around 1,000 employees spends $2.5 million to $3.5 million just recreating and finding lost documents. You surely wouldn't want to be one of them. So, what are you waiting for?
With contract management software, you can automate the contract lifecycle, from creation and negotiation to signing and renewal. No more chasing down signatures or wondering if you're on the same page as your business partners. You can store all your contracts in one place, set reminders for important dates, and even automate your approval process.
And the list does not end here; by using contract management software, one can easily search and retrieve any contract information they need to save time spent on sifting through papers and emails. This helps you stay organized and efficient to utilize your precious time on things that matter – growing your business or maybe binge-watching your favorite show. The choice is all yours!
But wait, before you go and binge-watch your favorite show, let me tell you about the common features of contract management software that will make your contract management process even smoother."
What are the Common Features Of Contract Management Software?
Contract Management Software helps businesses streamline their contract lifecycle management by providing a range of common features. These features ensure that every aspect of the contract process is covered, from drafting to signing and beyond. In this section, we'll explore the most common features of Contract Management Software, giving you a better understanding of how it can help your business. So, let's dive in!
1. Centralized Data Repository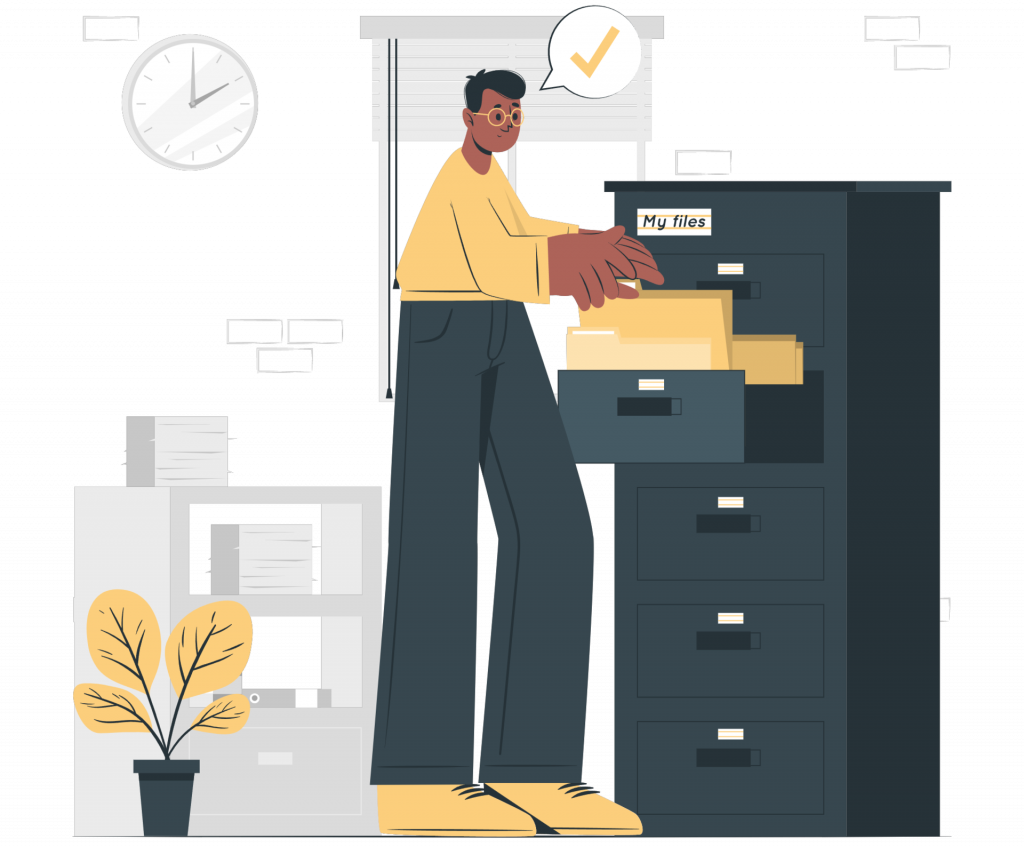 Think of it as your virtual contract storage space where all your contracts live in one place. No more lost or misplaced contracts or endless searches for that particular document. The centralized data repository feature makes it easy to access and manage contracts and ensures that everyone involved in the contract can access the latest version. Say goodbye to the hassle of emailing contracts back and forth!

2. Search Capabilities
The search feature is a lifesaver when you can't remember where to put that clause. With search capabilities, you can quickly find what you're looking for by typing in a keyword, phrase, or clause number. It helps you to search for contracts with ease! Eliminate the need to scroll through endless pages or stacks of paper to find the contract you need. The search feature makes it easy to find specific contracts, saving you time and increasing your productivity.
3. Dashboard and Reporting
A dashboard with a bird's eye view of your contracts is a great way to get a quick overview. It shows important information like contract expiration dates, status, and upcoming renewals. The reporting feature allows you to generate reports on important data points of your contracts, such as financial data and contract performance.
4. Template and Libraries
This feature makes it easy to create and manage contract templates. You can create a template with all the necessary terms and conditions and use it as a starting point for new contracts. Templates make it easy to create contracts quickly, and libraries allow you to store frequently used clauses. It saves you time and ensures consistency across all your contracts.
5. Collaborative Editing
Collaborative editing allows multiple users to work on a contract simultaneously, easily collaborating with internal teams and external parties. It's like a virtual group project, but you're creating a contract instead of a PowerPoint presentation! This feature saves time and ensures everyone has access to the same information regarding the contract.
6. Security
Security is crucial for any contract management software – ensuring your contracts are kept safe and secure. With security features like role-based access, you can control who has access to your contracts and what actions they perform and ensure they are only accessible to authorized users. This feature protects your contracts from unauthorized access or modifications.
7. Helpful Integration
Helpful integration is a feature that allows contract management software to integrate with other systems, such as CRM or ERP software. This integration ensures that your contracts are always up-to-date and accurate, eliminating the need for manual data entry.
8. Electronic Signature
Electronic signatures are the cherry on top of the contract management software cake. This feature allows you to sign and manage contracts electronically. You no longer need to print, sign, and scan contracts – it can all be done electronically. This feature saves you time and paper, making the signing process more convenient for all parties involved.
With these features, contract management makes managing contracts as easy as navigating through your favorite app. So, if you're still managing your contracts manually, it's time to switch to Contract Management Software.
And that's not all; by using Contract Management Software, you can reap the benefits of increased efficiency, improved compliance, and reduced risk. So, why not take advantage of these benefits and start using Contract Management Software today? And to learn more about the various benefits contract management software offers, jump to the next section.
The Benefits of Contract Management Software
Once there was a company that refused to use contract management software. They thought, "Why bother with fancy technology when we have good old-fashioned pen and paper?" Little did they know, their decision led to chaos and confusion. Contracts were misplaced, deadlines were missed, and they were left scratching their heads, wondering where it all went wrong. Don't be like that company!
Contract management software has numerous benefits that can save you time, money, and headaches. So, grab your coffee and get ready to learn how this technology can transform your organization for the better with the following benefits:
1. Enhanced Contract Visibility and Control
Unlike traditional paper-based systems, contract management software provides you with enhanced contract visibility and control. With a digital repository, you can store all your contracts in one centralized location and completely control them. This enables you to ensure compliance and generate extensive reports quickly and easily.
Having all the latest contract templates and clauses available to authorized staff members can empower your mobile workforce and ensure everyone is using the most up-to-date documents. This also allows your business to be agile and take advantage of growth opportunities by having access to all the necessary data related to each contract.
2. Improved Contract Lifecycle Management
As the contracts are stored in one place, you can track the entire lifecycle of each contract. The software automates the whole process, starting from contract drafting, approval, execution, monitoring, renewal, or termination.
This feature is especially useful when dealing with contracts that require multiple revisions or involve different departments in your organization. It not only saves time and effort but also minimizes errors.
3. Increased Efficiency and Productivity
At this point, you've probably seen how contract management can help you improve contract lifecycle and visibility. But did you know that contract management software is indispensable for businesses that want to streamline their operations and increase efficiency and productivity?
By automating the contract creation, negotiation, and approval process, organizations can reduce the time and effort required to manage contracts, freeing up valuable resources for other tasks.
For instance, a large construction firm can use contract management software to speed up the process of procuring materials and services by creating and managing contracts with suppliers. By using software to handle contract negotiations, approvals, and payments, the company can avoid delays and errors that often come with manual processes, resulting in increased efficiency and productivity.
4. Reduction in Contract Risks and Legal Disputes
The advantages of contract management are not limited to increased productivity. Contract management software can also significantly reduce the risks of contracts and legal disputes. It minimizes two types of risks: audit compliance management and contract compliance.
Through audit compliance management, businesses can ensure that every contractual activity is accurately recorded and tracked, eliminating the risk of missed details and disputes. The system also provides a standardized audit report with just a few clicks, making compliance management easy.
It runs analytics on the general well-being of business relationships, ensuring both parties adhere to the service level agreement and legal or regulatory compliance.
This reduces the risk of legal disputes and contract breaches, as both parties have access to a clear record of the contract's terms and conditions.
5. Improved Collaboration and Communication
Improved collaboration and communication is a significant benefits of using contract management software. With the help of such software, teams can work together more effectively and efficiently, regardless of their physical location. This means that a team in New York can easily collaborate with a team in London using cloud-based contract management software.
If a company uses a contract management system, all departments, including legal, procurement, and finance, can easily access and collaborate on a contract's terms and conditions. This reduces the risk of misunderstandings and conflicts arising from poor communication.
Contract management software allows for centralized communication and document storage, where all parties can communicate and share documents within a single platform. It makes everyone work on the same page and reduces the need to search various sources for important information.
When discussing benefits, we cannot skip contract management software's cost and time-saving features. So don't stop here; we have covered this in the next point.
6. Time and Cost Savings
Companies can eliminate manual efforts by automating routine tasks such as contract creation, approval workflows, and renewal reminders, saving time to focus on more strategic initiatives.
The software can automate the contract renewal process, making it easier for companies to renew contracts on time and avoid penalties for late renewals. Organizations using contract management software can also track contract performance and identify any issues. This minimizes the risk of costly disputes and legal matters.
7. Scalability and Flexibility
One of the key benefits of using contract management software is scalability and flexibility. This means that the software can easily accommodate the needs of a growing business and adapt to changes in the industry and regulations. For example, if a company needs to add more contracts or users to the system, it can do so seamlessly without major disruptions or delays.
And if there are new compliance requirements, the software can be updated to reflect those changes quickly and efficiently. This makes it easier for businesses to stay updated and compliant and avoid potential legal issues while improving overall productivity and efficiency.
So now that you understand the numerous benefits that contract management software can offer your business, it's only natural that you would want to explore the top players in the market. With that in mind, I'm here to guide you through the top-performing contract management software options. Let's dive in and find the perfect fit for your business needs.
The Best Contract Management Software Of 2023
Are you feeling overwhelmed with all the contract management software options out there?
In 2023, the world of contract management software has reached new heights, and we're here to guide you through the best of the best. Get ready to say goodbye to the headache-inducing hassle of managing contacts, say hello to the streamlined organization, and maybe even a little extra time for happy hour. So let's begin our discussion on the top contact management software of 2023.
1. Bit.ai
Bit.ai is a cloud-based collaborative document management platform and one of the best contract management software. With Bit.ai, users can create, edit, and share contracts in real time with team members and clients. Bit.ai allows users to create and use predefined templates for different contracts, making the creation process faster and more efficient. Users can also track contract changes, collaborate with team members and external stakeholders, and get notifications when a contract is signed or updated.
Bit.ai's advanced security features protect sensitive contract information with password protection and content control. Bit.ai's integration with third-party apps like DocuSign also makes it easy to sign contracts electronically, saving time and reducing paper waste. Altogether, Bit.ai is a powerful tool for contract management that can streamline the contract creation process and improve collaboration and security.
Bit.ai offers both a free and a paid version. The free version offers upto 50 documents with document collaboration and sharing features. In contrast, the paid version offers advanced features such as version history and website embedding for unlimited documents. The paid version of Bit.ai starts at $8 per user per month, with discounts available for annual subscriptions.
2. PandaDoc
PandaDoc is a cloud-based contract and document management platform that offers an all-in-one solution for overseeing the entire lifecycle of contracts. It provides features such as a content and contract library, contract duplication, e-signature, real-time notifications, and payment processing. The software also offers custom templates with a drag-and-drop editor and custom workflow, processes, and rules. PandaDoc offers 24/7 customer support on paid plans, unlimited documents, e-signatures, users, and a 14-day free trial. The software integrates with 15 CRMs and offers secure cloud storage with an audit trail for documents.
Pricing ranges from free for the eSign plan to $49 per month per user for the Business plan, with discounts available for annual billing.
3. DocuSign
DocuSign is a contract management software that provides e-signatures and full Contract Lifecycle Management (CLM) solutions. It offers a 30-day free trial of its e-signature solution and 24/7 chat support. DocuSign has flexible workflow configurations and connects with over 350 pre-built integrations like Salesforce, Microsoft, and Google. However, the full CLM solution requires a custom quote, the initial workflow setup is complex, and it occasionally has problems syncing documents. Small businesses appreciate court-admissible audit trails, secure storage centers, and GDPR compliance.
Pricing plans start at $10 per month for a single-user plan and the ability to send five e-signature documents per month. Other plans include Standard for $25 per month and Business Pro for $40/month with additional benefits.
4. Outlaw
Outlaw is a cloud-based contract lifecycle management (CLM) software that enables businesses to track key data points for total visibility. It offers unlimited contracts, storage, and e-signatures and is well-suited for most businesses. Outlaw's features include native e-signature capabilities, cloud-based redlining, secure payment processing, real-time notifications, full-text search, self-service templates, and dynamic contract fields. It also offers AI-assisted analytics, which helps run reports on timelines, contract statuses, and ongoing activities. Outlaw connects with Salesforce, HubSpot, Zapier, Slack, and QuickBooks.
Pricing is $125 per month per user for Core User and $60 per month per user for Collaborator, based on monthly billing. The software has flexible pay-per-seat plans and offers a 20% discount with annual billing.
5. Agiloft
Agiloft offers code-free customizations for contract and commerce lifecycle management. It provides a free plan for SMBs, an unconditional guarantee, a 99.9% uptime service level agreement (SLA), and an open-ended free trial. Its unlimited customization options can be confusing, and it doesn't have an internal chat feature. Agiloft is the oldest provider and offers customizable solutions for businesses of all sizes. It provides free online training, contract authoring, e-signature, and content repository and integrates with Google and Microsoft. Key benefits include increased efficiency, reduced risks, improved compliance, better collaboration, and easy customization.
Its pricing starts at $65 per user per month, and it offers four plans based on the number of users with additional features like phone support, vendor and customer portals, AI modes, and 24/7 support.
6. Concord
Concord offers unlimited contracts, viewers, e-signatures, and storage with bulk upload features on all plans. It was founded in 2014 and is designed to help large businesses comply with full onboarding support and enterprise-grade features. Its key features include live editing, redlining, comment, chat, template storage, autofill smart fields, full-text optical character recognition (OCR) search, deadline reminders, and a built-in e-signature function. It connects with Dropbox, DocuSign, and Salesforce and uses bank industry-standard encryption and secure data centers. The software delivers clear and transparent pricing based on the number of users and a yearly contract.
The pricing starts at $17 per user per month for the Standard plan, $49 per user per month for the Pro plan, and a custom quote for the Enterprise plan.
7. ContractWorks
ContractWorks is a contract management software with AI-enabled technologies that offers automation services. The software has an intuitive interface and requires only a few minutes to set up. It features automatic smart document tagging, OCR text-based search, milestone alerts, contract repositories, automated reminders, and built-in e-signature. The software offers unlimited users and 24/7 support but has limited integrations and no mobile app.
All pricing plans are billed annually and based on volume. Plans include:
Standard: $600 per month for 2,500 documents and five e-signature licenses.
Professional: $800 per month for 10,000 documents and 10 e-signature licenses.
Enterprise: $1,000 per month for unlimited documents and 20 e-signature licenses.
8. Icertis
Icertis Contract Management streamlines the contract application process using its category-defining innovation and unmatched technology. The software provides contract templates and clause libraries, ensuring compliance with regulations like GDPR, and offers an intuitive and role-based experience for all users. It also has built-in capabilities to model any contractual relationship, commercial risk, governance, and compliance tools, and AI-based applications for detailed reports and insights. Icertis guarantees the security of highly sensitive contracts with enterprise-grade administration standards. No pricing information is available on their website.
As we end our discussion on the best contract management software of 2023. The question is how to determine the best one according to your business. Read the next section to clear your doubt; by the end of it, you'll be all set to begin your contract management journey.
But, How To Find Your Perfect Match?
Finding the perfect match for contract management software can feel like a daunting task. Are you ready to find your perfect match for contract management software? Look no further because I'm here to help you swipe right on the perfect platform. Here are some tips:
1. Identify Your Needs
Are you looking for software that can handle large volumes of contracts? Or do you need something that's simple and user-friendly? Make a list of your must-haves and deal breakers.
2. Check Out Reviews
Like any other app or software, it's important to read reviews before committing. See what others say about their experience with the software you're considering.
3. Ask For Recommendations
Ask around in your industry and see if anyone has a recommendation. It's like getting set up by a friend but with software.
4. Consider The Cost
Some software can be expensive, but that doesn't mean it's the best. Look for something that fits your budget but still meets your needs.
5. Test It Out
Most software offers a free trial, so take advantage of that. Who wants to spend their money on useless software? So it's better to try and then choose first.
6. Look For Integration Options
If you're already using other software, ensure the contract management software you choose can integrate. This will save you a lot of work.
7. Check The Support
Make sure the software offers good customer support. You don't want to be left hanging if you have a problem.
With all these valuable tips, you are ready to find the best contract management software that fits your need and budget.
Wrapping Up
Congratulations! You've made it to the end of our discussion on contract management software. You're now equipped with all the knowledge you need to find your perfect match in the software world. Now, it's time to take action! Don't let those contracts pile up any longer – start swiping right on your perfect platform today.
And if you're feeling overwhelmed or unsure, don't worry – Bit.ai is here to help. With their easy-to-use platform, you can create and manage all your contracts in one place. Plus, their team of experts is always available to answer any questions.
So what are you waiting for? Leap and start managing your contracts like a pro. Remember, with Bit.ai; you're not just finding software – you're finding a partner in your contract management journey.
Further Reads: 
9 Client Management Software You Must Check Out!
Employment Contract: What is it & How to Make it? (Free Template Included)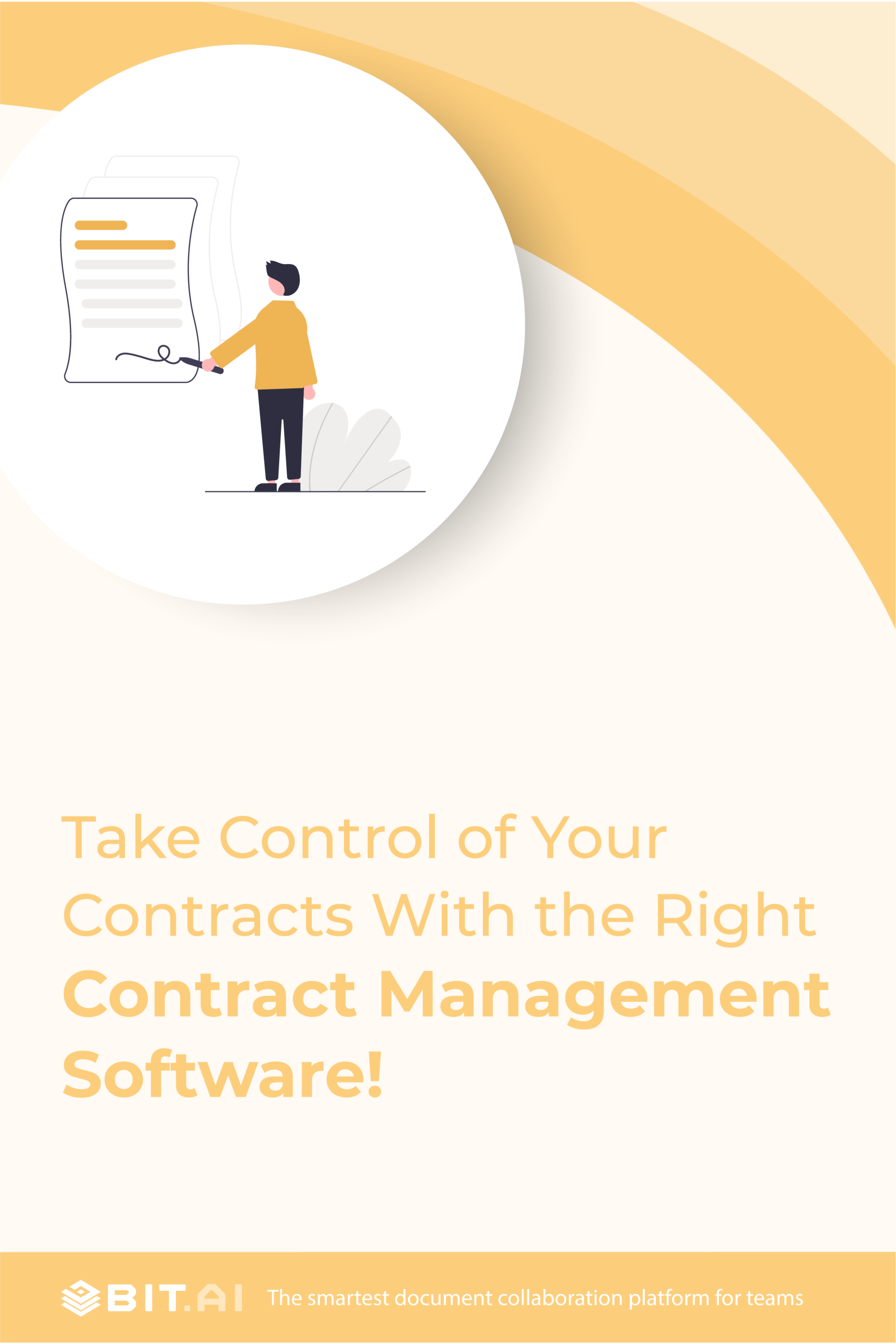 Related posts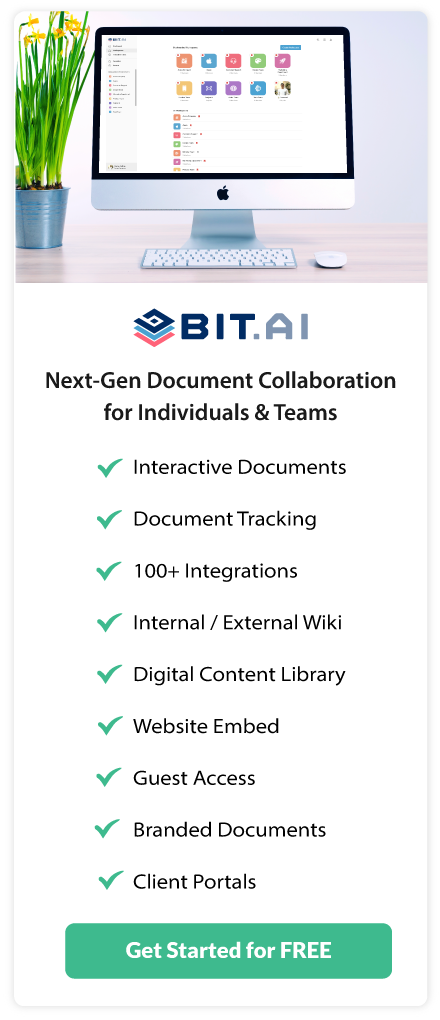 About Bit.ai
Bit.ai is the essential next-gen workplace and document collaboration platform. that helps teams share knowledge by connecting any type of digital content. With this intuitive, cloud-based solution, anyone can work visually and collaborate in real-time while creating internal notes, team projects, knowledge bases, client-facing content, and more.
The smartest online Google Docs and Word alternative, Bit.ai is used in over 100 countries by professionals everywhere, from IT teams creating internal documentation and knowledge bases, to sales and marketing teams sharing client materials and client portals.
👉👉Click Here to Check out Bit.ai.